Olidfashion.com – We know that fashion trends always get changed and bring up new styles every time. Honestly, wide-leg pants are 70's fashion but recently become hype again. Wide-leg pants are a kind of versatile piece that you should have in your summer wardrobe. What's make this outfit become special because it can be matched in any fashion style. Whether formal, casual, elegant, or trendy, this outfit helps you much.
In summer, we'll find that most people wear something minimalist and simple. If you want to stand up with something different, just get wide-leg pants trends on your style. These pants have always been known to form beachy and hippy styles that are usually for a summer vacation look. Even so, we can find these pants in everyday style either for evening out, workwear style, or casual daily outfit ideas. Now, I'll try to give you some inspiration about wide-leg pants outfit ideas for chic summer style.
Here are 22 outstanding wide-leg pants trend ideas to stylish your daily wear.
Best Matching with Tanktop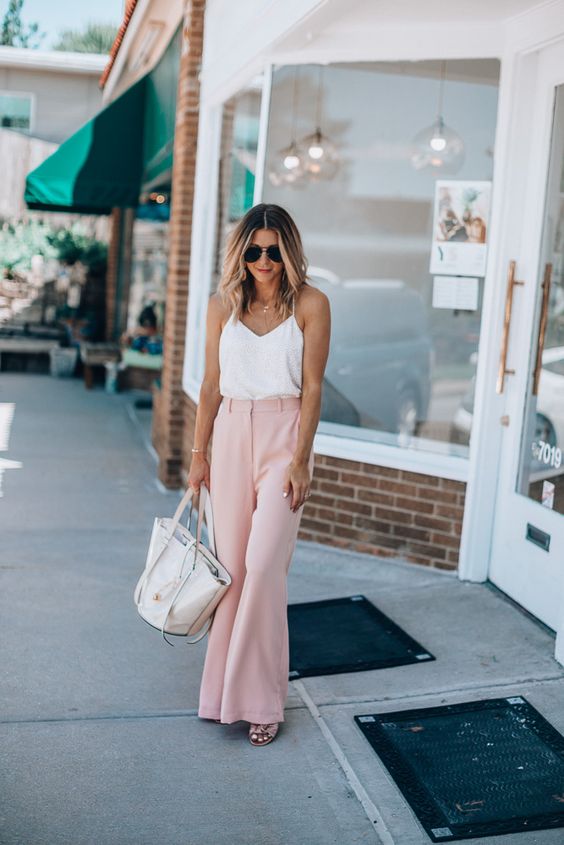 Get the best look for chic summer with the wide-leg pants trend idea by having it together with the tank top. This ensemble would be stunning enough to wear during hot weather. Better you choose the white and pastels like pink for color clothing match. Adorn your outfit ideas with some details such as a cream tote bag and sandals to complete your summer look.
Fit your Cropped Pants for Chic Summer Style
The cropped wide-leg pants style would be matched your casual outfit idea. For this, you need to go by tucking a black t-shirt in your black cropped wide-leg denim pants. Get a little bright thing on your summer outfit by having orange loafers.
Suitable in Hijab Style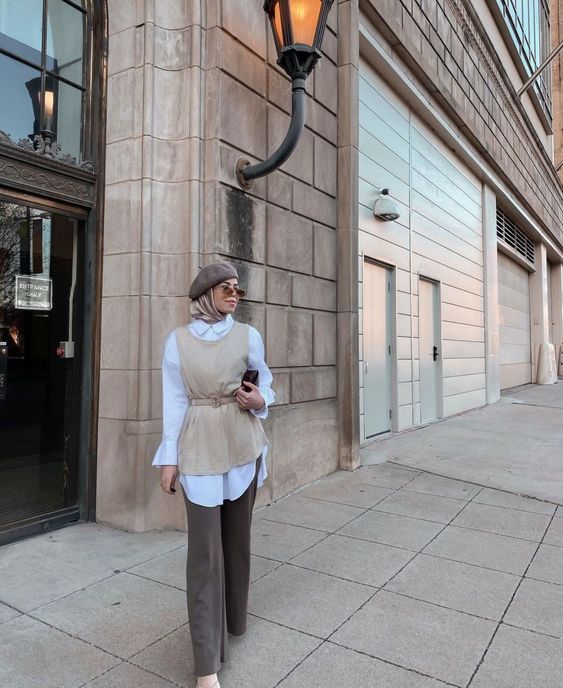 Even you wear hijab, you will feel comfortable enough with loose clothing like this wide-leg pants style. For chic summer outfit ideas, you can try to combine these pants with a white tunic and sleeveless top as for outer. Get belted over the dress to give you a fashionable hijab outfit style.
Bring Wild West in Cowgirl Style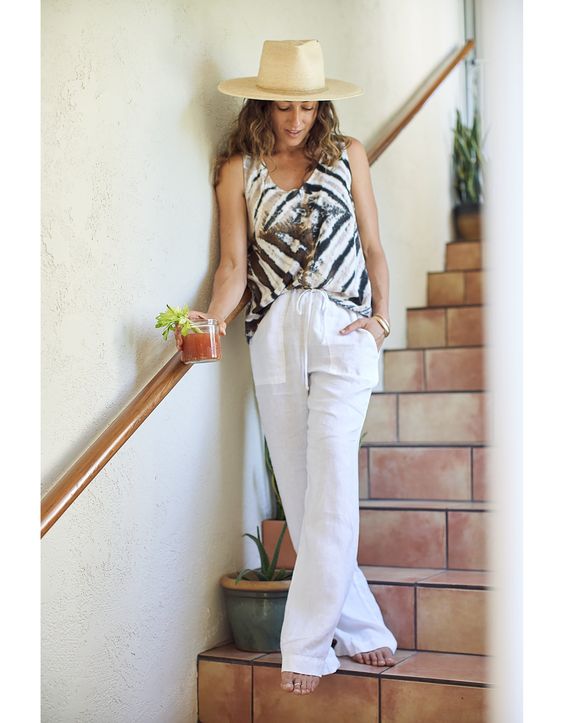 If you girl who likes something cool and trendy, try the wide-leg pants trend on the cowgirls' outfit style. To make it suited for summer, choose a sleeveless bohemian top and white cotton wide-leg pants. Accessorized with a cowboy hat to make your outfit go chicer.
Create Bohemian Look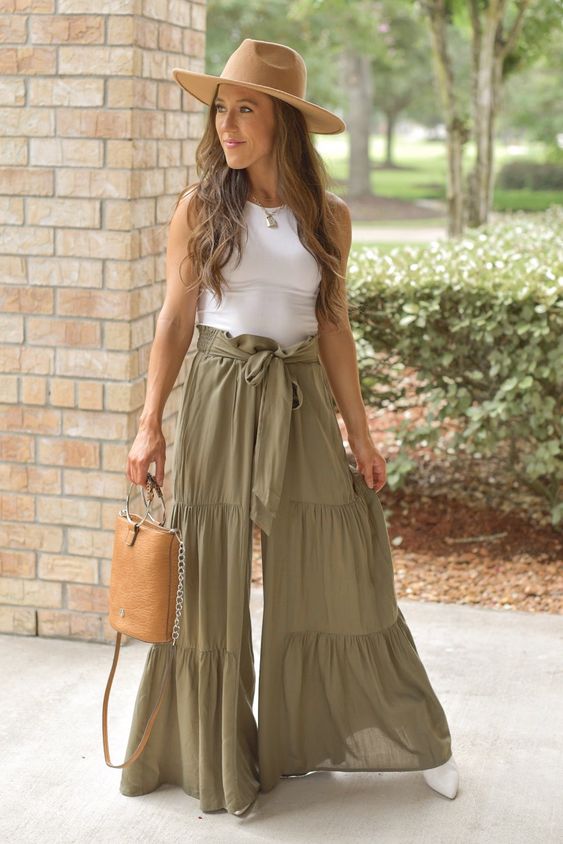 As we know that wide-leg pants are known for their beachy and hippie look. That's why bohemian clothing ideas are the ones you can create from that pants. To get cozy bohemian style, you need to fit the sage green palazzos wide-leg pants and white sleeveless tops. Wear this gorgeous outfit to hang around on the beach or just for hanging out. Make the garments more fabulous by having a straw hat as an accessory.
Best Dress for Oversized Body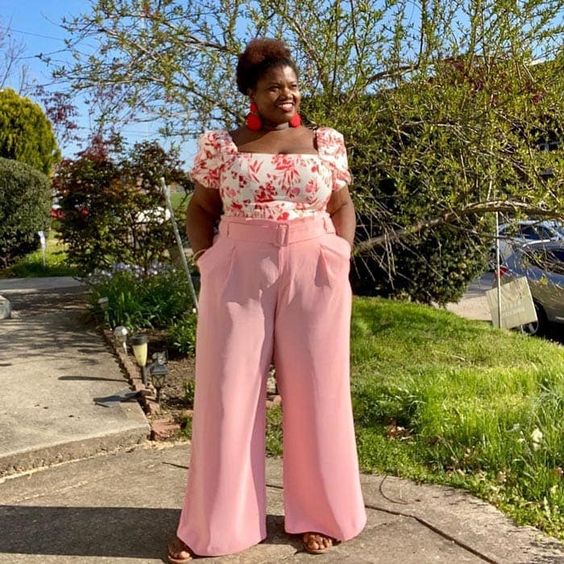 If you want to have a comfortable ensemble for big size body, wide-leg pants are the option. Bring the pants together with short sleeves floral tops. Then, to make it look like the summer season you can choose pink that looks like blossoms in your outfit ideas. For the footwear, match this style with a pair of simple brown sandals. You can show up some pretty accessories like unique earrings to make you get an outstanding appearance.
Business Trip Outfit Style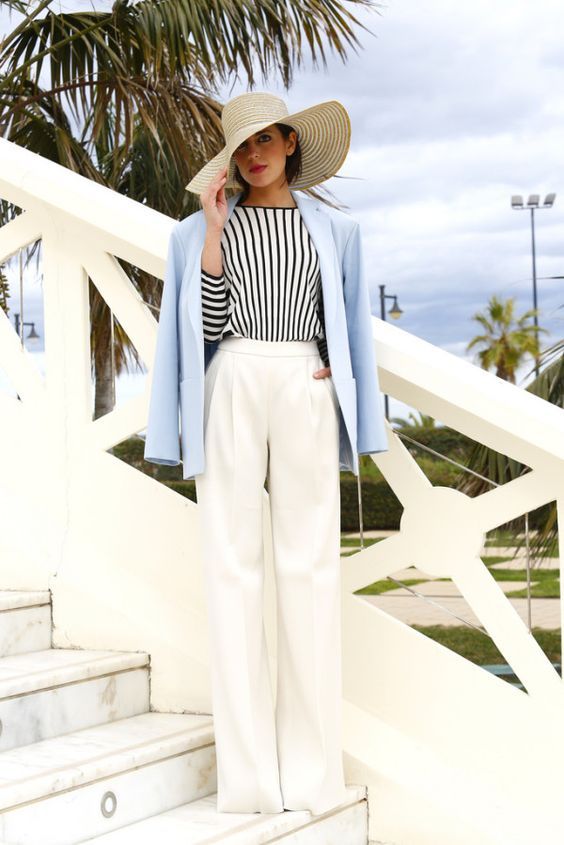 Having an elegant style for a business trip with wide-leg pants that are combined with a crewneck shirt and a blazer. For the toe, you can try to have high heels or heeled boots. If you want to turn it into vacation style, you can try to accessorize it with a straw hat. Get this wide-leg pant trend to walk around the beach after meeting with the clients.
Casually in T-shirt Style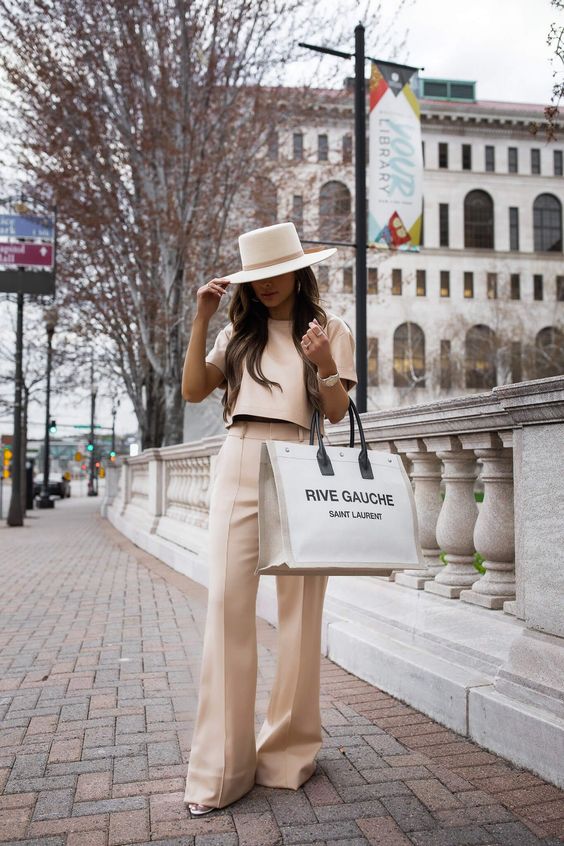 If you want a simple casual outfit to hang out with your friends, you can mix and match wide-leg pants with a t-shirt. Then, bring some additional details such as a fedora hat and a big tote bag to save your things. For footwear, you can get comfortable sandals, or to make you look prettier just get a pair of heels.
Trendy with Sneakers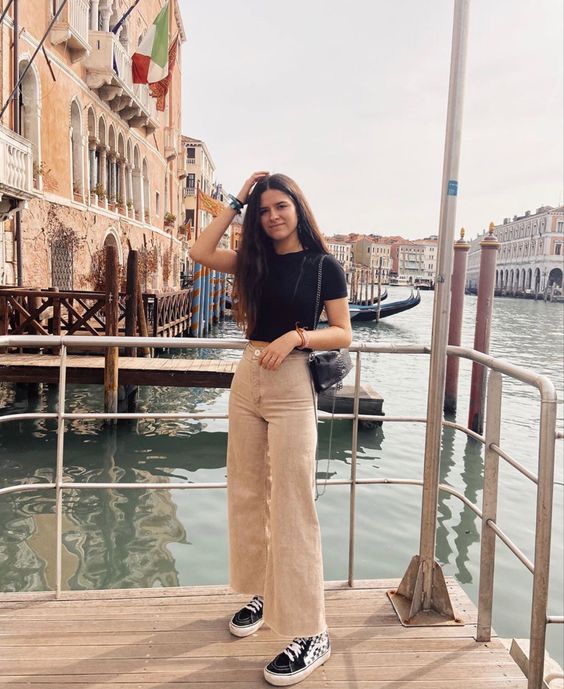 I like the way the wide-leg pants trend to mix up with sneakers. This gives you the best summer outfit style to wear on holiday. You can wear the pants together with cropped tops for a cozy performance.
Look Good with Oversized Tops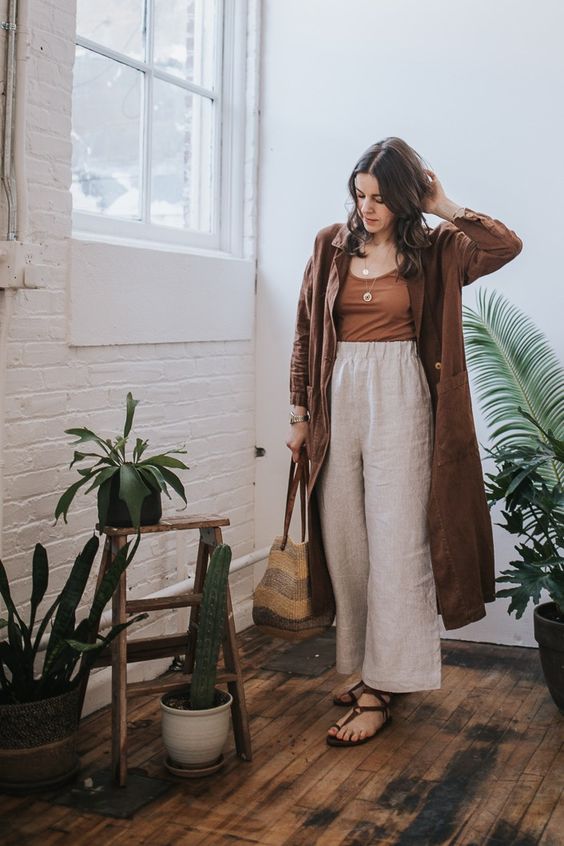 If you want to look a bit lay-back style, you need to wear cream linen wide-leg pants, a light brown t-shirt, and an oversized tunic for the outer. For the footwear, get gladiator sandals are the best. Get your wide-leg pants idea more fashionable by bringing a knitted tote bag to save your stuff. You can wear this casual outfit for a walk around the city or get for the college outfit style.
Cute in Cropped Top Combination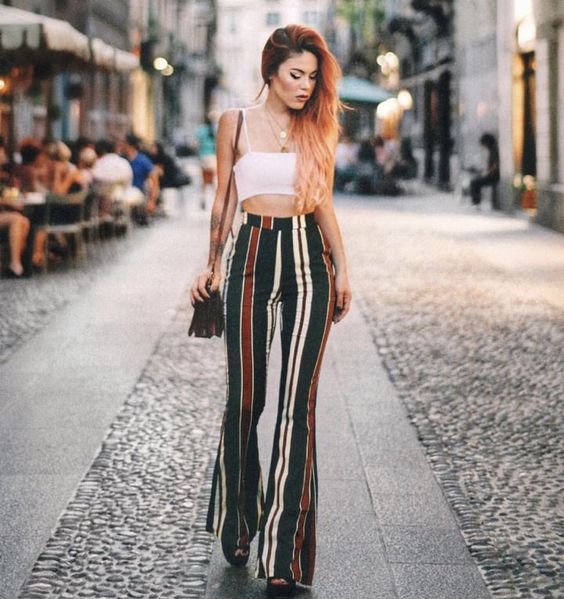 Besides the tank top and a basic tee, you will get the best chic summer outfit in wide-leg pants by mixing up with cropped tops. Get a plain white cropped tee and then match it with earthy tones striped wide-leg pants for a vintage outfit style. Besides that, this style would be great if you match with wedges. Then, you will get the perfect outfit idea by having a mini sling bag.
Mix Denim with Bright Pink Shirt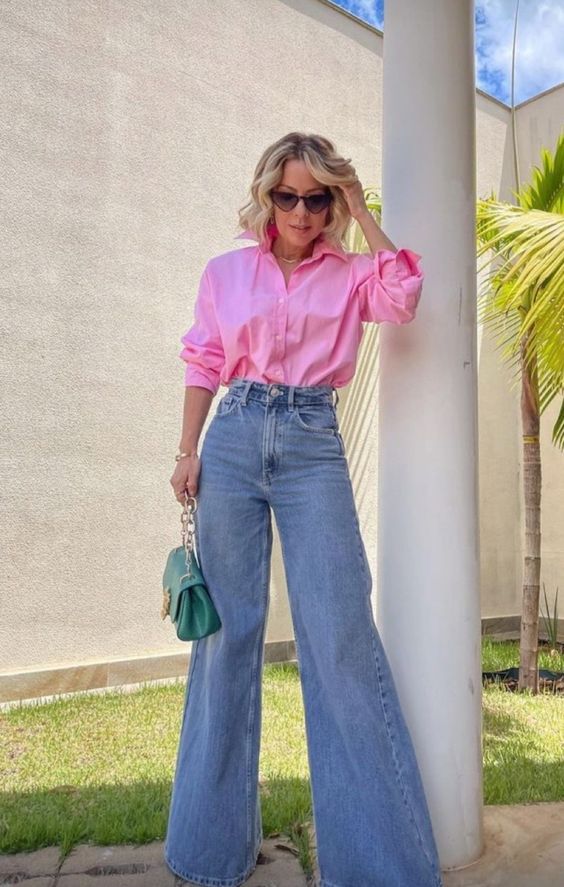 Getting a little bright outfit during summer is not bad. However, you need something that will balance your style to look calm and earthy. For this, neutral denim wide-leg pants will give you the best outfit performance. So, tuck your bright pink shirt on your denim pants and get the heels on your toe. Adorn your outfit style chicer for summer by having green details on your accessories such as on your mini bag.
Bring Summer Vibe with Tropical Prints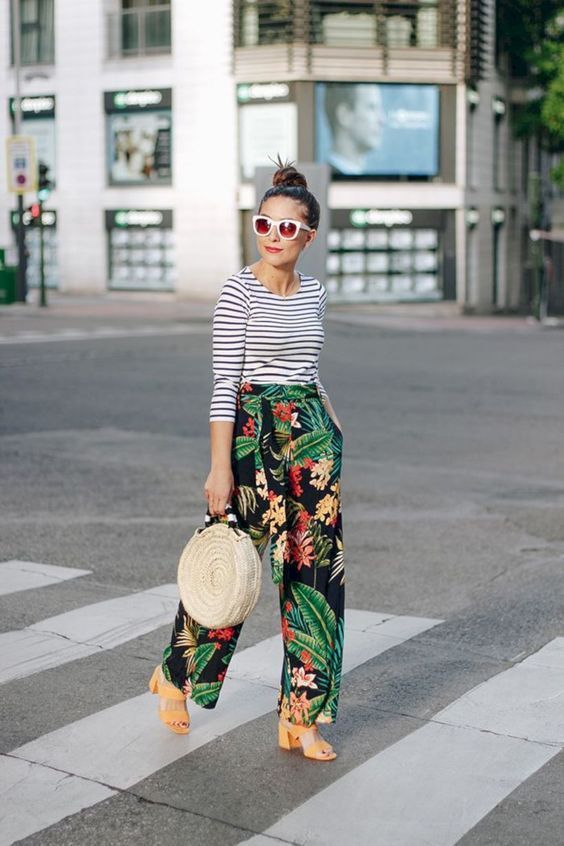 The best picturing summer is a tropical ensemble. This clothing also gives you a holidays vibe. As we know that wide-leg pants trend is used to deliver beachy and bohemian style.  So, tropical wide-leg pants and a striped t-shirt are chic summer outfit ideas. You can get full vacation style with fashionable sunglasses and a round rattan bag for tropical looks. For the toe, get short-heeled sandals with a bright coloring style.
Get Pastel Colored for Summer Look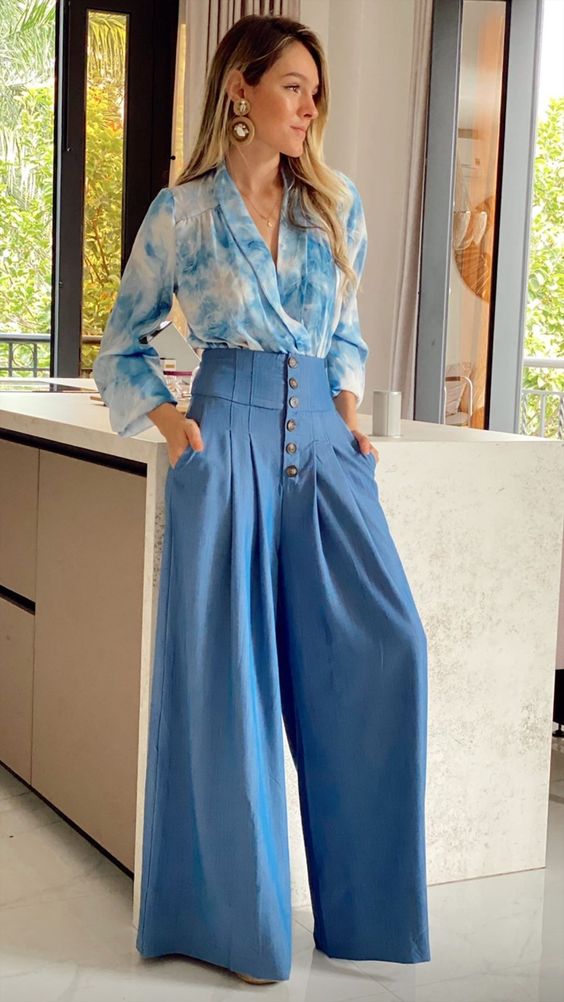 Summer usually stands with a colorful atmosphere. If you don't like bright but get bored with neutral colors, just try to wear pretty pastel outfits. Suppose to wear a blue pastel one-set outfit that includes a long sleeve floral blouse and button-up wide-leg pants. The details on your pants would give elegant and chic style to your ensemble. For the toe style, you can get a pair of wedges or heels. Use this wide-leg pants trend idea for your fashionable date outfit.
Sporty with Sports Bra Style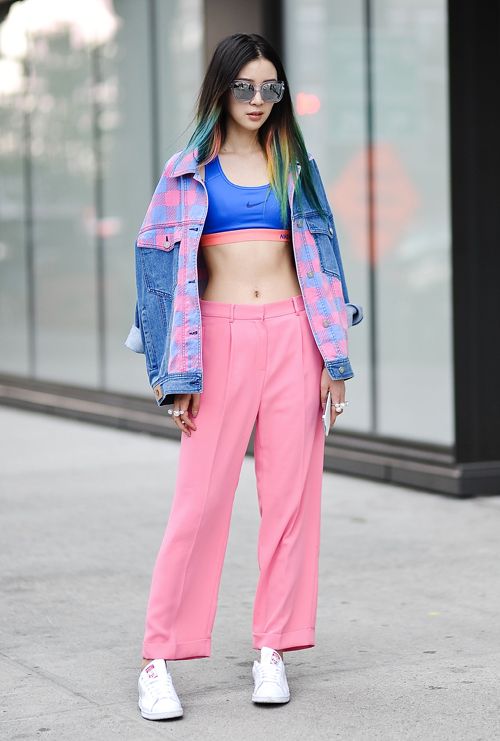 If you want to look sporty and chic in summer style, try to mix up wide-leg pants with a sports bra. To make you comfortable, you can add an oversized denim jacket over it. For the footwear style, trainer shoes are great matching in this women's outfit idea.
Preppy Style for Work in Blazer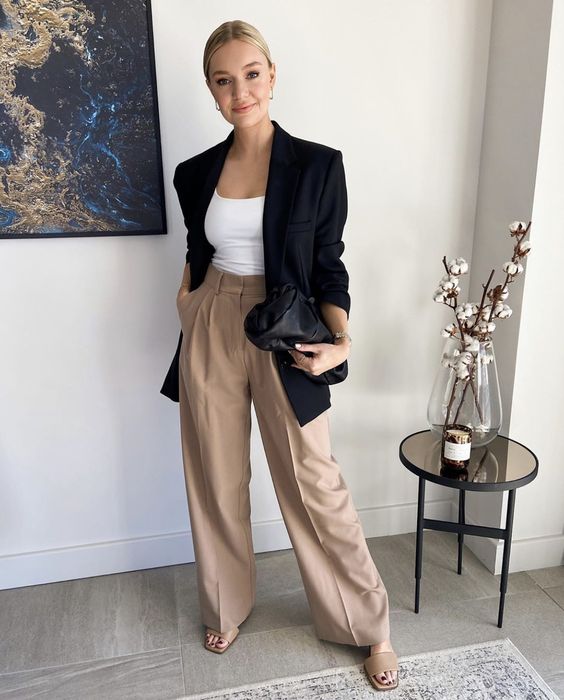 If you want to get a fashionable work outfit with the wide-leg pants trend, you should combine it with a blazer. Choose light brown for the color pants and then get a white tee for the top. Cover with a black blazer to make it look formal and professional. Get a pair of heels or loafers to give the best matching footwear. To look more fashionable, you can get a black clutch on your hand.
Cool with Vest Outfit Idea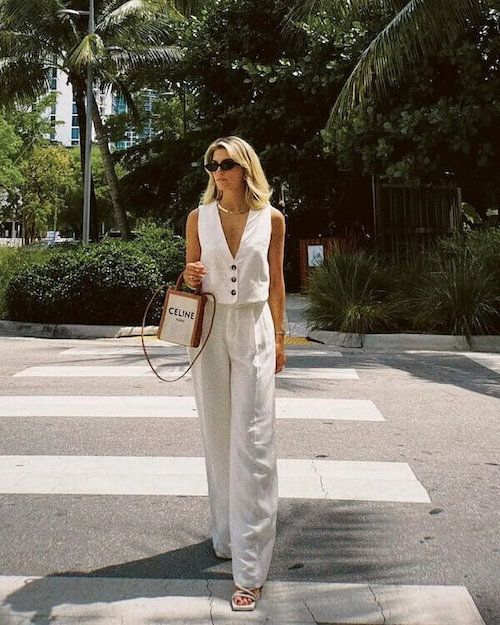 Entirely create cool and chic summer outfits with wide-leg pants and a vest. This is a simple way that you can try to follow. This style could also give a semi-formal ensemble that matches outdoor meetings with clients. Get the fully lay back style with sandals and a mini bag. You will use this outfit for casual discussions in the cafe or restaurant with your business partner.
Bring Out Corset for Chic Summer Style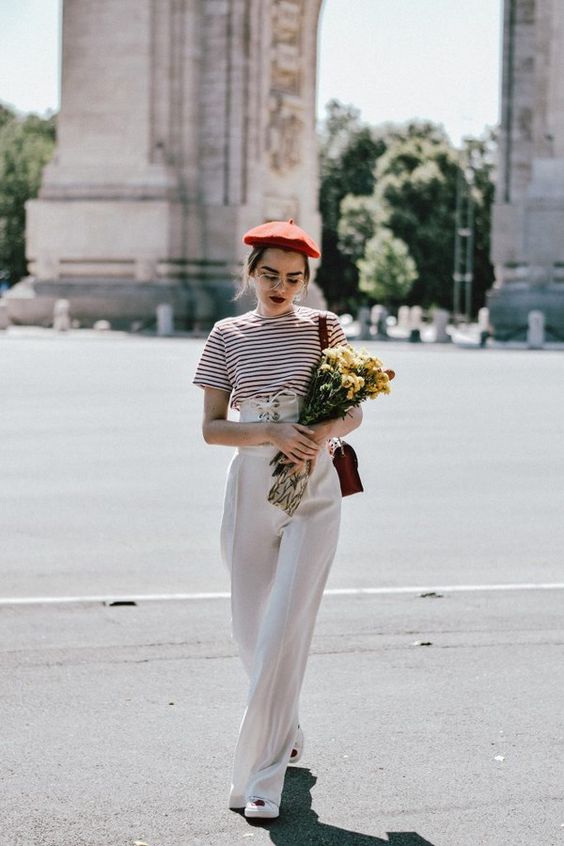 Wearing wide-leg pants should have a trick for outstanding outfit style. In a different way, you can get a corset over your short sleeve tee and tuck it on wide-leg pants. To make it look aesthetic, bring out a beret hat as an accessory. Get a pair of loafers too to complete your summer style.
Pull Out for Vintage Style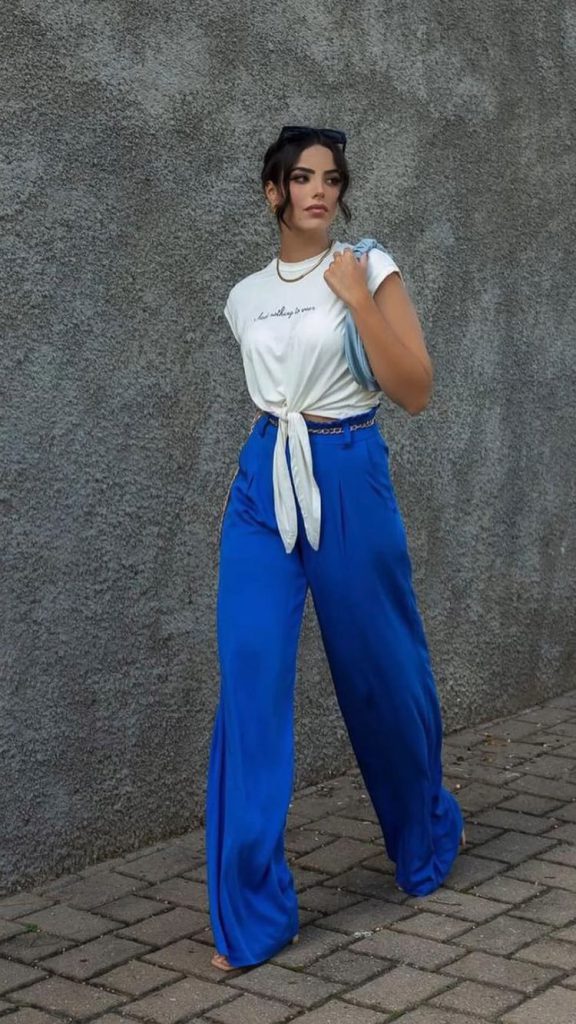 Besides casual, formal, and unique, wide-leg pants outfit ideas also would bring classic vintage style to your summer wardrobe. For this, you just need to get huge blue wide-leg pants to match with a white tee. To create a vintage look, just knot out the front of the tee. This would actually give you old fashion but still look great to try on.
Bringing Belt for Accessories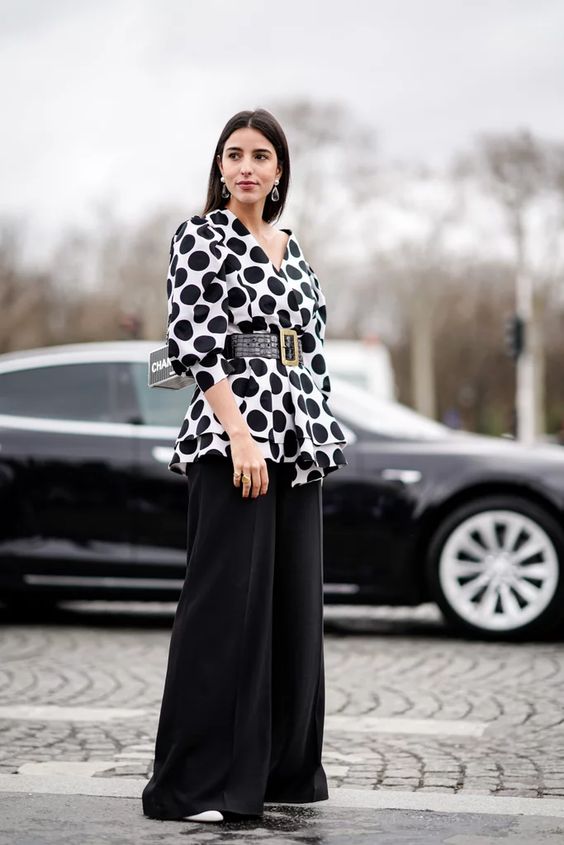 When you confuse to get chic summer style, wide-leg pants and a belt can be your fashion idea. The way is you need to wear wide-leg pants with a large blouse and then accessorize again with a belt over it. Having a statement on oversized tops and belt on your style truly give a big impact. That can increase your appearance to become fashionable in summer style.
Stand Out with Heels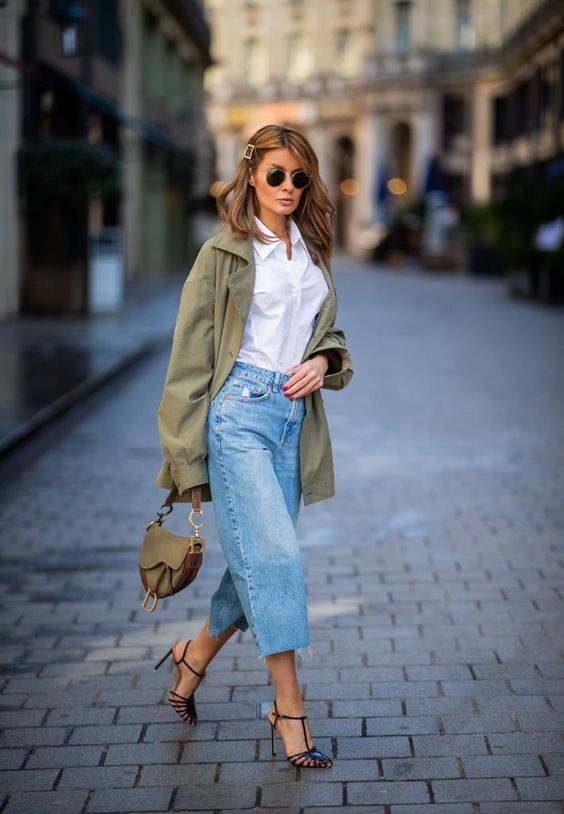 What do you need to perfect your outfit ideas? Yup, it's matching footwear. For the wide-leg pants outfit ideas, there are several kinds of shoes that you can pair with them. Most girls are naturally wearing high heels, wedges, sandals, and sneakers in their daily style. If you want to pop up your stiletto, better you choose cropped wide-leg for this. This would help you freely move in high heels.
Pretty Striped Outfits for Summer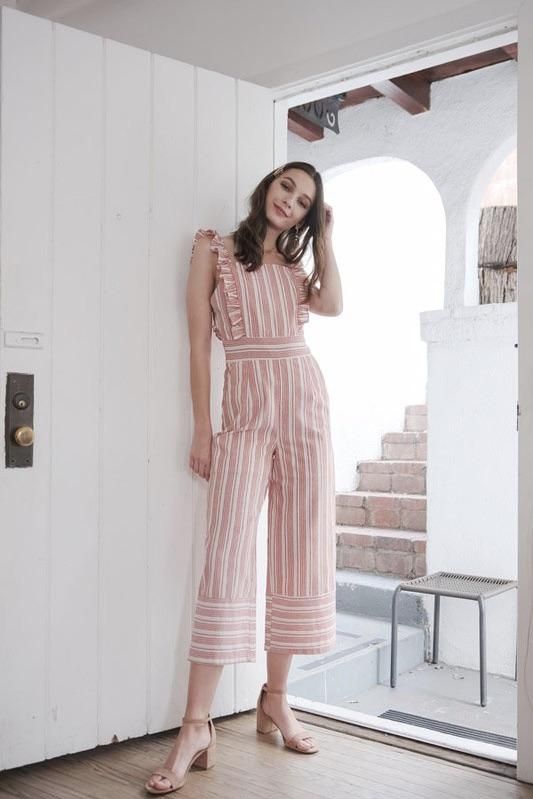 Though stripes are classic patterns, they still would give you a timeless clothing style. For instance, you can see the picture above. A sleeveless striped pastel jumpsuit in wide-leg pants style can bring up a shabby chic clothing idea. It actually looks cute and pretty to wear in your casual outfits. The best matching footwear for this ensemble is a pair of beige strappy heels.
Those are all some of the ways to bring out wide-leg pants trends into your women's outfit ideas. Don't be afraid to bring a new style into your wardrobe. As long as you mix and match the outfits properly, you will always get the best style to wear every day.