Olidfashion.com – Feeling clueless about what to wear for your daily look? Or do you run off ideas to match your outfit? Don't worry, there is a two-piece outfit style that would make sure you will get the best performance every day. Whether for formal, casual, or chic style, you will find the easiest way to bring your style by wearing matching set outfits.
When it comes to summer, you can get play freely with your daily ensemble. However, sometimes you are stuck and don't know to mix and match outfits. That's why getting two-piece outfits is a great idea to save you from that problem. The outfit style usually includes the pairing outfits such as pantsuits, sweatsuits, or skirt blazer sets. This would make it easy for you to save time and keep fashionable in a fast way when you have a hectic day.
So, we try to round up some inspiration summer two-piece outfits that can help you easy to stay fashionable. If you want to have one of these styles, read this article below and find the new fashion inspiration to try on!!
Bussines Women Pantsuit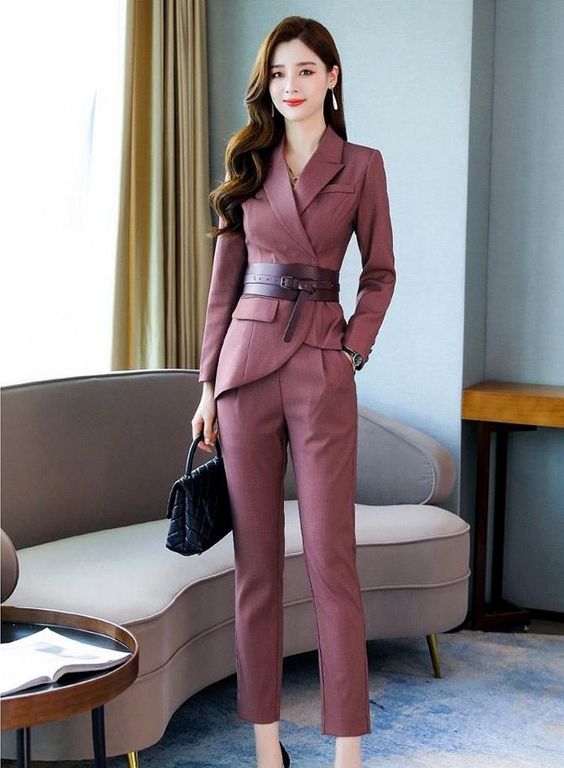 The two-piece outfit that matches businesswomen, is this pantsuit. Arrived with a blazer that can feature your shoulder with fit line pants that completely create your professional yet elegant style. You should perfect this daily work outfit style with a fashion belt over it that would shape your body beautifully. For the shoes, you can get a pair of high heels that would look great with this matching set pantsuit. Then, accessorize it with some gold earrings and your favorite handbag.
Lace Bohemian Skirt Sets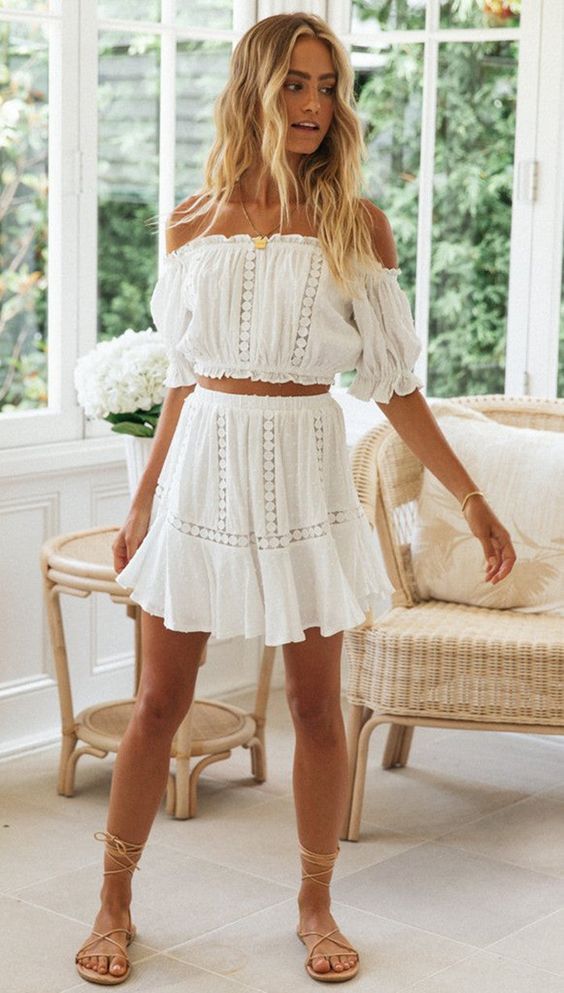 The best summer two-piece outfit to wear in the beachy style is this white bohemian lace skirt set. Designed in an off-shoulder top style and a mini skirt would make you look beautiful and chic. And then, you could match this matching set with gladiator sandals that would make you have a more bohemian style. For the option, get more accessories such as sunglasses, a straw hat, and a rattan bag to complete your stylish beach outfits.
Two-Piece Prom Dress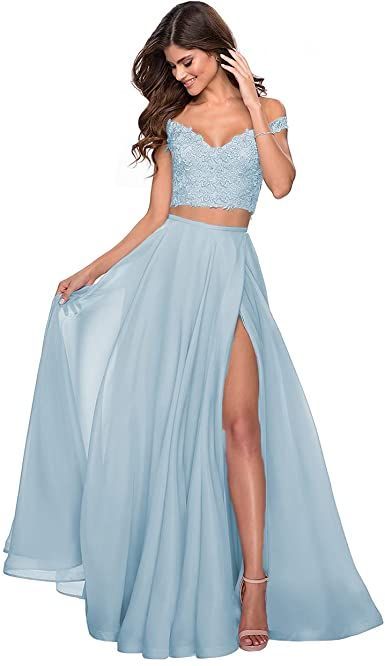 Want to wear something that shows off your beauty at a prom night party? Get this two-piece dress that includes a long split slit skirt and a sleeveless cropped top. This dress can embody your desire for a pretty elegant and sexy prom night dress style. With beautiful floral embroidery embellishments on the dress, you don't need to bring exaggerated accessories. Just wearing simple gold jewelry and making your hair naturally wave would increase your beauty. To perfect your matching set dress, you need a pair of strappy high heels or stilettos. Furthermore, you need to complete the overlook with a fancy clutch bag to save your important things.
Luxe Velvet Dress
The fanciest and most classy fabric that will make you look glamorous even just wear it without any accessories is velvet. Get this fabric to create shiny summer two-piece outfits with a dress look. If you want to have a bit metal or goth outfit style, have a bold red velvet long sleeve matching set then pair it with black stocking and black suede ankle boots. Then, get a bold makeup look with red lipstick to support your velvet dress. Furthermore, to complete your overlook, choose a backpack to carry your things. Don't forget about the metal accessories such as simple silver jewelry to support your goth and grunge performance.
Animal Print Summer Dress Set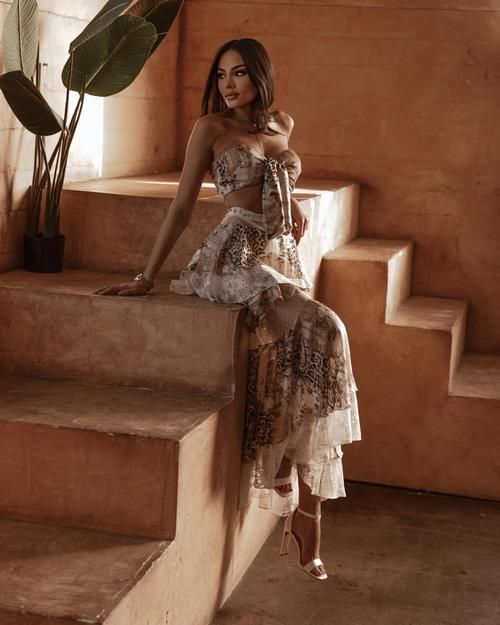 The maxi ruffle skirt of this summer two-piece set can perfectly match with a tiny strapless top. It looks very summer style with a top that can be worn either as a bandeau or halter. And a bit classy with an animal print design in the matching set. To make it look more fabulous, you can perfect the style with high heels. And also, don't miss out to bring accessories items such as some gold jewelry.
Simple Back To School Shorts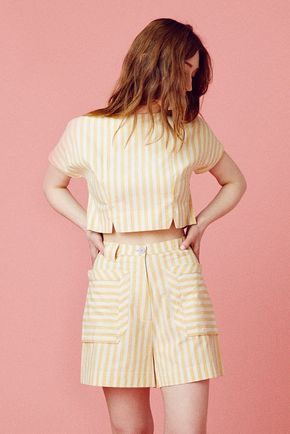 When you need chic and simple back-to-school outfits, having this two-piece matching set is a great option. Having short sleeve cropped top and shorts with stripe patterns make it good enough to wear for class in summer. You just need to match these two-piece outfits with casual and comfy sneakers that would make your outfit look chic yet trendy at school.
Shorts Blazer Matching Set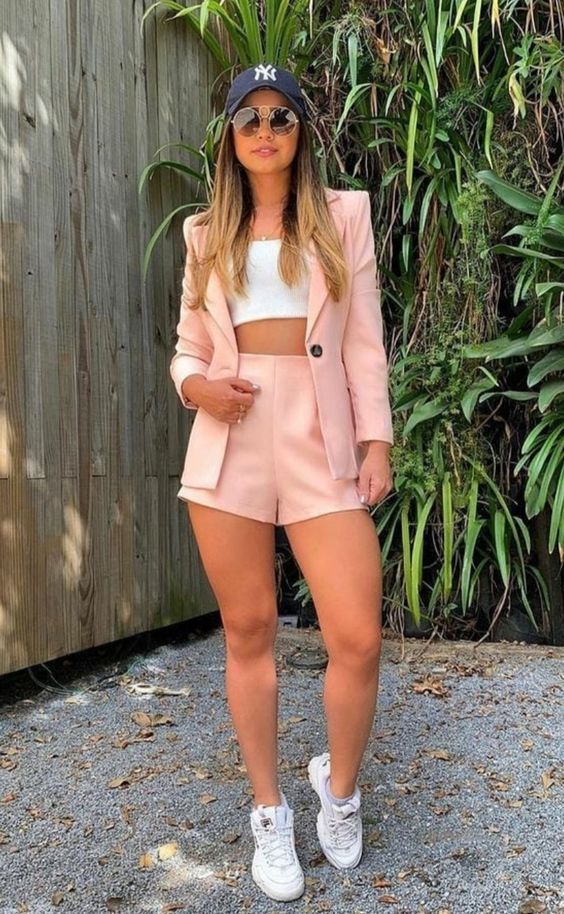 Another two-piece outfit that most ladies wear to increase their daily performance is a short blazer matching set. Having casual and formal combos at once makes this matching set look great for a fashionable hanging-out style. For this, you can get fully dressed by matching your blazer set with tube tops and sneakers. Then, get a cap as an accessory that gives an additional chic look. You can also get some simple fashion jewelry, and for the bags get a crossbody bag or a backpack is a great option.
Two-Piece Character Shorts Style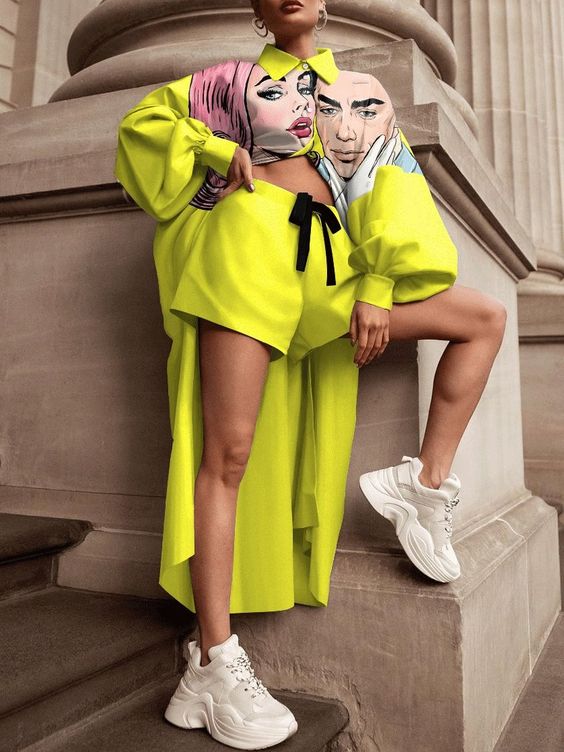 Want something a little different in your summer daily lookbook? Get these bright two-piece character short outfits into your fashion option. Having bright yellow and cartoon illustrations in your summer matching set would give you a cool and funky street style. Make sure you give another detail like getting glamourous round gold earrings and white sneakers to have a fashionable look. For the bag, bringing a mini handbag or waist bag would be a great choice style.
Ruffled Skirt Sets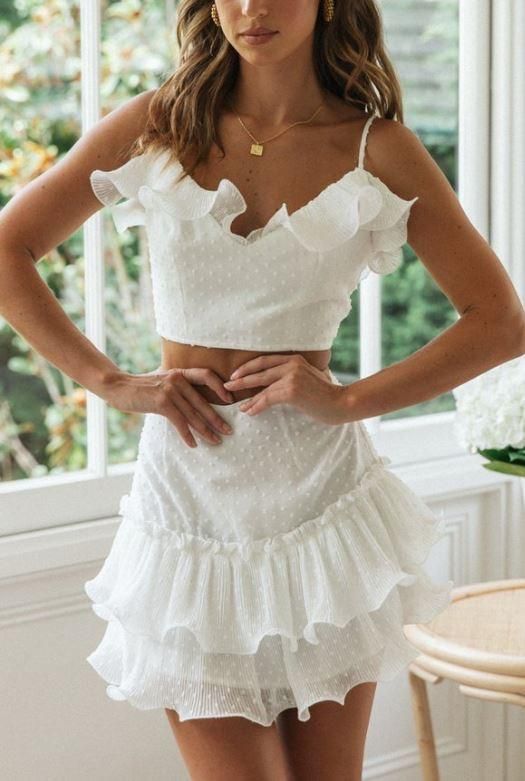 If you like something that dramatic and sweet to wear during summer, this white two-piece ruffle mini skirt would be perfect for you. This ensemble is made for you who want to look pretty sexy. This matching set also looks good to wear in your beachy style. By getting this summer matching set together with gladiator sandals, it would look more casual yet chic. But when you pair this clothing set with high heels, it would turn into a sexy date outfit for you. Then, to perfect your performance you can get some accessories for detail such as a mini handbag and some simple gold jewelry.
Printed Pant Sets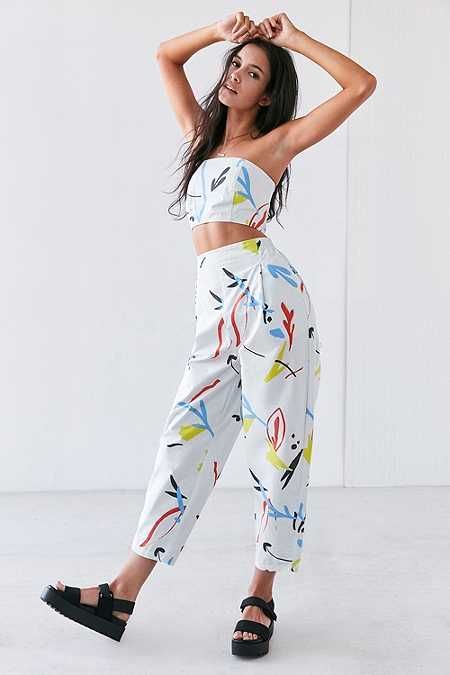 If you want something that's so much fun to wear, get this colorful printed tube and pant set into your summer capsule wardrobe. You can easy to wear it as your casual style either to hang out or just use it as your layback clothing style at home. When you want to wear it for going outside, pair this outfit with cozy sandals to give you chic style. Then for the bag, you can get a cross-body bag or a mini backpack to carry your important things. Don't forget the accessories, you can match this summer two-piece outfit with a bucket hat or cap.
Modern Safari Sets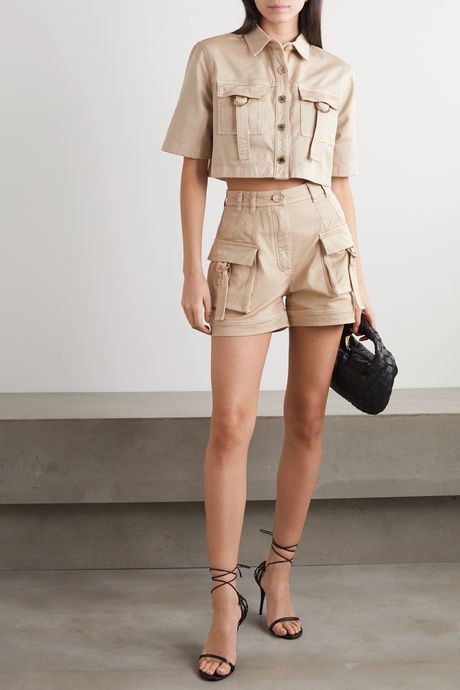 Want to have a chic trendy look in an easy way? Get this modern two-piece safari outfit into your daily lookbook. Choosing a cropped beige safari shirt with short cargo pants, then make it different and fashionable by pairing it with stiletto rather than boots. For the bag, you can get your black favorite mini bag. And then for the other option, you can get some simple jewelry as an accessory.
Sporty Sweatshirt Sets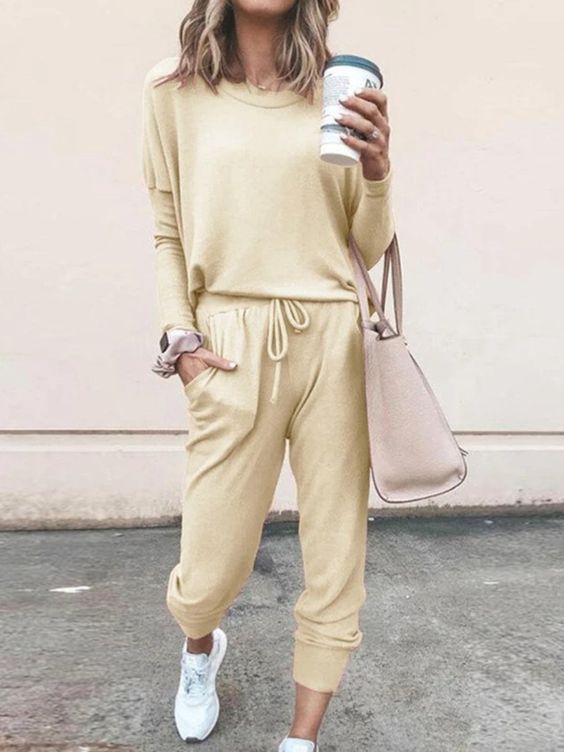 Another comfortable two-piece outfit that you can wear for your daily look is this sweatshirt set. I know that all of you are familiar with this outfit style. This matching set would make you free to move for daily activities outside. Support your chic sporty style with comfy trainer shoes. For the bag, you can use your favorite tote bag to perfect your performance.
Hoodie and Sweatpant Matching Set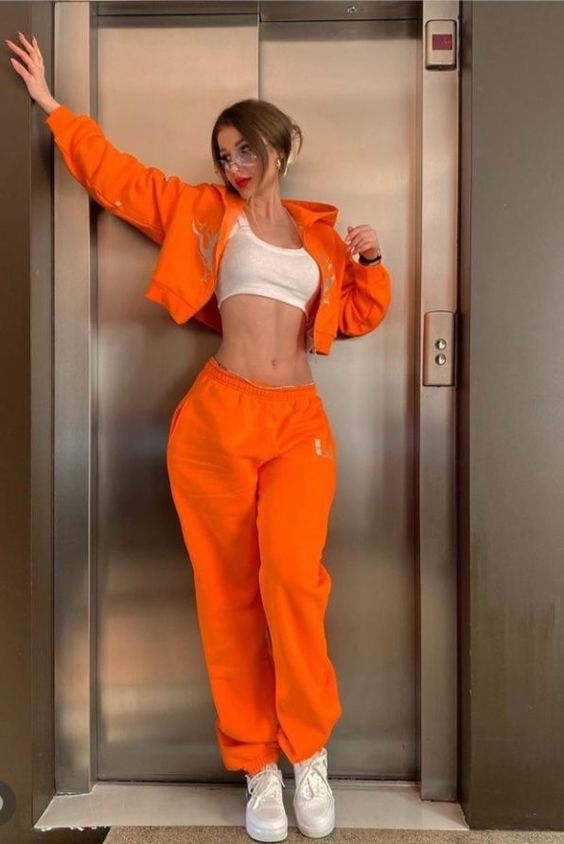 For you who like wearing sporty style for the summer lookbook, get this two-piece hoodie set for your daily rotation. This sweatpants and cropped hoodie is another comfortable yet chic matching set to wear for going outside. Choose bright colors like an orange that would make your skin seem lighter and pretty. Then, perfect your sporty appearance with sneakers, the best matching shoes for this outfit look.
Modest Floral Two-Piece Attire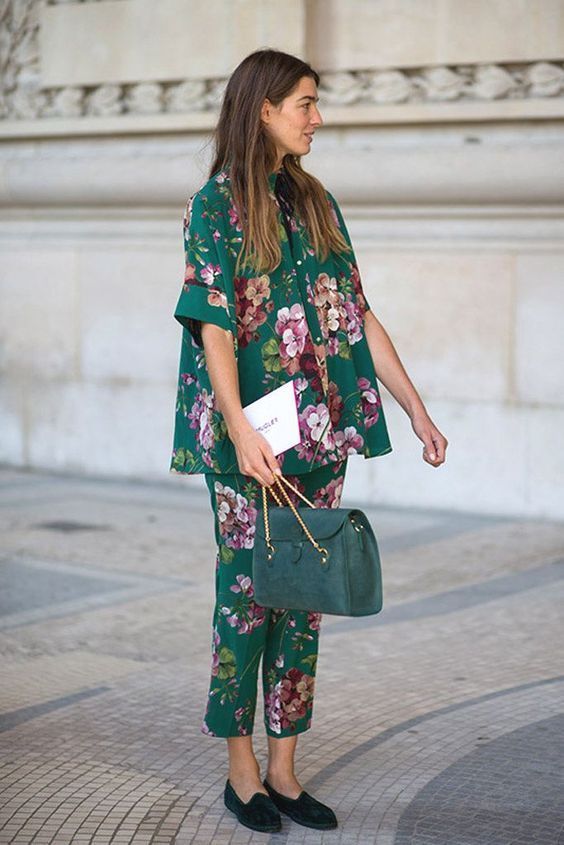 This type of two-piece outfit would be suited for you who want to get a modest and simple look to wear either for indoor or outdoor style. Get a matching set with short sleeve collared floral blouse and ankle pants in dark green color. When you hurry to go outside, you don't have to change your outfit if you wear this. You just need to balance this style with suede green flat shoes and a suede handbag that support your performance.
Floral Cropped Top and Skirt Sets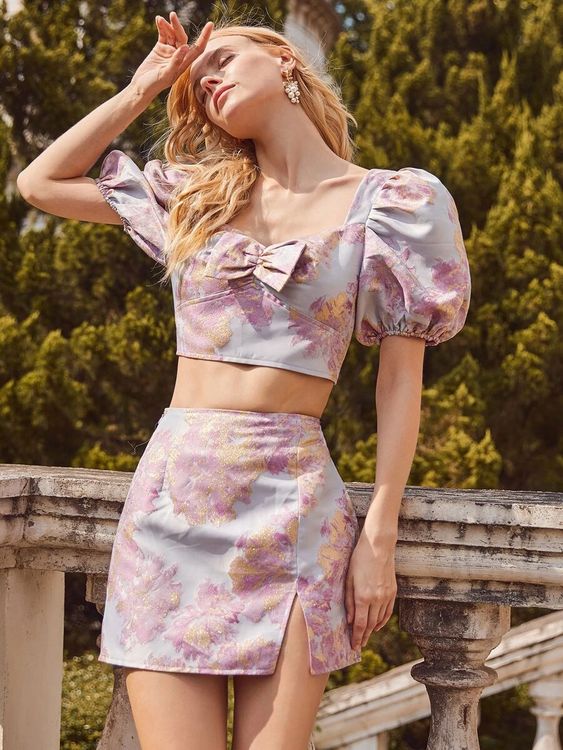 Who wants to have a chic outfit in vintage style? We are sure all of the ladies will like this summer two-piece outfit, especially those who fan of skirt style. When you don't know what to wear on your summer date, you can grab this pastel floral peasant top and slit mini skirt for a matching set. Then, perfect your outfit performance with high heels to get a girly and sexy look, or get a pair of comfortable white sneakers to get a chic yet cute style.
Elegant Silk Skirt Set Outfit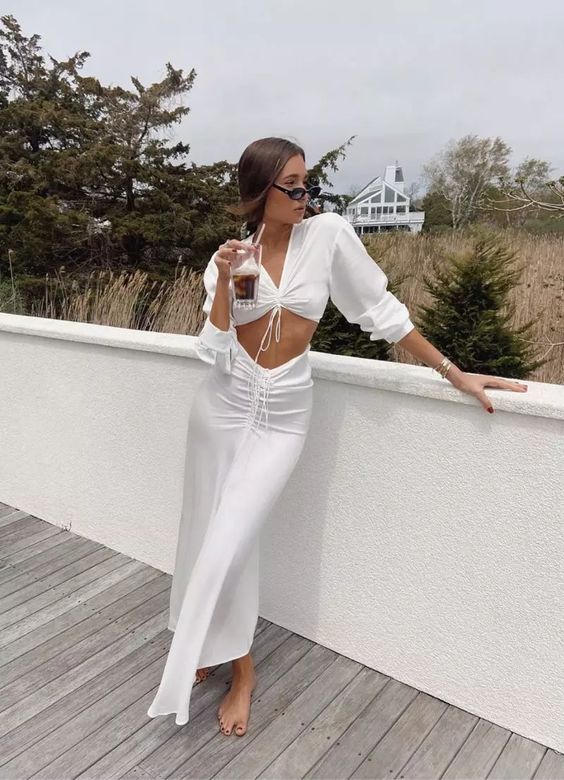 If you get a clueless style to wear during your summer vacation in the vineyard, just bring out this elegant silk two-piece outfit into your summer lookbook. Getting shiny white silk in the summer would bring elegant and classy style into your outfit. You can get a long sleeve cropped top and long maxi skirt matching set, and then perfect with your high heels. This would give you a simple elegant summer party dress.
Pastel One-Shoulder Dress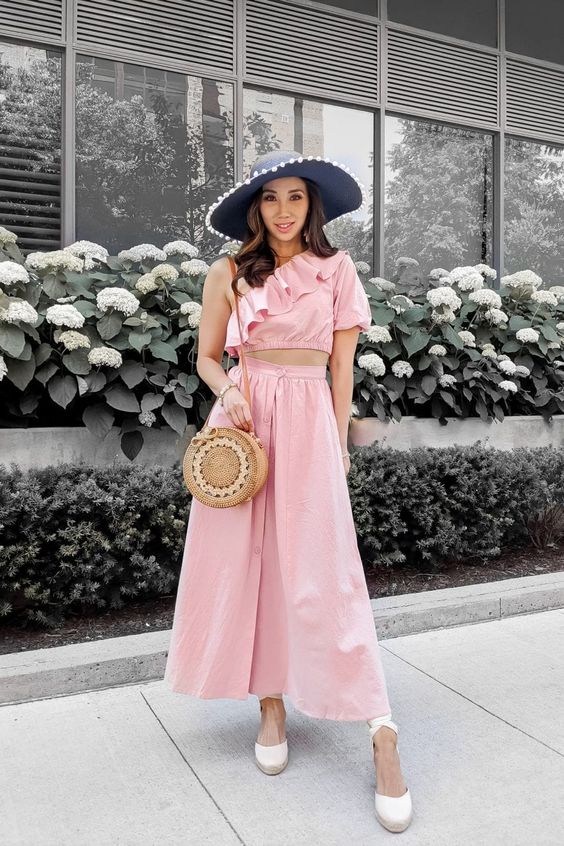 Another pretty two-piece outfit with a skirt to set up on your wardrobe. This pastel one-shoulder cropped top and button-long skirt matching set could become a trick for your daily performance. Mix and match this ensemble with a bohemian round rattan bag and a Mexican floppy hat that would bring chic style into your performance. To balance your pretty outfit, you can get a pair of white strappy heels for your best matching footwear.
Denim Patchwork Skirt Set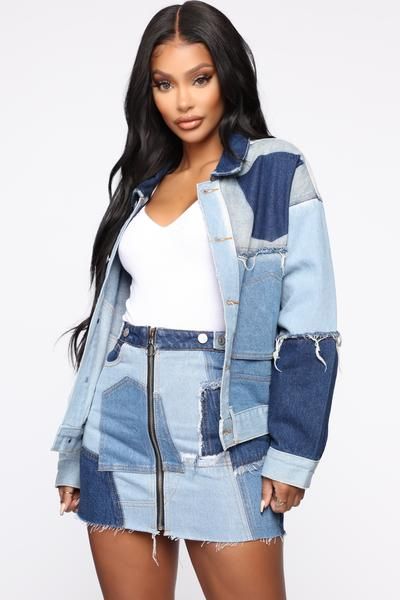 When you feel clueless about being trendy for the summer lookbook, I think this denim patchwork skirt set could be your fashion inspiration. We know thet denim is a kind of versatile garment that would be suited to wear all along the year, and they also have various color shades. You can bring all the denim colorings into your outfit style using the patchwork trend. You can choose a long-sleeve button-up shirt and pencil mini skirt for a patchwork matching set in your daily ensemble. To make it a bit chic, you can loosen the button of your shirt and get a tank top underneath. To support your look, you can wear white sneakers for your legwear style.
Two-Piece Knitted Short Outfit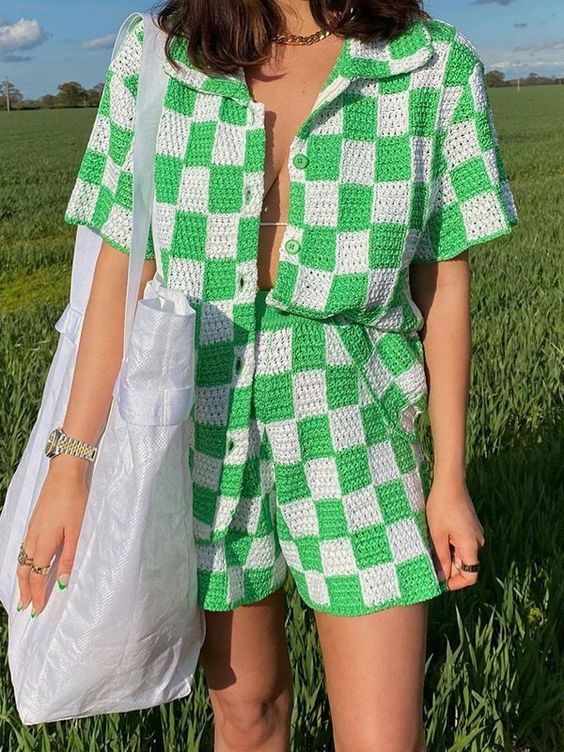 Knitted outfits are usually worn in winter style, but you can still use them for a summer fit. For this, you can get this two-piece knitted short outfit into your wardrobe. This ensemble would make you look chic and fashionable during summer. Then, you can pair this outfit with sneakers to have a cool and chic fashion style. Also, get a transparent tote bag and some simple fashion jewelry like a bracelet and a watch to perfect your fashion look.
One Set Corset Outfit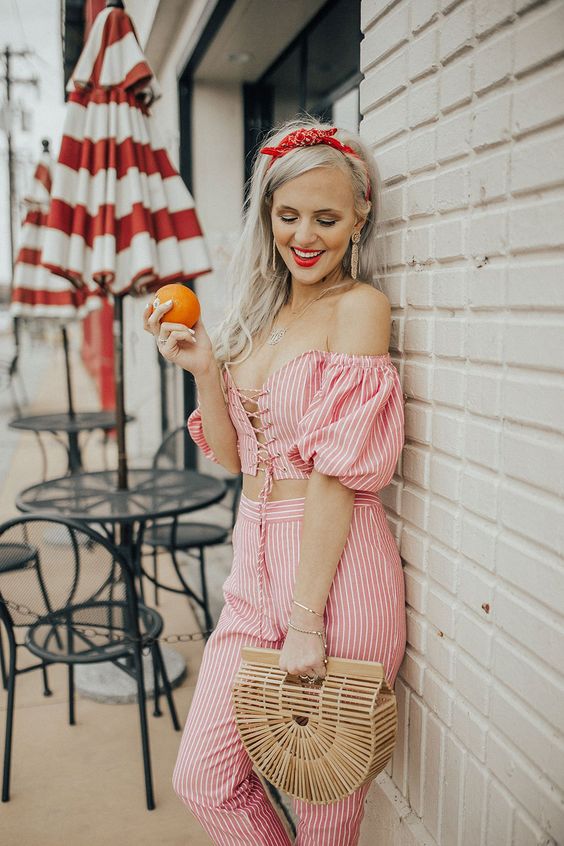 When you feel bored and lazy to mix and match your outfit, make this two-piece outfit style into your fashion idea. Having an off-shoulder corset top that looks classic in a striped pantsuit would give you a fashionable summer style. Get this pretty matching set with high heels or wedges to increase your outfit performance. Also, you can add other details that would make you look chic yet pretty such as a bandana as your hairstyle, and other simple gold jewelry. For the bag, you can get a chic boho rattan bag into your style.
Chiffon Ruffle Dress for Summer Festive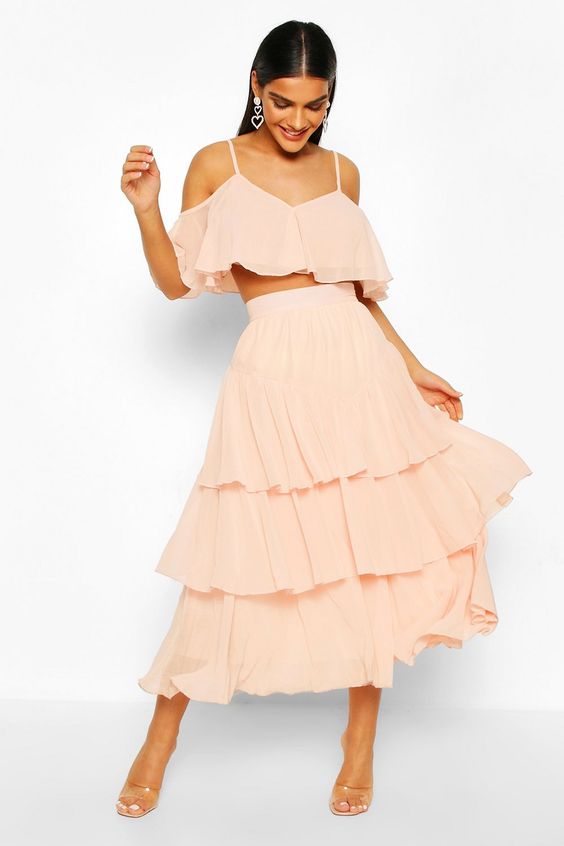 Plan to attend the summer festival on the beach, I think this two-piece dress could astonish your appearance. For this, get a strappy cropped top and chiffon ruffle long skirt in peach colors that make you seem pretty enough. For the shoes, you can get transparent wedges or high heels that make you look elegant. And then, accessorize your summer style with stunning fashion jewelry that improves your appearance. For the bag, getting your classy clutch would be the best for this look.
Chic Formal Suits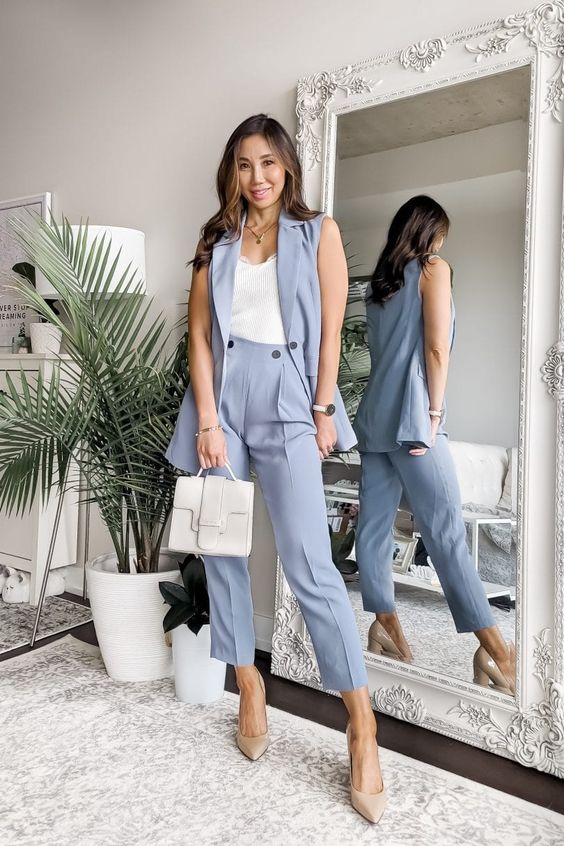 Look back to your work outfit style. Are you find out that mostly your workwear is a matching set with a two-piece outfit style? That's right. Actually to save your time on hectic days, getting a one-set outfit would fast your preparation for work. One of the chic summer two-piece outfits set for work is this sleeveless blazer pantsuit. Have this chic formal outfit in pastel blue color and then get a white tank top underneath. For the shoes, get a pair of beige high heels. And then, complete your performance with your favorite white mini bag and some simple fashion jewelry.
Button Shirt and Shorts Matching Set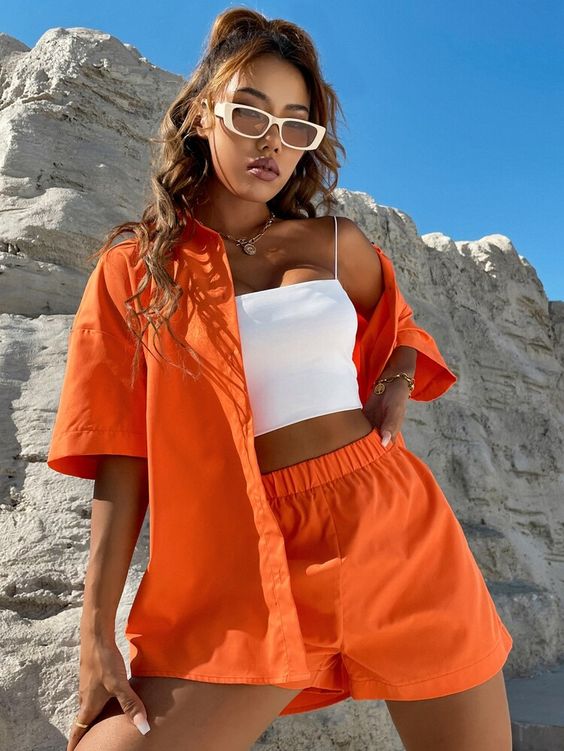 Are you have a petite body? Do you want to look stunning in your summer look? Just get this two-piece short outfit that includes a button-up shirt and short pants, then mix and match it with a white tank top. When you wear a short matching set outfit, you will look cute and pretty. And when you have a medium skin tone, bring this bright orange to make your skin seem light. Then, pair your outfits with comfortable white sneakers to make you look more trendy and cool.
Bohemian Two-Piece Dress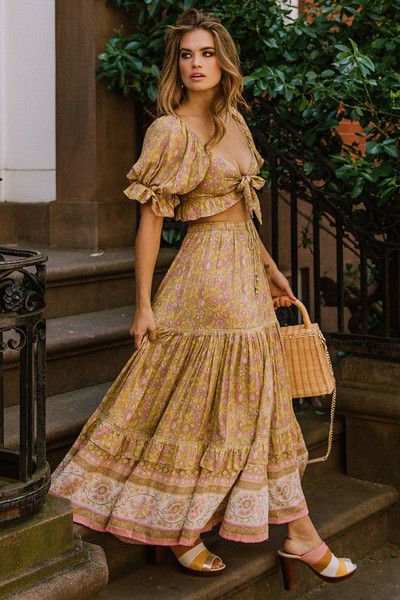 When it comes to summer, the bohemian style is a great choice to wear. When you are bored with one-piece outfits and you don't know what to wear, get this two-piece bohemian dress in your daily rotation. This kind of style is also a versatile ensemble that you can wear either for a vacation look, especially on the beach, or use for the daily ensemble to hang out. Then, you can pair this chic matching set with high heels for matching footwear. For the bag, get your favorite handbag in your hand.
Trendy Cowgirl Outfit Set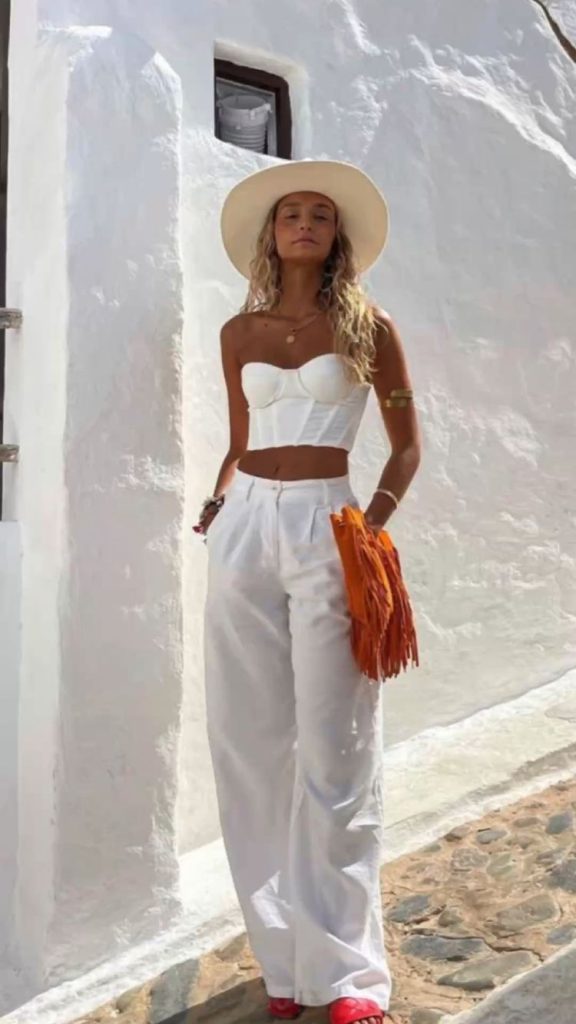 Summer has various fashion designs that you can wear appropriate to your sense. And for you who love to wear something that trendy, this simple cowgirl outfit style may be suited to your style. You can create a two-piece outfit by pairing a white sleeveless bodysuit and wide-leg pants. Then, add a cowboy hat that would make you have the Western wild look. For the toe, you can bring a bit of casual style by getting a pair of sandals, but when you want more trendy and cool performance get cowboy or ankle boots into your outfits. As for additional style, you can also match a bohemian kimono that have tassel embellishments. For the bag, get a bohemian bag to match your chic trendy cowgirl style.
Stylish Two Piece Beach Outfits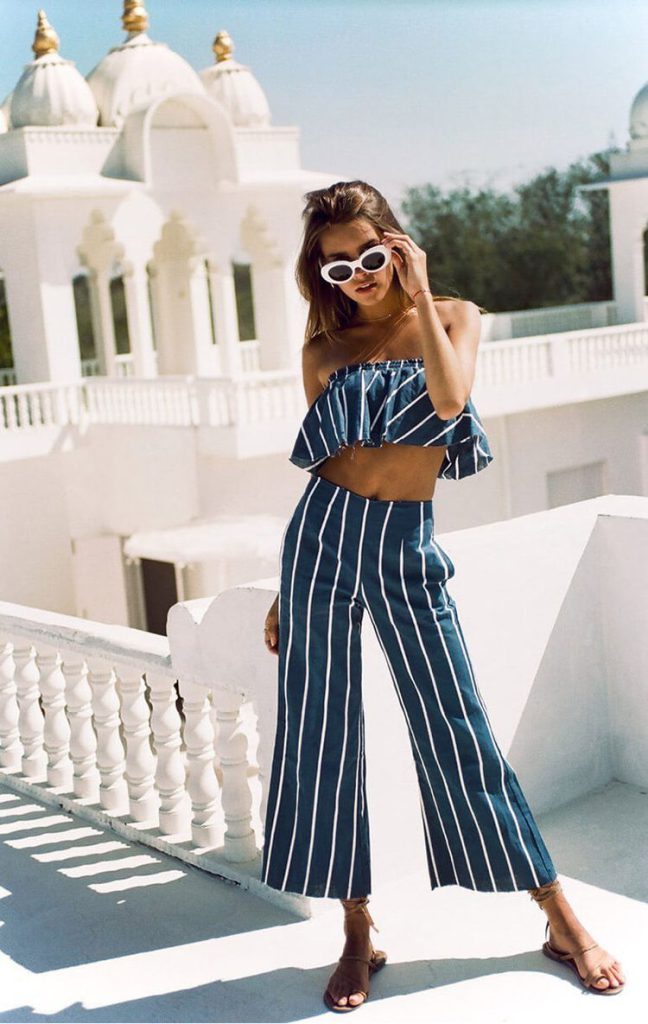 Still with the summer vibe, and want to have a stylish beach look, have this nautical two-piece outfit. You can get an off-shoulder crop top and culotte pants in a blue-white stripe pattern that's typical of the nautical outfit style. When you want to have this matching set for vacation style at the beach, complete your outfit idea using some accessories like sunglasses and simple gold jewelry. Then for the toe, you can match this outfit with a pair of bohemian gladiator sandals to make your look get stylish and sweet on the beach.
That's all that we can share with you about summer two-piece outfits that you can wear for your stylish daily lookbook. Now you can start to earn some inspiration outfits for everyday rotation without feeling clueless in mixing and matching your outfits. So, are you interested in this style? Let's start to follow this outfit idea and look fashionable when hanging out with your friends.