Olidfashion.com – If you want to have traveled to Africa, Serengeti, or Tanzania, there are many things to prepare, especially for the outfit style. Those countries are known for wide Savanna and national park that become heavens for millions of wild animals. So, safari-style is an iconic outfit when you come to those countries. It's a kind of outdoor ensemble look that combines the form and function of the outfits.
If you are coming for the first time in Africa, better to search for information about what should be wearing in there. Some people maybe talk about Safari outfits for traveling style in Africa or Serengeti. Safari is the comfortable outdoor outfit style that comes with green and other earthy tones such as cream. This outfit is also called for an eco-friendly style. Find some traveler blogger that would help you pack a proper outfit style to bring on your luggage. This can help you face the climate there with the outfit you wear.
Safari Outfit Style Ideas
Below, I will give you a list of essential clothing that you need to pack in your Safari outfit style for traveling.
Shirts. This is the most suitable outfit to bring on your safari style. Better to choose a neutral or earthy tone color scheme like olive, sage green, or brown for a Safari look. This kind of color is used to camouflage in the wild savanna. It helps you avoid and hide from wild animals.
Pants. For this, you can get climbing pants, chinos, jeans, cargo pants, and shorts.
Safari vest. You can choose this vest for the outer of your safari outfits. olive, sage, and pale green are the best color schemes to use in safari style.
Jacket. Savanna or desert sometimes could feel chiller, so you need to bring a jacket in your bag. You can get a puffer or parachute jacket for this.
Footwear. The best shoes and sandals to pair with safari-style are ankle boots, desert boots, knee-high boots, bohemian sandals, and army boots.
Now, let's find some safari outfit ideas that you can get to inspire your traveling style fashionably.
Desert Outfits in Bohemian Style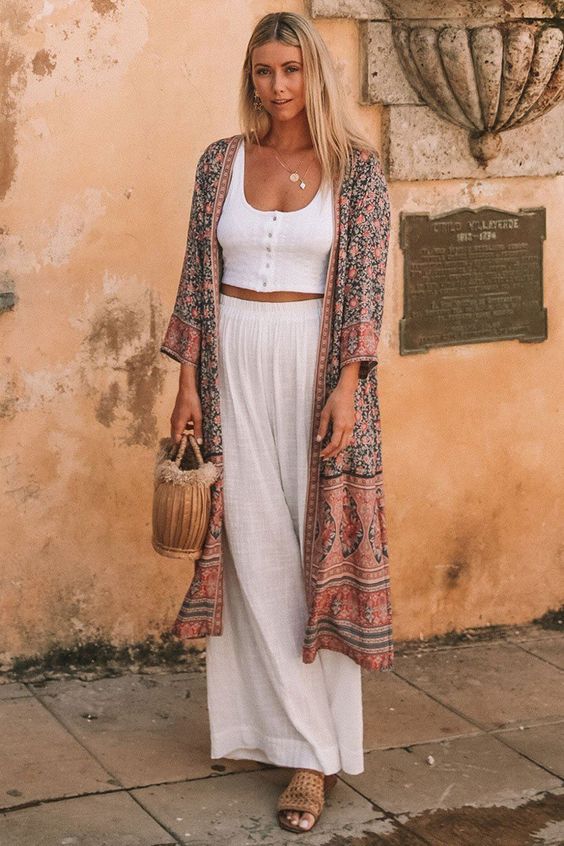 Get traveling in Southern and Eastern Africa that have large deserts, better you bring a desert outfit in bohemian style idea. What's coming in this look is one set of wide-leg pants with cropped tops, that combine with a bohemian cardigan as an outer. For the rest pieces, you can get a rattan bag and a pair of sandals to make it more fashionable. Don't miss out to give some accessorized items such as gold jewelry or you can get a bandana on your head. As the other option, get a cap to help you avoid the sun.
Trendy Style with Safari Shirt
If you want to get a bit trendy look in your Safari outfit idea, you can try to wear something like a countryside look in cowgirl style. What you need to prepare is a green sage shirt, a white tee underneath, and then slim-fit chinos. Complete your fashionable traveling style with army boots and a rattan hat. Then, accessorized it with sunglasses and a mini scarf that you drape around your neck. If you want to make your outfit more stylish, knot out the front of your shirt.
Best Safari Jacket for Night Tour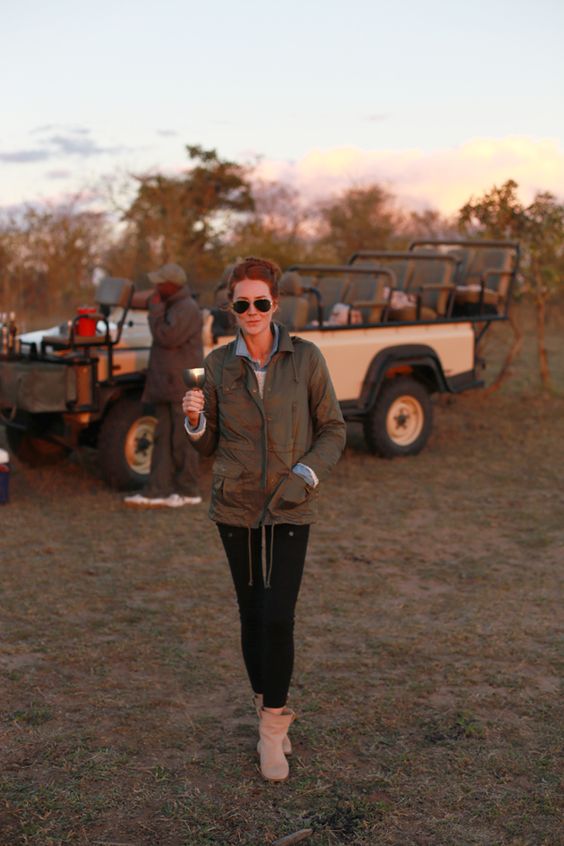 When you go night trip or have a camp outdoor, better you wear something that warms like a stylish women's jacket. So, don't miss out to bring a jacket in your luggage when you go traveling on Safari. You can wear a parachute jacket, denim shirt underneath, black skinny jeans, and suede ankle boots. This would help you to keep fashionable and comfortable during your outdoor traveling.
Comfy Shorts for Hot Weather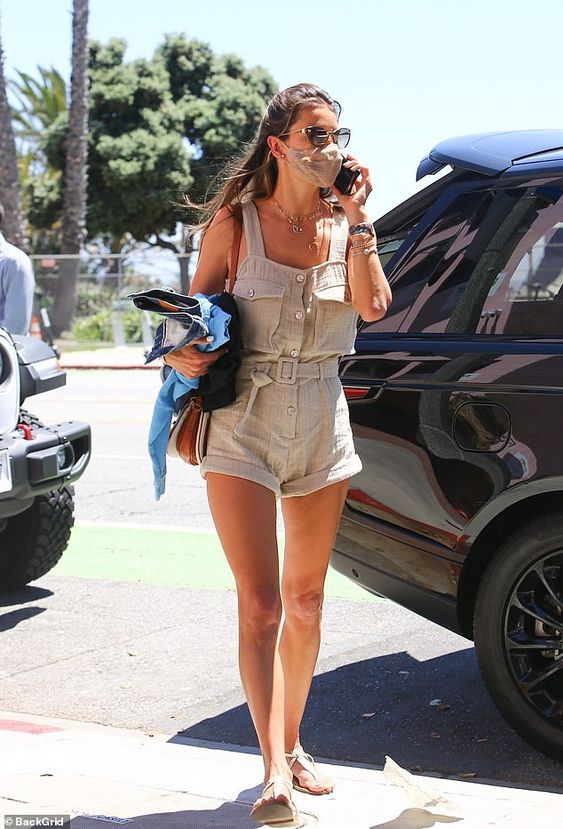 Sometimes the weather at the destination is a bit hotter and different from your home country. That's why you need something that is comfortable and also fashionable during this time. As an option, you can try to bring a button-up sleeveless short jumpsuit in your luggage. For the safari outfit style, choose the design with two front pockets and use earthy tones like cream. For the feet, you can get comfy bohemian sandals to adorn your travel ideas.
Wearing Scarf in Safari Outfit Ideas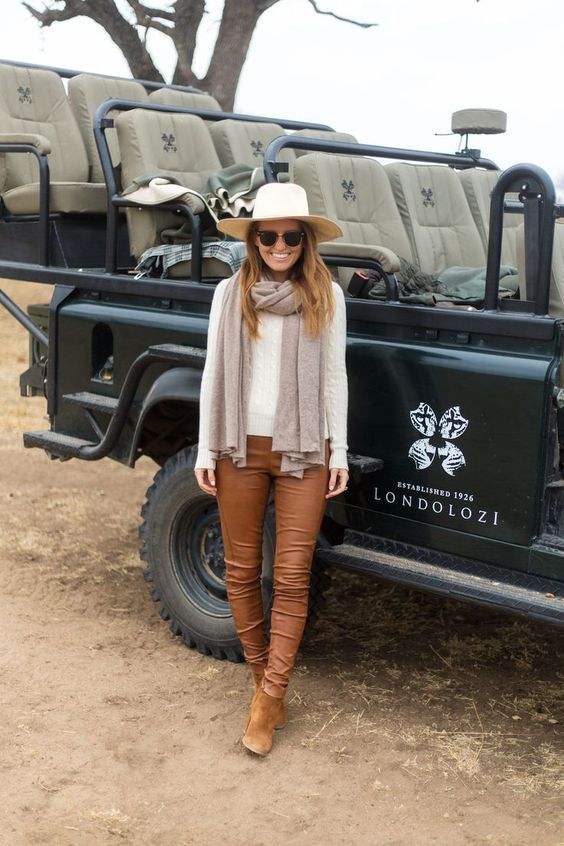 As we know that the climate of your destination is different. So, you need to prepare everything even the outfits properly. Take your time to find some updated information about the place where you go. If you travel to the desert and safari, it may feel chiller on the outside and evening. For this, you need to set up some warm ensemble such as a white sweater, brown leather jacket, and suede ankle boots. And then, you can add some accessories such as a long scarf and a floppy hat. By giving accessories, it would make you look funky and fashionable.
Knot Shirt in Safari Style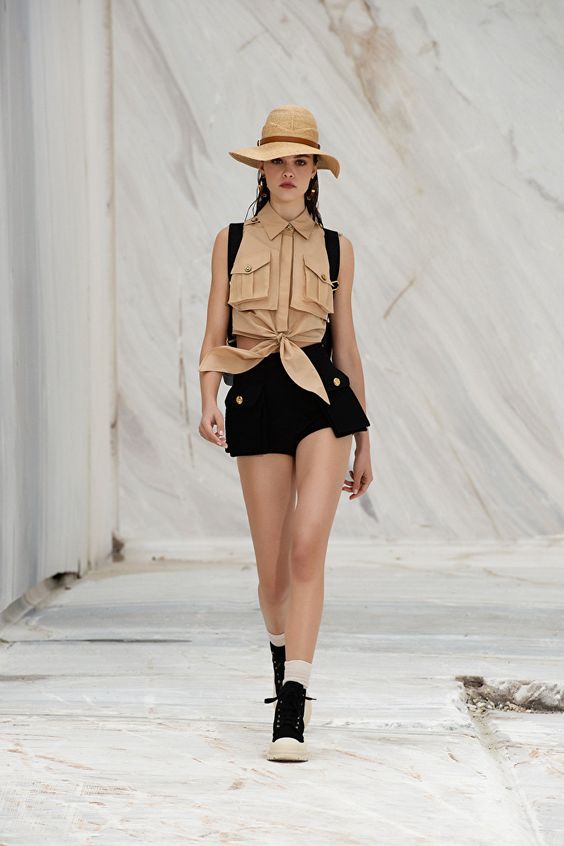 Want a chic safari outfit style, get this outfit idea. A knot-up Safari shirt combined with black shorts. This outfit would give you a stunning and chic look. Complete your outfit style with a backpack for a traveling bag, and get a floppy hat to protect you from the heat.
For the footwear, you can wear something that comfortable and manly like high sneakers. Don't forget to wear a pair of socks. This outfit looks simple but actually outstanding enough.
Pretty Safari Short Dress
Getting dressed in safari style, why not. For this idea, you can choose a pretty sleeveless beige mini dress that's combined with suede ankle boots. To give you fashionable style, you can get other details on it. Like you can bring a mini belt over your dress as accessories. Besides that, you also get this style with other shoes like heels for an elegant look or army boots for a chic trendy style.
Fashionable Safari Outfit with Vest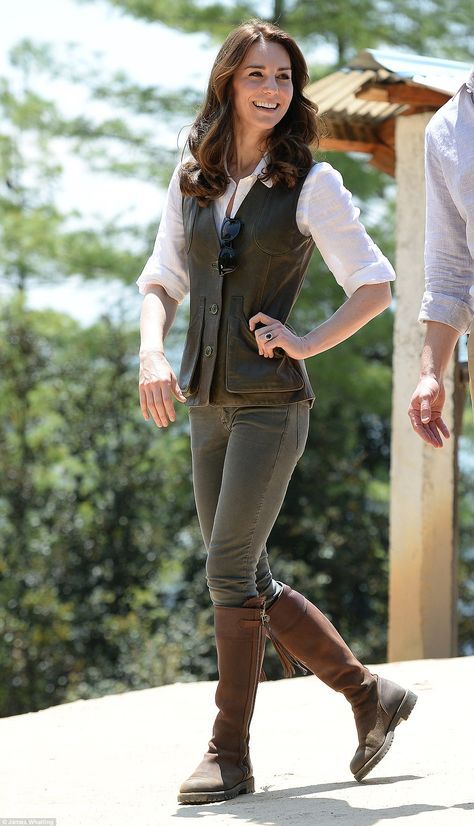 For those who want to have a strong image in safari outfit style, you can wear a victorian look in vintage clothing style with a vest. At a glance, this outfit would look like a horse ride outfit with a shirt underneath, a pale green vest, olive skinny jeans, and knee-high boots. But we think this ensemble would be perfect to bring on your traveling bag. This would give you a simple elegant style to go around the Savanna with a jeep.
Safari Style with Tropical Shirts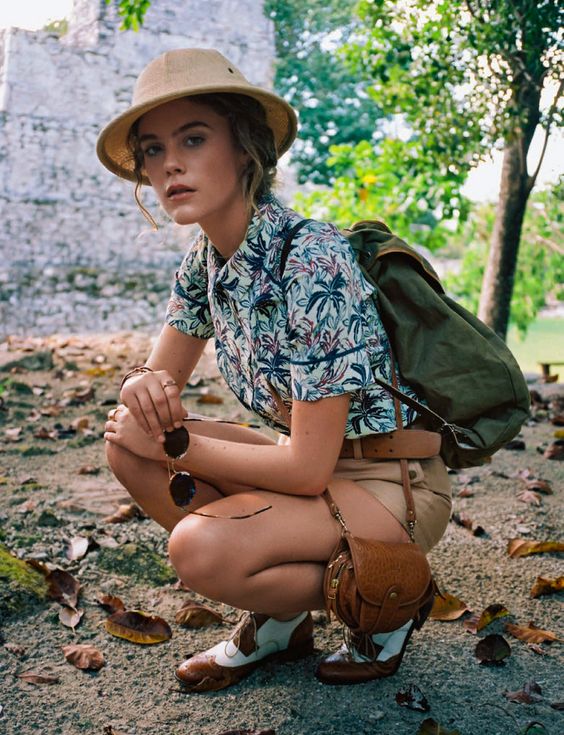 A tropical shirt is a favorite style in vacation outfit ideas. That's why you can also bring this piece into your fashionable safari outfit style. For the optional, you can mix this outfit with Bermuda shorts. And then, for the footwear, you can get leather loafers. Better you choose a backpack for saving your big things, then a tiny sling bag to save small things that you often use. Don't forget about the accessories that would make you look stylish like a Boonie hat or bucket hat to protect you from the sun.
Get Chic Ensemble with Shorts and Shirt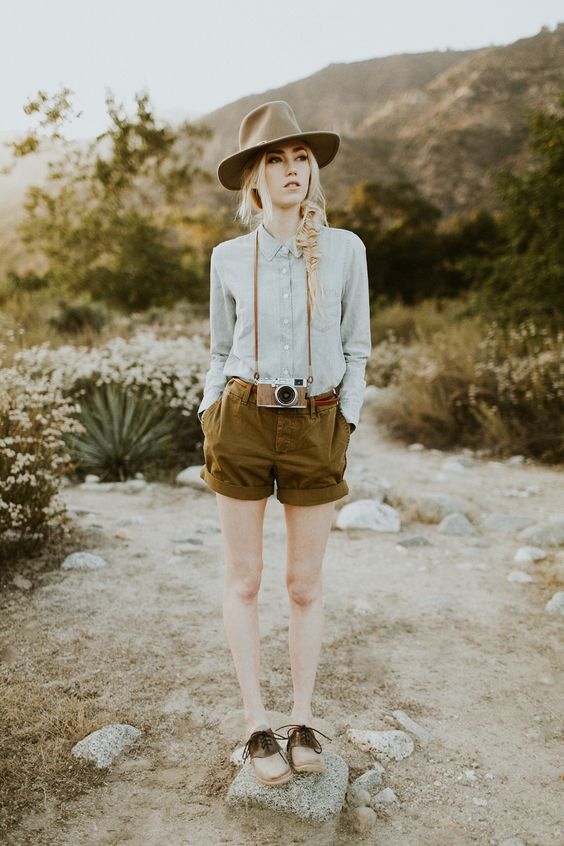 Shorts and shirts are the most versatile outfits that match other outfit styles. Whether it is formal, casual, or on vacation, this ensemble is never outdated. Even for creating a chic safari outfit idea, you just need to combine those two clothes. Styling your shirt in a preppy look by tucking it in your olive shorts. Then, give a campaign hat that would make you look stunning and fashionable. For the footwear, you can choose dockside shoes for the matching ones.
Knee High Boots Style for Traveling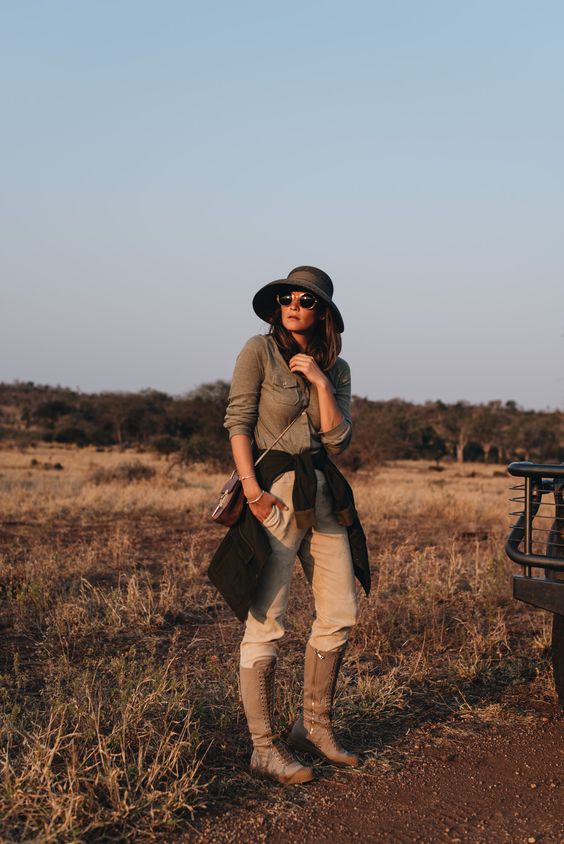 Having knee-high boots for your traveling style is one of the great ideas. You will look trendy and cool in this footwear. To perfect your performance, use these shoes in Safari outfit ideas by giving a long sleeve shirt, chinos, and fedora hat. Give the chic details by wearing a cardigan for the outer. You can tie it around your waist. Accessorize with sunglasses and simple jewelry. For the bag, you can get a mini sling bag on your hand.
Monochrome White Style in Summer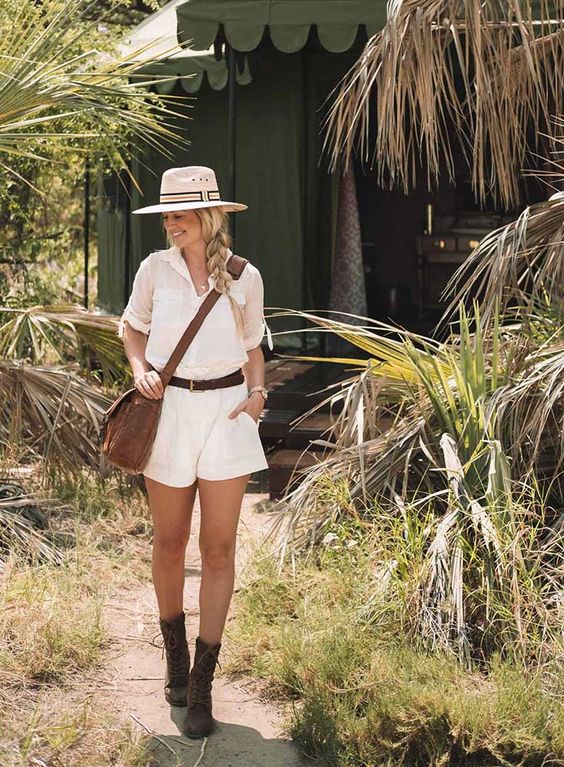 If you need something that matches both your summer style and safari outfit for traveling, monochrome white is the solution. Just bring out a two pieces outfits that include a white short sleeve shirt with white shorts. For the feet, you can style with ankle boots. And the matching bag for this outfit is a leather brown sling bag. For the rest style, you need to give some accessories like a leather belt and fedora hat that would make you look fashionable for traveling in Savanna or national park.
Green Romper for Safari Outfit Look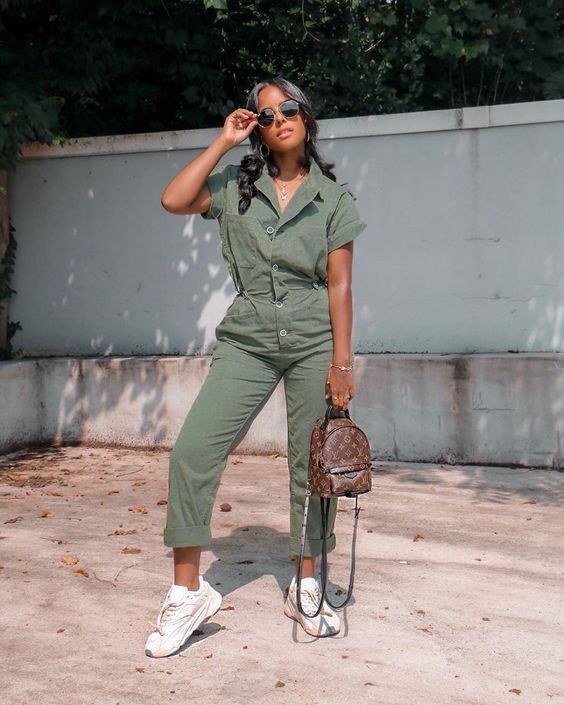 The one-piece green romper is really comfortable to wear for you that actively moving. This outfit also looks fashionable in traveling outfit ideas. To make this piece perfect for walking around, you need to bring out some accessories like a mini backpack, sunglasses, and simple jewelry. For the matching footwear, better to choose trainer shoes that support you to freely move around while traveling.
Best Mini Skirt for Traveling
Another outfit you can bring safari-style for traveling is a mini skirt. This piece can be a versatile outfit that you need to bring on your vacation style in Africa. This outfit will bring the best performance during traveling time when you match it with a basic white tee, a green oversized jacket, and army boots. Your outfit wouldn't be complete without having a fedora hat or campaign hat for the accessory.
Fabulous with Bohemian Dress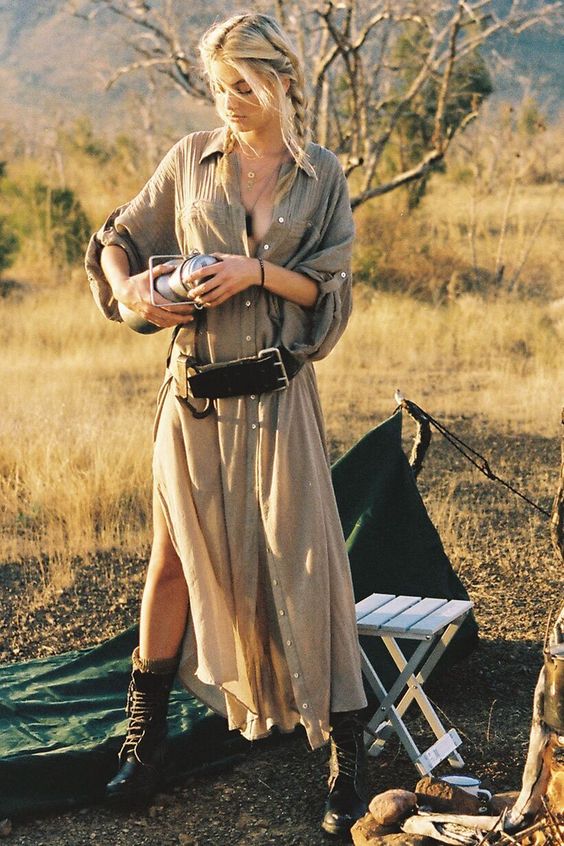 Don't underestimate the bohemian outfit style that looks a bit shabby for traveling outfits. This clothing would turn into fashionable ones in safari outfit style. Try to wear a large shabby button-up maxi dress with a pair of black lace-up boots. You will see that they are matched really well and fabulous to tie together. Adorn your outfit style with a big leather belt over the dress. For accessories, just bringing a simple one is enough. This outfit idea would be great to wear as your camping style outdoor.
Stunning with Tan Dress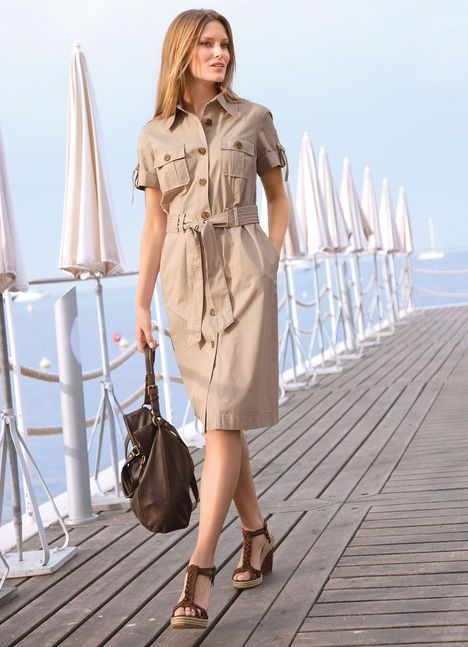 Actually, this safari look has been improved to become a fashionable outfit idea. The iconic color in safari outfit ideas is neutral and tan colors like the dress in the picture. That's why, if you want to have a stunning traveling outfit style, get this tan dress on your bag. You can turn this dress into a casually elegant style by wearing wedges for matching footwear. This style would suit the beach vacation look. Rather than it, you can get this ensemble for a safari outfit style that matches for vacation in the savanna by fitting with boots.
Simple Clothes for Safari Style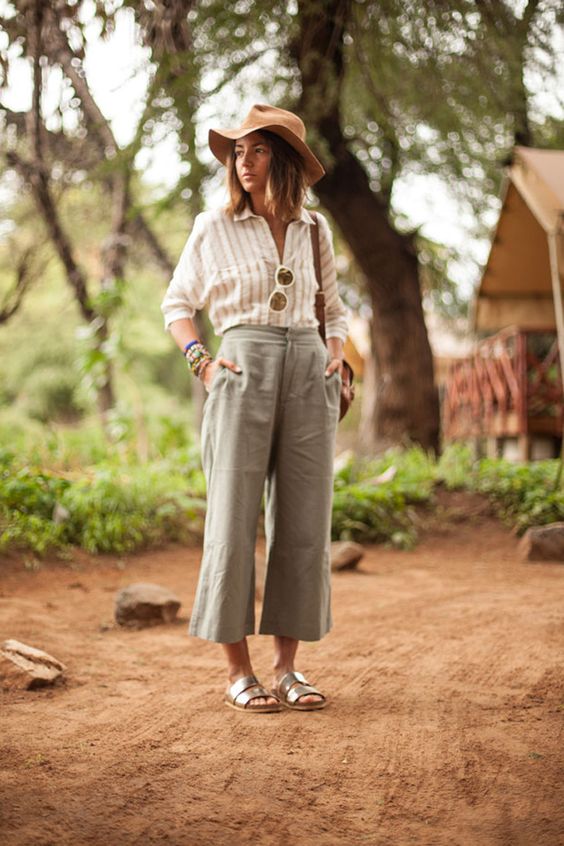 Having a simple ensemble in traveling style on the savanna is a must. This would help you to feel comfortable without having tricky outfits. The best style for this is wearing a striped long sleeve shirt with ankle wide-leg pants. For the toe, choose sandals for simple and cozy footwear. Don't miss out on accessories, get a campaign or cowboy hat, some bohemian crafts, and then sunglasses for creating a fashionable traveling outfit style. For the bag, you can pick a backpack or tote bag.
Accessorizes Items in Safari Style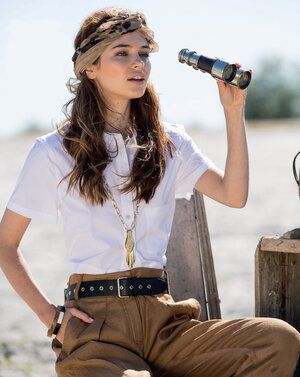 In fashionable safari outfit ideas, there are some iconic accessories items that you should know. The most used accessory that people bring for this style is a hat. There are some kinds of fashionable hats like a Boonie hat, campaign hat, cowboy hat, fedora hat, bucket hat, and others that use to protect you from the sun and stood up your appearance. Besides that, some people also like to wear bandanas on their heads. Another one, they also like to use a leather belt, bohemian jewelry, and sunglasses to adorn their safari outfit.
Wearing the proper outfit when you go traveling is important. You need to stitch the outfit style with the place you go. For the savanna and national park vacation in Africa, you can bring a safari outfit style on your luggage. After you read my explanation above, I hope you will get inspiration for traveling outfits from this article.