Olidfashion.com – Goth is a kind of fashion trend that appears in the '90s. They come with the dark side of yourself, especially about your physical appearance. Wearing all in black attire, metal or punk accessories, huge chunky shoes, and bold eyes make-up. Those all are typical of modern goth outfit ideas.
Having unusual looks from the combination of mysterious, dark, romantic, and a little creepy make this fashionable goth attractive to wear. Sometimes, the gothic style could be performed well in classic vintage fashion like victorian. Even so, this style also would look stunning in sophisticated and modern outfits. Goth outfit ideas come in various forms and styles. So, I gathered a few modern fashionable goth outfit ideas that you can be worn daily.
How To Look Fashionable in Modern Goth Outfit Ideas
Goth fashion is the combination of some different styles like cyberpunk, industrial, and victorian. This outfit idea began to appear in 1980. This kind of fashion sense that some people want to use for expressing their self. However, somehow this goth outfit is usually judged straight away with a negative and creepy image. Behind that, they have an attractive and unique style. So, if you want to start adopting it to your wardrobe better know how to dress fashionably in a modern goth outfit style. For this, I give you a few tips to follow.
Having tight and short clothes. In modern goth outfit ideas, a tight and short ensemble is a must. For the eccentric look, you can wear corsets and lace-up outfits. Besides that, leggings and fishnet stockings also need to appear for bottoms style. To create a cute and chic look, you can wear a mini skirt or bodycon mini dress in your goth style.
Wearing all-black ensembles. Goth and black is one unity. When you want to bring this goth simply, just wear monochromatic black ensembles from head to toe.
Stood up huge chunky footwear. If you want your modern goth outfit ideas could work well, you need to bring the best matching footwear. As you know that goth is involved with punk and industrial style, so best you pick huge chunky boots or shoes to your style.
Get the industrial look. The industrial goth is coming in metal accessories such as spikes, buckles, chains, and others. You need to stick out these accessories in your goth outfit ideas.
Styling your makeup and hair. The final touch to perfect your goth style, styling your makeup and hairstyle is a must. Goth identically with bold makeup that highlights the eyes with black eyeshadow. Besides that, some of the goth styles appear with bright and colorful hairstyles.
Modern Goth Style for Fashionable Outfit Ideas
As fashion trends get changed, it would a bit tricky and challenging for you. For example, goth style. In traditional goths, they just come in black. In modern goth, you can find various styles not only just black attire. From cute, colorful, trendy, or preppy you will find it in goth fashion style. So, I prepared some goth outfit ideas below.
Cute Pastel Goth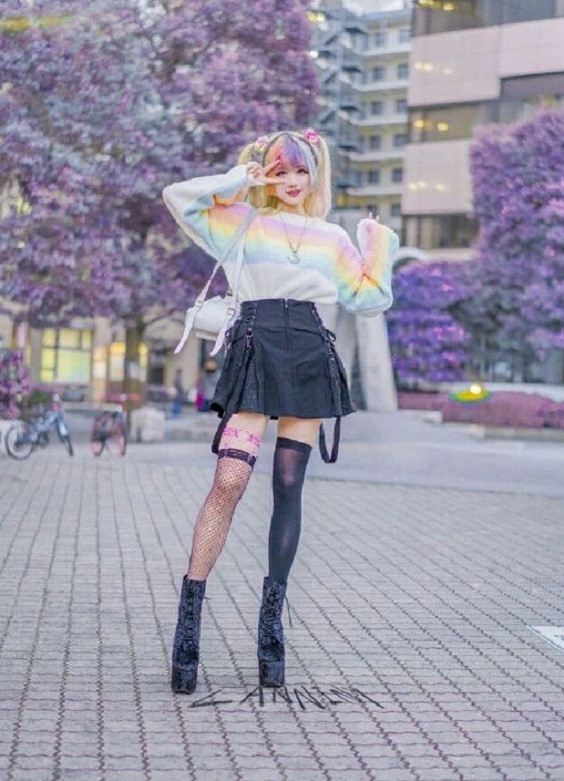 Pastel ideas match all women's fashion styles even for goth outfit ideas. You can get a cute goth outfit by having pastels and a black ensemble. For this, you can combine an oversized pastel sweater, with a black mini skirt, and chunky boots. Perfect your cute style with a pastel hairstyle and some cute accessories.
Cyber Goth Style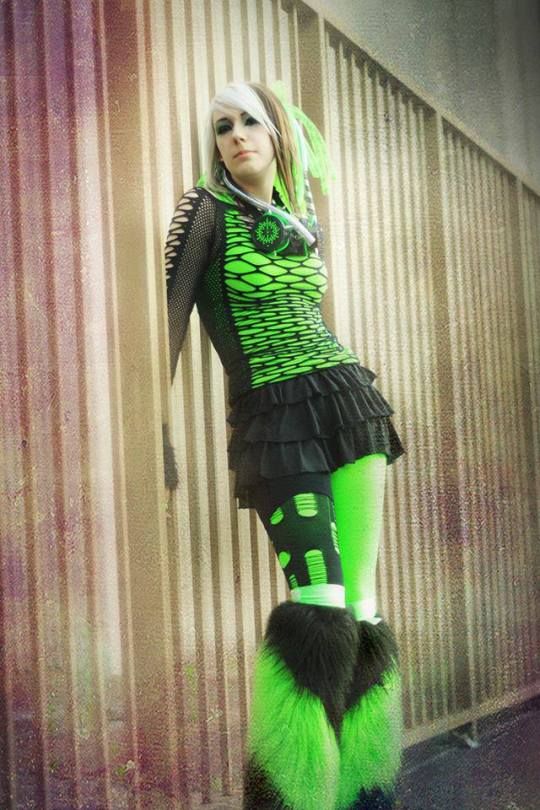 This kind of modern goth outfit idea brings out the cyborg concept that is influenced by techno, trance, and industrial music concept. What's common in this outfit style is something such as bright color hairstyle, short and tight clothes, fishnet stockings, full set accessories, and most importantly the outfit usually has a combination of neon and black colors. For the footwear, they come in unique styles such as lace-up high boots, chunky shoes, or fur boots.
Haloween Outfit Style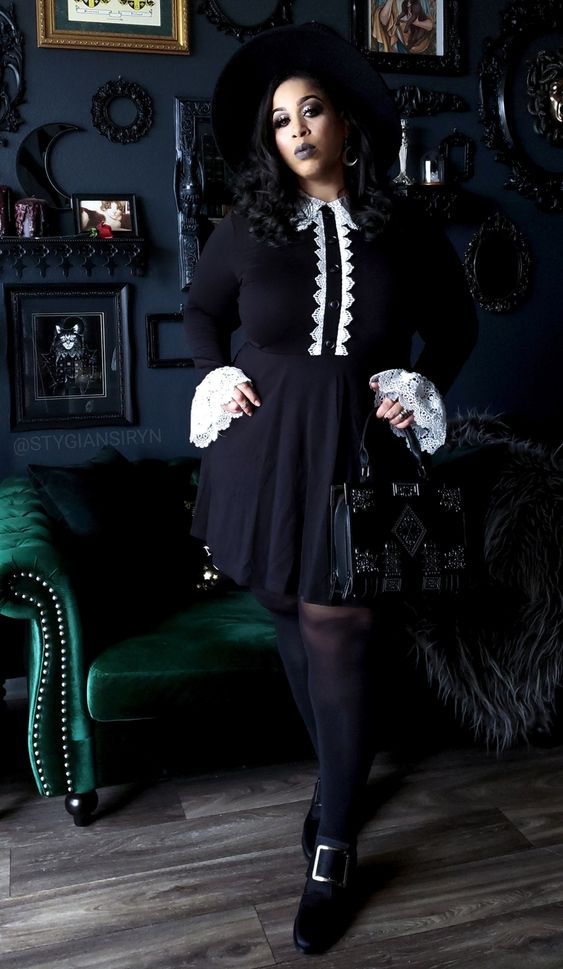 The creepy Halloween would be perfect with a goth style. They have the same context that brings darkness and an all-black vibe. Appearing in a black long sleeve mini dress, black stockings, and also black moccasin shoes would be enough to bring out a vintage goth outfit idea. Having a bit of detail on your head with a black floppy hat would make you look like a modern witch at a Halloween party.
College Girl Style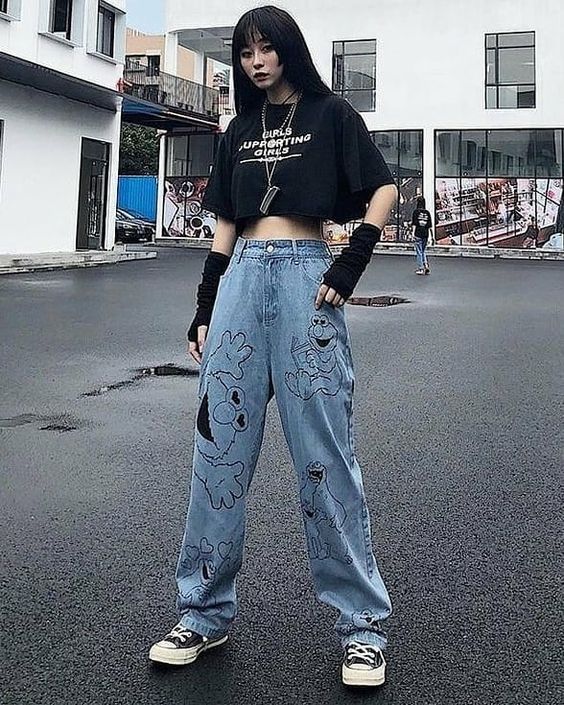 Standouts with fashionable goth outfits to become your college style. For this, you need a simple goth style by wearing a black cropped t-shirt and high waist jeans. Bring out your college girl outfit idea chicer with black hand socks for accessories. Better to pick black sneakers to perfect your appearance.
Goth in Bohemian Look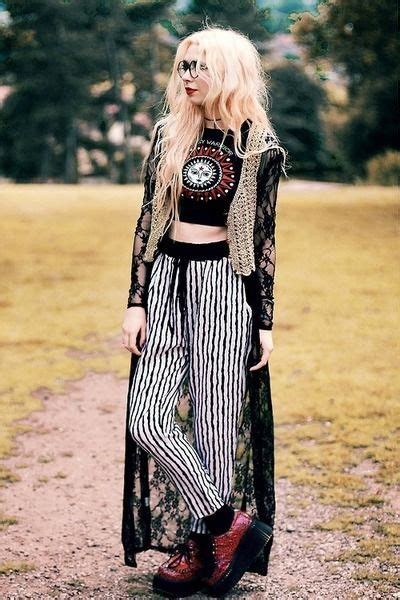 Bohemian is a style that could show your free soul and it would be perfect to bring it in modern goth outfit ideas. Express goth style in bohemian clothing ideas by having darker basic clothing colors. For instance, you can get a black lace long outer to cover your black crop tops. Then for the bottoms, choose black white striped pants. For footwear, chunky shoes are the best option.
Victorian Goth Style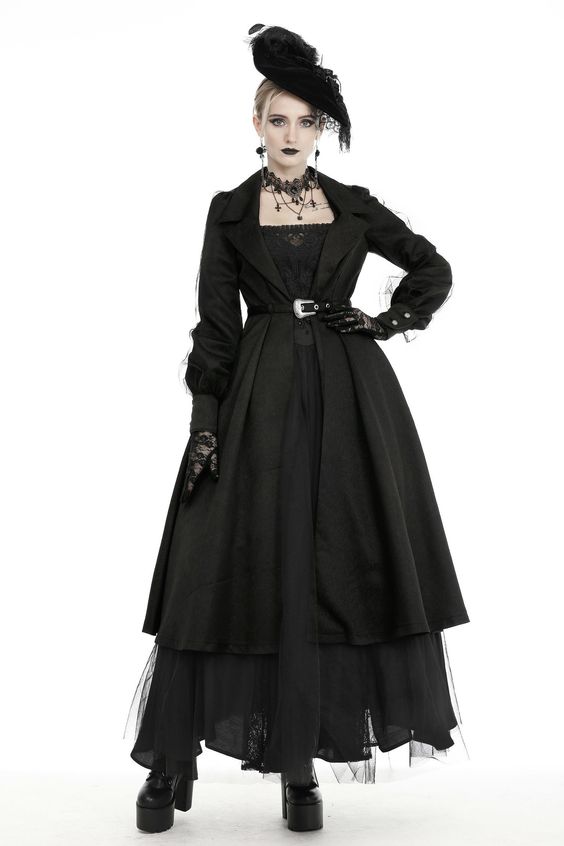 What's next coming in modern goth outfit ideas is a victorian look. They are commonly influenced by victorian art, literature, and also film. To get victorian goth style, you should wear black long flowing gowns, a long trench coat, and a belt over it. Add a fascinator hat to your head and then lace hand socks for more victorian vibrant. While you can get a modern look with a pair of chunky shoes.
Chic Geek Goth Outfit style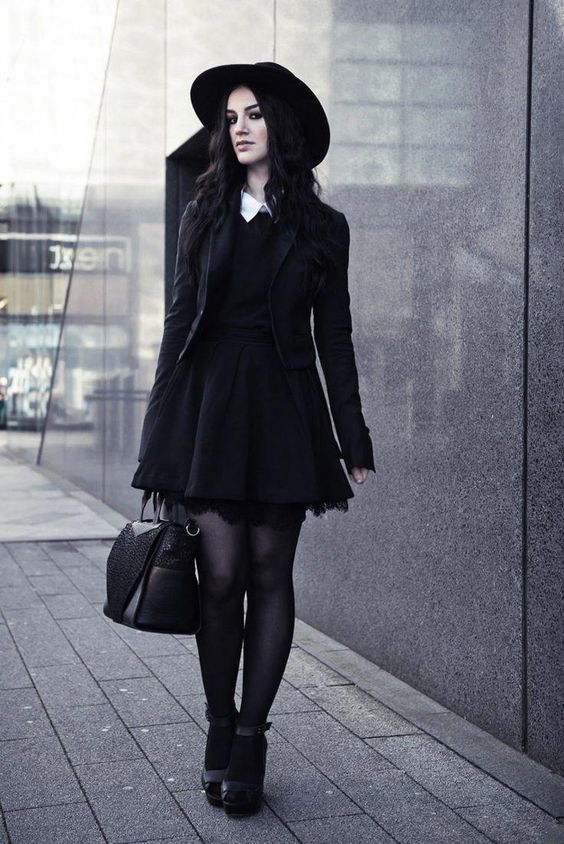 The fashionable goth outfit idea could be stood up with geeky outfit style. You can experiment with a black mini dress and a cropped blazer to layer it. Don't forget to wear tight underneath. Get fully dressed by pairing it with black heeled loafers and a black floppy hat.
Goth Outfit with Corset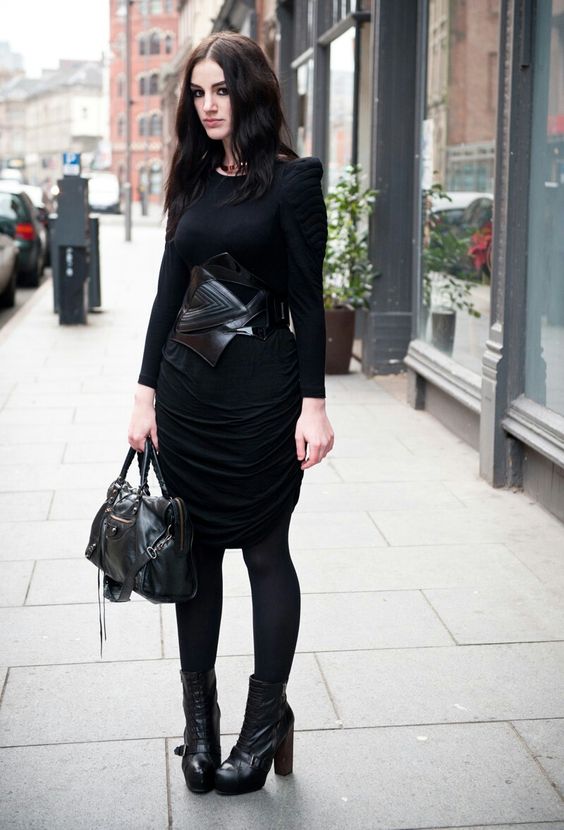 Make trendy styles differently by having goth outfit ideas on your daily option. You can stand out with a black long sleeve midi dress and corset over it. Wear tight pants or leggings on the bottoms and pair with heeled ankle boots. This fashionable goth outfit idea would fill up your wardrobe with a trendy elegant style. Bring out this outfit style to hang out with your friend.
Modern Aesthetic Goth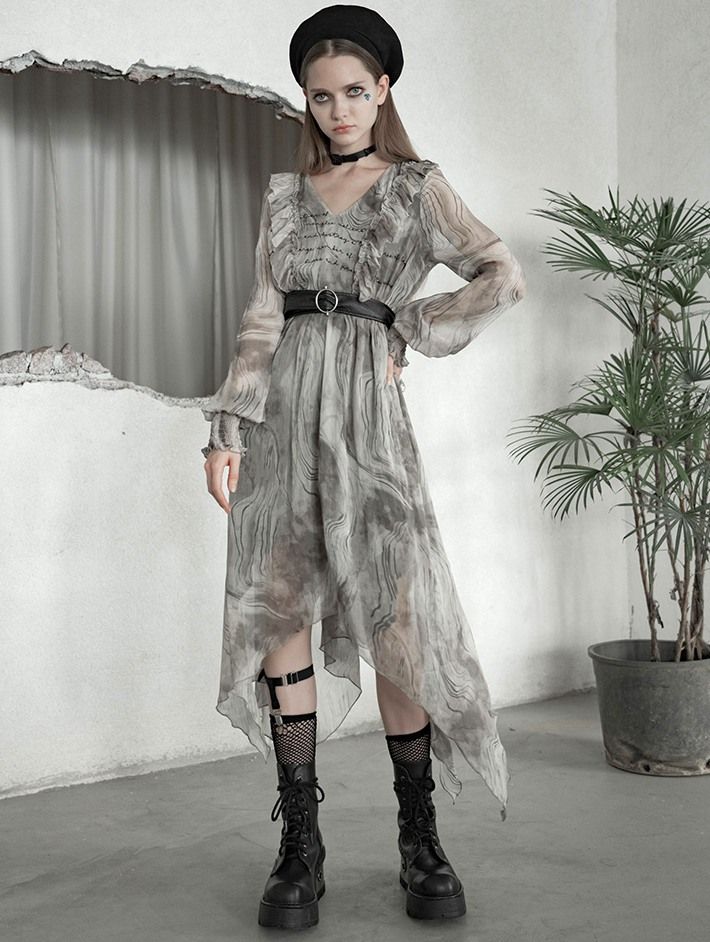 Not every goth style always comes in monochrome black ensembles, they also could be presented with other combination colors. Look at the picture above, it still shows the goth style but with a grey dress that looks aesthetic. However, you still have to give a black accent either on your goth accessories or your shoes. Maybe having a long sleeve sheer dress with belted over it, and then a pair of lace-up boots with fishnet stockings underneath could increase your overlook. This style bit looks like cottagecore outfit ideas that are delivered in goth style.
Dark Romantic Concept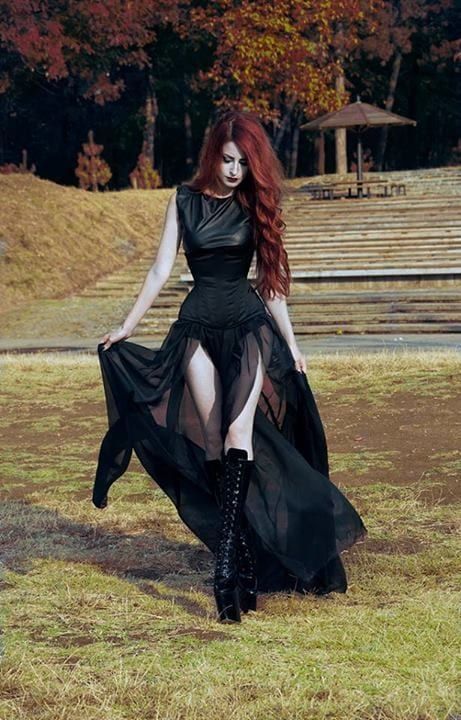 Dark romantic goth is generally about tragic love. They also have a little victorian style on the ideas. To show it in women's outfit ideas, you need to wear something that elegant, lacey, and usually flowing dramatically. Just pull out the romantic goth with a black sleeveless long sheer dress, high lace-up boots, and a corset. These outfit ideas really bring your sexy and cool side out.
Vintage Goth Style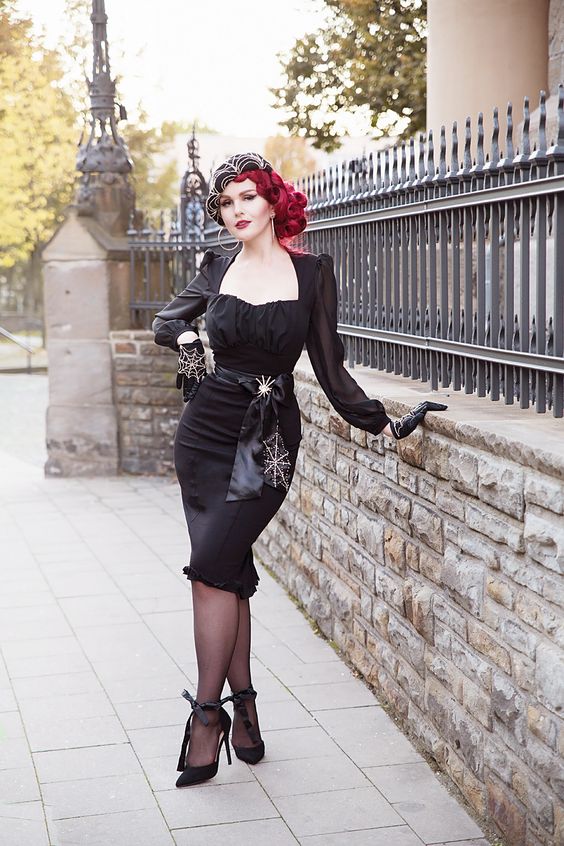 Like other fashion, vintage clothing styles always be easy to include on women's outfit ideas. Even it's modern or eccentric like goth outfits, classic vintage still looks good to wear. Just appear with a black bodycon mini dress, stockings, and strappy stiletto. Then, complete your vintage goth outfits with a black fascination hat and gloves for the accessory.
Goth Style in Winter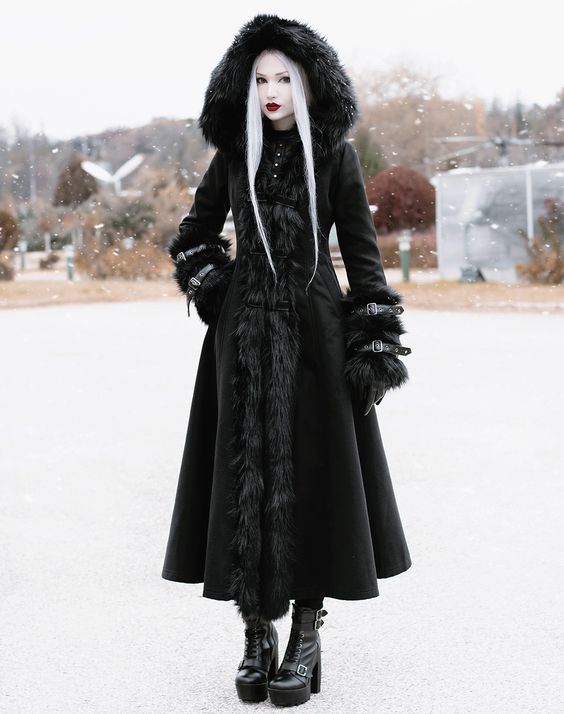 Winter is the time when you can't wear something freely. You need to adjust your outfit to the colder temperature. That's why everything you use is always layered with huge coats. Regardless, you can be fashionable even in your women's coat style. Stick out a goth look on your winter mode by wearing black long coats with fur trims, tights, and heeled chunky ankle boots.
Comfy Goth Idea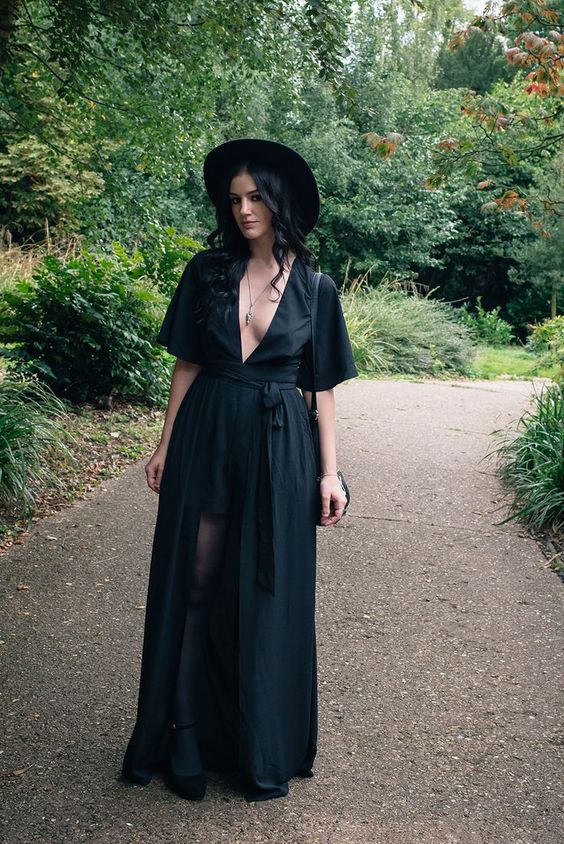 If you like something new for vacation style, modern goth outfits maybe suit it. For the comfortable style, pick up a black short sleeve jumpsuit. Then, to bring dramatic flow, get a beach warp sarong maxi skirt in your ensemble. Make it look better with stockings and strappy shoes in black colors. Consider giving another pretty detail such black a floppy hat as for accessories.
Lolita Outfit Idea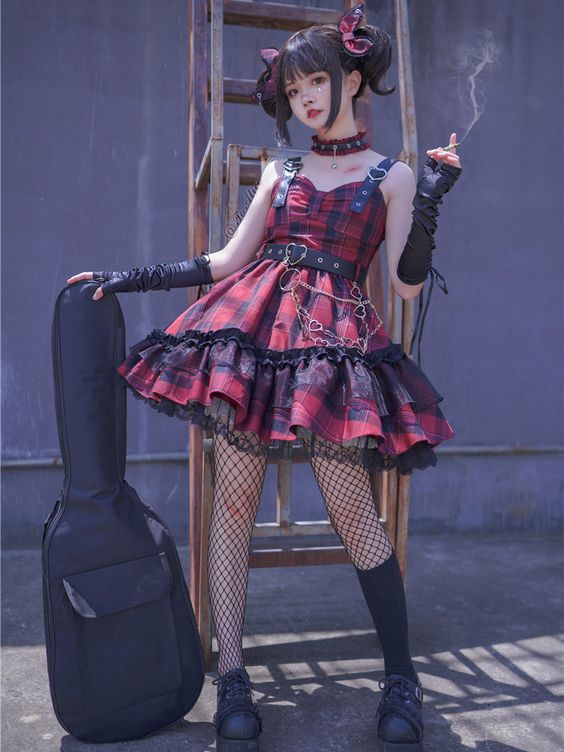 Lolita is a kind of subculture fashion style that's originally from Japan. When this style inserts on modern goth outfit ideas, it's a similar style with romantic goth style in the younger audience. When you want to pick this style, you need to design your outfits with a cute lacy mini dress, then get a pair of huge chunky shoes. You can even wear not only monochrome black but also combine it with other colors like red or pastels. Fishnet stockings, spikes necklaces, and metal accessories shouldn't forget. What makes this Lolita unique is their hairstyle that's usually gets styling cuteness like a child.
Grunge Goth Outfit Style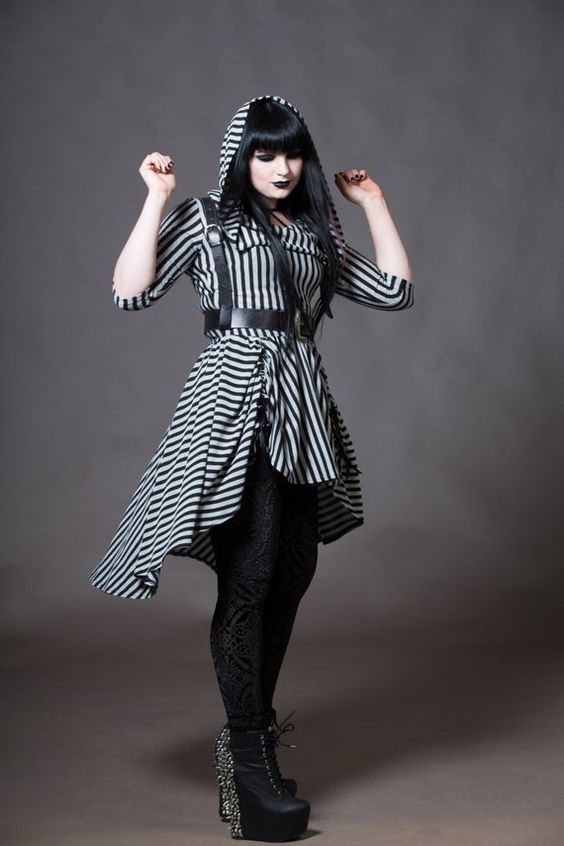 The concept of grunge and goth actually have the same each other. Black outfits, metal, and punk look is the main part of it. That's why, if you combine chic grunge style with goth outfit ideas, you will get fashionable women's outfit style. For this, you can get a black-white striped hoodie, black tights, and heeled chunky ankle boots like the picture above.
Corp Goth Look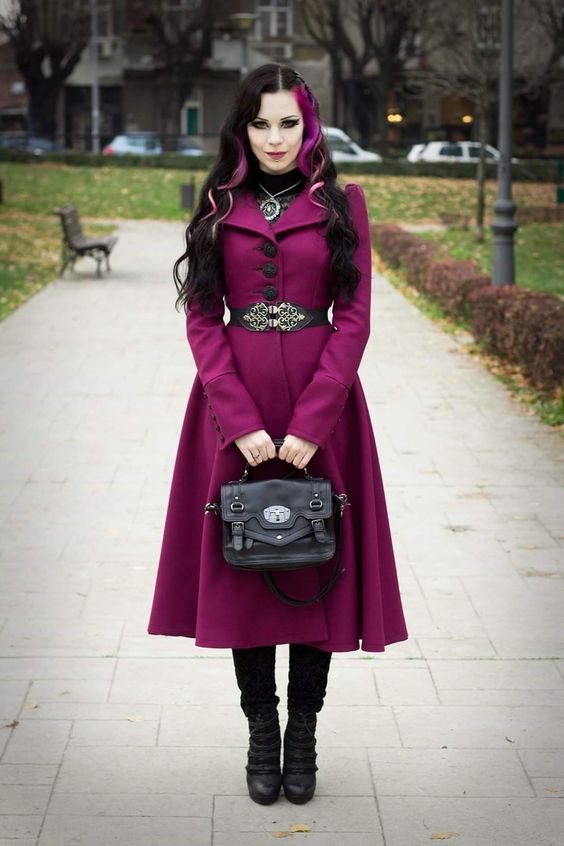 The corp goth look is something that gives a statement to preppy outfits. You can make it your fashionable work outfit idea. What you need to prepare is a layered style that involves a long coat for outer, turtleneck underneath, black tights, and gladiator shoes. No need to bring it in an all-black look, you can get a colorful outfit such as magenta to astonish your goth performance. A bit of metal accessory maybe looks good, as long as not too much. Consider the makeup, don't be too bold. Better you highlight on your eyeshadow and others just make it neutral.
When we discuss women's fashion styles and trends, it's always be changing anytime. What's become "in" today could be "out" on another day. Though fashion was changing, it's not completely lost. Someday the trend would be recycled and up again. Likewise for goth outfit style, they just don't come with monochrome black but grow with various styles. You just need to choose what's really into you.