Olidfashion.com – When we look back, men's style usually comes in white, black, grey, and neutral colors. I think it's a little bit boring and monochrome. You need something unique and different to colorful your wardrobe. Maybe you can begin to catch up funky outfit style into your daily options. Get something that's cool with the new colorful and unique outfit style.
Swipe out the stigma colorful clothing is just for women's outfit ideas. As men, you can express yourself even with bright, light, and bold colors aside from neutral or darker tones. A bit more feminine accent it's not a problem at all. You will be really surprised when you know that's matched your men's style much.
Funky Outfits are an unusual fashion style that has a unique design, colorful, and different looks that could improve your performance. This kind of fashionable outfit style with uncommon and noticeable ways like clashing color combinations, patchwork trends, or using eye-catching colors. There is much more than tee, denim, trousers, and shirts that can transform someone's appearance better. We bring you some alternative funky outfit styles to make you look cool.
Funky in Bohemian Style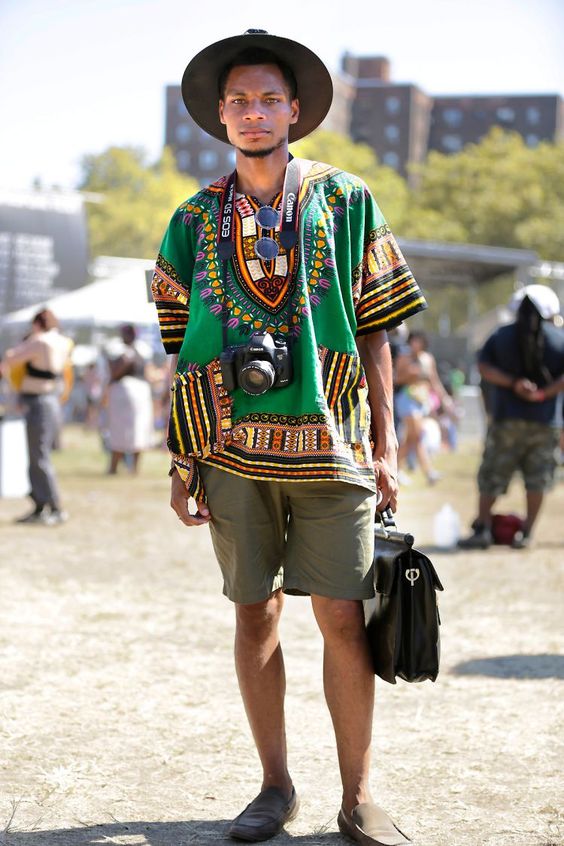 We all know that the bohemian style is unique and usually comes with different fashion designs. From colors, patterns, or the models, you will find out that's boho would match to form your funky outfit style. So, try to come out with your baggy bohemian t-shirt and then match it with Bermuda shorts. Slip-on shoes would look awesome to pair in your style. Make this outfit idea is good for holidays by wearing a fedora hat, and also bring a briefcase.
Colorful Sneakers for Funky Style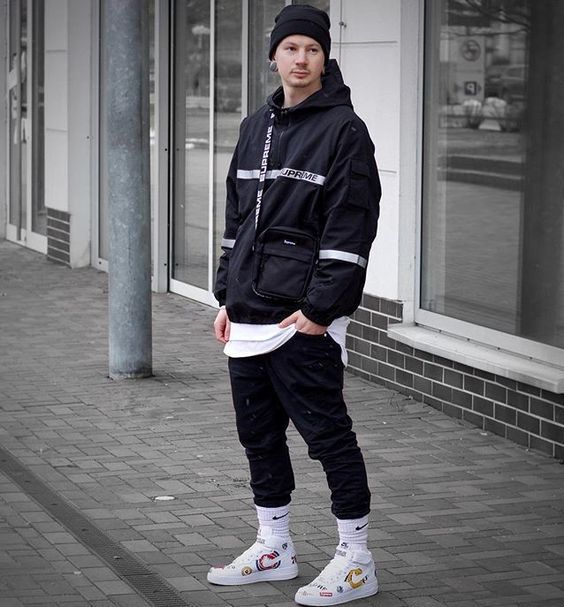 Look Funky with a pair of white sneakers that print with colorful patterns. You can add it to your monochrome style to bring a colorful accent. Just bring out a black zipper hoodie, a white tee underneath, and black jogger pants. Catch up all your men's outfit ideas perfectly by having sneakers for the footwear, a black beanie hat, and a waist bag for accessories.
Funky Outfit Idea with Character Sweater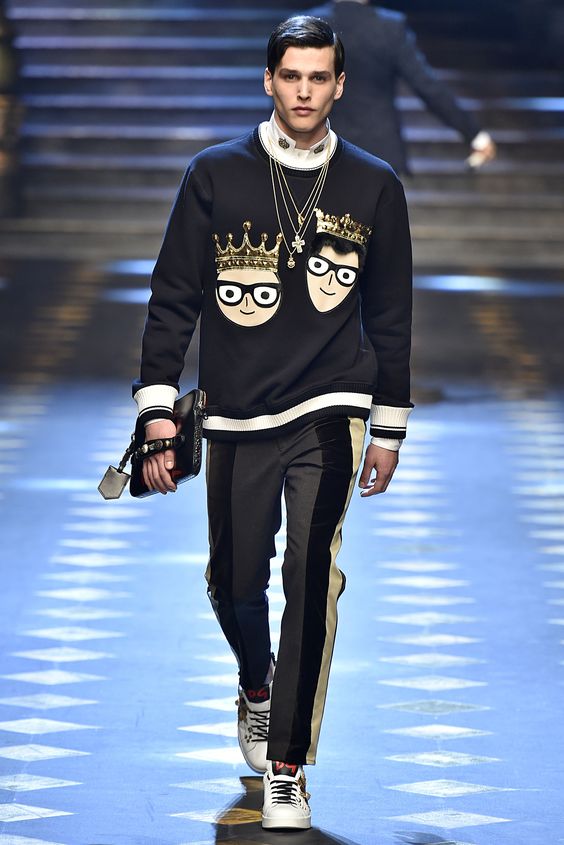 Get men's funky outfit style with a funny character print in crewneck sweater, black side-line pants, and stand collared shirt under a sweater. To make it look like a unique outfit style for men, give more gold accessories to it like some long gold necklaces. Perfect your men's outfit ideas with other cool ensembles like trainer shoes and a handful bag.
Cool and Funky in Tropical Shirt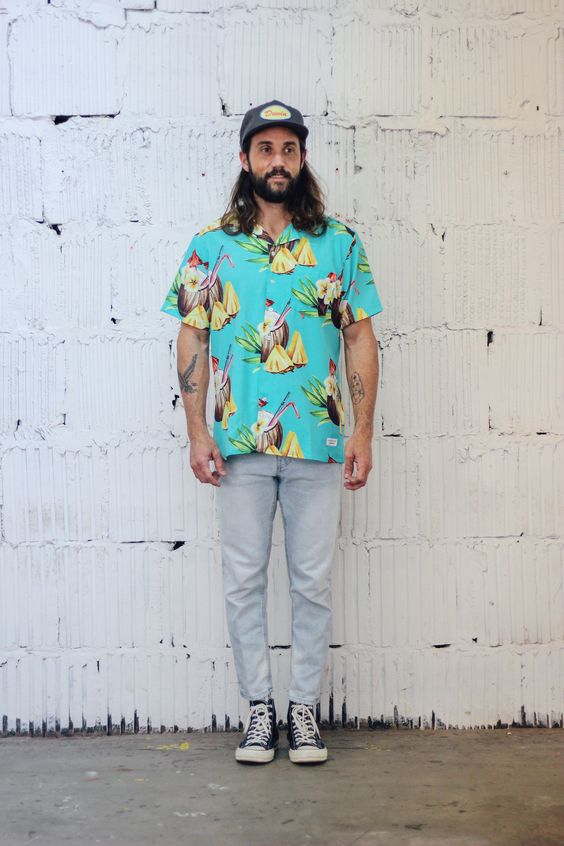 Being funky in men's style with a bright tropical shirt for daily outfits is a great idea. For this, you can make it simple by combining it with jeans and sneakers. It would look casual and fashionable either for your vacation style or daily ensemble. Pair your outfit with the best accessories like a baseball hat to complete your funky outfit style.
The Patchwork Design For Funky Outfits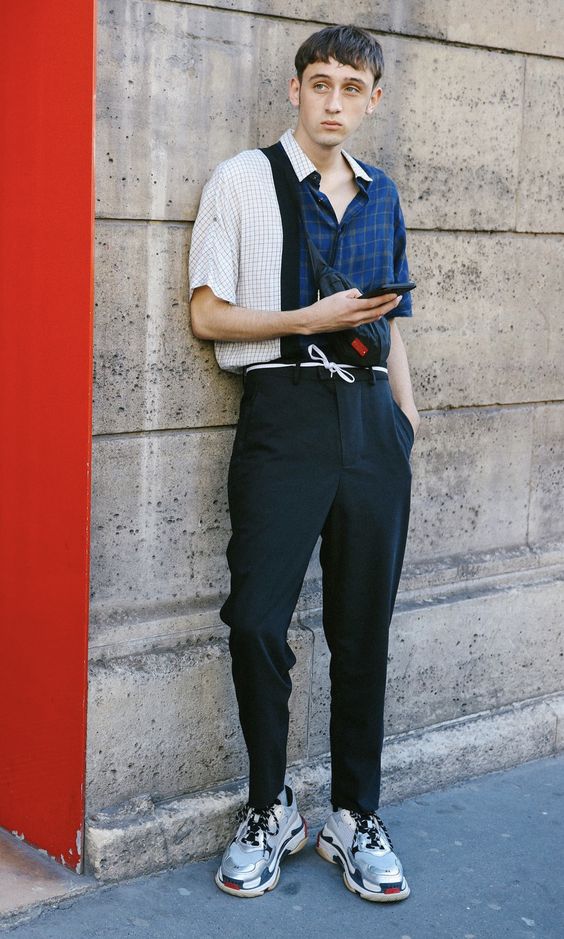 Try to adopt this style above if you want to look a bit more preppy but funky in a men's style look. Matching up a patchwork short sleeve shirt, trousers, and a pair of chunky trainer shoes. For the colors, you can mix blue, black, and cream for the tops, navy for the bottoms, and black grey for the shoes. That's maybe a little bit clashing, however, it still looks cool and funky enough.
Funky with Jumpsuit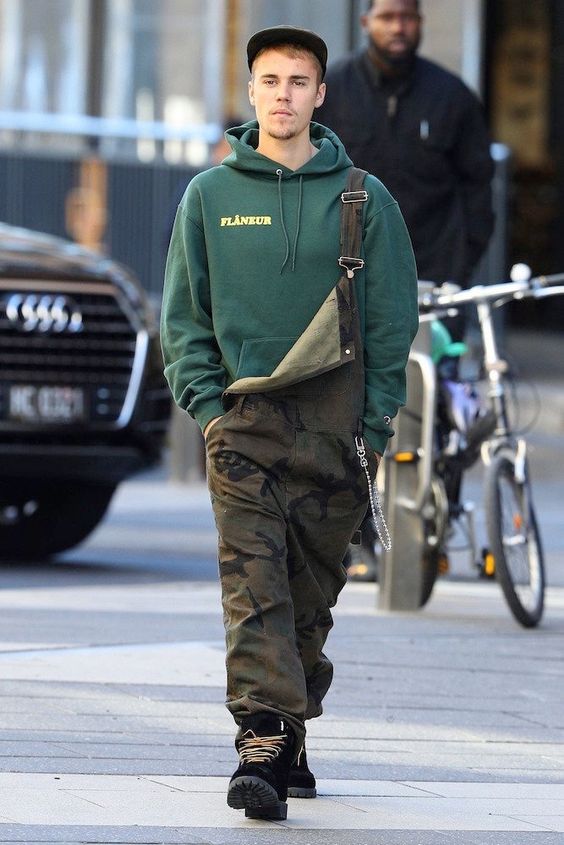 A jumpsuit for men is may look unusual. Not many men bring this outfit into their closet. It is because this attire is sometimes considered to bring childish and nerdy style for guys. However, when you can match it properly, you may get a funky and cool outfit style. For example, you can choose an army jumpsuit, a green hoodie, and also a pair of army boots. Complete your look with a hat for a cool men's outfit.
Casual Striped Outfits for Funky Style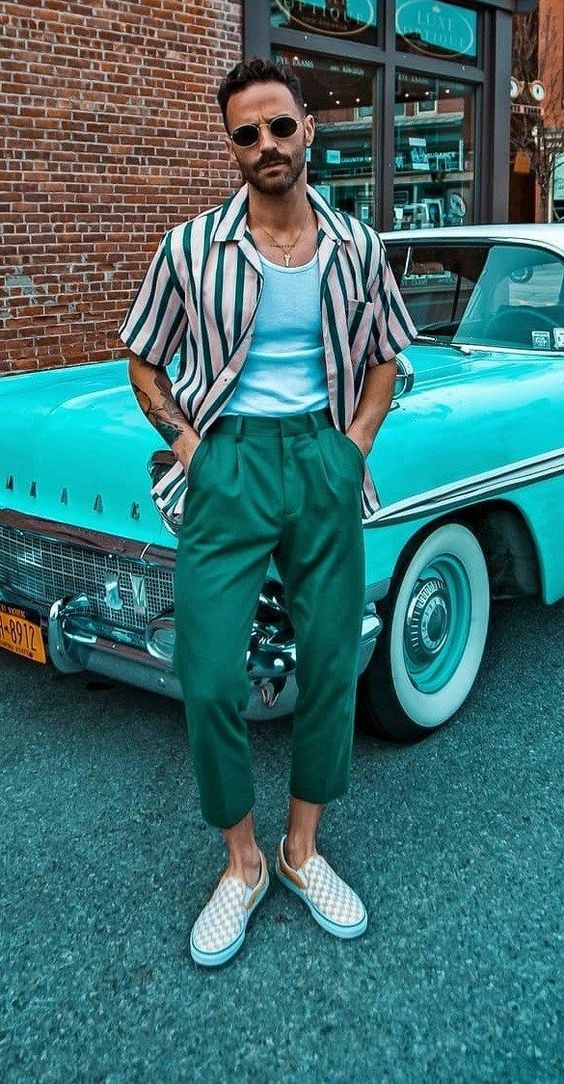 Men can create some cool striped outfits into their daily style. Even for a funky look, striped shirt and green olive pants are a great addition to your wardrobe. For a more layback vibe, you can lose up the button on the shirt and then give a tank top under it. Slip-on shoes are the best matching footwear in this men's funky outfit style. To give you another cool side, just add an accessory such as sunglasses.
Cool with Semi-Formal Style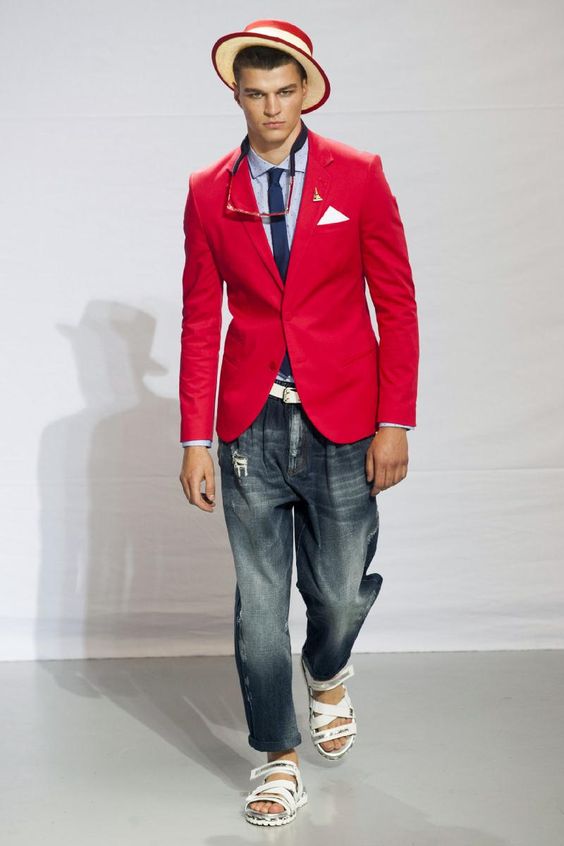 Wanna do something different in your daily style to look cool and funky, just try to combine formal and casual attire at a time with some bold tones. You can start by having a blue shirt, a red blazer, and a navy tie at the top style. Contrasted with the bottoms, you can bring baggy jeans and sandals to deliver a casual ensemble. Get your outfit funkier with red frame sunglasses and a fedora hat.
Simple Funky Outfit for Men with Suspender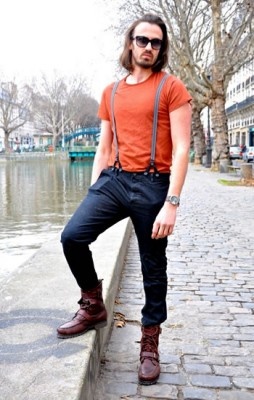 If you want to get a simple funky style in men's outfit ideas, get a suspender bright ensemble is an option. For instance, match up an orange tee with black jeans and complete it with a suspender. To make it look cool, you can bring a pair of leather boots into your men's funky outfit.
Cool Sporty Outfit Style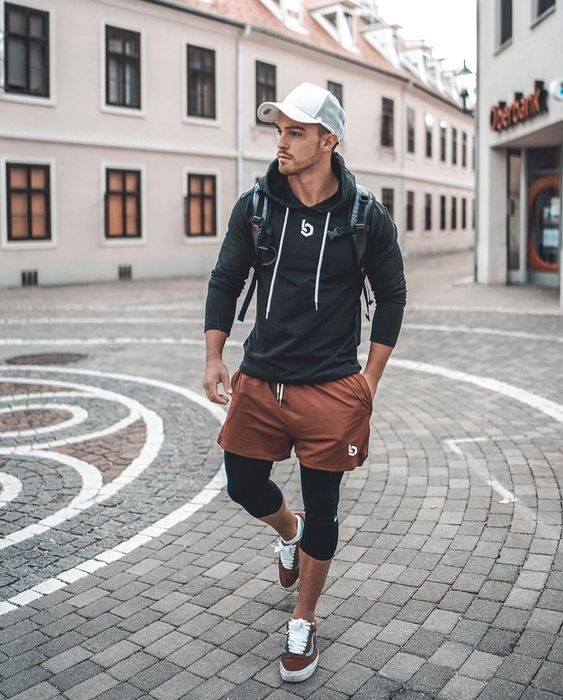 Sporty is a style that most men use in their daily options aside from casual and trendy styles. For those who want to look cool in funky outfit style with sporty ensembles, try this idea. A hoodie that mixes up with short pants and a legging underneath. Then, accomplish your cool men's outfit style with a baseball hat and backpack.
Classic in Vintage Outfit for Funky Look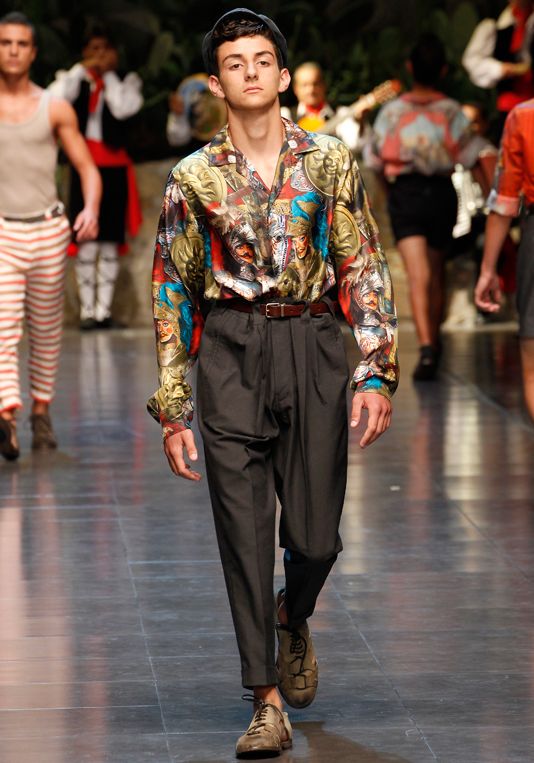 Vintage is really fun to bring and remodel in men's funky outfit style. For something unique and cool, you can wear crowded patterns that have classic coloring in shiny fabric for your top. This clothing would honestly bring past fashion to your style. Tuck it in your trousers and get a leather belt to give a more classic vibe. This vintage outfit idea wouldn't be complete without wearing a pair of shabby loafers.
Funky in Fall Outfit Style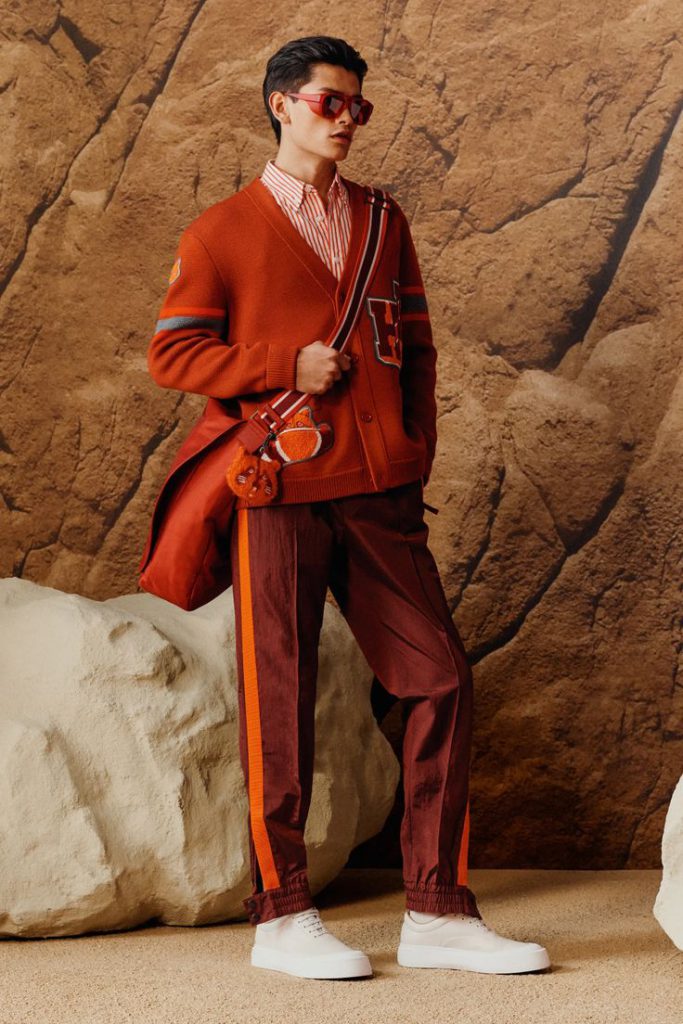 Want to get a sporty and funky outfit style for men, you can wear a red striped shirt underneath your baseball jacket. For the bottom, you can pair it with brown side-line pants that have the same colors as your jacket. Perfect your outfit with white sneakers. Don't miss out to give other details such as sunglasses and a brown sling bag to give you a chic fall outfit idea.
Color Blocking Idea for Creating Cool Funky Outfit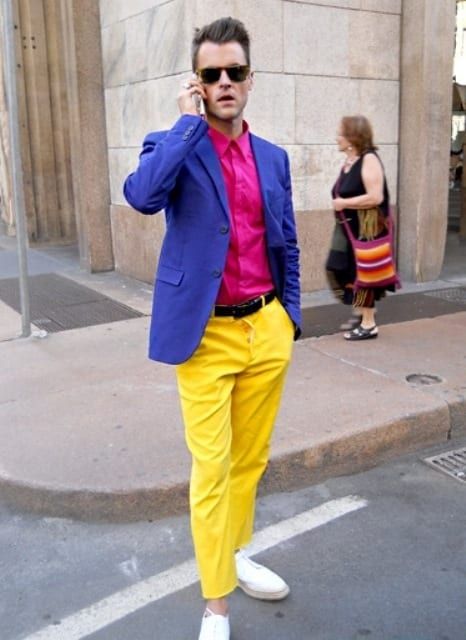 As I explained above that's the funky style usually comes in different looks and designs, like eye-catching colors. Getting bright and neon colors such as yellow shirts and magenta trousers into your daily attire is a way to get the funky ensemble. Give a bit of a color-blocking look by having a blue blazer over your shirt. Accessorize your men's funky outfits with sunglasses and choose white sneakers for the matching footwear.
Striped Blazer for Unique Outfit Style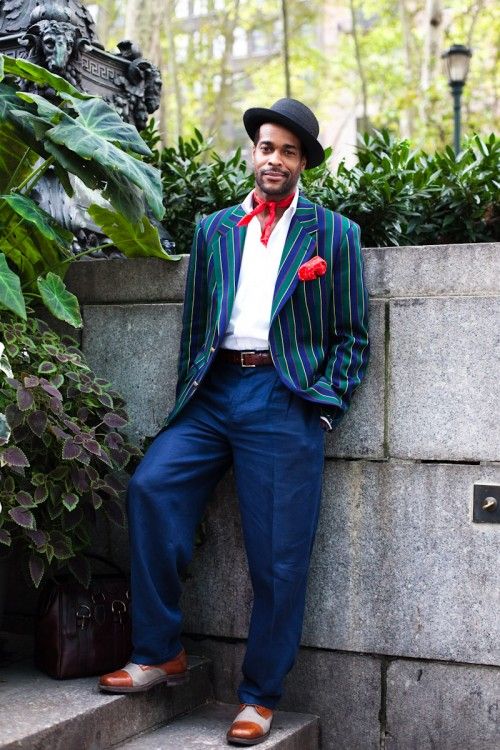 Stick out a unique style in funky outfits for men with something old like a striped blazer in your men's attire. It's one of the most versatile pieces you can wear every year. That's would bring either a formal look, casual style or the semi outfit idea. For the funky style, you can try to bring it in a different way rather than common. For the clue, you can give accessories to it such as a small red scarf around your neck. You can combine the blazer with common ensembles like shirts, trousers, and brogue shoes. Make it more outstanding by having a fedora hat in your head.
Best Combination to Create Funky Ensemble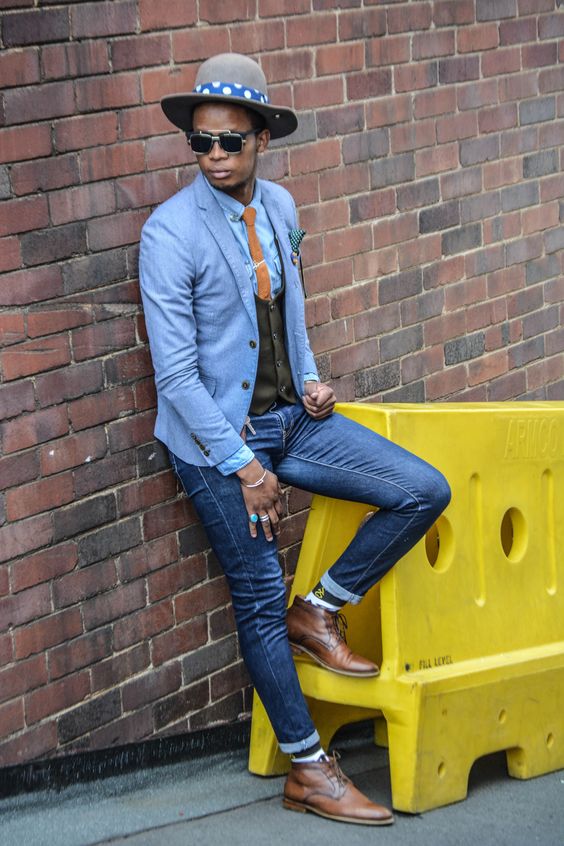 Getting a semi outfit is also the funky way to fashionable your men's style. It's kinda bit tricky and challenging but also really fun. You can bring out your creativity here, find some ideas from Pinterest, and match the attire in your closet as your wish. The concept is combining formal attire with casual ones. For example, match your suit topper with jeans and sneakers, and vice versa. The pieces you need to wear are a bright blazer like light blue, a vest with a shirt underneath, a brown blue tie, jeans, and loafers. This combination attire actually will look cool and funky in men's outfit styles. Perfect all your outlook with some accessories like turquoise jewelry and a fedora hat.
Abstract Coloring Pants for Cool Outfit Style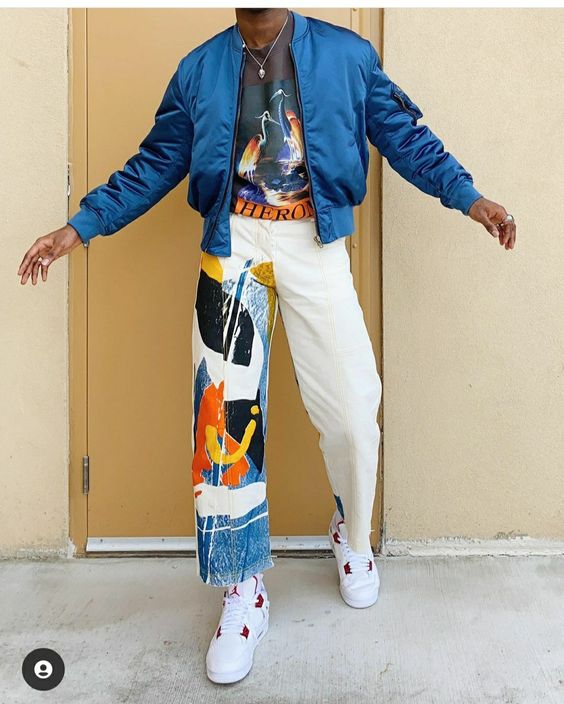 One of the outfits you can use to rock on funky style in men's outfit ideas is abstract colorful pants. That's easy to bring out this piece with other outfits in your closet. Suppose you pair it with a print t-shirt, a bomber jacket style, and the best sneakers to look cool. It would be enough to confirm your trendy outfits for having fun in the pub with your friends.
Wearing Funky Accessories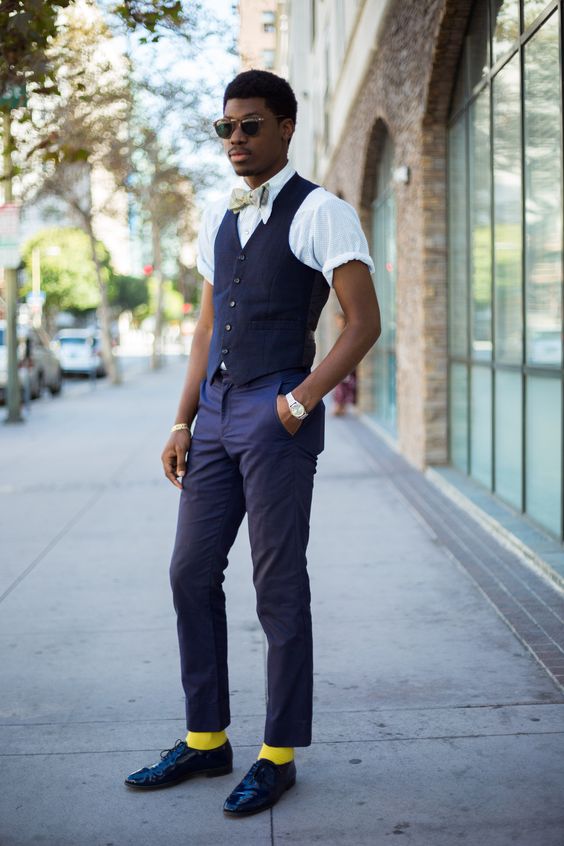 Having a funky outfit style for men not only comes from the main ensemble, but it also comes from the attire detailed. What I mean, you can bring funky accessories like amusing socks or bowtie. Starting to have a formal outfit that includes a short-sleeve shirt, vest, and trousers in blue navy. Then, give some clashing detail on it such as yellow socks and a cream bowtie. This is one of the ways you can bring funky style to your men's outfit. Strengthen your overlook with sunglasses and leather shoes, be ready to bring this funky outfit to go around the city.
Flower Pattern for Funky Outfit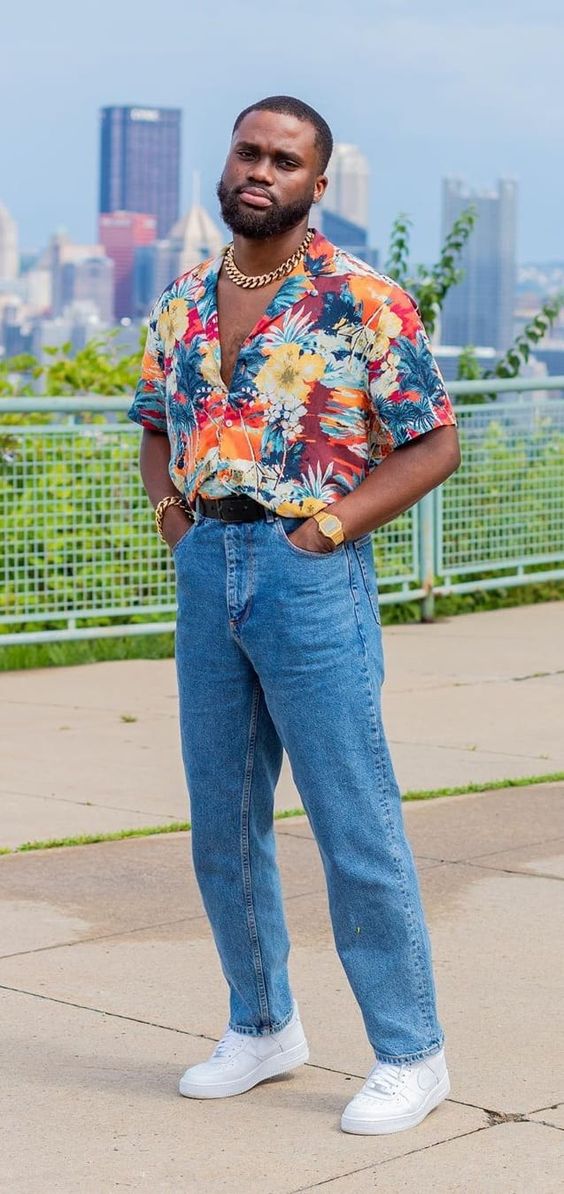 Funky style usually comes in some different ways and is noticeable, for instance, flower attire in men's outfit ideas. The pattern that's mostly used in women's outfits. However, when you can push the flower print appropriately into your fashion, you will get the cool style in funky outfits for men. I'll give you one idea to work with it. Make an effort on your flower shirt by tucking it on denim jeans, and lose up to one or two buttons on the upper. Then, bring some accessories like gold jewelry. Don't forget to choose your perfect shoes like sneakers or trainer shoes to astonish your appearance.
Trendy and Funky in One Outfit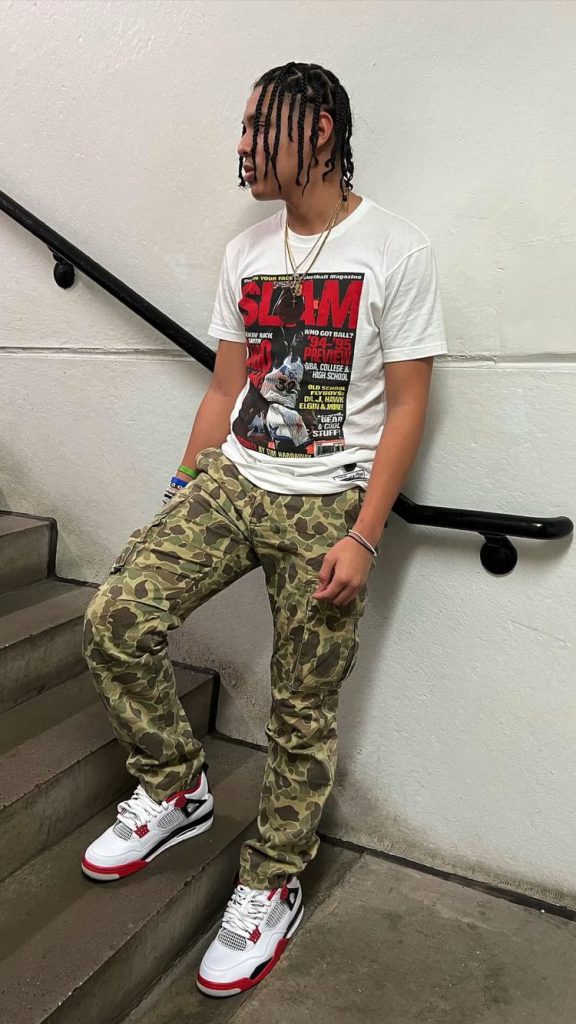 The funky outfit is also ready for a trendy style. For this, rock on a simple white printed tee into army cargo pants. Pair white trainer shoes in this cool style. To make your performance more look like hip hop and swag, you can get some jewelry for accessories.
Eye-Catching Outfits to Bring Funky Style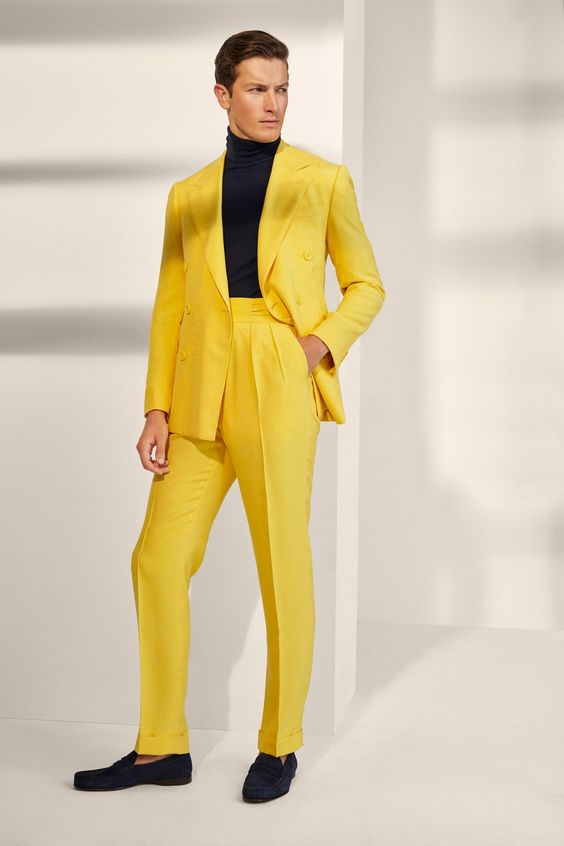 Eye-catching outfits are the one options to pull out the cool and funky style in men's outfits. Men mostly avoid bringing bright colors into their wardrobes. Now, start to adopt bright coloring like yellow into your suits. For making it balance and harmonize, you can combine it with neutral tones like black. Choose a black turtleneck sweater and loafers to match up with your yellow suits.
Unique Summer Outfit Style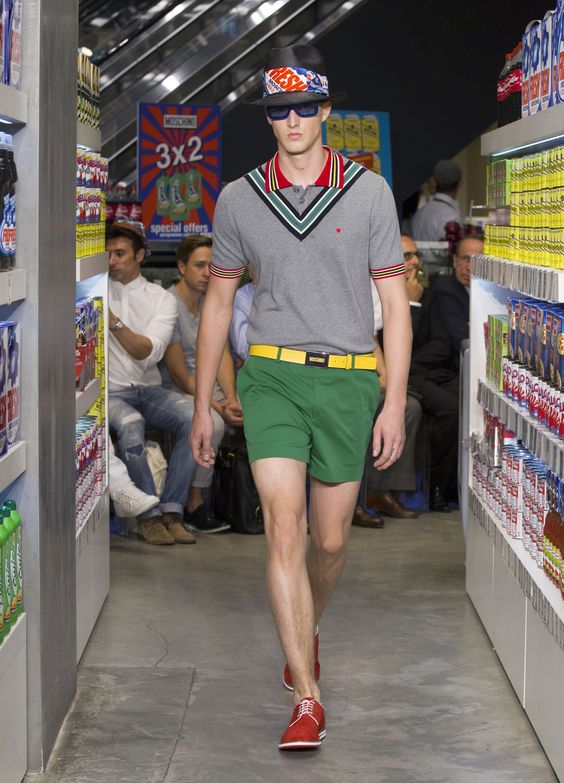 Summer is all about light outfits, shorts, and simple style. Create your trendy summer outfit ideas with a funky style like having a noticeable outfit. You can try to have a unique color combination, such as green, grey, red and yellow. Start with a grey polo t-shirt, pair with green Bermuda shorts. Give accessories with a yellow belt and orange accent on the hat. For shoes, you can choose red sneakers. The theme is really into summer.
Nautical Theme for Cool and Funky Style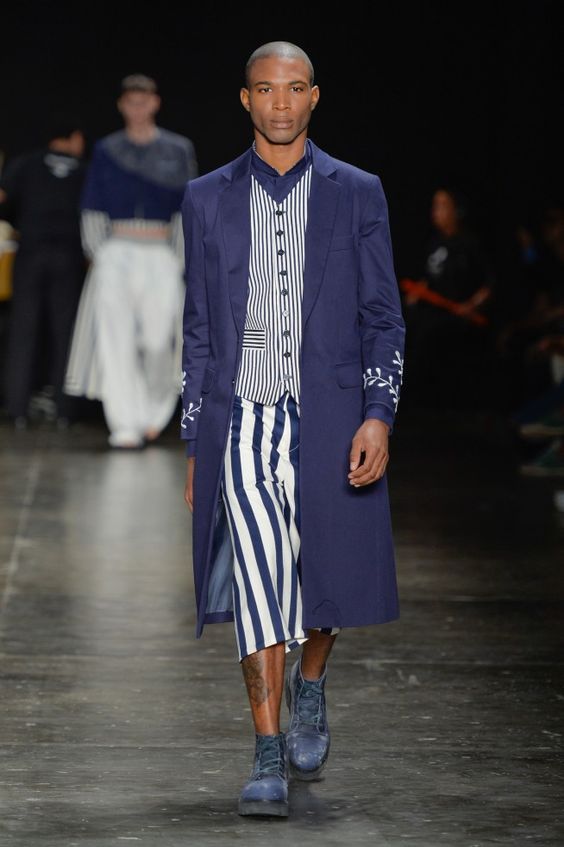 Now, let's find other fashion styles. Stripes are the most favorited pattern in men's outfit style. This is because it can visualize more design that looks fashionable and chic. Like the nautical outfit style in the picture above. It looks cool and funky to wear. Mix up a striped shirt with striped midi pants, and then cover the tops with long coats. Choose white and navy blue for the basic colors in your outfits that would present a nautical theme. Hook it up to become a full funky ensemble, by having a pair of blue loafers to match up with your men's outfit idea.