Sometimes looking chic and boyish is kind of bored. You need something to look different that can give you sweet and feminine vibes. To get a girly look is not always just going to a party. You also can get a girly look if you want to go to a garden or hangouts. And cottagecore is one of the popular trends in fashion now, it can give you girly and vintage vibes.
What is a cottagecore outfit? cottagecore outfit is an outfit that is used by a country girl and farmer girl in America or Europe. This fashion appear in 2010 and becomes popular in 2020. And this fashion outfit has been popular in many countries, especially in a tropical countries. Because this fashion really suits for summer or spring.
Cottagecore outfit has characteristic like puff sleeves, flowy dress with loose silhouette, and have a feminine design. Usually, it has Floral, stripes, and square motifs with a neutral color like white, brown, lilac, or green. Here are some outfit ideas using cottagecore fashion.
Cottagecore Outfit Ideas to Get Sweet and Feminine Looks
1. Retro Cottagecore Outfit Ideas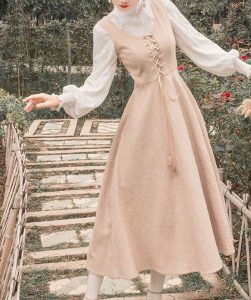 This outfit suit for you to get a retro and vintage look. With long puffy sleeves and a lace dress, this cottagecore outfit can give elegant and feminine looks. This outfit is also suited for you who wear hijab. You can wear this outfit for hangouts, picnics, parties, or even photoshoots.
Mix it with boots for the toe to get the retro vibes. And for the bag, you can choose a handbag or clutch whatever you like. And voila! You're ready to go!
2. Peasant Dress For Picnic Date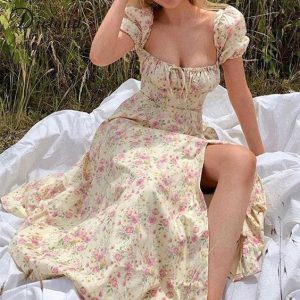 This peasant dress has been popular lately because this dress can give pretty and vintage looks at the same time. If you want to go to a picnic dress, this dress is the right choice! Because the design is simple but sweet. The puffy sleeves can give the vintage looks, meanwhile, the motifs are suited for you who want to go to a garden.
For the head, you can add a scarf and use it as a headband to make you look sweet. You can use flat shoes to support your sweet and girly look, but if you want to make it casual maybe you can use sneakers if you want. Then use your favorite sling bag or shoulder bag to keep the feminine look.
3. Looks Sweet with Ruffle Off Shoulder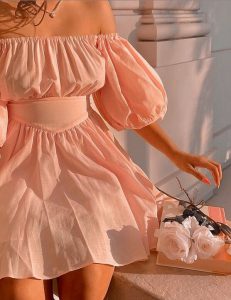 For you who likes using an off-shoulder outfit, this dress is the right choice! Because this ruffle off shoulder dress can support your cottagecore outfit. You can use this outfit if you want to go to the garden, hangouts, or summer party.
With puffy sleeves hands and a short dress, this dress will make you look sexy but also sweet. You can add a pearl headband or scarf to make you look sweeter. For the toe you can use high heels, but if you want something comfortable you can use flat shoes or sneakers. And to get the chic look you can choose boots.
4. Ballgown Dress For Parties or Photoshoots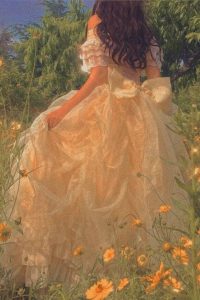 If you want to go to parties or want to do a photoshoot with cottagecore concept, maybe this kind of dress is what you searching for. Because this design gives the vintage vibes and looks elegant. And maybe for the hair, you can curl your hair and add some crown or a headband to support the outfit.
For the toe, you only can use high heels for this outfit. Choose a clutch or any bag that can support your elegant looks. And you're ready for a party.
5. Modern Cottagecore With Floral Skirts
If you want to look modern but still want to use cottagecore outfit, using flower skirts is a key! You can mix your floral skirt with a puffy top or your other favorite top. This look really suits for you to hangouts or just want to walk around.
You can use flat shoes or sneakers if you want to feel comfortable, but if you want to look more feminine you can choose high heels. Then choose your favorite sling bag or shoulder bag and you're ready to go!
6. A Bow For Your Hair to Look Sweeter and Cute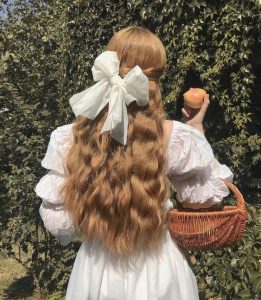 To support this cottagecore outfit, you can add some accessories to your hair. And I recommend you use a bow for your hair. This kind of hair accessory is usually used by a country girl or farmer girl, so it can support your vintage and cottagecore vibes. You can curl your hair then tie your half hair and finish it with a bow. So you got the cottagecore vibes.
7. Make It Prettier With Flower Crown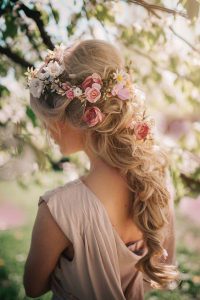 For you who doesn't like using a bow, maybe a flower crown is your other choice. Because flower crowns can make you look prettier and sweet at the same time. For the hair, you just only to curl it or if you want to make it look sweet you can tie your hair into braid hair. Then add a flower crown above your head.
8. Scarf to Get Vintage Looks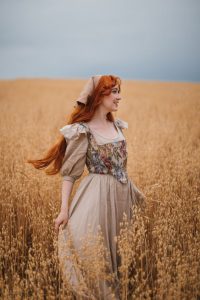 Besides to tying your hair, a scarf has another function! Yes, one of them is you can use a scarf as your headband. This style can support your vintage style. Make your scarf into a triangle then put it on your head and tie it. Voila! You got the headband from a scarf.
9. Add a Necklace to Support Your Cottagecore Outfit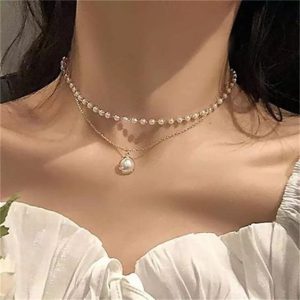 To complete your fashion outfit, you can add a pearl necklace or any vintage necklace that you have. Because this accessory can make you look prettier and look more glamorous. Besides that, a pearl necklace can support your cottagecore outfit.
That are some ideas to get a cottagecore outfit. Don't you interesting in this fashion style? You can use this cottagecore fashion to go picnic, date, parties, photoshoots, or just walk around. Furthermore, if you know how to mix and match it, you will get vintage vibes and pretty looks. That's why you should follow our recommendation. I hope you enjoy and like this cottagecore outfit ideas to look fashionable.