Olidfashion.com – What are you think about the corset? A kind of old mode fashion that's used by women and become essential undergarments. It's true, this apparel started used in the 16th century up until now. Although, it has been around for quite some time, the trends now a bit different because it increasing more modern rather than in the history.
In the past, corsets were identically discomforting outfits that could give you pain, something that you won't wear. The corset begins recreated by designers as being an attractive and fashionable outfit to bring out on the runway since it was in the 70s. This clothing is made to show an hourglass figure when it wears on by women. Besides that, a corset also can be an accessories item to help you get the high fashion style.
Nowadays, belts, dresses, and modern top corsets are far from uncomfortable feeling. You also wouldn't find everyday corsets that will restrict your breathing or your movements. Otherwise, when you go to the store you will find many kinds of attractive and fashionable corset outfit ideas. If you are still not sure what to wear in the corset outfit style, we're sharing some of the best ways to wear it for you here. Let's check it out!!
20  Ways to Bring Out Corset Style in your Fashionable and Attractive Outfit Ideas
Try in Your Dress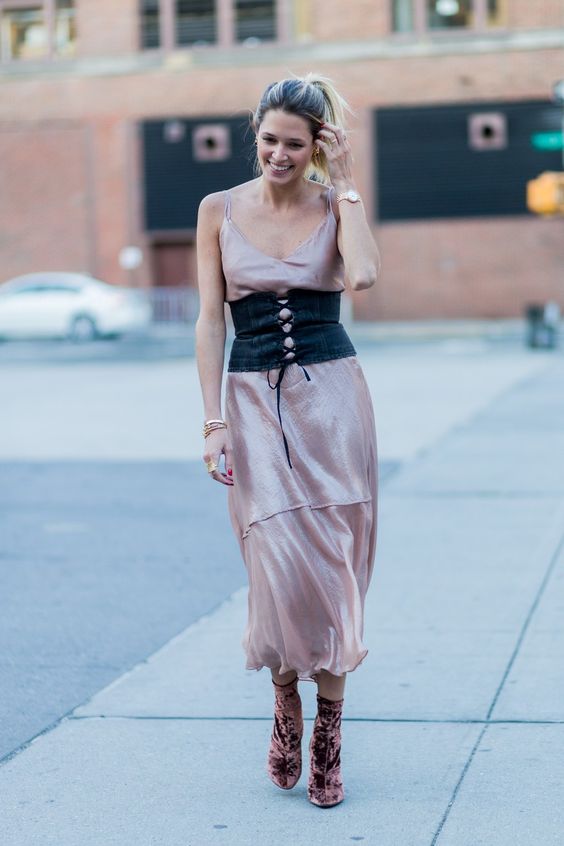 Modern corsets are designed comfortably with great materials. Not like last time corsets are known as painful ensembles, now they become attractive and fashionable items in your wardrobe. Just try to incorporate a corset on your long spaghetti silk dress to give a fashionable statement. The tightness of your outfits caused by the corset can create an hourglass feature in your dress style. That's simple, but still gives a big impact on your evening gown. Just give other accessories details and matching footwear to make it your inspiring hangout style.
Pair with Baggy Jeans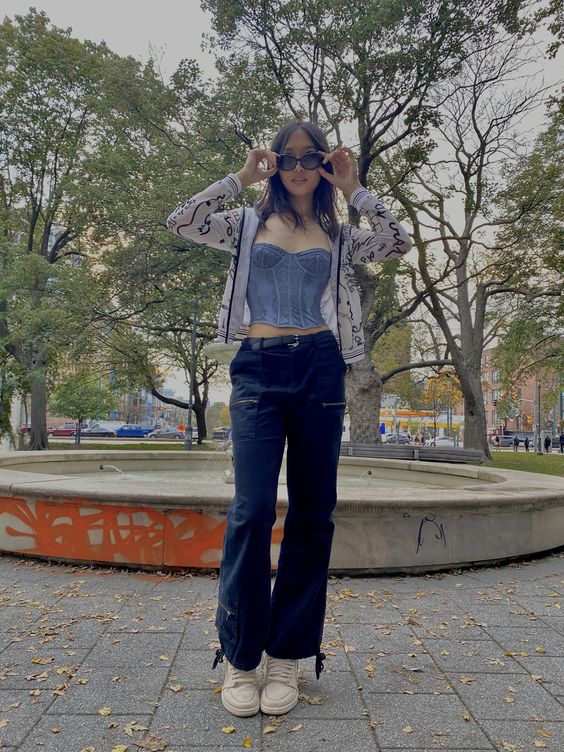 Wearing corset tops with baggy jeans is the way to have fashionable corset outfits without being too obvious. The trendy casual bottoms look would help to highlight your waistline and make you look slim and sexy at once. If you won't too many eyes look at you, layering your corset tops with light jackets. For the accessories, a belt is recommended to wear to get a dramatic waistline. And the footwear that matches this outfit style is sporty shoes or sneakers to bring layback and a trendy vibe.
Elegant Corset Outfits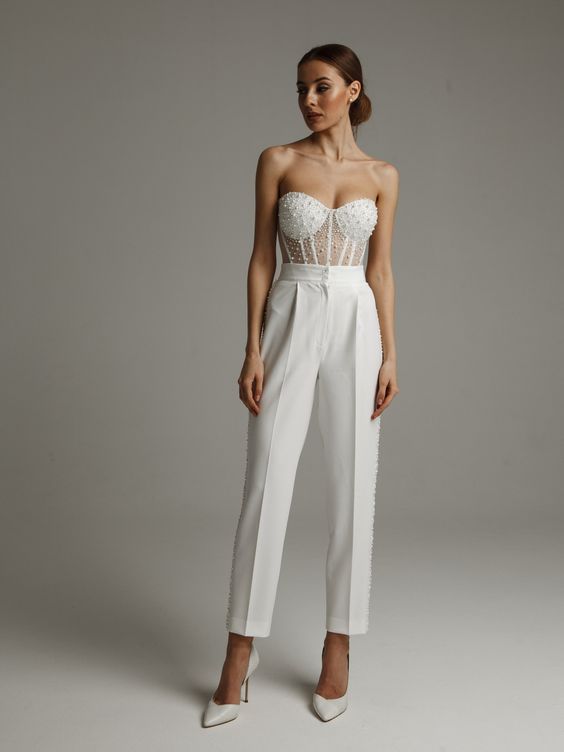 Look elegant and attractive in a corset outfit style by wearing a lace corset and linen pants. The lace corset would make you look a bit flirty and sexy. However, when you pair it with linen pants, it would bring a different look and become more elegant. Besides that, choosing a color for your outfit is important. While red or black could bring sensual ambiance, pick monochrome white as the safe ones for elegantly your performance. For the option, you can add an outer-either blazer or stylish women's coats. This attractive corset outfit could be your evening style for a formal occasion. Then, just get a pair of white stilettos to perfect your night outlook.
Bring on With Wide Leg Pants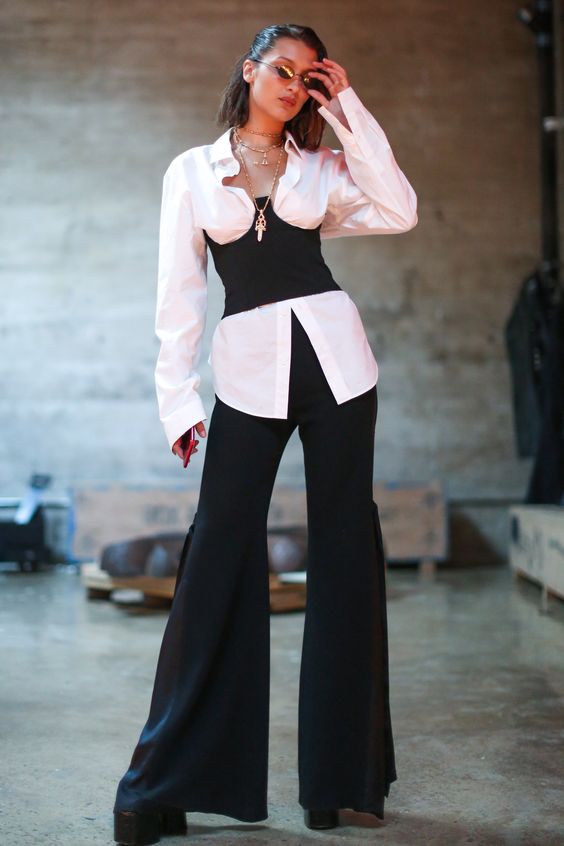 The options are limitless when you want to catch attractive outfits ideas from corsets. From comfy pants to trendy jeans, and also leggings, you can make any fashionable outfit style for daily looks. When wearing corsets, most people will try to give a statement with collared tops for the trendy style. For you who like to embrace attractive fashion and different, work this corset with wide-leg pants style to a stunning performance. For some edgy details, bring on a pair of chunky shoes for your footwear style.
Denim Corset Style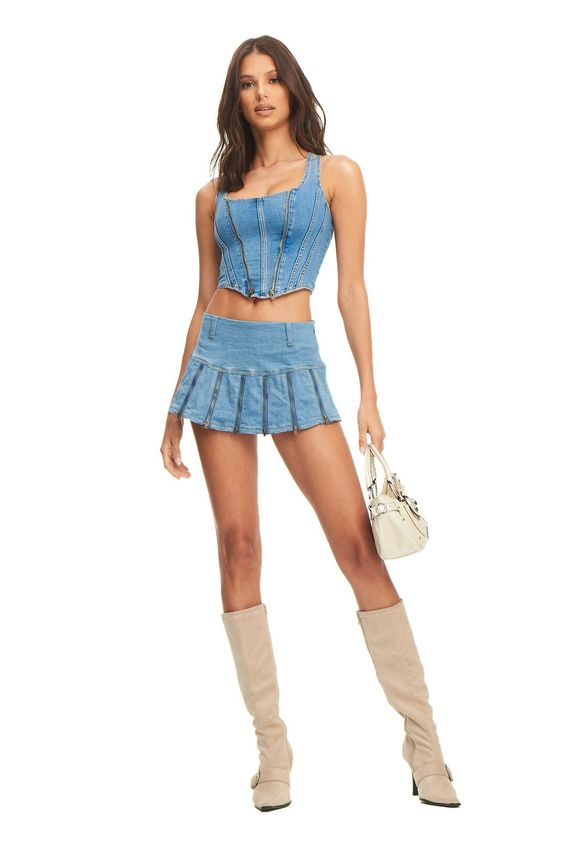 The best thing about corset outfits is a versatile style and flexible enough. Choose a denim corset top set with a tennis skirt to have an attractive outfit style. For balancing your mini outfit look, you can get knee-high boots on it. Then, you just need to hold your favorite bag to perfect your cool image in a denim corset.
Cropped Corset Tops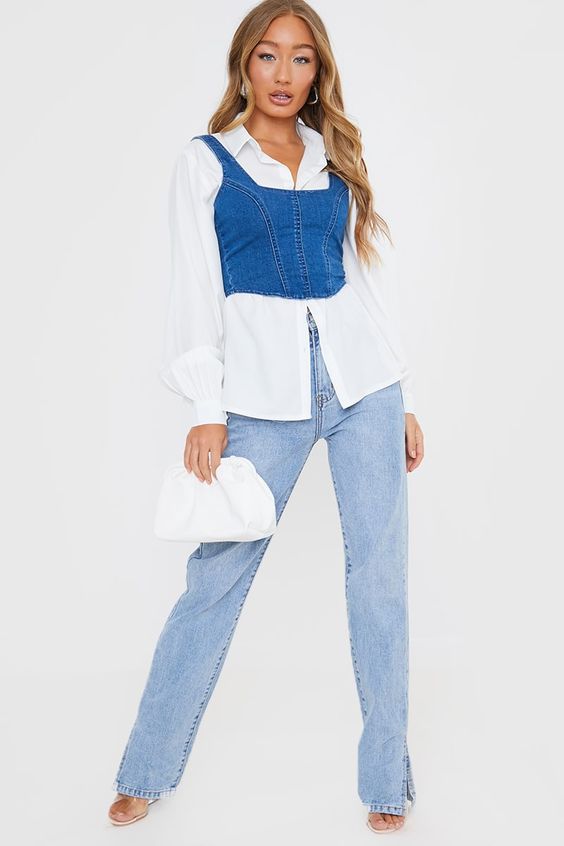 Another way to set up your corset outfit idea is to make it as an outer. For this, you can choose an over-white shirt and then pair it with a denim-cropped corset. Take it in a minimal impression with denim pants for bottoms, and basic high heels for the footwear. Then, accessorize it with your white favorite handbag, and some simple jewelry.
Stunning in Fall Outfits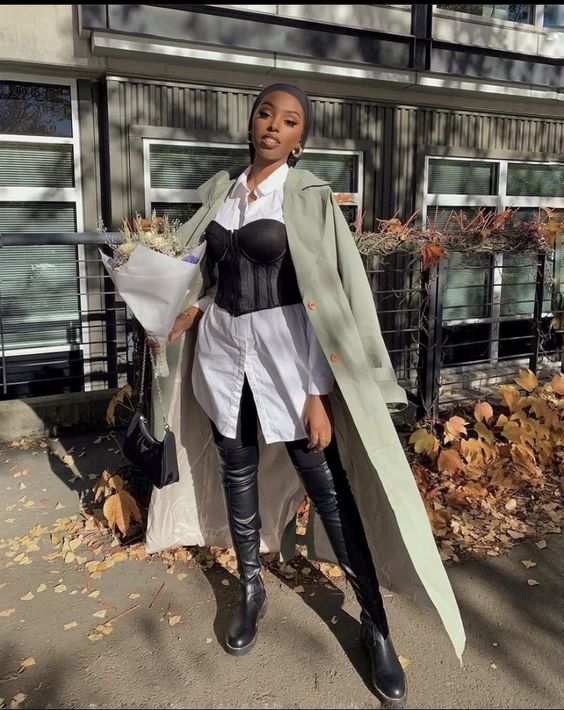 If you love to wear corsets in your fall outfit ideas, better to have a layering style. Some items to bring for this look are a white collared shirt, a black corset over it, and then long women's coats for the outwear. To have a cool accent, you can get a pair of leather pants on the bottom. The contrast between the shirt and corset makes you get beautiful slim waistline features and a bit bustier looks on the tops. Get dressed up fully with ankle boots and some accessories that you can bring to this style look.
Get The Grunge Look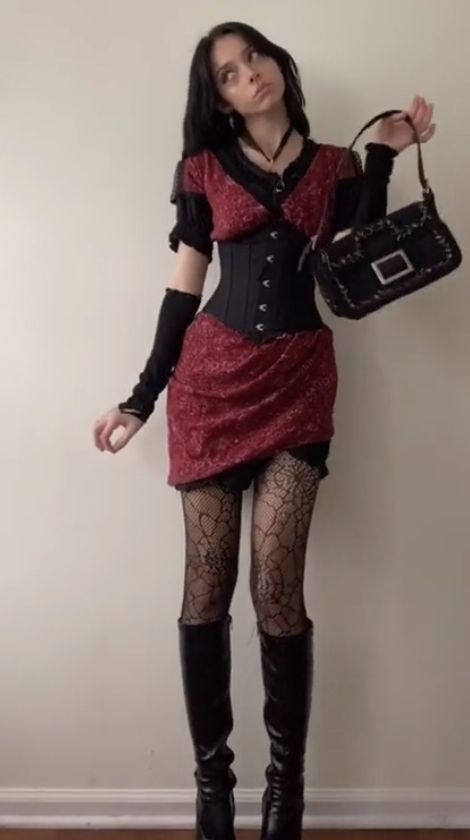 The image created from the corset outfit style usually has pointed to a sexy and attractive performance. Sometimes, you also can bring an edgy look like a chic grunge style. This outfit look combines a metallic and sweet style at once that attracts attention. What you need to prepare is just a red-black mini dress, a black corset, aesthetic fishnet stocking, and leather knee boots. The outfit wouldn't be complete without some grunge accessories such as black hand socks, a fashion necklace, and your favorite bag.
Attractive in Formal Attire
Although in the past old years' corsets are worn as inner tops that give an uncomfortable feel, now it comes in modern fashion that looks attractive and stylish. You can astonish this piece in any kind of fashion style from casual to formal. Some celebrities also love to pair a corset top with their red carpet outfits.
Style with Leather Skirt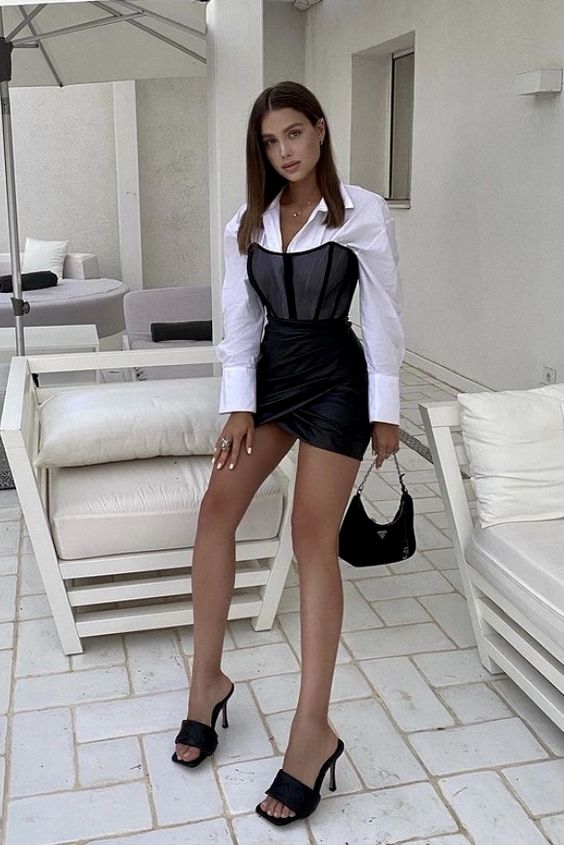 If you want to wear a corset stunningly, it's suggested to pair it with something that is attractive enough like a mini skirt. It is also a good idea to pair your general outfits with an attractive item since a corset will make your waistline seem slim and have an hourglass figure. The way is you just need to bring up a white shirt to tuck on your black leather skirt, and then layering it with a black sheer corset. For the rest detail, you can put on a pair of black heeled sandals on your toe and get your favorite bag in your hand. Get a chill with this outfit in a pub or cafe with your besties.
Create Statement on Maxi Dress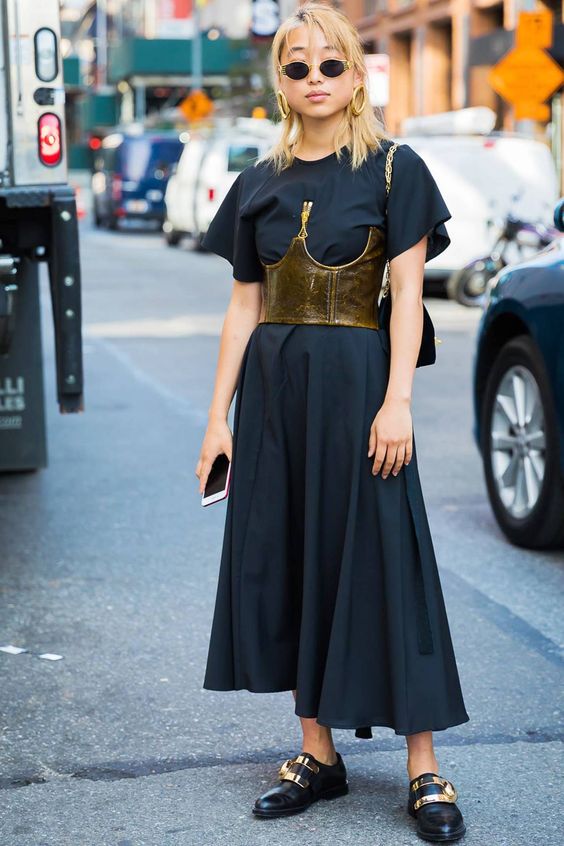 The other function of corsets is to wear them as accessories. This actually used to bring a fashionable statement to your outfit look. What you just need is to bring your not fashionable maxi dress and then try to have a stylish corset belt over it. To bring other contrast to it, you can choose gold as the color to match up with your black dress. Then, make this corset outfit idea have more fashion sense like street style by getting a pair of black gold loafer shoes on the toe.
Chic in Summer Style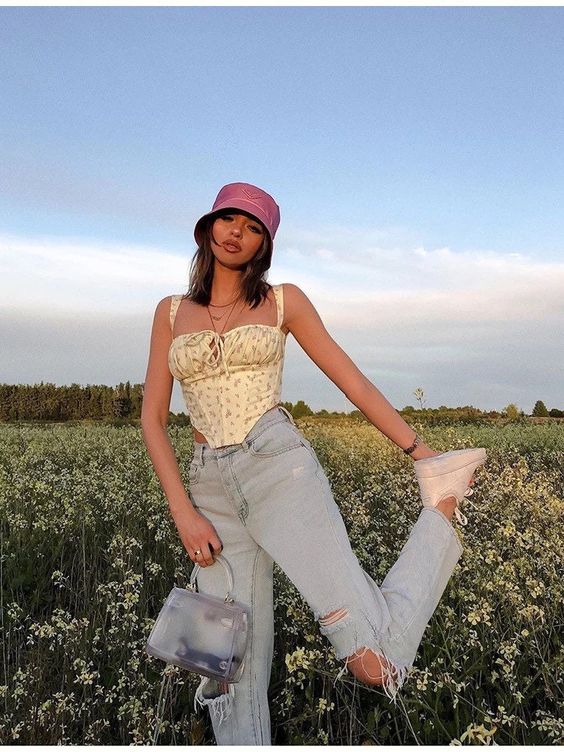 Play on your outfit with something that is attractive enough such as floral corset tops to create your chic summer outfit. Because it's summer, you can freely express it with a beautiful outfit look. Like when you wear a floral corset top with ripped jeans. This outfit would make you look chic and cute enough for having a date or picnic. Just need to dress up properly by giving some accessories and other complements from head to toe. Suppose you wear a bucket hat trend on your head and pick sporty shoes for the cozy footwear. Don't miss out on fashionable bags and fashion jewelry to stun your performance.
Fashionable In Hijab Look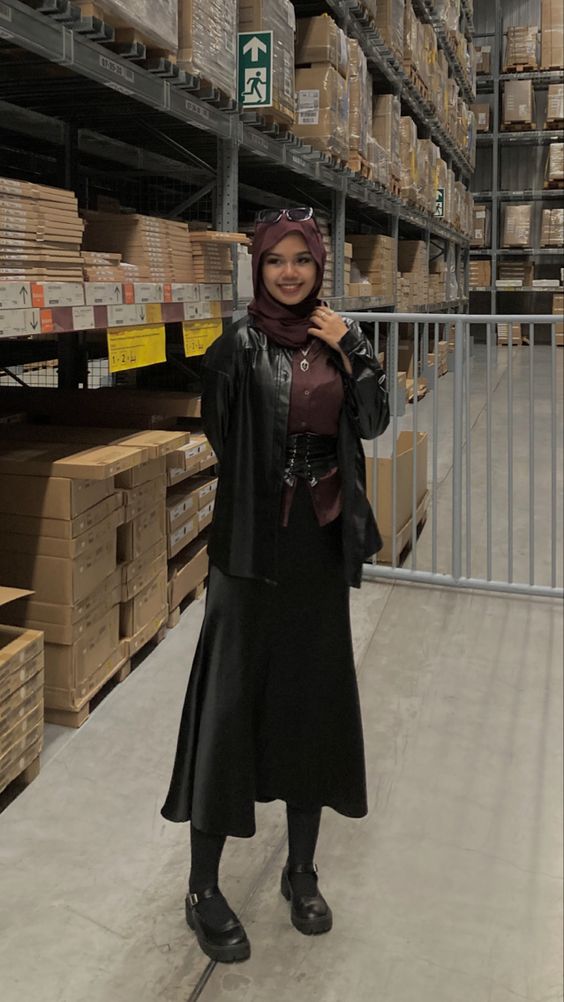 Who said wearing a hijab can't look fashionable with corset outfit ideas? You will be amazed when you know that corset would look elegant in hijab outfit style. For this, you just need to adjust the corset for accessories statement on your layering style. The instance, you can try to wear a button-up blouse with a long leather jacket and corset belt for tops. Then, get a hip pleat skirt for the bottoms. In the toe style, you can wear black socks and a pair of chunky mary jane shoes to bring an edgy look. And the last, don't forget to style your Hijab fashionably.
Use Corset for A Belt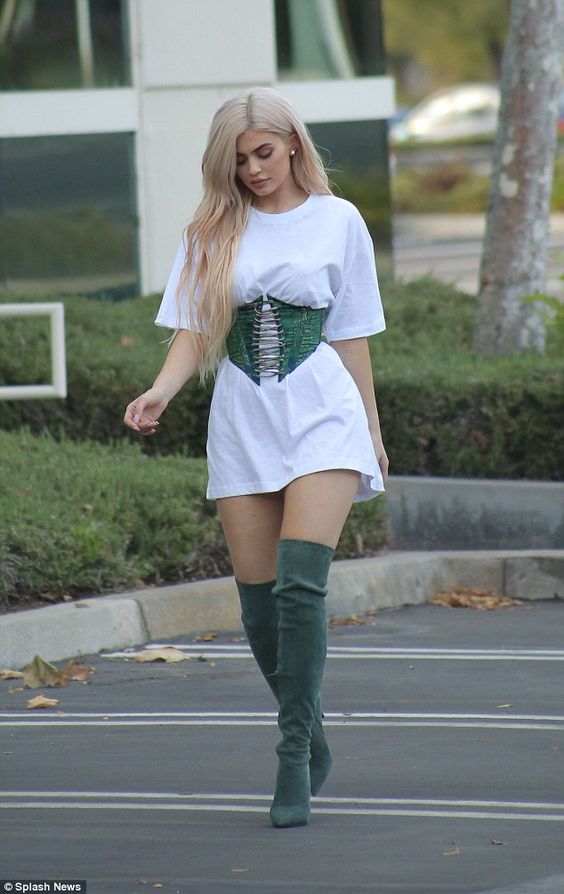 Many corset outfit styles usually point to the function of accessories like a big belt. This is the way designers turn the old fashion become fit into a modern look without losing the details and function. Bringing this piece into your plain baggy t-shirt, actually, increase your fashion in a simple way. Nowadays, women like something minimalist but still can make them look attractive and this corset outfit idea would make the wish come true.
Put on Over Blazer Set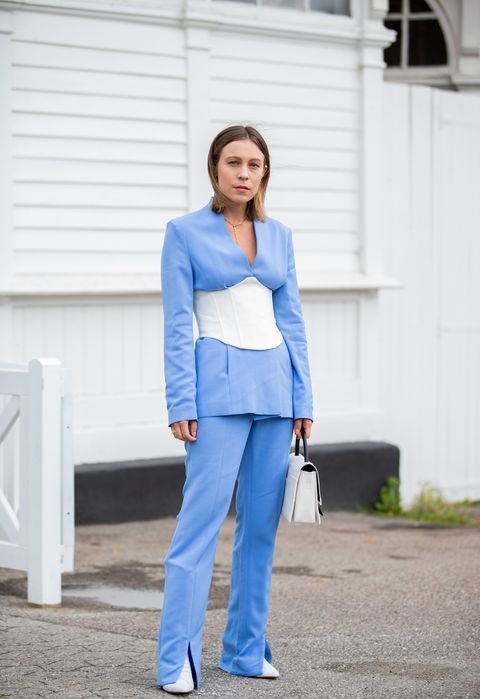 When you want to have everyday outfits that provide a foundation to your style, just pair your suits with a corset over them. The style is best to create fashionable work outfits in the office and keep you looking cool. This idea will also give you an attractive outfit style that gives you a perfect hourglass figure.
To Adorn Your Silk Dress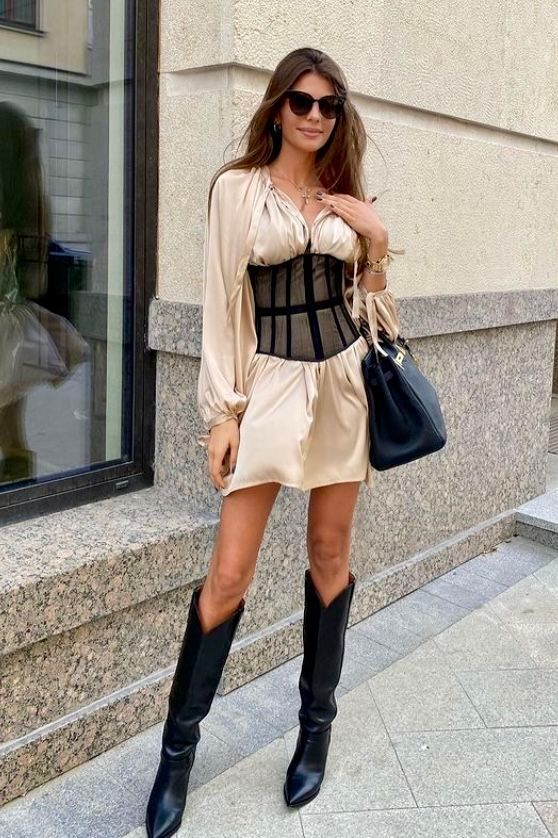 Dress up for a special event, silk dresses are a great option. With slip materials and fit with the body make the dress look elegant. Pairing it with a lace corset would bring a contrast that makes the outfit stand out more. For the alternative to bring a more cool side to your corset outfit idea is by pairing it with knee-high boots. Then, get a fashion tote bag on your hand for alternative accessories.
Best Part in Goth Style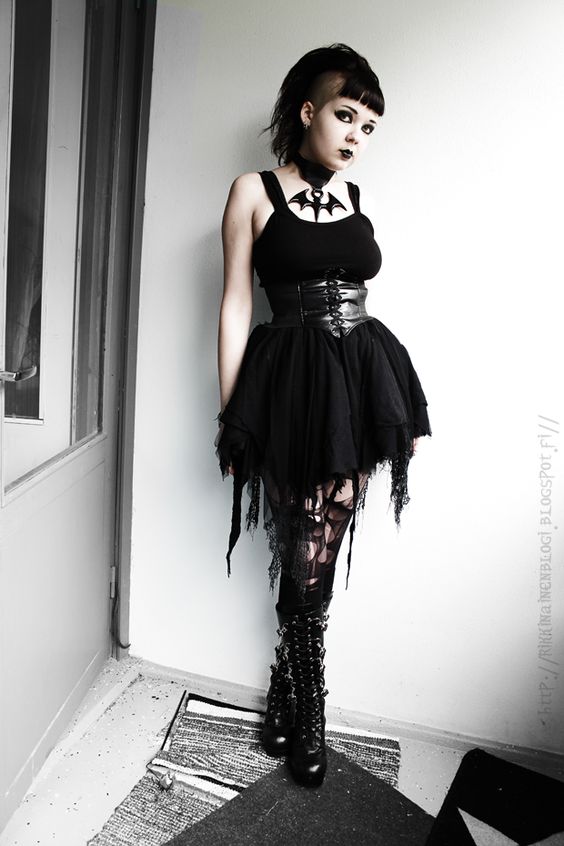 Goth is a kind of fashion that contains dark monochrome outfits. For this, there are so many types of goth outfit ideas from the smooth to hardcore. They also come in a sweet dark romantic vibe. For this, the corset could be the best part of the outfits that stand out the women to look sexy and cool at the same time. If you want to get the goth style with corset outfit ideas, you can start with a black mini dress, fashion fishnet stockings, lace-up high boots, and the best detail is a corset belt over the dress.
Classic Vintage with Corset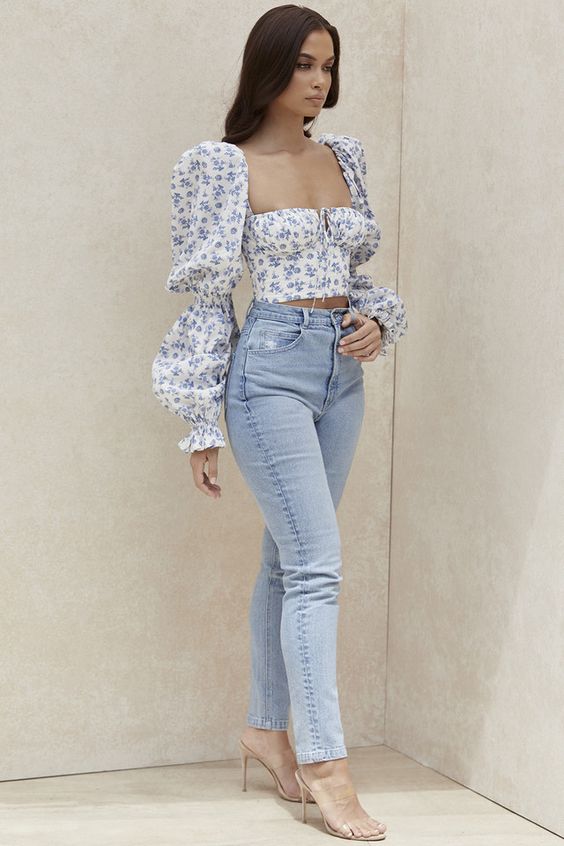 If you want something that sweet and feminine to wear with an attractive corset style, cottagecore fashion can bring the vibes on. The characteristic like a puff sleeve, flowy dress, and also have floral motif make this outfits look sweet in vintage style. Besides all of this, corset design also has main point on it. In a modern way, you can get a long puff sleeve corset top in a floral pattern to combine with denim pants. Then to make it have girly value, pair the outfit with high heels.
Wear on Over Your Tunic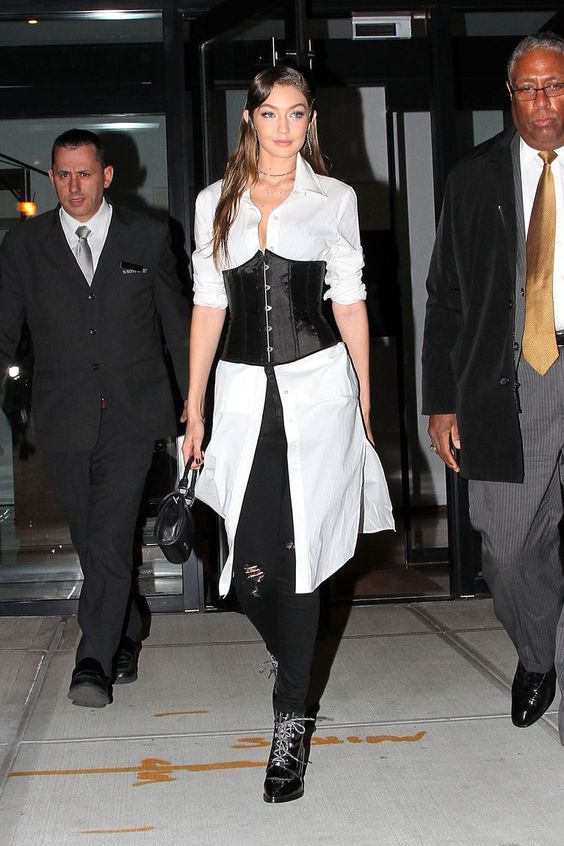 Another way to get an attractive outfit with a corset style is by coordinating your tunic with this ensemble. Try to jazz up your white button-down tunic with a black corset over it. Then, bring trendy style in your bottoms with black skinny jeans and chunky shoes. To make it a bit casual vibe, you can roll up the sleeves a half. Then, complete your overlook with some accessories.
Wearing Over Button-Down Shirt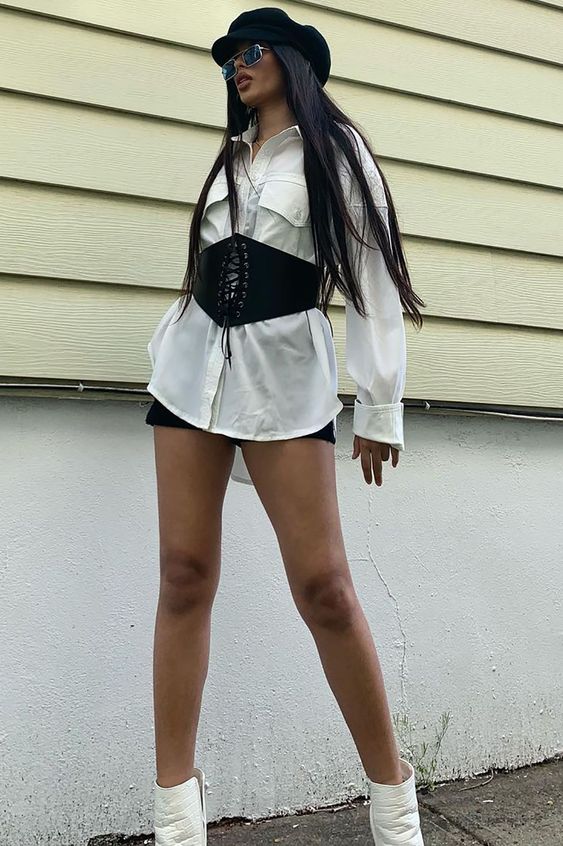 Fashion has limitless looks, one outfit can bring many kinds of styles depending on how you combine it. If you want a fashionable countryside style with a corset, you can try the style above. Besides wearing a lace-up corset belt over the baggy t-shirts, adding it to your shirt dress becomes a great idea too. To make you comfortable enough, get biker shorts. Stand up your outlook with white ankle boots and a cowboy hat for the western wild image.
Fashion always has unlimited style and is up to date from time to time. Not rarely they also come from late old-fashioned like corsets style that modified modernly by designers now. In the past, the victorian people wear something that was uncomfortable such as a corset to have shaped their bodies beautifully. Because of this, modern designers want to create this trend more easily and comfortably for women to wear. From some of the inspiring outfit ideas with the corset above, we hope that would help you to get your fashion style. Good luck!!!