Olidfashion.com – Fashion trends run and change from time to time. You can also find that fashion from the past evolved in today's fashion industry, especially the 80s and 90s retro outfits for women. As this trend gets to come up again, we may discover new fascinating ways to incorporate vintage style into your modern wardrobes. You may see that flared pants, eyecatching colorful clothes, bell-bottom pants, and vintage t-shirts coming back in 2022.
Retro is a style that comes from imitating and modifying old fashion to become a unique and timeless vintage look. In this time of age, retro and vintage are becoming a thing whether on lifestyles, art forms, music, or fashion trends. As such the retro outfit style brings nostalgia for the fashion of your mom's or grandma's era. Have you seen your mom or grandma's style when they were young?
From now on, start your day with a retro outfit style whether for going to school, college, vacations, or becoming your workwear for daily rotation. This style is a little simple with the unique vintage look as such wearing a printed t-shirt with plaid pants, wearing a baggy hoodie for college, cool in leather accent, or getting a peasant dress for feminine looks. To have a full-inspired look, we've round some retro outfit ideas to bring into your wardrobe. Don't wait so long, just check them out!!!
1. Oversized Vintage T-shirt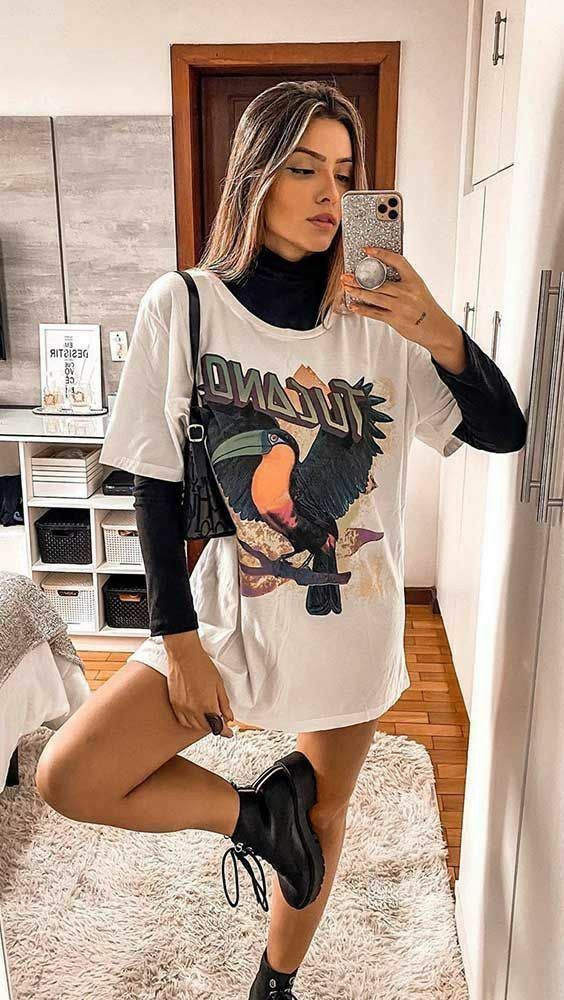 Wearing your mom's or dad's t-shirt is the first basic retro outfit style to imitate. You can match this old t-shirt with a fitted long sleeve turtleneck for the inner top. To make you feel comfortable, you can wear biker shorts for the bottom style. Then, match it with a pair o leather ankle boots or army boots to have a bit trendy look. Make sure to complete your outfits with some old fashion accessories and a mini simple shoulder bag for your hanging-out style.
2. Vest Suits Style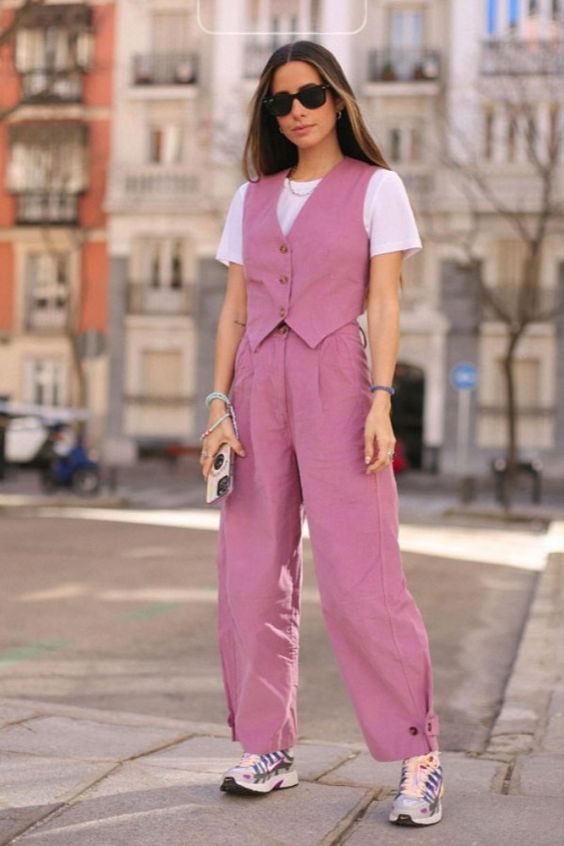 The next style is also a simple one. To go retro in a formal look, you can grab your vest suits and match them with some modern fashions. That way you'll get the best outfit for going outside or a unique semi-casual workwear style. For this, you could mix and match with a basic t-shirt short sleeve underneath the vest for the top. Then get trainers or sneakers on your feet for a casual look. Also, incorporate some accessories and accents that stand up retro outfit style on your appearance. For the bag, you can get a shoulder mini bag or messager bag to fulfill your outfit performance.
3. Eyecatching Clothing Look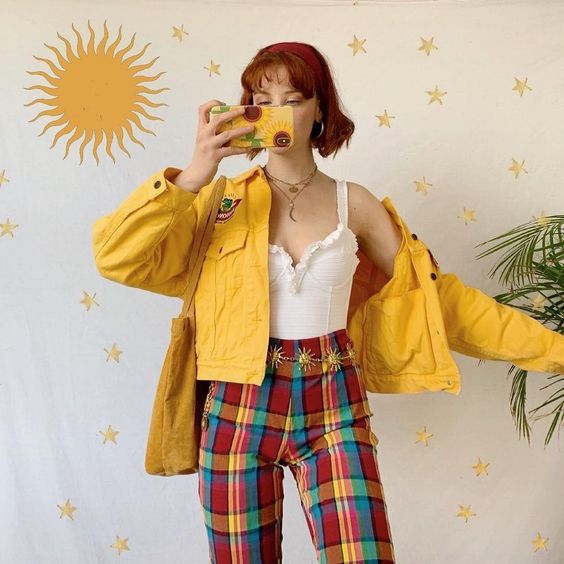 If you look back at the 80s and 90s fashion trends, you'll find out a lot of eye-catching and bright coloring clothes. For a retro outfit style idea, you can try eye-catching outfits such as yellow jackets and rainbow pants. Make it stand up more by mixing up a plain cami top for the inner look. For the footwear idea, getting army boots or sneakers is much better for this vintage outfit style. Then perfect your outfit performance by getting a canvas tote bag and some chic accessories items to look stand out more when attending an event.
4. Baggy Hoodie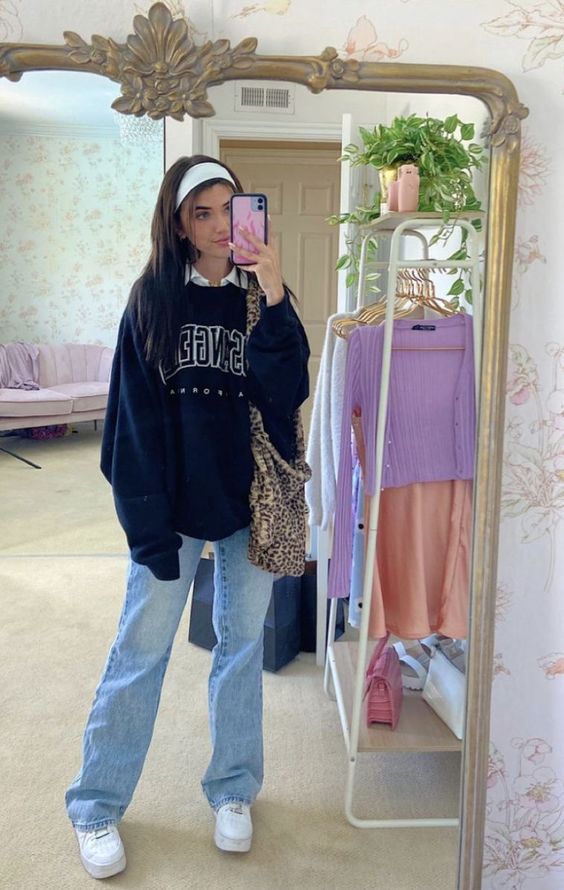 Go for a casual look with this outfit idea. Yups, a baggy hoodie, and straight blue jeans. They can be the best combo to have a retro outfit style. If you want a bit of classic touch, add a white collared tee/shirt underneath the hoodie. And for shoes, white sneakers are the best matching look. Grab your leopard tote bag for a chic and stylish performance. For your hair, better you get a bandana and make your hair straight to have a fully vintage style. Get this retro outfit idea for your back-to-school outfit style.
5. Cami Top and High Waist Pants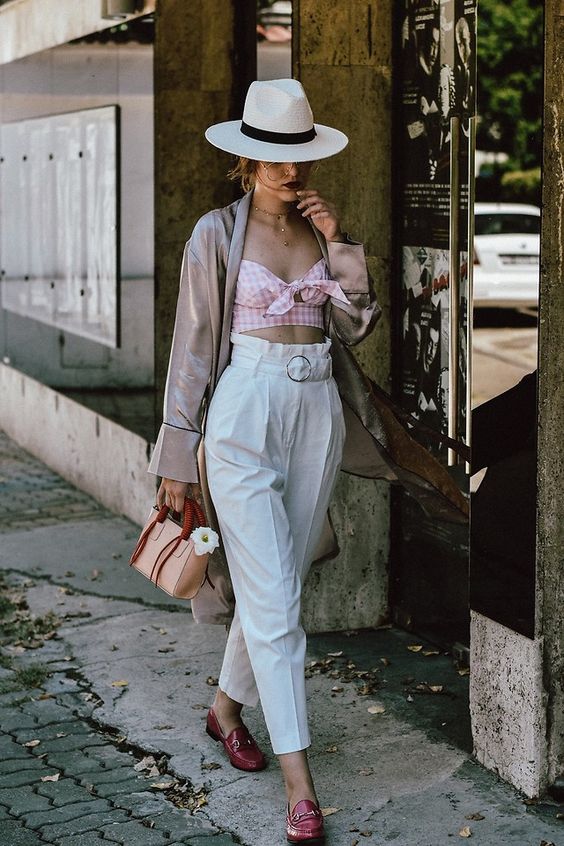 When seeing this outfit, we know why the retro outfit style still charming to wear at this time. This is because the look is really timeless that's never moved out with time. Even now you can recreate it to become a unique classic fashion style. For this, you can mix and match a cami top with a long silk cardigan then pair it with high waist pants. For shoes, get burgundy loafers that would match your silk ensemble. Then, to perfect your appearance you can bring simple jewelry, a fedora hat, and a pastel mini handbag for fashion accessories.
6. Scarf Accessories Style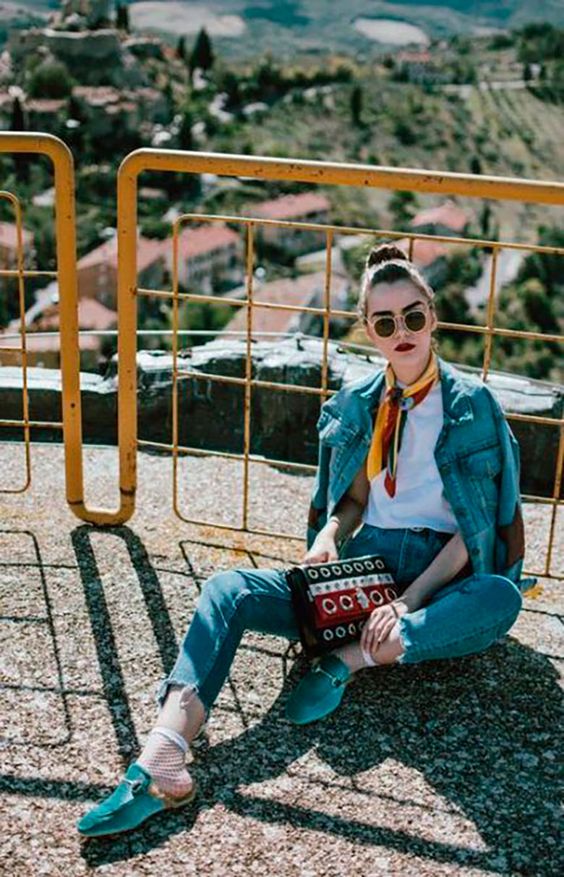 I take this one for you who want to style a trendy vintage look. You just need to grab your versatile denim either for the jacket or pants. And then, get a basic t-shirt for the inner top. For the toe, grab mule shoes with fishnet socks to have a more chic grunge style. Better to choose neutral colors for your footwear or you can also adjust it to the same color as your denim. Make a point with your accessories items such as a colorful scarf to tie down on your neck and round sunglasses for a vintage classic look. Complete your outfit performance with a cool shoulder bag.
7. Boyish Outfit Style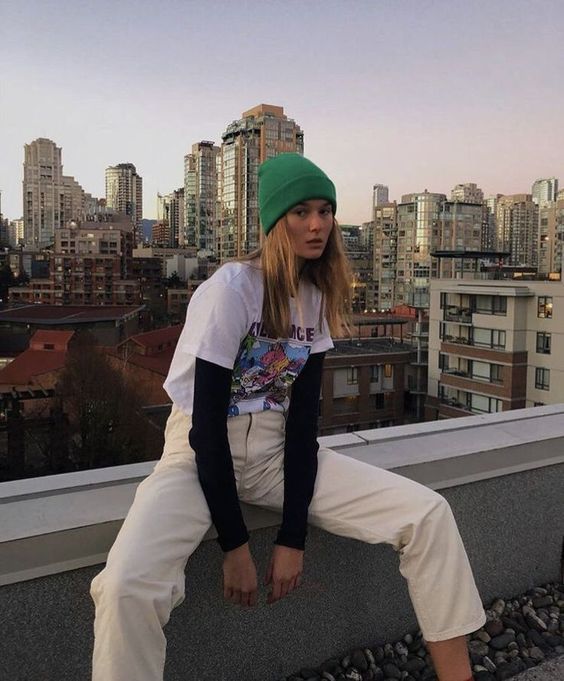 From time to time boyish outfit styles stand to become a trend even in the 80s and 90s and are still hype today with various looks. When you want to come with a retro outfit style in boyish clothes, you can combine a patterned white tee that's layered with a black long sleeve tee underneath. Then for the pants, get denim jeans or wear ankle chinos for the matching style. For shoes, sneakers are the best matching footwear in boyish outfit styles. For a unique accent that makes your ensemble a vintage look, wear a beanie hat on your head. This is a particular item that usually has to include in the retro outfit in a boyish style.
8. Cottagecore Dress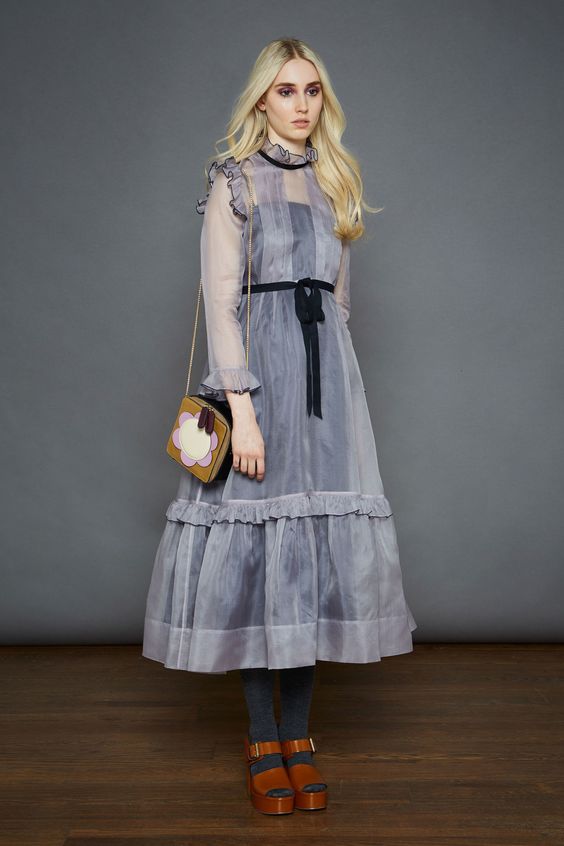 When looking back on the last decades, cottagecore outfits have always been looking great for feminine style. Even recently, some designers use this vintage dress for creating pretty elegant looks. If you are interested in this dress, prefer you to wear this transparent cottagecore dress that's matched with a strapless top and tights for the inner. Then perfect your style with strappy wedges and a cute mini sling bag.
9. Stripes Polo T-shirt Look
If you watching old movies, you may find this style. Yups stripes polo t-shirts that tuck in straight jeans. There's nothing more vintage and classic than this dress style. You can recreate it by matching your mom's or dad's striped polo t-shirts with your mom's jeans. To make it get more vintage looks, you can roll up the jeans up to the ankles. Then wear socks and trainers or sneakers on your feet to support your styling performance. Complete the look with accessories such as a leather belt and some simple jewelry. Then, step up your retro outfit style by creating a curly hairstyle that was on trends in the 80s and 90s.
10. Overall Style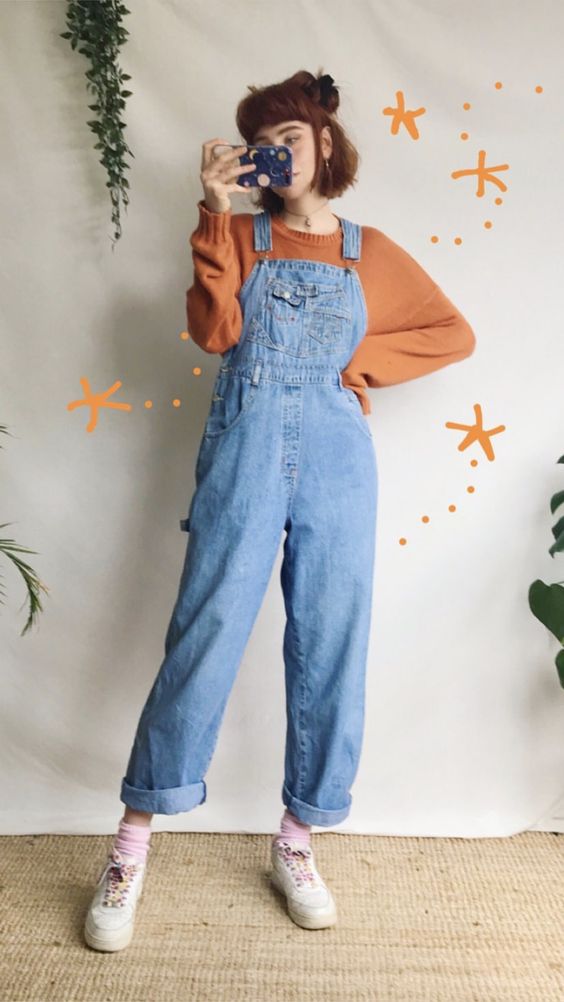 Who loves wearing overall? This timeless clothing is still preferred recently to wear especially for the cute and chic image. So, if you want to have a retro style in this outfit look, you can be matching it with a large crewneck sweater for the inner top. For a tip, roll your pants up to the ankle, then wear socks and sneakers on your feet. This makes you look youthful and classic at once. To perfect your full dress, get accessories items as such silver jewelry. And for bags, get a canvas tote bag to carry your stuff.
11. Wide Leg Jeans and Cropped Shirt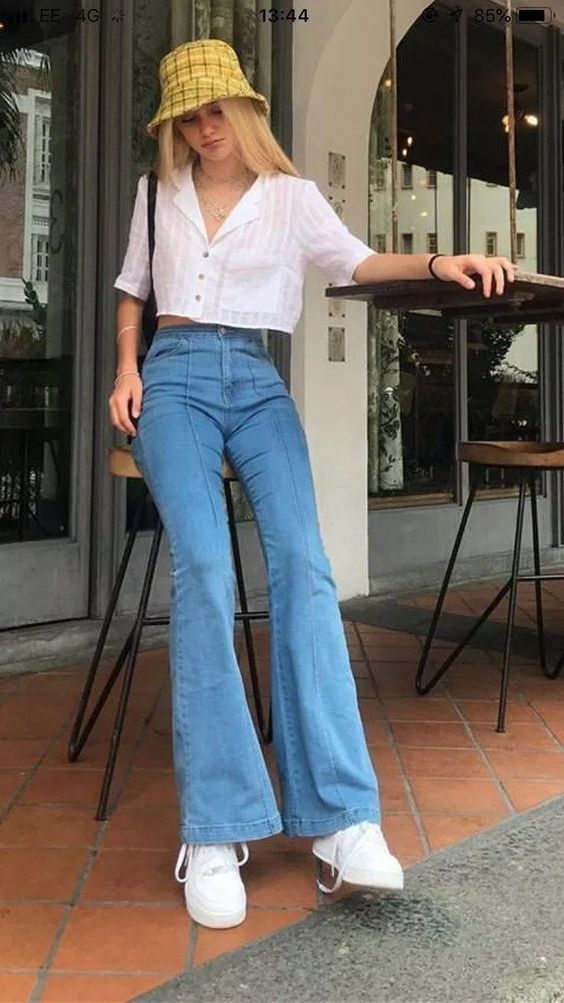 Another timeless vintage look when you try to get a retro outfit style is by wearing wide-leg pants. How to bring this item to your fashion style? We suggest you combine it with modern clothes such as a white cropped shirt. Just perfect your outfit looks with a yellow bucket hat, fashion accessories, and trainer shoes or sneakers. For bags, you can get a simple black shoulder bag that seems good to wear with this outfit idea.
12. Vintage Tea Length Dress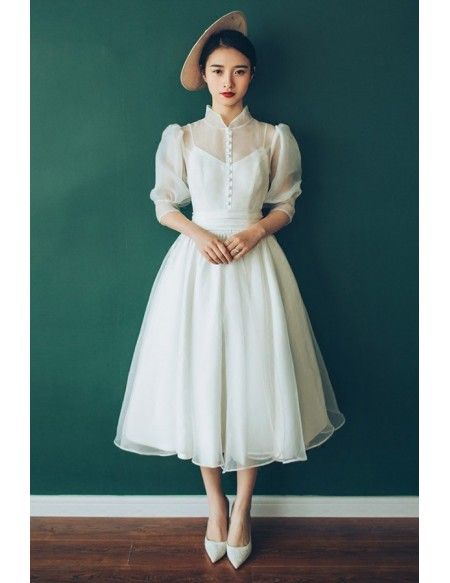 Are you have to prepare a simple and pretty dress for a formal party? Need a recommendation? We love this white tea-length dress very much. Designed in a flowy strappy dress that's cover-up with transparent outer in the top, make it looks classy and retro. Then pair this dress with white high heels to have an elegant performance. If you want more retro images, get a fascinator hat with a low bun hairstyle. For the bag, get your branded mini handbag, bucket bag, purse, or clutch. You can bring this retro outfit style to attend a formal garden wedding party.
13. Wearing Grandma Sweater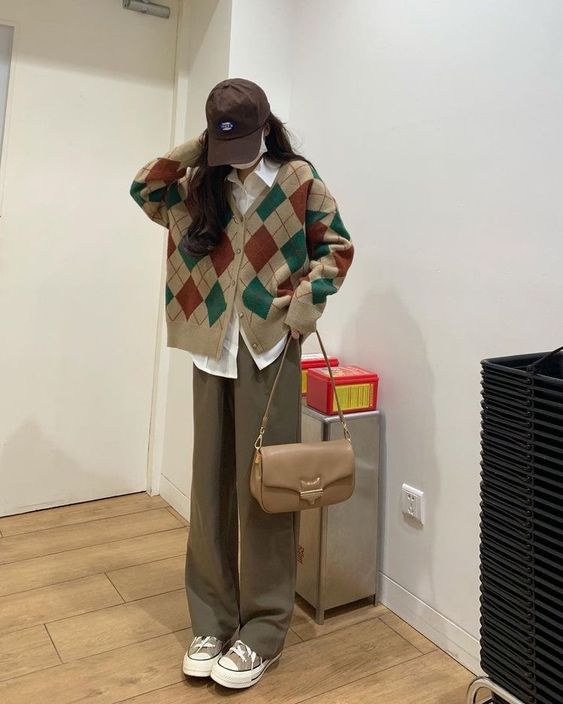 If you come upon an old cardigan in your mother's wardrobe, simply use it to create a retro outfit idea. Pair this cardigan with a button-up shirt and high-waisted slacks. Simply cover the shirt with a cardigan to achieve a trendy vintage appearance. Acquire trainers or sneakers as footwear. You may also get a cap to elevate your fashion style and make you appear chicer. Use this outfit as your college style by adding your favorite sling bag to hold your belongings.
14. Cool in Leather Jacket Style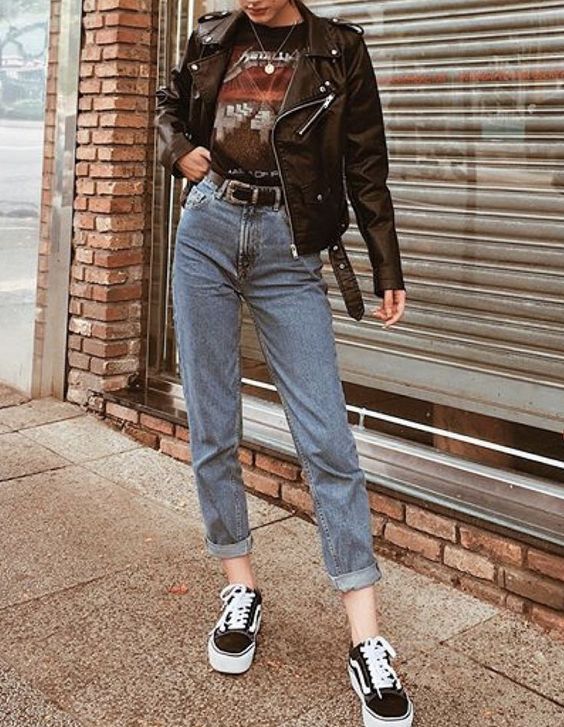 Leather clothing, particularly leather jackets, is another versatile piece to add to your retro outfit style. Throughout the former, this type of jacket was frequently worn to have a trendy stylish look. This jacket is typically paired with ripped, flared, or straight denim jeans and a printed t-shirt for the inner top style. Complete your performance by grabbing a pair of sneakers for matching footwear. Don't miss out on the accessories, some metallic and chic accessories need to adjust to your outfit style.
15. Classy with Fur Vest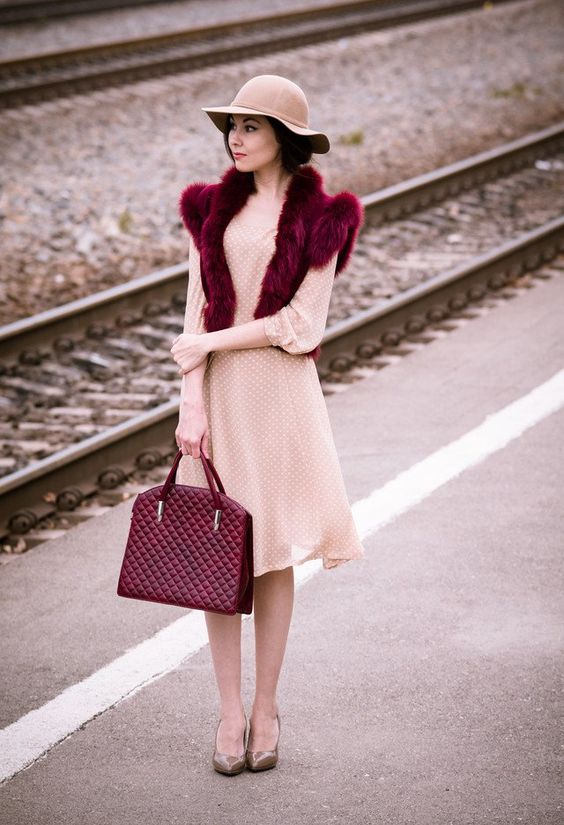 The next style is for those who like feminine looks. In retro outfit style ideas for women, there are so many contemporary looks with dresses, especially midi dresses. For this, you can get a pastel ankle dress that you give an accent with the fur vest for classy elegant style. To seem retro design, you can add a floppy hat to your head. This outfit wouldn't be complete without getting high heels and your favorite handbag.
16. Plaid Flare Pants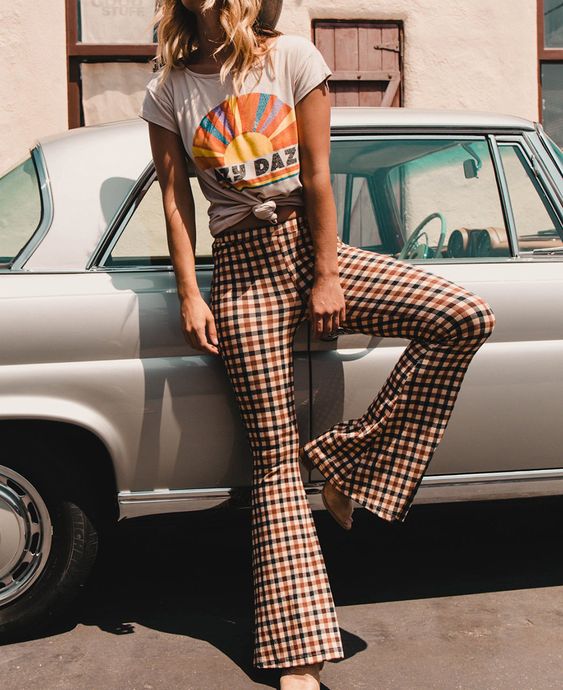 In addition to high waist, straight, and wide-leg pants, other pants that are usually worn for retro outfit style are plaid flare pants. Using these pants, you just need to find them in terracotta or earthy tones style then match with a printed t-shirt for the top. In a vintage look, the t-shirt usually knots up a little in the front. Then come to shoes, you can choose between oxford shoes or ankle boots. To make your style more trendy even in an old fashion look, grab a fedora or cowboy hat for accessories. For the final component, you can pick a sling bag in a bohemian design if you want to turn it into a bohemian outfit idea.
17. Flowy Button Midi Skirt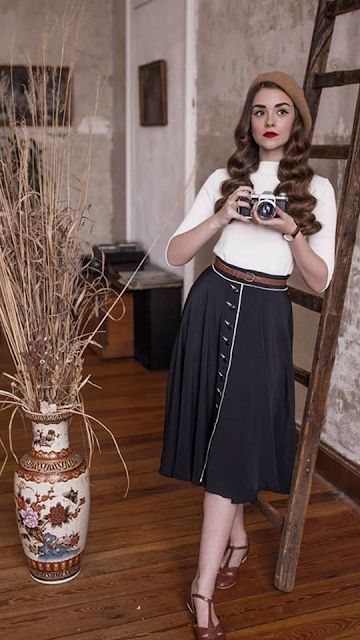 Have fun with your midi skirt in a throwback ensemble. Take a look at this outfit idea. Simply Tuck your long-sleeved tee into a flowy midi skirt with buttons, then bring on strappy sandals for casual elegant style. Also, add other vintage accessories, such as a beret hat and you'll get a timeless retro outfit style. Enhance your outfit look with a curly wave hairstyle that's a trend in the past decades. Furthermore, you can take a simple sling bag or mini handbag in your hand to help save your important things that also seem good for your chic outfit style.
18. Plaid Mini Dress Look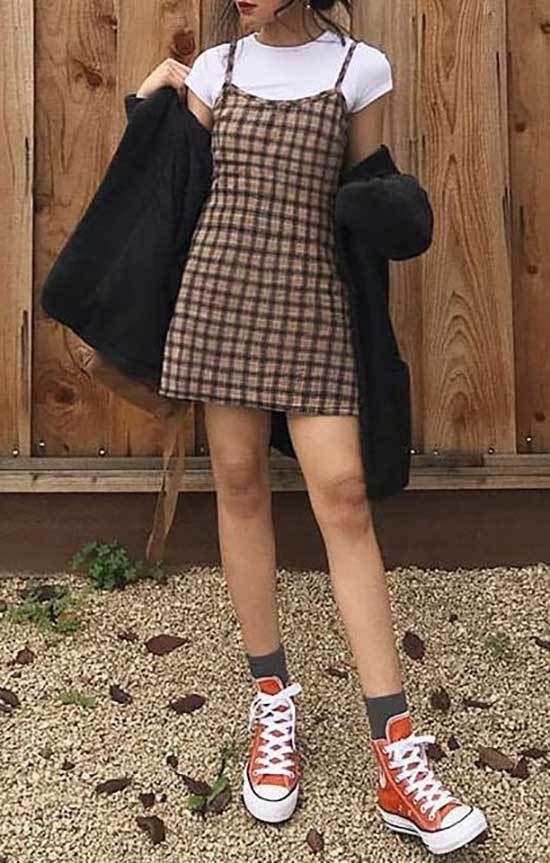 What's next? Look we've found a timeless ensemble that's been a trend within in the past old years and now. Yes, this plaid mini dress. Plaid is a pattern that's usually used for creating vintage style. For this, mix and match your dress with a white tee underneath, then get a baggy jacket for outwear. Present your dress style with comfy sneakers for a chic look. Then, bring a backpack for a perfect bag in this retro outfit style.
19. Crewneck Sweater and Straight Jeans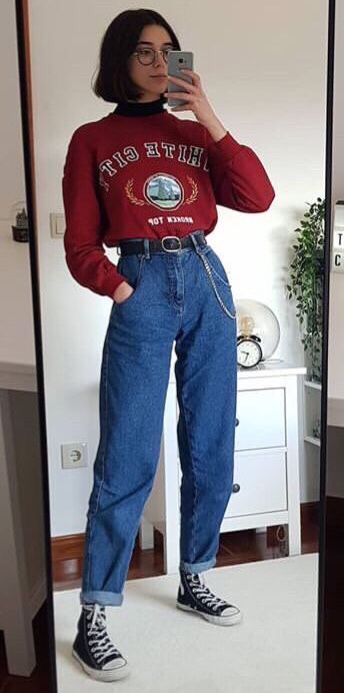 Looking for an easy retro outfit idea? This look is ideal for you. Simply slip your vintage crewneck sweater into your high-waisted jeans. Don't forget to bring out accessories that will complement your retro style. You may obtain a leather belt, waist chain jeans, and glasses for this. Then get a pair of high sneakers to finalize your traditional fashionable outfit. We recommend that you pick a simple backpack or sling bag for saving your belongings. You have the option of wearing a baseball cap to enhance your hang-out fashion.
20. Cropped Shots with Colorful Shirt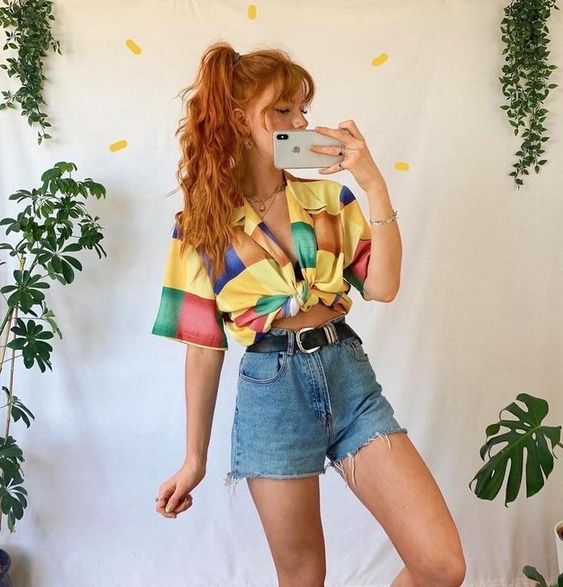 Now, take a look at the last retro outfit idea we have. We present a shorts outfit style that carries out with a bright colored shirt. You know that's vintage ensemble is typically an eye-catching look, and it also matches with recent modern style. For this style, you just have to combine the shirt with bra tops for the inner, unbutton your shirt, and make a knot at the end of the shirt. For the bottoms, pick high waist cropped shorts then accessorize with a leather belt. Look for matching footwear for this style, we suggest you get a pair of sneakers or trainers if you want a bit trendy or wear sandals for having a simple and cozy style. And then, at the last touch gets accessories like simple gold jewelry, sunglasses, and a mini shoulder bag to complete your outfit performance.