Olidfashion.com – What do you think about summer style? This should be including an outfit that makes you comfortable during hot weather and makes you quite fashionable enough. Summer outfits usually come with minimalist and light garments like shorts style. From that cut, you will get a casual look and chic to wear.
Arranging the same types of outfits could be exhausting, as you are less and less inspired about the style you will work it with. You should know that there are many types of short pants like Bermuda, denim, and jumper shorts that you can try wearing for daily rotation in summer. That wouldn't make you feel bored even in the same styling shorts outfits. Besides that, combining the shorts with other fashionable outfits in your closet is a great idea for a new look.
How to style your shorts during summer? There is some cool way to set up your outfits with shorts. If you're a fan of this type of casual ensemble, let's find out some ideas for turning your shorts into high fashion and stylish outfits during summer.
Back to Basic Style with T-Shirts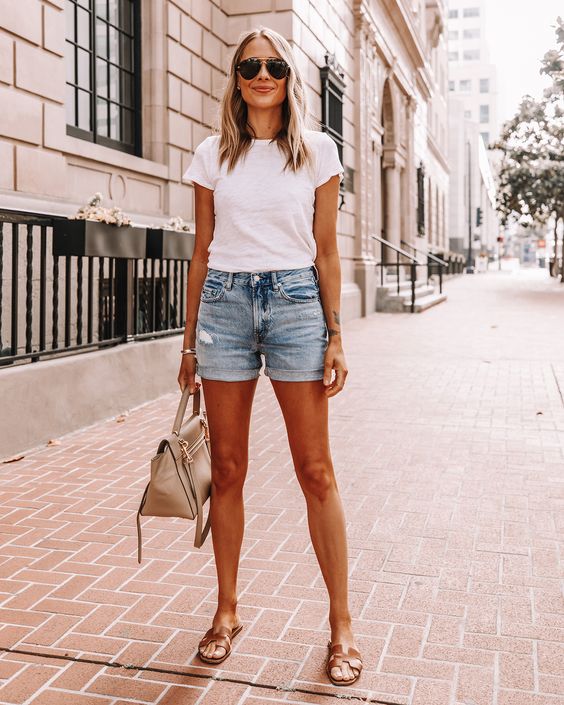 Speaking of getting a basic ensemble for shorts style is also a kind of great choice. You will get the modest casual look in shorts but still fashionable by combining denim shorts and basic plain t-shirts. Besides that, those ensembles would make you look fresh and chic in summer. The way you carry a basic t-shirt in your short style actually has two types of styles depending on your footwear. First, if you want a trendy casual look, mix the outfit with sneakers. Likewise, if you expect to have a bit casual look in a chic way, pair your outfit with sandals.
Casual Look with Cardigan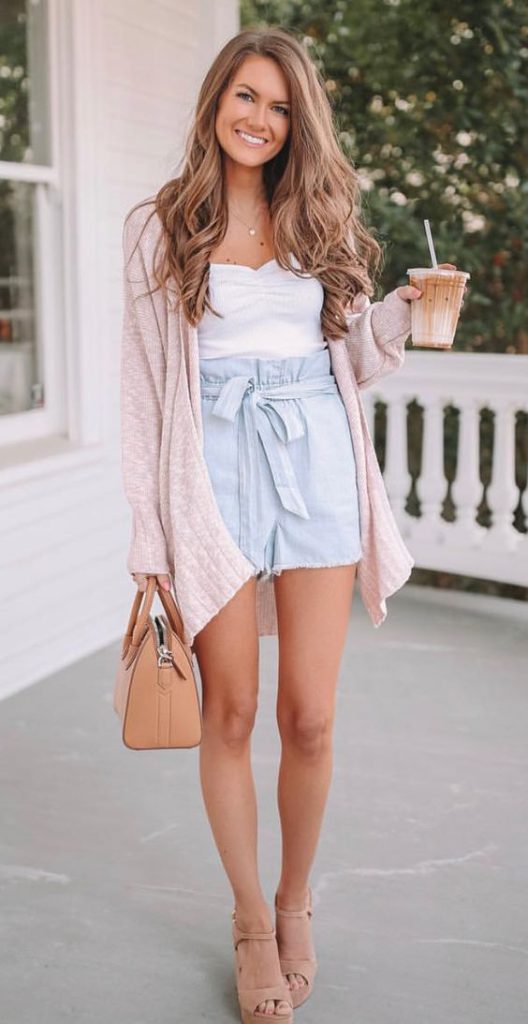 Wearing minimalist shorts requires something to balance the look like a long cardigan. This is quite pretty when you choose the combination with sleeveless tops for underneath a cardigan. Besides that, choosing pastel colors in your clothes make them look like blossoms in the summertime. Also, cropped light denim shorts are great to bring high fashion and a stylish look in summer. Casually complete your shorts outfit style with something that's gorgeous like wedges for the footwear. In your hand, you better bring a simple mate handbag or change with the tote to make it modest for hangout style.
Sportswear with Biker Shorts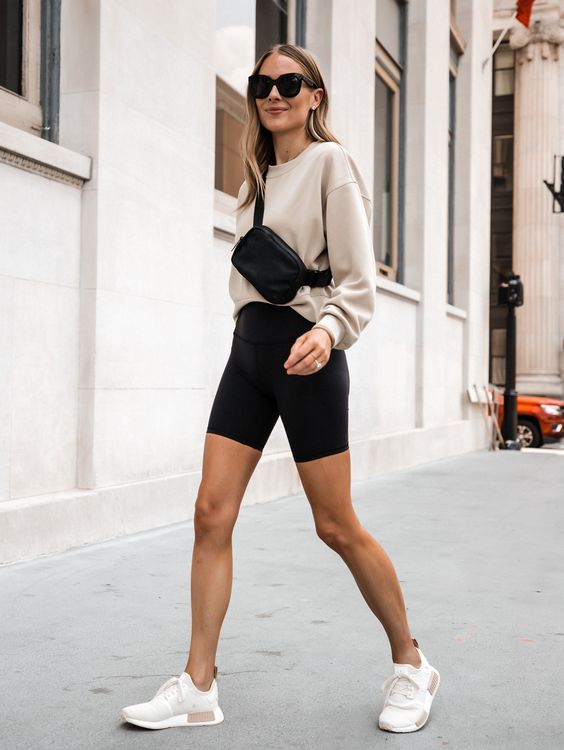 Being sporty in shorts outfit style by wearing biker short pants and then matching it with a crewneck sweater. To get a full sportswear look, you need to wear a pair of trainer shoes for the matching footwear. Then, bring out a waist bag to make it look quite sporty for hanging out. This shorts style is also good to wear for your gym ensemble. You can change the crewneck sweater with bra sports and then use it to the gym in summer.
Fashionable in Patterned Shorts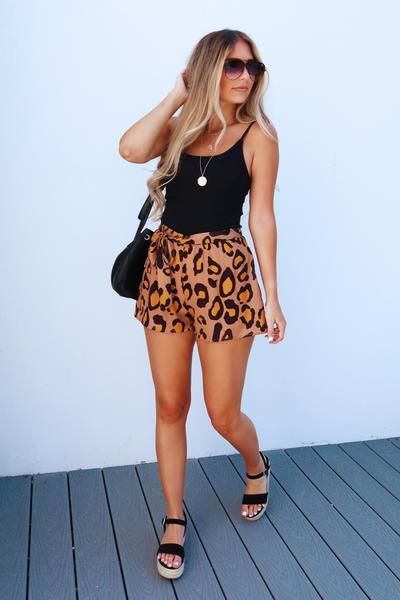 If you are tired of plain shorts, get patterned Bermuda shorts out to bring high fashion and stylish outfits. You can wear leopard shorts with a black tank top and strappy sandals for a casual yet classy look. Then complete your outfits with a sling bag and some simple accessories. For the footwear, you can choose black sandals that match up with your basic color outfits.
Mix Up Your Shorts with Off-shoulder Tops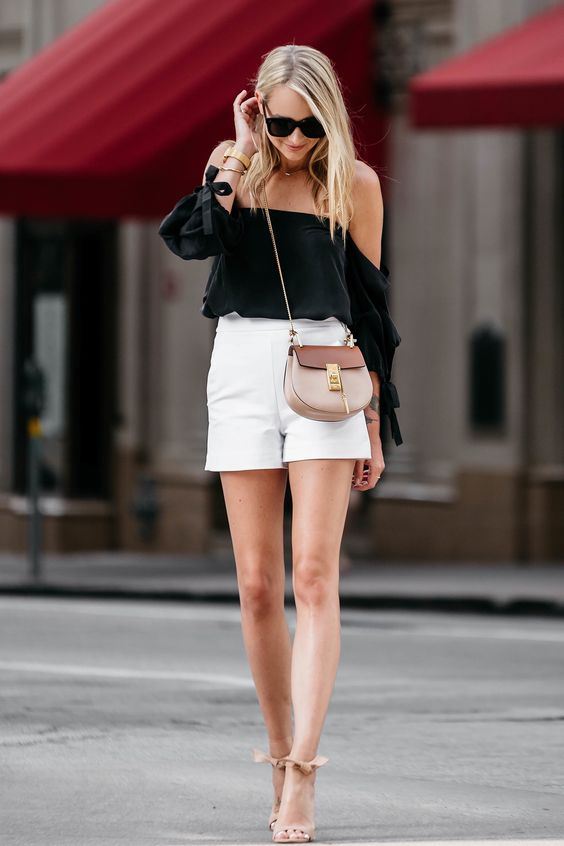 Want to look cute and beautiful in summer shorts style, just mix white shorts with an off-shoulder blouse. Revealing your shoulder maybe would make you look a bit sexy, and with the ribbon embellish this actually gives you a pretty image. In addition, wearing shorts would also make your legs quite stunning. You can adorn your legs more with something beautiful such as strappy high heels to get an elegant and high fashion style.
Chill in Holiday in Shorts Style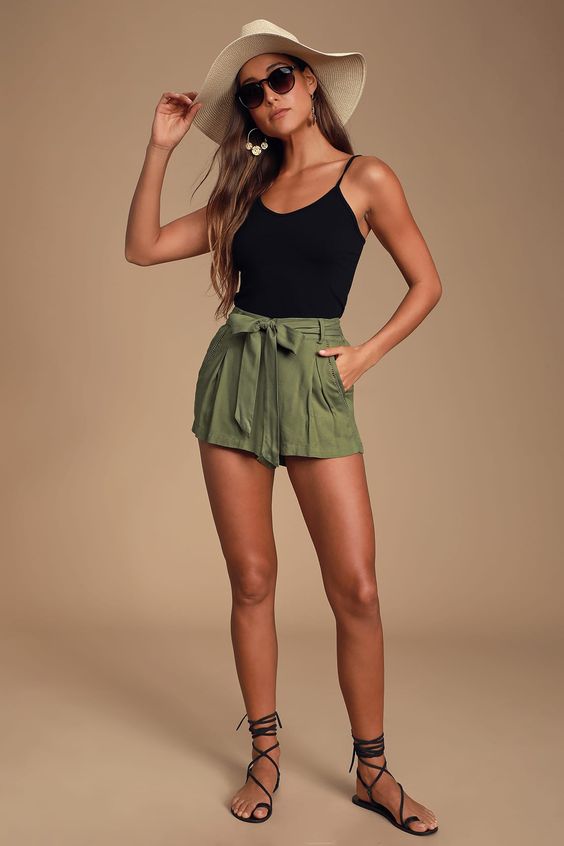 Going on a summer trip, you should prepare some outstanding outfits that would improve your style. We advise you to bring out shorts for the versatile garments.  You can wear it together with a tank top and gladiator sandals for a chill vacation style on the beach. Also, your style won't be complete without having accessories like straw or floppy hats and sunglasses.
Layering Your Bikini for Beach Style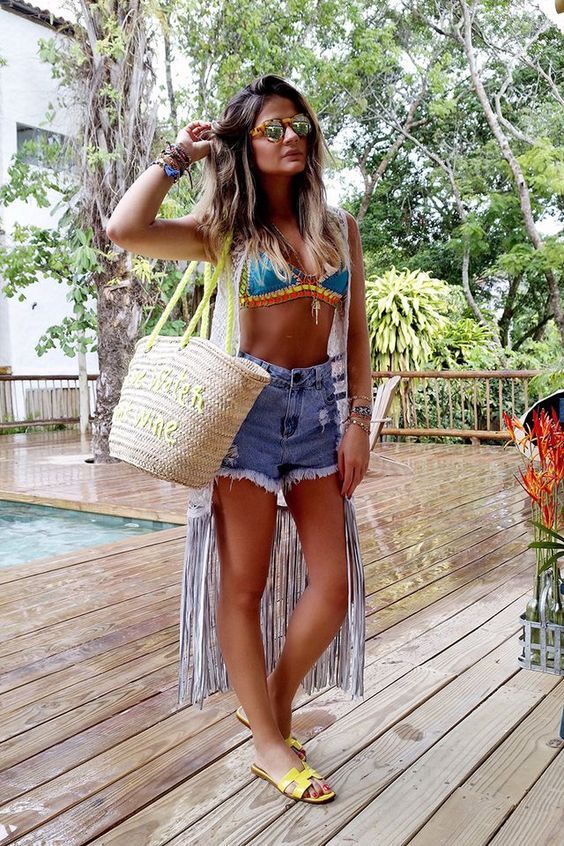 Another shorts style that you can bring on during the summer holidays is wearing cropped denim shorts and bra tops. You can also wear it for layering your bikini and walking on the beach. To get more high fashion and stylish shorts outfits, you just need to prepare sleeveless kimono to complete your look. Don't miss out on matching your footwear, better you bring fashionable sandals for this. Also, get a craft tote bag to complete your outstanding performance in your vacation outfit style.
Elegant Summer Style in Knot Blouse and Shorts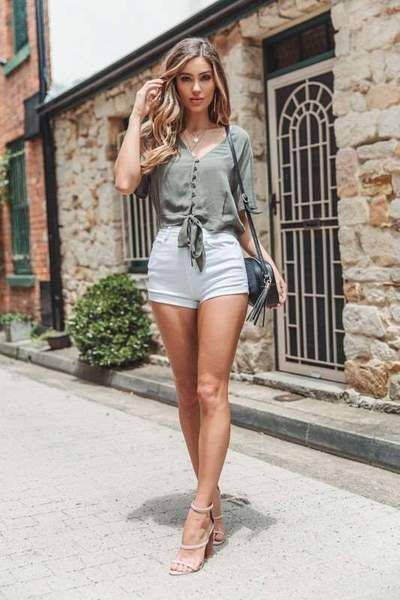 White shorts are most favorite ones to create elegant summer outfit ideas. People usually wear it with a short-sleeve button-up blouse to get it more feminine style. To make it a bit different, knot out the blouse and wear strappy heels on your legs. Besides that, choosing earthy tones on your outfits would give you additional value for having high fashion and stylish short outfits during the summer. You just need to bring a simple bag and it's done to become a hang-out style.
Dress Up your Shorts with Blazer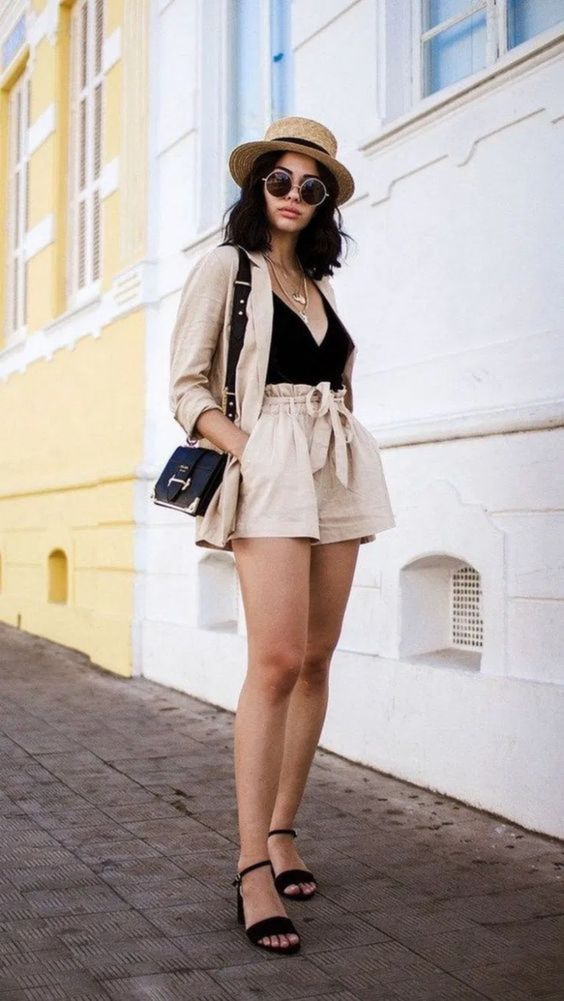 Being fashionable with layering outfit style in summer is a bit tricky. You need to know what to make your style feel comfortable and also chic. The way is to wear shorts and a blazer, but you also need something to complete your dressing like a plunge neckline tank top. Furthermore, when you bring a pair of black strappy heels you look really gorgeous. Also, don't forget about accessories such as a fedora hat, sunglasses, a mini handbag, and some stunning gold jewelry. This would make you get a high fashion and stylish look in summer.
Trendy Summer Style with Shorts and Denim Jacket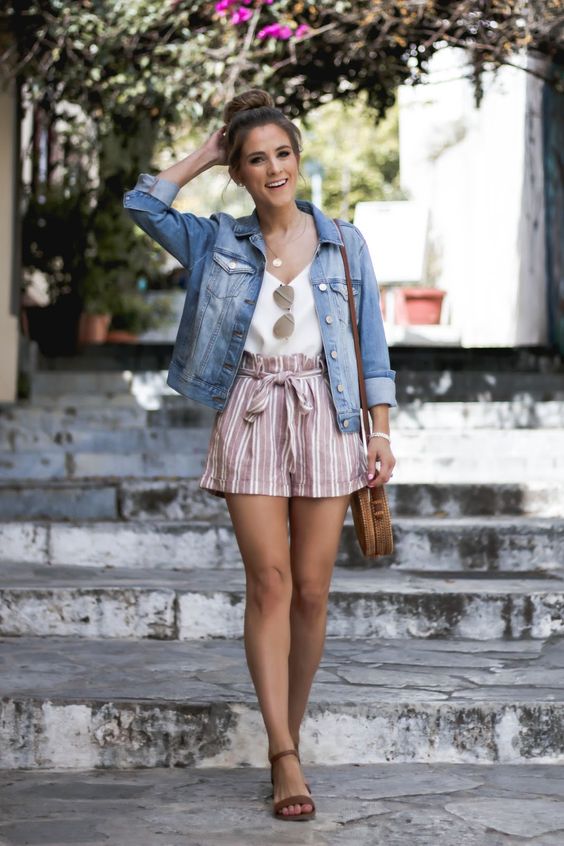 Denim or jeans is a flexible ensemble that can be carried out all year round without being afraid of looking outdated. This kind of garment would balance your shorts outfit style. A denim jacket plays a key role to cover the tank top and make your shorts style look trendy. Also, get a little cute accent with a striped pink pastel pattern on your high waist shorts. The perfect footwear which can make your style get high fashion sense is a pair of strappy heels. This is beautiful trendy summer wear to go on date with your boyfriend.
Bohemian Look in Shorts Outfit Style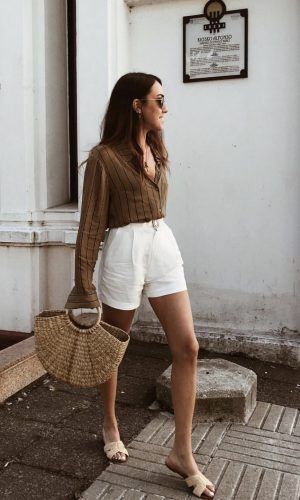 Bohemian clothing style can be added to any casual occasion, even for your summer holiday fashion. For this, it's quite simple you just need to tuck a light button-down shirt into shorts. Choose neutral and earthy tones on your outfits such as brown and white to represent boho chic style. Then, to make it more fashionable you can bring out some accessories such as a rattan craft bag and sunglasses. For a slightly casual style, choosing sandals is the right option.
Pair Shorts with Flannel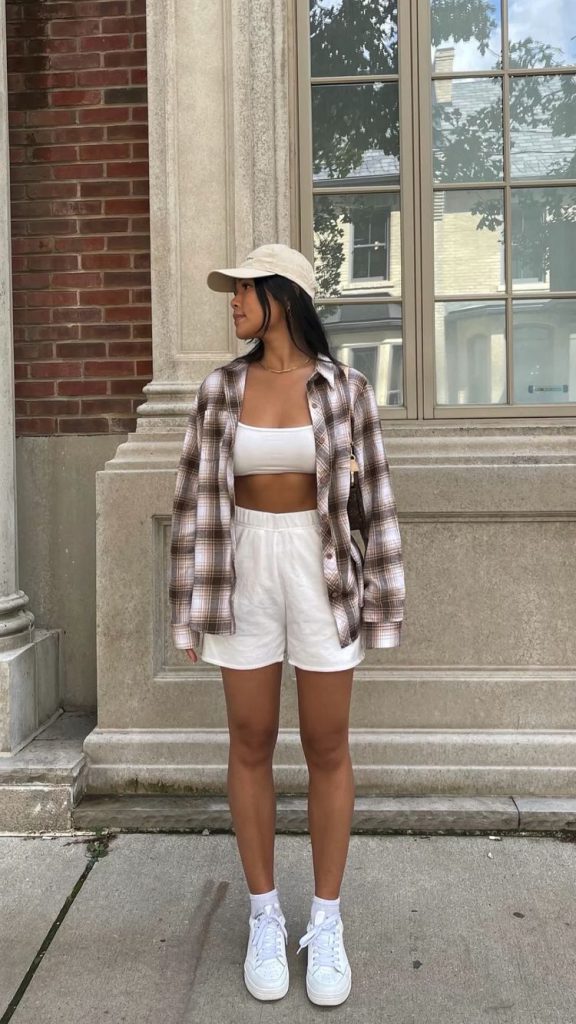 Want to have another chic sporty wear in shorts look, you can try the style above. Wearing short pants with a sports bra top and covering it with flannel. For the toe, better you get white sneakers or sports shoes. In addition, you can wear a cap to get a more sporty look.
Wear Shorts and Tweed Blazer for Formal Looks
Shorts for work? Why not. Find a way to bring shorts into fashionable work outfits during summer. For this, better you find short beige pants and then you mix them with blazer style. Alternatively, you can add tweed outwear to layer your plain t-shirt and give it a more formal look. Then, for the toe, you better pick a pair of beige high heels. For the bag, you should choose a mini sling bag with cream or nude colors.
Simple Vintage Outfits with Shorts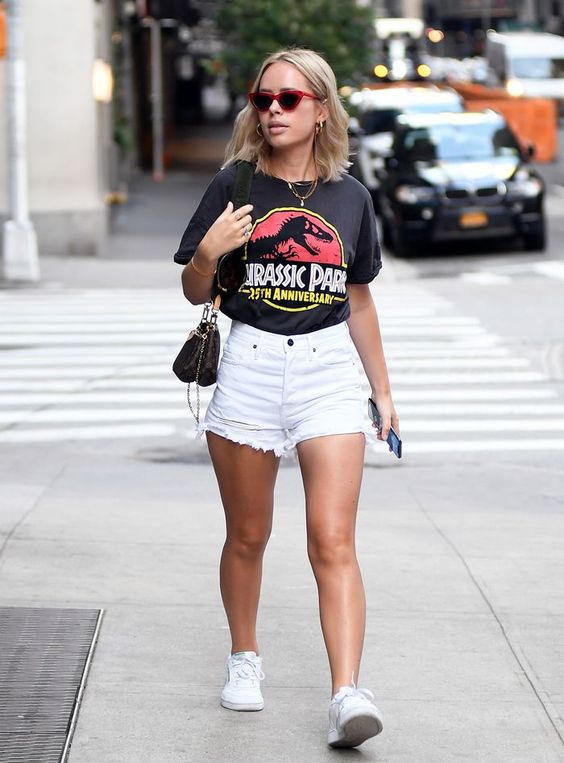 Vintage t-shirts would never look "no" cool in shorts style. The shabby tee and cropped denim shorts are the old vintage outfit style that looks retro but still fashionable. This is a kind of style that even women over 30 could use it. To make it get a high fashion and stylish look, it's quite simple. For this, you just need to bring fashionable accessories and get matching footwear. For the shoes, if you want to look a bit feminine and elegant you can wear high heels. But when you get casual sporty in shorts outfit style, just pick sneakers or sporty shoes.
Best Sheer Outfits for Summer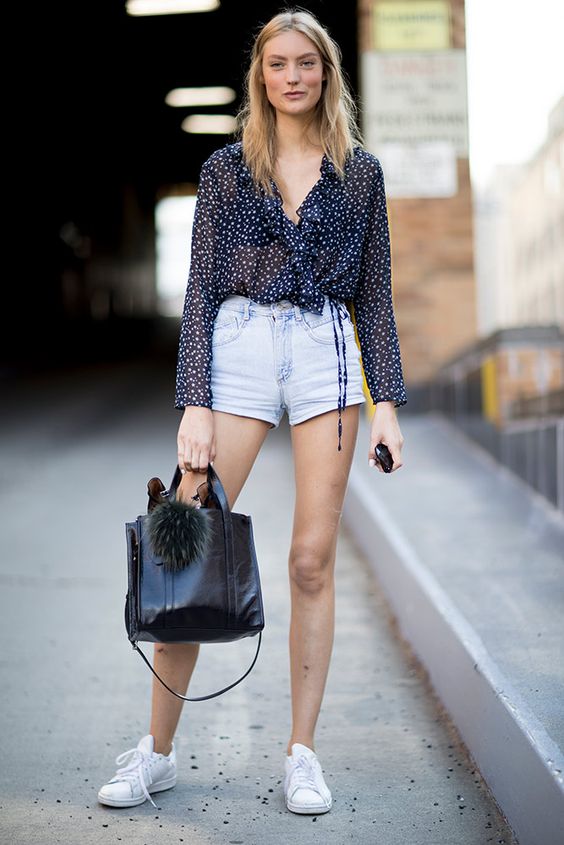 The sheer dress is indeed for summer style. When you want to wear something in long sleeve style but don't want to feel hot inside, you can select a sheer blouse. This attire would look damn great with denim shorts and sneakers for the bottoms style. A tote bag would complete your stylish summer outfits for going out outside.
Combine Your Denim Shorts with Bright Colored Tops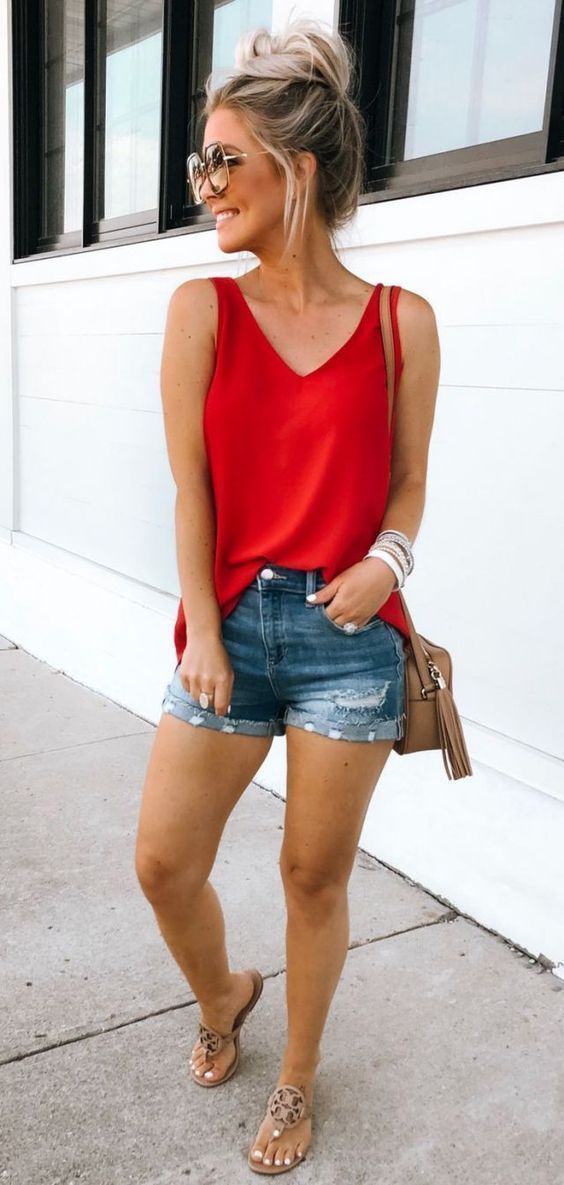 No matter where you are headed, tank tops for summer style serve you well. The bold colors is can be identical to the summer vibe, and channel that atmosphere with bright red sleeveless tops, denim shorts, and bohemian sandals. Nothing better than this to create a statement fascinating and dramatic outfit. You can also feel the chill from that shorts outfit style. For perfecting your look, accessorize it with fashion jewelry and a simple leather sling bag.
Elegant Shorts for Evening Occasions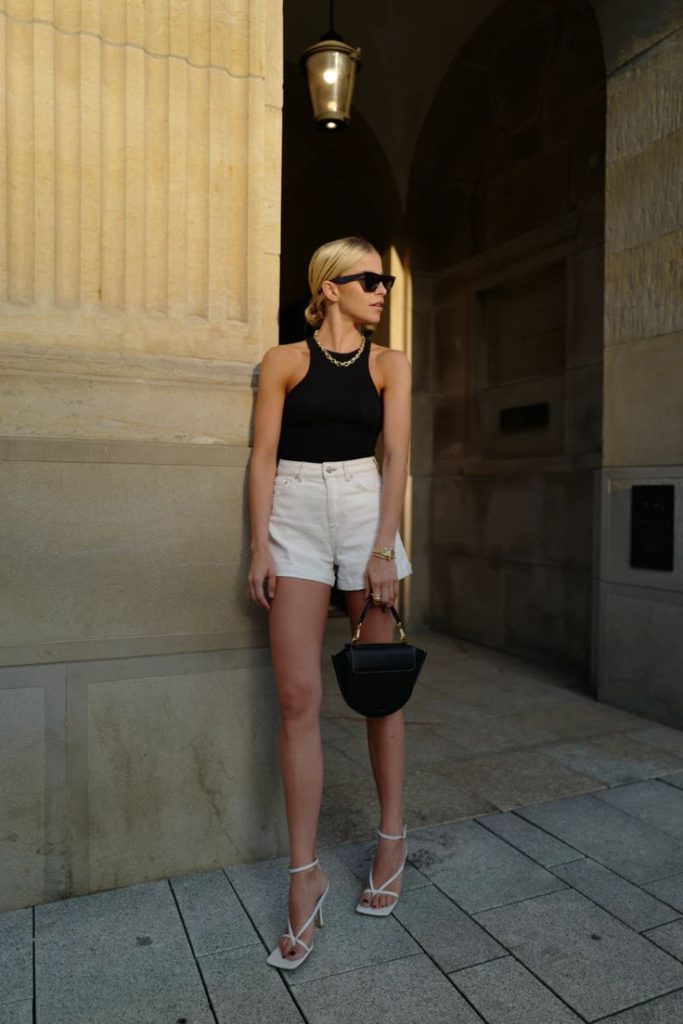 To get high fashion and stylish outfits for summer with shorts, you can try to pair white shorts with a black racerback tank top. Because the two straps meet at the back, it makes your shoulder exposed. This looks sexy yet elegant, and you can use it for evening wear. Shorts are also exposed your legs more, which is why you need something to show them off better. We suggest you get a pair of stiletto heels which can make your legs look higher and longer. Then, don't miss giving accessorize with some gold jewelry. For the bag, you can have a black mini handbag.
Shorts in Varsity Style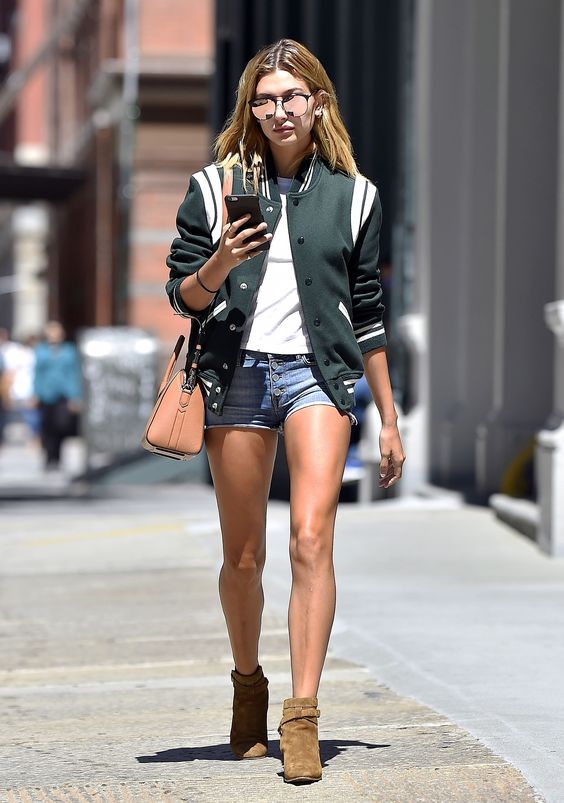 Going to summer class is a bit bored yet this also becomes the time to express yourself in high fashion and stylish shorts outfits. As a girl who likes to look boyish on campus, wearing denim shorts would be really suitable when combined with a varsity jacket. For the shoes, make your outfit look fabulous by picking suede ankle boots. It's a little contrast to your boyish style, but it gets you high fashion outfit style. Even though your chic college girl style looks boyish, you can still present a feminine accent to it with your pastel-colored sling bag.
Cropped Tops and Denim Shorts for Best Combo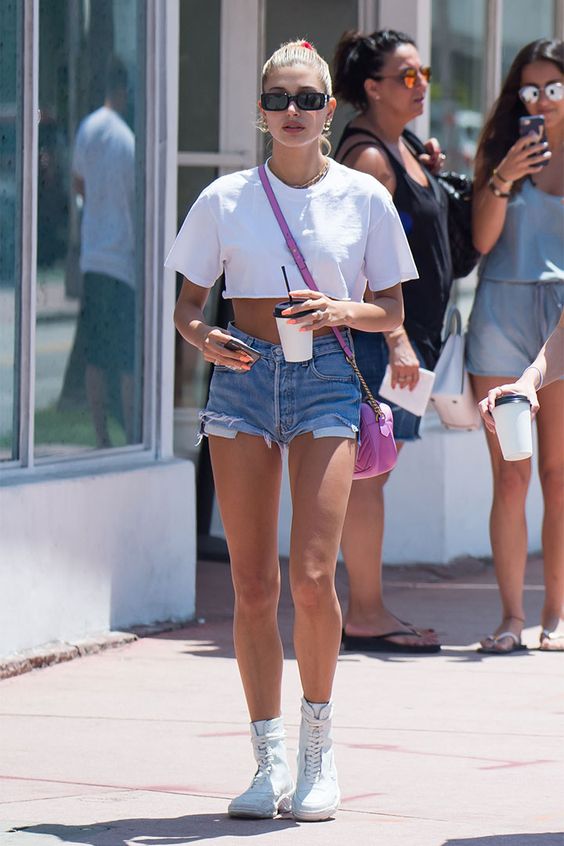 Cropped Tops and shorts are one of the best combos to create a cozy and fashionable summer outfit style. You will get both trendy and chic looks from this outfit. For the toe style, better you pick sneakers or sports shoes. But when you do something different, high sneakers or lace-up boots could be a choice. Complete your overlook with some accessories that you like. Shouldn't wear too many accessories, wearing simple jewelry and sunglasses will suffice. To make your style a little more colorful, you can carry a violet sling bag on your shoulder.
Look Youthful in Romper Shorts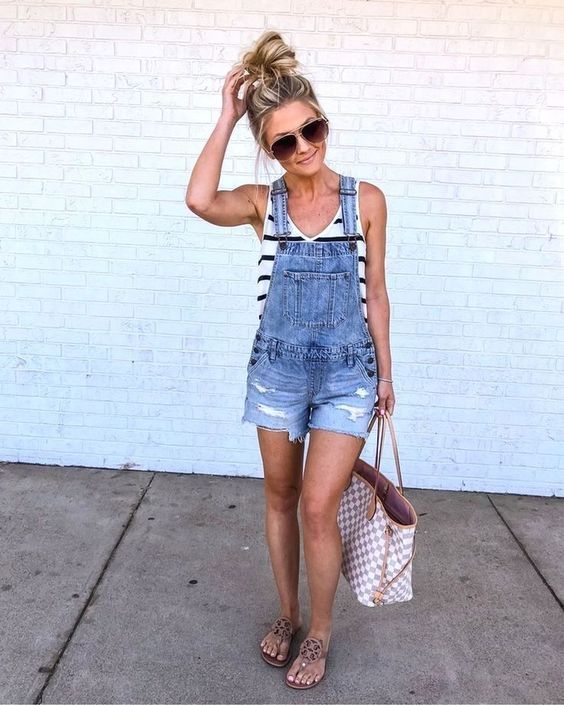 Have romper shorts to bring the fun of summer into your stylish shorts outfits. This childish style would make you feel fresh and youthful. This style is slightly good enough for hanging out or going to groceries. You just need to combine it with a sleeveless top underneath and sandals for casual looks. For the bag, choose a big tote and get sunglasses to help you avoid the sun when going outside.
Get Pastel Statements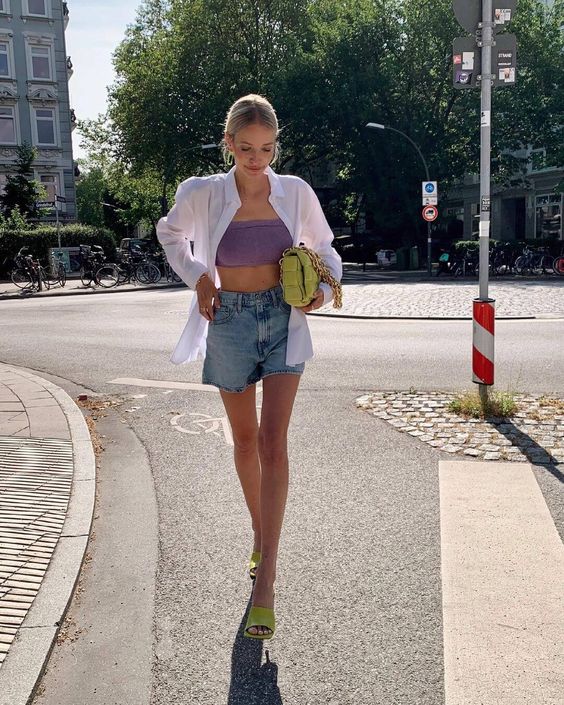 For you who want to wear a button-up white shirt into shorts outfit style, better give pastel outfits as for pretty statement. For instance, you can change a tank top with a violet bra top for a chic summer style. If you want more pastels, just get them on your accessories and footwear. For instance, pick a green slime color palette for your sandals and handbag.
Getting higher temperatures during summer shouldn't affect your fashion style and your activity outside. Because of this, choosing the right summer outfit style is a must. Also, don't be afraid to bring out layering outfits this season. You just need to find a trick on it such as wearing bright and pastel-colored outfits. Those colors would reflect the sun's heat. Just avoid wearing dark and black-colored outfits, they just would make you feel hotter. Besides that, minimalist outfits like shorts could also help you get a cozy and stylish ensemble for summer. From the shorts outfit ideas above, we hope you get inspiration for your daily style. Good Luck!!!