Olidfashion.com – I have much interest in styling sneakers with some outfit looks for fashionable daily rotation. Sure, that's more comfortable shoes to wear especially for me who have hectic activities. But don't get me wrong, I'm also loved to wear high heels and loafers for formal attire. Sneakers or Convers are one of the cozy footwear that's usually used for creating casual looks with jeans and pants. But, have you ever tried to match sneakers with a dress or skirt? The kind of outfits which have a more girly look.
Dreses, either short or long gowns, are women's outfits that usually have a more feminine vibe. That's why most people paired them with girly shoes like loafers or high heels. However, I found a new trend that's hype now. I've seen the dress and sneakers style taking up on the runaway and hallway fashion look.
In the previous article about sneaker outfit ideas, it's mentioned too that you can still look pretty by matching up sneakers and dresses. The dress and sneakers style is completely great and works well to wear together. So, what do you think about it? Are you interested to get a new trend style with these combos? So, if you are still confused about how to create a chic dress and sneakers style for inspo outfit looks, let's check some ideas below!!!
Chic Inspo Outfit Looks in Dress and Sneakers Style
Look Cute in Baby Doll Dress
The cute baby doll dress would make you look cute in a chic dress and sneakers style for walking around the city. Designed in sleeveless style with some ruffles and get white palette would make it look good to wear during summertime. Wearing it also would make you look young and fresh. To make it perfect for inspo outfit looks, you just need to give some accessories such as a straw hat and a rattan handbag. That's would give a boho accent to your performance. For the shoes, white sneakers should be chosen.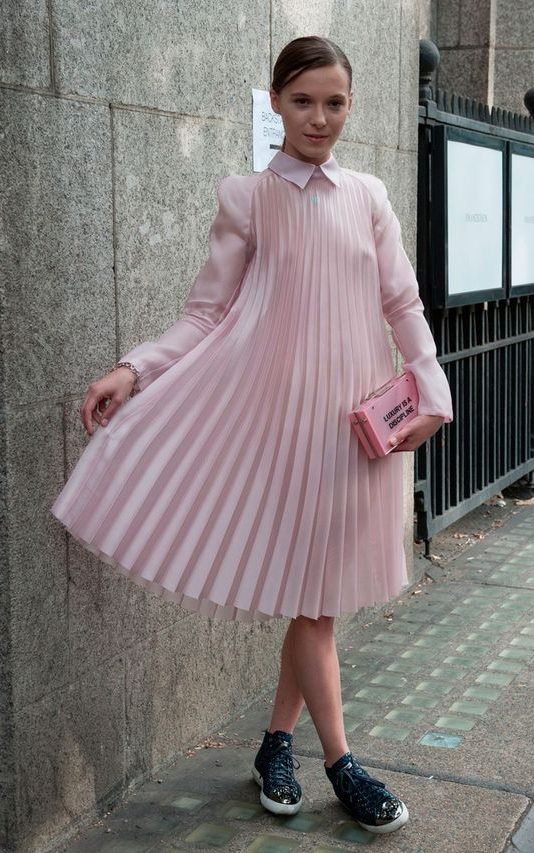 Pretty in Pleated Dress
If you want to date valentine's day with your boyfriend and want to have a comfortable but chic style in dress look, it's time to catch this attire. Dressing up with a pink long sleeve pleated mini dress with a collar, then pairing it with black sneaker shoes can be the option. Actually, it looks good even for getting a romantic dinner in a restaurant after watching a movie. For the rest, you just need to have a simple natural makeup and hairstyle then perfect your performance with your pink clutch bag. This chic dress and sneakers style wouldn't disappoint you.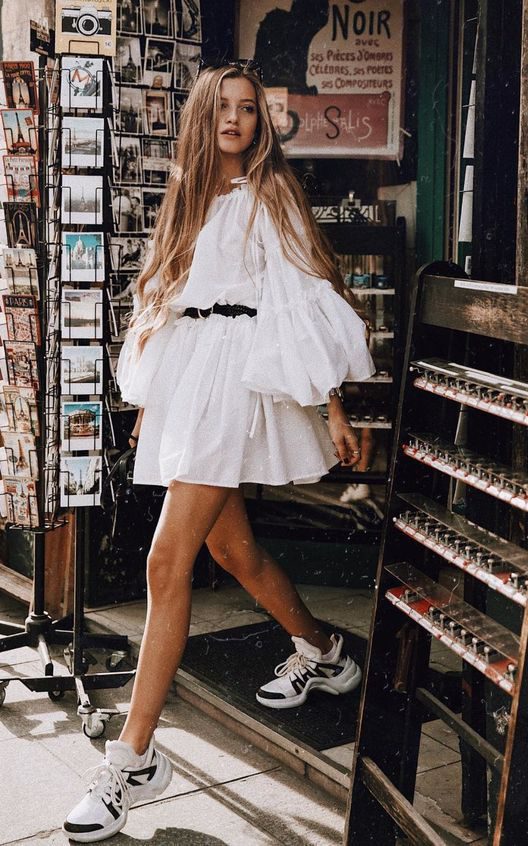 Outstanding with Balloon Sleeve Dress
Another cute dress to bring out for chic style with sneakers is a balloon sleeve mini dress. Designed with a wider sleeve on the wrist make girls who wear it look sweet and cute. Besides that, choosing sneakers rather than heels would make this cute dress look adorable. This dress and sneakers style actually suitable to wear by a teenage girl who wants to look chic and feels comfy enough to hang around outside. Besides that, it would look great to become inspo outfits look to share on your social media.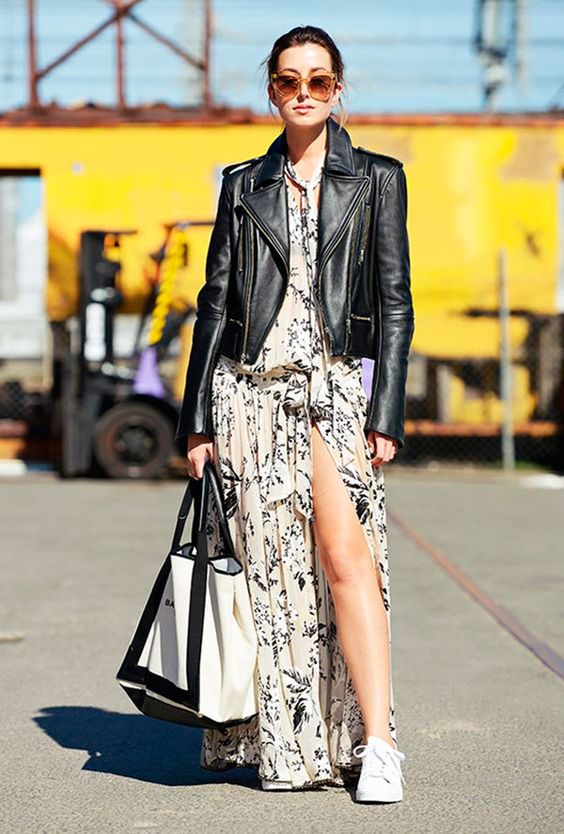 Cool in Maxi Dress Style
Are you looking for a maxi dress style with different preferences? If yes, I recommend you to try this dress and sneakers outfit. You can wear a pale yellow floral long dress together with a black leather jacket and white sneakers of course to create a cool style. You can also modify your dress with a high long slit on the side and then get tie modification on the neckline. That would make you look a bit sexy and elegant. Then you should complete this chic dress and sneakers style with other cool accessories like sunglasses and a casual accent on a big tote bag.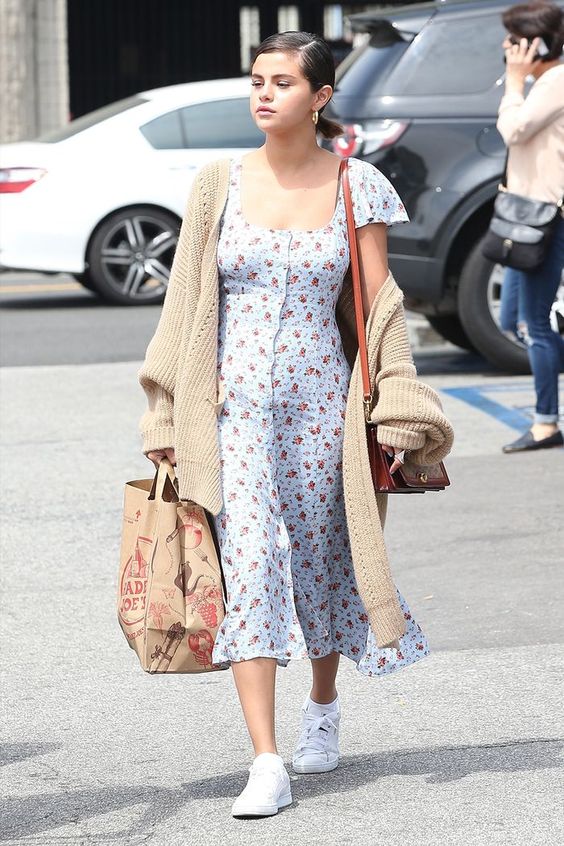 Classic Vintage Style with Sneakers
Even now, the classic look is still favorable to use in fashion design. The simple design, with a soft palette, and pretty detail make a cottagecore dress would bring a new style into your wardrobe. Like when you try to mix and match it with sneakers, that would give you chic daily style with vintage outfits. You can bring this peasant dress for an early spring look by getting additional layers such as a knitted cardigan over it. This looks good enough just for having groceries on a sunny day in spring.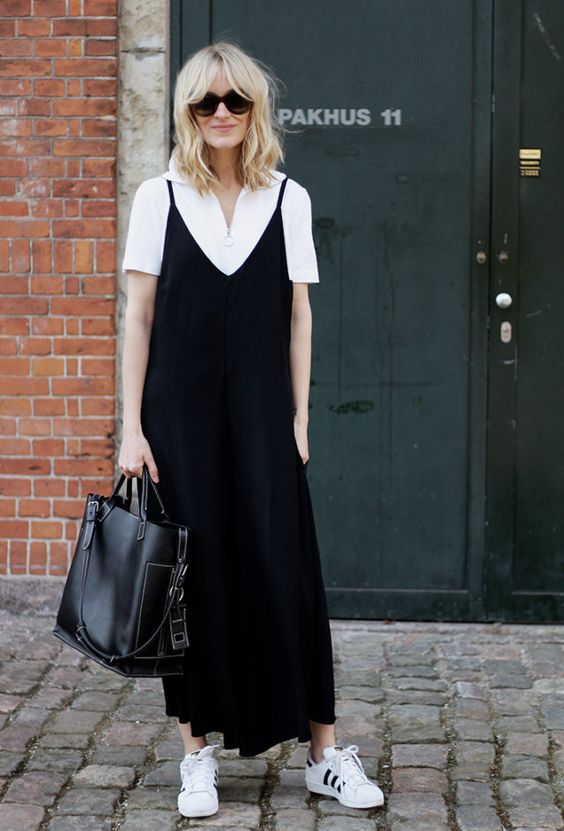 Cozy in Layering Dress Style
One of the other chic dress and sneakers styles is the layering outfit trend. It's not only just for freezing weather, today even though it's summer you can also look cozy in layering style. You can bring a spaghetti dress, either long or short to rock on shirts or tee. For tips, better you find thin outfits if you want to wear this style during hot summer. For instance, you can wear a black strappy dress over a white short sleeve button shirt. Then, perfect your dress with white sneakers and a tote bag.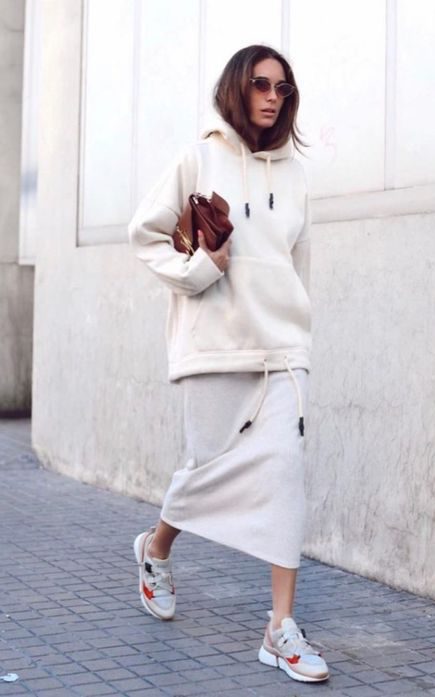 For Sporty Wear Style
What do you think about sporty wear but on the dress or skirt look? For the fashion trend now, you can get a sporty look even from your dress. The way to create it is by applying dress and sneakers style to your daily option. For this, you can get a spandex dress or skirt to combine with an oversized hoodie, and for the shoes pick a pair of white sneakers. This style is also suited for inspo outfit looks during fall or winter.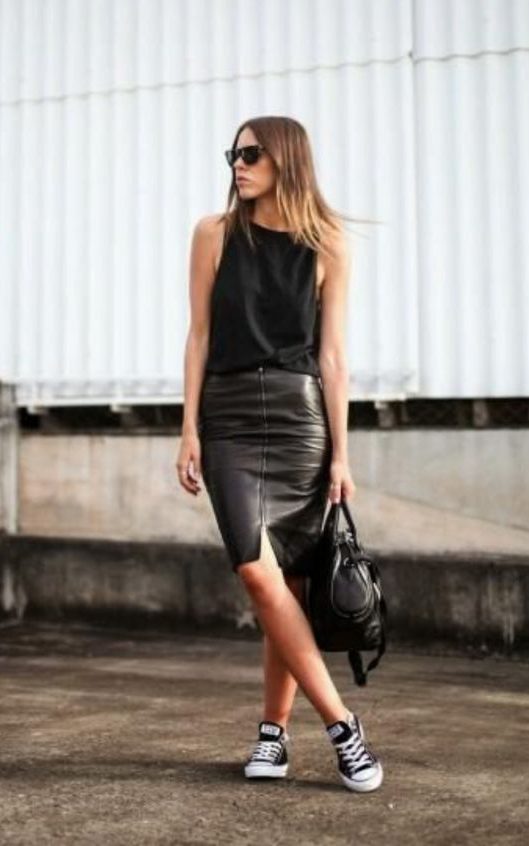 Leather skirt and Sneakers
Leather skirts and sneakers are killing matched to create cool outfits for any occasion. The two combinations never go wrong to give you a trendy for inspo outfit look. That's why, if you want to have a feminine yet trendy style for hanging out, this chic dress and sneakers style would help you much. You just need to pair your dark brown leather skirt and black sneakers with a black sleeveless topper. Then, bring out cool accessories such as sunglasses and a black duffel bag on your hand.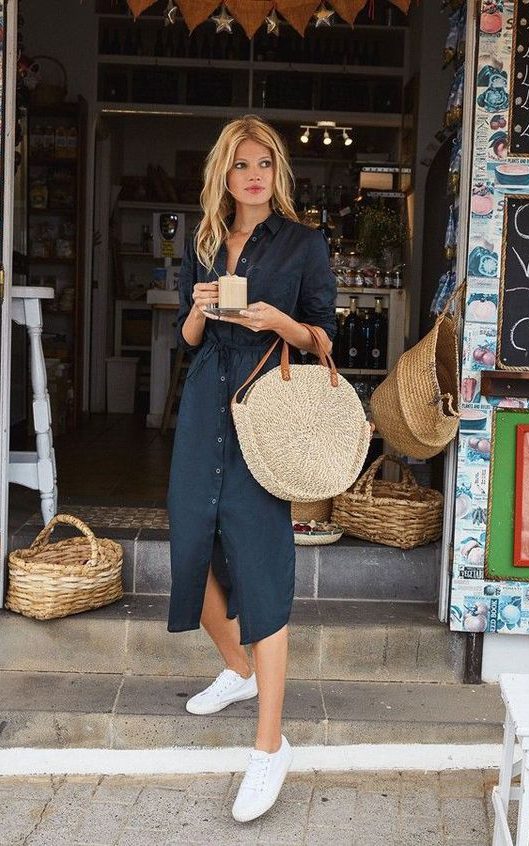 Simple and Easy Vacation Style
Still, confused about what outfits would you want to wear on your vacation? I suggest you bring this chic dress and sneakers style in your luggage. This style is truly simple and easy to recreate. You just need a black long button-up shirt (tunic) and white sneakers. Besides that, these outfits can be modified with another ensemble like pants or jeans. It would save your luggage more. To make it good for a vacation inspo outfit look, you need to bring other detail in your hand such as a rattan handmade bag.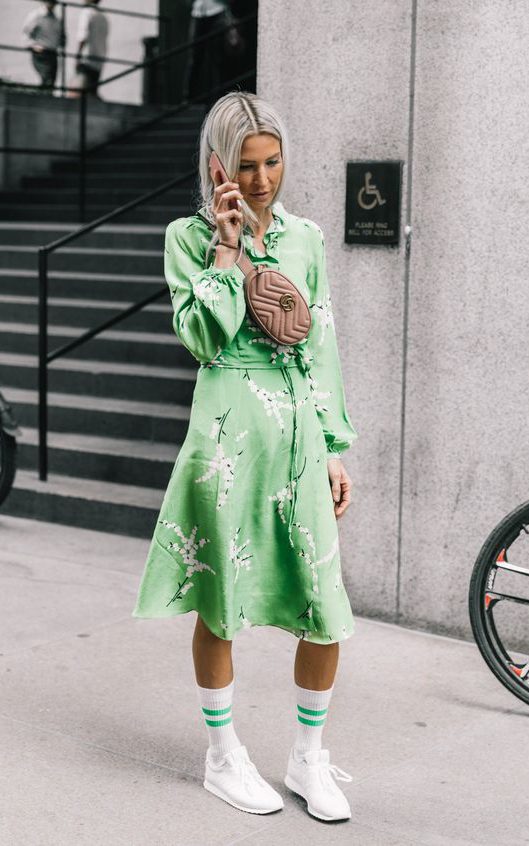 Perfecting Your Street Style
Get ready for spring with this dress style for street looks. A green shiny silk dress really resembles the spring and leaves. The flower print on it also seems pretty and chic. To get fashion inspo style, you need to get a pair of white socks with green stripes and white sneakers for the bottom style. Then, to perfect your chic dress and sneakers style, you just need to complete it with a brown waist bag.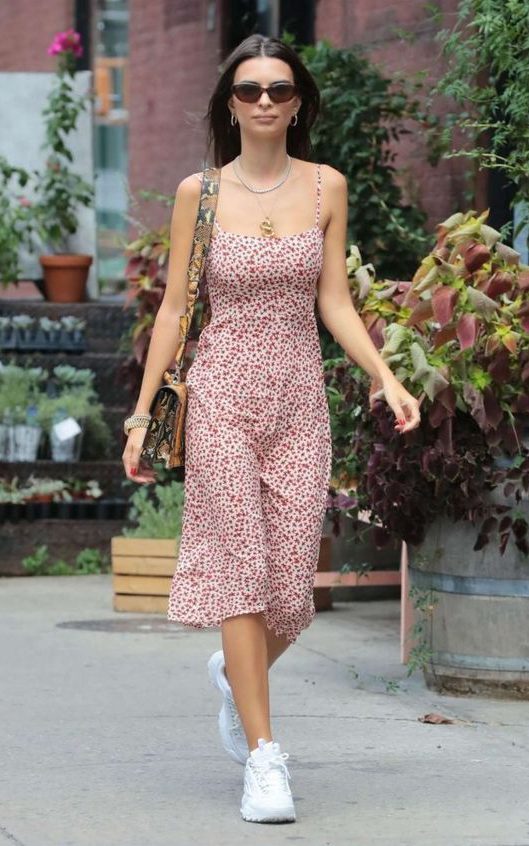 Suitable for Summer Outfits
Summer comes with their hot and sunny weather. It's a great time for you to walk around the city and feel the fresh air. So, you need suitable outfits to do this. The dress and sneakers style feel comfortable and chic if you choose a floral strappy dress and white sneakers. For the accessories, bring one that has natural look such as a snakeskin mini sling bag. Don't miss out to bring other accessories for your inspo outfit looks such as simple jewelry and sunglasses. You can also have a hat such as a floppy hat if you want to help you avoid the heat.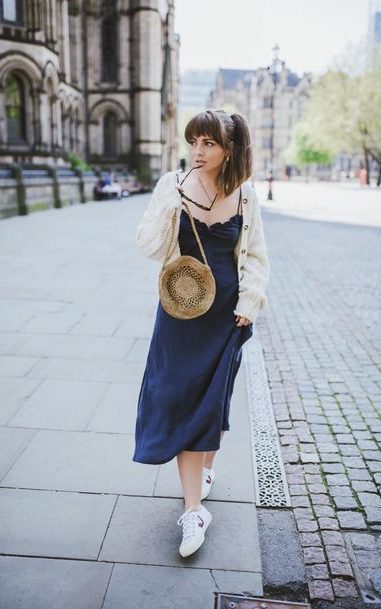 Creating Chic Hang Out Style
Who said sneakers couldn't make you look girly? Want to look girly and feminine with the dress and sneakers style, you can choose a strappy evening dress with a knitted cardigan to have a pretty chic look. And then for a comfy walk and support your inspo outfit look, white sneakers should be chosen. Make your sneakers outfit ideas stay fabulous for hanging out with additional accessories such as a round boho bag and sunglasses.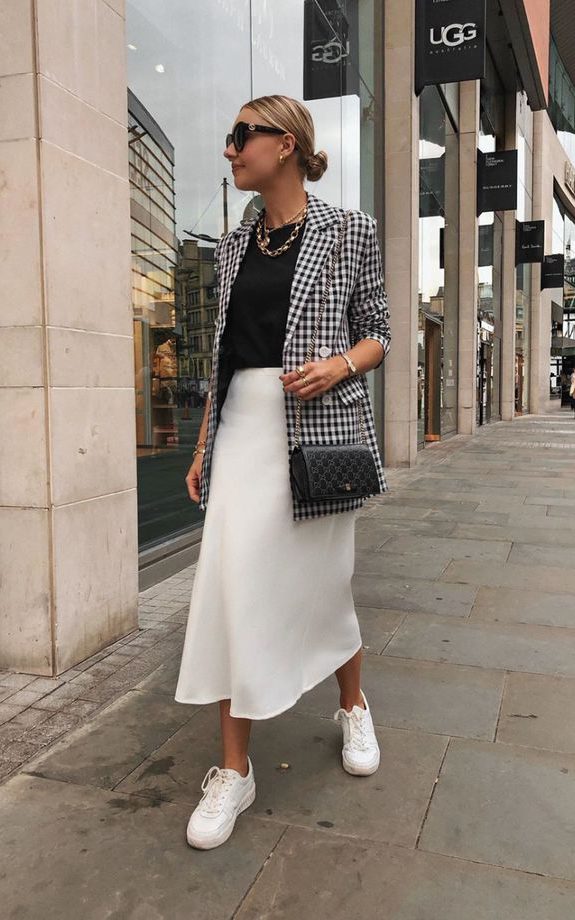 Work Well in Formal Dress
Even if sneakers are casual footwear, they also would be good to wear in elegant and formal dresses. So, you can combine your midi skirt with a blazer for formal attire. You can add something classy and glamour such as gold jewelry on your neck. Then, pair your dress style with your favorite sneakers. Accessorize this formal dress and sneakers style with something elegant like a black chain sling bag. You can make this look for working inspo outfits.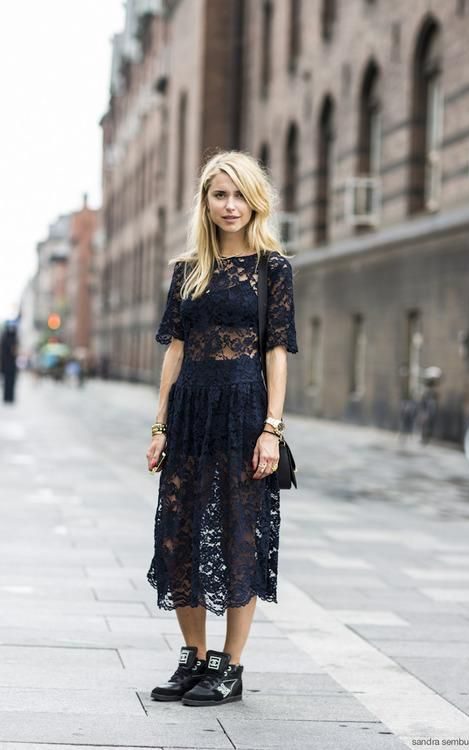 Complete Your Simple Goth Style
If you like to dress up in unique goth outfit looks, have this black dress and sneakers style for your street inspo look. A black transparent lace dress with a sports bra and biker shorts under the dress. Then mixed up with black sneakers to balance your style. Complete your chic outfits with simple gold jewelry and a black sling bag. This outfit would produce a bit of sexy metal performance.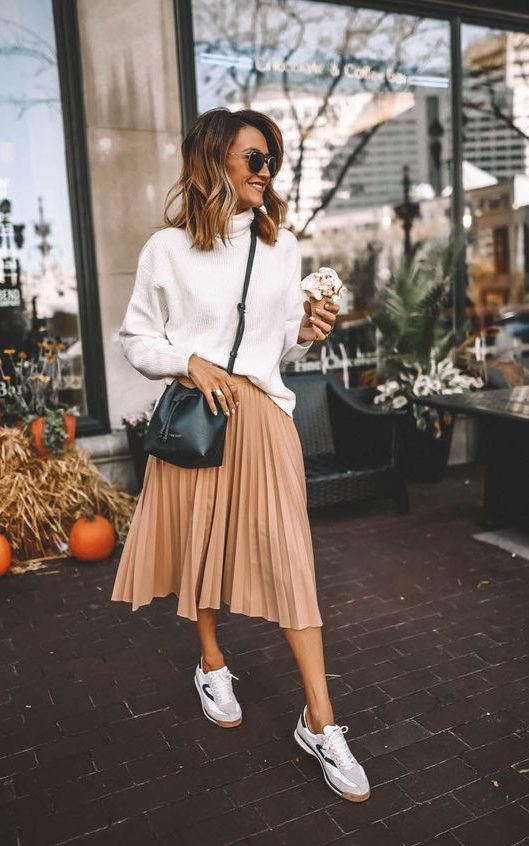 Paired with a Pleated Skirt
Next chic dress and sneakers style to wear for inspo outfit look in your online life. You can mix and match a burnt orange pleated skirt with a white turtleneck for fashionable fall outfits. To make it chicer you can wear cozy white sneakers for legwear. Then, you can match this outfit with your favorite handbag or cross-body bag. You can make this stylish feminine outfit for your first date.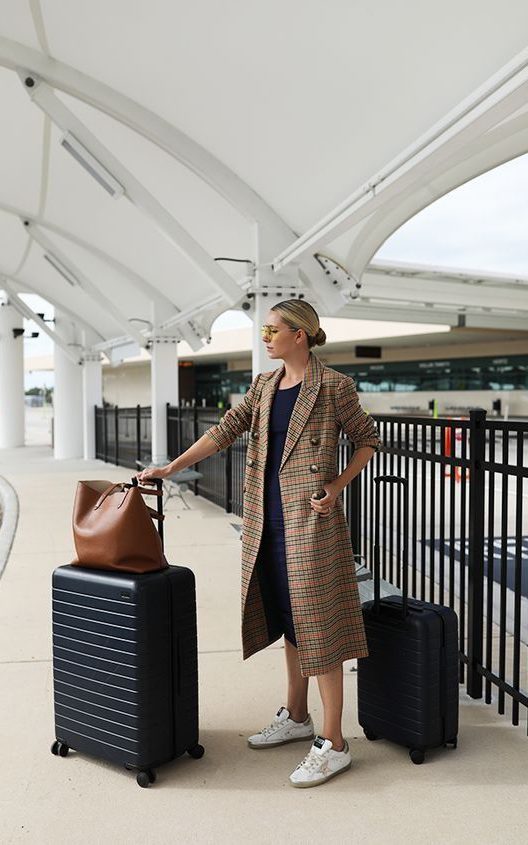 Cozy for Airport Style
Feeling clueless about the style to wear in the airport? Why don't you try this chic dress and sneakers style? I think it's cozy and fashionable enough to make you stay fabulous at the airport. The ensemble to choose from is a black spandex dress, a plaid long coat, and white sneakers of course. This also would make sure you don't feel cold on the aircraft. Then, to help you bring your important items a big tote bag would match your elegant airport performance.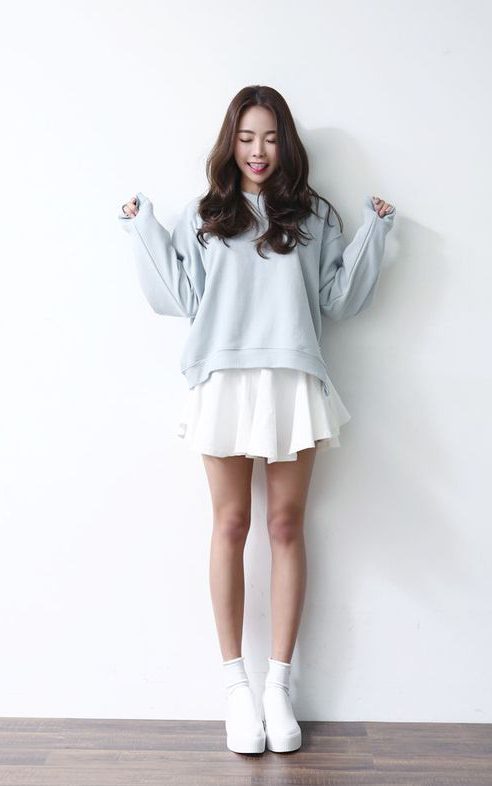 Back To School Outfit Look
The outfit on point for back to school that would make you look chic is the dress and sneakers style. For this, you can try to wear a mini dress or skirt and then match it with an oversized sweater. This outfit would make you look girly yet cute to go back to school. For the shoes, you can pick white sneakers and combine them with a pair of short socks. For the bag, we prefer you to get a cross-body bag or just a simple backpack.
Best Matching on Your Denim Dress
The versatile denim is one of the outfit looks that would be great to wear on any occasion. This outfit is also good to match up with other footwear from high heels to sneakers. If you want to create a layback style with a denim dress, you should match it with sneakers. For this, you can have a long sleeve button-up denim dress then get a pair of white sneakers for the toe. This style seems good to wear in college outfit ideas. Then, perfect your style with your favorite bag and some simple accessories items.