Olidfashion.com – Korean fashion still become popular in recent years. They have a unique style that performs well on any occasion. When I see it on the internet and many social channels, I notice how teen girls there look stylish. They mix and match outfits fashionably by bringing their identity. Even simple and modest outfits can turn into cute Korean Fashion Styles.
It can't be denied that the Korean fashion style has been developed and affected by K-Pop styles. The combination of designs, colors, and silhouettes gives stunning look to your daily appearance. For teen girls who feel bored with a basic style, you can try to find another style like cute Korean fashion. That would encourage you to look different from others and increase your confidence.
Don't worry girls if you are still confused about what to do. At this moment, we'll help you to understand the Korean outfit style. Therefore, we've prepared 20 cute Korean fashion styles that are easy and simple to copy. What are you waiting for, let's jump to the list below!
1. Get Your Basic Style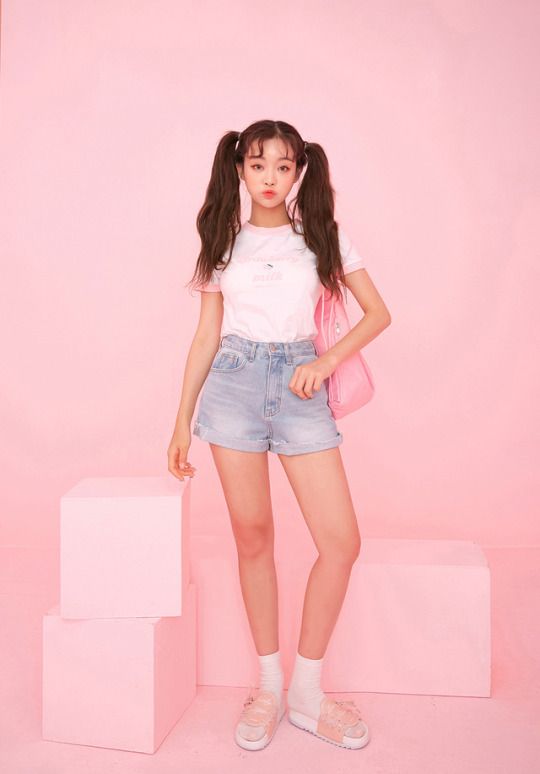 Some cute Korean fashion styles come in basic outfits like this white t-shirt and shorts combo. We love how this simply fits teen girls for their daily style. Besides that, you can easily match this outfit with other accessories items and shoes. For you girls who want to look chic, pair this outfit with cute sandals or sneakers. Then, you can do double-sided ponytails with a bang for a cute hairstyle. For the bag, you can select between a backpack or a tote bag. This outfit idea would be good whether for hangout with friends or attending summer school.
2. Use Tennis Skirt and Off-shoulder Knitted Top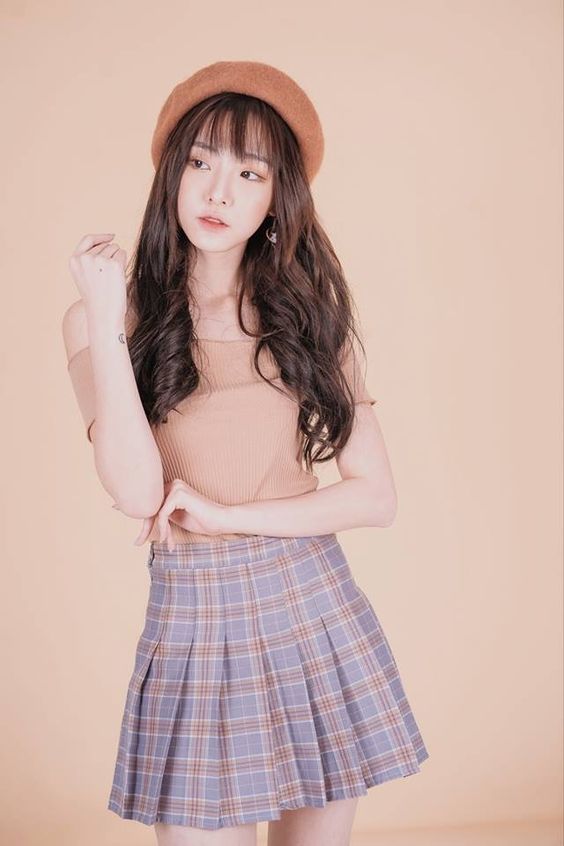 If you want to look cute, you should wear a miniskirt! We agree with this statement. Because we've seen many cute Korean fashion styles come with mini skirts. For example, this tennis skirt and a knitted off-shoulder top. This combo truly makes teen girls look cute and pretty. For those who want to wear this style, you can pair it with sneakers for chic. Also, get a beret hat and some fashion accessories that will give you an aesthetic Korean outfit idea. You can also style your hair in natural straight or two low ponytails for a cuter appearance. To finalize your stylish look, bring a mini bag or shoulder bag to carry your stuff.
3. Tuck Your Big Jumper on Your Skirt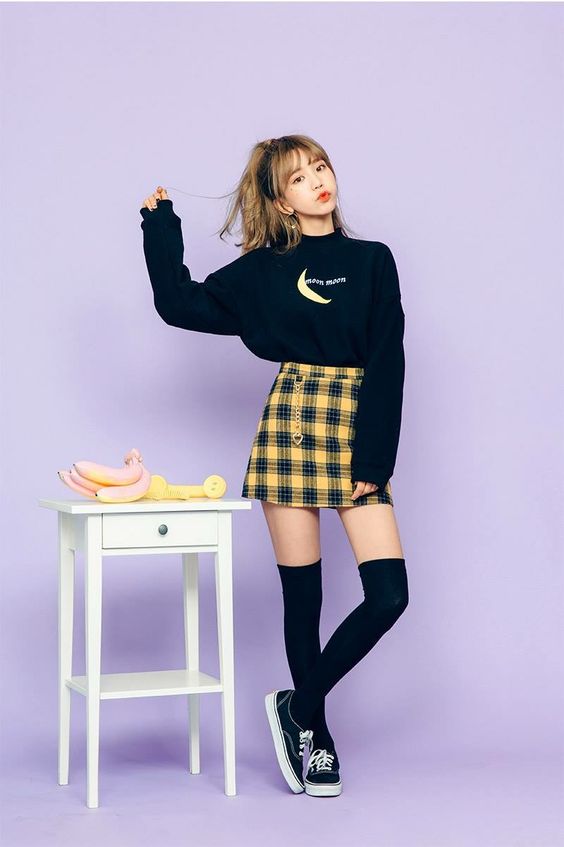 Another mini skirt outfit idea to bring cute Korean fashion style, you can mix a span skirt with an oversized jumper. What makes it cute? Don't worry girls, the trick is you wearing long socks to balance the look. Besides that, you can complete with sneakers for chicer style. But if you something pretty, mary jane shoes are what you should wear. Move to the hair, you can do a high ponytail or two braided hairstyles for an adorable impression. For the final touch, you can get a backpack for the bag, and a beret hat for a chicer style.
4. Pretty in Skirt and Cardigan Style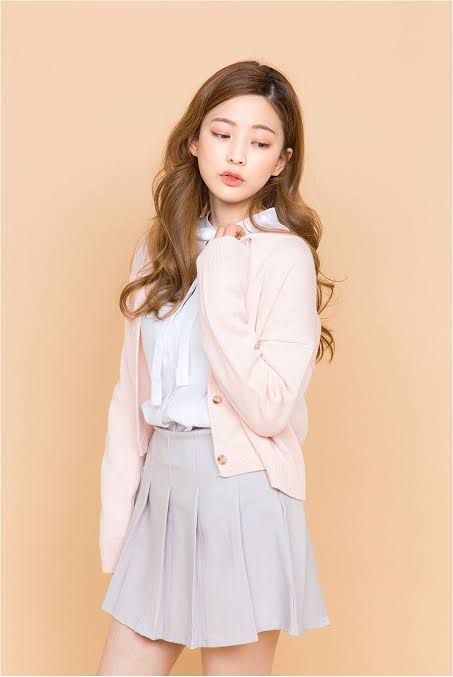 The next outfit idea is styling a mini skirt and cardigan to look pretty and cute. For this, you can wear a blouse or a basic t-shirt for the inner top. Then, to level up your cute Korean fashion style, add some accessories. Wearing a necklace, bracelet, and earrings is optional. You can use this outfit idea to hang out with your friends, watch movies, or go on a date. Furthermore, if you want to have a cuter image just let your hair loose with a natural wave. If you want, you can get hairpins or bandanas to style your hair prettier. For shoes, you can wear sneakers that look chic for teenage girls. As the final touch, you can pick a mini backpack, shoulder bag, or sling bag to help save your belongings when going outside.
5. Chic with Oversized Tee and Lace Dress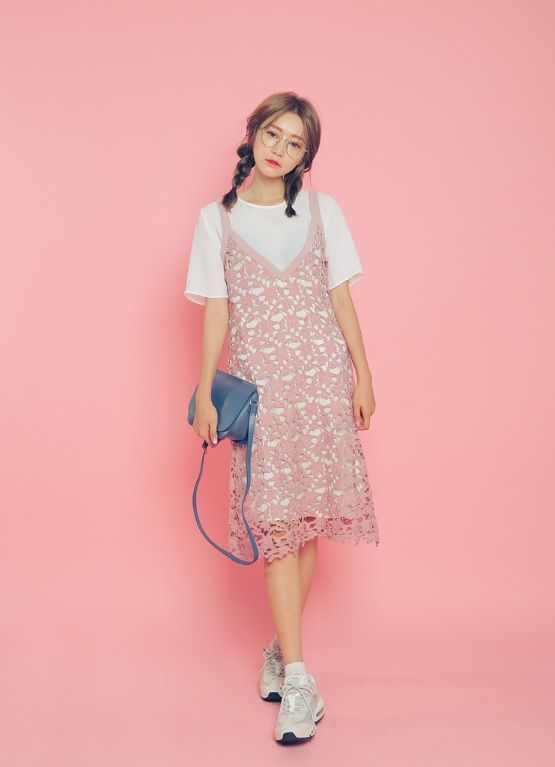 For this outfit idea, we can say it looks innocent but sweet girl. What makes it become a cute Korean fashion style is how the combo completely goes well. When you wear an oversized t-shirt or a mini dress and get a see-through lace dress to become outer. It's what I say about being cute effortlessly. Then to support your innocent style, you can wear glasses as accessories and get a two-braided hairstyle. Moreover, when you get trainer shoes or sneakers for the footwear. It would make you look chicer. Then, complete your outfit performance by getting a sling bag, shoulder bag, or a tote bag to help you carry your stuff.
6. Fun Hang Out Style with Shorts and Turtleneck Top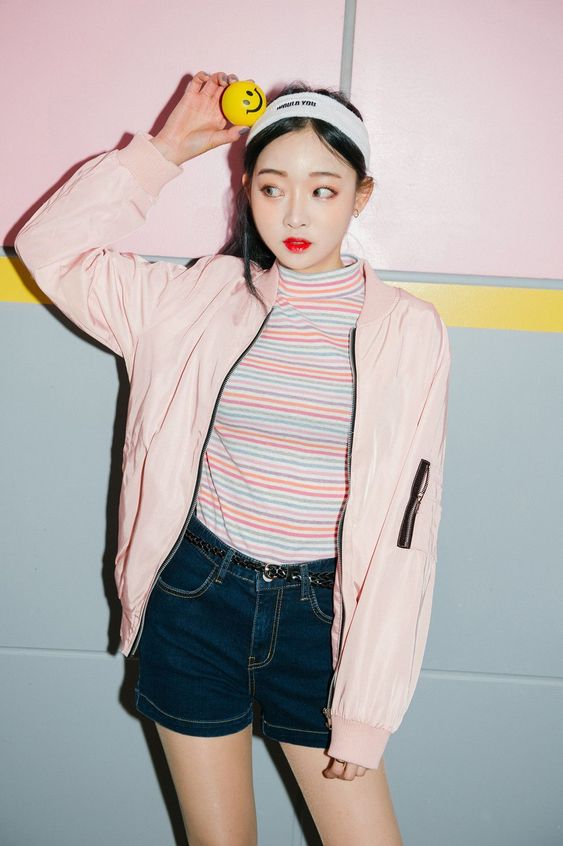 We love how these denim shorts work well to pair with a colorful turtleneck. This idea is for you who look for a casual yet chic outfit for a hangout style. To make it fun, you can get an aesthetic jacket for the outer top. For shoes, sneakers are ideal footwear in this outfit idea. Moreover, if you put some fashion accessories such as a necklace, a mini belt, earrings, and a bandana. They even elevate your appearance to more stylish. Move to the hair, doing a high ponytail will give you a sporty chic look. Then, to have fully dressed just complete your appearance by getting a waist bag, shoulder bag, or choosing a mini backpack.
7. Off Shoulder Top and Shorts FOR Girly Style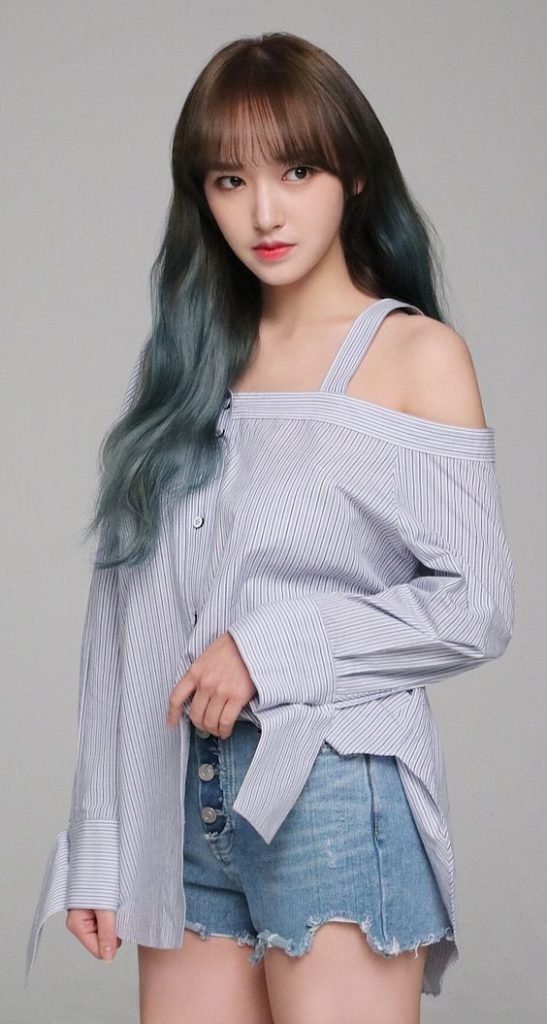 This outfit style is nothing short of adorable! I believe you will agree as well. Combine cropped shorts with an off-the-shoulder button blouse for a cute Korean fashion style. For a more sophisticated look, get a strap statement on the shoulder. You must wear this outfit with loose natural hair or a half-up hairstyle. What looks better on the toes in this fashion ensemble than sneakers? With this outfit idea, you can skip accessories items or just wear as minimal as well. Next move to the bag, I think shoulder bags, mini backpacks, or handbags would be suited more.
8. Cute in Bolero Mini Dress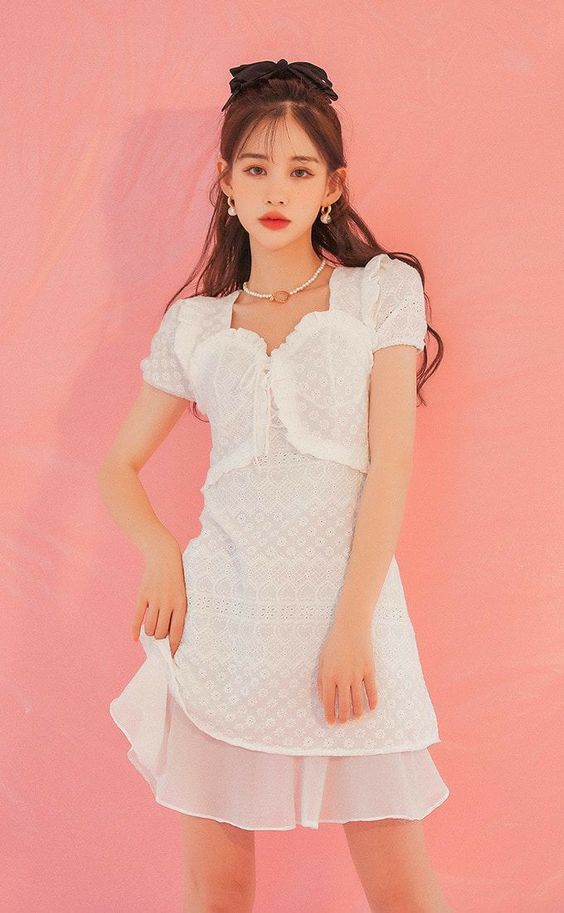 When you plan on a feminine look, this bolero mini dress may be for you. Designed ins a simple style but looks chic with a bit layer on the top make this dress suit brings on a cute Korean fashion style for teen girls. And to make this outfit chicer, add some accessories details like a pearl necklace and earrings. Now for the hairdo, get a half-up style that's adorned with a beautiful ribbon hairpin that makes you prettier. Move to the shoes, pick between Marry janes shoes, loafers, or ballet flats. Furthermore, use a sling bag or a mini handbag as your chic and cute performance.
9. Create Playful Performance with Overall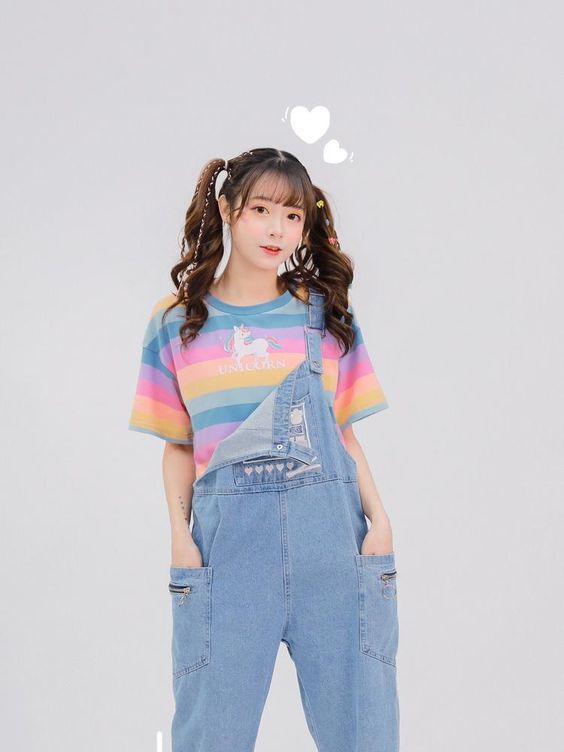 Don't you prefer a more playful look in teen fashion? Wearing overalls, for example, conveys simplicity, cheerfulness, and youth style. As a result, you can catch a cute Korean fashion style by wearing denim overalls, whether skirt or pants design. To help you with the style, you can combine it with a colorful tee underneath. Then, to complement your teen outfit, choose straight hair with a cap or two-side ponytails. Hair accessories, such as cute hairpins, are optional. I think getting socks and sneakers would make you get chicer footwear. Then, keep your belongings safe by finishing out your look with a waist bag, canvas tote, or mini backpack.
10. Style Mini Skirt and Tights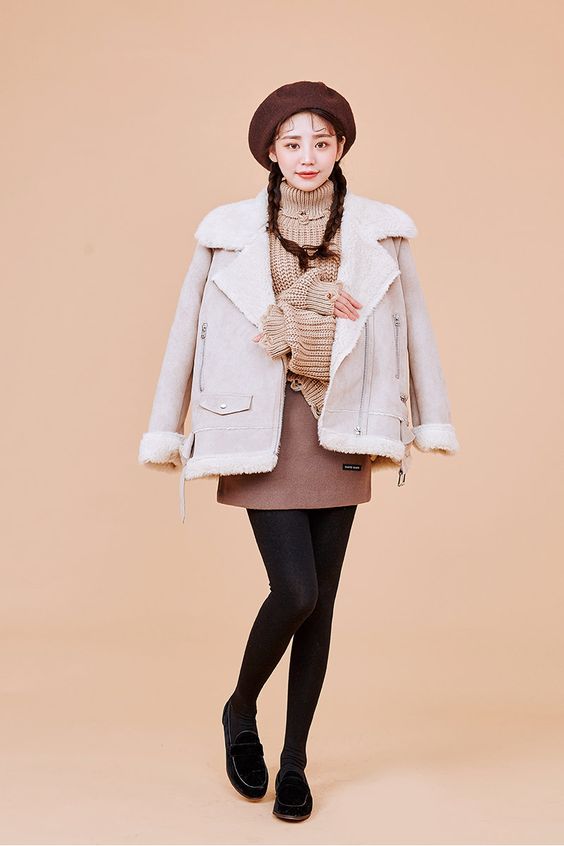 Look for a cute aesthetic fall outfit from summer pieces by mixing up a mini skirt and winter tights. As for teen girls, you can wear winter clothes like a knitted turtleneck and wool jacket or coat with those bottoms. For a more cute Korean fashion style, you can put a beret hat as an accessory. Create an innocent teen girl look by doing a two-braided hairstyle. Then for the toe, you can choose flat shoes or loafers such as dockside, mary jane, ballet flat, or moccasin to look pretty cute. Then for the final touch, a sling bag or a handbag can you choose to support your chic cute style.
11. Lovely in Ruffle Blue Mini Dress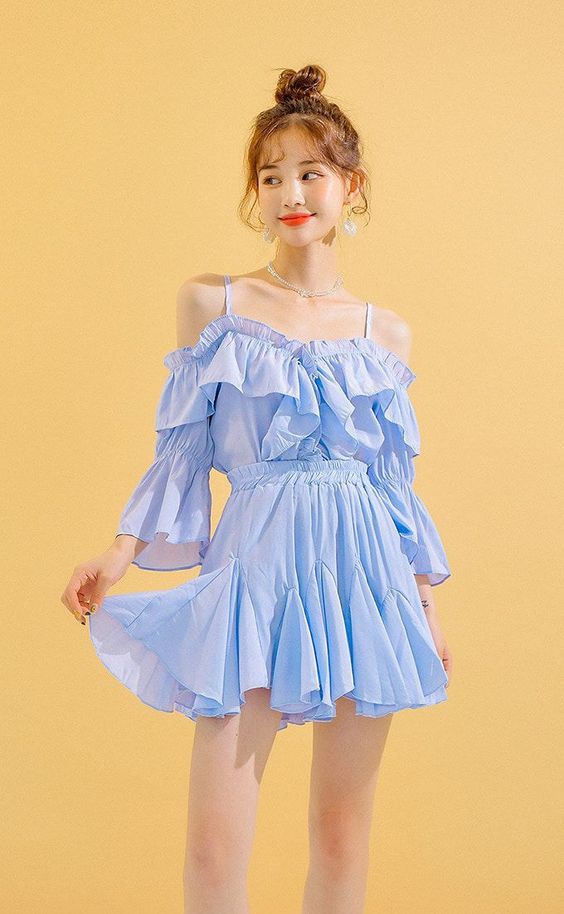 This dress becomes popular among teen girls in the Korean fashion style. Yes, a ruffle mini dress that is styled with an off-shoulder would look cute on you. Especially when you support it with a messy bun hairstyle. This outfit idea could become your spring and summer style to walk around the park to see beautiful blooms. Or you can use it as your pretty first date style. I think this dress would look great if you pair it with ballerina flats, or if you prefer a chic yet cozy style bring convers for shoes. Furthermore, for the final touch, you can add a mini sling bag or a handbag.
12. Chic in Athleisure Outfit Style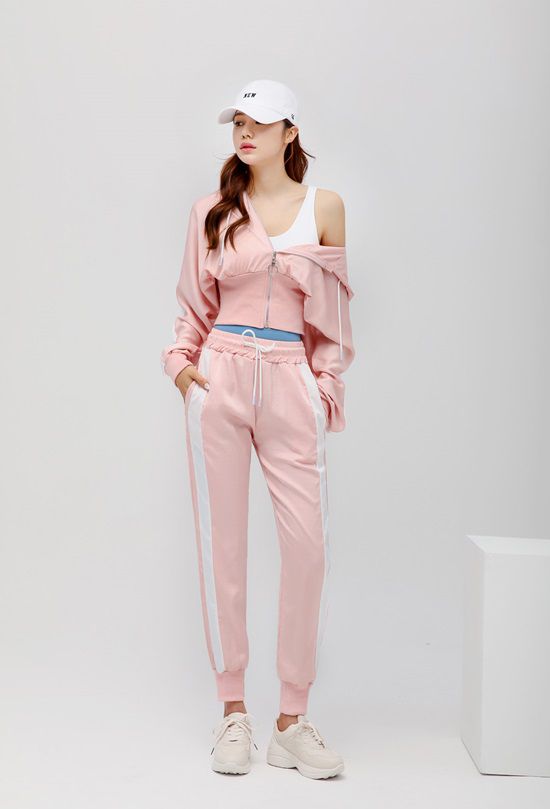 This outfit is really comfortable yet chic to become your everyday look. You can mix sweatpants and a zipper hoodie if you need a modest outfit for a teenager. This kind of outfit is what you need to wear for trendy school outfits or sporty college styles. You just need to modify it with other clothing and accessories items. If you really need an idea, you can use athleisure with a cap, sneakers, and waist bag to have a sporty casual appearance for hangout.
13. Cute Fall Outfit Idea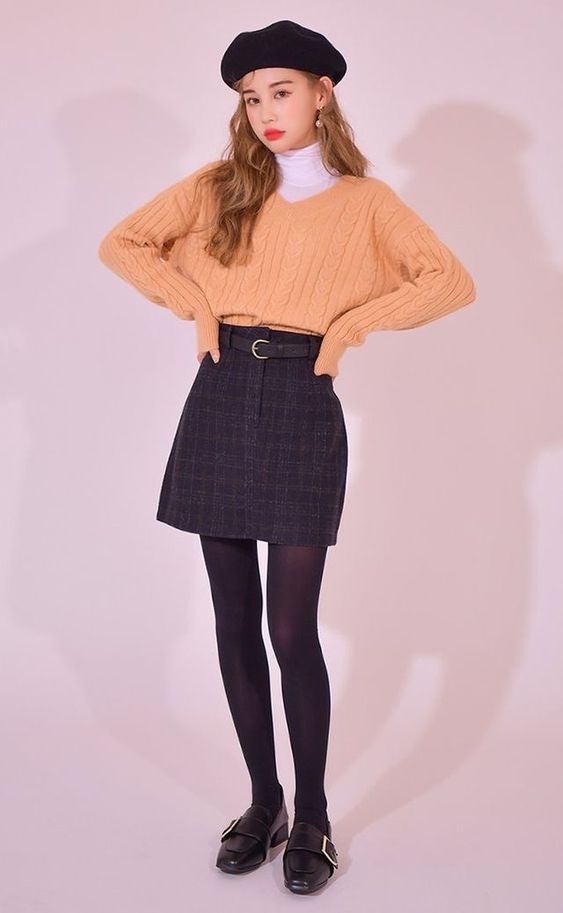 If you want an outfit to support your girly style, this cute Korean fashion is what you need to put on! Try to mix a span skirt with a knitted sweater and turtleneck for the inner top. Then, balance your cute style with leggings or tights. You can also bring this fall outfit idea with something chic like a beret hat and moccasin loafers to stand out your appearance. Don't forget to spare time choosing accessories that will level up your outfit performance. For me, this outfit idea a bit brings an academic style that may look good for going to school. Meanwhile, getting a sling bag or a backpack would perfect your outfit performance.
14. Look Chic in Summer Clothes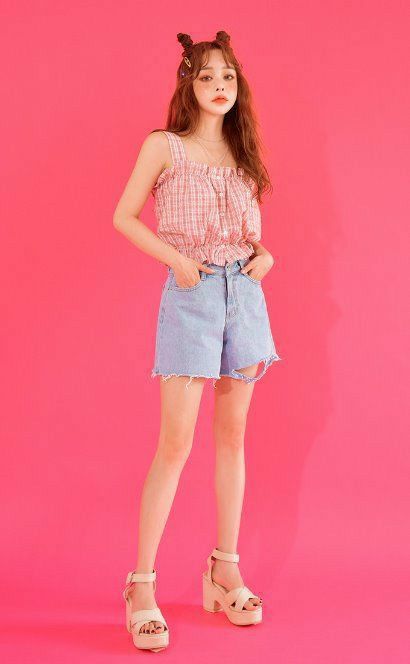 We really love this! We know you can't deny it besides agreeing with us. This summer staple is a kind of cute look for teen girls and what's said about the Korean fashion style. During summer you can try to wear a ruffle tank top with shorts. Then for the toe, chunky sandals would give pretty style to your look. Support your cute appearance by doing a space bun hairstyle. You can also give additional details such as simple fashion jewelry for accessories. Close your outfit idea by getting a sling bag, a tote bag, or a mini backpack to carry your important stuff when going outside.
15. Modest Dress Look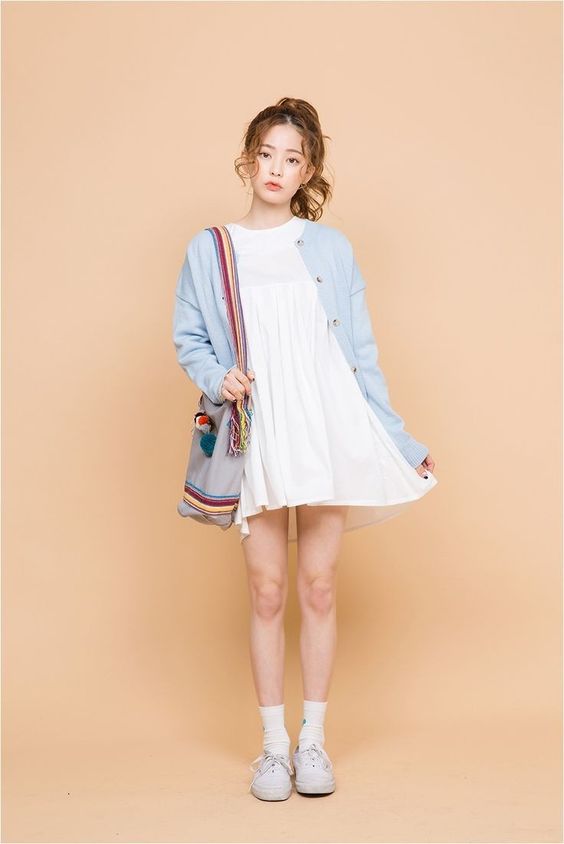 Modest is becoming a basis for creating various outfit ideas. Even cute Korean fashion styles can also come in modest looks. Such as this dress and cardigan style! You can see that it's ordinary. The key is when you match it with accessories, shoes, bags, and your hairstyle. For this look, you can pair it with sneakers to have a chic style. But if you want a girly and feminine style, loafers, flats, and high heels are becoming your options. Jump to the hair, you can make creations here by choosing various hairdos from a high ponytail to a space bun. For accessories, you can bring a piece of simple jewelry or just skip it. Meanwhile, perfect your outfit with a tote bag or sling bag.
16. Getting Shorts and Long Coat in Spring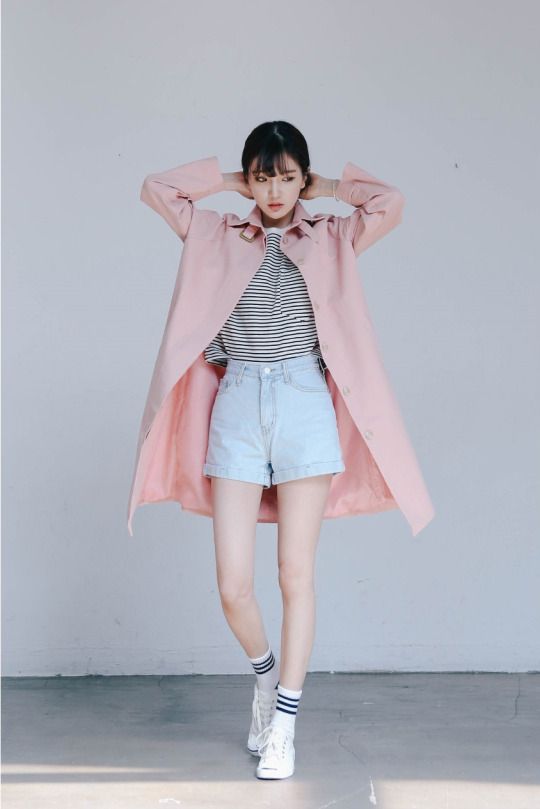 It's spring now! Change your bulky and thick fashion with a light-wear style. Because it's still transition season, sometimes it still cold outside. So, you can combine summer and winter staples like this outfit idea. You can try to match shorts with winter coats. Then, grab a short sleeve tee for the inner top. For shoes, socks and sneakers would be appropriate for this chic casual look. Moreover, if you get a sling bag or a backpack on your shoulder, you'll look more fashionable.
17. Bring On Cowboy Look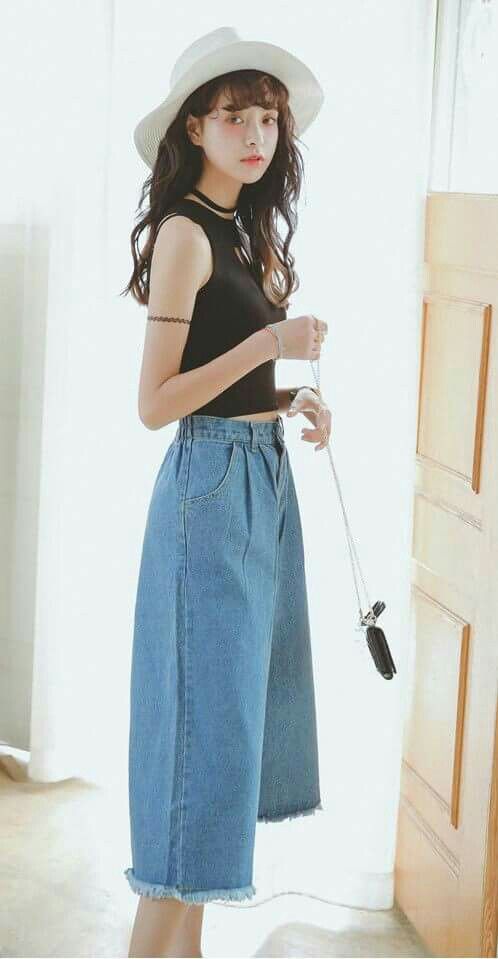 Some teenagers enjoy experimenting with their appearance. And now I believe you can't pass up this stylish Korean ensemble. Yes, an outfit idea influenced by cowgirl style. I won't go into detail about the style, just a simple one like wearing a cowboy hat to make a statement. As a result, this style is a contemporary look with a bohemian twist. You are free to choose any name for this style based on your preferences. Then, what you need to prepare is just a halter tank top and ankle crop culotte. For the toe, you can pick bohemian or gladiator sandals. Then, you can perfect this outfit style with simple bohemian accessories and a sling bag.
18. Layer up Blouse and Strappy Dress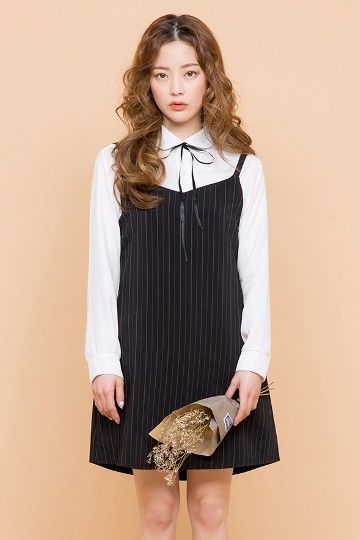 For teen girls who search for cute vintage or retro outfit styles, this layering dress is what you need. What you need to mix is a spaghetti strap mini dress for the outer with long sleeve white blouse underneath. I know you'll say that's ordinary. Therefore, you need to give additional fashion details to draw a cute. You may obtain a tinny ribbon tie on the neck, wear a beret hat with a two-braided hairstyle, or wear long socks and mary jane shoes for the footwear. Also, you can decide between a mini handbag or a classy Minaudiere to perfect your cute outfit performance.
19. Look Casual with Sleeveless Top and Denim Shorts
I'll never get bored with basic daily looks! As we all know that basic outfits would be easy to modify. You can use accessories, select shoes to wear, and match them with bags. For instance, you can mix a sleeveless t-shirt with shorts. Yeah, you're right that's just the usual style. But when you pair this combo with sneakers, do two-side ponytails, and get a bucket bag, it would turn into a cute style for teen girls.
20. Play on with Gladiator Sandals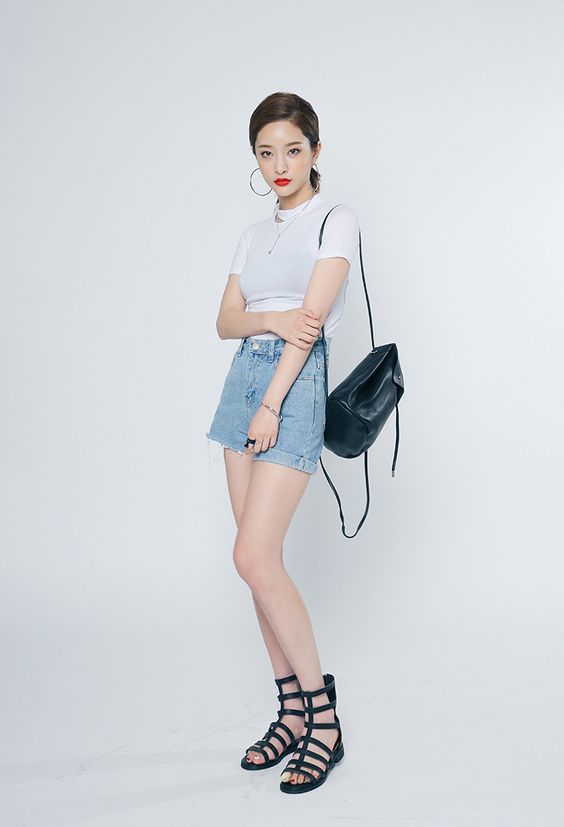 Hey girls, come with an interesting thing for your cute Korean fashion style with gladiator sandals. When you get stuck on mix and match your outfits and don't know what to wear again. You can make a point in your footwear. When you see the picture above, it is just an ordinary style that pairs a turtleneck short sleeve tee with short jeans or skirts. But at that moment, you can bring an eye-catching piece like gladiator sandals. Just giving boho a bit of style would turn your usual ensemble become a chicer style. Then, finalize your outfits by selecting a mini backpack for the bag.
That's all we have for cute Korean fashion styles that are appropriate for teen girls. Perhaps you can emulate and create some fashionable styles with the clothes in your closet. Alternatively, those ideas could inspire you before you go shopping for clothes. You can also choose anything that fits your personality and improves your fashion style. So, I hope you'll enjoy reading this article and also help to improve your daily rotation.