Olidfashion.com – Soft girl aesthetic outfits are a kind of fashion trend that comes from Tiktok girls who dress up in pastel, retro, feminine, and cute outfit styles. The style is originally from the fashion subcultural with nostalgic elements that include Y2K and 90's fashion. Soft girl aesthetic outfit ideas that are mostly adopted presently are pretty pastel outfits, cropped tops, mom jeans, shorts, chunky shoes, and mini skirts.
There are many ways to wear this trend on your daily rotation, especially for summer fashion. From wearing soft pastel outfits, and using cute accessories, wearing minimalist outfits, to having attractive makeup styles, what includes this fashion all represent the feminine and softness of a girl. However, some of the others also adjust this style in contrasting ways like using chunky boots, bold eyeliner makeup, or using a black baguette bag that more looks like an edgy grunge fashion.
In this opportunity, we try to give you an image of what a soft girl's aesthetic style looks like. What kind of clothes you should wear to bring this style on for summertime. And then, some inspiring ideas to help you find more about soft girl outfit looks.
What to Wear in Soft Girl Aesthetic Style for Cute Summer Outfit Ideas
Soft girl's style is a kind of new trend that comes from Tiktok. Some of the girls begin to dress up with aesthetic clothes and lovely pastel colors. This style is actually suited to wear in summer. So, if you don't know what to wear for an aesthetic outfit in soft girl style during summer, let's find out here.
Oversize Tee and Skirt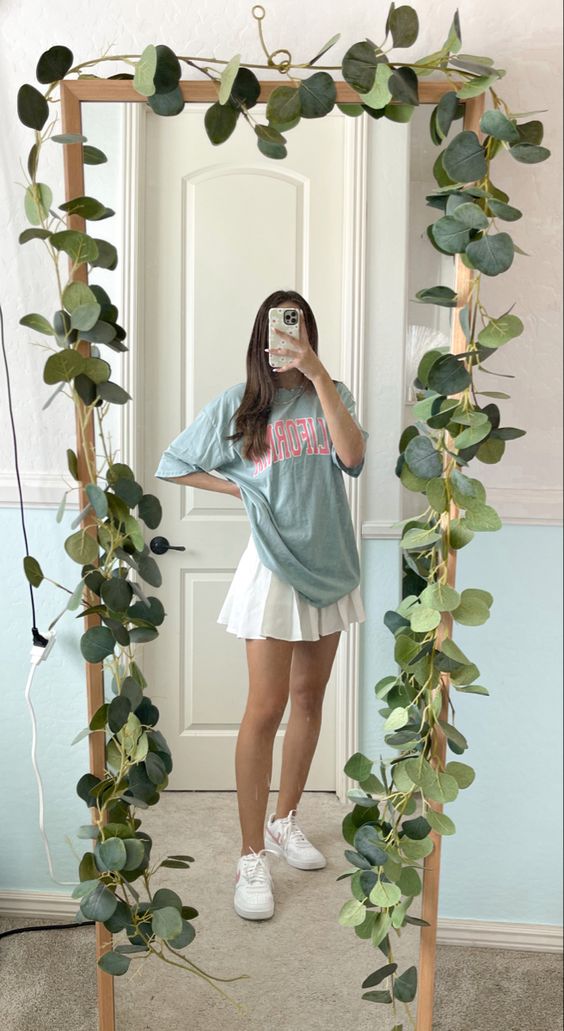 The first thing for a simple style in soft girl aesthetic outfit ideas is wearing a pastel-colored oversized tee and mini skirt. This style would give you cute back-to-school fashion for teen girls. Better to choose a white tennis skirt that has a dramatic pleated. And for shoes, you need to wear a comfortable ones like sneakers or sporty shoes. As for an option, you can accessorize your summer style with simple accessories and a tote bag for the schoolgirl style.
Cropped Top and High Waist Skirt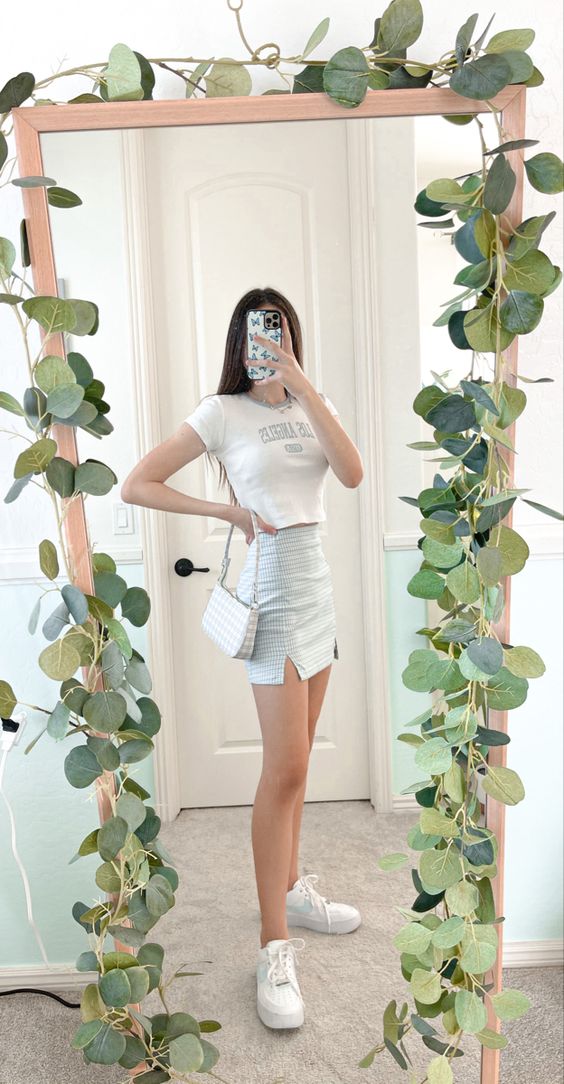 The soft girl outfit style is usually seen in minimalist and cute ensembles such as cropped tops. For this, there are many ways to bring this piece an aesthetic summer style. For instance, you can try pairing it with a baby blue high waist pencil skirt and white sneakers for casual style. Then, you can add more details by having fashion accessories items like simple jewelry. For the bag, choosing a crossbody bag or a mini handbag is enough to perfect your outfit look.
Humble Cardigan and Pencil Skirt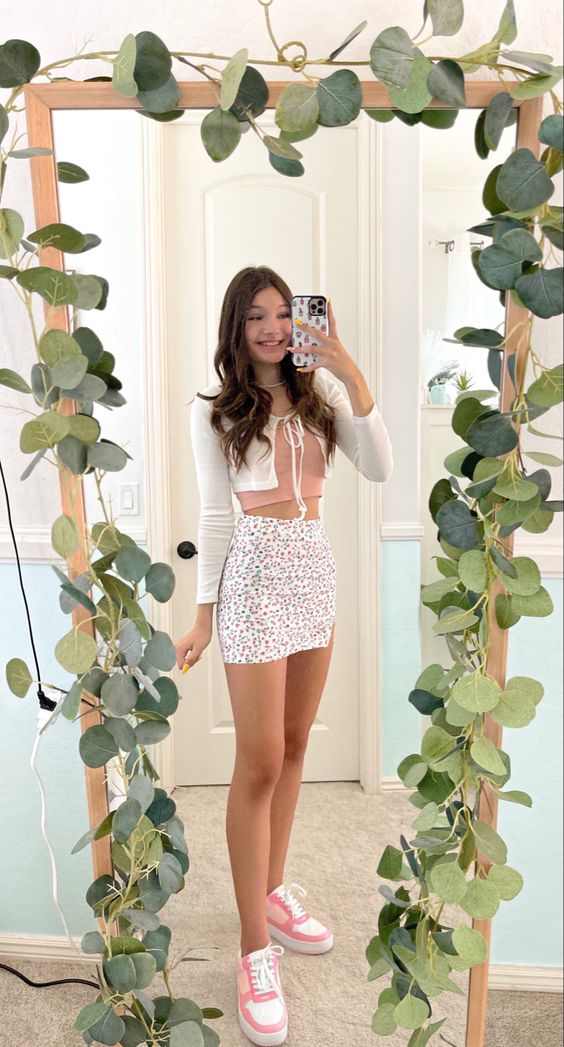 Having soft girl aesthetic outfits in a humble cardigan, pastel cropped top, and floral pencil skirt is the next idea. This looks simple but still makes you cute and beautiful enough. The pastel-colored make you seem sweet like candy, and that's good for your inspiring hangout fashion. To adorn more your soft girl style, you can make fabulous nail art and get some cute accessories. For the shoes, besides sneakers, you can also wear cute pastel sandals or short heel shoes.
Layering tops and Ripped Jeans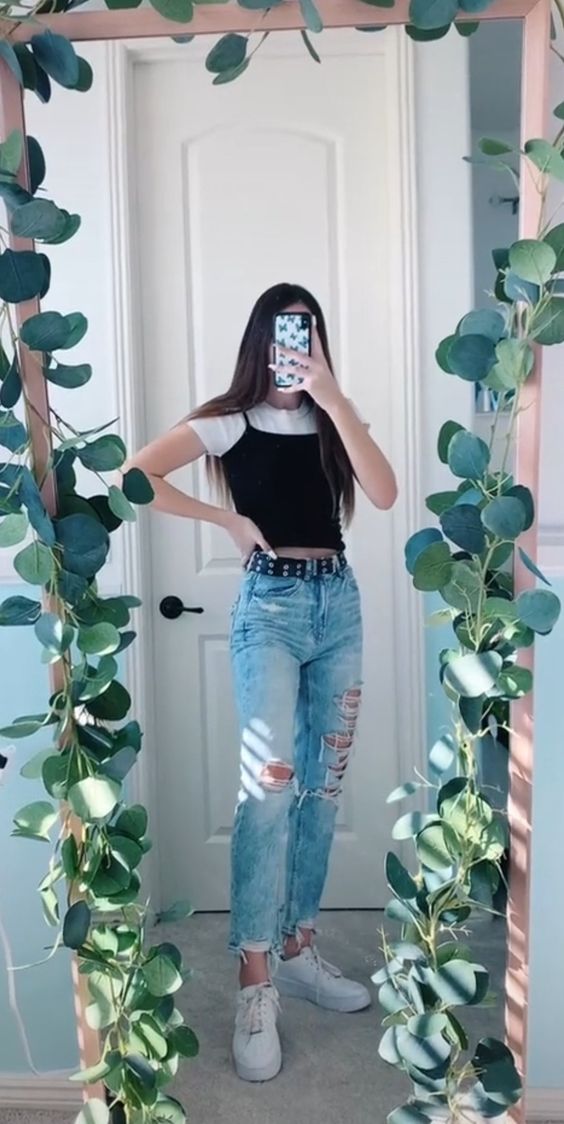 Another soft girl aesthetic outfit idea to copy is this layering style. You can create it simply. For this, you just need to wear a white tee underneath a black tank top, then get ripped jeans for the bottom style. In this summer outfit style, you not just look cute but also trendy. Perfect your style with some accessories and shoes. Most soft girls trend wear white sneakers or other pastel coloring shoes. And for this outfit look, a big cool belt is kind of the best accessory for it. For the bag, you can get a black tote or an outstanding baguette bag.
Flannel Statement and Denim Shorts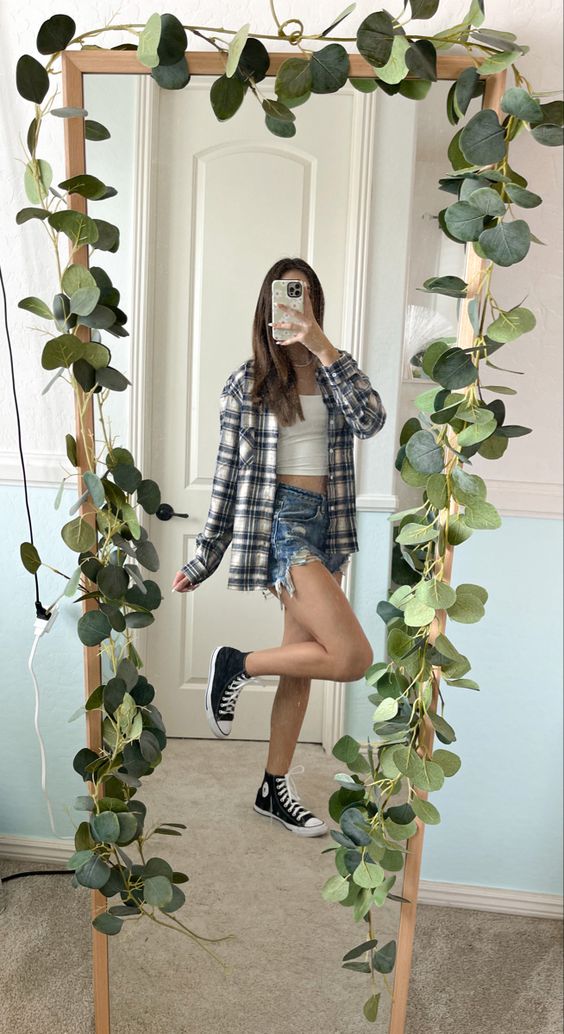 When scrolling Tiktok, you will find some girls who dress up in minimalist outfits which look good on them. Some of it maybe could be your inspiration for chic daily style. For example, the outfit style from the picture above. Flannel and cropped shorts are regular pieces that you easily find in your wardrobe. Who knows when you combine those two clothes they can become a cute summer outfit style. The key is wearing a cropped tank top and making the flannel become an outwear. To have a full dress code, you can bring black sneakers and then some cute accessories to represent soft girl outfit ideas.
Oversized Sweater and Tennis Skirt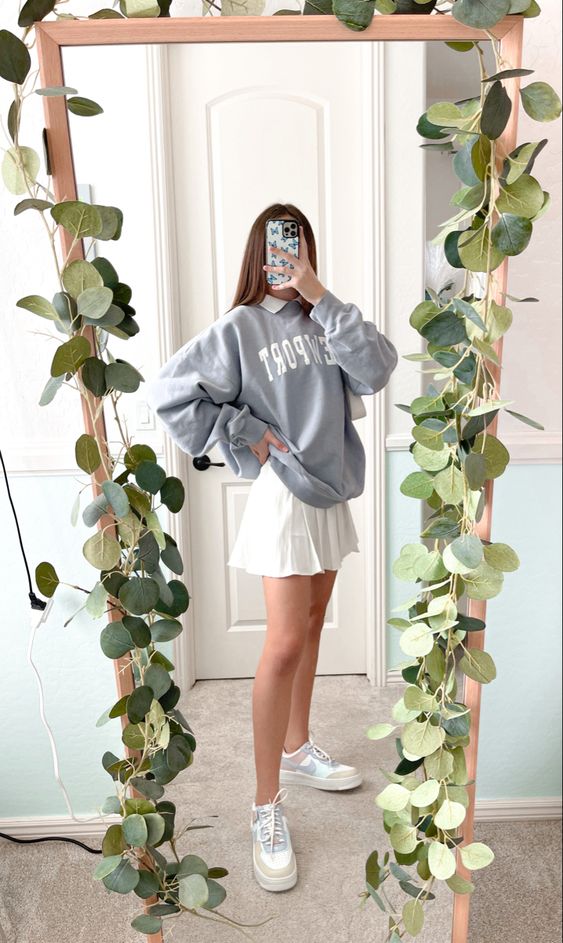 Getting oversized outfit ideas is also the way to create a soft girl aesthetic outfit style. Some of the girls stand out in oversized sweaters, collared shirts, and tennis skirts to become their cute back-to-school outfits. As usual, they combine the outfits with white sneakers to fashionable style. For the bag, they come with a pastel or white mini handbag. Just don't miss out on cute accessories that would make you look a bit more fabulous.
Boyish Hoodie and Ripped Jeans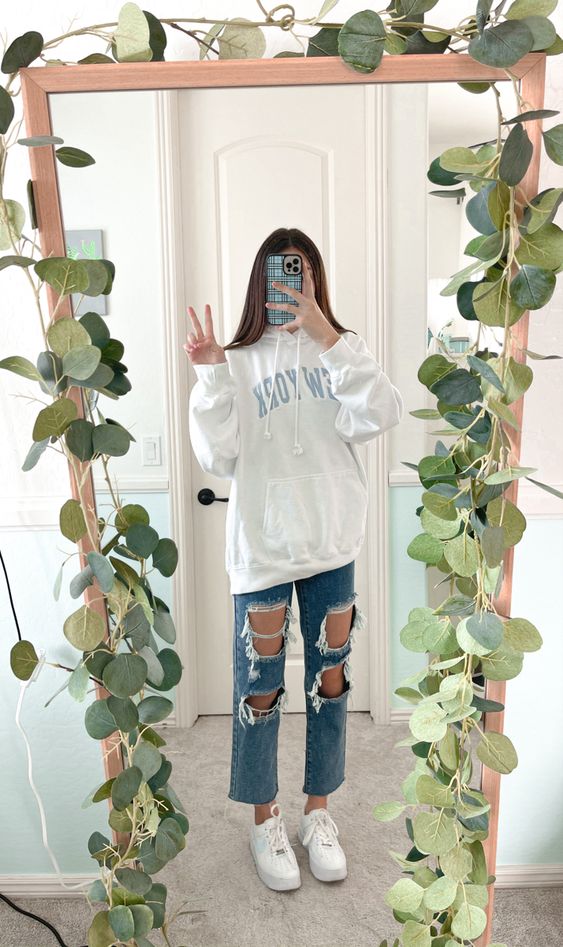 You can create a cute outfit for spring and summer not only from minimalist outfits like mini skirts or dresses, but oversized outfit ideas can be an option too. For this, you can appear in a boyfriend hoodie, ripped jeans, and sneakers. A, you can change the jeans with trousers for other optional styles. This style seems cool and trendy but when you match it with cute soft girl accessories it actually turns into an aesthetic summer outfit style. As for an option, we suggest you get a pastel backpack to match this summer outfit.
Bra Tops and Shorts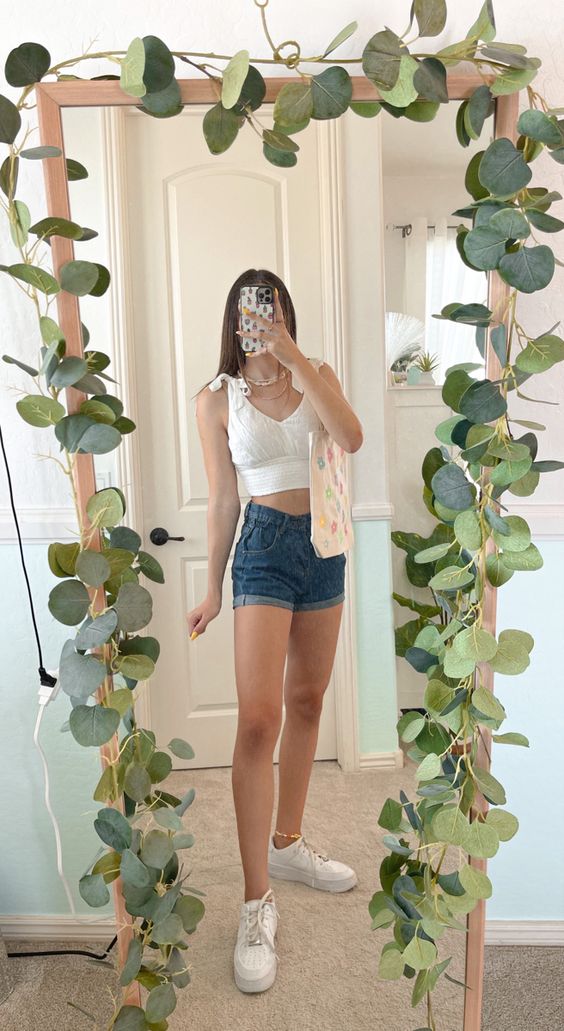 Talking about attractive summer outfits with shorts, you shouldn't miss this one. Bring on bra tops such as bralette bras, knitted bra tops, or bra top shirts to use on your shorts outfit style. When you take it on your summer capsule wardrobe, you will get a sexy and cute soft girl outfit style. For the rest, you can complete the style with matching footwear. For this, we suggest if you need a casual but trendy style, bring sneakers on. But when you need something which is more layback and simple to wear, sandals or loafers could be the option. Then, as for the bag, you can bring a cute tote bag with a colorful floral motif. Asides from the clothes and accessories, bring the soft girl style to your nail art by choosing bright coloring nail polish.
Cropped Tank Top and Ruffled Mini Skirt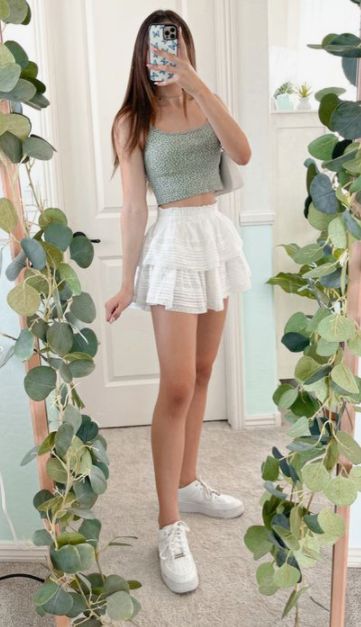 Look fascinating in summer outfit style with a cropped tank top and ruffle mini skirt. This idea is also simple and easy to copy. For those who want to look higher in photos, this style actually could work well. The dramatic white ruffle mini skirt and earthy tone tops are enough to deliver an aesthetic soft girl style in your daily look. Aside from that, you can also wear this style to become feminine outfits to wear on your first date.
Leopard Tops and White Ripped Jeans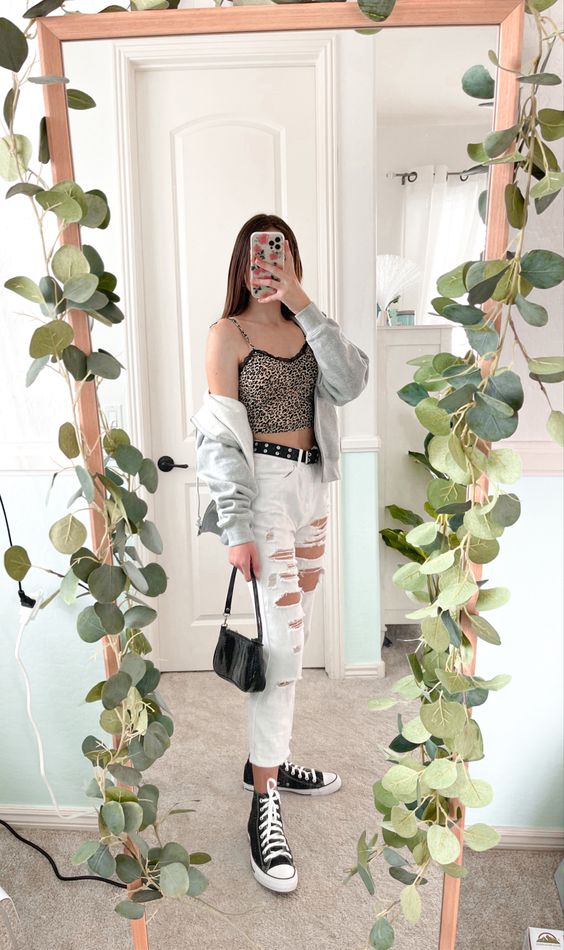 Have an inspo outfit for aesthetic summer style with a leopard motif on your top and white ripped jeans on the bottoms. Perfect your style with black high-top sneakers for the footwear, a black handbag, and other fashion accessories items such as an edgy belt. To make you more comfortable going outside until night, bring on a pastel zip-up hoodie in your summer outfit style. Even if this is summer, you shouldn't wear too minimalist clothing at night.
Cardigan Style and Shorts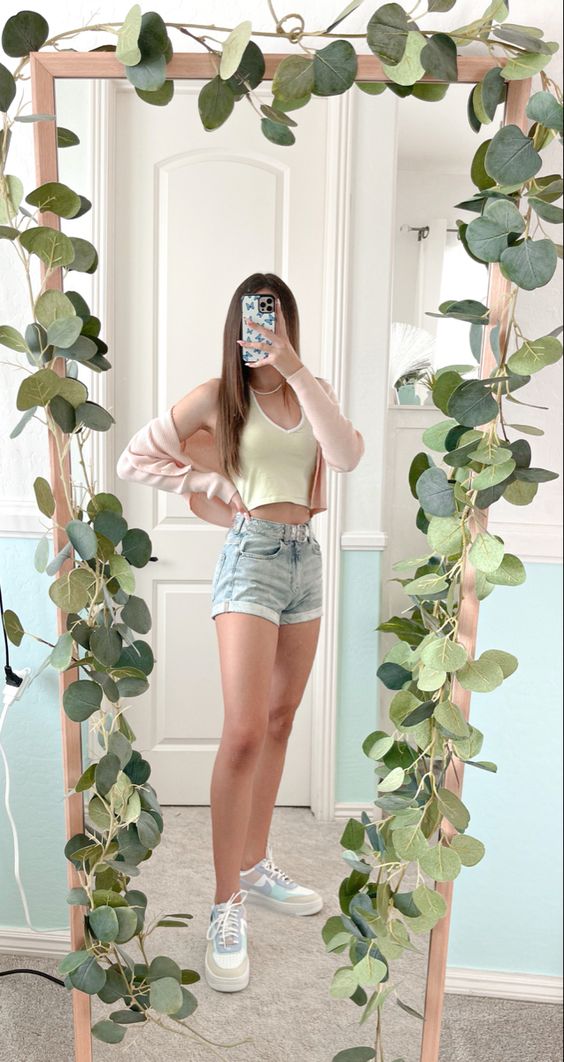 Another way to bring shorts into a soft girl aesthetic outfit style, you can try to combine them with cropped tops and a cardigan. Better to choose pretty pastel colors like peach, pale yellow, pink, and others to give a sweet summertime vibe. The best footwear to perfect this outfit look is pastel blue sneakers. But when you need something that simple and casual, don't be doubted to adjust sandals into your fashionable summer outfit style.
Long Sleeve Tee and Floral Dress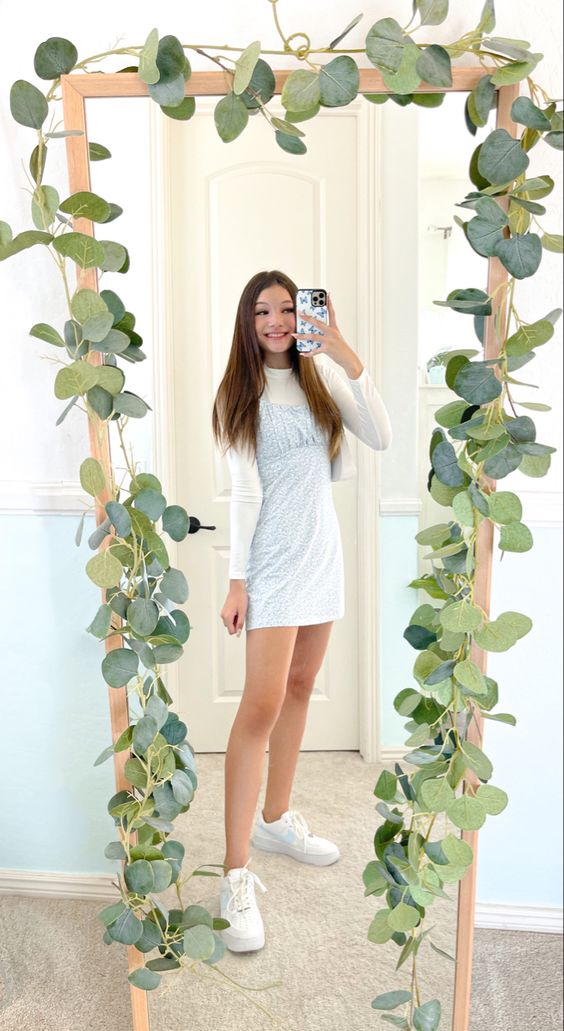 Want to have a layering style for cute summer outfits, stand up with a blue pastel spaghetti floral mini dress and a white long sleeve tee underneath. For the toe, just keep with white sneakers or sports shoes. And for the bag, you can get a blue pastel mini handbag or crossbody bag. Another detail you shouldn't miss out on is soft girl jewelry the majority of aesthetic accent in your outfit style. While most of the jewelry is designed in pastel shades and some of them are usually nostalgic old accessories or feminine ones.
Old Crewneck Sweater and Mini Skirt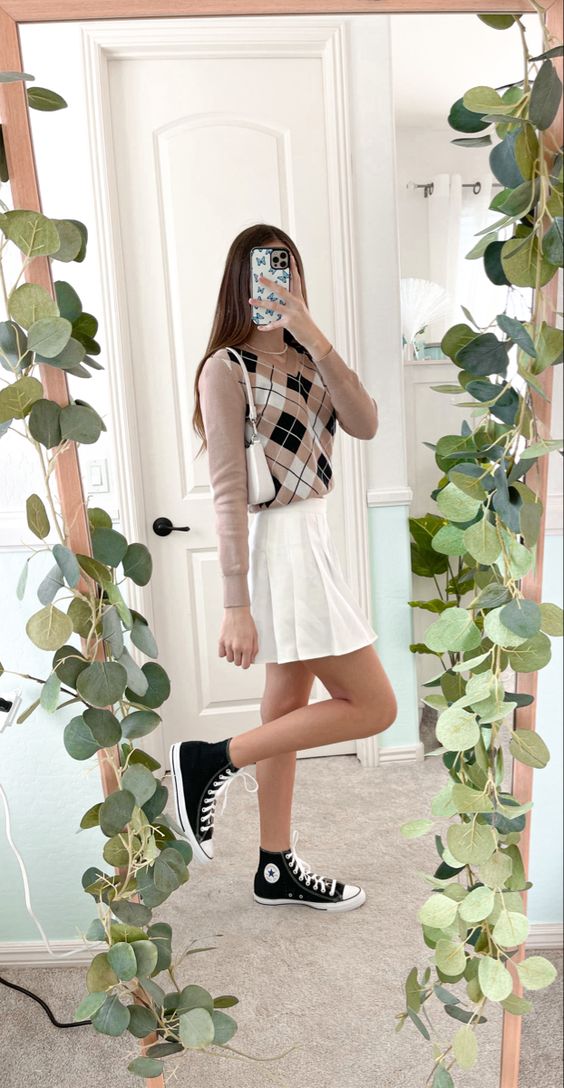 The trend of soft girl style usually comes in old fashioned like 90's fashion style. If you like it, a brown old crewneck sweater with a plaid motif and a white tennis skirt can help to improve your summer outfit look. This style would be perfect if you also bring a pair of high-top sneakers for the footwear and a white mini handbag. Then, accessorize it with simple jewelry. You can also apply a Korean makeup look to this styling outfit.
Summer Dress Style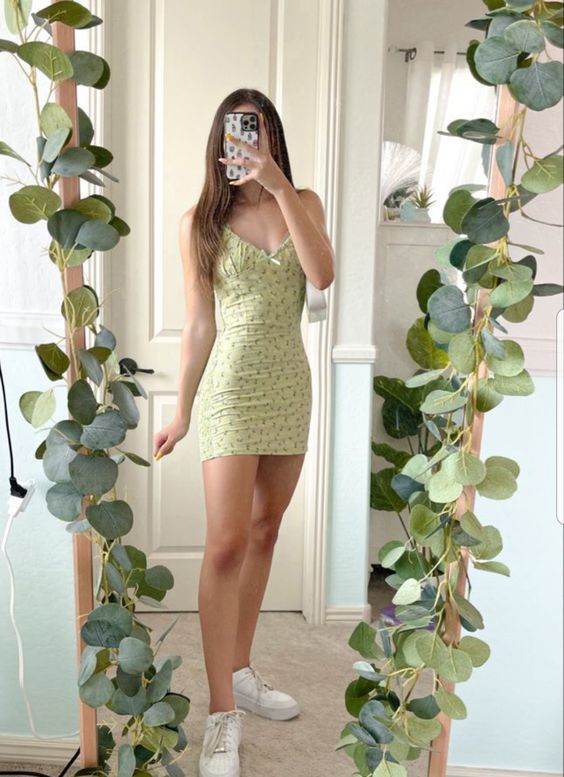 Another ensemble to pull out soft girl aesthetic outfit ideas is delicate and beautiful mini dresses. This dress is perfect to create for cute springtime outfit ideas and also a warm look in chic summer style. For this piece, you can try to style it simply just with sneaker shoes. But another option, make it look fabulous by having another detail such as a cropped cardigan, a bucket hat, and a pair of white chunky shoes. You can also have cute accessories items like hairclip and pastel fashion jewelry that make you seem like a beautiful teen girl.
Technological progress affects how you get information easier now, and it also brings fashion advancement and new trends to it. For instance, this soft girl aesthetic outfit where comes from the Tiktok trend, and some of the girls really like that fashion style. They start to copy the looks and make improvisation to their own fashion design. So, we've compiled some soft girl aesthetic outfits for cute summer style in this article above. Hope this helps you find a new outfit style to wear for your daily option.