Olidfashion.com – Like white pants, beige pants are also a versatile piece of clothing that can easily match other outfits in your closet. Beige is a kind of neutral one and can create either a formal or casual look. So often, beige pants or trousers match with the same palette colors such as white, khaki, or other earthy tone colors. Honestly, it works well, but it looks a bit flat and boring. So, you need something different which is can turn those usual beige pants to become attractive and fashionable outfit ideas for women.
Beige pants are usually worn and combined with a white shirt, but it looks too classic. This pant is such an easier match for any kind of outfit, and can also elevate your looks. This color shouldn't be pushed on, but you need to make it the main point of your women's outfit style. If you don't know how to dress up in these pants attractively, may we suggest some inspiration ideas for you?
Below, we found some attractive beige pants outfit ideas for women to recopy and make your daily ensemble to become more fashionable. So, let's start to find new ways to wear those pants. What will you choose is depending on your fashion sense, your personality, and your valuation.
How To Style Your Beige Pants Attractively to Become Fashionable Women's Outfit Ideas
Like another neutral ensemble, beige pants could also wear in your casual style with a vintage look, used in formal suits, or just turn it into a trendy style. For this, here are some ways to style your beige pants properly and become attractive outfits for women.
Create Your Retro Style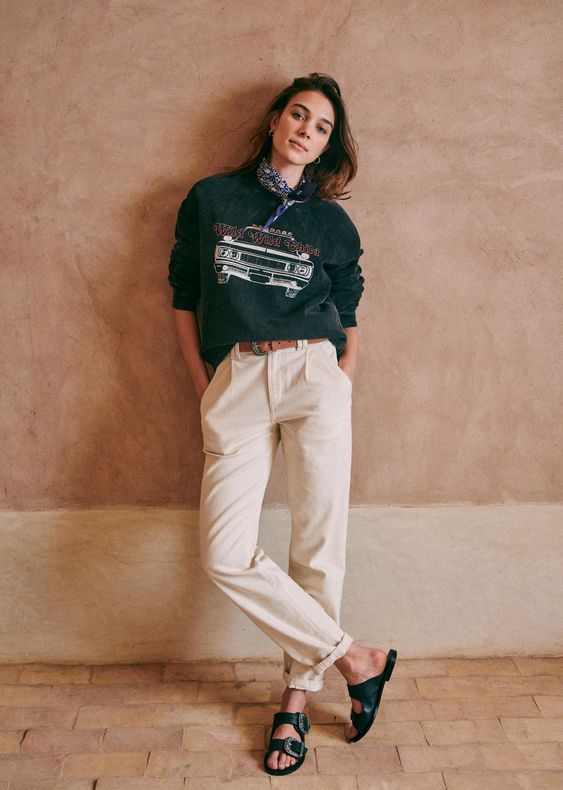 When you want to have something that's old enough but still looks fashionable in beige pants style, just try to combine it with a black shabby crewneck sweater. Get a more retro vibe from it by tying a mini scarf around your neck. Besides that, men's sandals are a great choice to have a boyish in your vintage outfit ideas. For the accessories, get a leather belt and some vintage jewelry to support your attractive style.
Style with Your Denim Jacket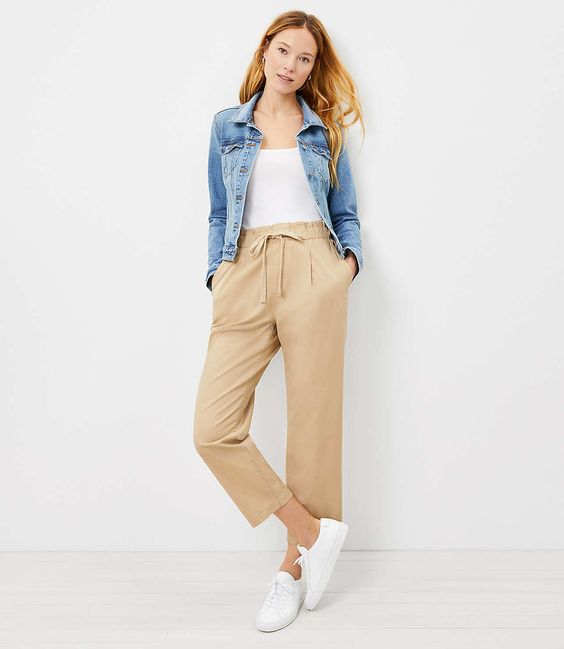 Denim is still a favorable ensemble to match with any other outfits, without exception, it also fits with beige pants outfit ideas.  To make this beige and denim jacket look more attractive, you need to get beige ankle pants, a white tank top, and a blue denim jacket for the main attire. Next, you should find matching shoes for this trendy style, and sneakers are the best choice.
Keep It on Your Flannel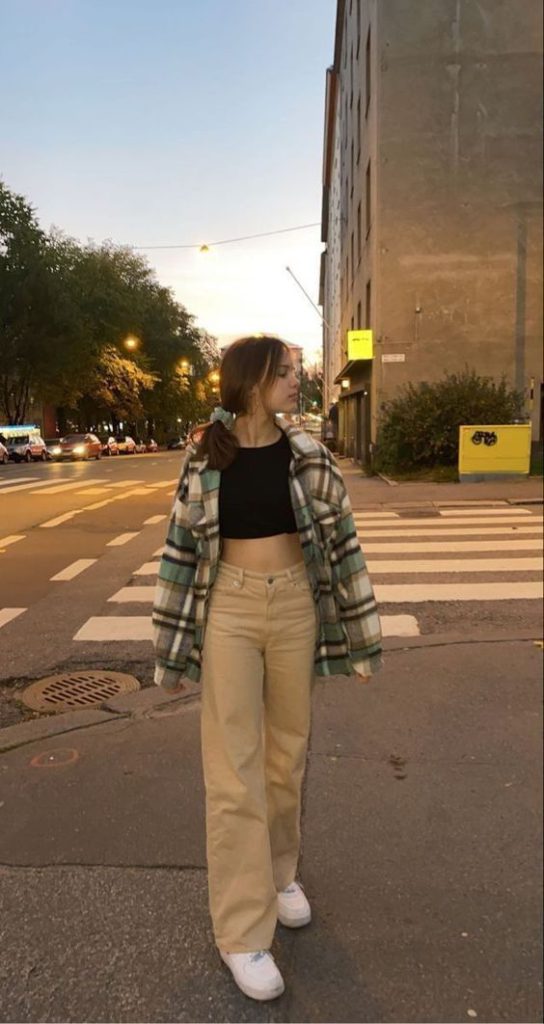 Play safe to create your beige pants outfit ideas fashionably by mixing them up with cropped tops and flannel. For this style, you should find wide-leg pants style and big-size aesthetic flannel to turn it into an attractive outfit style. Also, you need to find the matching footwear for this casual outfit. The option is you can wear trainers shoes or sneakers in a white shade.
Create Korean Fashion Looks
When it comes to simple but fashionable beige pants style, adopt Korean outfit looks. For this, you just should wear high waist baggy pants, a basic t-shirt, and a pastel cardigan. To make it a more layback vibe, get a pair of black sneakers for the best matching shoes.
Beige Pants for Work Style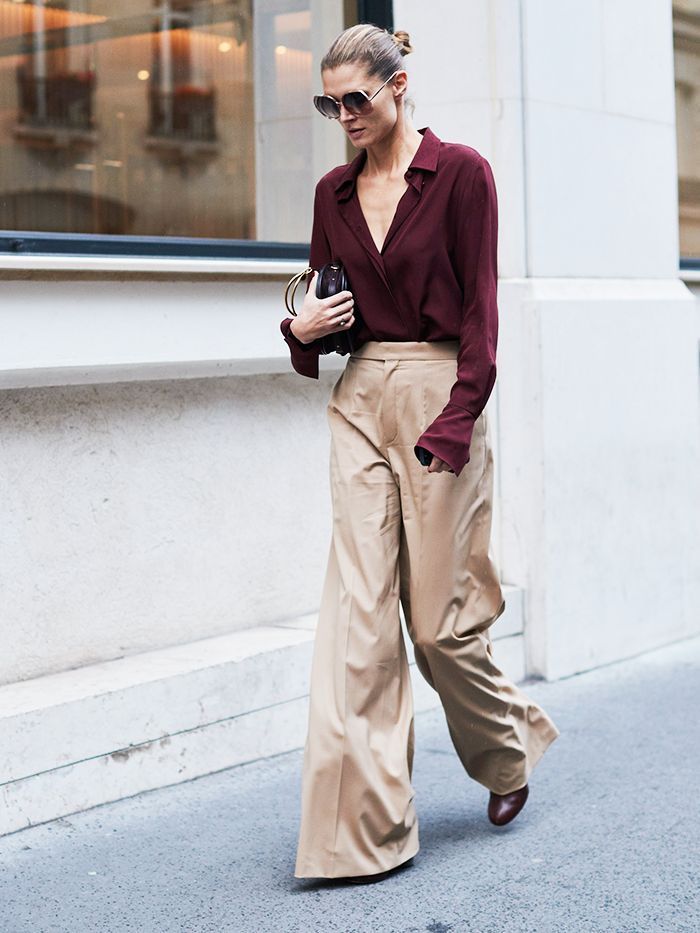 Beige pants are a kind of clothing that fits into formal looks like work outfit style. However, if you want to make it a bit different, just try on big beige trousers with a maroon long sleeve shirt or blouse. For the shoes, you can wear leather ankle boots. Then, bring a clutch bag in your hand to complete your attractive outfit ideas.
Bring On Leopard Motif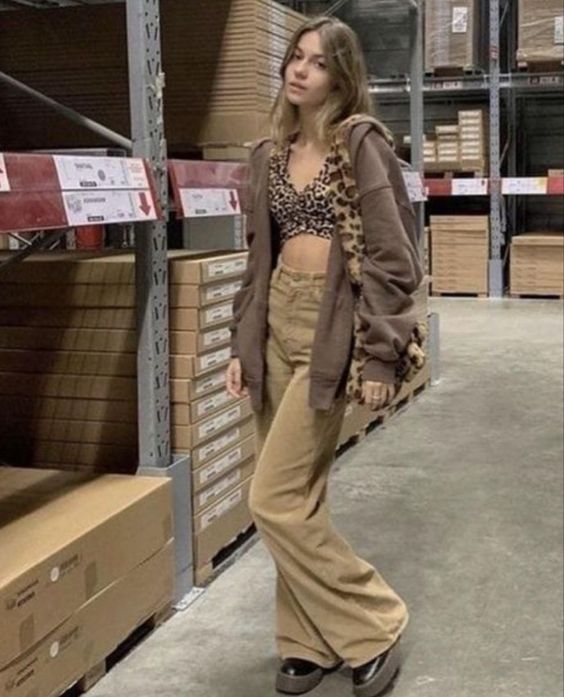 The way to bring your beige pants style into fashionable outfits for teen girls is by matching it up with cropped tops. In addition, choose a leopard pattern on your tops for an attractive appearance. To make it feel cozy, you can cover the tops with a zip-up hoodie. For the toe, just get a pair of chunky shoes. Then, complete your overlook with a leopard tote bag that matches your outfit look.
Casual Style with Beige Pants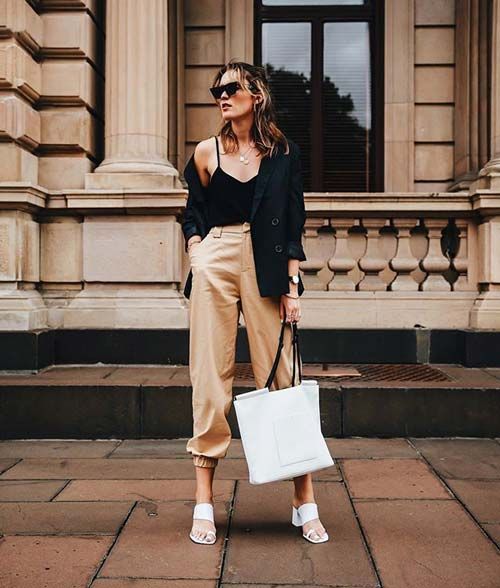 Copying Pinterest fashion can also be a way to get attractive outfit ideas with beige pants style. For example, you can get stylish outfits from beige jogger pants that combine with a black tank top and a women's blazer. For the toe, you can get a pair of white clog sandals to have a casual statement. Also, don't miss out to bring some fashion accessories like a tote bag and simple jewelry.
Stand Out in Summer Style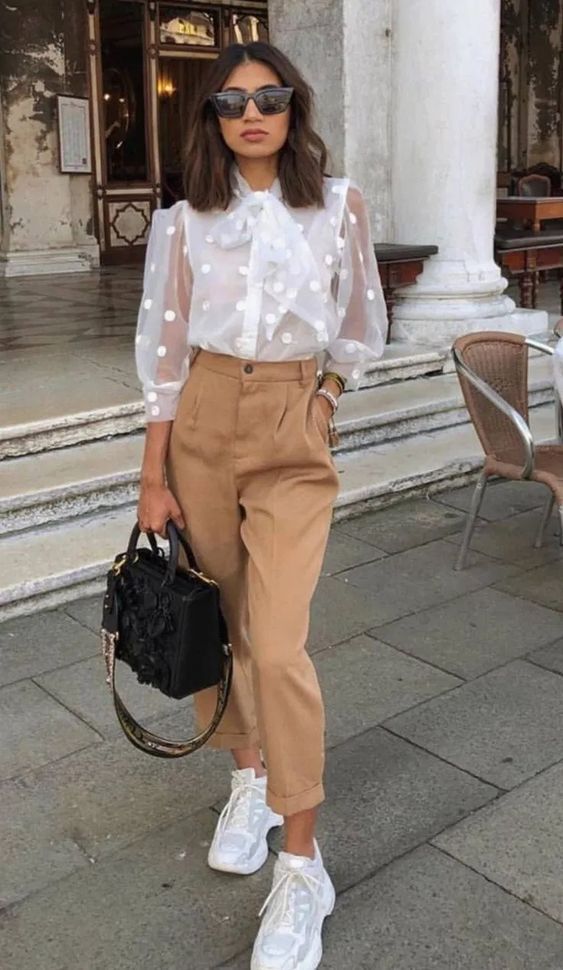 The next style to get fashionable beige pants outfit ideas is combining the pants with a sheer button-down blouse for a chic summer style. The best of this style is not only aesthetic but it's comfortable to wear during hot weather. To adorn your style more attractively, you can get floral embellishments into your bag. For the shoes, better you pick white sneakers or trainer shoes. Bring this style on your date day.
Pair with Eye-Catching Apparels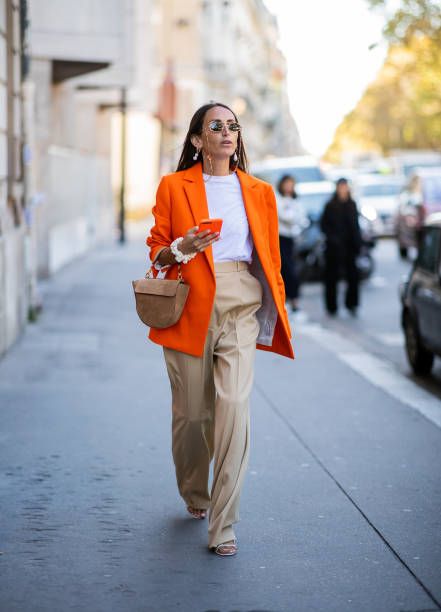 If you look for a way to turn your plain beige pants become fashionable outfit ideas, give them eye-catching accents. For this, you can have bright-colored clothing such as an orange blazer for a statement. For full attire, you can combine wide-leg beige trousers, a plain white tee under an orange blazer, and choose heeled sandals. Your outfit wouldn't be complete without having fashion accessories. To complete it, you need fashion sunglasses, jewelry, and a mini suede half moon handbag. You can use this beige pants idea for your spring outfit style.
Beige Pants for Fall Fashion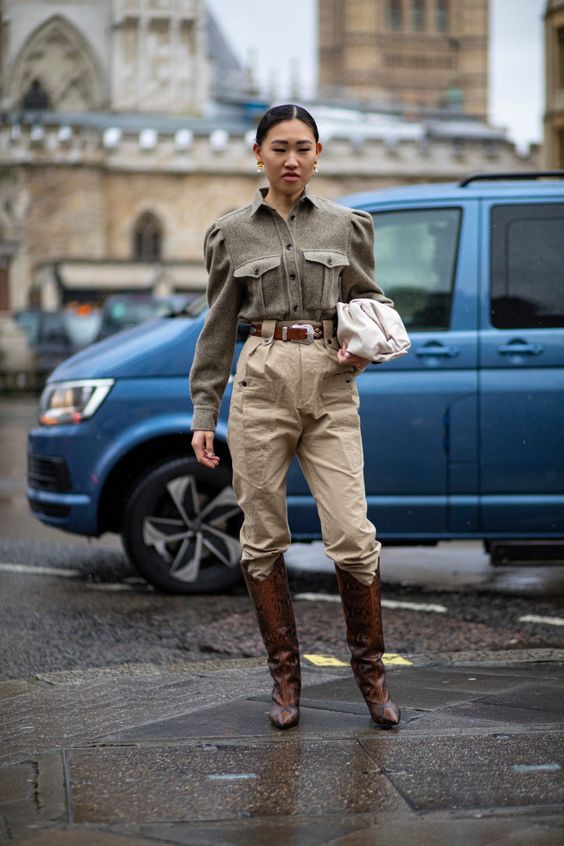 Beige pants in fall outfit ideas with knee-high boots style are a kind fashionable ideas to copy on. Why don't you try to get a tweed shirt to tuck on high waist beige pants for your fall style? This outfit would make you feel warm inside and look fashionable outside. And for attractive pieces, you can get a pair of high cowboy boots on your legs. Next, don't forget to add some accessories like a leather pouch clutch bag which is the best fall bag.
Make It Trendy in Jogger Style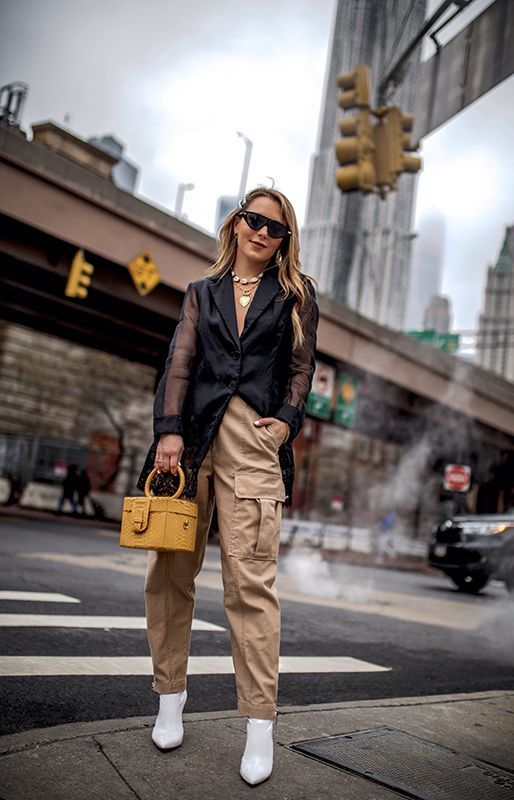 Want to have both trendy and attractive style in beige pants outfit ideas, try on the style above. Styling your beige cargo pants with a black transparent blazer, then bring white ankle boots for the footwear style. Add some stylish jewelry and sunglasses for accessories. Then for the bag, a bucket bag could be the best choice for this outfit look.
Create Smart Casual Looks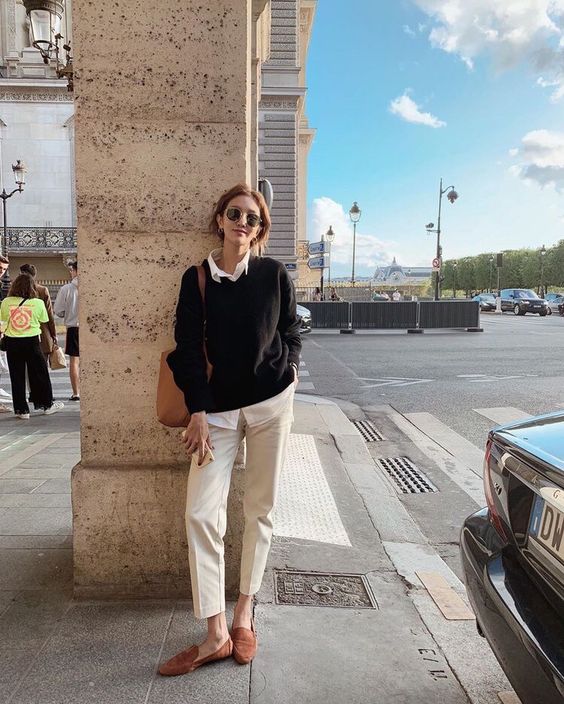 As we know that beige pants are included both in formal and casual styles depending on how you choose the design. Luckily, it has a neutral shade, so it's easy to combine with other clothing from your closet. If you wish to create a smart casual look in beige pants outfit ideas, just made layering style in the upper clothes. For this, you can wear a white collared shirt underneath a black crewneck sweater. For the shoes, pick brown moccasin loafers. Then, complete your style with a brown tote bag in your hand.
Incorporate it with Classy Vintage Pieces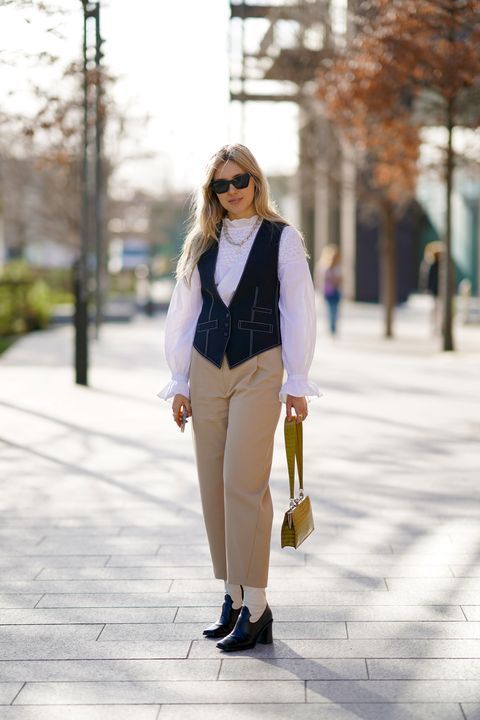 If you don't know what to wear with your beige pants, start with this one. Combine your usual beige pants with a white vintage blouse and a denim vest. That's would help you get an attractive women's outfit idea for daily rotation. What you need for the next step is to add accessories and select the footwear. You can get stylish gold jewelry and a mini leather envelope bag for a classy look. And for shoes, you can wear clogs shoes.
Combine with Attractive Cropped Tops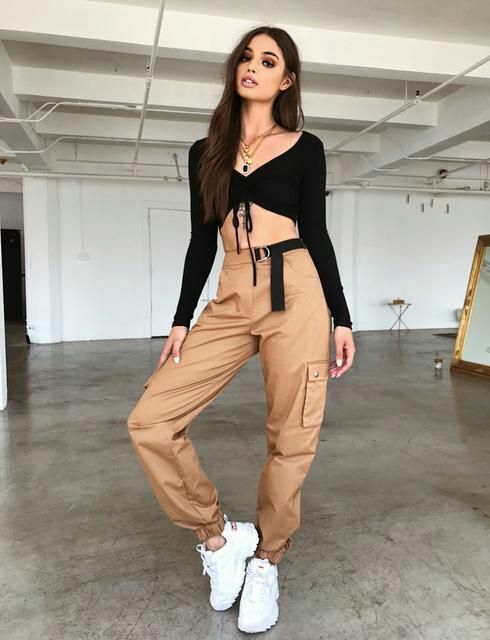 For the attractive piece to match with the beige pants in women's outfit style is a long sleeve cropped top. This would be fashionable enough when you get beige jogger pants and trainer shoes for a full ensemble. The style would be a match for a chic summer outfit capsule wardrobe.
Classy Style with Beige Leather Pants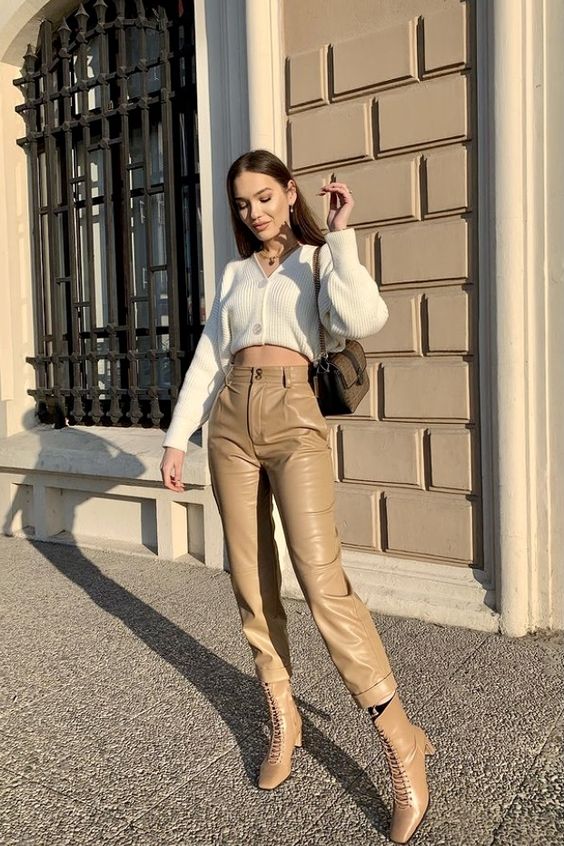 Those who want to look cool and classy, choose beige leather pants for your daily look. The way you pull out this fashionable women's outfit style is by mixing it up in a cropped cardigan and lace-up boots. Because leather is classy enough, better for you to choose simple accessories to balance your performance. For the bag, just pick a simple brown mini handbag. Make this outfit your fashionable hangout style.
Wear Plaid Patterned Pants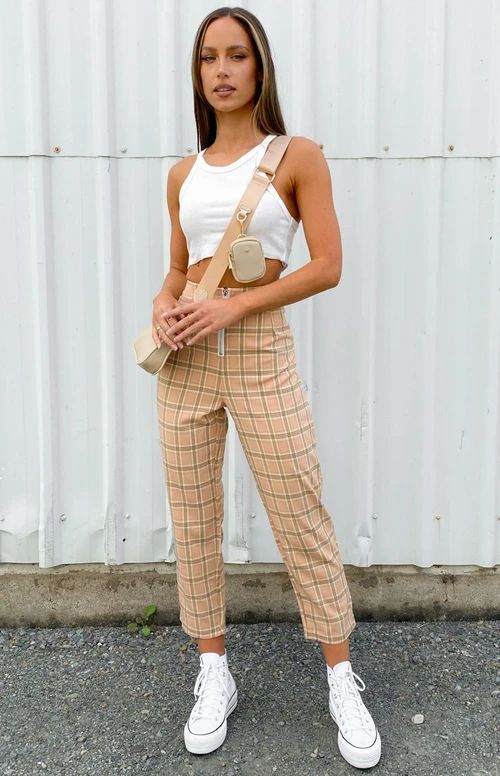 When you get bored with plain beige pants, try to use a plaid pattern on them. This beige pants style would look fashionable and more attractive if you carry a cropped tank top to mix and match outfits. For the shoes, better wear sneakers or sports shoes to make your women's outfit look more casual and trendy. Then finalize your overlook with a mini cross-body bag. This style looks good for teen girls, and when you want to use it as a school outfit you need to add a jacket or hoodie.
Supporting Your Vacation Style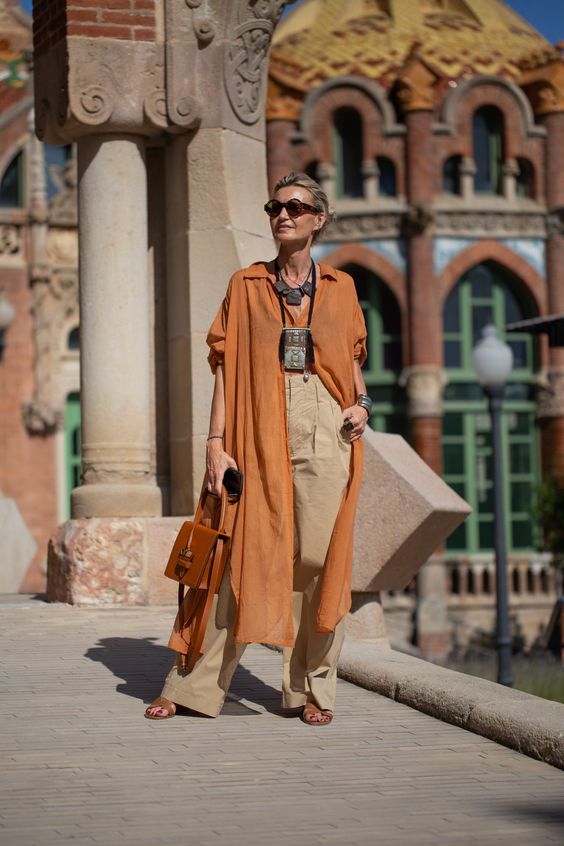 When you want to bring these beige pants into your vacation style, you can turn them attractively by bringing a light long tunic as such in the picture above. This style would be suitable when you have a vacation in a desert country or go on a safari. This women's outfit style also looks slightly unique with some ancient and bohemian accent in their accessories. Sometimes, you also need to wear local accessories for trying to go along and adaption to the social environment. To support your outfit more fashionable and comfortable, you need to wear sunglasses and sandals when you go around. For the bag, just a simple mini handbag that has the same color as your outfit is enough.
Use It for Spring Outfit Style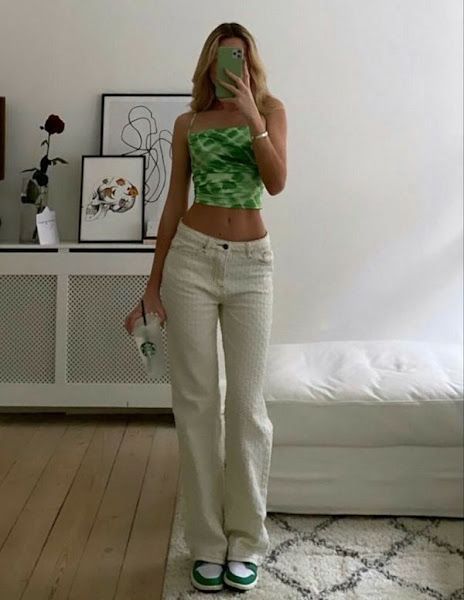 Pull out your spring style with beige pants outfit ideas that are fashionable. For the option, you can pick straight beige pants and a green cropped tank top to inspiration spring outfit ideas. According to the color scheme, it would make you look fresh and attractive. For the footwear, green white sneakers could be matching with your overall outfit. Use this women's outfit style to go hang out in a cafe or coffee shop.
Match With Lovely Sweater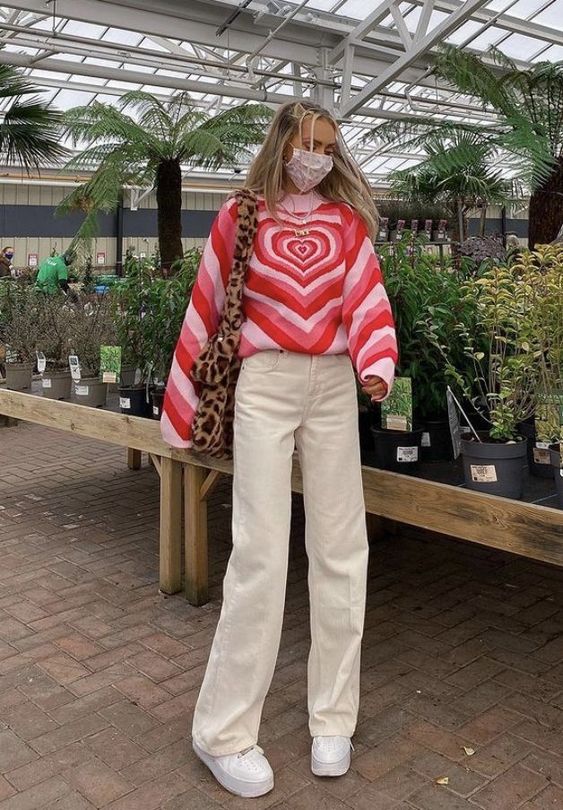 As we know that beige pants can be another option when you don't like white pants. If you want to have fashionable and attractive outfit ideas with this piece, try to combine it with a chic lovely sweater like a big pink love motif sweater. To give you a layback vibe, you can get a pair of white sneakers for the footwear. For the bag, get a leopard tote bag for a cheerful image. This lovely pink sweater and beige pants are a matching style to go date on valentine's day with your boyfriend.
Sexy Elegant Style with Backless Tops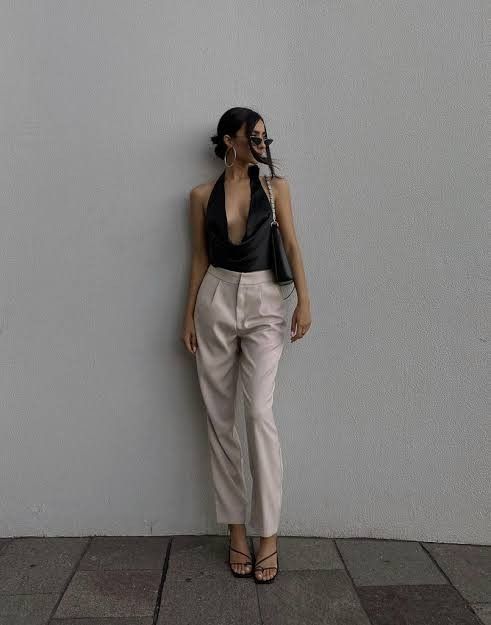 For you who like flirty with sexy outfits but also want to still look elegant, tucking your attractive backless silk top in linen beige pants. Those two clothing styles are very contrasting but blend well with each other. To brace your overall fashionable outfit idea, rock on stiletto on your legs and get an evening handbag.
Preppy Look in Blazer Style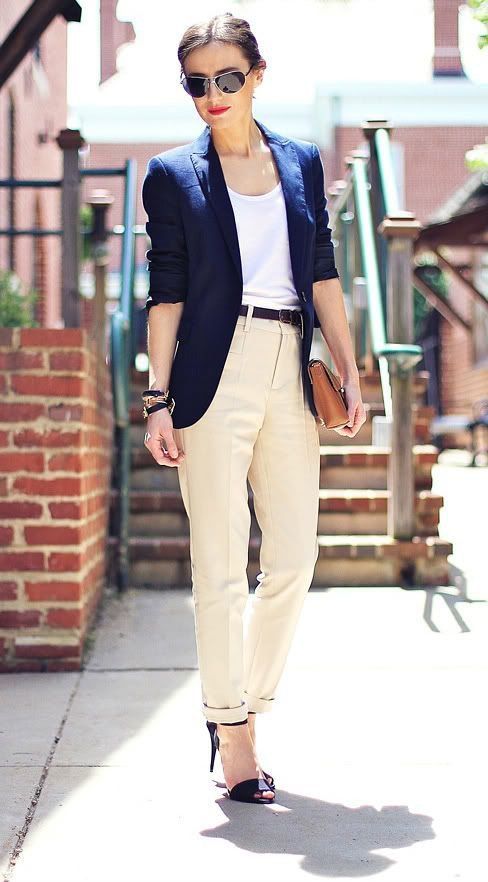 Beige trousers are acceptable to create a formal ensemble. This is because it has earthy tones that seem modest and decent. If you look for a fashionable and attractive beige pants style for work, just rock on a navy blazer to match the linen pants. Then tuck on a basic white tee underneath. For a preppy image, you can obtain a leather belt over the pants. Then, put strappy high heels on your feet and an envelope clutch in your hand. To perfect your women's style, just present some simple fashion accessories.
Give Snakeskin Boots for Attractive Statements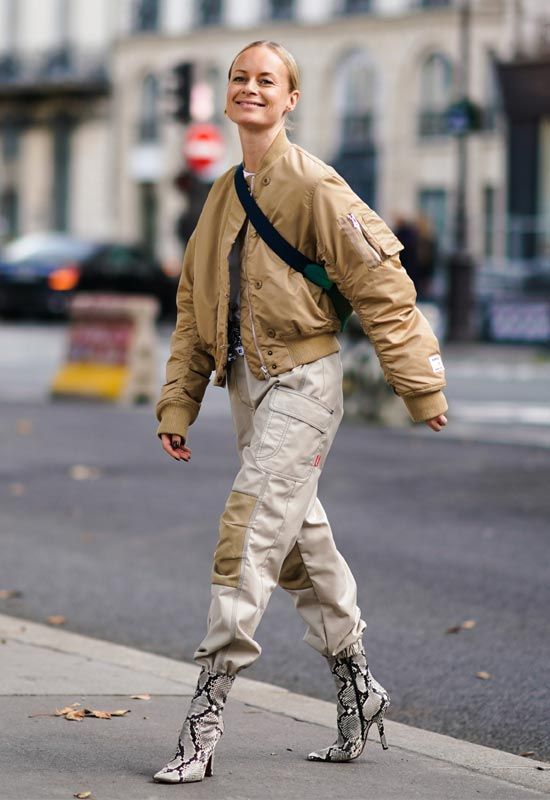 To have attractive beige pants outfit ideas for women, display it in such a unique way by getting an unusual piece like snakeskin ankle boots. Create a street style out of those boots by wearing them together with cargo pants, a puffer jacket, and a basic tee underneath. Finilize your trendy style with a waist bag and fashionable accessories items.
Beige pants are a kind of standard garment in women's outfit ideas. But when you find a way to place them in proper style, there would turn that boring outfits into attractive and fashionable ones. Pairing those pants with the white ensemble is the safe way, but it's not exciting. So, in the article above we compiled some beige pants outfit ideas for women to look fashionable. Choose what your style is and what makes you feel comfortable.