Olidfashion.com – You've seen many different styles in women's outfit ideas. From casual and classic, chic and sporty, to girly and feminine outfit ideas. Every outfit style has its own personality and conveys a different vibe. Just like this sporty-chic look! You'll see women wear athleisure outfits not for workouts but for hangouts. And on any occasion, this outfit idea makes women look more trendy and have a bit of masculinity.
If you want to follow this sporty-chic style, you need to know what you have to wear. You have a lot to do to mix and match your outfits. The key is to combine athleisure trends into your daily rotation. Whether you use a jersey, sportswear, or basic t-shirts, just make them look more attractive by combining them with other clothing styles and accessories. So, are you serious to include a sporty side into your wardrobe? If yes, we'll share 25 sporty chic styles to inspire your everyday looks. Without any further ado, let's find out the list down below!
1. Cropped Hoodie with Baggy Pants for Trendy Chic Style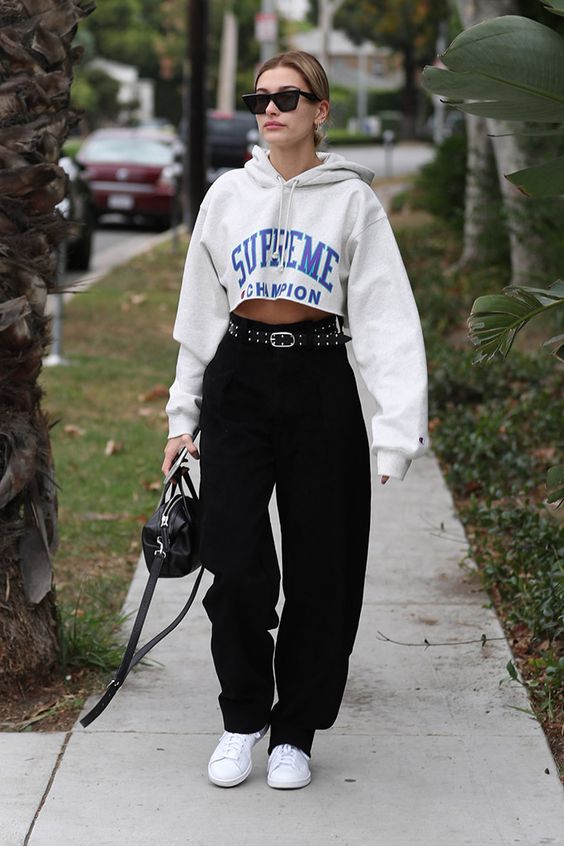 Play around with your baggy pants to get something interesting. Like this sporty-chic style! This would be a better choice for you who are looking for something casual and comfortable. Wear your loose pants with a cropped hoodie on the top. Simply bring accessories like a spike belt and put it on in your pants to look more trendy. Bring additional accessories, such as large hoop earrings, or if you want just skip it to make it simple. You can also choose a handbag for the bag that more stylish option. Simply complete your outfit look with sneakers for the toe.
2. Classic Sporty with Basic Style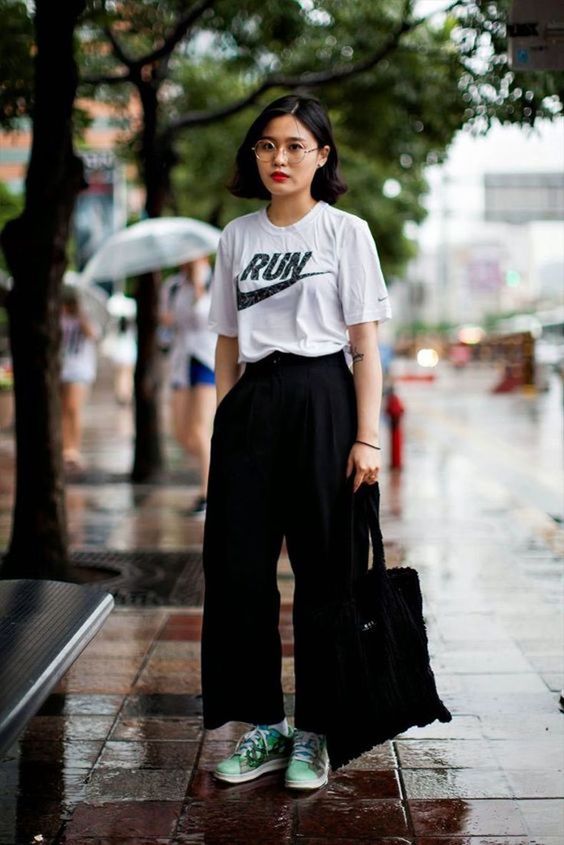 If you want to have a fashionable basic look with something attractive, consider this sporty chic style. This classic outfit inspiration exudes casualness. All you need is a basic sporty t-shirt tucked into wide pants. You can experiment with other pieces, such as getting green trainers for the shoes. Additionally, choose a tote bag to carry your belongings. If you want to look more stylish, try a messy bun or a high ponytail when you have long hair. Don't miss out on the accessories items, you can wear a cap or glasses to elevate your appearance.
3. Football/Basketball Jersey Dress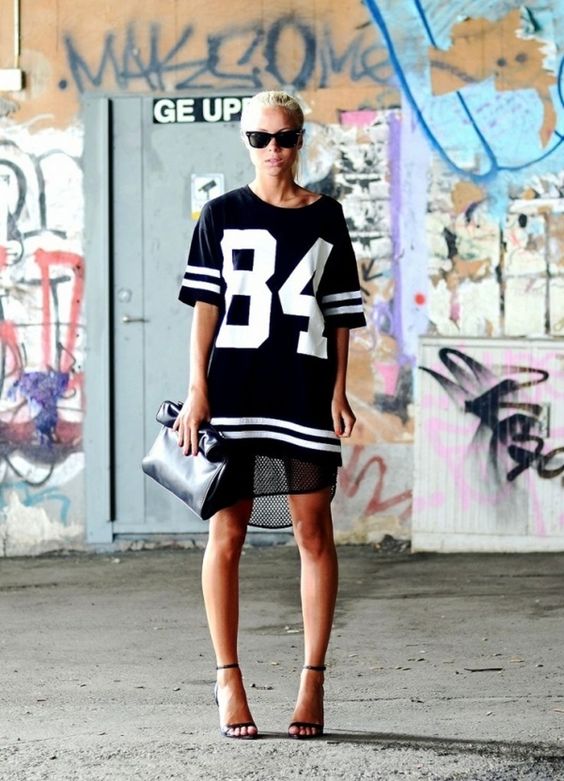 If you want to look feminine while also being sporty, this is the idea for you! Yes, wearing a mini sports shirt dress will never fail to give you a style that's desired. And make this outfit look sporty and chic by adding some simple accessories. To avoid the tacky look, try not to use too many accessories. For the hair, I suggest you make your hair into a messy bun or high ponytail. To maintain a simple appearance, avoid using hair accessories! Because you want something that unusual, rather you wear trainers or sneakers, you can pair this outfit with high heels. Additionally, use a shoulder bag or flap bag that gives a girly vibe.
4. Get Point in Your Shoes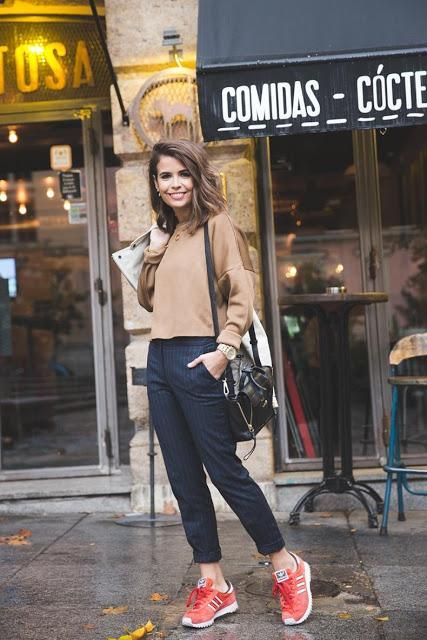 Another outfit option for going to work with a sporty chic style! You can wear your pants and sweater together. Even though it appears simple, the trainers or sneakers for the footwear will contribute to giving a point for a chic sporty style to this outfit. Then, for a more formal look, add a necklace, earrings, or a watch. You can wear this outfit to hang out with your friends, go to university, or simply use it as a work outfit idea. Think about the hair, a high ponytail or messy bun will look great with this outfit if you get long hair. But when you do have short hair, just let it loose naturally. You can also wear a cap to keep your head cool while looking trendy. I'm sure you already know which bags go with this look. Yes, a backpack would be more suited to this chic outfit.
5. Use Denim for Statement
Mix jeans and shirts for a classic sporty style! Giving denim accents will bring not only casualness but also a sporty chic style. You can get denim jeans and jackets that wear together with a shirt for the top. Then get sneakers or trainers to balance your chic style. Even if it's not an athleisure outfit, it still looks sporty. Because you wear that kind of shoes on your outfit style. Aside from that, you can easily include this outfit idea on any occasion. From fashionable outfits for hangouts to casual work outfit ideas, just give denim and trainers for a sporty accent. In addition, get some accessories and do your hair in a messy bun to elevate your chic appearance.
6. Sports Bra for The Inner Top with Suits
Why not try to imitate this sporty-chic look to spice up your outfit? By using suits, you can create new ways to wear this style. I adore the concept of women dressed in suits. When you want to present sporty style in suits, just combine a sports bra for the inner. Then, you also need to bring sneakers or other sports shoes to support your appearance. Then, elevate your outfits by putting accessories such as a gold necklace, earrings, and a watch to have a glamorous vibe. Also, give another sporty look by wearing a cap and a low ponytail for the hairstyle. Furthermore, a waist bag or sling bag would complement your outfit performance.
7. Mix Polo T-Shirt with Shorts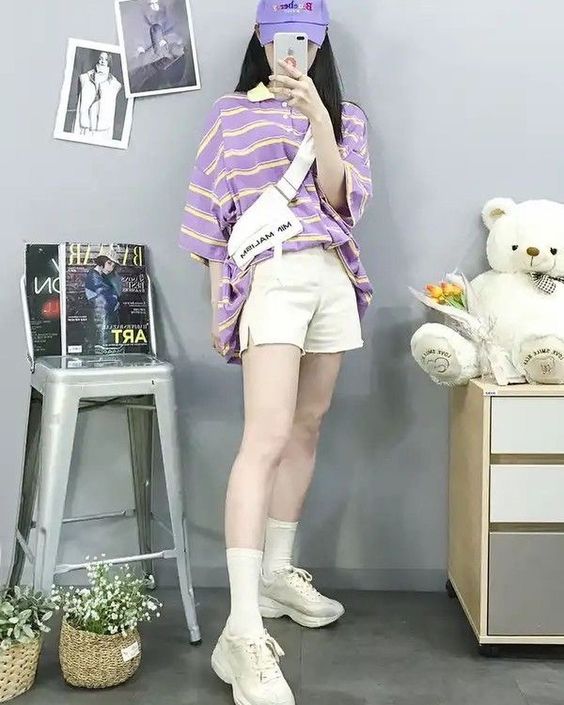 This outfit idea is inspired by the Korean outfit style. For you teen girls, this sporty-chic style would elevate your appearance at school or when you go hang out. You just have to combine an oversized polo t-shirt with beige shorts. Then get socks and trainers to complete the bottom outfit look. Move to accessories, you can get a cap to help avoid UV light when you go outside, besides that simple fashion jewelry would also look great in your teen style. After that, complete your outfit performance using a waist bag to look more sporty. I think this ensemble would fit to become a trendy school outfit idea.
8. Easygoing with Crop Hoodie and Tights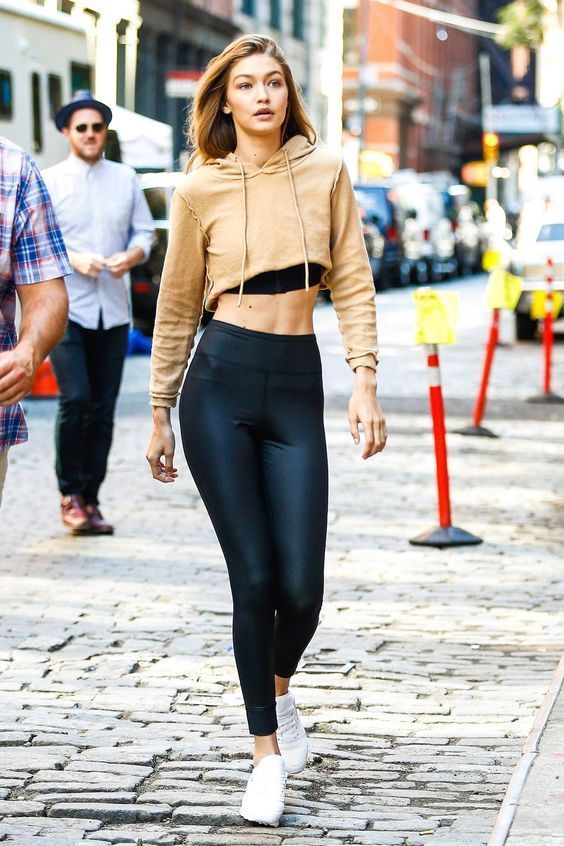 Do you like wearing leggings/tights? This simple and fashionable Gigi Hadid-inspired outfit is what we love much. A sporty-chic style doesn't need many pieces to wear. Just your comfy legging/tights mix with a cropped hoodie and wear sneakers or trainers for the shoes. With this, you'll get an easy-going look for hangouts or going to groceries. Besides that, you can make this easygoing outfit an option to chill out at home. If you want to go outside with this piece, just complete it using a waist bag or tote bag.
9. All Over Denim Style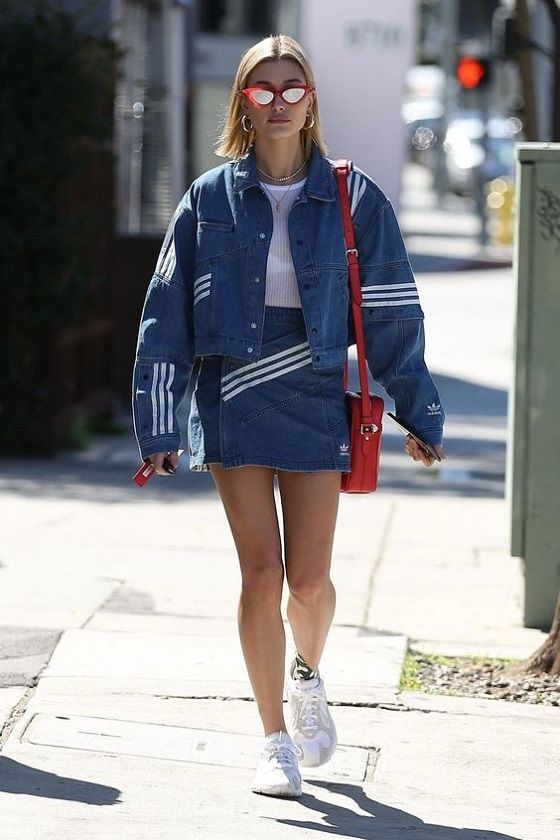 If you like denim, this outfit is your style! The two-piece outfit includes a denim mini skirt and jacket. This idea not only gives you a sporty chic style but a trendy look. If you want, you can match it with a tank top, basic t-shirt, or tube top for the inner layer. Then what's more? Yes, choosing between sneakers or trainers to adds a more sporty look. Don't miss out on accessories! You'll look chicer by wearing earrings, a necklace, and a watch. To have further style, get a sling bag to carry your important things.
10. Work on Leggings and Cropped Top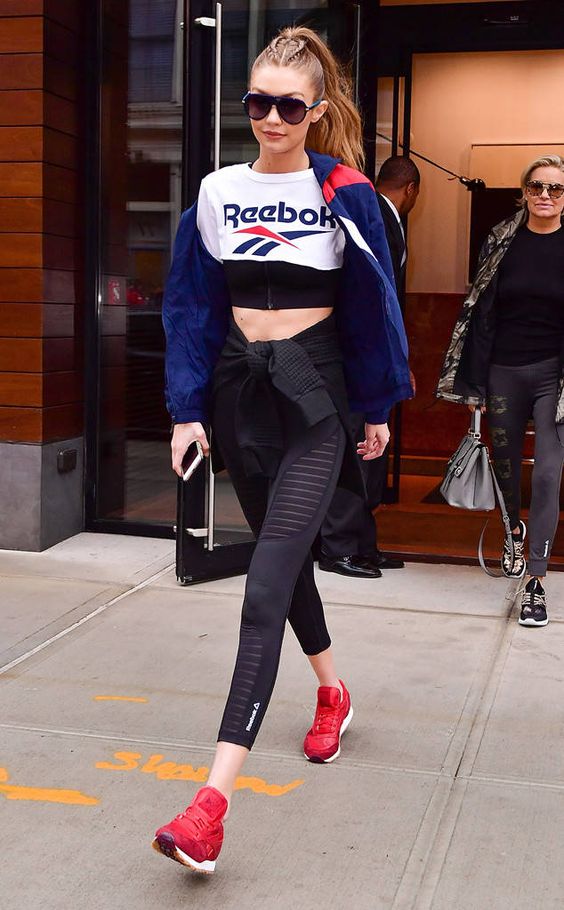 Mix and match your cropped top with legging pants and a jacket for the outer to have sporty outfit ideas. You know it's simple, but believe me, you'll look amazing after wearing this outfit. Aside from that, you can complement your sporty-chic style with accessories such as a cap. This outfit also looks great to chill out with your friends. You can do your hair in a ponytail or a messy bun. However, if you want to look cute, you can do a two-side braid. Next, I'm sure you all know what shoes you should wear. Yes, you are correct! Sneakers and trainers are the solutions. Additionally, bring all of your important items in a sling bag, duffel bag, or tote bag.
11. Jumpsuit/Overall Style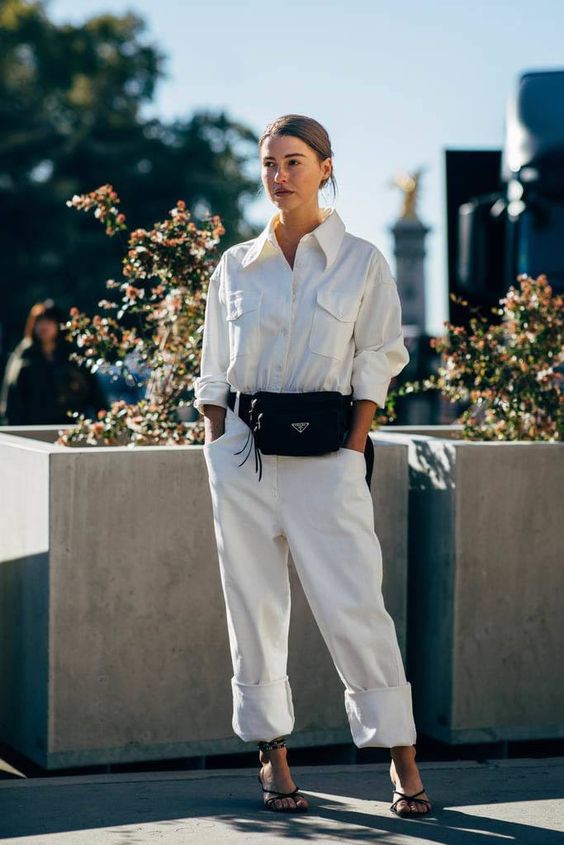 You couldn't pass this outfit style! I know you'll amaze with this jumpsuit especially to bring sporty chic style to your daily outfit lookbook. What you need to prepare are a button-up jumpsuit and matching shoes. You know this piece is a kind of men's clothes. But don't worry girls, that's exactly what would bring sporty style into your appearance. To have a chic style, you can get strappy high heels that bring a feminine vibe. Moving to hair, a low bun or messy bun would gonna be suitable for this outfit style. Finilize your outfit performance by picking up a waist bag for your bag.
12. Simple Look with Sweatpants and Sports Bra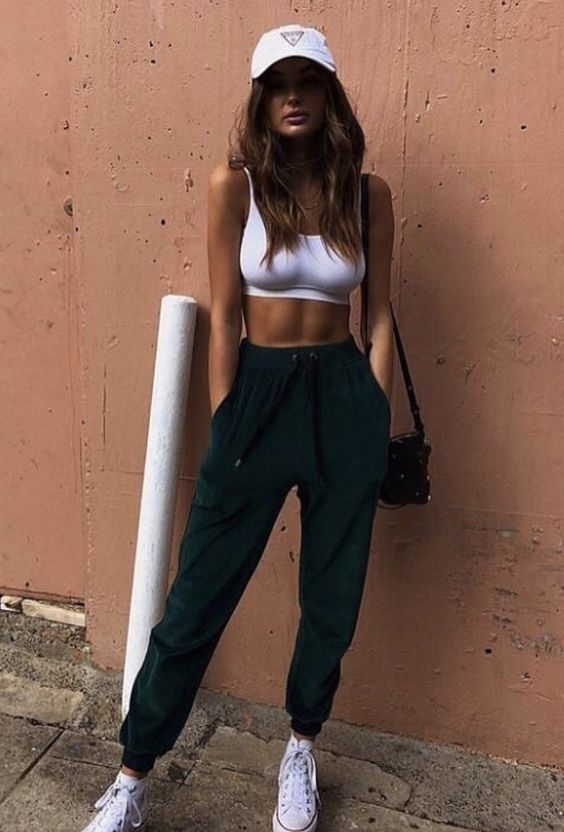 To create a sporty chic style, pair your sports bra with sweatpants. This outfit idea would perfectly fit athletic women. Looks pretty effortless, doesn't it? However, you can dress it up by adding a cap or bucket hat. Additionally, add some accessories like a necklace or sunglasses to make your outfit look more fashionable. You can wear this outfit to hang out with your friends or go to the gym. To keep the look simple, pick your hairstyle in a messy bun, a high ponytail, or let it straight loose. You can also select sneakers or trainers. Complete the look with a shoulder bag, tote bag, or duffel bag to carry your belongings.
13. Wearing Shorts and Blazer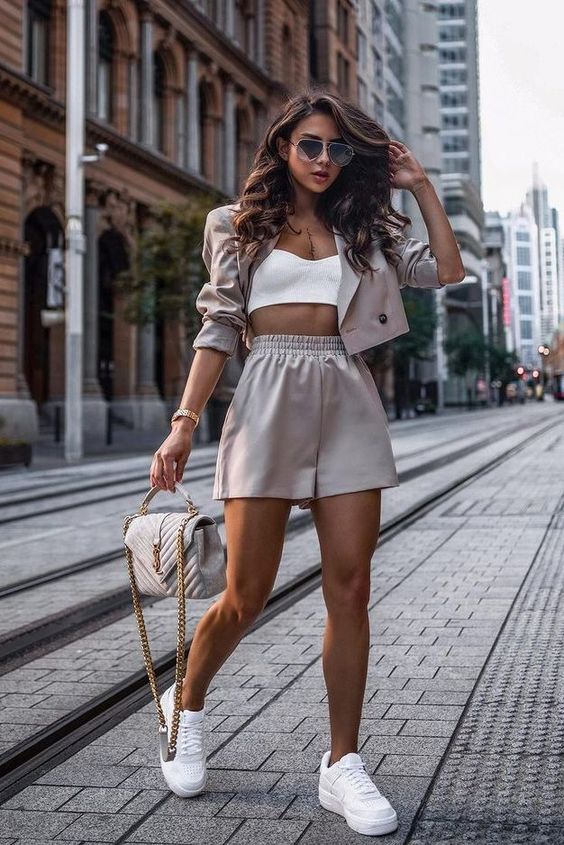 If you're tired of mixing and matching outfits, you can achieve a sporty chic style by wearing one set outfit. I understand by wearing only the same outfit makes you look ordinary. Okay, I'll give tips to you! Naturally, a set of shorts and a blazer are an option! Pair it with a sports bra or tube top for the inner. To give a chic vibe, do your hair loose or in a high ponytail. Then, complement this look with sneakers as usual to create a sporty performance. And for bags, a handbag is the option. This outfit is ideal to become girls' night out outfits, attending special occasions, or simply going for a walk along the street.
14. Combine Jogger Pants with Long Sleeves Tee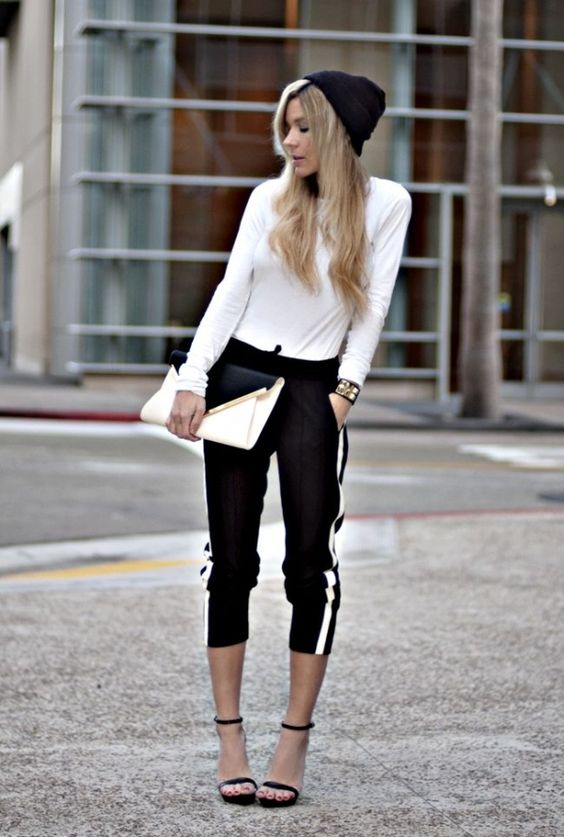 Jogger pants and a long sleeve t-shirt are another chic sporty outfit style. This outfit is perfect for hanging out with friends, going for a stroll down the street, or chilling out at a café. Don't forget to wear accessories to boost your outfit style. You can add a beanie hat to create a chic and cute look. Make straight hair or French braids for your hairstyle that support your chic performance. To balance the outfit, we recommend that you wear feminine strappy high heels on your leg. If you need to use a bag, consider picking an envelope bag or clutch when you should attend a special occasion.
15. Match Sportswear with Long Camel Coats for Winter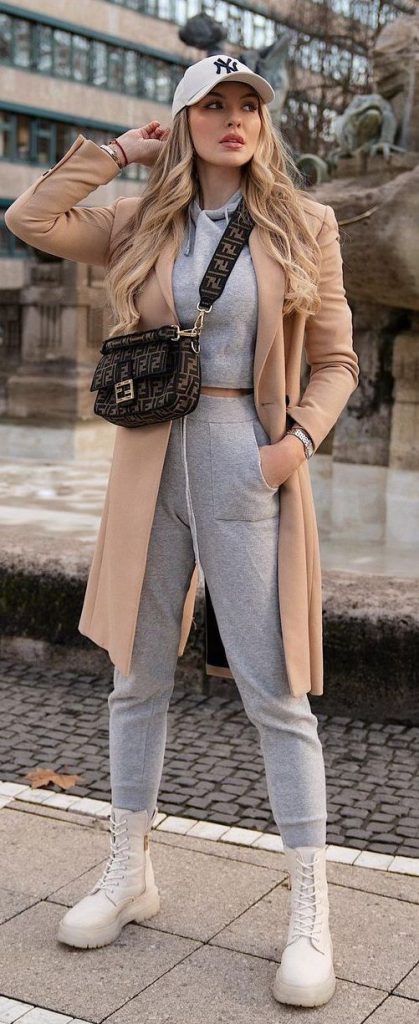 The athleisure trend, consisting of a hoodie and sweatpants, is a sporty outfit that can be worn for hangouts with friends. Mix and match this ensemble with a camel women's coat to have stylish winter or fall outfit ideas. Then, trainers or sneakers should you wear if you want to present it in a comfy style. In addition, you can dress up your outfit look with accessories such as a cap and a watch. To have a final touch, you can select between a sling bag, waist bag, or shoulder bag.
16. Combine Sleeveless Top and Baggy Trousers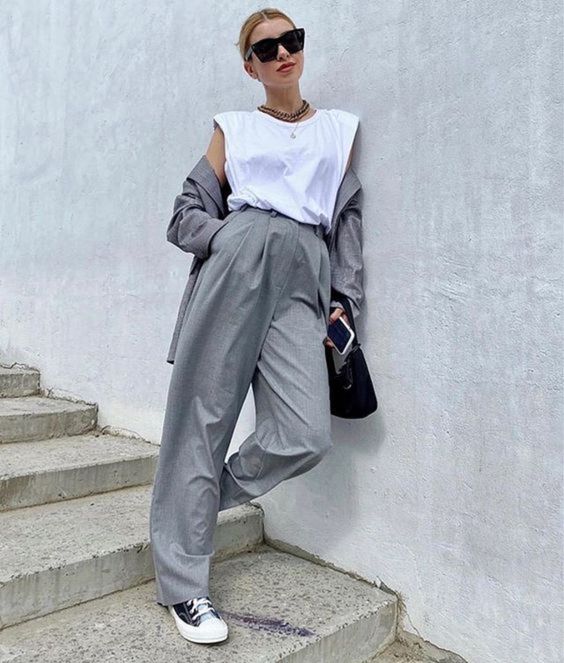 Look great in a simple sporty chic outfit style? Why not redesign it by adding a sleeveless tee to your baggy trousers look? Alternatively, you can copy this fashion style by adding a blazer over a common t-shirt. Get a pair of Converse for the footwear to make it cooler and sporty. Make a strong impression by wearing a high ponytail or low bun hairstyle. Finish your look with chic accessories and a shoulder bag in your hand.
17. Choose Short Sleeve Hoodie for The Top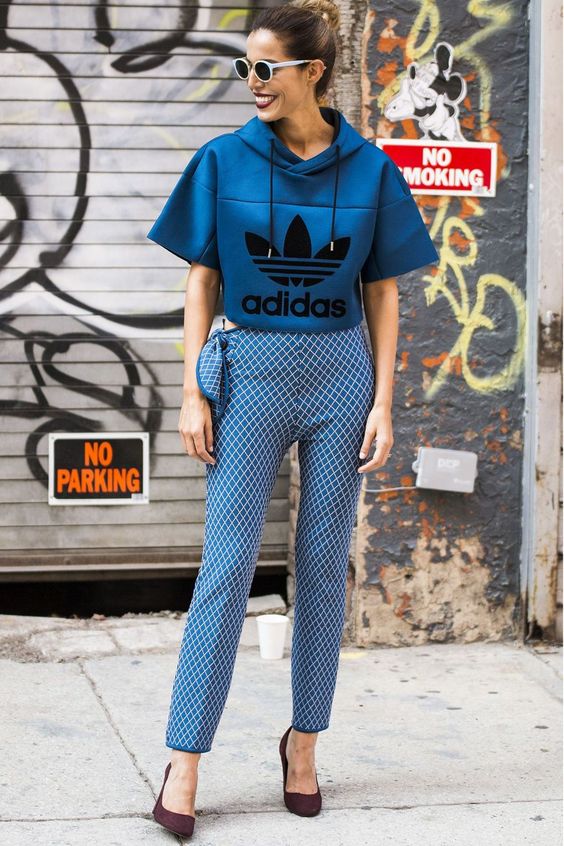 Who enjoys athleisure outfit trends? In the photo above, you see a combo of short sleeve hoodie and pants. This is the type of outfit you can wear to work or just hang out with your friends. Furthermore, it not only makes you feel comfortable, but it also makes you look fashionable. For this outfit look, keep your hair in a high ponytail or a messy bun. Those hairstyles would keep your look simple and ensure that your hair does not interfere with your movements. Of course, you have the option to pair footwear with this sporty-chic style. Sneakers will be the only shoes that bring a sporty look, but if you desire a bit of girly style, so high heels should pick. Additionally, use a waist bag or envelope bag to carry your items.
18. Bring Jogger Pants for Hangout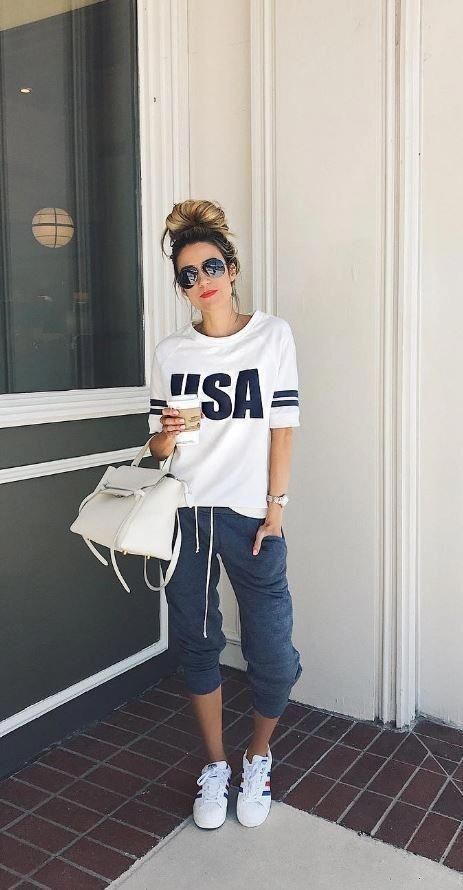 You can't say no to this outfit style. We adore it. You know it appears simple and comfortable at the same time. It fits you girls who like boyish outfits and help you to freely move. Just bring this athleisure trend that includes a sporty t-shirt and jogger pants. If you want to push it as a hangout style, you can get another detail like wearing sunglasses and a watch. Do you know what the best footwear for this sporty-chic style is? Yups, sneakers. Nothing is more suitable for this outfit rather than sneakers. Then, to have a chicer style pick a handbag for the bag. Also, a messy bun hairdo will gonna be a point to your sporty look.
19. Sporty Chic Look in Biker Shorts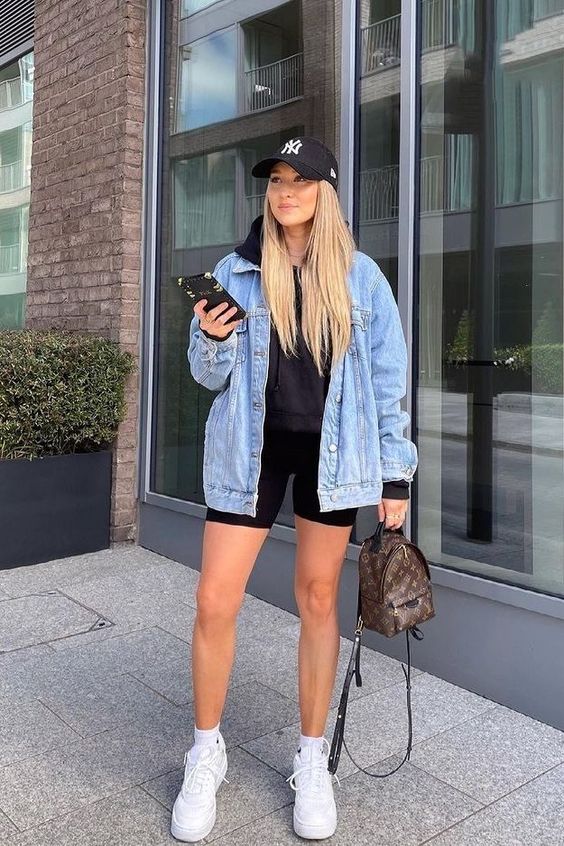 By combining biker shorts, a hoodie, and an outer like a denim jacket, you can achieve a sporty chic style. I believe it is simple and easy to incorporate into your daily rotation. You can also experiment with your accessories and shoes if you want to wear them for hanging out at the cafe or just going around the city. For instance, matching this outfit with sneakers or Skechers for a sporty chic look. Choose a backpack, sling bag, or waist bag for a matching bag. Wear simple jewelry, and a cap, then get sunglasses to elevate your chic outfit style.
20. Baseball Jersey Outfit Style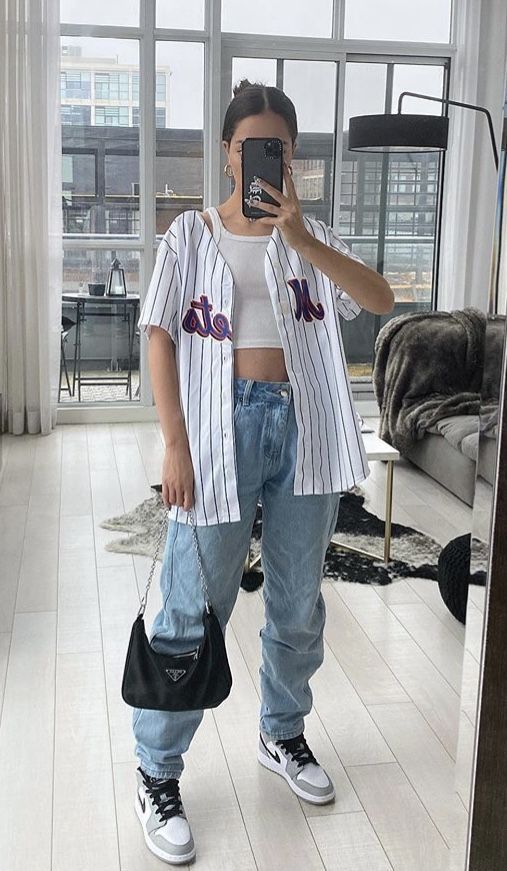 Looking for a sporty chic style, you can't skip a baseball jersey for this! You can easily create a sporty look from this athleisure trend. What you need is another piece to support this jersey. For the option, you can combine it with a crop tank top underneath and prefer baggy jeans for the bottom style. Of course, you must bring sneakers and other sporty shoes for the matching footwear. However, you can still wear high heels when you desire on girly look. Then, bring a shoulder bag to complete your outfit performance. Furthermore, support this outfit with a messy bun hairdo and some fashion accessories.
21. Overall to Bring Playful Sporty Look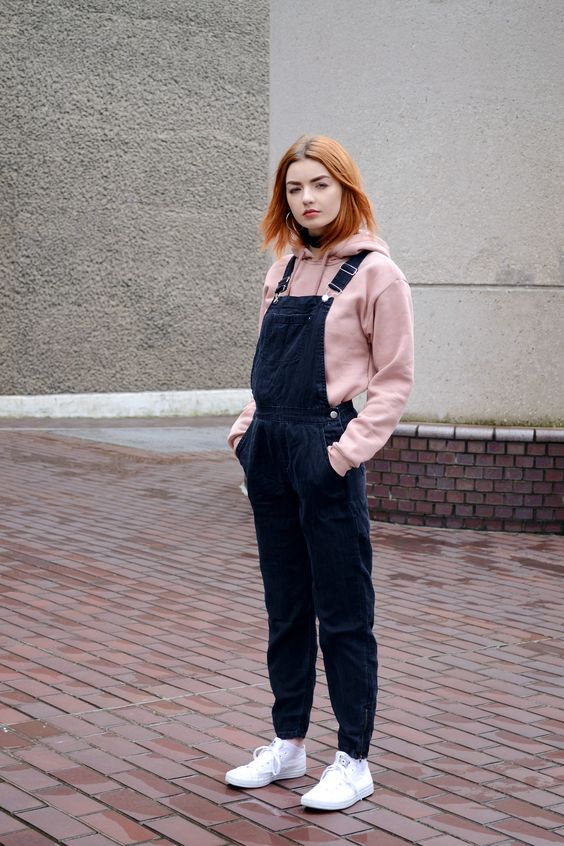 While overall is a kind of playful style, it can also bring sporty chic style into your wardrobe. Just bring it with another athleisure like a hoodie for the inner top. Then, bring a more sporty look with sneakers or trainers. I believe you'll love it, especially for girls who need an outfit not only for hangout but also for attending class. Then, you can pair this outfit idea with a backpack or tote bag that looks chicer.
22. Sporty Streetwear in Leather Outfits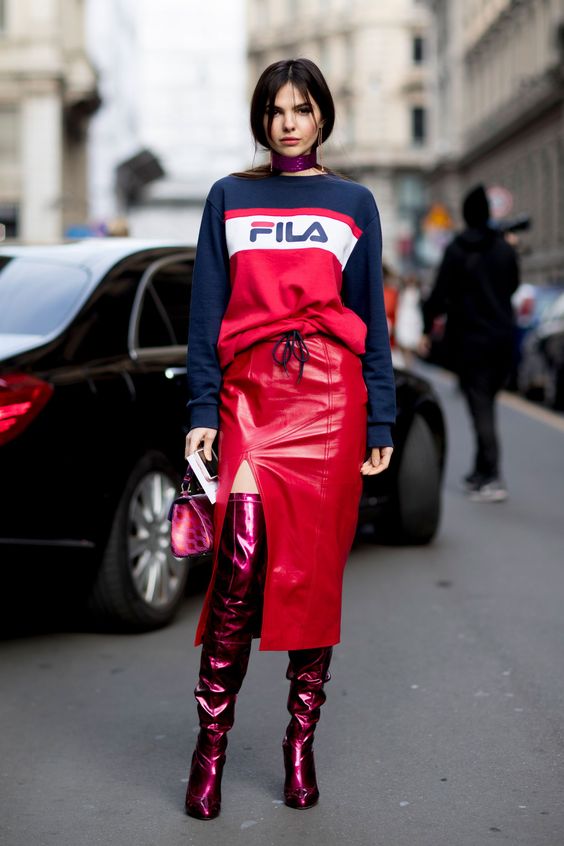 Most of you maybe are afraid of looking tacky or overdressed in a leather outfit for everyday looks. But, as you see this streetwear style, isn't it stunning? You simply need to boost your self-affection. You can pair a leather skirt with an athleisure sweater to create a sporty chic style. Then, pick leather knee-high boots to make your outfit look more classy. Next, choose accessories if you want, or just skip them to get a simple look. Finish this look with a handbag or shoulder bag.
23. Dress Up Sporty Chic with Lace Corset and Cargo Pants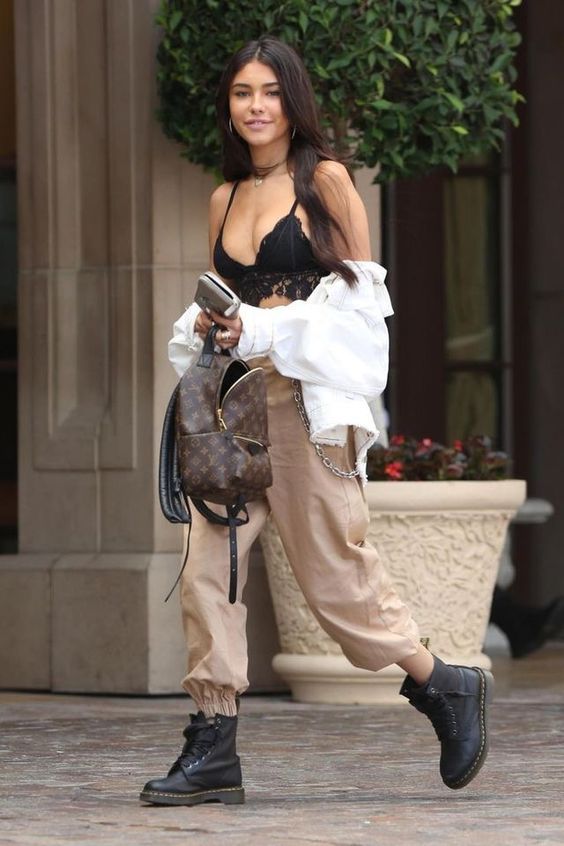 Pairing a lace corset top with cargo or jogger pants is another way to achieve a sporty chic style. You can wear this combination to become a music festival day outfit. Add an extra layer if you need to be more stylish such as a jacket, flannels, or blazer. This outfit is not only a trendy style, but it also provides a sexy appearance with chic contouring. You can also add metallic jewelry such as big hoop earrings, some rings, and a necklace. Carrying a mini backpack to carry your belongings that also suit this outfit idea. Then, with this outfit, you can go with a natural wavy hairstyle. Furthermore, finish your look with ankle boots or army boots.
24. Bring on Tennis Skirt into Your Sporty Collection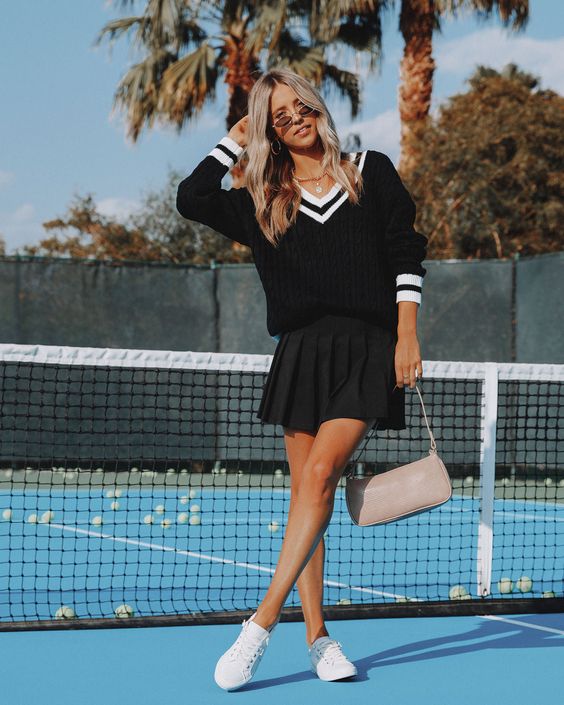 You'll love this idea if you want to wear an outfit on a daily basis that gives you a sporty chic style in a girly look! Because you can never go wrong with a tennis skirt and a v-neck sweater top. A tennis skirt will present a feminine and sporty appearance. In the meantime, a v-neck sweater top will give you a comfy vibe. Don't pass up a simple necklace that will enhance the appearance of your neck. For the hair, you can simply let your hair straight down, do a messy bun, or high ponytail. Then, to balance the outfit and provide comfort, pick to wear sneakers or trainers. Furthermore, I believe that a shoulder bag will complete this sporty chic look.
25. Autumn Look with Puffer Vest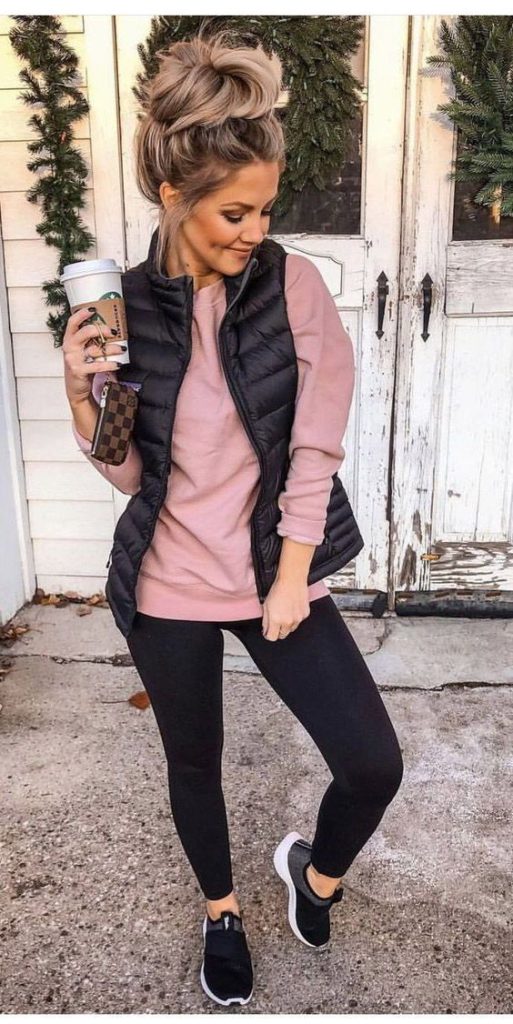 The last outfit idea! This is a warm outfit during cold weather. You can wear this autumn outfit to hang out with your friends or to the grocery store. Yes, you can wear your winter tights with an oversized sweater and a puffer vest as an outer top. If you want to look stylish, you can add whatever accessories you want. Moving on to the shoes, you can wear sneakers or loafers to support this sporty chic style. Don't worry, both of these shoes will keep you comfortable even on long walks outside. Wear a sling bag or tote bag to carry your essentials.
Now that you know about sporty chic style. Read about the different outfit ideas to learn how to express yourself while still embracing classic chic style. This would help to fulfill your wardrobe with fashionable and stylish outfit trends. With this, you wouldn't feel bored with your daily lookbook and you'll know what to wear every day.