Fashion, especially outfits, would determine the way people see you. Or to make it simple, fashion could determine your personality. Therefore, many people compete to wear the best outfit. So, do you still a beginner at fashion and still finding out about your outfit style?
Maybe you can see our ideas about modest business casual, this kind of style that would give you a mature, elegant, and fancy vibe. Don't worry, it won't be hard to recreate, because we don't give a lot of layering outfit ideas. Not only that, but the outfits are also easy to find, even you can find them in your wardrobe.
Who's been excited about this topic? Okay, I feel excited too to share this best outfit style with you. But, I guess, this style will be suited for you who are turning 20's. If you are still a teenager, maybe you may skip it to prevent looking older. So, now we're moving on to the topic!
Modest Business Casual Outfit Ideas to Look Fancy
Short Pants and Blazer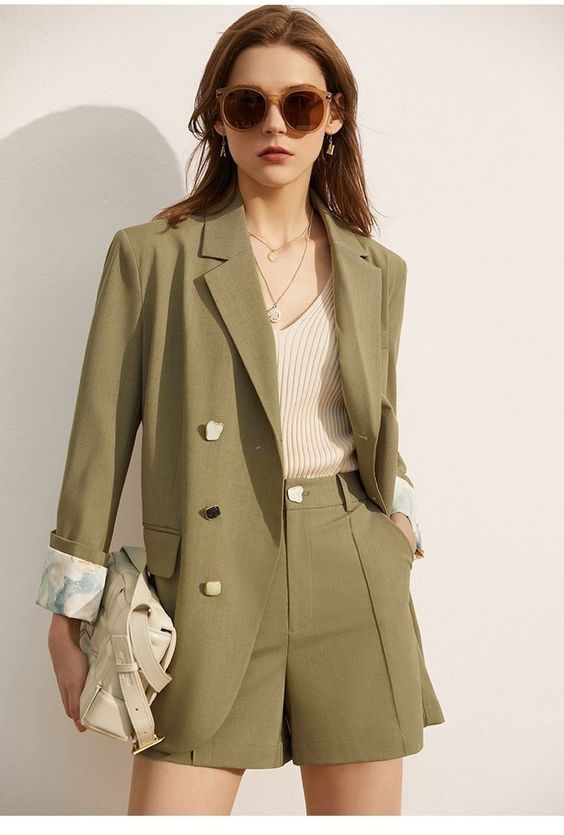 Let's begin with the basic outfit that you can wear for hangouts or casual meetings. Although a blazer looks formal, it will look more relaxed if you combine it with short pants and use a tank top as innerwear. For those who want to use accessories, you can prefer accessories that are made from gold and look simple.
Get the Simple and Elegant Vibes with Satin Shirt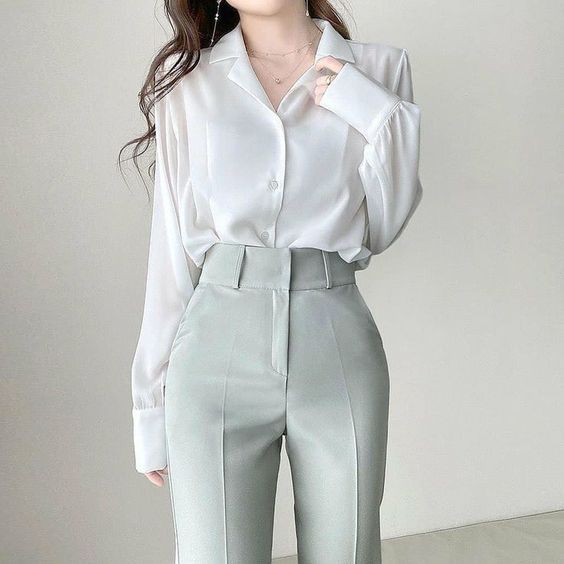 I know that everyone's dream is using a simple outfit but can give the elegant look at the same time. We will make your dream come true by giving you a suggestion! First, you need loose pants to keep the simple look. Then, a satin shirt for getting the elegant vibes. So, what do you think? Very simple, right? It will be more elegant if you could add an accessory like bracelets, necklaces, or earrings.
Knit Outfit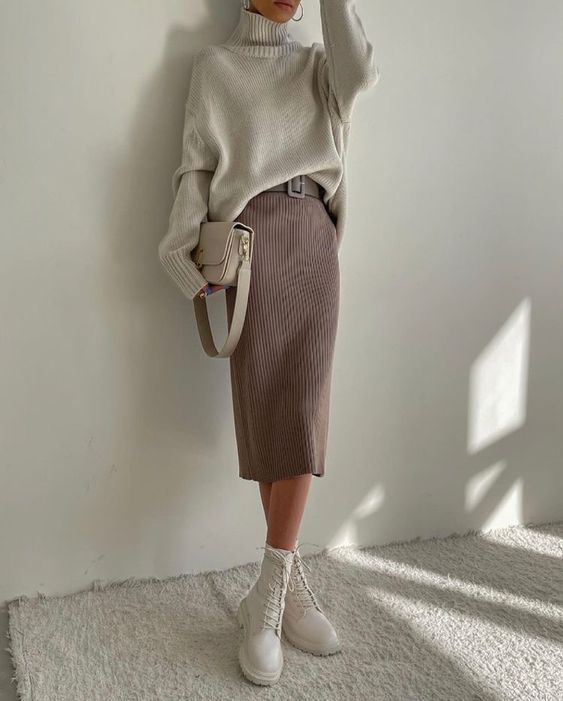 Well, we don't have any doubt about a knit outfit. Because knit is the type of outfit that feels comfy, simple, and suitable for achieving this classy outfit look. All you need is to combine your knit span skirts with a knit turtleneck top. For the finishing touch, add ankle boots for the shoes.
Buttoned Dress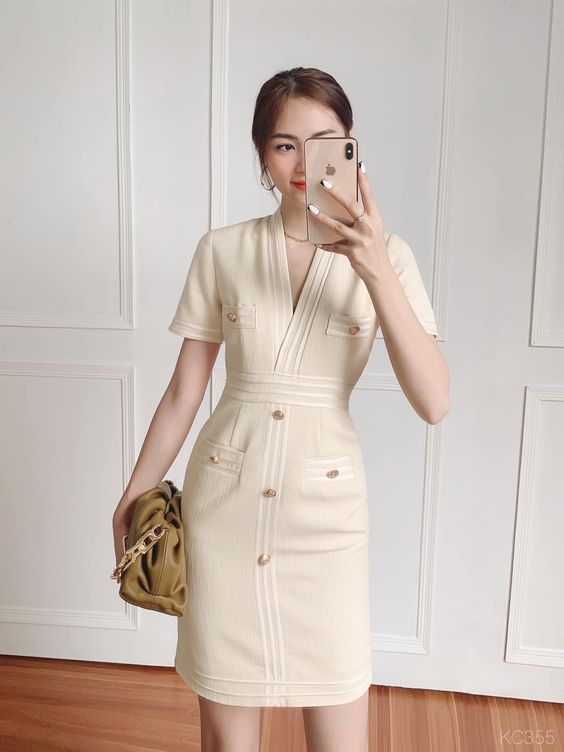 Want to wear a dress but are afraid of looking too much? Maybe you can start learning to wear a dress with this buttoned dress. It has a simple design and is equipped with a V-neck style that can give you an elegant look. Meanwhile, the buttons have the function to prettier your dress and make it look not boring. Now, you only have to add heels and a clutch.
Mix Loose Pants with a Cardigan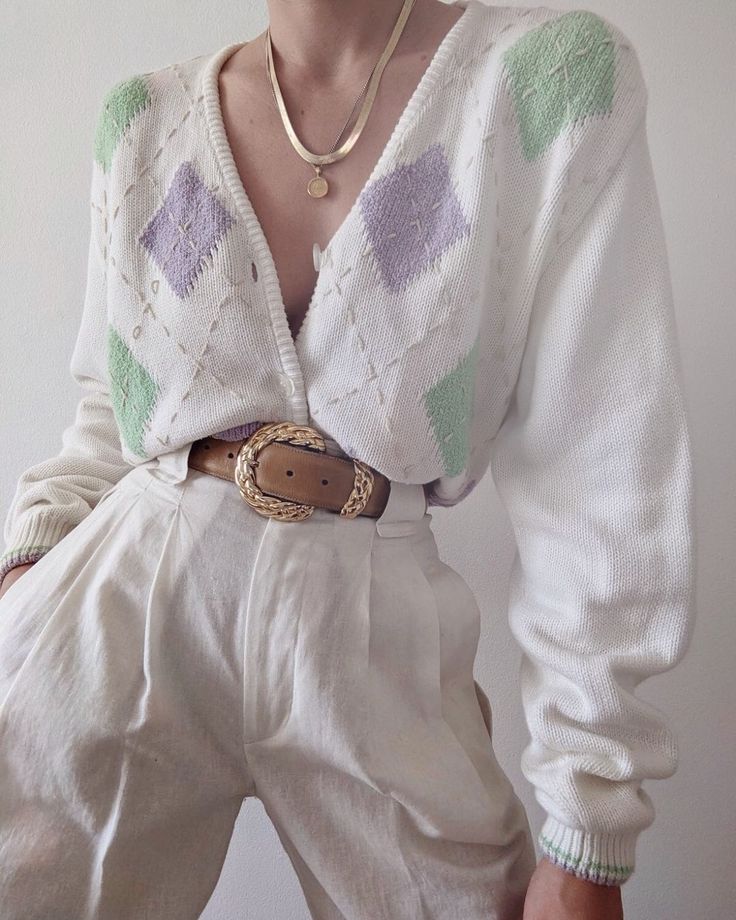 Just having a cardigan and loose pants? Don't worry, you still can achieve this style even with these two kinds of outfits. First, put on the cardigan and let a few buttons loose. Furthermore, wear your pants and add a belt to make your outfit fancier. Lastly, make your outfit glamorous by wearing layering gold necklaces and earrings.
Use Vest to Get Nerd Chic Look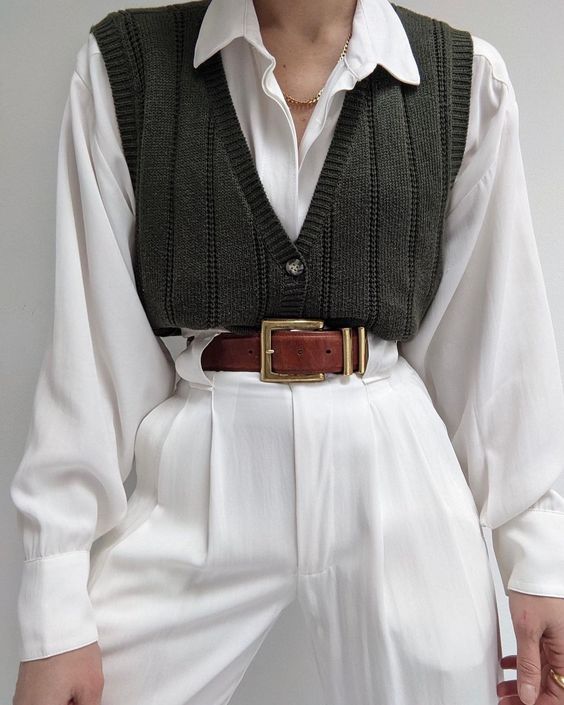 If you're interested in the nerd chic look, you still can get it in this business casual outfit. So, you can go on with a vest as the outerwear. Then, pair it with a shirt and loose pants. If you want to look more stylish, you need to add a belt and a few accessories. Furthermore, use loafers for the shoes and a handbag to save some of your important stuff.
Span Skirt and a Coat for Girly Cold Weather Outfits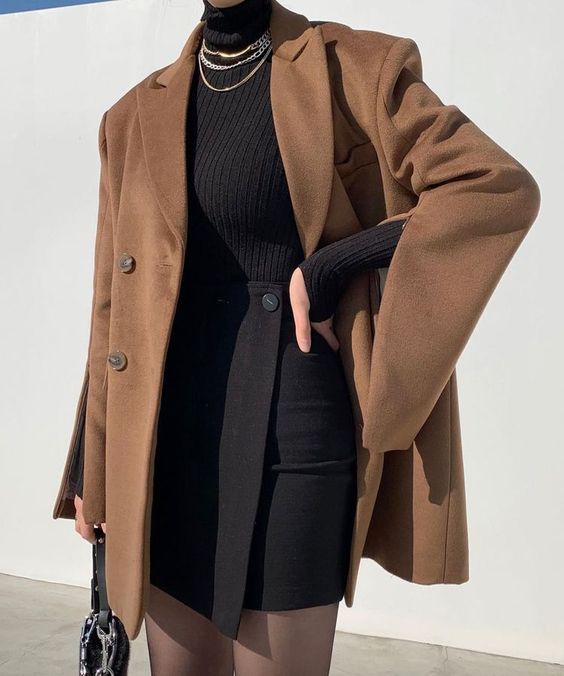 Is your country having a cold weather season? So, you have to prepare some outfit ideas to keep your fashionable look. Wear a span skirt and a coat for getting the girly look. For the innerwear, I think it would be great if you use a turtleneck top for giving a warm feel. Furthermore, use high-knee boots to complete this outfit.
Tule Skirts and Long Sleeves Blouse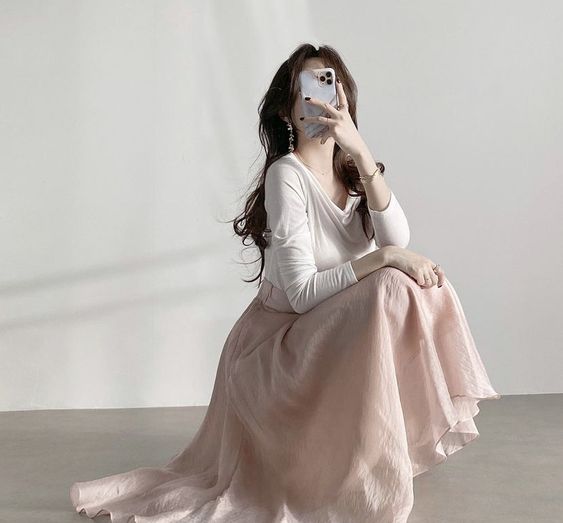 Tule skirts are the kind of outfit that will give you a fancy look. But a lot of people are afraid of using this skirt because if you mix it wrong, it can look tacky. So, if you want to wear this skirt, you could mix it with a simple long sleeves blouse. Furthermore, use slip-on flat shoes and a sling bag to finish out this style.
Make Your Outfit Look Fashionable Using Wrapped Blazer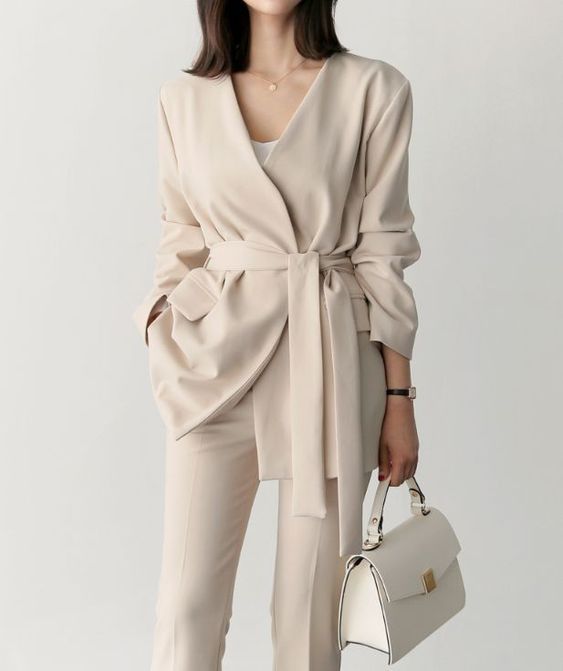 Get bored with the usual blazer, you should try this wrapped blazer. It will boost your fashion style, moreover, when you pair it with loose pants. But a lot of boutiques sell it in one set which could make it easier to style it.
Satin Skirts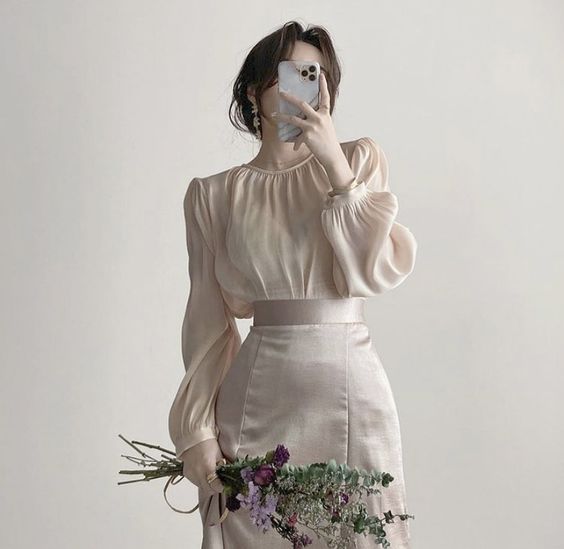 The previous point we've done talks about a satin shirt. But now, we will talk about satin skirts! If you are still afraid of using tule skirts, you can switch them with satin skirts for a simple elegant look. You are free to mix it with any top because these skirts already give you a flawless look and certainly will not make you look tacky.
Empire Waist Dress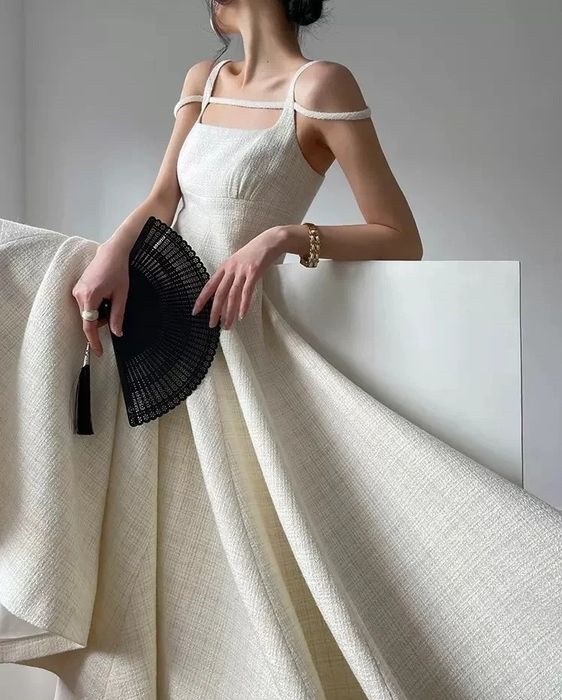 The empire waist dress is an underrated dress that a lack of people know it. So, if you want to look different, it's gonna be a great choice. Moreover, this dress will be fitted on your waist that giving you a slim body effect. This empire waist dress is suitable to wear for special occasions only.
Mix and Match a Turtleneck Top with Loose Pants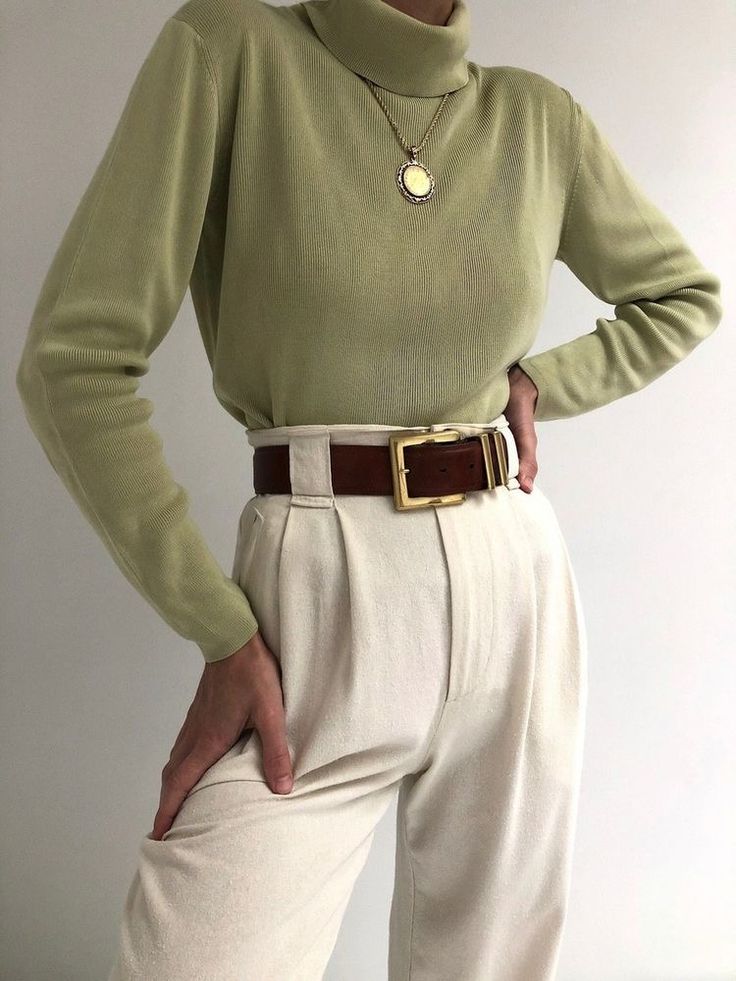 If you kind of person that doesn't like wearing a shirt, you can try to change it with a turtleneck top to be paired with loose pants. Make your outfit extra by giving some accessories such as a belt, a necklace, or another accessory that has a simple design.
Style Your Laces V-Neck Top with Patterned Pants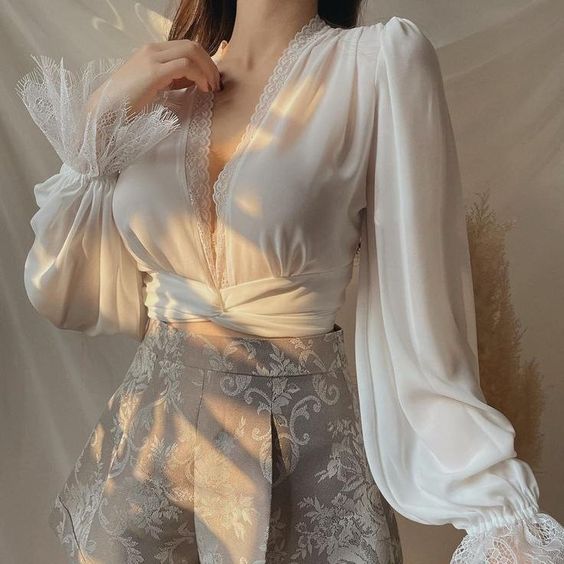 Besides tule and satin outfit, lace outfits can make your outfit look fancy too. Especially, when you choose a blouse with a V-neck design. Mix and match it with patterned pants that could give color to your look. If you want to wear accessories, ensure it has a simple design to prevent looking too much.
Look Chic in Cropped Blazer and Span Skirts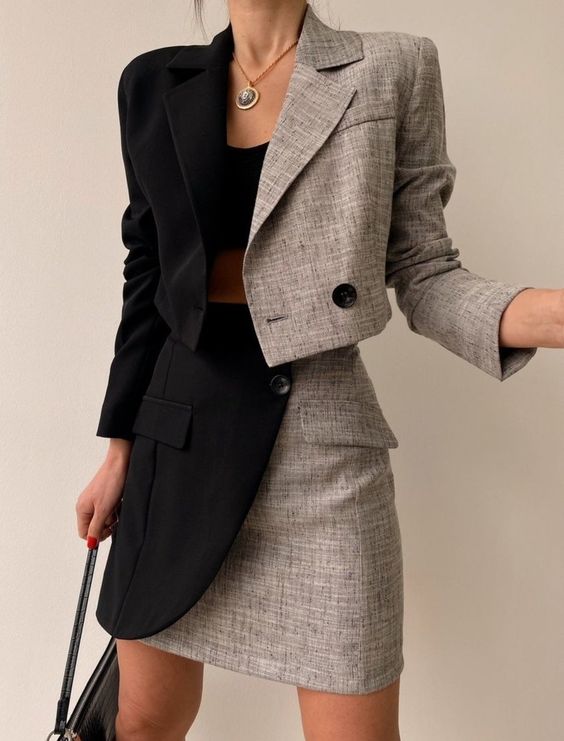 Do you want to look chic? Wear a cropped blazer! This outfit will nail every kind of style, especially this modest business casual outfit. For the bottom part, you can use whatever you want. But, if you want to follow the picture above, you need a span skirt for the pair of cropped blazers. You will be chicer if you use boots for the part of the shoe.
A Halter Top is the Perfect Top for Looking Classy
Still, confused about the top? We recommend you have this halter top. The design of the halter top that capable to make your neck look longer and also make your shoulder look pretty. Furthermore, mix it with culottes pants for a girl boss look. Meanwhile, a span skirt gives you a feminine look.
Chain Tank Top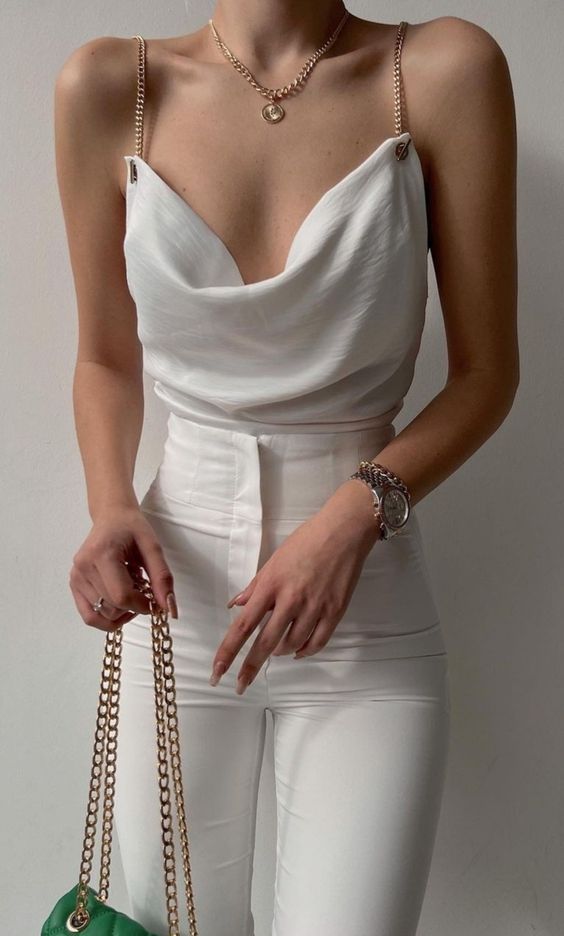 If you love to wear a tank top, a chain tank could be the choice for you. Because the tank top straps are made from chains, it capable to make your outfit look glamorous. So, you need to balance it with simple pants like loose pants or culottes. Not only that, but the accessories also need to be balanced to avoid too much look.
Get the Feminine Vibes Wearing Pleated Skirts and Kimono Blouse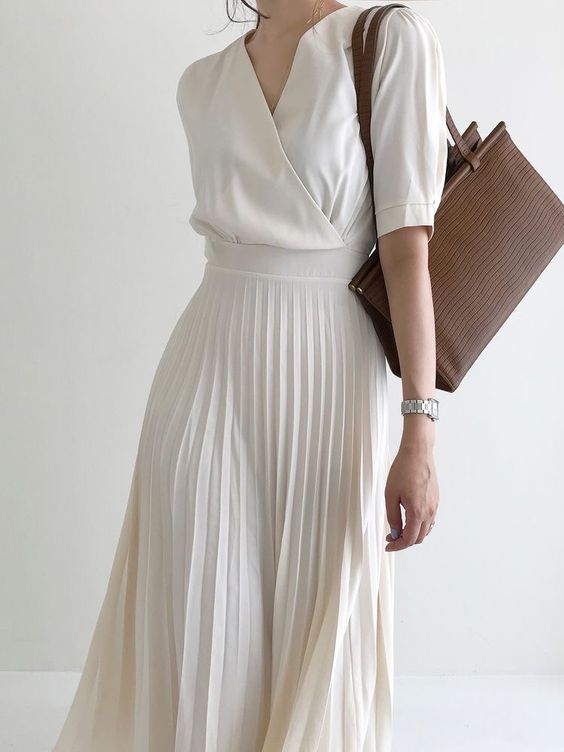 Getting a simple feminine outfit is so easy! With pleated midi skirts and a kimono top, you already get the looks that you wish for. Add some accessories to make your outfit more stylish. Furthermore, finish out with slip-on flat shoes or heels and a shoulder bag. Voila, your outfit is done now!
Blazer Dress
Next, another outfit to give you a girl boss vibe is a blazer dress. This dress can be used for formal occasions or even going to work. Even though this dress looks simple, you can't use a lot of accessories because it would take away the elegance that has been created with the design of a blazer dress. And last, for the shoes, you may choose between heels or ankle boots.
Off-Shoulder Dress
We never miss out to mention off-shoulder dresses. Because this dress could give you any vibes that you want and could be used for any occasion. Therefore, this dress is one of the most must-have fashion items. If you want to use it for casual occasions, you can pair it with flat shoes for shoes. Furthermore, you must use heels for formal occasions.
Wear Ruffle Blouse to Look Vintage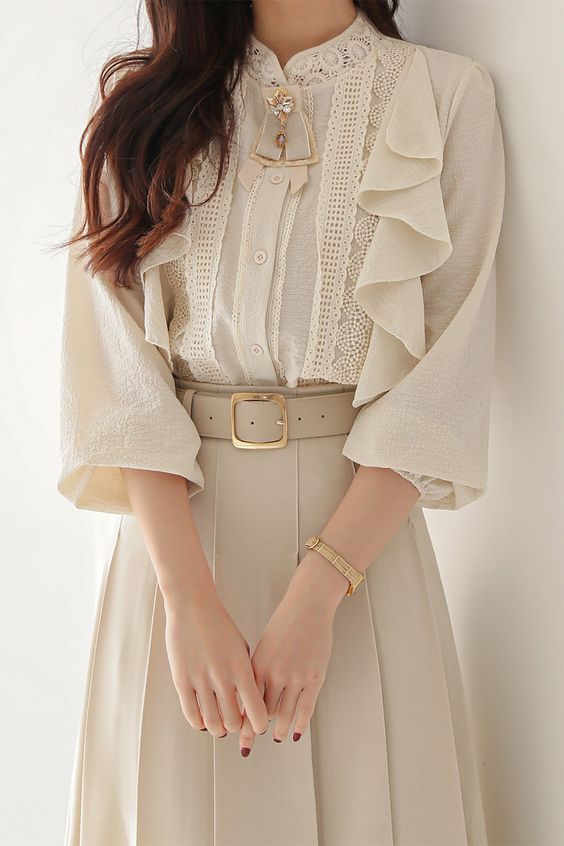 You can get the vintage look by wearing a ruffle top. Lack of people who want to have this top because it looks old. But, if you are a person that loves something aesthetic, this top can be the best choice for you. Especially, a ruffle top is very easy to mix and match that won't make you feel frustrated.
Jumpsuit When There's Nothing to Wear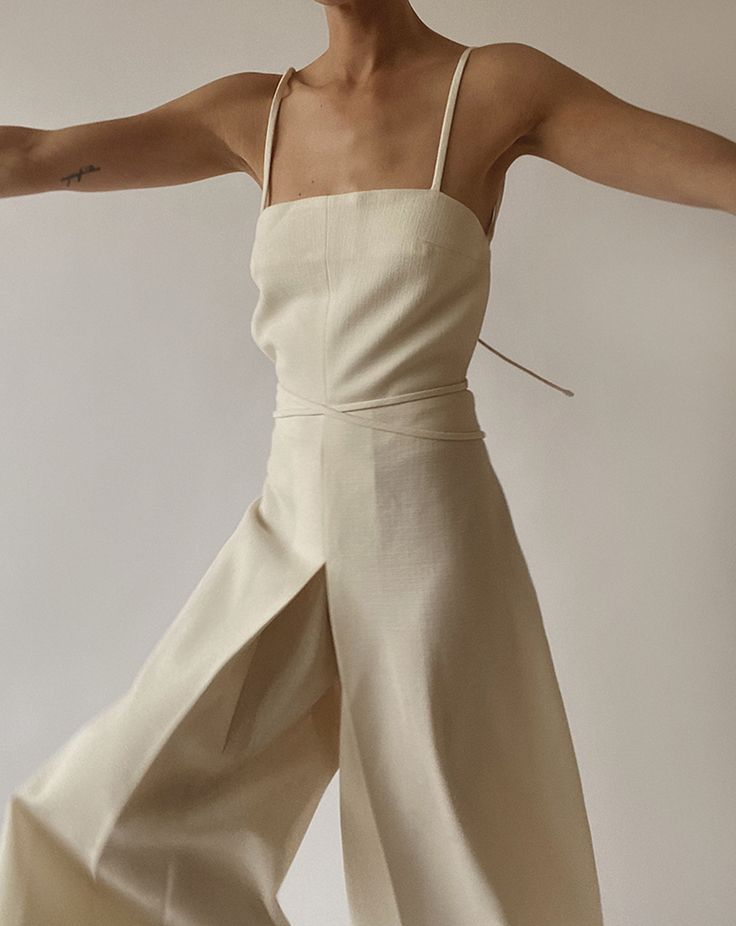 It's okay for being frustrated to style your outfit sometimes. Because you can always choose a jumpsuit as the alternative. Believe that every problem will always have a way to solve it. So, this outfit supposes to be the solution to your problem. Furthermore, you don't need a lot of items to make this outfit look fashionable. Only with heels, necklaces, and a clutch you already slay your outfit look!
Stripped Shirt for Casual Simple Look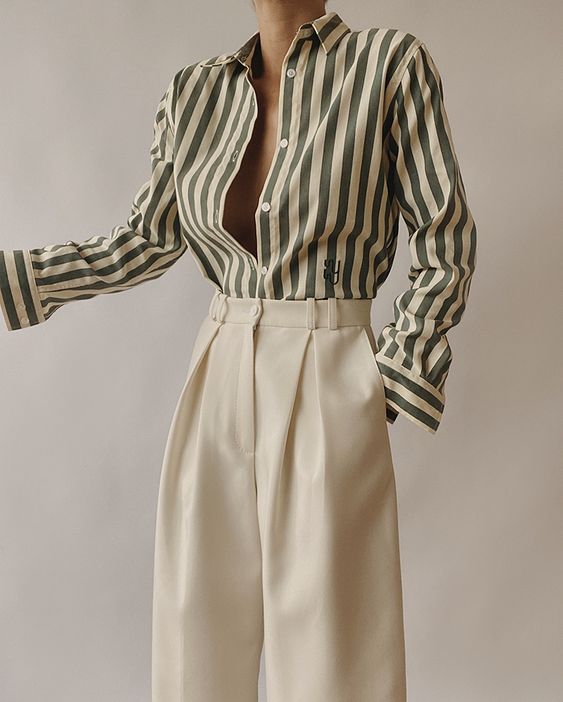 The striped shirt is going to be the perfect choice for getting the old money in a casual outfit. It's much better if you can mix it with culottes pants. But that doesn't mean, you can't pair it with any type of bottoms. You still can do that, but we do recommend culottes for the combinations of your striped shirt. Let a few buttons loose with a layering necklace on your neck to bring your outfit to another level. Furthermore, complete it with heels for the shoes.
Blazer and Pants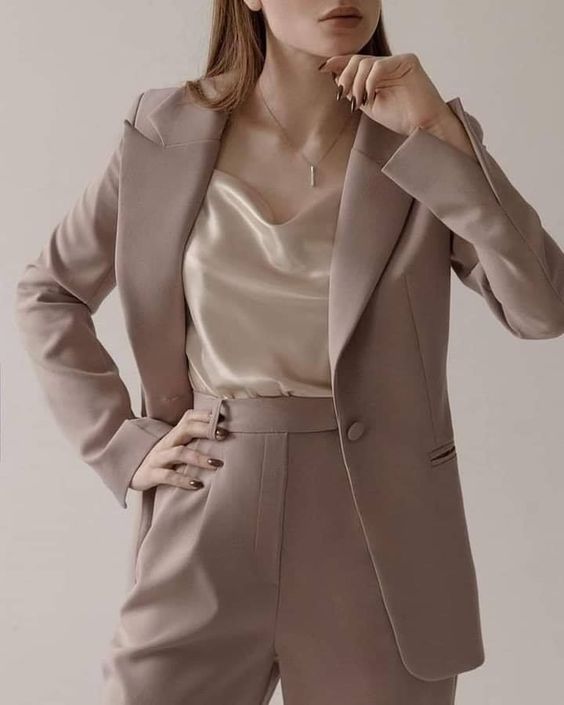 Hearing about the casual business outfit, I know pants and a blazer is the first thing that crosses your mind. And your thought is not wrong about it! Because these outfit combinations will never fail to make you look fancy and elegant. Actually, you could wear anything for the innerwear, but it will be fancier if you mix it with a satin tank. Furthermore, support this outfit style with stiletto heels and a clutch.
Long Bodycon Dress with a Cropped Cardigan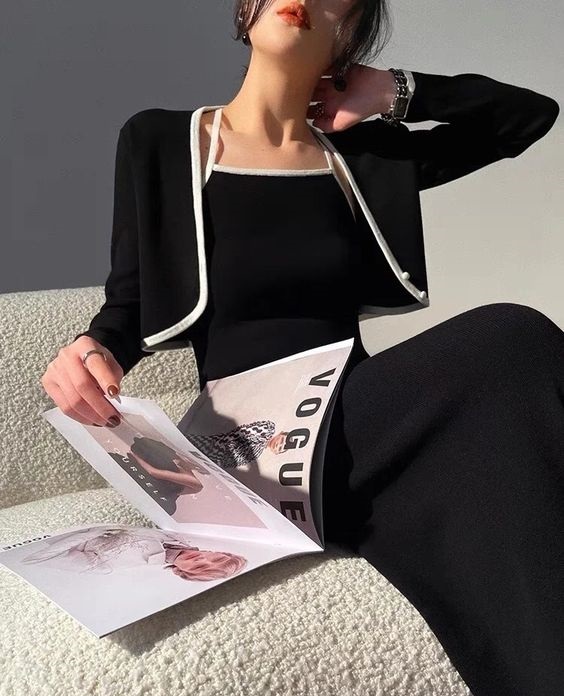 Having a beautiful body shape? You will love this idea that can show your body silhouette. If you have a plan to go to a special occasion, maybe you can try to use a long bodycon dress with a cropped blazer to keep it close. Furthermore, you need the help of accessories that are made from gold or silver to make your outfit look extra and unusual.
Cocktail Dress is Best Party Attire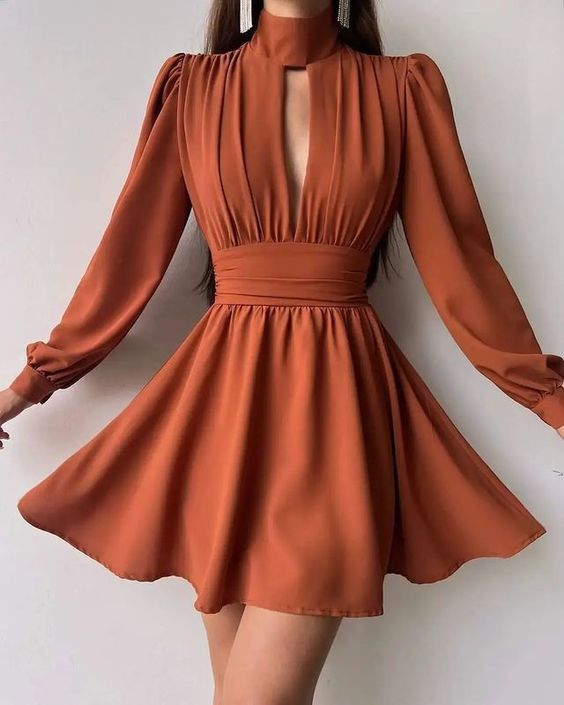 A cocktail dress is a kind of dress that has a fancy design. Even if it looks simple, this dress will make you look gorgeous whenever you wear it. Very suitable to be worn on special occasions, especially fancy parties. Mix and match this dress with ankle-strap heels and a clutch. Furthermore, avoid using too many accessories to prevent a tacky look. Just use earrings and simple hair accessories if you want to level up the looks of this cocktail dress.
Get the Old Money Style Using Tweed Overall Dress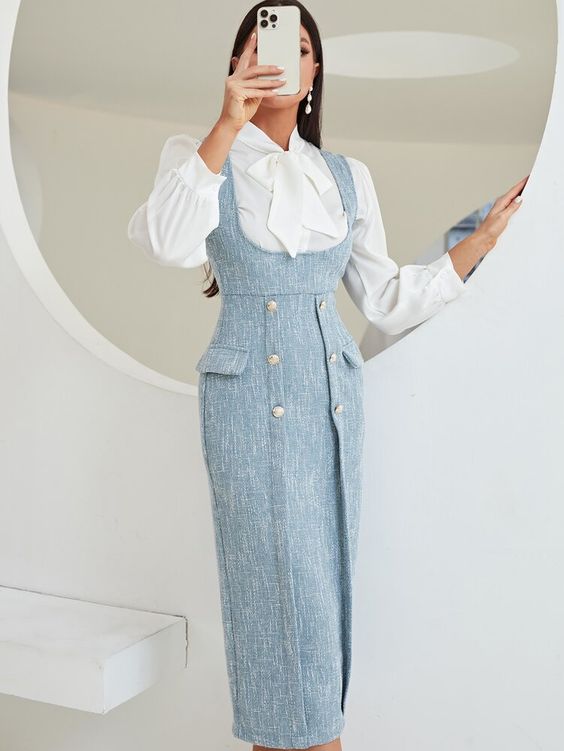 Tweed outfit is one of the timeless outfits that has been popular in the 90s. So, people usually call this outfit as old money outfit. At this time, we want you to wear a tweed overall dress and style it with a ribbon blouse to support the old-money vibes. For the shoes and the bag, just choose whatever you like by considering about the compatibility.
Mini Dress and a Blazer are the Outfit Combinations That You Won't Regret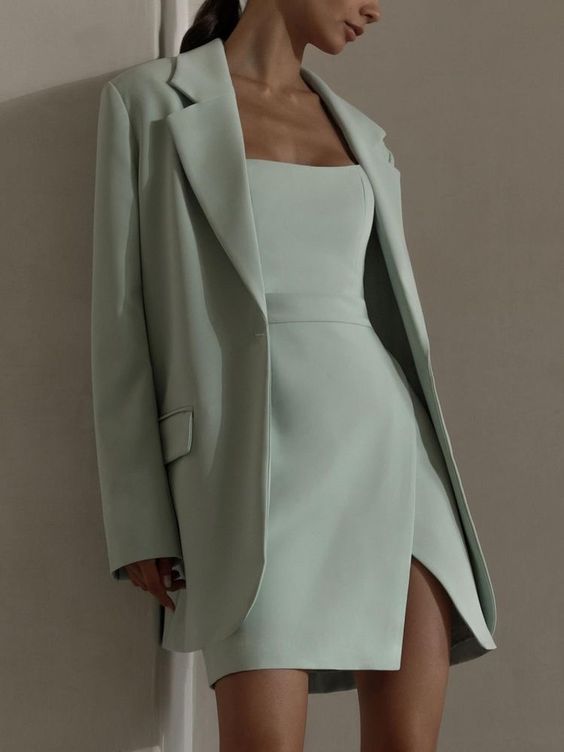 As a closing idea, we will give you our best ideas that you won't regret when you wear them. Yes, styling your mini dress and a blazer can make you look chic and classy in a minute. Even, without any accessories, this outfit is very enough. But it's better if you have an intention to add accessories to make your outfit stunning. Furthermore, put on your heels and take your shoulder bag for finishing this outfit style.
That's it guys about 27 modest business casual outfit ideas for getting the fancy look. Did this idea suit your style? Or do you want to switch your look to this style? We're not surprised if you feel that way. Because this outfit style could give you looks that could attract everyone's eyes. I hope you can enjoy this topic!