The new year and new season are the time for you to find the new style! Isn't your outfit in 2022 looking so boring or not fashionable? So, you have to change it in 2023. Moreover, many the new style that you can wear this summer. I know changing our usual style is not easy as we think, but you have to dare if you want to be better.
You can do research first about the kind of fashion that's will be hyped in this 2023, then choose which that can make you feel comfortable and also confident. Remember, you must feel comfy first to gain your confidence. Now we want to discuss the outfit style to wear in summer 2023 that might inspire you!
I believe you will love our ideas because we will discuss all the looks from the boyish look to the feminine look! So, it will make it easier to find your style. Don't worry, we also considered the comfy feel that won't bother you when you wear it. Okay, let's start the topic!
26 Outfit Style for Summer 2023
Make The Basic Outfit More Fashionable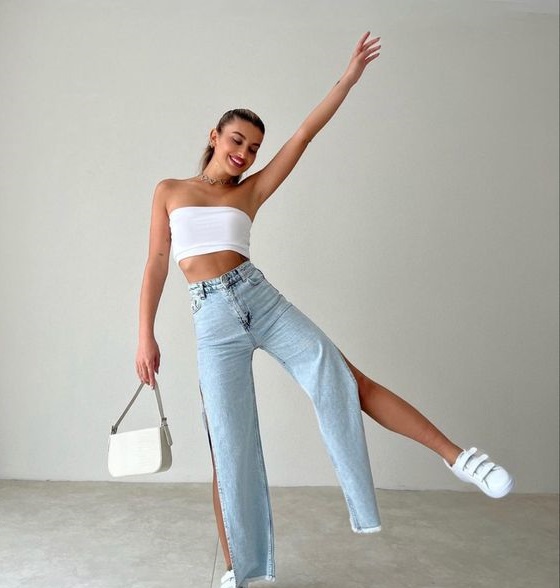 First, we want to make the basic outfit look more fashionable by wearing split jeans and a tube top. This kind of perfect style is for people who are afraid of looking too much. Even if it looks simple but the design of the jeans will make your outfit iconic. Now you just have to add some accessories to get the glamorous look. Don't forget about the shoes and bag to complete your fashion style.
Looking Slay in Patterned Zip Top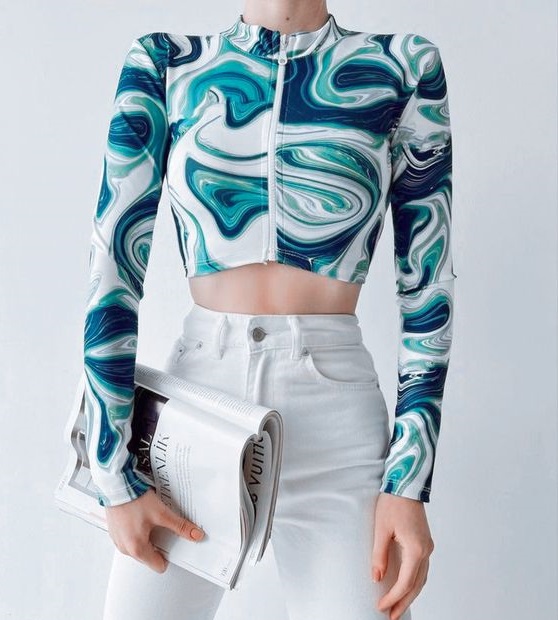 If you want to slay this summer, you need a patterned zip top! we recommend you choose the cropped one to support the summer style. Combine this top with any kind of bottoms that you want, whether loose pants, jeans, denim, or even skirts. Considering the bottoms by adjusting to the occasion or your mood.
Mini Dress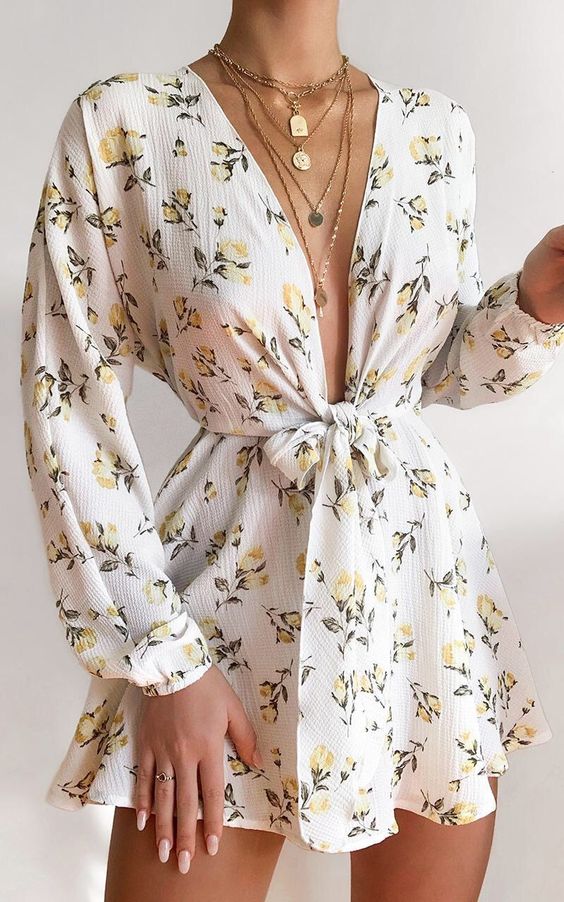 Summer gonna be perfect if you wear a mini dress! Yes, this kind of dress won't make you feel hot in this weather. You may prefer the dress that has a V-neck design to give the sexy vibes. Furthermore, flower patterns can also cheer up your style. Now, finish out your outfit with laces sandals or heels. Then wear your sling bag!
Use Neon Color Outfit to Brighten Up Your Summer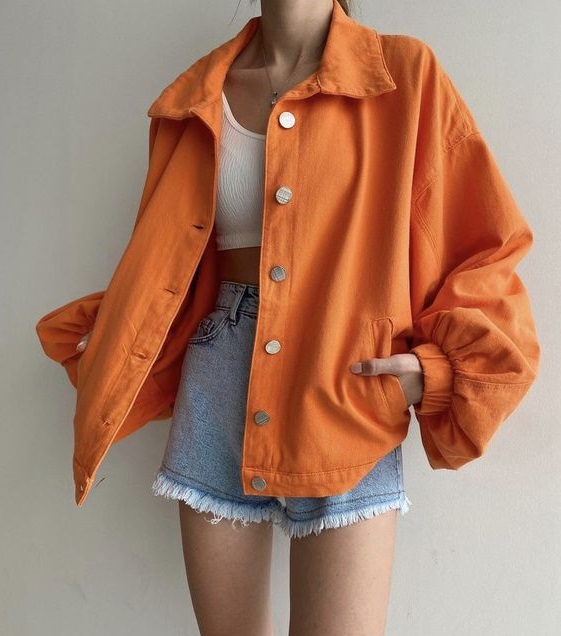 Summer is very identic with neon color, how could this statement happen? It's because neon colors can brighten up the summer and make you look playful. As you look at the picture, you can try to combine short jeans, a tank top, and a neon color bomber jacket. This is the best style to wear for hangouts with your friends or if you want to chill out at the café.
Patterned Jogger Pants
Now, we have patterned jogger pants that you can mix with a tank top, cropped t-shirt, blouse, or even shirt. As simply, you can mix these pants with any kind of top that you want but make sure it is suitable for the occasion that you want to go to. And either with shoes or a bag!
Split Skirts Can Make Your Legs Look Longer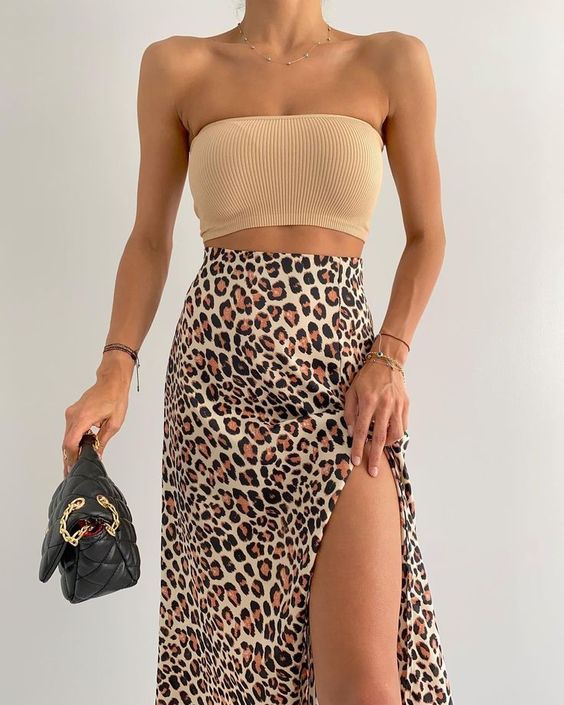 Having a petite body sometimes makes you feel insecure, especially when you want to take a picture. But there's a way to solve the problem! In this case, you can give a hack by using split skirts! Because the design of the split skirts can make your legs look longer. Use these split skirts with a tube top to look fashionable without looking tacky. Furthermore, give the touch accessories to boost your fashion style.
Puffy Sleeves Top and Tennis Skirt are The Cute Combinations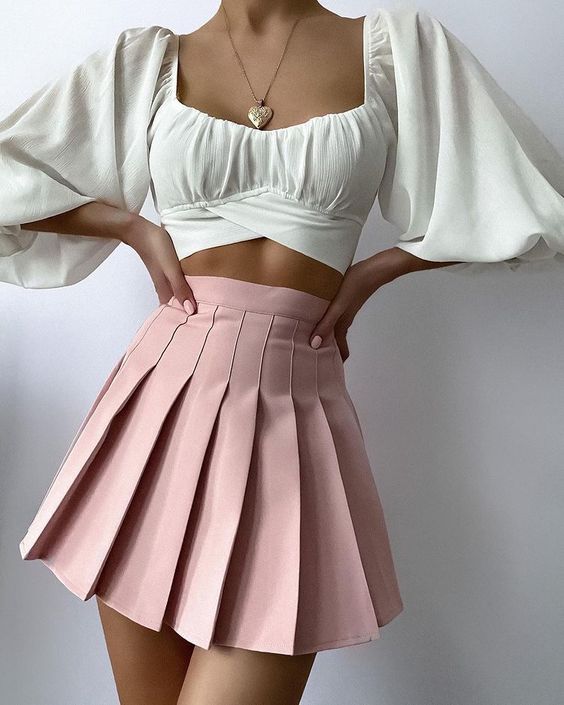 If you prefer the cute style, you might list this idea! Yes, the combination between tennis skirts and a cropped puffy sleeves top. Then, support it with an accessory like necklaces, earrings, or hairpins. Furthermore, for shoes, you can use sneakers or heels for simple looks. And boots if you want to look chic. Meanwhile, for the bag, you may choose whatever you like.
Style Loose Pants With a Cardigan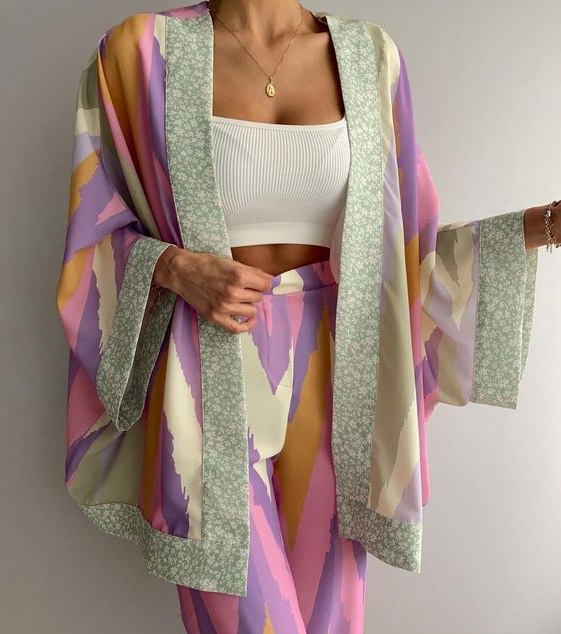 Style loose pants and a cardigan to look mature. Maybe you can prefer an outfit that has rayon fabric to give a cool feel in this hot weather. Furthermore, you may use accessories if you want to look more stylish but don't use too many of them.
Ripped Jeans and Halter Tank Top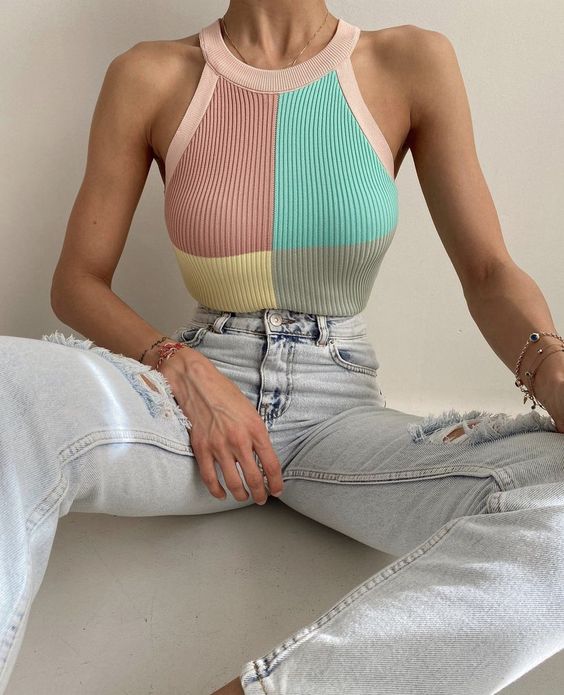 Still want more ideas about the basic outfit? Okay, you can try to mix the ripped jeans with a halter tank top. This kind of outfit is suitable for any age, especially teenagers. I think it would look great if you can add a cap to your hair and a few accessories. Use this style for going to college, hangouts, or having a street walk.
Wear One Shoulder Top and Span Skirts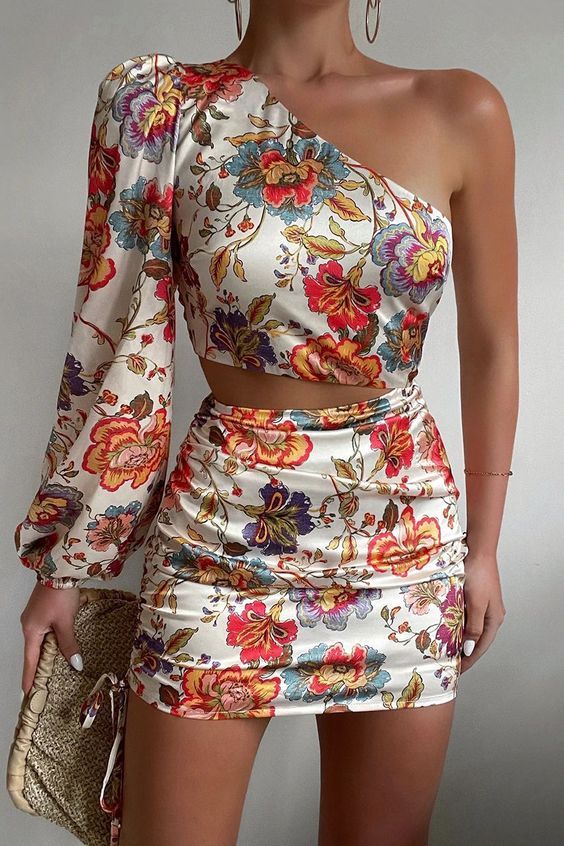 Going to the special event and having nothing to wear? Why don't you use one shoulder top and a span skirt? Choose an outfit that has satin fabric to give an elegant look. If you already using this style, you don't need to put in a lot of effort anymore. You just need to curl the hair, wear gold accessories, heels, and a clutch, then you are ready to attract everyone's eyes.
Sporty Outfit Look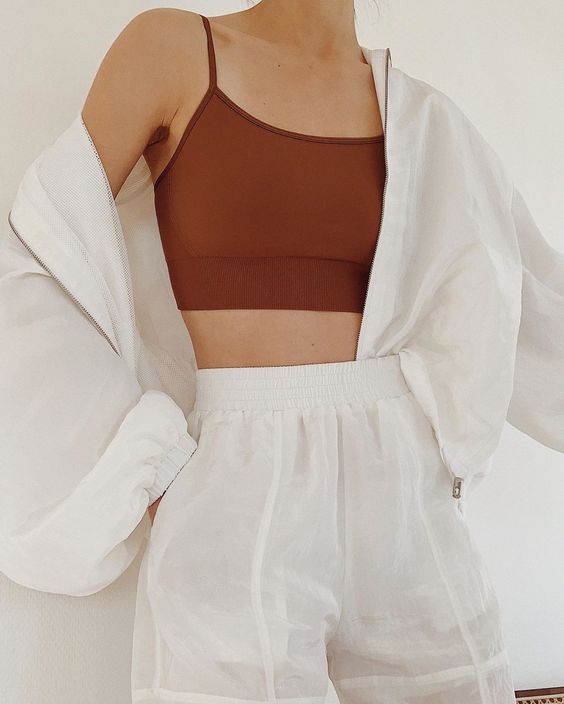 If the basic outfit doesn't interest you because feeling not comfortable, how about the sporty outfits? At this time, we want you to style short pants and a bomber jacket. Then, use a cropped tank top or sports bra as the innerwear. Wear your sneakers and a waist bag to carry some of your stuff. And voila, you look stylish in a simple way!
Get The Nerd Chic Vibes Wearing Vest and Mini Cargo Skirts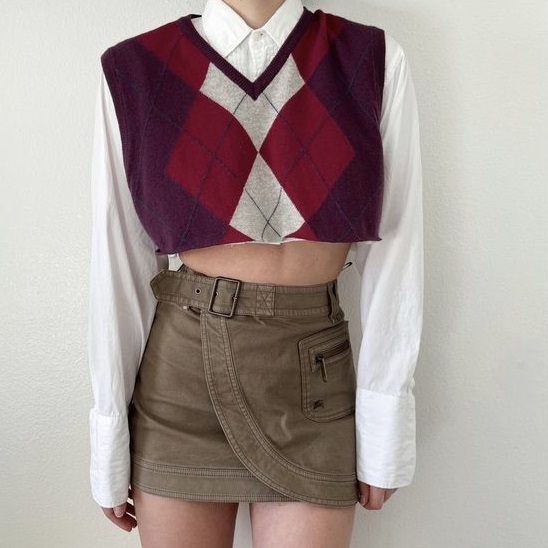 Nerd chic is the rare style that people use but I think if you are kind of the person that wants a safe style, you will like it! To get the chic look, you can use mini cargo skirts, meanwhile to give a nerd look, use a vest and a shirt. But we suggest you fold in the tops to make your outfit more stylish. Don't worry, even if you wear a layering outfit, it will not make you feel hot.
Mix and Match Knotted Shirt and Mini Skirts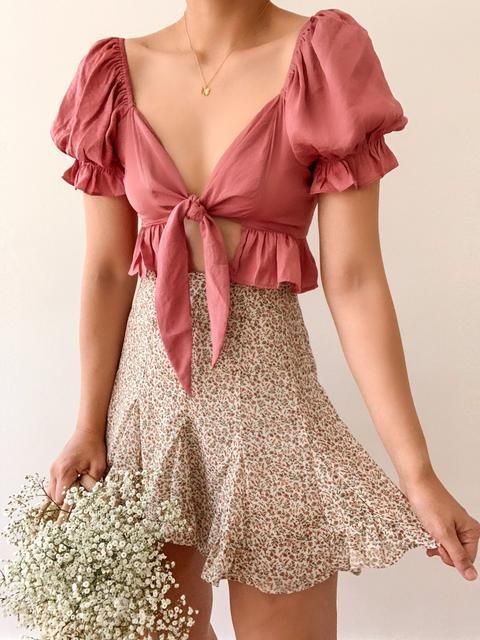 Mix and match mini flare skirts with a knotted shirt if you want to go to the garden or beach. Because this kind of style will not bother your activity and also will make you look stylish. Feels this outfit too ordinary? Just add the accessories that have a simple design to fill the blank space! Furthermore, use lace sandals and a sling that is made from rattan to finish out your looks.
Crop Shirt and Short Ripped Jeans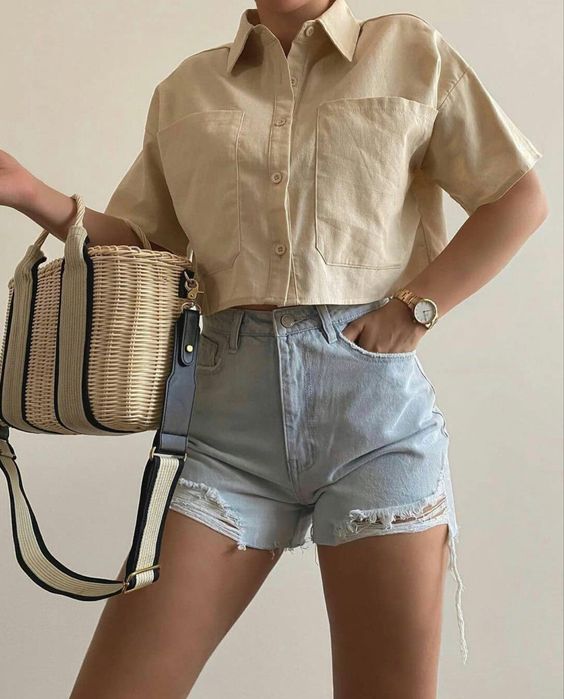 Another basic outfit for you! This kind of basic outfit also can give a casual look because you wearing a cropped shirt. Then, for the bottoms, wear short ripped jeans. And of course, this outfit will be great to wear for going to the beach or hanging out with your friends. Furthermore, sandals and a rattan handbag for the last touch.
Square Neck Top to Look Sexy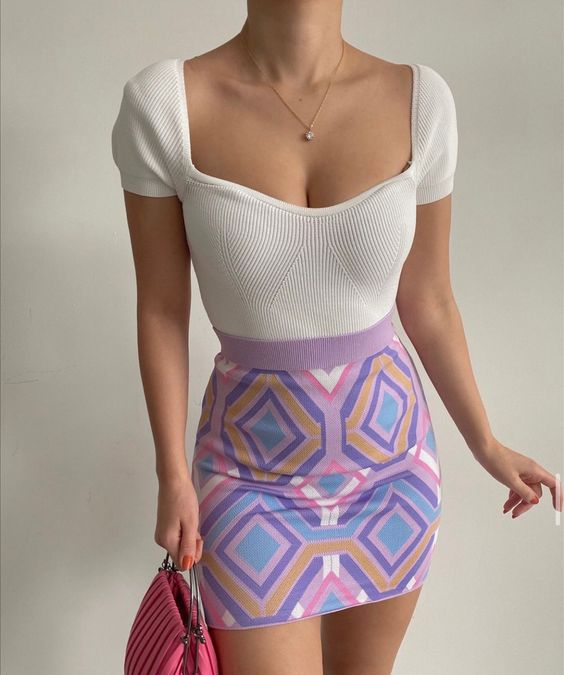 If you love the sexy look, you need to have this square neck top! Besides making you look sexy, this top can also be mixed with any bottoms which will not bother you while doing the mix and match. Seeing from the photo above, this top is styled with a patterned span skirt. Furthermore, use a necklace to make your neck looks full.
Split Dress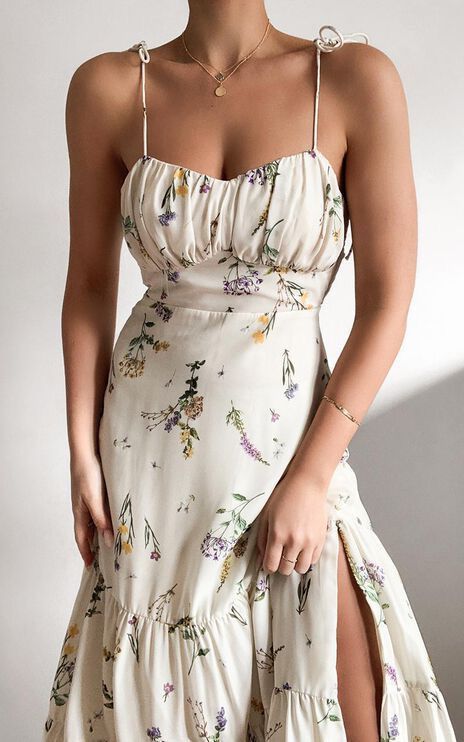 Thinking about an outfit that is suited for the beach? I know a split dress is the first outfit that crosses your mind because I think the same too! Wear a patterned split dress that can match and brighten up this summer. Don't miss the simple design accessories to make your outfit look fancy. Also, sandals for the toe and a rattan bag to support your outfit style.
Try to Combine Your Jeans with a Knotted Shirt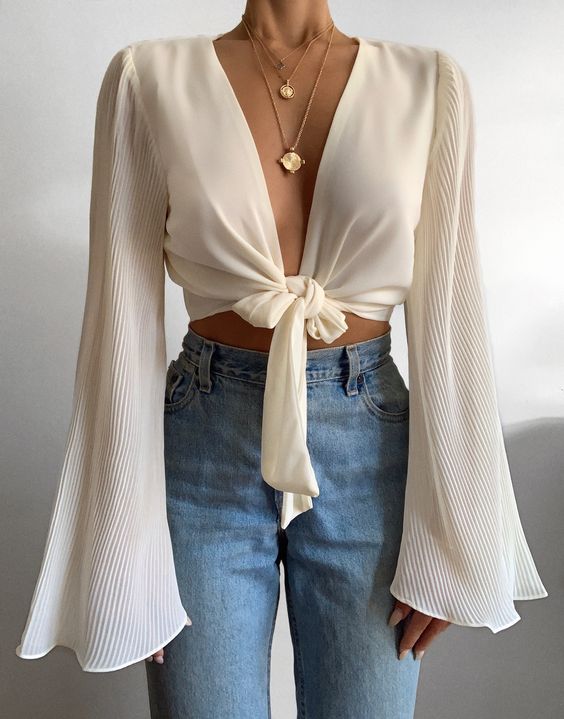 Still with the knotted shirt but the difference between the previous idea is in this time you will use a long sleeves shirt and combine it with jeans. As we already said, you can use any kind of bottoms that you want because the design of this shirt is universal to be mixed with anything.
Furthermore, the sheer fabric of this shirt makes this outfit very suitable to wear during the hot weather or going to the beach. Don't worry, this style will never fail to impress you or everyone because it looks very stylish.
Patterned One Set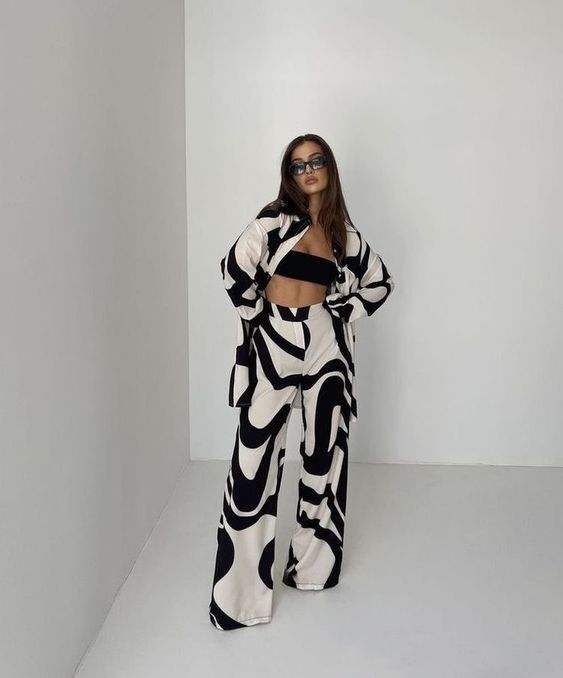 This idea is meant for those who always feel confused to mix and match their outfit. Of course, one set outfit! Use patterned one set to make you look fashionable. Then, choose a cropped top for innerwear. Meanwhile, the accessories are optional, but if you want to use them, we advise you to wear fewer of them to prevent looking too much. So, you don't have to be confused anymore!
Cut Hands Hoodie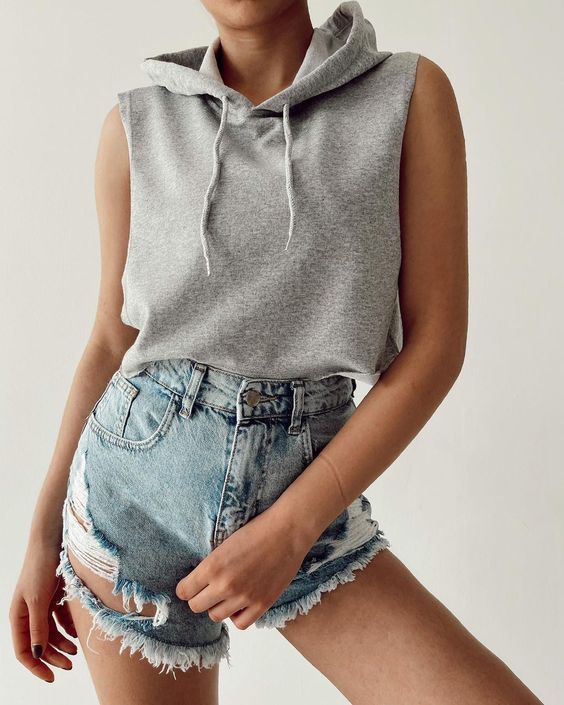 The boyish look is one of the comfiest outfit styles ever! Moreover, a lot of people are more confident when wearing this style because it feels light and doesn't bother your moves. So if you are in this style, you can wear short ripped jeans and a cut hands hoodie for this summer. It's optional, you may use a cropped tank top if the hands are too open. Pairing this outfit with sneakers and a waist bag, I'm sure you will look cool!
Style The Off Shoulder Top with Loose Pants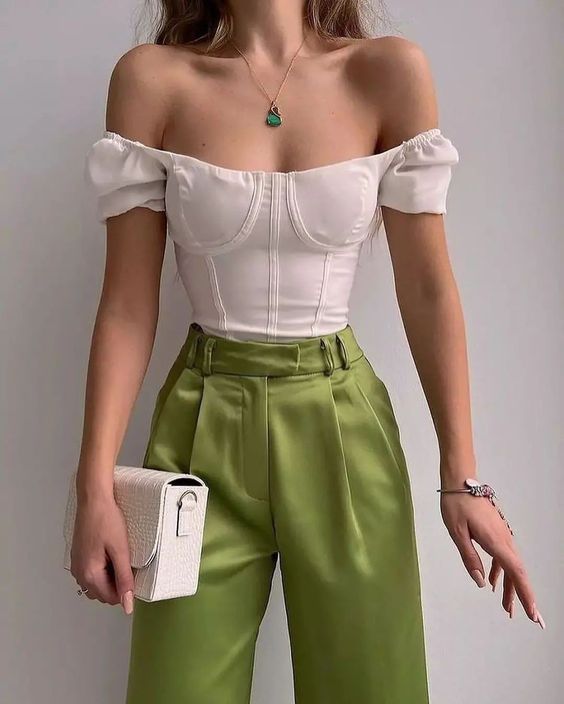 If you have a plan on going to a casual event, you should try to use loose pants and an off-shoulder top. Again, to get the vibes of summer, you need to wear a bright or neon color like wearing green color pants. Furthermore, makes your outfit glamorous by giving accessories that are made from gold or silver. Lastly, use a clutch that has a similar color to one of the outfits that you wear to look harmonious.
Off-Shoulder Dress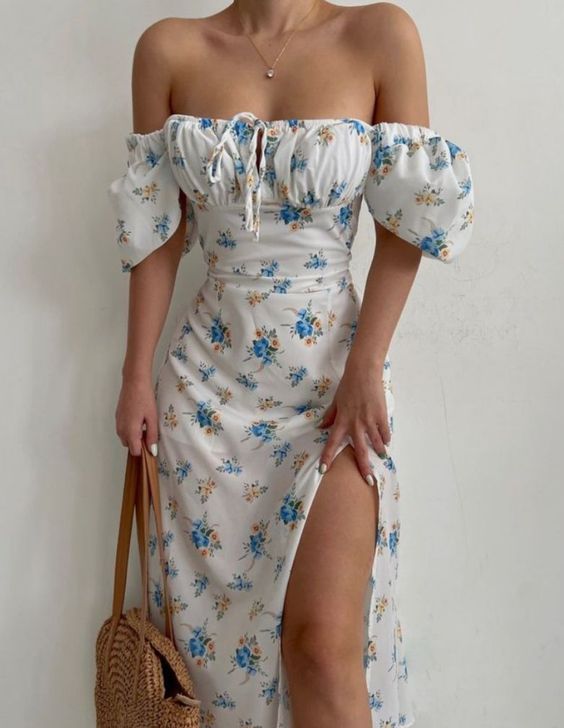 Next, after talking about the top, now we suggest you use an off-shoulder dress! Use this outfit for a summer party or going to the beach. The design of this dress will show your body silhouette, not only that this dress also makes your neck looks longer and prettier. Especially when you put on the necklaces to your neck, I believe your outfit will go to another level!
Look Chic in Leather Tank-Top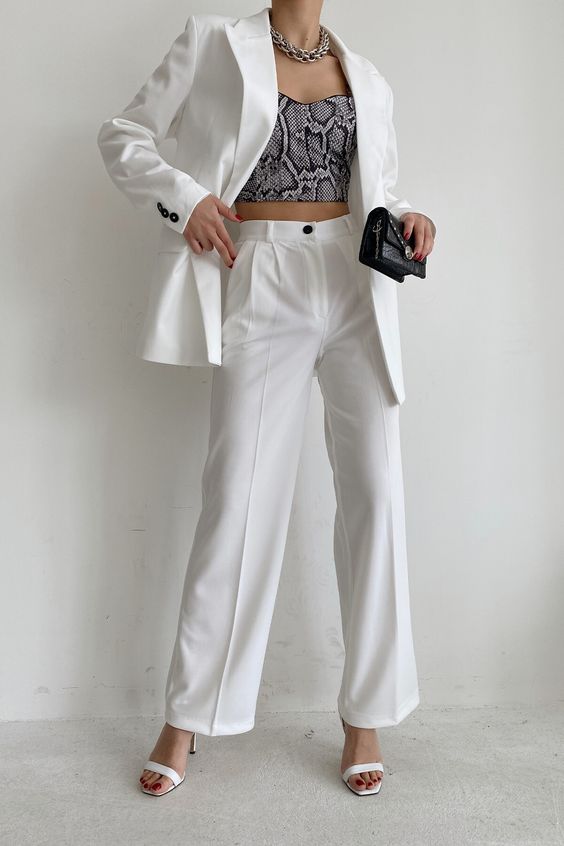 Looking for an outfit for work? Style your leather tank top with loose pants and a blazer. This perfect combination will make you feel classy like a girl boss. If you are still afraid of using leather fabric, I guess you have to try it now! Furthermore, complete your style with ankle-strap heels and a handbag.
Satin Dress for The Summer Party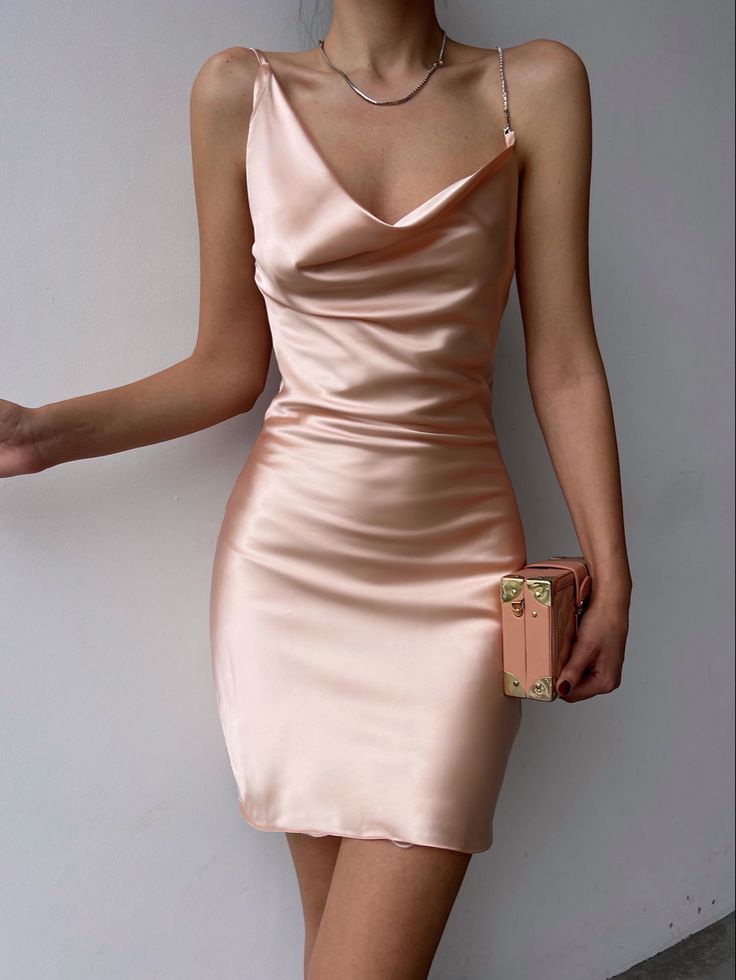 Summer will not be far away from the beach or pool party. I'm sure, many of you already planning this event for a long time. Usually, this party happens on the early or the last day of summer, but don't mind about when this happens, you need to prepare for it from now!
Of course, you have to wear a satin mini-dress for this party to make you look elegant and fancy. Besides that, the satin fabric will not make you feel hot which is perfect for the weather of summer. Furthermore, mix this dress with a clutch and heels.
Denim Skirts and Outer Shirt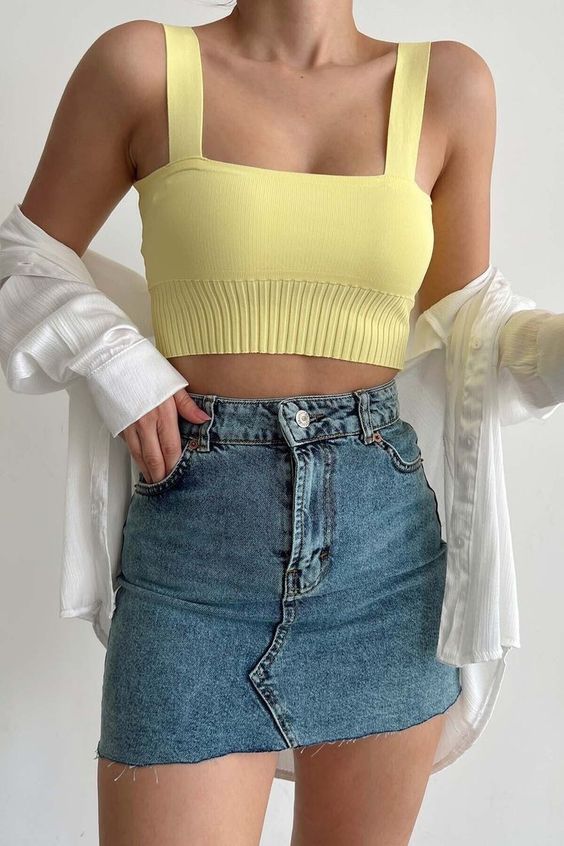 Want to look girly but comfy? You have to try denim skirts with a cropped tank top and shirt as the outerwear. This outfit gonna be suitable to use on casual occasions like hangouts, street walks, or chilling out at the café. Pair this look with sneakers, bead accessories, and a shoulder bag to look attractive.
Looks Pretty Using Wrapped Skirt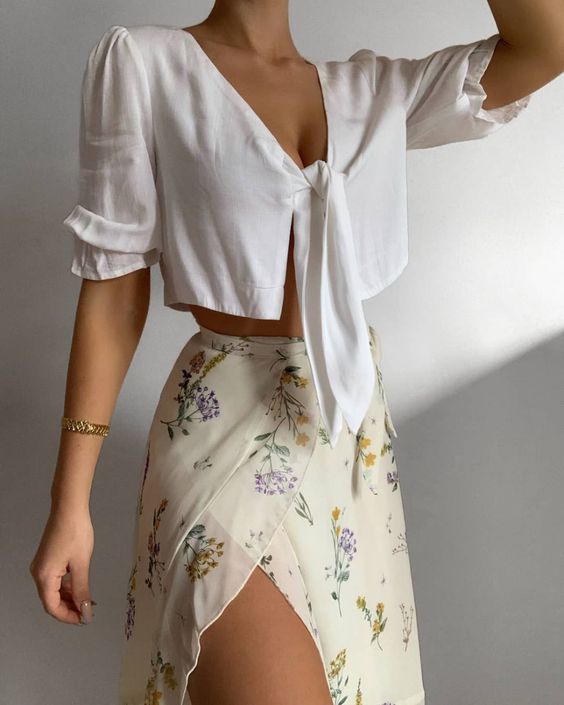 Get bored with the usual skirts? So, a wrapped skirt is the answer! This kind of skirt will make you look pretty and can be paired with any kind of blouse. If you want to wear it for going to the beach, we suggest you use an off-shoulder top, knotted shirt, or puffy sleeves top.
Loose Pants and Long Sleeves Knit Top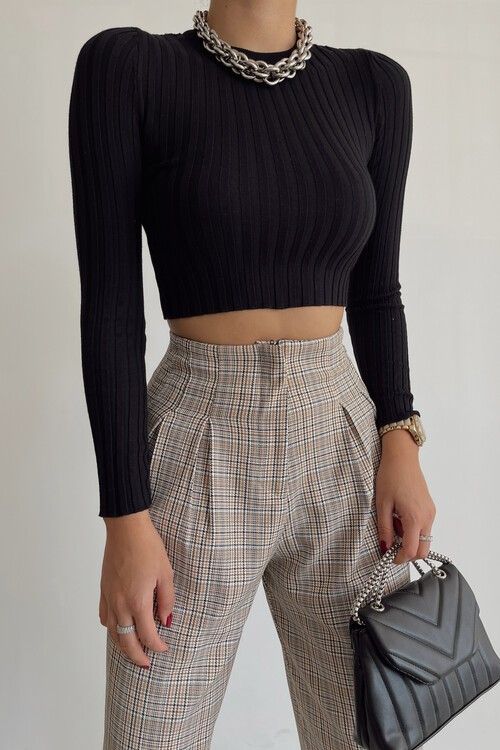 As a closing for this topic, we will give you an outfit that you can use for hangouts, work, or even going to school. Yes, mix your tartan pants with a long sleeves knit top. Prefer the thin knit fabric to keep the cold feel, especially when you want to wear it during the day. Last, accessories to make your outfit chicer.
That's all guys about outfit style to wear in summer 2023! Have you found your best style? Or still being confused about which kind of style suited you? Don't hurry, you need to take time to choose your best style and make sure it can give you a comfy feel. I hope this topic can inspire you!