Olidfashion.com – Halloween will come in October, along with the arrival of autumn. As a chill and breezy month, it's the right time to hold a Halloween party with your friends. We would go out in various unique and scary costumes that resemble this spooky month. Of course, to make it more dramatic you need to elevate your costume with some pretty Halloween makeup ideas.
Halloween is our favorite holiday because we can freely express ourselves and become who we want to be. With just your makeup, you could also create an entire Halloween costume. You can become cute, creepy, pretty, or weird, depending on your preference. Sometimes Halloween makeup can be difficult to pull off, but there is also simple makeup that even beginners can do. And at this moment, we would assist you with some pretty Halloween makeup ideas that you can do by yourself.
The 17 pretty Halloween makeup ideas on this list below are especially for those who want to look stunning at a Halloween party without appearing scary. Even if these makeup styles include fake blood, skeleton/skull, or bold with black shade, you'll still look lovely. We've kept it as simple as possible so that anyone can pull off these looks. Without a ton of makeup tricks, you can still recreate them as your inspiration for Halloween look tonight.
1. Fairy Makeup Look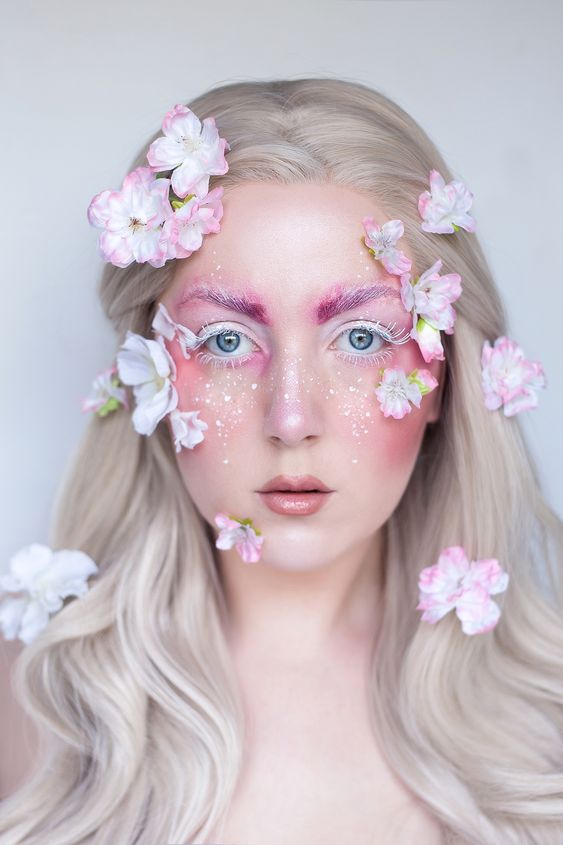 This pretty Halloween makeup idea is quite detailed, but you can make it simple. To create this fairy makeup look, you need a lot of cream blush and faux freckles to create the basic. You can begin with blue contact lenses and then apply basic makeup using primer or foundation in your skin tone shade. After that, fill in your brows, eyeshadow, and cheeks with white and pink makeup. Apply white mascara to your eyelashes and pink lipstick with lip gloss to achieve shiny lips. Then perfect your fairy makeup by creating faux freckles with a makeup pen by dotting it across your nose and cheeks. You can polish your makeup with flowers on your face in whatever colors you want, or use flower stickers instead. To tie everything together, choose a matching flower crown, white wig, and a fairy ear cuff.
2. Skull/Skeleton Makeup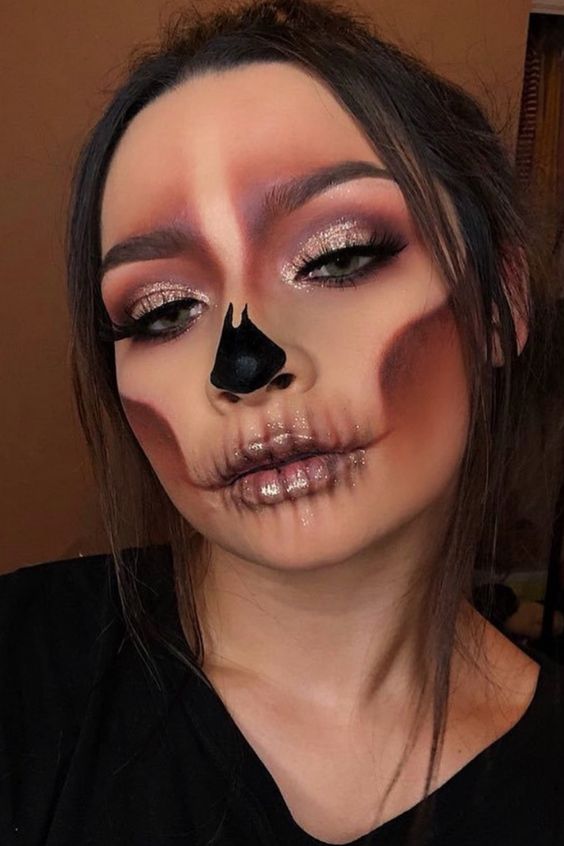 If you want something that spooky on your Halloween makeup idea, you couldn't let this skull/skeleton makeup pass. You can take this look using your everyday makeup. Simply apply soft glam skeleton makeup using black liquid liner to draw a big dark spot on your nose and dark eyeshadow or shading to mimic a skull in your cheeks. Then draw teeth on your mouth with your eyebrow pencil. To give glam look, you can pair it well with hooded eye makeup and then give some glitter to your eyeshadow and lipstick.
3. Bloody Vampire Makeup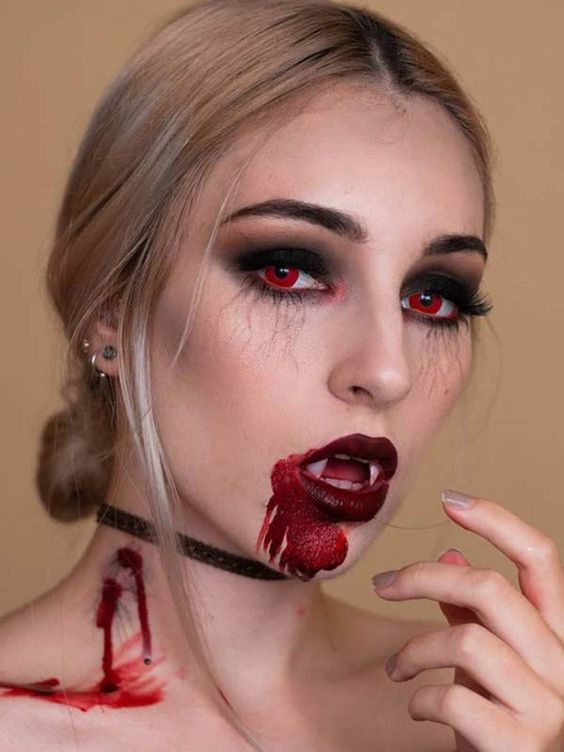 Your Halloween party wouldn't be complete without this bloody vampire makeup look. You can make a comeback with the vampire look from the film. You can create a classic sexy vampire look with pale shades of foundation on the face, and dark eyeshadow, followed by dark berries or red lipstick. Make this vampire makeup look scarier for a Halloween party by applying red contact lenses and long fangs with drops of blood from a red lip stain around your mouth.
4. Witch Makeup
A witch, on the other hand, is a symbol of Halloween. When you think of a witch, you may think about someone that has green skin, hideous warts, a long nose, and a twisted grin. However, if you want a witch makeup look for a Halloween party you can go with a bunch of easy witch makeup styles. The key is to use bold smokey eyes, winged eyeliner, and matte black lipstick. Like this pretty Halloween makeup idea that carries the witch style. To begin, wear green contact lenses and apply silvery smokey makeup. Then, to make your appearance more frightening, draw crossed lines around your eyes to resemble broken twigs. In addition, highlight your cheekbones with shading to emphasize the grim look.
5. Ice Queen Makeup Look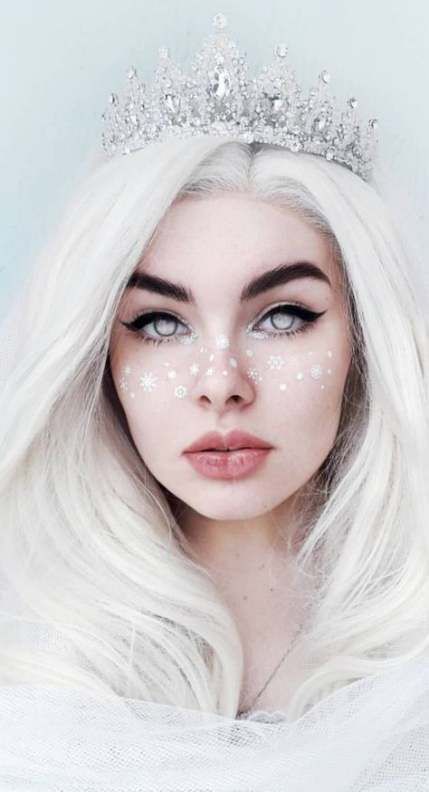 Another pretty Halloween makeup idea is this ice queen look. There are several types of ice queen makeup, but we particularly like this one. It appears simple and quite easy to recreate. What you have to do is just make a flawless natural makeup look with bold eyeliner. In addition, you can use white or grey contact lenses to draw more elegance like the ice queen. Then, with white eyeliner, draw tiny flower freckles on your nose and cheeks. For the simple one, you can also use stickers instead of drawing them by hand. Optional look, you can mix white face paint with your foundation to give a frozen face look. Use silver highlighter on almost all your makeup, then perfect your look with silver glitter lashes and eyebrows. Then finish out with glittery silver lipstick and a silver crown.
6. Scarecrow Makeup Style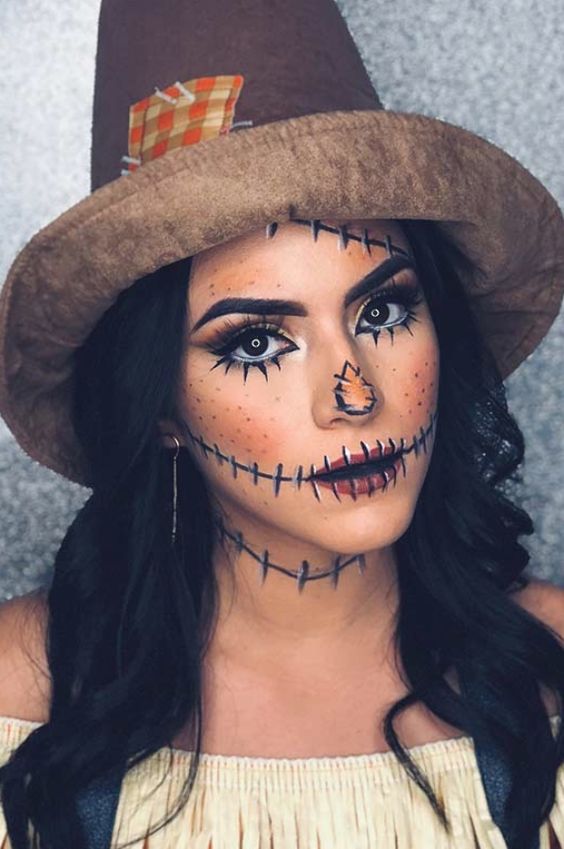 This Halloween makeup idea is a bit scary but still looks pretty I thought. Scarecrow makeup is also one of the most recreated looks in Halloween events every year. We believe this makeup look is ideal for last-minute preparation when you have to attend a party. For this, you just need to do your daily makeup with a bit of bold smokey eyes but draw some lines at the bottom of the eye using black liquid eyeliner. Then draw a stitch that extends around the mouth, forehead, and neck with the same eyeliner or using face paint.
7. Mermaid Makeup Inspiration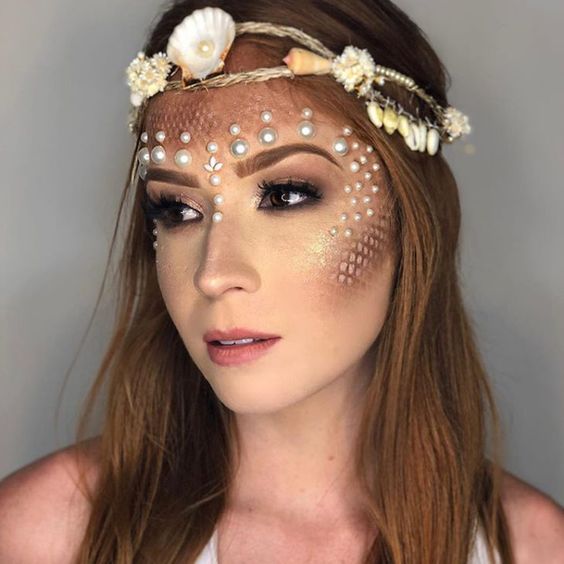 Are you set for Halloween? The whimsy from the mermaid look would elevate your performance during trick or treat party that you would attend. When you want to recreate this look, you need a fishnet stocking to help you draw a "fish scale" in your face. There are various mermaid makeup looks but for the easy pretty Halloween makeup idea, we serve this one. You can prepare with basic makeup like wearing skincare, foundation, and primer. Then begin drawing fish scales using fishnet stockings on several sides of your face like on the forehead and cheekbones. If you want to apply color, just create muddy scales using brown eyeshadow. Brush with a bit of glittery to have extra sparkly on your mermaid makeup. You can also incorporate some face gems like using some pearls and a seashell crown to perfect your look.
8. Easy Zombie Makeup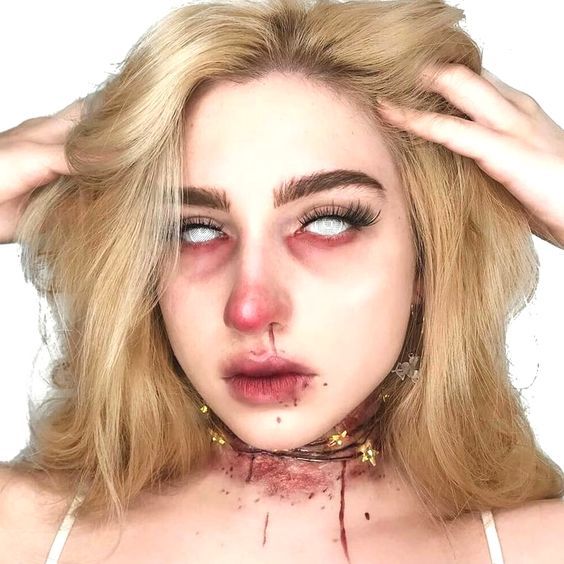 A zombie makeup look is always supposed to appear at Halloween parties. So, rather you make it look scary try to recreate it to become a pretty Halloween makeup idea. As usual, you can begin with basic makeup, but make it a little pale by using foundation one shade higher than your skin tone, and also using white contact lenses. After that, use cream blush or face paint to create some bruises under the eyes, nose, and lips. Also, add a little blood stain use your makeup tools on your neck, and apply accessories with string light to make it like a choker. What do you think about this zombie look? It's pretty simple, right?
9. Cute Cat Makeup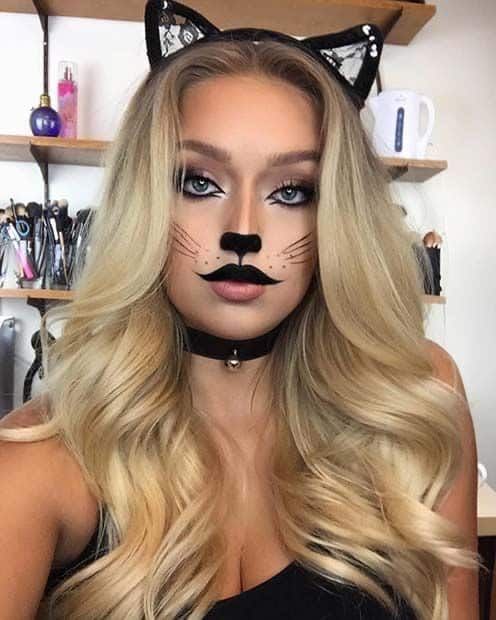 If you are bored with something scary and spooky, let's make a cute Halloween makeup look. For this, I prefer this cat makeup style to become your pretty Halloween makeup idea. Besides, it looks simple to recreate. While you are not want to go all out, you'll recreate this makeup look in just 30 minutes. Besides, to make it look pretty enough for Halloween parties, it is best to keep it as simple as possible. You can start to work using green, yellow, or blue contact lenses. Use basic makeup first, and then draw cat eyes using winged liner and smokey eyeshadow. Furthermore, to make it real, you need to draw a cat's nose and whiskers using black eyeliner. Complete the look with cat ears and a chocker for additional accessories.
10. Celestial Makeup Inspiration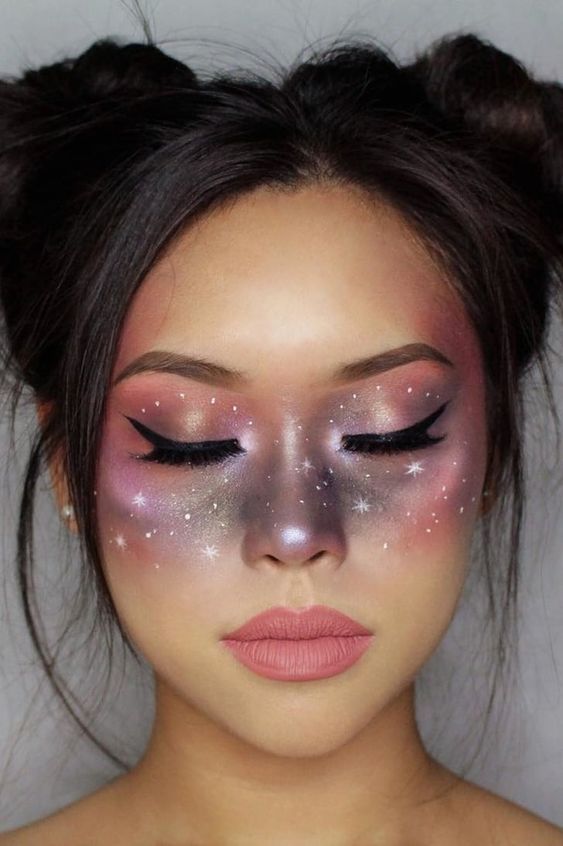 Just bring the universe into your look with this pretty celestial Halloween makeup idea. A single definition of celestial makeup is bringing up stars into your face. If you want to recreate it, there are 4 clues you need to consider: It should be sparkly, ethereal, slightly alien, and use a colorful palette. You need to involve galactic colors such as purple, pink, blue, black, and some metallic neutrals. However, the key is using glitter in your makeup look. According to the picture above, as always do daily basic makeup first, then start to draw a celestial mask using your colorful eyeshadow. Use pink blush for the basic, then layer it with purple, and black shades on it. After that, give golden glitter on your eyelids and use silver highlighter on your cheekbones and nose. Draw some stars using white eyeliner across your cheeks and nose, and make winged eyeliner using black liquid liner. For the lips, you can use your favorite lipstick, and if you want something that looks more glamorous you can use silver lipstick.
11. Simple Clown Makeup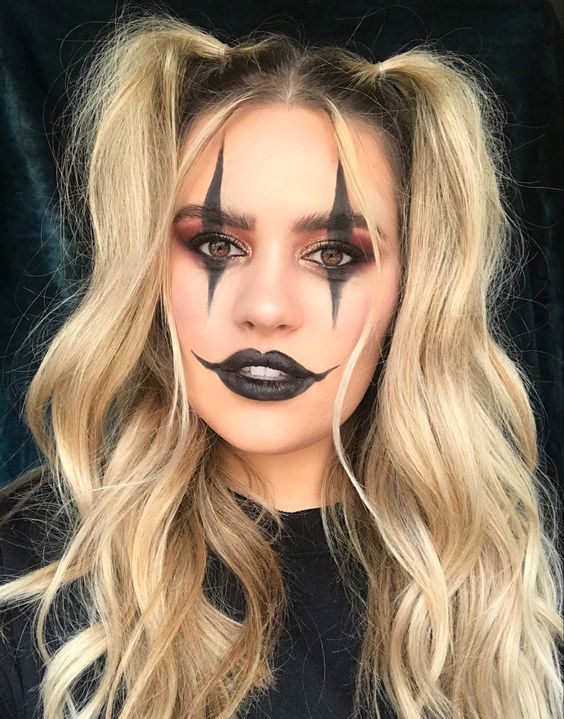 Another makeup style that you shouldn't skip away during trick-or-treat parties is clown makeup looks. Clown makeup can be worn in a million different ways. But the main key to creating it is in three points: make points between the brows, dramatic lips, and a dot on the tip of the nose. Here we have a simple clown Halloween makeup idea. You can use dark colors to create a clown look with deep purple eyeshadow and use dark mate lipstick. Make a small line at the corners of your lips using dark lipstick to emphasize your makeup performance for a scary clown. I thought it can be your last-minute Halloween makeup inspiration.
12. Medusa Makeup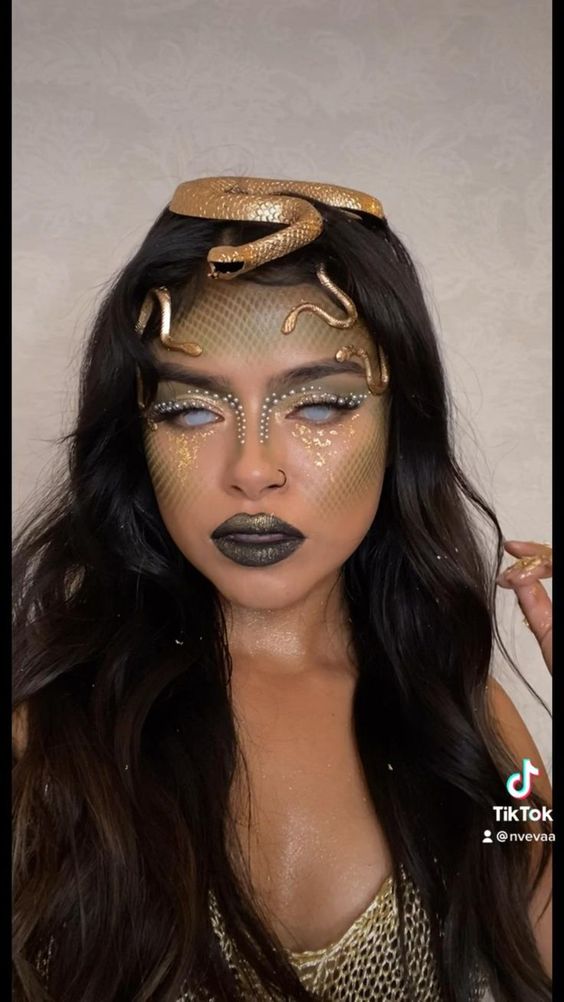 You can bring something mythical like using the greek mythological creature, Medusa into your pretty Halloween makeup idea. You can strike this look in just 30 minutes. Make a look with your everyday makeup, particularly with dark and green palettes and a few metallic shades. To achieve a flawless appearance, begin with nourishing cream and foundation. Then, using fishnet stockings and green eyeshadow, mimic snakeskin on your brow and cheeks. Apply green eyeshadow to the eyelids and under the eyes, followed by golden glitter. Following that, you can accessorize your face with tiny pearls placed between your nasal bone and your eyeliners. To intensify the look, finish with a dark lip color that you give glitter. For the complement, you can use snake hair accessories that would support you to look like Medusa from Greek stories.
13. Butterfly Makeup Style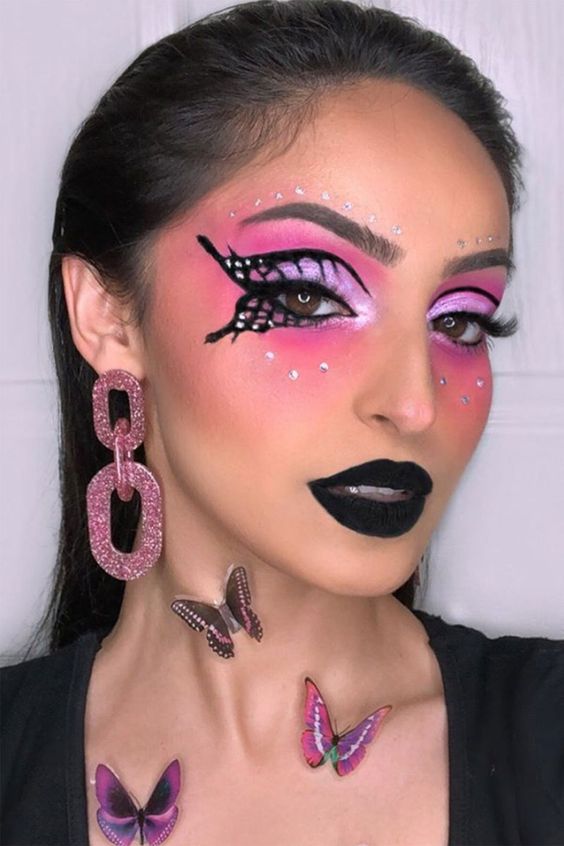 Love this pretty edgy Halloween makeup look! Recently, we've talked about some scary makeup ideas for trick-or-treat parties, now let's find a different visual. Why don't try something that cute as inspiration like this butterfly makeup style? Butterfly-inspired eye makeup would make you stand out more at the party. You can use something like face paint with color palettes that look more like a carnival. This butterfly makeup begins with a base layer using primer and foundation and finished brows, then makes an outline of the butterfly wings drawn with black liquid eyeliner in the corner of your eyes. You can use pink eyeshadow for the base color followed by a white glitter shade on your eyes. To make this makeup look edgy, apply a dark matte lipstick. And if want to rich effect, add rhinestones on your face.
14. Deer Halloween Makeup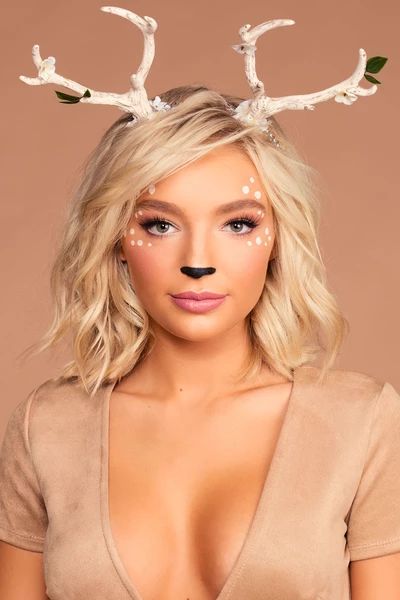 When you want something that is very simple and easy to do, deer makeup is the option. And for those animal lovers who want something that cute, this pretty Halloween makeup idea is another choice to elevate your performance at trick or treat party. To begin, perform basic skincare and apply foundation. We recommend using a darker shade for this. Apply a deep contour powder to your brow, down both sides of your nose, and to the tops of your cheekbones. Contour with a yellow highlighter to create a contrast across your cheekbones, the middle of your forehead, the bridge of your nose, and Cupid's bow. Blend a cream-colored eyeshadow followed by a taupe and brown shade on your eyelid to create neutral smokey eyes. Furthermore, create a deer nose using a pigmented black pencil, and then with a thick white pencil eyeliner, make small dots along your temples and cheeks.
15. Bat Makeup Look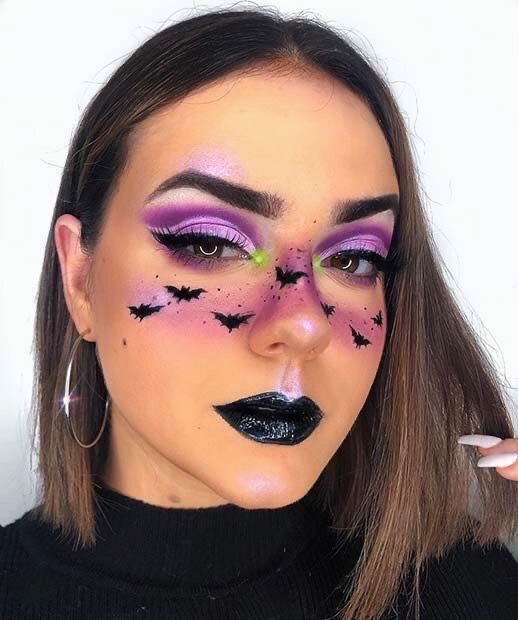 What do you think about a bat decor on your face? It looks cute yet scary, right? Besides, there are so many ways to incorporate bats into your pretty Halloween makeup idea. So stunning! Since bats are creepy creatures and iconic in Halloween parties. One of our favorites. We really love the purple blush under the bats that you draw under your eyes in this Halloween makeup style. When you want to recreate it, first do your daily makeup with finished eyebrows. Then, apply purple shade eyeshadow and makes gradation followed with metallic glitter. For this part, wing your eyes with black eyeliner like a bat. Furthermore, apply purple blush across your nose and cheeks then draw some little bats over it. However, instead of drawing manually, you can use stickers for this. Then finish out your look with black lipstick for a bit of gothic style.
16. Halloween Pumpkin Makeup Style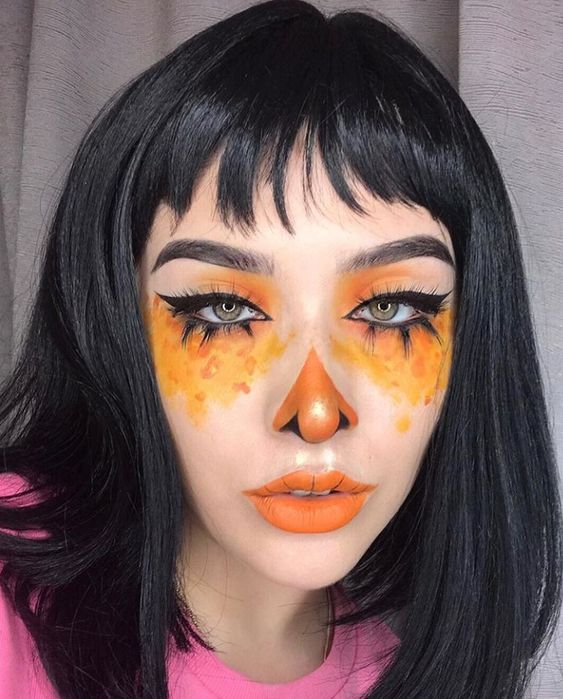 You can spice up your Halloween costume with this cute pumpkin makeup idea. It's very simple to create this cute pumpkin look with makeup or face paint! For this, you can use your daily makeup with the basic orange and black shades. Rather than make it spooky it would look better in this whimsy makeup. As usual, do your basic makeup, and then play with a bright orange blush that you blend under your eyes. Also, apply orange eyeshadow to your eyelids and then create wings in your corner eyes using black eyeliner. Furthermore, make a point in your nose by drawing an orange dot that looks like a pumpkin. Finalize this makeup style by using bright orange lipstick similar to the other shades you apply.
17. Woodland Fairy Makeup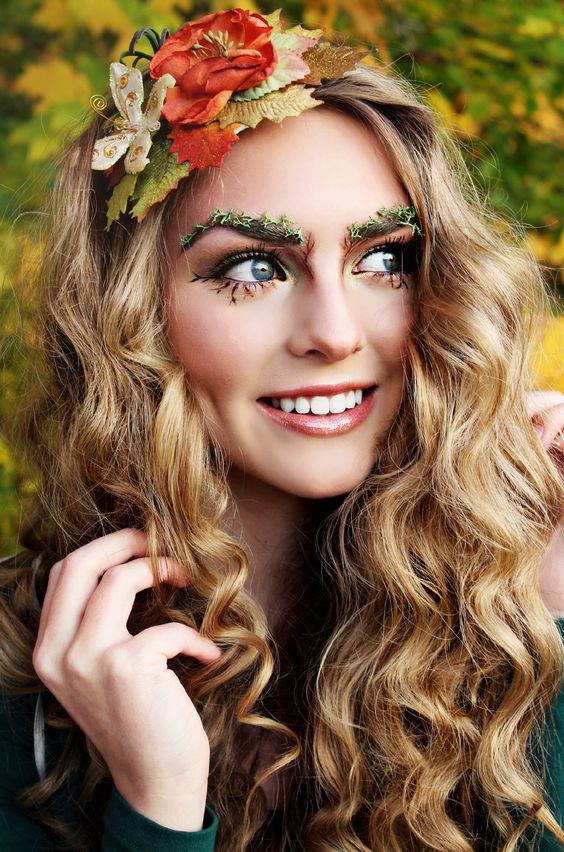 For the next and last pretty Halloween makeup idea, we offer you this woodland fairy look. Fairies are mythical and magical creatures that look unique and beautiful. In this, we have a woodland fairy makeup idea that looks amazing and stunning to elevate your trick-or-treat party. We love this simple pretty Halloween makeup idea where you create flawless makeup with a simple decoration. The looks that you can create in 30 minutes and make you get ready at the last minute. You can begin with your daily makeup with pink blush and pink lipstick. But the difference is making creations in your eyebrows by adding simple greeneries and drawing twigs under your eyes. Delighted your woodland fairy makeup look with a flower crown.
That's all we have to say about 17 pretty Halloween makeup ideas. What do you think of these looks? Are you interested in recreating one of them? Simply apply makeup to your face and dress up in a Halloween costume to give yourself a euphoric Halloween vibe. You can also find another inspiration by searching the internet or Pinterest. Watching a movie will also provide you with ideas. So, have a little fun with your friend at the Halloween party using your best costume and the best makeup. Happy Halloween guys!!