Olidfashion.com – Have you ever been confused about what to wear during the fall? When the new season starts, you need to update your wardrobe essentials. However, keeping up with the ever-changing fashion trend every season in a year can waste your budget. Don't worry guys, we would help you to get a basic checklist for fall wardrobe essentials that are timeless and rewear every year. These items must have in your wardrobe to elevate your fall fashion.
A fall capsule wardrobe should be carefully selected to maximize versatility, and suit your personal taste, then importantly on budget. Think of some fall staples you can wear over and over again every year. Something that is comfortable and keeps you stylish in autumn. You may also mix and match your outfits with previous summer items to become your fall transitional outfit idea. Now, we'll go over 25 fall wardrobe essential basic checklists for ladies, so make sure you have them all!
1. Sweater Dress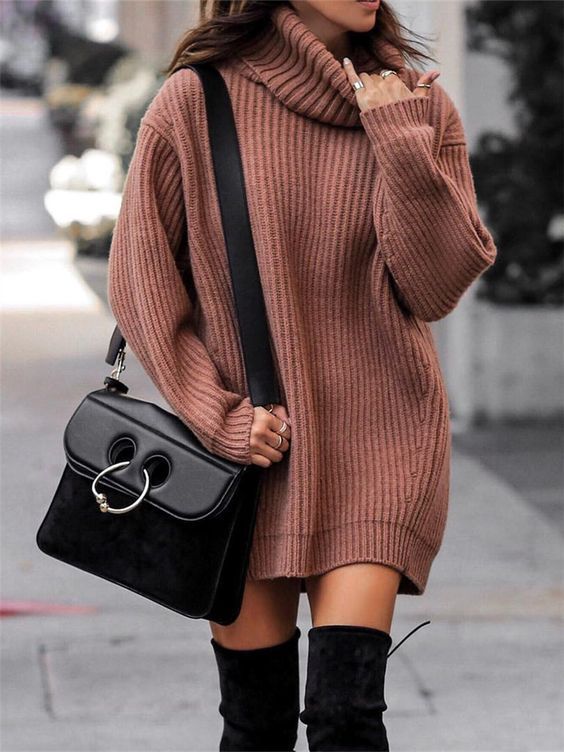 The first fall wardrobe essential outfit is a sweater dress. You can pick a knitted turtleneck sweater dress that feels comfy and chic whether outside or at home. When you want to use it as a fashion inspired that can use for hangout, you just have to pair it with knee-high boots that look effortless. Or if you want something else, you can wear this dress with your tights and platform shoes. To elevate your performance, you can get a sling bag and some accessories items.
2. Knitted Cardigan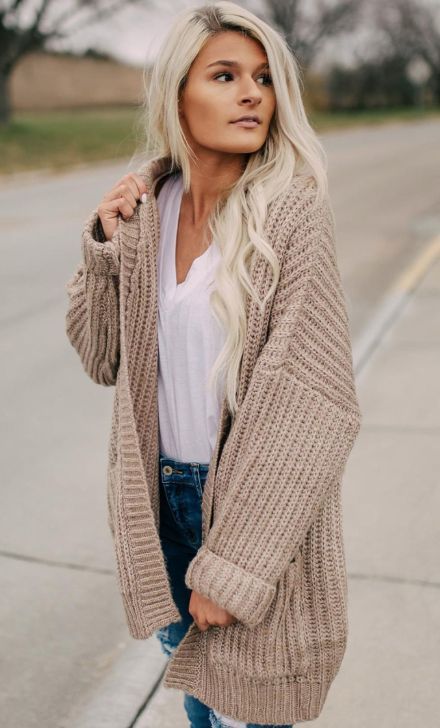 This knitted cardigan must have on your basic checklist for fall wardrobe essentials. This type of versatile outerwear would keep you warm and stylish all year. You can wear this cardigan with anything in your closet, from jeans to a mini dress. Furthermore, a cardigan is ideal for adding a layer without appearing bulky. For a chic look in the early fall, pair a cardigan with a basic outfit of jeans and a short tee.
3. Athleisure and Sweatpants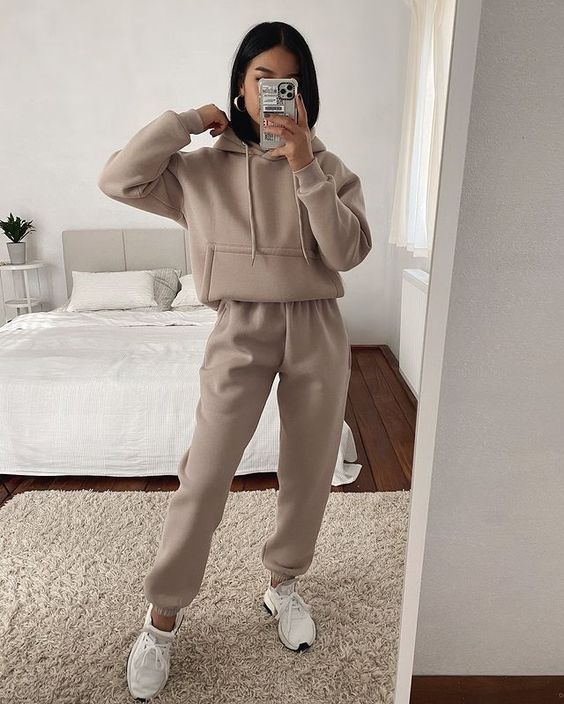 The athleisure trend comes in a comfy and sporty look. This piece must have on your fall wardrobe essential. When the temperature drops, you can turn this hoodie and sweatpants into warm pajamas. Furthermore, you can transform it into a fashionable outfit for a hangout with a friend. You should simply pair it with sneakers or trainers. Then, to achieve a sporty chic look, add a waist bag and a cap. When it gets cold outside, just layer it up with a long coat.
4. Blazer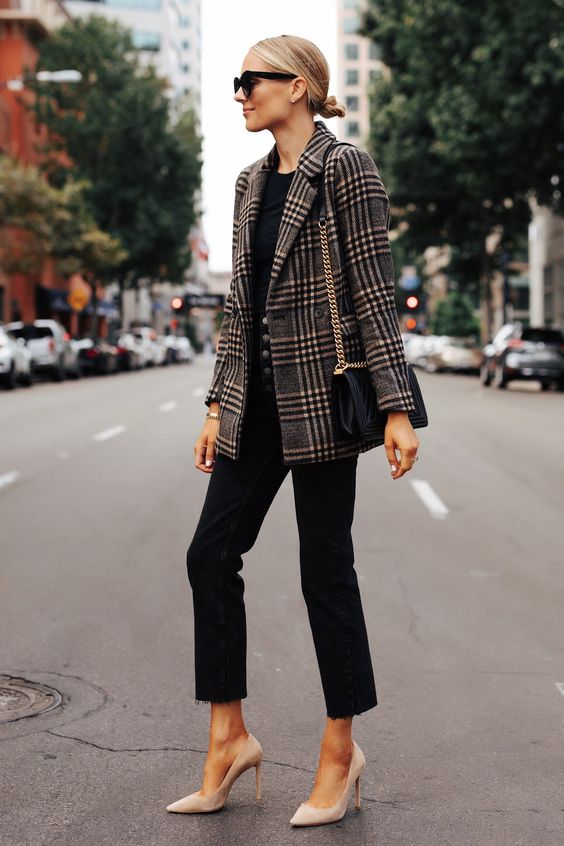 A blazer is an option when it comes to choosing the most comfortable and stylish work attire. This tailored piece should be on your fall wardrobe essential that can bring to any occasion. You can stick it out in any kind of style from formal to casual outfits. Blazers can add an instant polished style! If you want a sophisticated look, you can add a plaid blazer to your casual style. For inspiration, you can mix a plaid blazer with a black t-shirt and black jeans then get high heels to give you a contemporary fall outfit idea. Then, complete with a Minaduere bag or shoulder bag to have stylish workwear or hangout style.
5. Corduroy Mini Skirt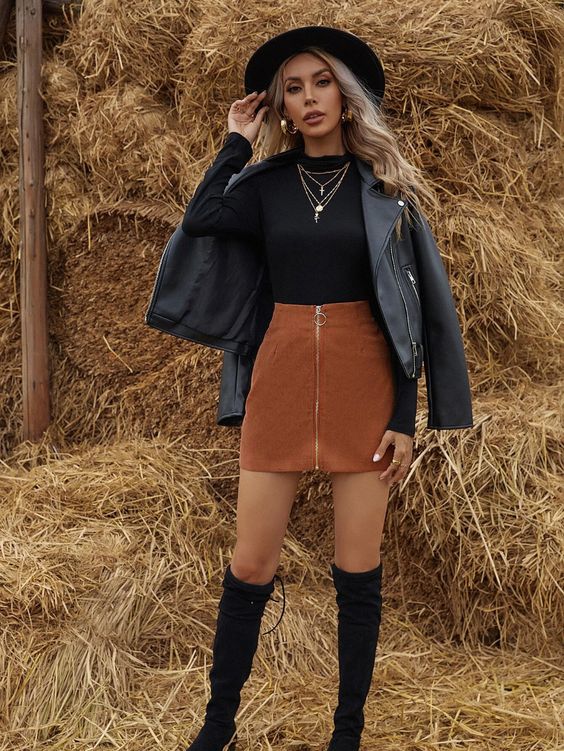 Want to look fashionable in a mini skirt even in the fall? Include this brown corduroy skirt among your fall wardrobe essentials. It would look great with over-the-knee boots and a black turtleneck. Furthermore, by adding a leather jacket and a cowboy hat to your ensemble, you'll achieve a chic Western wild cowgirl style for this fall.
6. Denim Jacket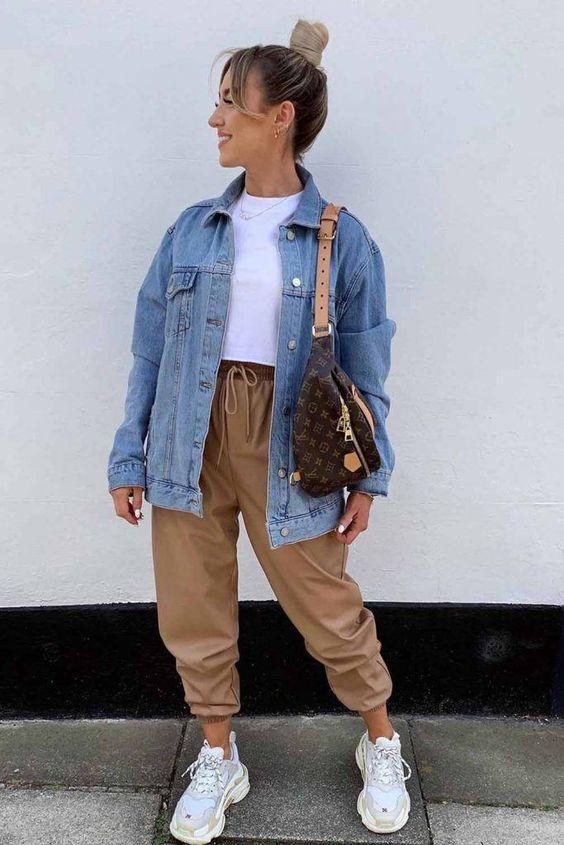 You'll never get sick of denim style. A versatile piece that you need to always include in your fall wardrobe essentials. This denim jacket is another option to give you a trendy layered outfit idea. Even though it is a little pricey, it is worthwhile to provide long-lasting fashionable outfits in your wardrobe. Besides, you can also pair it with your favorite casual outfits from your closet. For inspiration, you can mix a denim jacket with a basic t-shirt and jogger for a trendy sporty style. Finish out by wearing sneakers for footwear and a shoulder bag. If you want something that looks chicer, you can layer a denim jacket over a hoodie. This hooded blazer style looks comfortable yet chic at once.
7. Flannels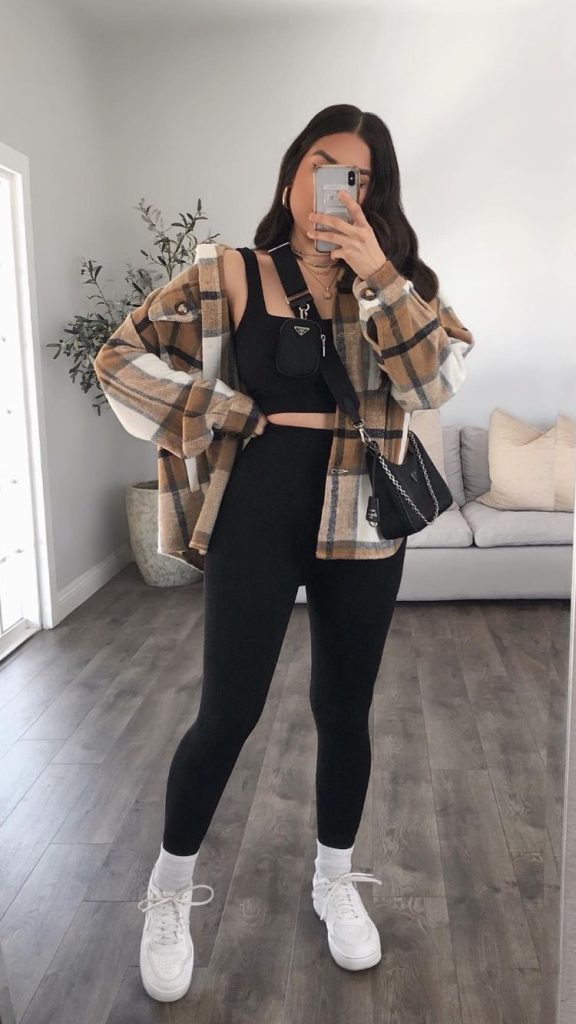 When it comes to fall wardrobe essentials, don't miss out on this flannel top. This ensemble would make for the most comfortable and stylish fall days. Whatever you match it with, your flannel shirt will look cozy and fashionable. So, don't be afraid to pair flannels with your fall ensemble. Go for a classic version in a plaid flannel shirt that you combine with black skinny jeans and a beanie hat. If you like layering style, you can use flannel to become an outer. To look chic, you can wear flannel as an outer with a tank top the inner top, and winter leggings for the lower outfit. Maximize your style with sneakers and get a shoulder bag or sling bag to help carry your stuff.
8. Turtleneck
Turtleneck is one of the fall wardrobe essentials because it is warm, sophisticated, and fashionable. You can layer a turtleneck or wear it as a statement piece. Aside from that, you can dress up this piece in a variety of styles, ranging from elegant to smart casual. Choose a turtleneck in neutral colors like white, black, beige, or brown to maximize your potential outfits. If you want a chic style, you can make layered outfit ideas with a white turtleneck and a velvet sleeveless mini dress. Support this style with over-knee high boots for shoes. Don't miss out on accessories items, and use a wristlet bag or purse to elevate your outfit performance.
9. Hoodie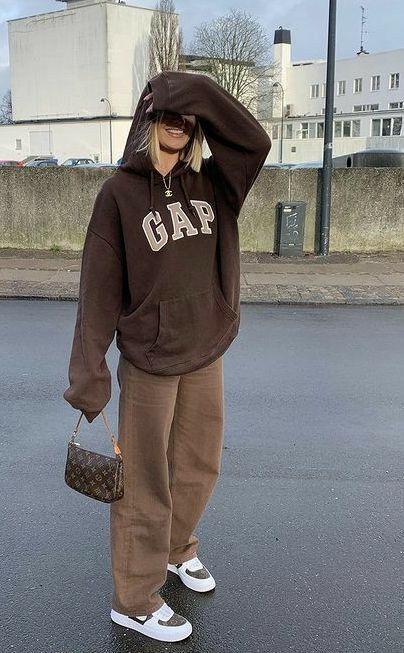 Another cozy attire to include on your fall wardrobe essential is a hoodie. We believe you are already familiar with this piece. This boyish outfit would give you the comfiest style during autumn. You can wear it in many ways, from matching it with a tennis skirt to jeans or making it as a mini dress. If you like trendy style, you can wear your boyfriend's hoodie with brown straight jeans. This style also looks great for a back-to-school outfit idea, moreover when you get a pair of sneakers for the shoes. Then, choose between a sling bag or shoulder bag to help carry your belongings.
10. Knitted/Sweater Vest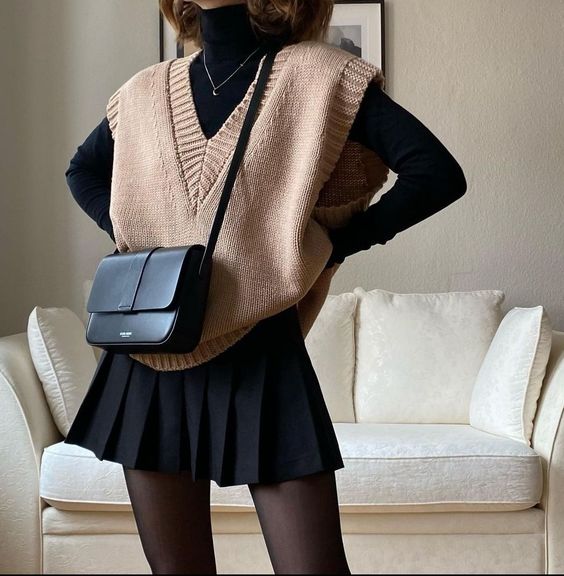 A knitted/sweater vest is another layering ensemble that you must have on your fall wardrobe essentials. This truly would help to elevate your fall outfit style. You can match it with your formal style which includes a button-up shirt and trousers to give you smart casual workwear. Or you can wear a sweater vest over a turtleneck and get a tennis skirt for the bottom style to give you casual chic outfits this autumn.
11. Long Cardigan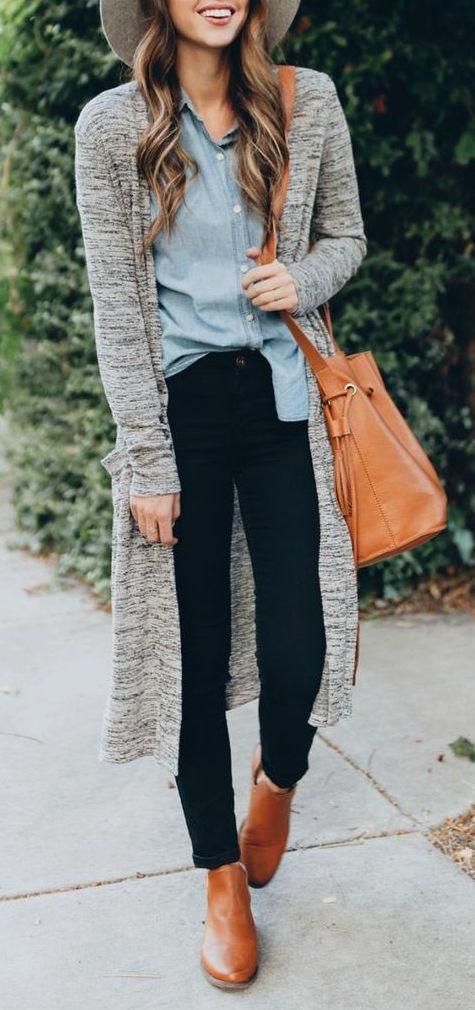 When the weather changes, it can be difficult to decide what to wear. Because of that, we offer you to put a long cardigan in your fall wardrobe essentials. This outfit is appropriate for a transitional season like this one. Cardigans are designed similarly to coats but in a lightweight material, making them ideal for early fall. You can throw your long cardigan over your button-up shirt for a great work outfit idea. Furthermore, when you want to make it look great for hangout style after work, you can add another detail such as a cowboy hat for an accessory, a tote for the bag, and pick ankle boots for the shoes.
12. Metallic Pleated Maxi Skirt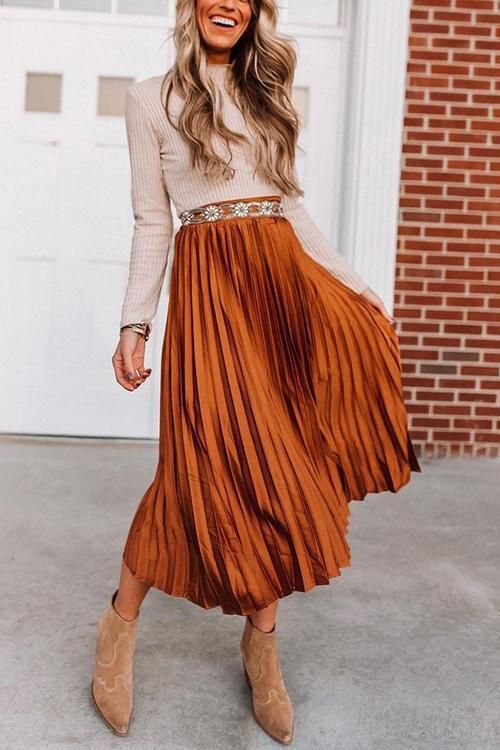 Looking for something that looks like a flowy dress but is more versatile to use on any occasion? Prefer this metallic pleated maxi skirt into your fall wardrobe essentials. You can match it with anything you want. Like when you want something that simple and elegant for fall outfits, you can throw it with a sweater and ankle boots. But when you need a formal look you can mix it up with a turtle neck then get a blazer over it, and pair it with high heels.
13. Jeans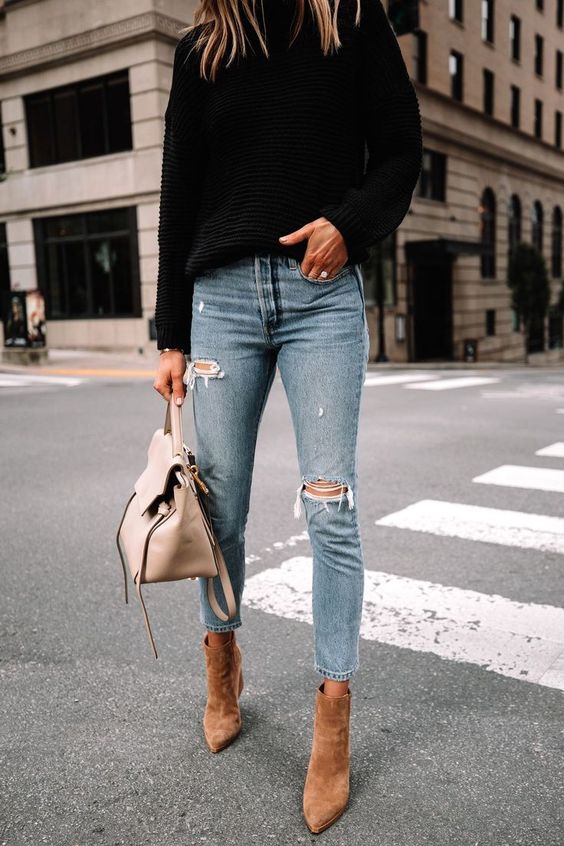 Jeans are a wardrobe staple in any season, and they are no exception for fall wardrobe essentials. A simple piece that can be worn with almost anything outfit in your closet. Besides, there are various jeans types that you can choose from, straight leg, skinny, ripped, boyfriend, flare, high waist, black, and white jeans. You can dress in ripped jeans with a sweater and suede ankle boots to become your trendy fall outfit. Furthermore, you can pair them with a turtleneck and blazer to give you a sophisticated style.
14. Puffer Vest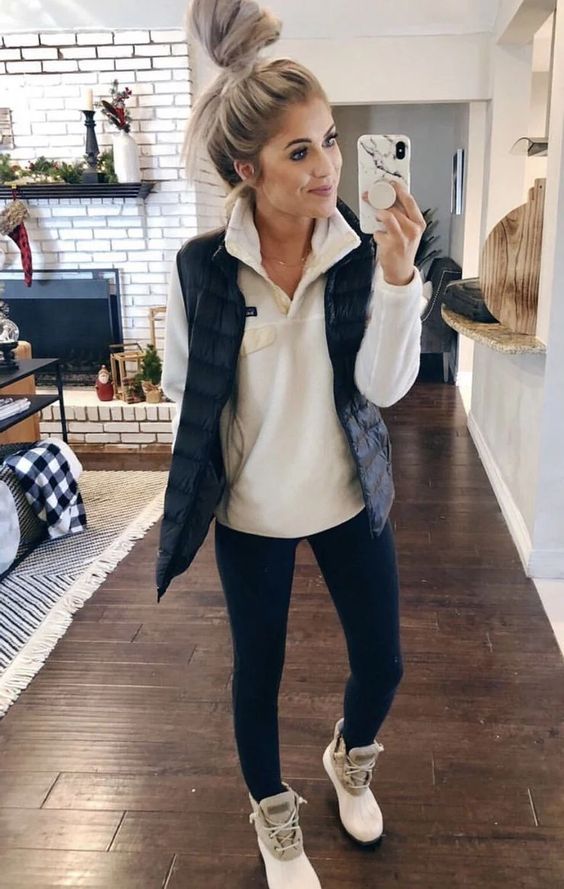 When you need extra warmth but don't want to wear a bulky jacket, a puffer vest is a great option. Even though it is designed in a sleeveless style, this piece would keep you warm and cozy when the temperature goes down. You can wear it as a layer over your sweater and sweatpants/tights style. Another way to wear this puffer vest is with jeans and a flannel shirt.
15. Scarf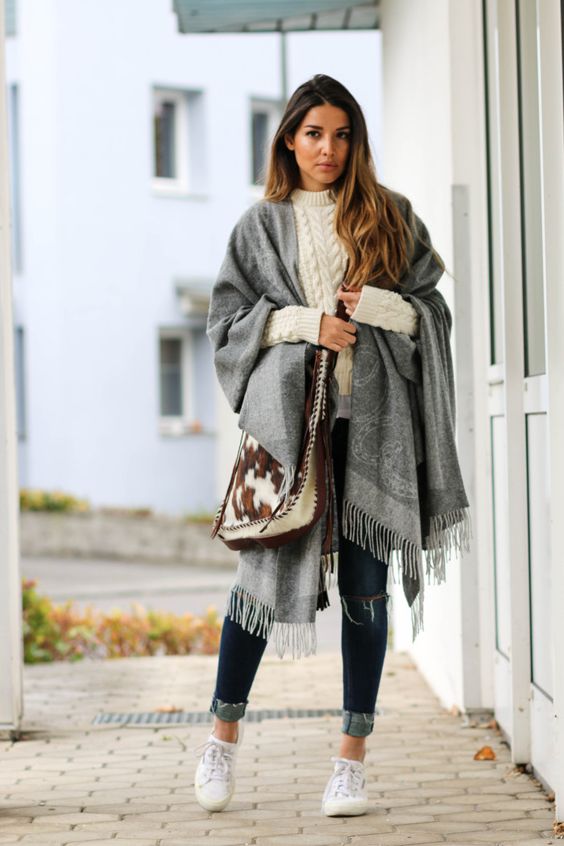 What's better for fall than making yourself feel warm with your outfits? You can wrap up your outfits with a blanket and call it to stylish fall fashion. A scarf is a major accessory in the fall wardrobe essential. You can use a cape scarf as an extra layer for your basic fall outfit idea that is insanely trendy. You can choose a plaid or neutral color scarf that looks good in everything you wear for autumn style.
16. Trench Coat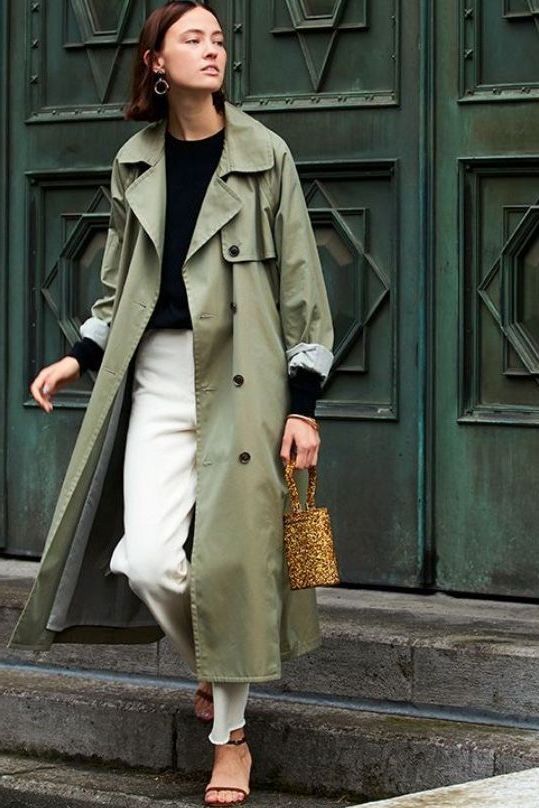 A trench coat is also a versatile piece that must be required in fall wardrobe essentials. This is a lightweight outfit that's designed to keep the wind and rain out during autumn. As the most classic outfit in your closet, this piece is a kind of timeless style. You can still bring it with another modern staple from a casual to a formal look. If you want to get a trendy style from this trench coat, you can pair it with a long sleeve t-shirt and beige pants. For the shoes, you can go in sandals if the weather feels warm, but when it gets colder better you wear ankle boots or trainers.
17. Winter Coats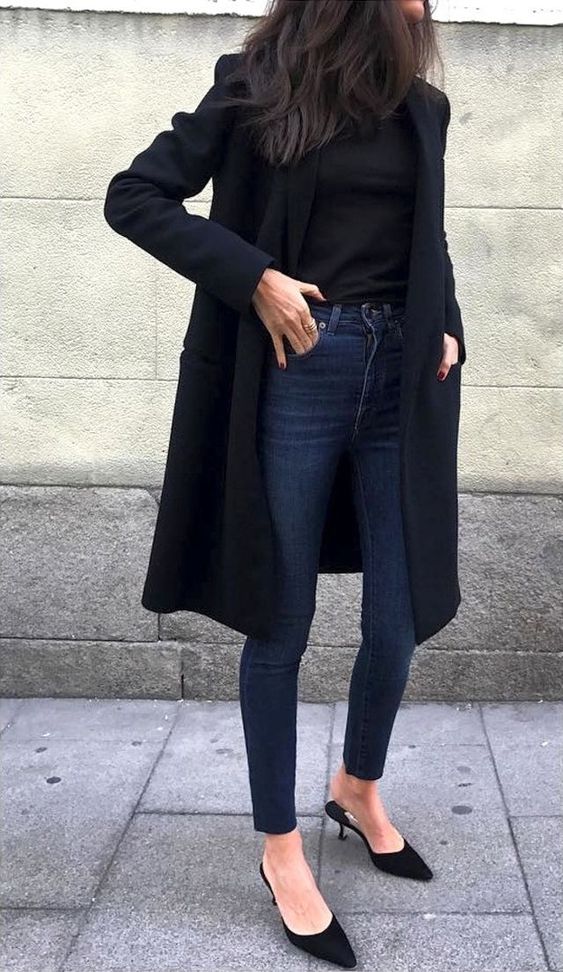 Because fall is the transitional season from summer to winter, the weather can be unpredictable. Sometimes it's warm but sometimes it can get colder. Aside from preparing yourself for weather changes, you should also prepare your appropriate outfits. For this, you need to take out some of your winter outfits and the most important one is your stylish winter coats. A camel coat is a great choice for the classiest item in your fall wardrobe essential. You can wear it with almost any outfit in your closet for most fall events. However, this does not prevent you from wearing other winter coats. You can choose from a variety of coat styles and colors to dress up your fall outfit.
18. Beanie Hat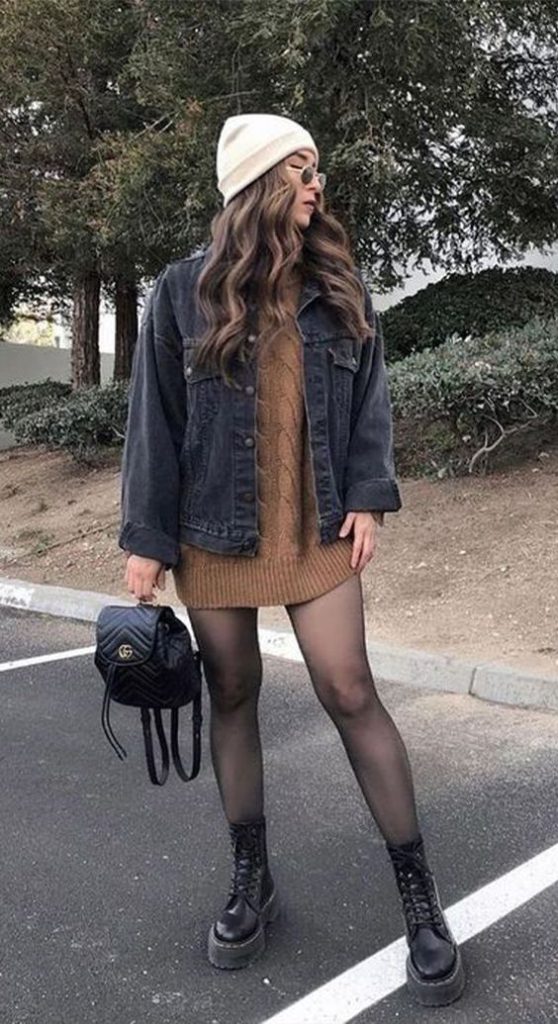 To help you avoid bad hair during cold weather, get a beanie hat to have a supper comfy feel especially when you go outside. This is also a stylish addition to your fall wardrobe essential. You can enjoy wearing this hat with your fall outfit ideas. Choose some different styles and colors to quickly transform your appearance and get cuter.
19. Brown Outfits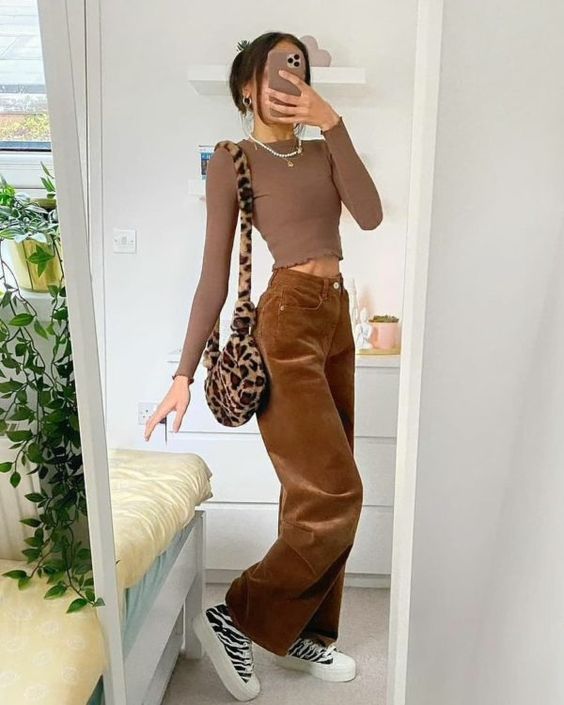 Brown outfits are a great way to incorporate fall into your wardrobe. Get some brown shades from light to dark brown to elevate your fall outfit idea. You can grab a beige sweater, a brown long-sleeve t-shirt, and corduroy pants that make you feel cozy and stylish. Furthermore, these earthy-tone color outfits would work well in any fashion style.
19. Leather Knee High Boots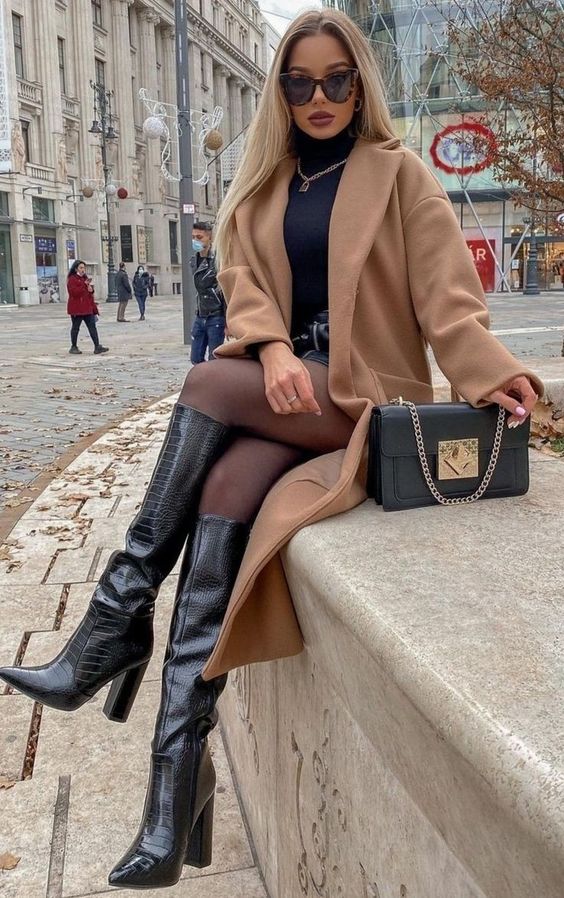 Like leather jackets, leather boots can be an investment piece in your wardrobe. Besides, you'll get a great pair of boots that can be worn all year. Get leather knee-high boots for your fall wardrobe essentials, which are ideal for rainy and cold weather. Those boots would look awesome with any fall outfit, from denim pants to skirts and dresses. If you want something that looks classy, faux leather boots like snakeskin boots are a nice option. While you are living in an area that has a messy winter, get suede boots to have warmer footwear all season.
20. Tights/Legging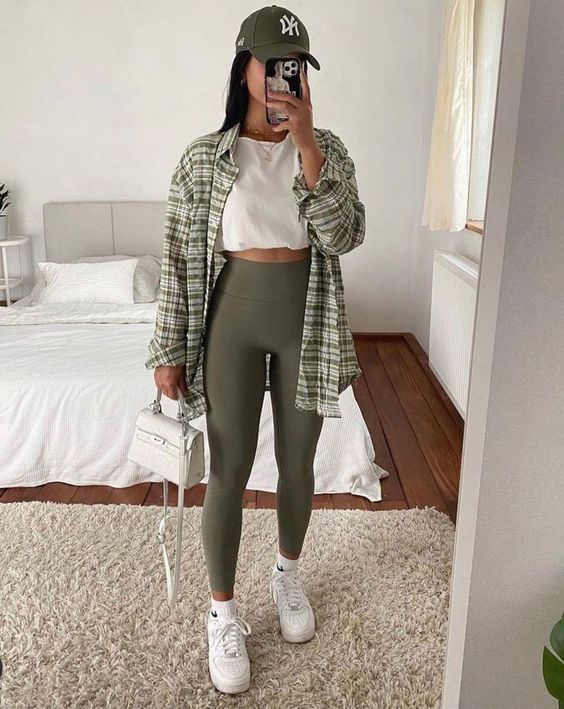 Wearing leggings during fall is a trend that never goes away! With this, you can get plenty of fashionable fall outfit ideas. Such as wearing leggings with an oversized knitted dress and then boosting it with suede ankle boots. You can also wear leggings on a mini skirt outfit style for a chicer look. While you want something that sporty, get thick leggings with a cropped top and a flannel shirt for the outer. Then pair it with sneakers and get a cap for accessories.
21. Leather Jacket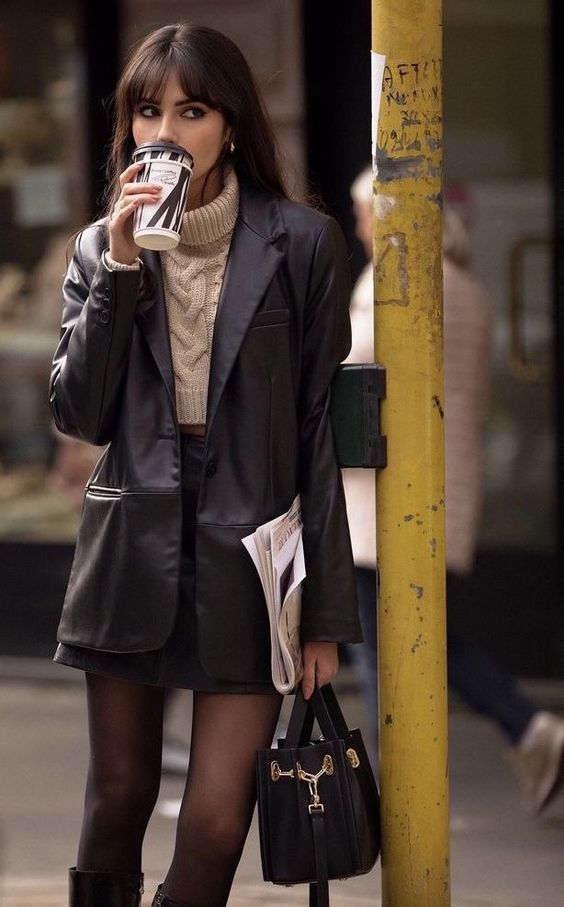 Thought of a timeless jacket that you can bring in any season? If you want an investment piece, a high-quality leather jacket must have on your fall wardrobe essential list. You can choose a faux leather jacket that makes your appearance keep trendy and classic. While you want something that is warmer, a suede or shearling leather jacket can be your option. You can go with any outfit while wearing this jacket. Like when you want an equally chic alternative for your turtleneck and jeans style, get a moto leather jacket for layering. Aside from that, you can get a classy elegant outfit style by matching up a leather coat with a leather mini skirt and knitwear in this fall.
22. Beige Trousers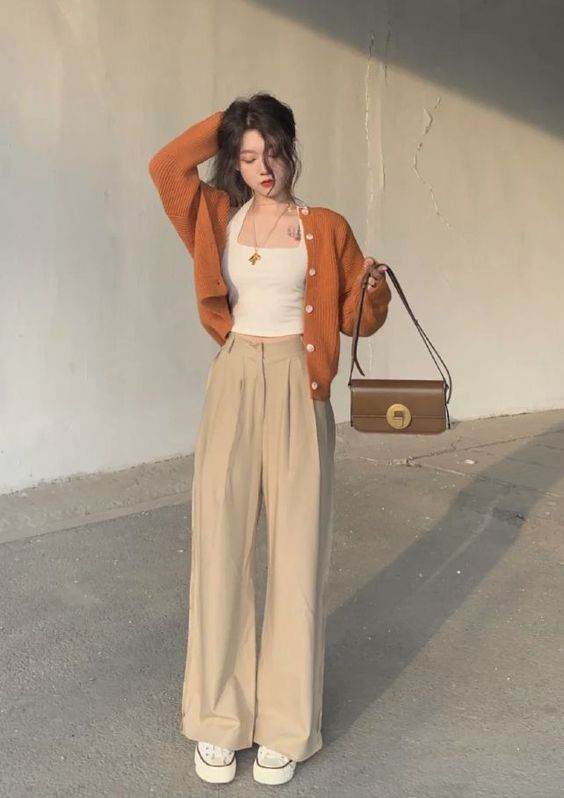 If you are not like wearing jeans or getting worked in a professional environment, you may need other pants like beige trousers as your fall wardrobe essentials. The kind of pants that almost go with everything in your closet. You can mix and match the beige pants with a white button-up shirt and knitted vest for a working style. Another option, ditch your blazer and match your beige trousers with a tank top and cardigan to have a stylish hang-out outfit idea during fall. For a trendier look, you can pair your outfit with sneakers and get a leather shoulder bag in your hand.
23. Platform Shoes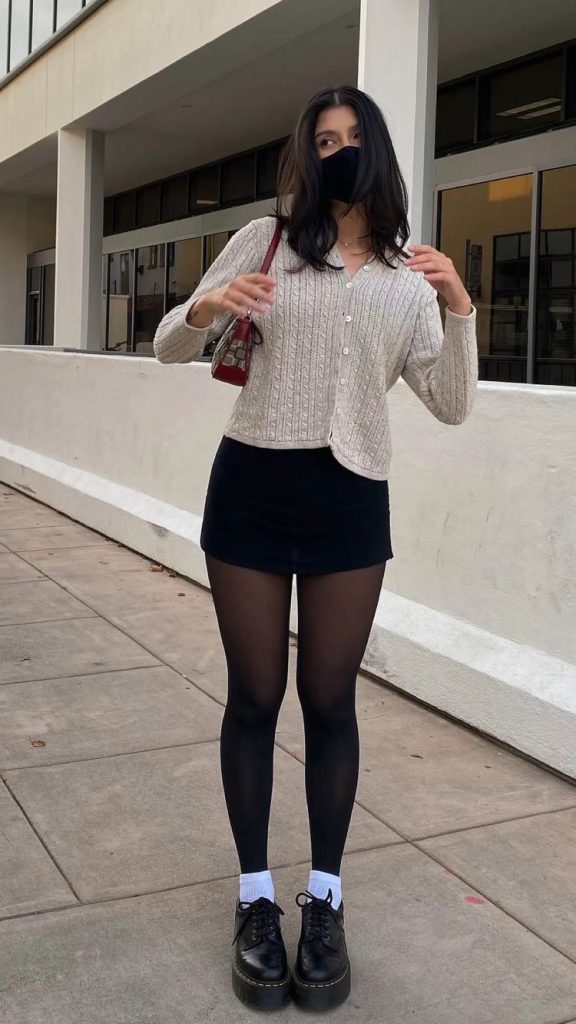 Black platform shoes would be great matching shoes for fall wardrobe essentials. Making a statement with shoes is a great way to get a stand-out look. Besides, platform shoes are the perfect heels that are comfortable to wear from day to night. You can use them to create chic fall outfit ideas. For this, you can try to wear platforms with a knitted top and a span skirt. To make it look cozy and chicer, you can wear tights for the layer. Then bring your shoulder bag and you are ready to go hang out with your friends. For your information, platforms most wear for chic grunge outfit ideas.
24. Bohemian Style
Bohemian outfits should not be overlooked as fall wardrobe essentials. The boho chic outfit would elevate your fall outfit ideas to a higher level of style and sophistication. There are various pieces that you can play with to make a statement. You can wear a floral maxi dress, a knitted tribal cardigan, suede ankle boots, leather bags, and some typical fringe or tassel bohemian accessories. If you want, you can go full bohemian in your outfit style or simply make a statement by matching up with other modern clothes.
25. Black Pants Style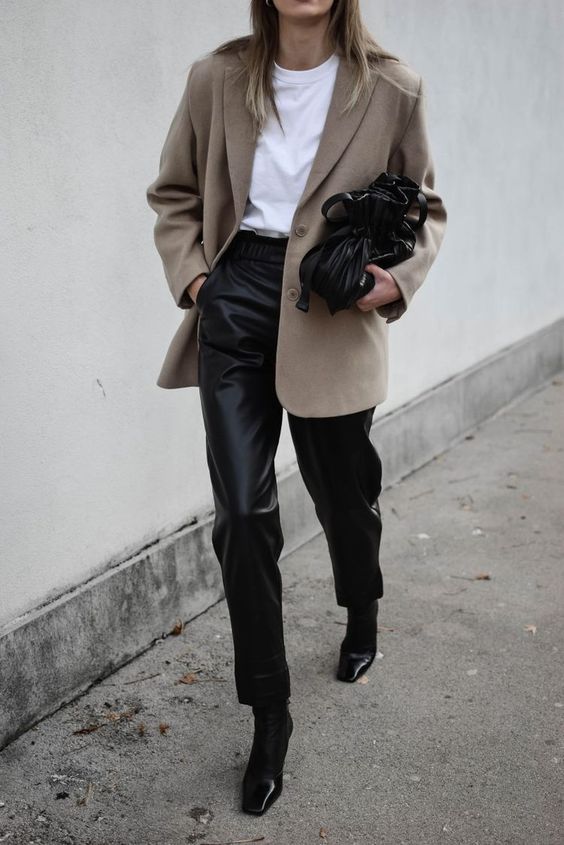 The last piece that becomes a big part of your fall wardrobe essentials is black pants. When you think about transitional outfits, black jeans should on your list. You can get anything style from them. Like jeans, black pants are something that makes your fall outfit style look trendy and chicer. For autumn, the most favored black pants are skinnies, faux leather, straight-leg, and flare black pants. You can match faux leather black pants with a white tee and blazer for a contemporary style. Then elevate this outfit idea with leather ankle boots.
Okay, that's all we can share about 25 fall wardrobe essentials that you must have on your basic checklist. So, what are your essential fall items? Now you can start to shop and prepare comfortable yet fashionable clothes for autumn. Make sure to include something that is timeless and can be rewear all year like a leather jacket, trench coat, boots, and others. I hope you found this post useful as you begin to plan your fall wardrobe.