Olidfashion.com – Boho fashion is making a comeback! But now we'll talk about bohemian accessories and jewelry that you'll need to complete your bohemian style. What you should know, the bohemian style is mostly casual and aesthetic design. They usually stick to earth tones, preferring browns, camel tones, and denim, and they are also rich in natural elements. However, It's not close to the possibility you will find ancient, silver, and fabric accessories or jewelry.
Whether or not you've mastered the bohemian style, we've got plenty of inspiration for you ahead in the form of some of our favorite bohemian accessories. Just for information, the bohemian or boho style is mostly about the free spirit, the peaceful mind, and individualism. Earthy or natural colors, as well as tassels or fringes, are common components of a bohemian look, both in outfits and accessories. Moreover, as for the fabrics, natural is the best to pick out, such as jute, leather, suede, rattan, and more. Similarly, they can come in outstanding turquoise gemstones in your necklace, bracelet, or ring. So, if you want to know further about bohemian-inspired accessories and jewelry, you can keep scrolling down!
1. Floral Head Scarf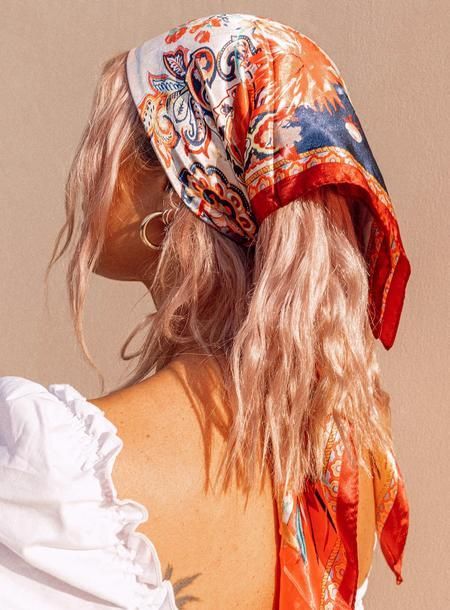 You can begin to wear this headscarf as a bohemian accessory to improve your performance. To make your hair accessories, choose beautiful floral patterns in bright colors. We occasionally want to wear head accessories other than hats. You can understand your natural hair appeal while also enjoying additional hair accessories. So you can wear a head scarf as a bandana or to create bohemian hipster updos.
2. Boho Denim Chocker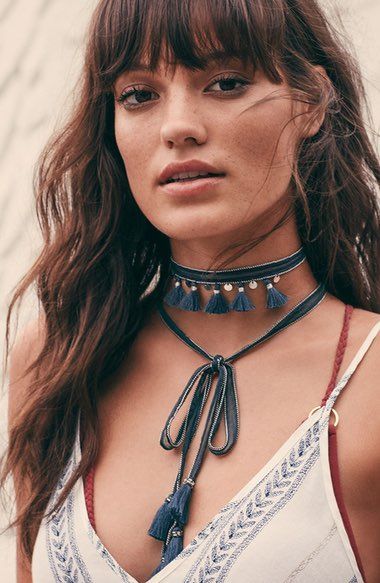 This romantic denim choker is weighted with a chic tassels pendant and simple beads that can be wrapped and tied in any way you like. You can wear this jewelry to add a touch of boho chic to your everyday look. This bohemian accessory can be paired with a flowy summer dress, beachy style, or to create a chic cowboy look. For the tips, you can choose a dress or top with a plunging neckline to highlight the tassels of the necklace hanging beautifully.
3. Rattan Belt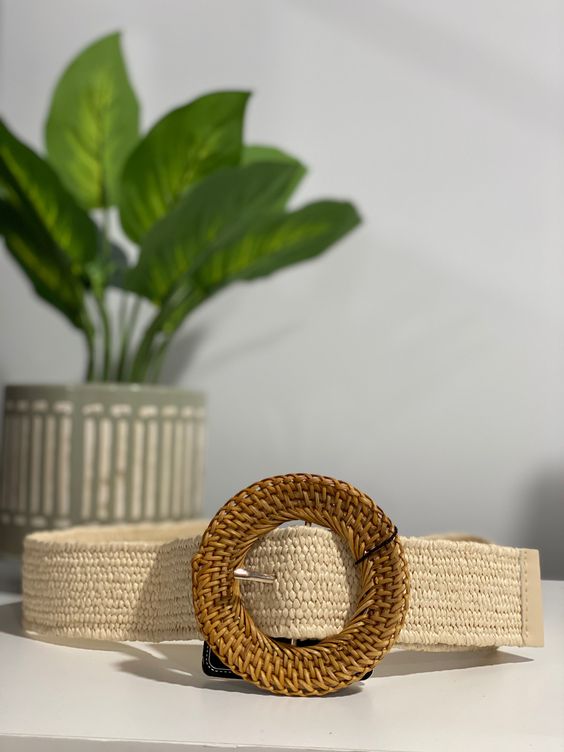 Bohemian accessories and jewelry are identical to natural, plain, or ethnic designs. For example, this rattan coastal belt! Available in cream or natural rattan colors and with a brown rattan buckle would create a bohemian vibe to your outfit idea. You can mix this with your outfit for beach day style to create a chicer look. Aside from that, you can wear it with your denim pants or get over your light bohemian dress to emphasize your body silhouette.
4. Fedora or Cowboy Hats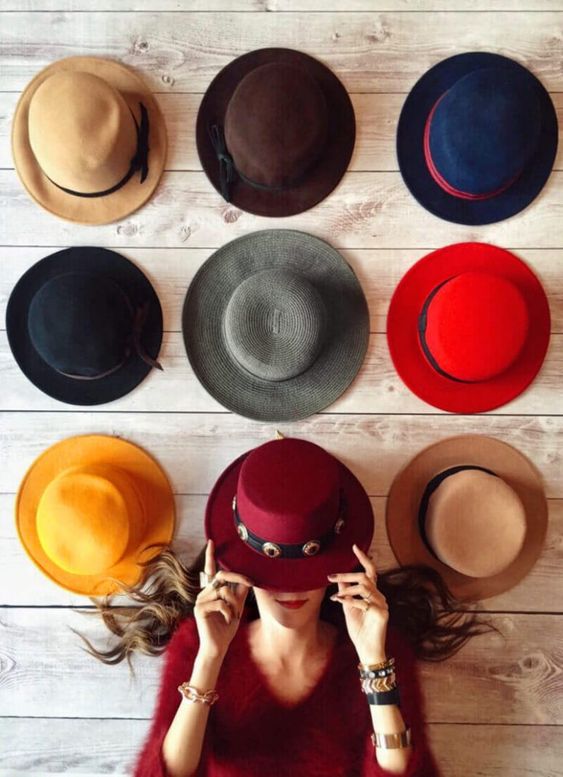 I think you have been familiar with this accessory item. Yes, fedora and cowboy hats. As an accessory that can help you avoid UV light outdoors, this can also elevate your outfit performance. You can use these as bohemian accessories that create a chic style. Most people would use fedora or cowboy hats in their chic and fabulous outfits for festival days like at the Coachella music festival.
5. Foot Jewelry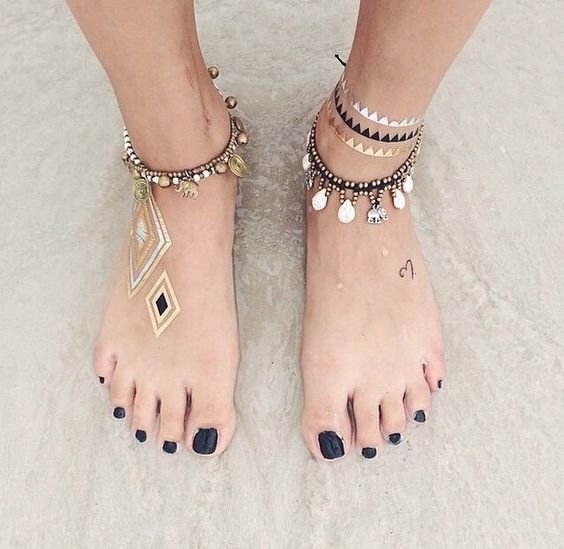 We love this foot jewelry! If you prefer to wear sandals and want to boost the look, use this bohemian accessory on your legs. Like the bracelet, boho foot jewelry is designed beautifully with beaded and some tiny pendants all around. You can also find out this jewelry is made from seashells and become a chic accessory for your beach outfit look.
6. Large Fring Pendant Necklace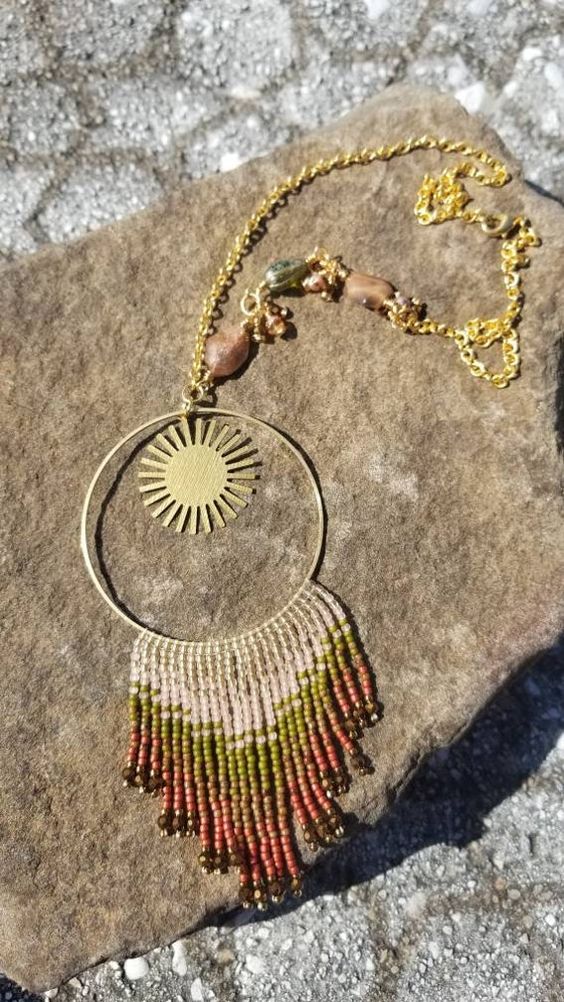 What you should know about the characteristic bohemian jewelry is it more detailed and opposite of minimalistic. The first time you see it, you'll easily identify that's a bohemian accessory. Likewise this large fringe pendant necklace! Looks pretty, right? Made using silver for the pendant with some beaded to create fringes make this necklace seems elegant and luxurious. Besides that, the ethnic patterns with a strong Native accent and detailed hand stitched would bring chicer style.
7. Fringe Bag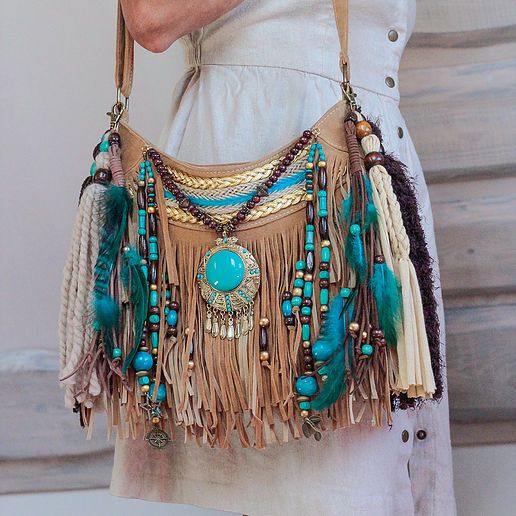 Anything that comes in fringes, classic design, or gets tassel embellishments is simply called bohemian style. Most women, besides outfits and shoes, also prefer accessories to create a bohemian look. And one of the ways is using fringe bags. You can complete your boho chic style by getting a fringe leather/suede bag in your hand. Aside from that, if you want to have a more boho accent, you can adorn your bag with a big turquoise pendant, feathers, and beaded embellishments.
8. Layered Necklaces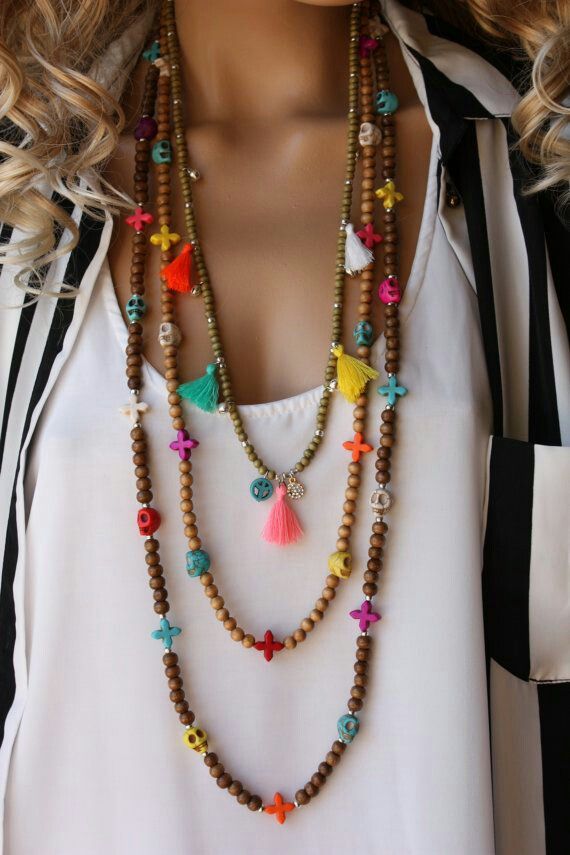 For you that want a simple accessory for a bit of bohemian style, a classic layered necklace is the perfect one. You can wear some necklaces in different sizes to create a layering style for this. While you if you want to bring an ethnic accent, just bring seed beaded necklaces with tiny colorful tassels around them. This necklace would look great with everything from basic t-shirts and jeans to flowy bohemian dresses.
9. Feather Headband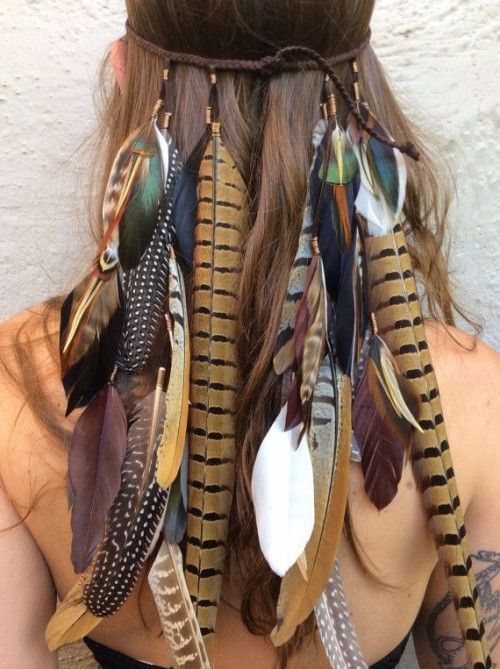 Look at this headband! I believe you'll grab it right away. This kind of chic bohemian accessories that you must have in your wardrobe. With this simple feather headband, you don't need anything again to elevate your boho chic look. With a naturally wave hairdo, you can put this feather headband that makes the feathers hang beautifully over your hair. That looks amazing, and you can use it for the festival day.
10. Macrame Earrings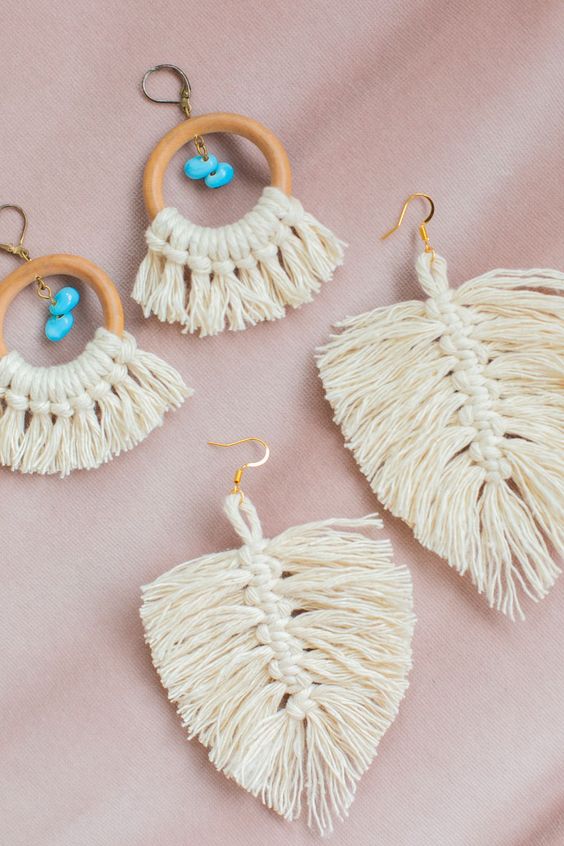 Macrame is a popular bohemian design element. It is used for decoration, such as wall hangings or curtains. However, we would now present it as a bohemian accessory design. You can make simple macrame earrings like the ones shown above. Simply grab it to elevate your outfit style if you want a different look.
11. Artsy Stackable Rings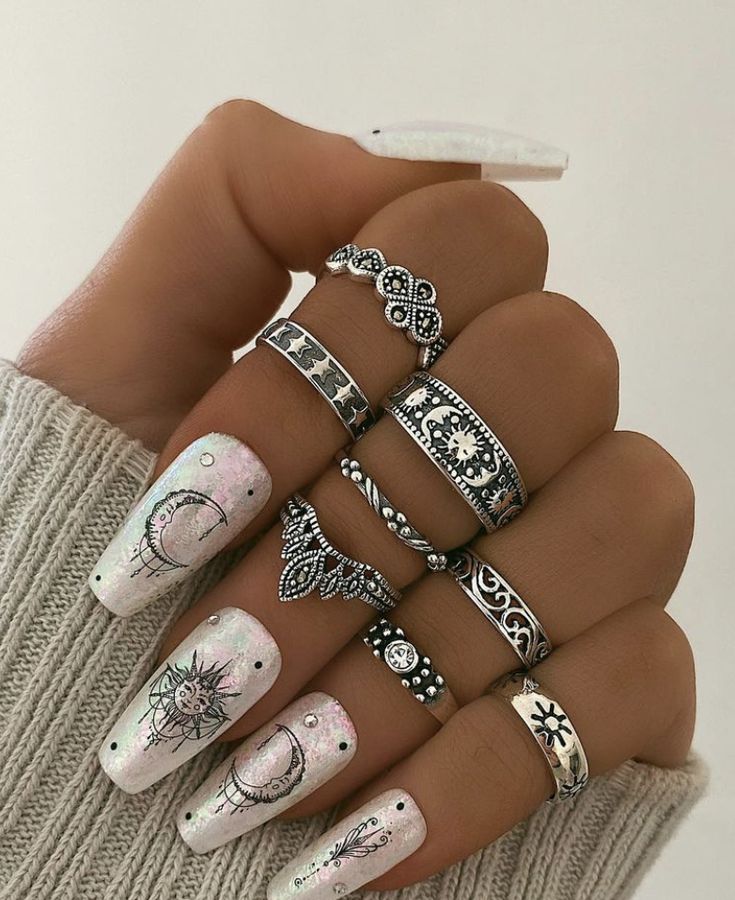 The majority of women prefer a silver ring as a finger accessory. Even so, they only wear simple designs with elegant styles. However, you can bring artsily silver rings that are stackable on your fingers as bohemian accessories and jewelry. Aside from that, they are usually designed in large rings with beautiful carvings on them. In fact, this item not only creates a bohemian look but can also as an accessory for a chic grunge outfit idea.
12. Turquoise Jewelry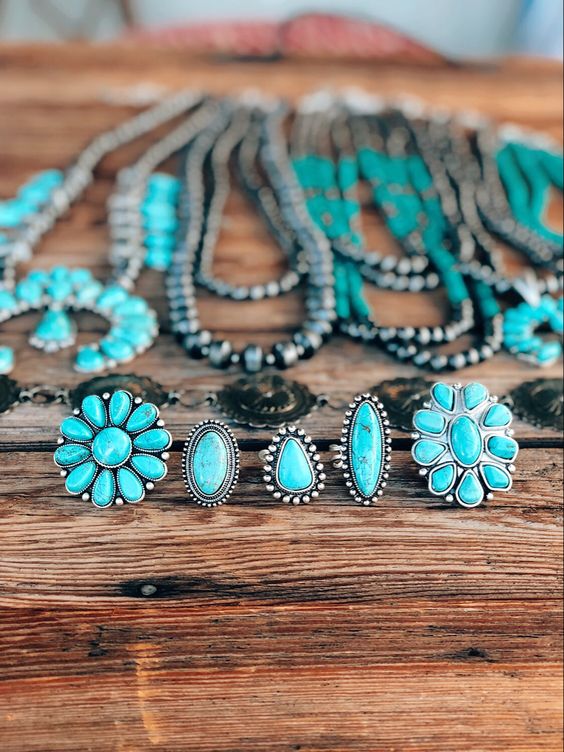 Gemstones are frequently used in the design of bohemian jewelry. Instead of precious gemstones, they preferred turquoise gemstones. To create unique bohemian accessories, combine turquoise gemstones with leather and other unpolished gemstones or beaded to convey a natural vibe. Aside from that, using this turquoise gemstone in silver jewelry can make it appear ancient but classy. You commonly find it in a big large pendant on a necklace, bracelet, earrings, or ring.
13. Rattan Bag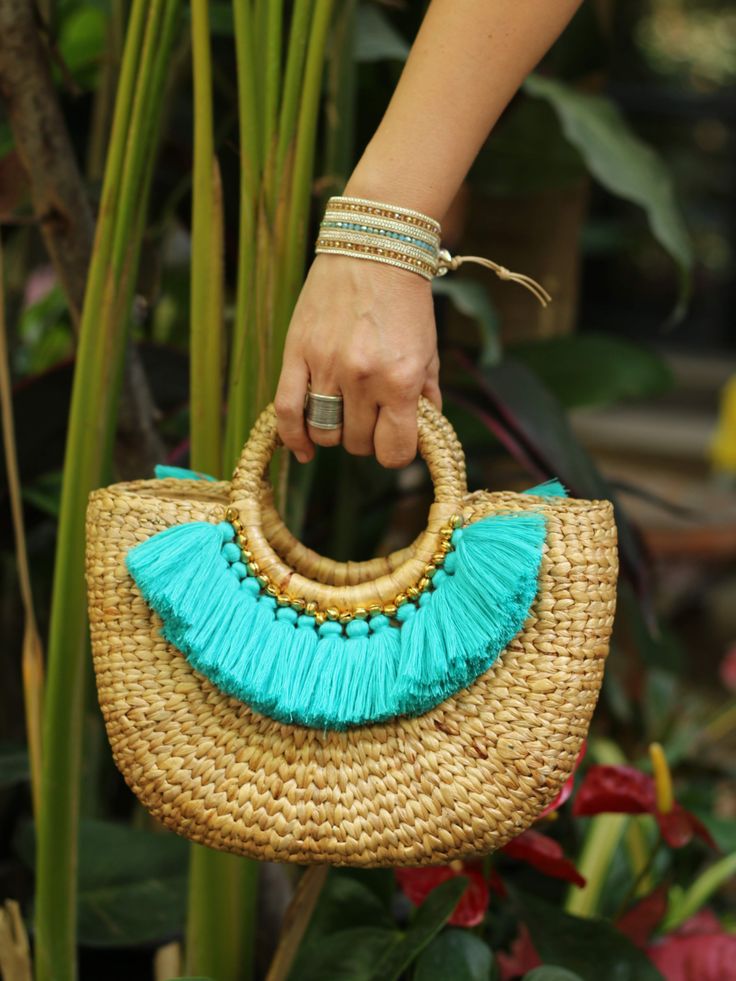 Although this bag is not as expensive as your branded bag, it is ideal for your bohemian outfit. Actually. it gives fun and natural vibes. A woven rattan bag like this is perfect to become bohemian accessories that are in a little hippie style. That would make you look down to earth, beside we love the natural cream color from the rattan that matches perfectly with turquoise tassels.
14. Wood Seed Bead Bracelet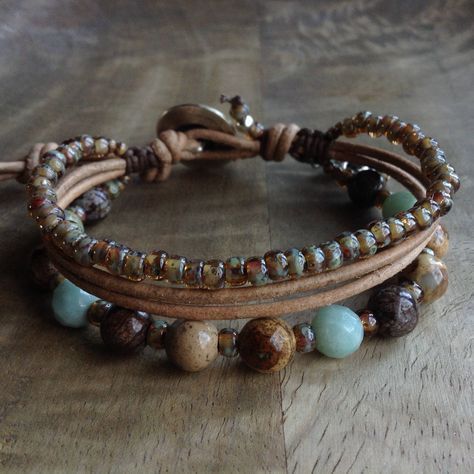 This beaded seed wood bracelet is another bohemian accessory you can wear. The color, material, and shape are mostly inspired by natural elements that fit the bohemian aesthetic. For this, you get limitless boho bracelets from a stacked layer of small bracelets to a large statement bracelet. Aside from that, there is a type of friendship bracelet that features handwoven fabric and seed wooden combination.
15. Hippie Crochet Bag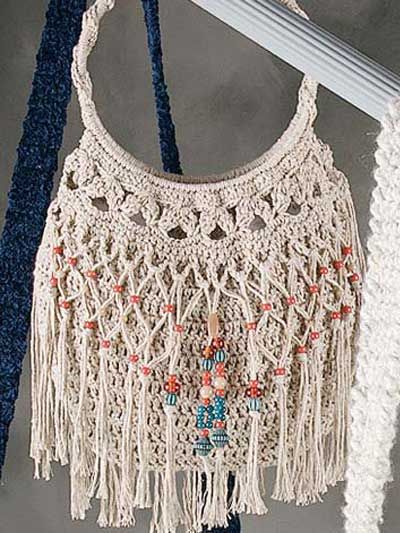 When we talk about bohemian, it's wider than you think. Not only look at the pattern, color, and designs but also look at the materials and technique. Crochet is a common bohemian material. This adaptable material can be used to make both clothing and accessories. Simply get a crochet bag if you want a chic bohemian accessory. This style of bag is also popular among hippies.
16. Antiqued Silver Crescent Necklace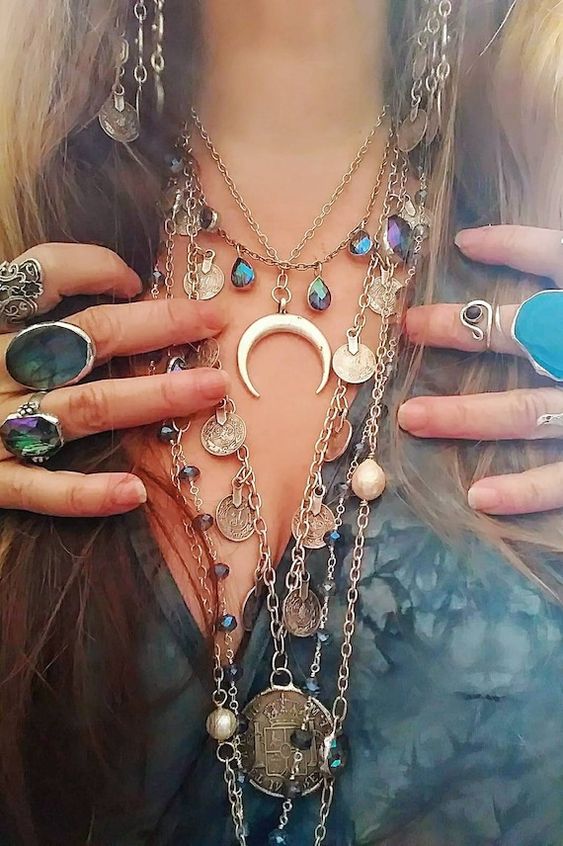 You have known about bohemian accessories such as artistry rings, macrame jewelry, and tassel bags. Now, we would introduce typical forms like crescent jewelry. This has the same artistry form as other bohemian accessories and jewelry. And like another boho fashion necklace, you should wear it in layers.
17. Leather and Fabric Bags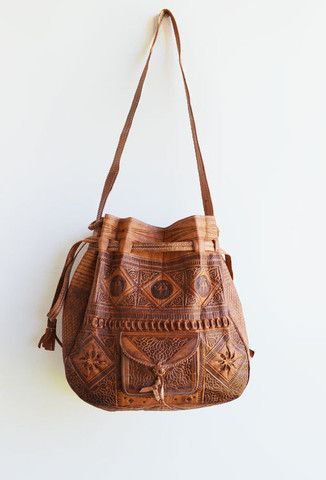 Leather is in style right now! In fashion style, you'll get some classy and cool outfits from leather. However, leather can also give you a wide range of artistic bohemian accessories and jewelry. One of the most common is a leather bag. And this carved leather bag is truly amazing.
18. Bring Suede Jewelry for Boho Accent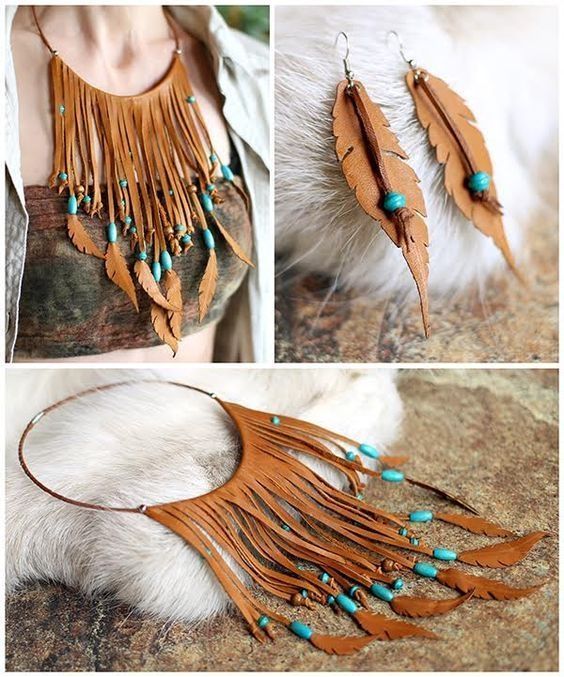 For the last, we have suede jewelry that can you use as chic bohemian accessories. This material has the same qualities as leather, and it can be used to make a variety of artistic and one-of-a-kind accessories. As seen in the portrait above. This material was also popular because it was simple to shape into another shape. Such as this suede hoop necklace with feather embellishment which's made from suede material and turquoise gemstones.
Using accessories items and jewelry is essential to the bohemian style. Besides can boost your appearance, using accessories and jewelry can also emphasize the bohemian look. There are various typical accessories you can use from tassels, turquoise jewelry, rattan belt, crochet bag, and more. After you see all the bohemian accessories and jewelry above, what will you prefer to elevate your chic boho style? Do you already have all of these? Leave your thoughts about this in the comments section.