Olidfashion.com – A classic trench coat is essential for transitional outfit ideas like this month. This is also a versatile piece that you should have in your staple wardrobe. Because October has come and the temperature starting drops, you'll need something to keep you warm, especially when you go outside. A lightweight outfit designed to keep the wind and rain out, trench coats are a perfect choice. So today, we're gonna talk specifically about trench coat outfit ideas and help you get inspired about some easy ways to style trench coats for fall fashion looks.
As you are aware, fall is an unpredictable season in which it can be both suddenly rainy and sunny. You will need a comfortable outfit to prepare for the change in weather. In our opinion, trench coat outfit ideas can be a solution, Besides, it's also a kind of wardrobe staple that would be worn from time to time. Trench coats will never go out of style, especially in fall fashion looks.
However, sometimes wearing trench coats can be boring. This causes us to stare at our wardrobes for hours on end and feel completely puzzled. This season, we've looked for a lot of iterations about styling trench coats fashionably. The key to nailing your style while wearing trench coat outfit ideas for fall is by finding perfect layering outfits. Just keep reading and scrolling down to see what we have for effortlessly styling your trench coats this fall. Here are 16 trench coat outfit ideas and some chic styling tips!
1. Layer Up in Maxi Dress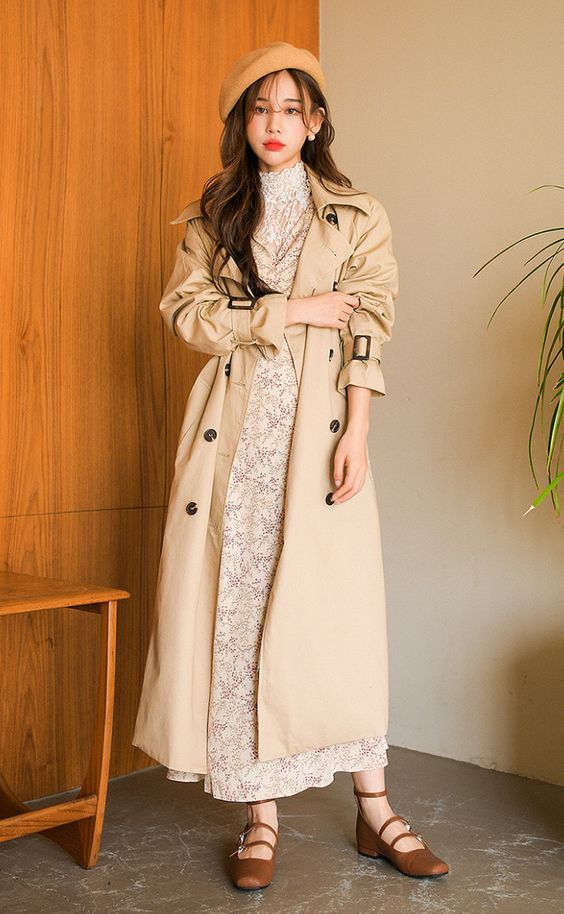 Stepping outside in the early fall? You must have this trench coat outfit idea. A floral maxi dress style that's layered with a beige trench coat would make you look lovely in the fall season. You can make it more stylish by matching up accessories items like getting a beret hat, pearl stud earrings, and a watch that would bring vintage style. Then spice up your style with a pair of short-heeled Marry jane shoes and a brown handbag.
2. Use It with Hoodie
You can show off your trendy outfit for school with this trench coat outfit idea. Simply combine a hoodie with boyfriend jeans and add a trench coat for layering. This hooded blazer style has recently gained popularity, particularly among those seeking a boyish appearance. To complete the look, you can get high converse for the footwear then choose between a backpack or waist bag for the bag.
3. Putting on Your Jeans Outfit Style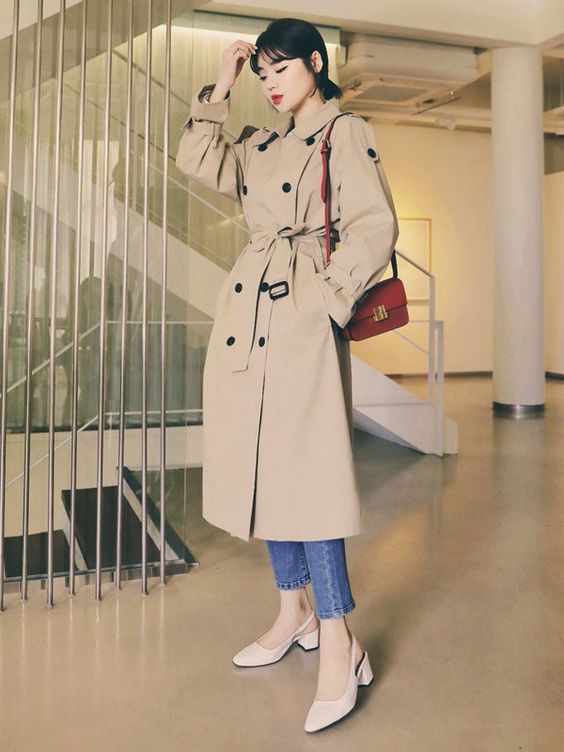 The easy way to style your trench coat in fall fashion is by putting it on your jeans outfit. For the complete look, just wear a basic t-shirt for the inner top and a beige trench coat for the outer. Then for the bottom style makes sure you prefer ankle jeans. If you want a bit of girly style, you can get your heeled loafers to match up with this trench coat outfit idea. Finish up with a red shoulder bag for a more stylish hint.
4. Comfy Style with Athleisure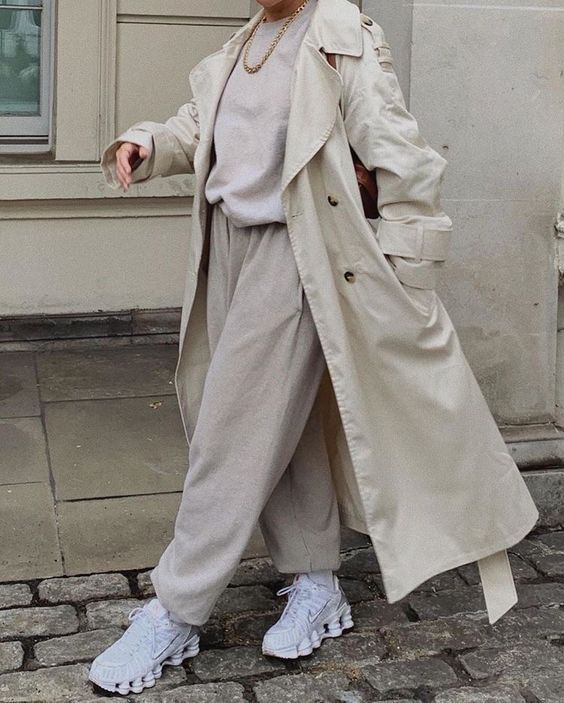 Creating your fashionable fall outfit ideas with a comfortable look. Combining a trench coat with athleisure is an easy way to look both comfortable and sporty. Not only that, this style is an effortless look when you're too lazy to mix and match clothes. Then, to improve this trench coat outfit ideas pair with trainers or sneakers for creating a sporty chic style. When you want to hang around with your friends, grab a brown shoulder bag to help carry your things. In addition, you can also bring fashion accessories to elevate your style.
5. Chic with Over Knee High Boots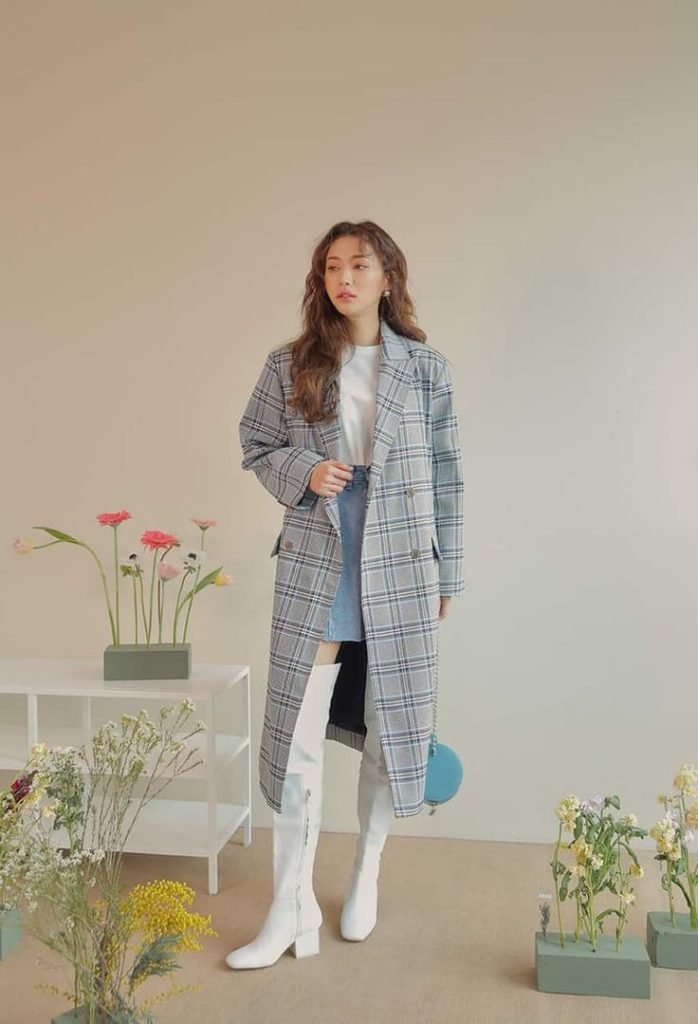 When you have to make a decision on what to wear for fall fashion style, a trench coat could be your option! This is something that can keep you warm yet look cool at the same time. Styling your trench coat outfit idea with over-knee high boots would present you not just chic, but also a trendy look. For inspiration, mix your long grey plaid trench coat with a simple mini-skirt outfit inside. As we said before, combine this outfit look with white knee-high boots for chic footwear. Then get already with a round micro bag and curly hairstyle to rock on fall fashion in this trench coat look.
6. Creating a Formal Style for Work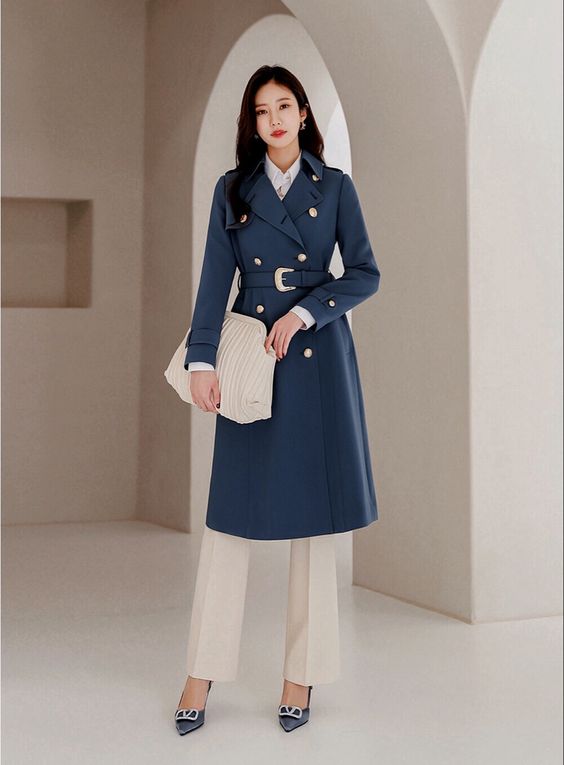 This styling look is appropriate for a working woman who wants to incorporate trench coats into her work outfit ideas. A navy double-breasted trench coat with a white shirt and linen pants would look great. Giving elegant touch with pump high heels. This style is also good to attend a formal event outdoor. Just add simple jewelry and your goody handbag to elevate your outfit performance. To look more stunning, you can do a flawless makeup look with a natural wavy hairstyle.
7. Elegant with Midi Skirt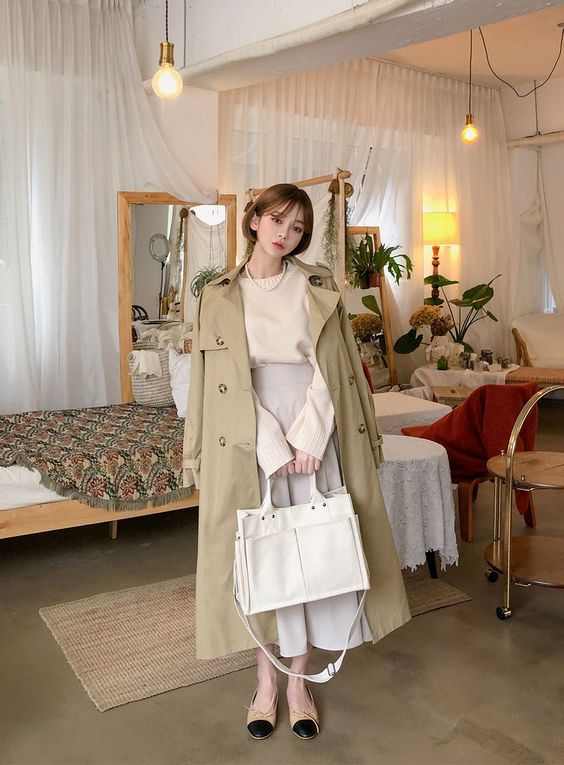 Defining your elegant style not simply using a tailored dress, but your trench coat outfit idea would be working too. Matching a midi skirt with a crewneck sweater may appear to be an ordinary outfit combination. However, by selecting the right style, you can transform it into an elegant fashion. For instance this midi skirt style! It looks effortlessly elegant, right? You can tuck the crewneck sweater onto the midi skirt a bit high, then cover it all with a long beige trench coat. Move to the shoes, you can bring simple flats in this look. Complementing this trench coat for a fashionable hangout style by getting your satchel handbag. Don't miss out on the makeup, go for a natural look and keep your hair tidy for an aristocratic look.
8. Make it a Mini Dress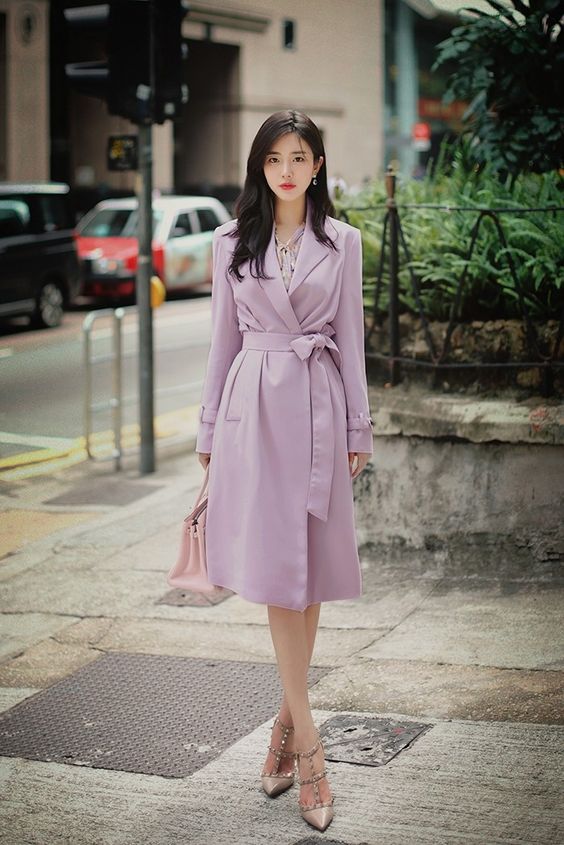 A pink blush or lilac trench coat is the best option for extending your girly look this fall. Even though pastel outfits are popular in the spring and summer, they can also look perfect this fall. So, you'll never go wrong with wearing a lilac trench coat outfit idea to look adorable this season. This coat would be ideal for a mini-dress look, where you need a trench coat that is the same length as the mini-dress underneath. Another option is to wear a mini skirt outfit inside, which includes a span skirt and blouse combination then wear a trench coat for layer. Finish out this absolute feminine look with a pink handbag, and get a pair of lovely spike-high heels. This style would become a romantic dinner dress when you have a night date with your partner.
9. Another Warm Outfit with a Sweater Look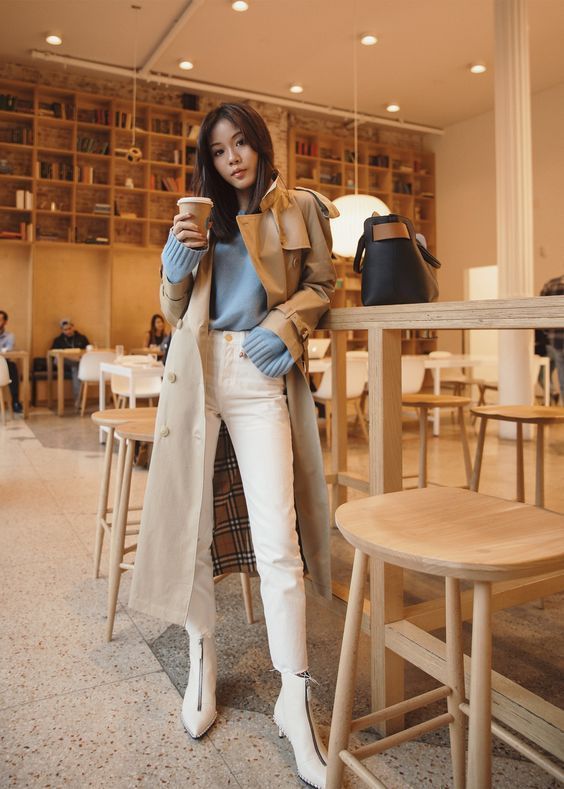 Are looking for a warm yet comfortable style in a colder month? Here we have trench coat outfit ideas that combine with a sweater and ankle boots. This combination needs a blue pastel sweater for the inner and then layer up with a beige trench coat for the outer. And for your under style, get white high-waist ankle jeans and a pair of white heeled ankle boots for a cool style. Furthermore, you can style this outfit with a tote leather bag or satchel bag to accompany your laidback look.
10. Match with Legging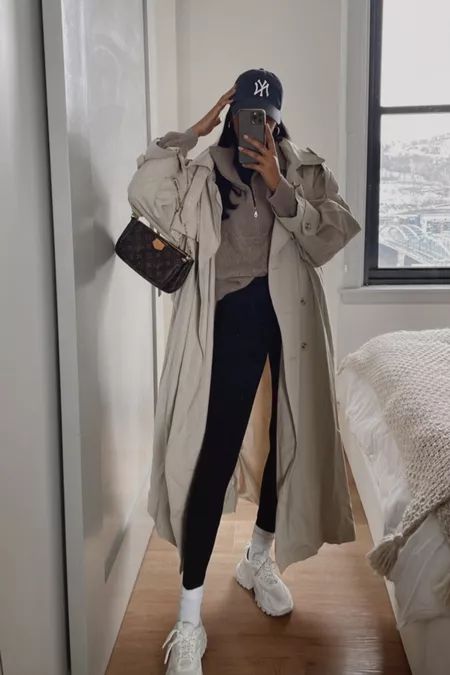 Let's create another sporty look with a trench coat outfit idea! What would make this coat sporty? None other than matching it with leggings or tights, and a collared sweater. Another option, you can also match it up with a turtleneck for the inner top. A zipper neckline design in the sweater makes this look cool. Furthermore, adding a cool accessory item, such as a cap or bucket hat, will elevate the performance of your outfit. Finalize your stylish fall fashion with a trench coat look by picking socks and trainers for matching footwear. Then for the bag, you can select between a waist bag or a shoulder bag, depending on your occasion.
11. Trendy with Short Leather Trench Coat
Next, we have a strong girly look with this trench coat outfit idea. When you wear a leather trench coat instead of the usual one, this outfit becomes more stand out. Simply pair a black short leather coat with skinny leather/latex pants for a trendy look. We can also get a tank top or a solid tee for the inner top. Then, perfect all your outfit performance by getting a pair of army boots to improve your trendy style. This eye-catching fall fashion style will wow a lot of people, trust me, it works! Finish out with hooded eyes makeup look, and a messy bun hairstyle, then bring out your favorite black handbag.
12. Monochrome Beige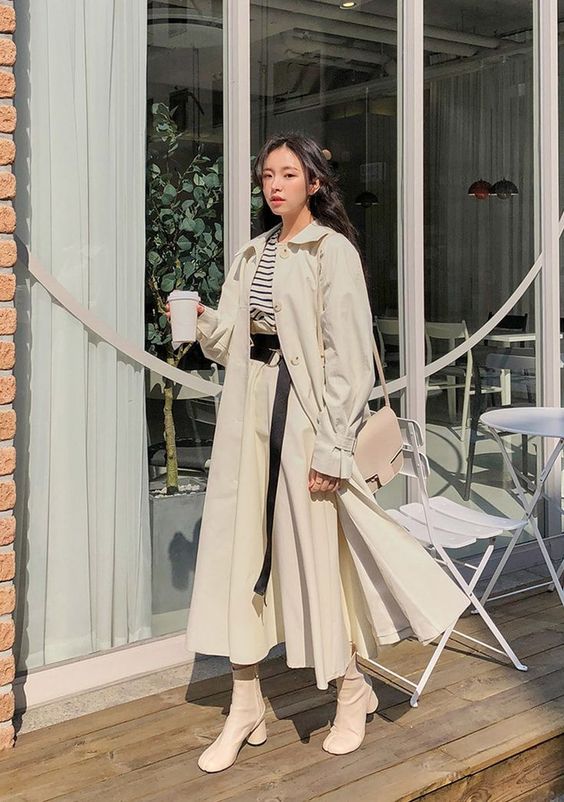 Set the tone for your fall fashion with a monochromatic look, and beige is the perfect color. For this, bring all beige pieces from head to toe! You can start with a beige trench coat for the main part. Then if you want you can bring a bit of a hint with a striped black-beige tee for the inner top. In the lower style, you can play with beige ankle pants or a culotte. For the toe, your leather beige ankle boots would look perfect with this style. Don't overlook accessories; you can get a long black belt that you can style in a cool way like in street-style outfits. Then, give a chance to your beige sling bag to perfect your monochromatic fall outfit ideas.
13. Playing with Mini Skirt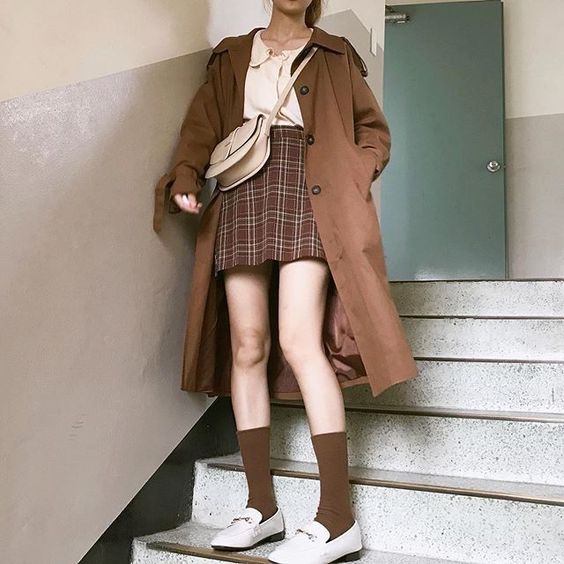 This trench coat outfit style would be equipped for teenage girls who want a cute casual outfit for fall fashion. Girls, you should try pairing a peter pan collar blouse with a tennis skirt and, of course, a long trench coat. This is also an excellent style for your back-to-school outfit idea. You know some schools start a new semester in September. It is also the beginning of the autumn season. So you can never go wrong with this trench coat style. Loafers and socks would complete your fashionable look. It not only gives you a stylish appearance, but it also makes you feel completely at ease! Then, complete your school outfit with a sling bag to help you carry your essentials.
14. Getting a Turtleneck Underneath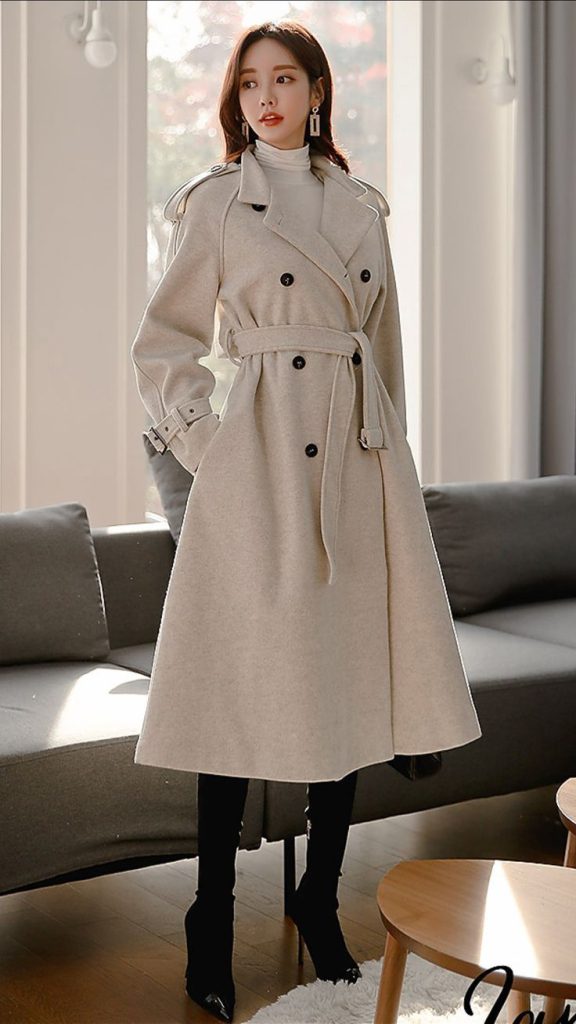 Simply pairing your trench coat with a turtleneck is an easy way to dress it up! For the inner look, wear a turtleneck dress or a combination of a turtleneck and a mini skirt. Then, add a long trench coat to your ensembles for the outer. You can wear it with a belt to emphasize your waistline and create a perfect body silhouette. Then, if you want to look different, style heeled over-knee-high boots for the footwear. Go with a mini shoulder bag or handbag to have a completely elegant yet feminine trench coat outfit style for this fall.
15. Mixing up with Denim Shorts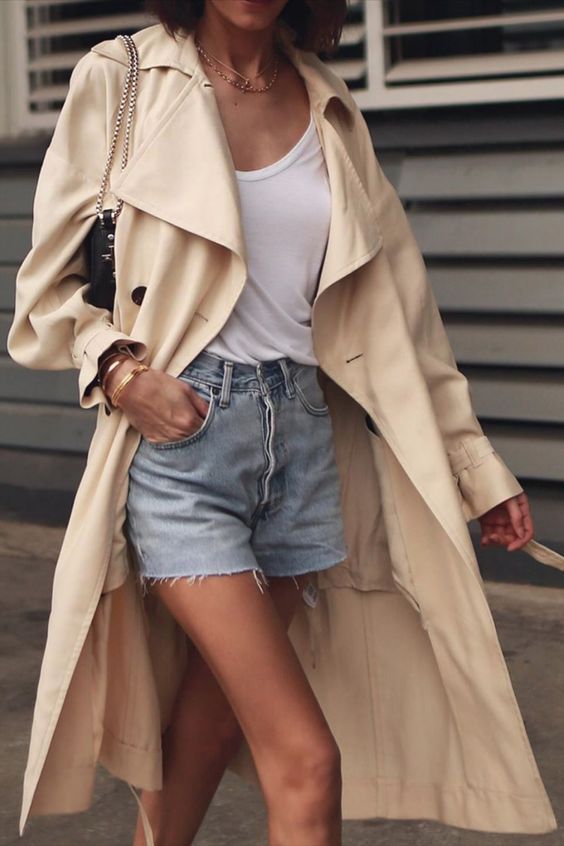 Autumn arrives, and you still can't get rid of your summer outfits? Girls, don't worry, you can still wear them! The key is to find the right layered outfits to go with your summer clothes. So, we're here to assist you with this issue by providing trench coat outfit ideas. Simply, you can wear any of your summer staples, such as cropped denim shorts with a short tee or tank top, and then layer on a trench coat for the outer. Then for the shoes, you can pick between sneakers or boots for a comfortable and chic style. Have confidence with a baguette bag and now you are ready to hang out with your friend outside.
16. Wear it Over Your Summer Dress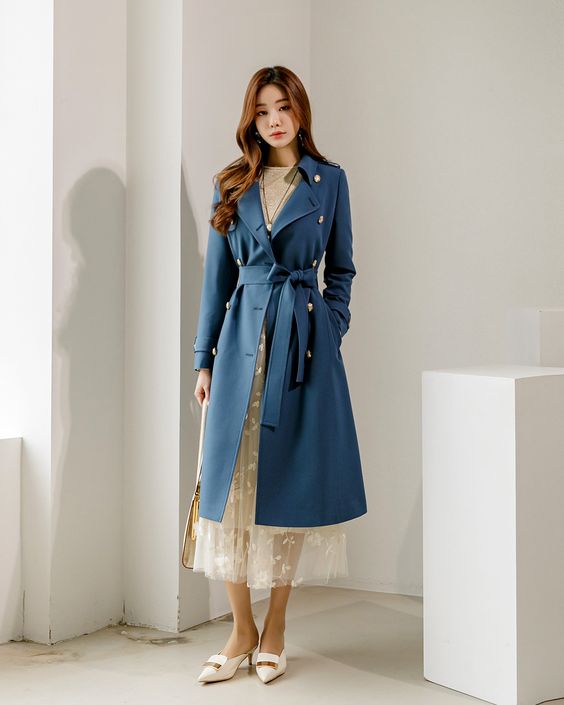 Last but not least, here's another trench coat outfit idea that incorporates summer fashion collections. Even though fall has arrived, you may not forget the summer vibe. Especially when it comes to some lovely summer dresses that you don't want to keep. As previously stated, you can still wear it during a transitional season such as summer to fall. Simply blending your summer dress with something more warm like a trench coat for the layer. This beautiful transparent skirt midi dress actually looks stunning when paired with a navy blue trench coat. For the toe, stiletto mule shoes would elevate your elegant style. To help carry your belongings, complement your look with a sling bag, handbag, or pouch while you have to attend a formal event.
Those are 16 trench coat outfit ideas for ladies we already shared with you. A lightweight and timeless design make a trench coat would be perfect to be worn during fall! So, don't be afraid to embrace this stylish women's coat in your wardrobe. You can explore this piece and get plenty of fashionable looks. We hope you can start from our recommendation style above to improve your fall fashion. Do you have one for inspiration? If you want more, check out our latest fall outfit ideas here: How to Stay Fashionable During The Fall