Olidfashion.com – There are various ways to present summer using fashionable outfit ideas. From now on say goodbye to thick coats and begin to opt for a more casual, breezy, and colorful fashion style. Tank tops, leggings, shorts, jeans, and other summer staples can be combined to create a stylish look. Whether you go to work, party, or date, there wouldn't be so much better for your performance than elegant summer outfit ideas. So, at this time we'll take up some inspiration outfits that would make you stay fashionable even beating the heat.
When it comes to elegant summer outfit ideas, there are many different styles to choose from. You can mix and match outfits that look more like this season's vibe such as wearing clothes with fresh summer colors, light fabrics, simple, etc. Therefore, we've round and compiled some clothes which are suitable for summer days. So, let's find out some inspiration down below!!!
1. One Shoulder Blouse and Culotte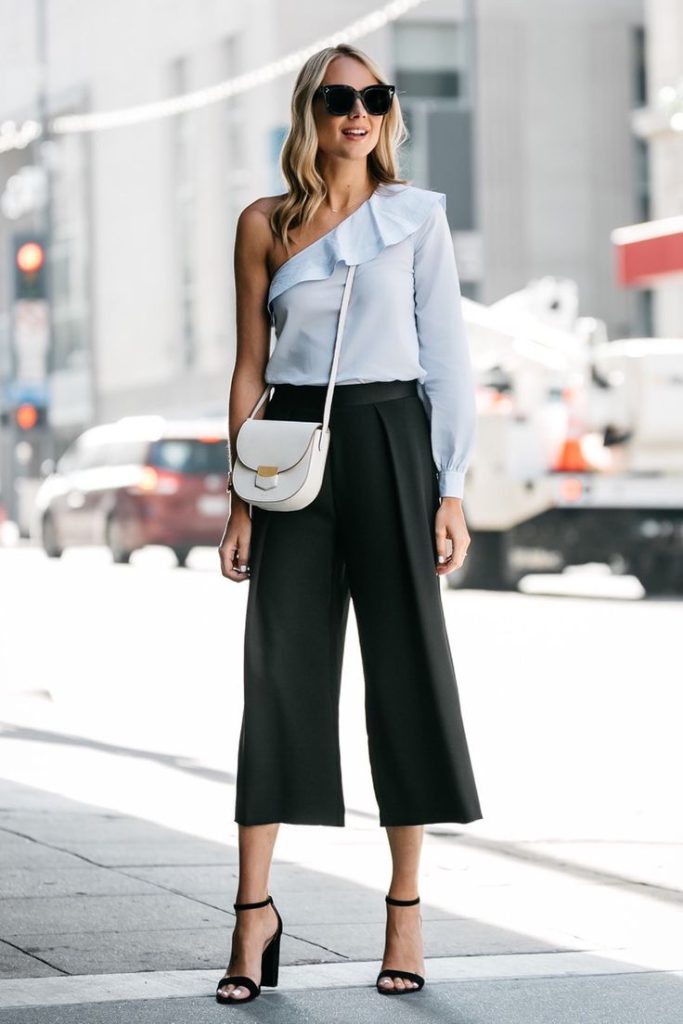 Summer is the best time to experiment with more fashion styles. For the first elegant summer outfit idea, you can wear a one-shoulder blouse with a culotte. This combo would be maintaining a relaxed yet elegant vibe in your outfit performance. To perfect your appearance, you can get strappy high heels for matching shoes. Then, finish off your summer day look with accessories like sunglasses to protect your eyes from UV rays and a white saddle bag to store your belongings when you go out with your friends.
2. Stand with Sleeveless Tee and Shorts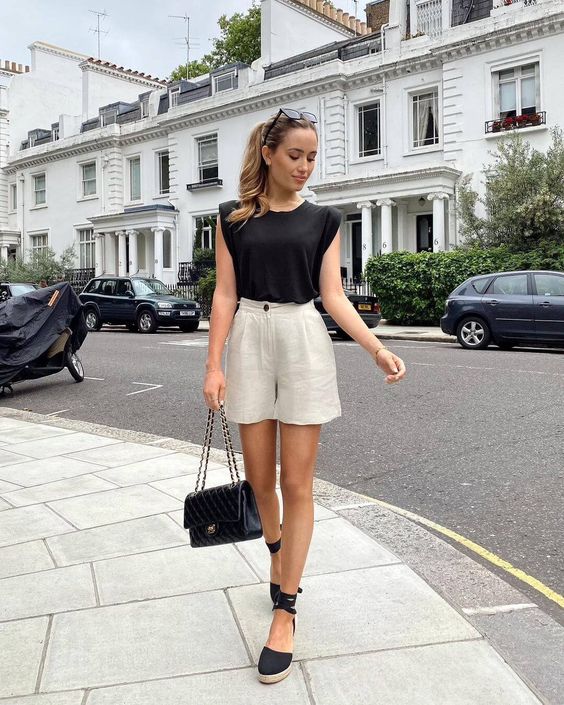 Do you think a summer trend now? We have one outfit suggestion for you. Why don't you try to dress up with shorts? When paired with a sleeveless t-shirt and strappy high heels, these stylish shorts transform into an elegant summer outfit idea. For additional details, you can bring simple jewelry for accessories such as a thin necklace and bracelet, or you can also prefer a women's watch. Then for the option, do a high ponytail that would make you look fresh and chic yet elegantly. For the bag, opt your favorite shoulder bag that uses a chain sling. Sunglasses shouldn't miss out to wear during summer. It's not just fashionable accessories items, but it can help to protect your eyes from dust and UV light.
3. High Fashion in Asymmetric Top and Button Skirt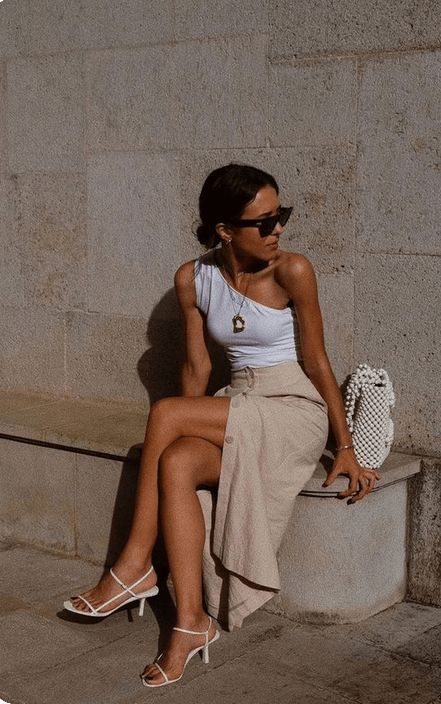 For next elegant summer outfit ideas, we'll play with an asymmetric top and button skirt. Choose a top style that's fitted your body and then opt for a button skirt and unbutton some on the tip to create a slit. And when it comes to the elegant look, the best footwear for that you have to opt for any high heels, stilettos, or wedges that would make your legs look more ladder. Again and again, sunglasses will become favorite accessories to use during summer. If you want a more stylish and extravagant look, support your appearance by doing a messy bun for your hairstyle. For the bag, you can pick a knitted handbag to look chicer.
4. Stunning in Peasant Dress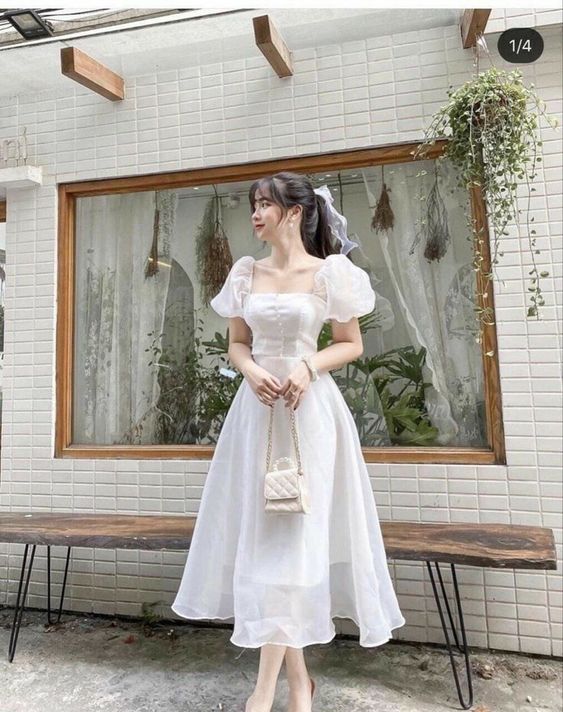 This outfit is surprisingly stunning. Girls who want to look feminine should wear this white peasant dress. With this dress, you can put together a chic and elegant summer outfit idea. You just need to wear it with short heel shoes on your legs and some simple jewelry, such as pearl stud earrings. Then, opt for a high ponytail adorned with a large white ribbon to make you appear lovely and charming. Choose a micro handbag with a chain sling that is ideal for elegant style. When you need a more casual look, bring a rattan bag. As you are aware, this elegant summer dress is an excellent option for a pretty first-date outfit.
5. Get Two Piece Set for Charming Style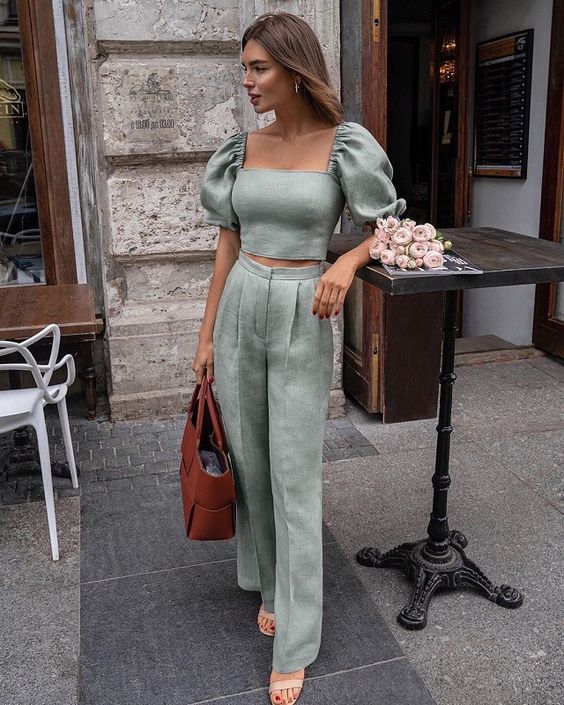 Put the two-piece outfit in your wardrobe if you don't know what to wear this summer. This outfit will help you look stylish without having to think about matching clothes. If you want an elegant summer outfit idea, go for a two-piece silk peasant top and trousers set. You can also wear this outfit to a casual meeting at a cafe. Simply pair this dress with high heels and a leather tote bag to carry your essentials. Then, stand more elegantly by doing a natural wavy hairstyle and get simple gold jewelry. Also, put on natural makeup to make you look more pretty even in the heat of summer.
6. Lovely Professional Combo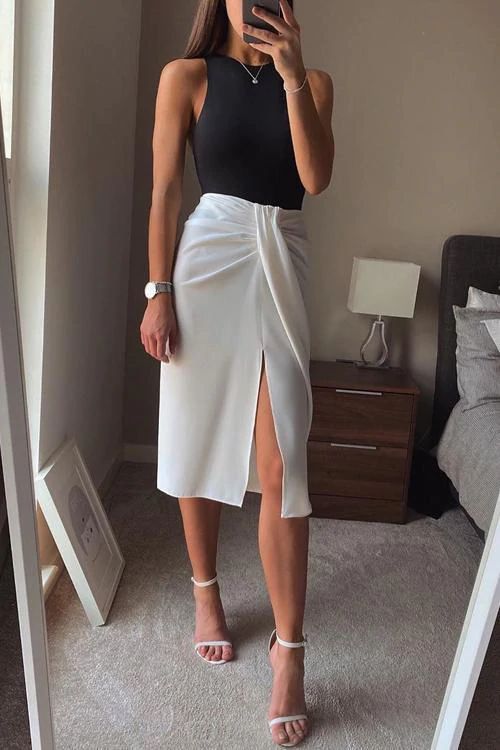 Those who do not want to wear a dress can opt for a skirt for a more feminine look. Bring a sleek mini skirt with a high slit that you can mix and match with a tank top for an elegant summer outfit. Choose a top with a high neckline or a halter neckline. This will give you a professional appearance for work or a business brunch. Finish off your outfit by selecting simple jewelry and fashion accessories. Then, for the toe, choose stiletto or high heels. You can use a clutch or handbag for the matching bag. Moving on to the hair, a tidy straight hairstyle will complement your elegant look.
7. Classy in Tweed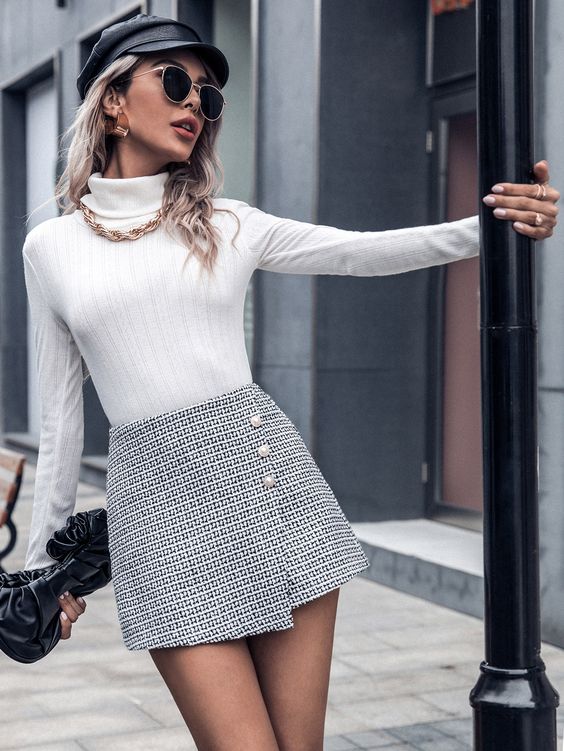 Tweed is a popular choice for both a classy and elegant outfit. You can wear this piece to create an elegant summer outfit idea for your trip to Paris. Match your tweed skirt with a white turtleneck for an overall look. Then make a statement with a beret hat that can elevate your appearance. Aside from that, you could show off some of your gold jewelry collections for a bit of elegance and glam style. Move to the toe, you can get high heels or ankle boots to add a chic and elegant touch to the overall look.
8. Clever & Chic Contouring with Palazzo Pants and Corset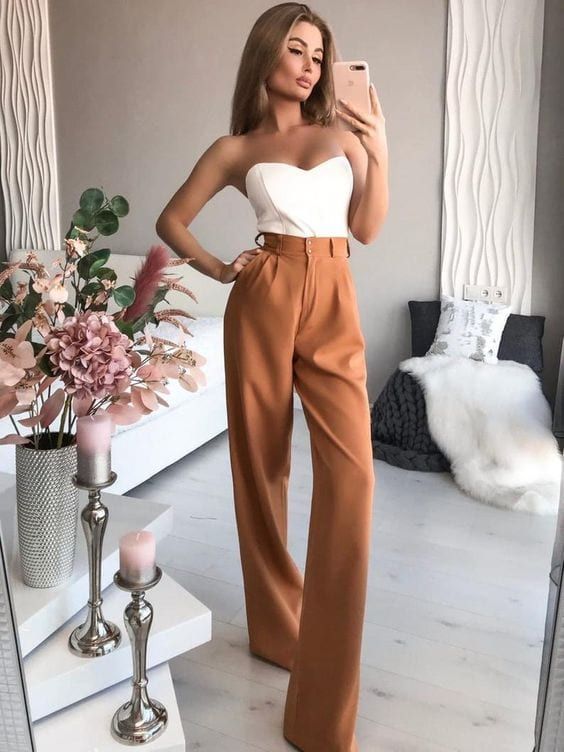 Another styling outfit to have a smart elegant look for work is by pairing a corset top with palazzo pants. With this combination, you can have an outfit for any occasion, from an inspiring work outfit to an evening dinner with clients. If you need to be more formal, add a blazer as an extra layer. This is not only elegant, but it also gives you a sexy look with chic contouring. Then, complete your appearance with high heels or wedges. You can also enhance your elegance by bringing a clutch bag or a mini handbag in your hand. Some simple gold jewelry also should be adjusted. Then, you can opt for a natural wavy to become your hairstyle with this outfit.
9. Work with Sleeveless Blazer and Skirt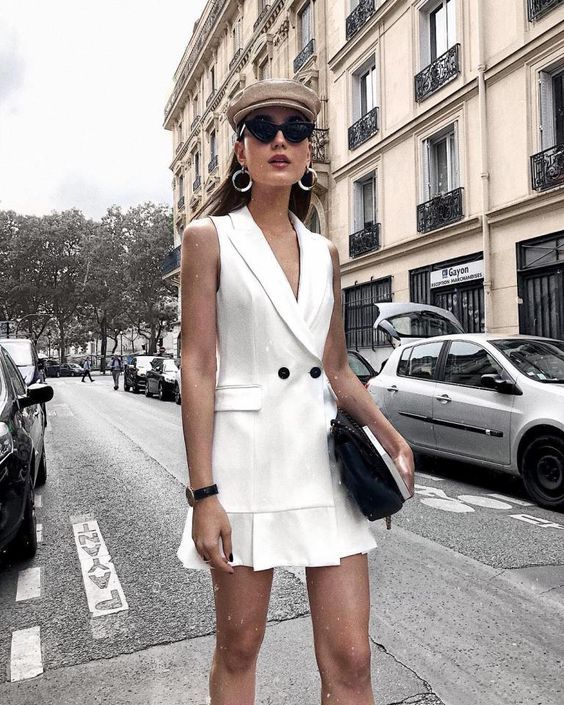 Need to work comfortably this summer? One method is to transform your outfits into an elegant summer outfit idea at work. We have one styling outfit that you'll like. It's a combo of a sleeveless blazer with a skirt. For more details, you can bring a white sleeveless tailored blazer that you mix up with a white tennis skirt. Then, get this combo with a chic beret hat to become more fashionable. For bags, just pick a black messager bag or just choose your favorite handbag. Then move to the footwear, you can pick high heels or ankle boots.
10. Sexy Elegant with Silk Tanktop and Shorts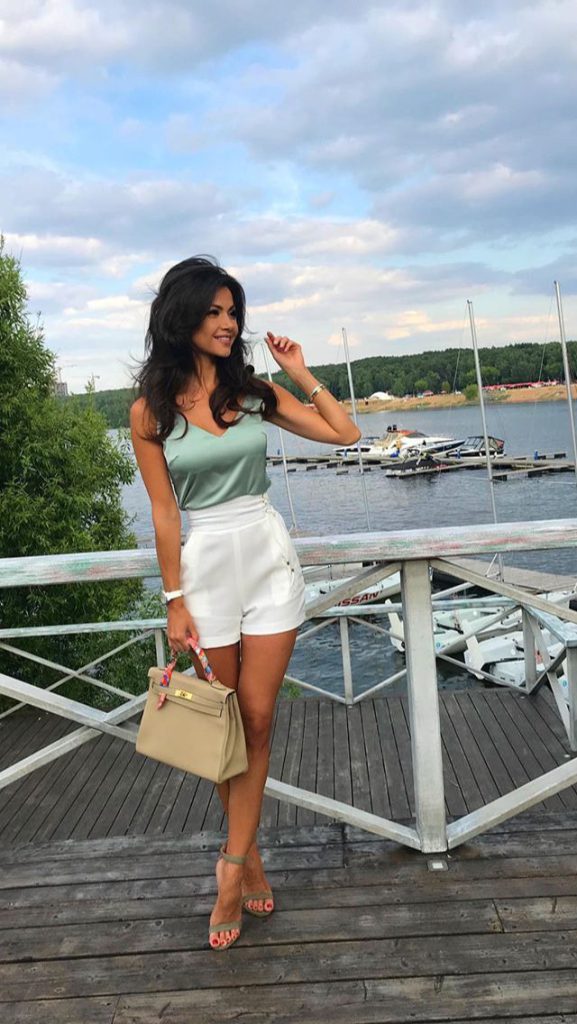 You'll have an elegant summer outfit idea with this shirt dress style. Stay fashionable by wearing a single coordinated dress with a belt over it. Choose green olive for the colors that make it look like a modern safari outfit. Simply incorporate gladiator high heels into this outfit style to make your performance cooler and more elegant. Still don't miss out on accessories items, like you can choose a leather handbag that not only brings elegant style but also a classy look. Or you can also add another accent like metallic accessories to glamorous your look. Next for the toe, if you want to look graceful just select high heels. But if you want comfortable shoes, just bring out strappy sandals.
11. Chic with Shirt and Jeans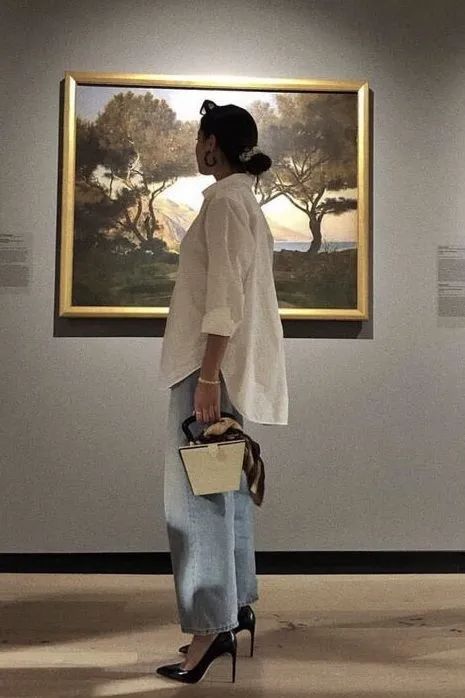 Who says you can't look elegant in jeans? If you mix and match your jeans properly, you can achieve a lovely look even in a boyish outfit style. For example, when you match an oversized collared shirt with straight jeans. Then pair this look with a stiletto on your leg. You'll amaze with these jeans that turn into elegant summer outfit ideas. What you need more is just to get matching accessories and a handbag to perfect your chic outfit performance.
12. Stunning in Floral Dress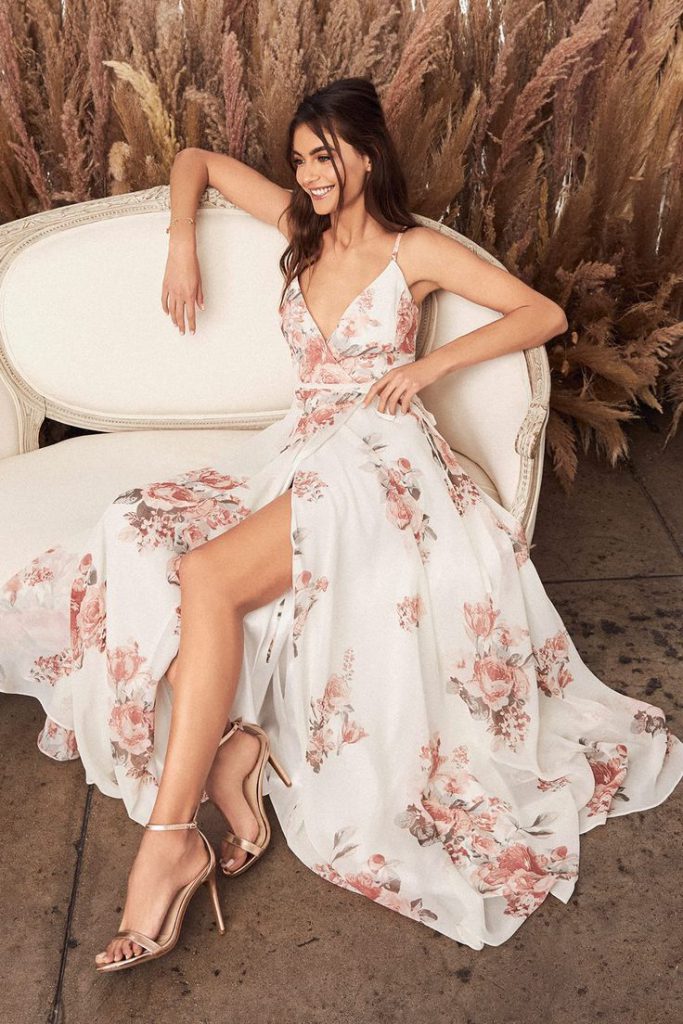 What do you think about a floral dress in summer? It's actually the perfect look that can bring elegant summer outfit style. Even only with a simple strappy floral dress, would stand your beauty up. You can match this dress with high heels to add more graciousness to your appearance. Important to bring suitable accessories and do the right hairstyle, also make-up if you want to go this dress to a party. Because this dress has more patterns, don't overdo another detail. Just keep your look stunning in a simple way.
13. Shirt Dress Style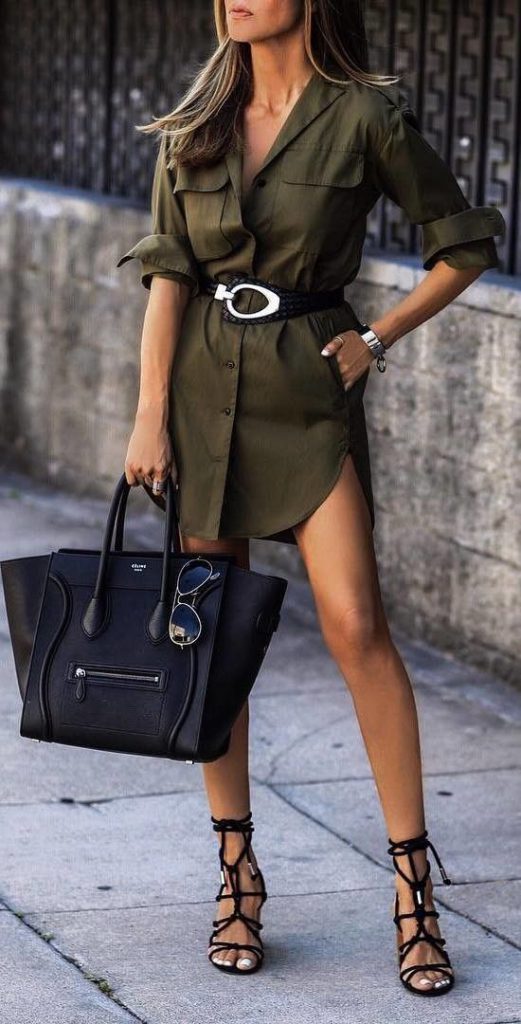 You'll have an elegant summer outfit idea with this shirt dress style. Stay fashionable by wearing a single coordinated dress with a belt over it. Choose green olive for the colors that make it look like a modern safari outfit. Simply incorporate gladiator high heels into this outfit style to make your performance cooler and more elegant. Still don't miss out on accessories items, like you can choose a leather handbag that not only brings elegant style but also a classy look. Or you can also add another accent like metallic accessories to glamorous your look.
14. Look Elegant in Cami Top and Trousers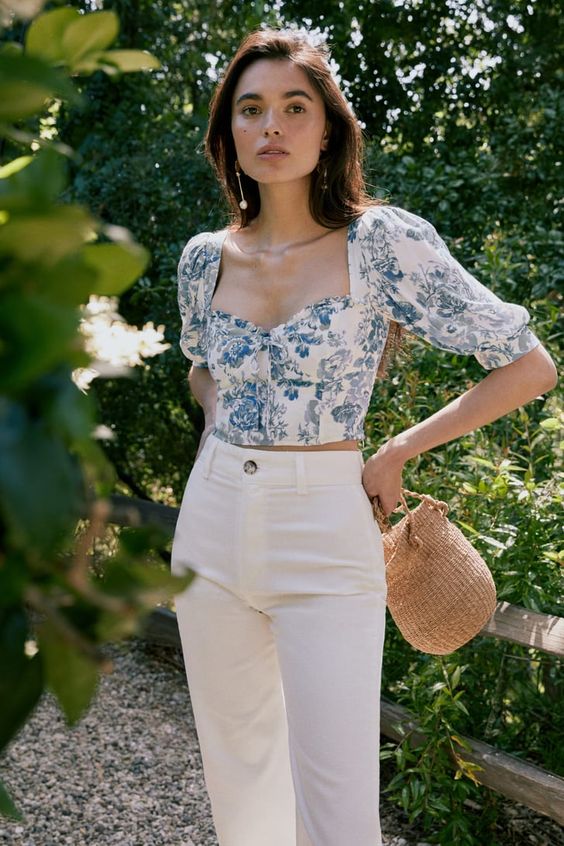 Wanting to become comfortable yet elegant in the summer doesn't mean you have to wear a dress. You can still have elegant summer outfit ideas just by wearing a cami top and white high-waist pants. The square neckline and the floral pattern in your top style would give you a lovely vintage look. Make this outfit idea more stunning by getting a pair of high heels or wedges for the matching footwear. This outfit also can scream utmost elegance by adding accessories items like these drop earrings. Aside from that, bring another accent like a natural accent with a craft rattan handbag. You can use this outfit style to walk around the park and go picnic.
15. Stand Out in Bright Outfits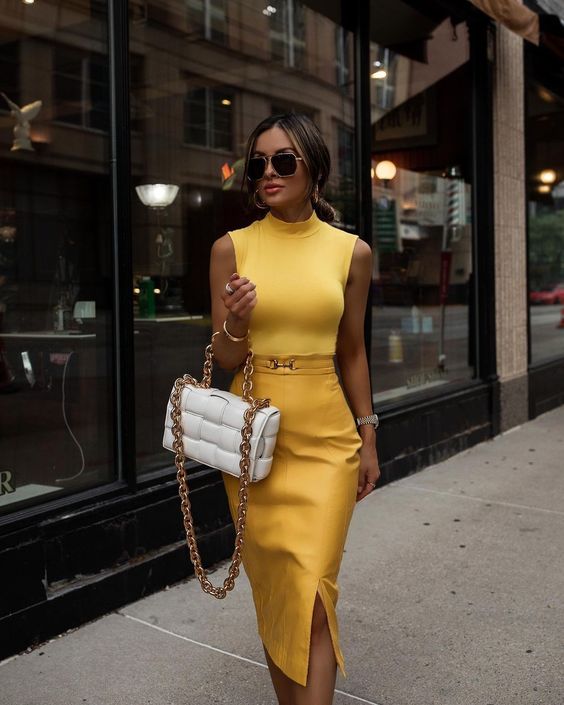 How do you incorporate summer into your outfit look in an elegant way? We'll suggest you dress brightly. Play with a bright yellow shade in your summer staple clothing for this. When you want to stand out from the crowd, one option is to wear bright clothing. Besides that, yellow clothing also adds to the summer vibe. Opt for a piece that looks sleek like this yellow sleeveless turtleneck that tucks into a satin pencil skirt. With this look, you'll give an impression of both gracious and classy. For a more fascinating, get a handbag with a big chain sling, and some gold jewelry for accessories. Then pick high heels or stilettos to add a finishing touch to your outfit performance.
16. Sophisticated Look with Haig Waist Pants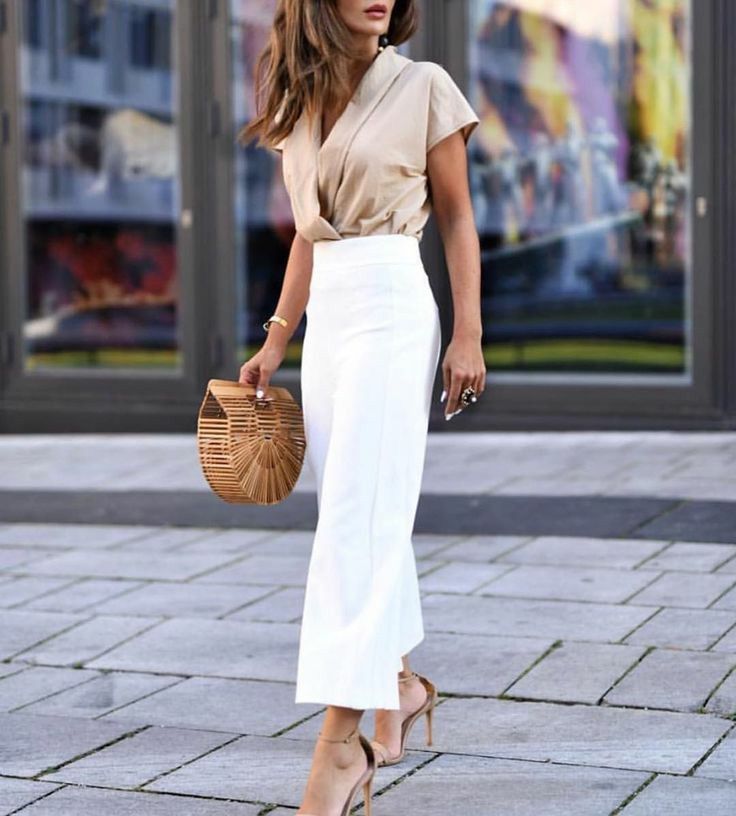 You can never go wrong with this outfit as a summer staple. In a subtle way, the entire look is elegant and simply beautiful. Combining a v-neck blouse with high waist pants and stilettos highlighted your elegant summer outfit idea. Coordinating another detail, such as accessories and an amazing craft rattan bag, would improve your stylish outfits. Then, use makeup and style your hair in a natural manner to appear more mature and elegant.
17. Leopard Prints that Look Graceful in You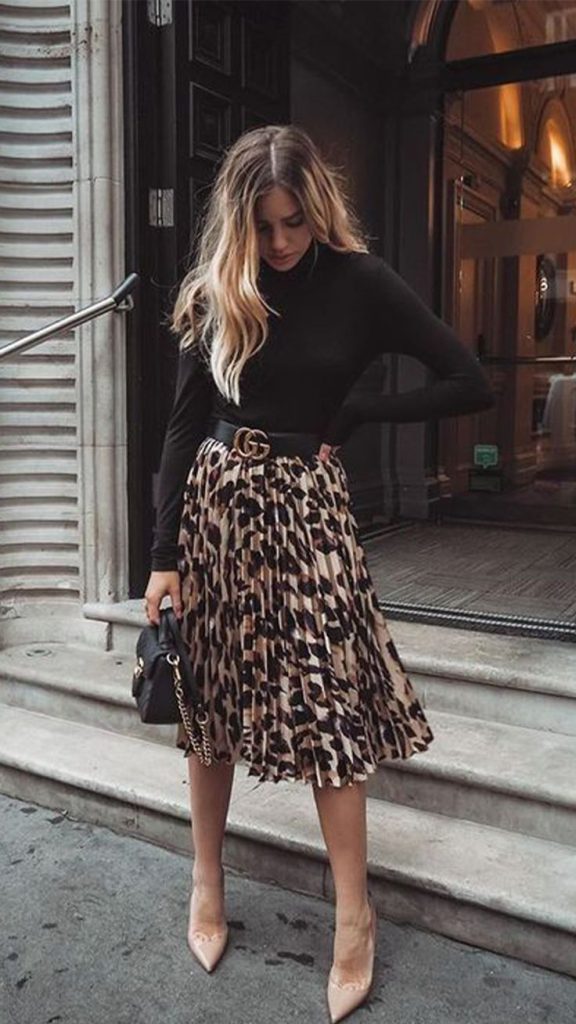 I want to scream at this outfit idea! Wearing something like this is simple, easy, and totally chic. Even in the summer, you should dress warmly at night to avoid a chill. That is why we present you with this elegant summer outfit idea that can be transformed into the girl's night-out outfit style. A slim black turtleneck can you combine with something classy like a leopard pleated skirt. Then, you can create contouring by adding a belt over it. Furthermore, coordinate your outfits with gold high heels and a black handbag with a bit of gold accent to add more classiness. Use this outfit style for a date at night with your boyfriend.
18. Use Monocromatic White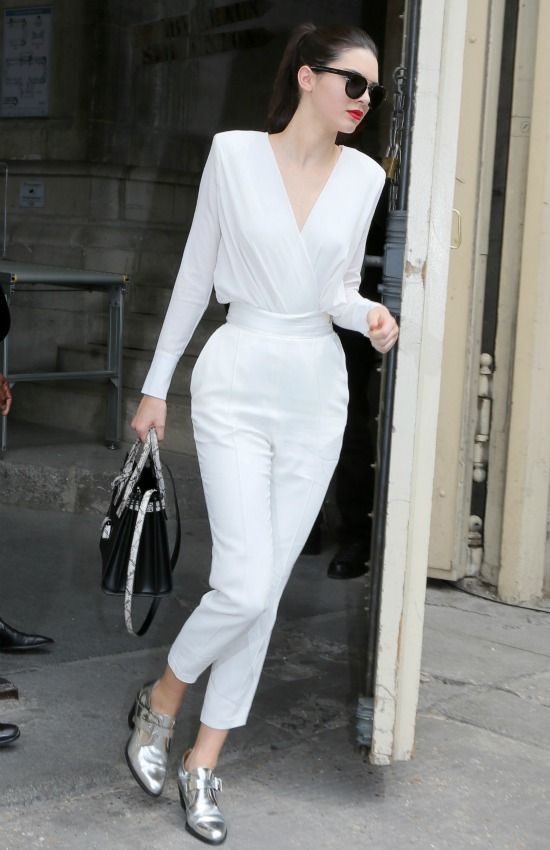 We bring you monochromatic white outfit ideas for the last elegant summer outfit ideas. You'll look stunning in a lovely blouse and pants in the same color. You just have to match a plunging v-neckline silk blouse with trousers and silver oxford shoes to look elegant for formal lunch. Perfect your outfit performance with a black handbag that has a little silver accent on it. For accessories items, get sunglasses, and no need to use jewelry. But if you want to wear it, get a thin ad simple one. In addition, get a high ponytail to become your hairstyle and bring more elegance to your appearance. A flawless makeup style will also help you appear elegant in public.
Summer is a warmer month that allows you to express yourself, especially when it comes to fashion. You need something stunning to wear whether you are going to work, school, hanging out, or on vacation to the beach. You'll stay cool and fashionable in the heat if you wear some of the elegant summer outfit ideas we've shared above. I hope that inspires you to stay fashionable on a daily basis. Maintain your attention to what you wear, making sure it is appropriate for the time and place. However, whatever you wear, make sure it is comfortable and that you use it confidently. If you need another inspiration about summer collections, just read our article about chic and easy summer outfit ideas or casual Korean outfits for summer.