Olidfashion.com – Have you ever gone on Safari or desert in Some Country Like Africa, Tanzania, or Serengeti either for a vacation or just for a wild adventure? If yes, you have known that the safari outfit has unique and looks fascinating to wear in an outdoor clothing style. That's why we want to introduce and incorporate this style to become modern safari outfits for your daily option.
Safari outfits usually come in neutral and muted colors like beige, khaki, or olive green to make camouflage on wild Savanna. The clothing design also looks like an old Hollywood trend that makes you feel get a vintage style from it. However, in fact, safari clothing is convenient, lightweight, and comfortable to wear. That's why in the last few years some designers have begun to apply it in the modern style, especially for outdoor clothing inspiration.
Are you guys want to try to hang out with your friends in these safari outfits? Or maybe you want to mix and match it in your daily style? Let's find out what you need to create modern safari outfits that would make you look fascinating outdoor below.
What To Wear on Safari Outfit Style
When you want to create safari-style into your fascinating outdoor outfits, here are the major ensemble to stick out in your men's wardrobe.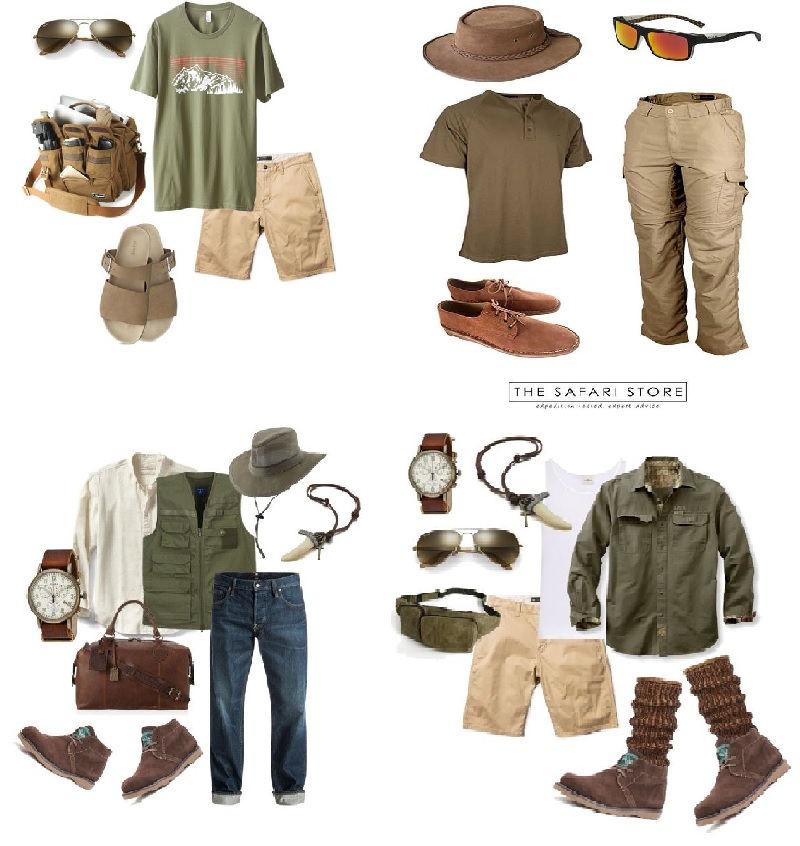 Safari Shirts
Safari shirts that you need to wear are something like neutral colors such as beige or earthy tones. But mostly, safari is identical to khaki, olive, or beige. Besides that, in safari shirts that are a bit stand up is the pocket and it usually has more than one. You can choose either a short or long sleeve shirt. While you want a versatile outfit, prefer to choose the long sleeve because they can be rolled up to become the short sleeve too. With this, you can get two styles to create modern safari outfits.
Safari Trousers and Shorts
For the trousers and shorts in the safari look, they come in cargo pants that typically have more pockets too. They can be called convertible pants that are even used for more versatility. The colors are mostly khaki or beige or other neutral tones. Besides that, when you want to have modern safari outfits, beige Bermuda shorts are the kind of pants that would work well for this. Furthermore, chinos and jeans can also be an option.
Casual Safari Clothes
Even in the modern safari outfit style, casual clothes such as basic t-shirts can bring modern style into your wardrobe. Like the shirt, most safari casual t-shirt has neutral and earthy tones colors like olive, khaki, brown, and white. You can match this outfit underneath in your shirt, or jacket, or just wear it with the shorts style.
Safari Jackets
The safari jackets, normally they are used for handling temperatures that are a bit extreme and keeping you from the wind in moving vehicles outdoor. Lightweight jackets in neutral colors and are designed with a lot of pockets typical of the safari fashion. However, for a modern safari outfit style, you can wear denim or leather jackets.
Safari Vests
If you don't like to wear long-sleeve outwear for layering style, you can choose a vest for it. Like other safari outfits, the vest has the same design and colors as the safari jacket. Having neutral tones and multiple pockets is typical of safari looks. To make this in a modern way, you can combine it with casual attire or create it with the street style.
Safari Footwear
When you want to create modern safari outfits fully in your bottoms style, just get safari footwear such as lightweight hiking shoes, a pair of sandals, desert boots, and crocs. In fact, that footwear could be counted on to fascinate your outdoor style.
Safari Accessories
To complete your modern safari outfit style, you need accessories items like hats ( bucket hats, cowboy hats, fedora hats, western hats, and others) and sunglasses that would give you protection when you go outside. Besides that, for additional details, you can bring out classy watches, socks, leather belts, and some summer accessories into your stylish outfits. Don't forget about the bags, the ideal for this safari look is crossbody bags, messager bags, and backpacks.
List Of Inspiring Modern Safari Outfits
Adventurer Style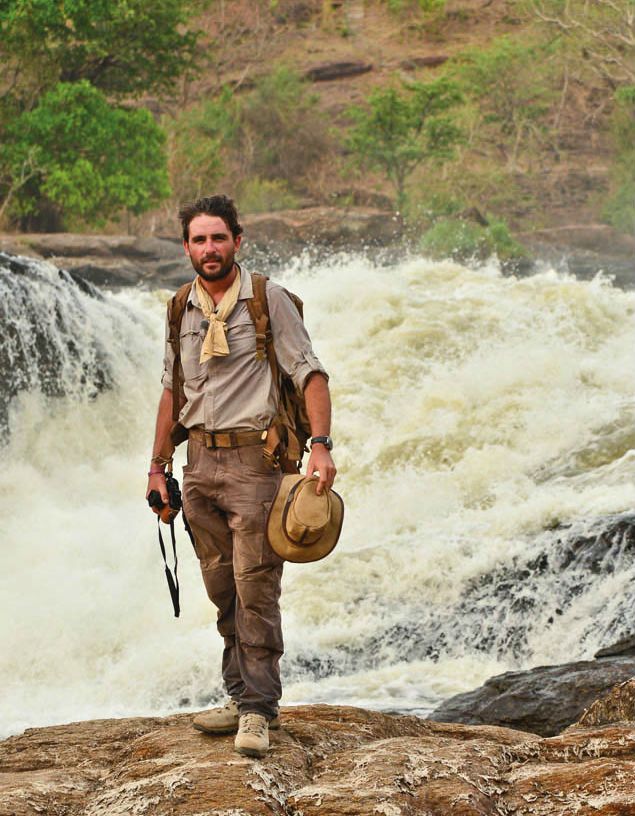 For you who like hiking or going on adventures in nature, this style would be suited. Decide on picking up cargo pants, safari shirts, and hiking shoes or boots. To help you bring your things easily, bring out a backpack. Don't miss out on your hat to keep you from the sunshine and a camera to picture beautiful scenery on your trip.
Casual with Bermuda Shorts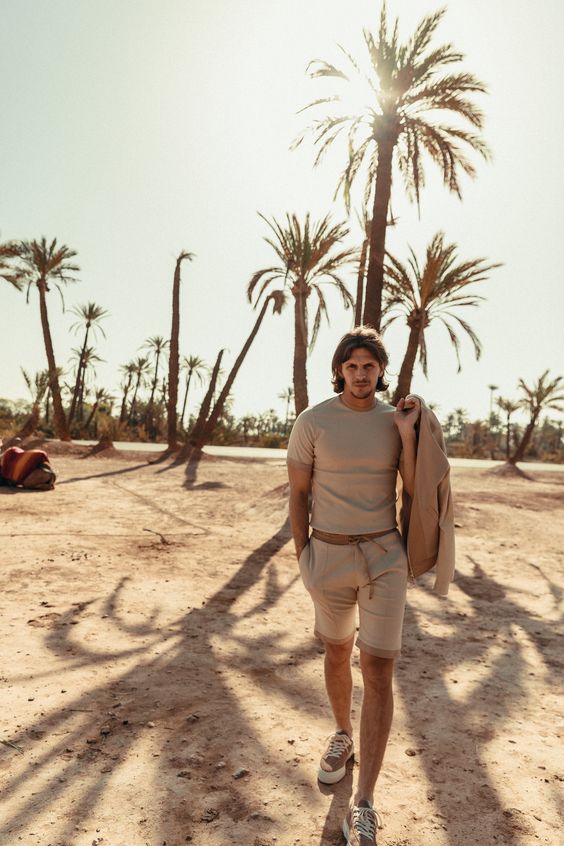 When you go to the desert, the safari outfit style is one the suited for it. The casual look is the way to keep you cool in the desert. For this, a simple pairing ensemble to wear is Bermuda shorts and a beige t-shirt. For the shoes, better you choose beige sneakers, and for the option, you can match this style with a light brown jacket. The beige shades in your outfit seem to blend with the color of the desert.
Multiple Pocket Blazer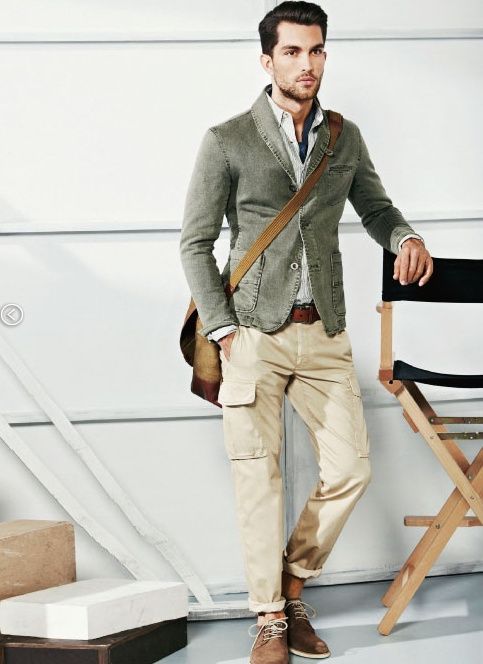 If you want something eligible to bring out modern safari outfits into your look, take this multiple-pocket blazer into your daily rotation. You can wear it with beige cargo pants, a collared shirt underneath, and brown suede shoes. For accessories, you can stand with a brown leather belt and a crossbody bag.
Denim Jacket Combination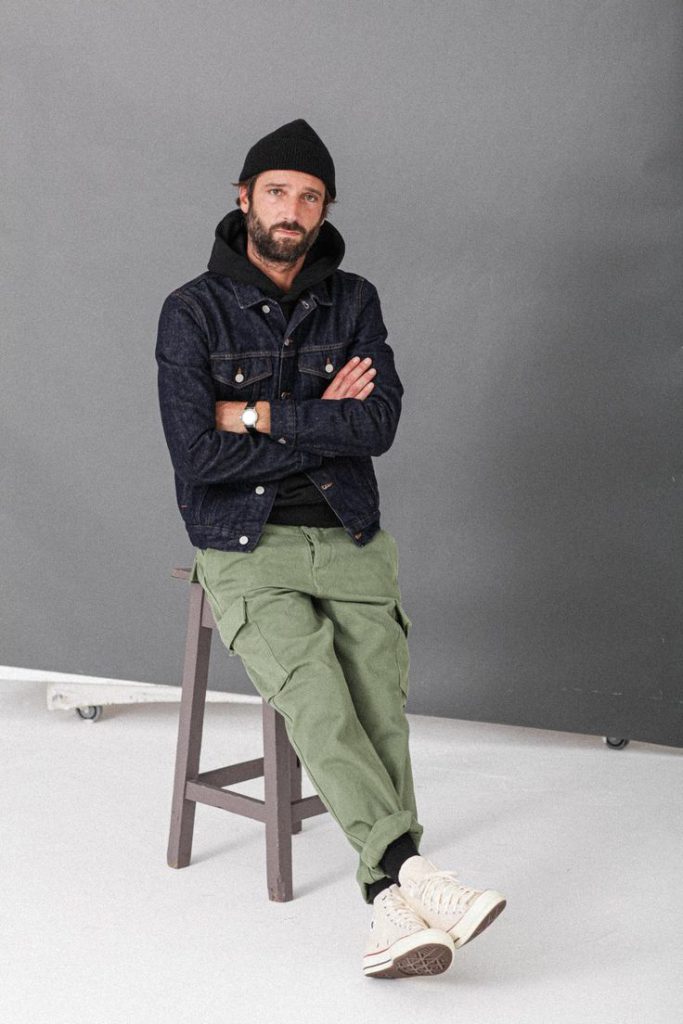 When you use denim, something that would look more fashionable in a trendy way. Likewise when you get a denim jacket to create your modern safari outfit style. As such for it, you just need to pair this jacket with a black hoodie and khaki multiple pocket pants for your fall or winter outdoor style. You can also use this style for hiking ensembles.
Cover Up Style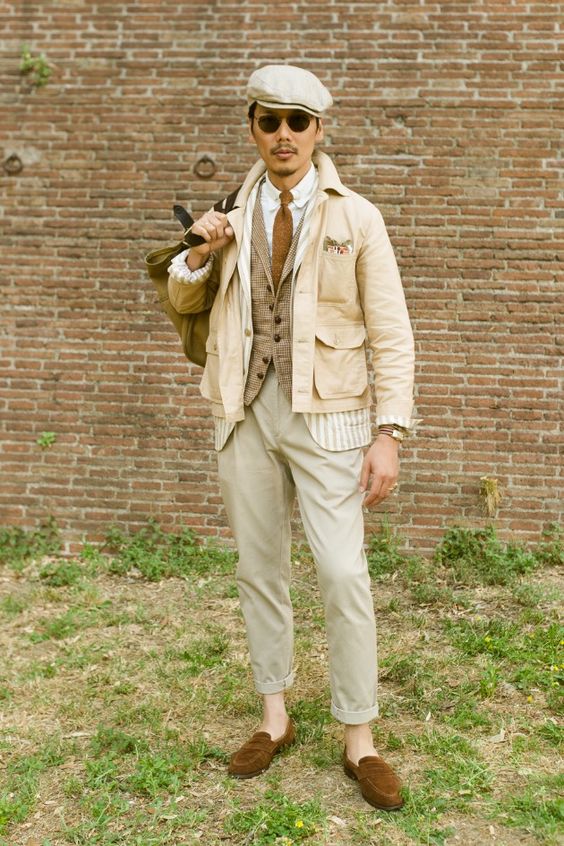 You can get layering style with safari outfits, especially with the safari jacket, and make it look more fashionable. For this, we suggest combining modern suits with beige multiple pocket jackets for the outdoor fall outfit style. To get a fashionable layering look, you can obtain a collared shirt, brown vest, beige striped lightweight blazer, and safari jackets. For the bottoms, chinos are great to pair. Don't forget about the legwear, you can get brown suede loafers for this style. And when you want to make it get a more urban look, accessorize with a brown tie, a beret hat, round sunglasses, and a khaki tote bag.
Long Trench Coats Statement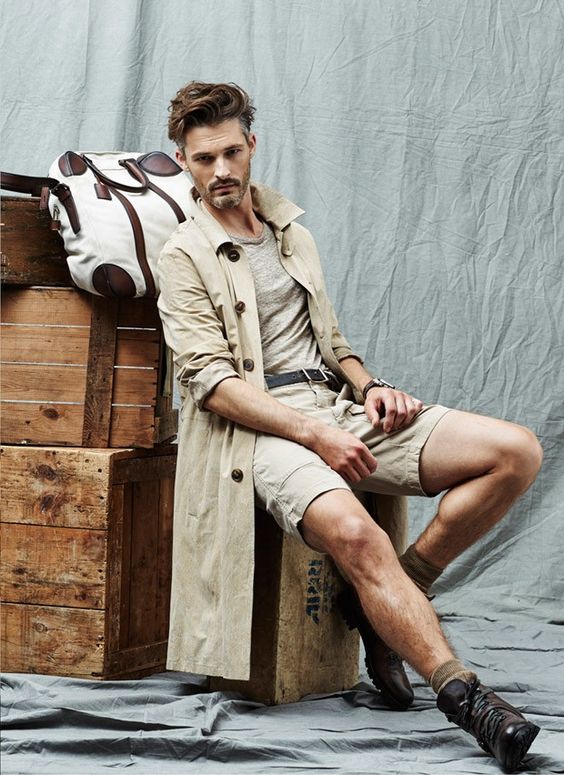 If you want something fashionable in a rush, get this simple one to try on. A long trench coat can stand out in modern safari outfits if you pair it with basic ensembles like a beige t-shirt and Bermuda shorts. For the toe, get brown socks and lace-up boots for the style. You can also make it a stylish airport outfit for traveling to Africa.
Monochrome Beige Outfits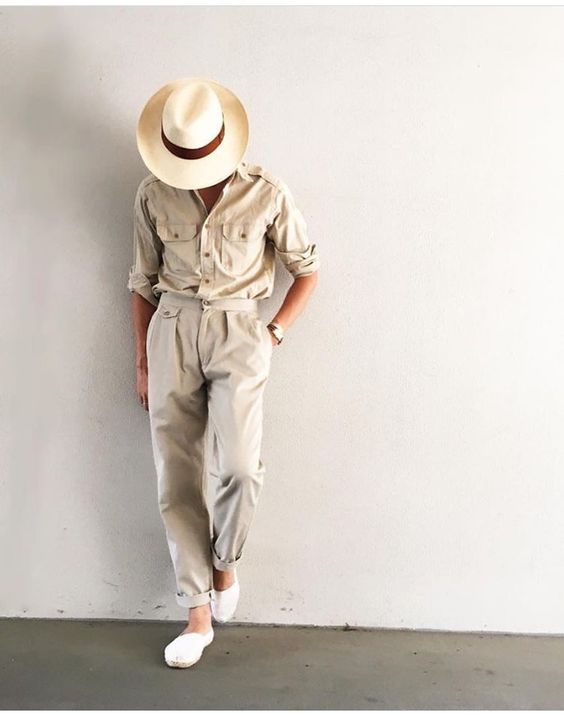 Another simple style to create a safari look in your modern daily outfits is by using monochromatic beige. From the upper, until the bottom style, just wears beige apparel such as a beige shirt, then you tuck it into your beige pants. For a head accessory, a beige fedora hat can make you seem like an urban style. Then, having white loafers or sneakers could blend well with your monochrome beige performance.
Hang Out Outfit Style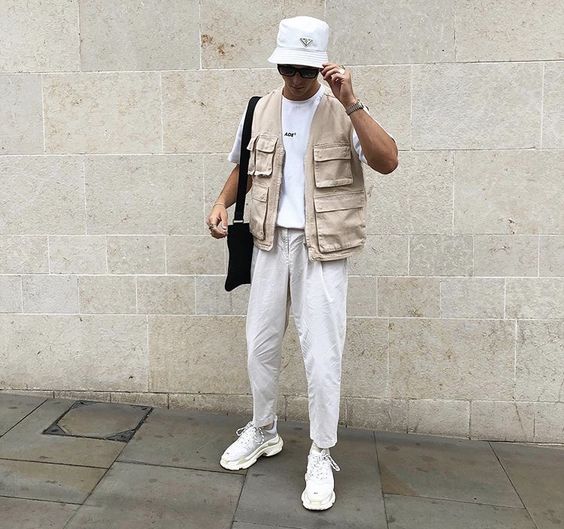 If you look for a fascinating outdoor clothing style for hanging out with your friends, try this modern safari look. If you see on Pinterest or inspo, you will find out that the safari vest now become a fashion trend. For example, you can get casual Korean fashion if you pair this vest with a white tee, cream ankle pants, and a bucket hat. Besides that, get other accessories such as sunglasses, a watch, and a tote bag to impress your overlook. And then for the legwear, get white trainer shoes or sneakers for comfortable walking outside.
Elegant in Safari Jacket Style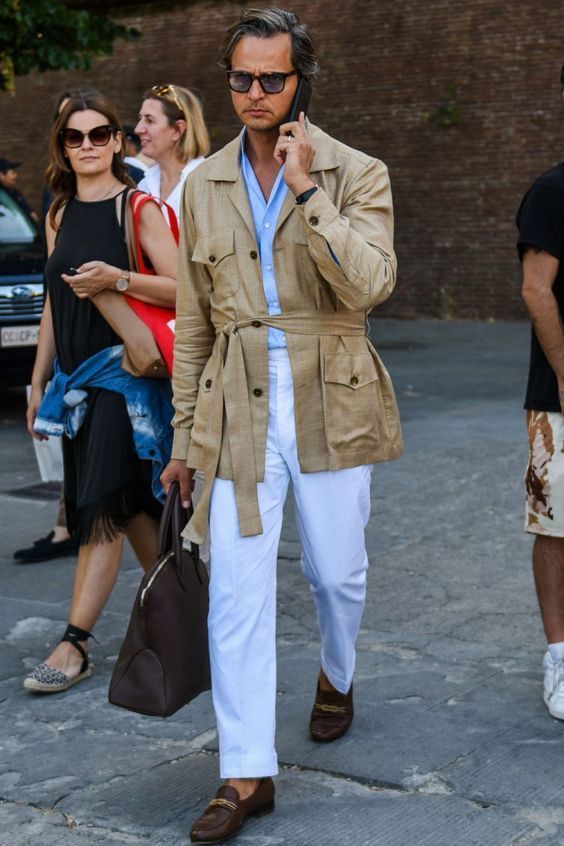 A businessman who wants to have an elegant style but look formal to meet clients just makes use of a safari jacket to replace a common blazer. For instance, get this jacket for outwear in your shirt and trousers look. With this, you would get a modern safari outfit for meeting outside. Then match this style with something formal like men's loafers for legwear. To complete your fascinating outdoor style, get a bowler bag in your hand.
Formal safari in Suits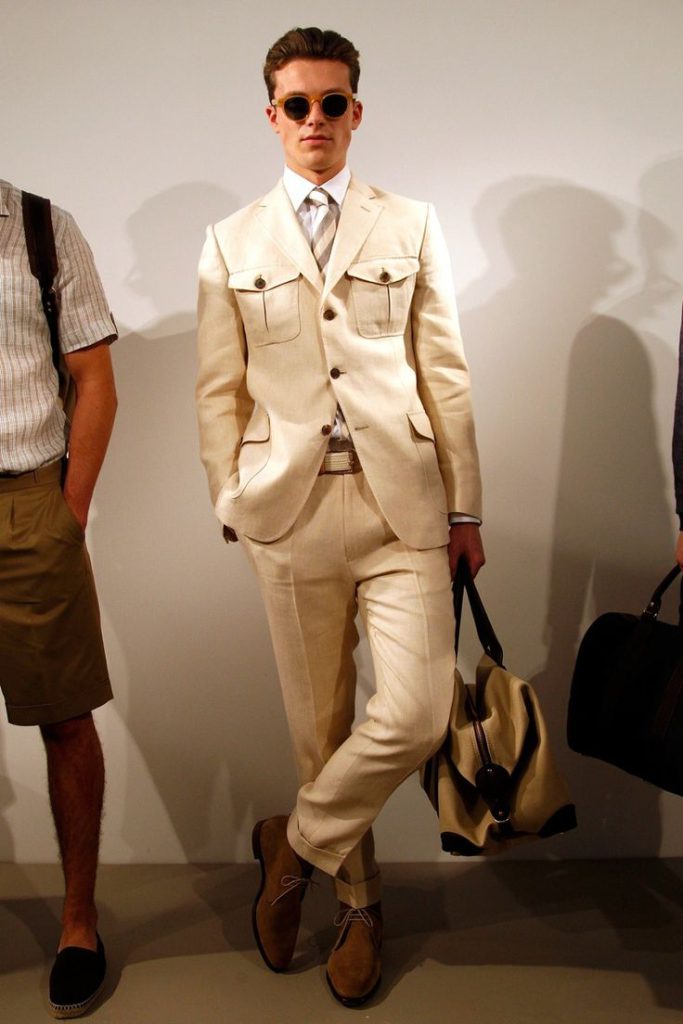 If you want to look sophisticated even for formal style, getting safari suits is kind of the way. For this, you can wear a beige that includes trousers, collared shirts, and a pocket blazer. The right matching footwear for this clothing is brown loafers, brogue shoes, oxford, or chukka. Perfect your performance with some accessories such as a striped tie, a cream belt, and a duffel bag in your hand. This style would be good to wear as your preppy workwear in the office.
Simple Safari Outfits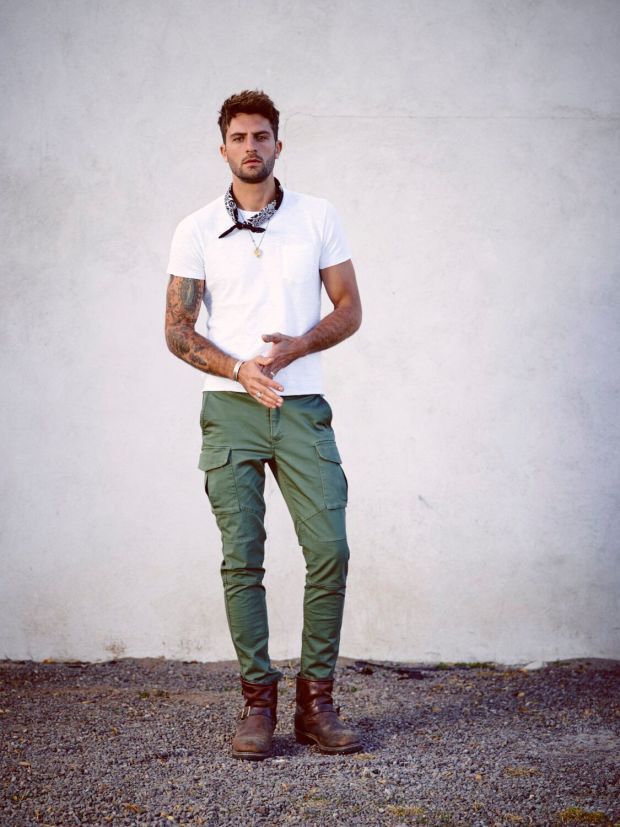 While the safari outfit style is a kind of outdoor attire, simple and casual could be the point. For this, the easy plan to approach it is using a basic t-shirt outfit that's matching with khaki cargo pants. To make it not look boring, you just need to bring a unique style to the overall look by choosing a pair of leather boots and a mini scarf around your neck. You will get
Smart Casual Style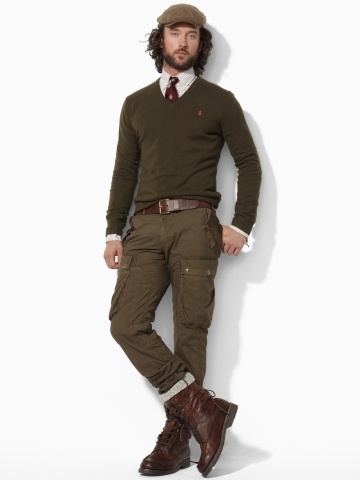 Look different in modern safari outfits in this smart-casual style. The way to bring it is if you combine a white collared shirt, olive sweater, and cargo pants. For the footwear, you can get a pair of lace-up boots. Stick this outfit style out more by having a brown tie underneath the sweater for a complement. Then, you can also get a beret hat for your head accessories.
The Cowboy Look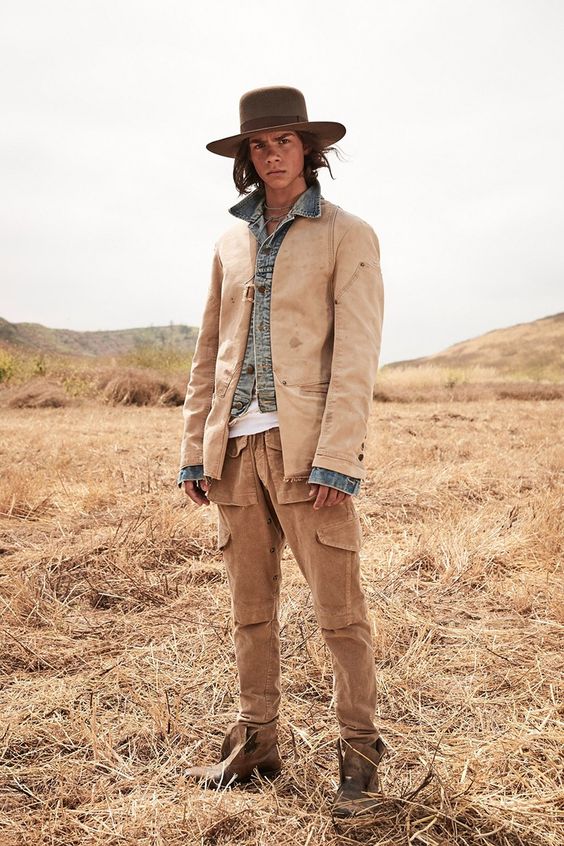 One of the options when you want something a bit more country is just to incorporate this modern safari outfit style with a cowboy look. For this, you just should get light brown cargo pants, a white tee, and a denim shirt underneath your beige blazer. For the toe, you can choose ankle boots or cowboy boots. Remember you wouldn't look like a cowboy without wearing a cowboy hat. This outfit would look fascinating for your outdoor style, especially for your vacation outfits in Safari Africa.
Stand Out with Unique Safari Shoes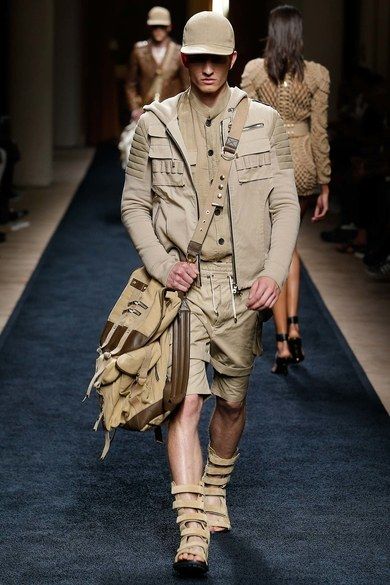 Bring your modern safari outfit style not only in the primary ensemble, but unique shoes also can be a statement. For example, this modern gladiator sandal looks good to wear together with a beige stand collared shirt, a military zipper hoodie, and cargo shorts. To make it become a fascinating outdoor clothing style, you can complete it with accessories like a beige multiple pocket crossbody bag and a beige cap.
Business Casual Style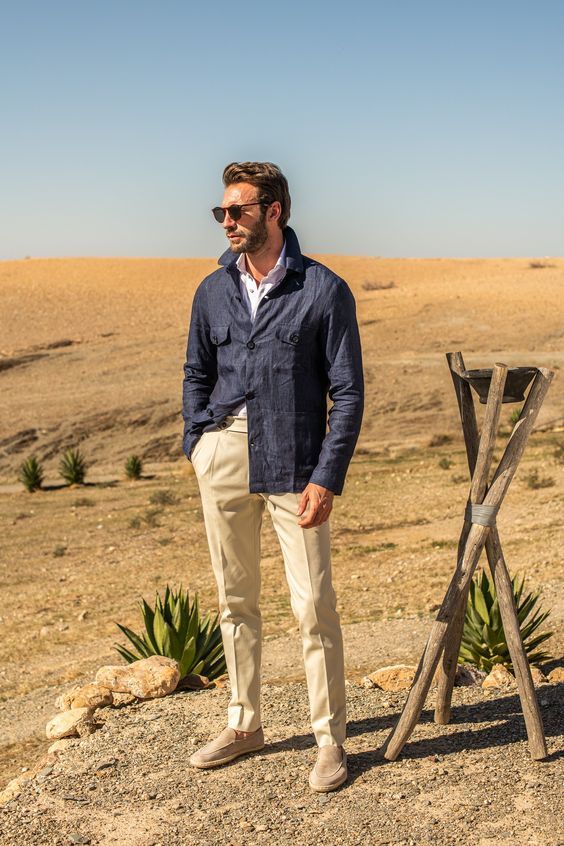 Have you gone on a business trip before? Or are you a boss who wants to make an agreement with clients outside the office? For this, you usually need some wear that's slightly casual but still good for meeting with clients, try on modern safari outfit looks. The way you bring the style is using linen beige trousers that you mix with a navy safari shirt and a white collared shirt or polo t-shirt underneath. For the shoes, beige loafers can complete your business casual style.
Simple Desert Outfit Look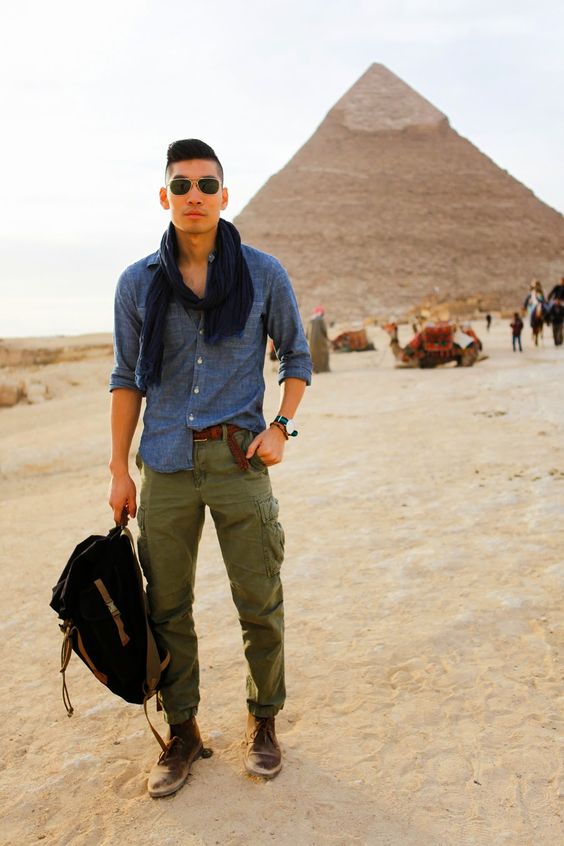 Goin on the desert and you need outdoor clothing style to wear? Just remake the safari-style modernly by wearing a navy long sleeve shirt and khaki cargo pants. For the footwear, pick up brown desert boots. Because sometimes the desert can be windy and sweltering, you need to bring something that helps you avoid it like a scarf and hat. For traveling, a backpack can be the best to save your things on.
Biker Style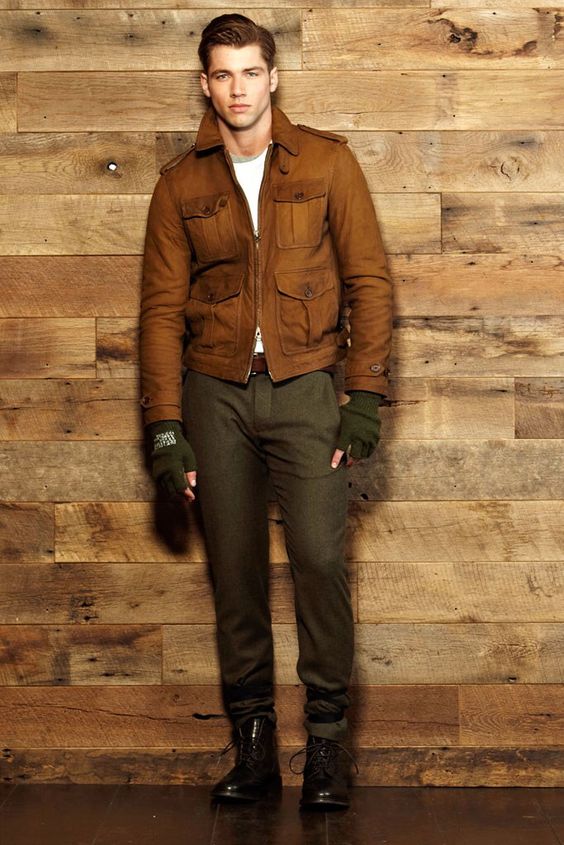 For men who like adventures on a motorbike, wearing something trendy is a must. Usually, they also need something that's comfortable and keep warm when they're riding a motorcycle. So, we suggest you try a modern safari outfit from the bomber jacket style. For this, you need to get a brown lightweight sheepskin bomber jacket, a white tee underneath, and charcoal grey skinny jeans. For the footwear, select black army boots. Then, accessorize your overlook with khaki gloves and sunglasses to seem more manly and masculine.
Final Word
The modern safari outfits come from practical classic ensembles that usually use people who get adventured in Safari and deserts in Africa, Tanzania, or Serengeti. Nowadays, this style could remodify your outdoor clothing to become more fascinating and fashionable. So, don't waste your time and begin investing in some pieces of safari style to recreate your daily wardrobe.