Olidfashion.com – Despite the fact that it is still summer, the temperature begins to drop. When you go outside, you might start thinking about wearing a sweater. However, because it is still transitioning between seasons, you can mix and match your summer outfits with your fall wardrobe. Summer to fall transitional outfit ideas would be so much fun because you can match ensembles from various seasons.
Summer-to-fall transitional outfit ideas can be difficult to come up with, but the key is to know how to put both summer and fall outfits together. Not sure where to begin? You can start with lightweight outfits such as a sundress or shirtdress that's layered with a cardigan or jacket. While you can also mix and match outfits like a mini skirt with a sweater or turtleneck then play with knee-high boots to balance your look. In addition, opt for a warmer look in your daily styles, such as a trench coat or blazer.
The main point of summer to fall transitional outfit ideas is to combine lightweight clothes with warmer ones. Because the weather is still changing, it is best to dress comfortably, especially when going outside. In the early fall, you can work with winter outfits but added a little contrast with the summer style. But, when the forecast truly drops, you can fully wear your fall wardrobe and take down your summer staples. Therefore, we've compiled a list of 25 chic summers to fall transitional outfit ideas. So, before you start planning your fall shopping, look here for ideas.
1. Denim Mini Skirt + Large Jacket + Knee High Boots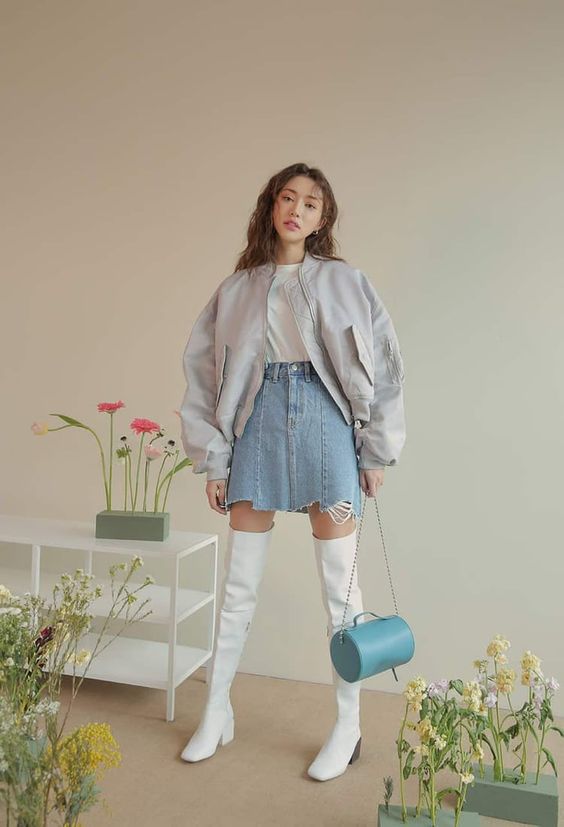 We love this summer and fall combination! It's really perfect for early fall style. You can play with a cropped denim skirt to match up with a basic t-shirt and get layered with an oversized jacket for the top. Then, to balance your chic transitional outfit ideas bring over knee-high boots for the footwear. Without any accessories items, in this outfit idea, you're quite stunning. You can do your hair naturally curly or tie it in a high ponytail to level up your appearance. Then, finish out your stylish outfit by bringing a barrel handbag.
2. Turtleneck + Jeans Outfit Idea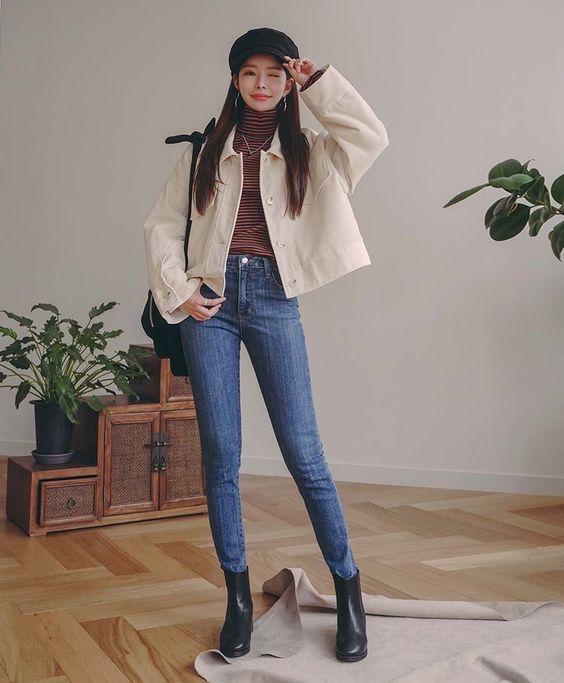 The next transitional outfit idea which makes you look chic is this combo of turtleneck and jeans style. What you need to shop for is a lightweight turtleneck, skinny jeans, and get a cropped jacket. If you want to elevate it to more stylish and chic, pair it with Chelsea ankle boots for the shoes. Then, you can also wear accessories items such as a beret hat, big hoop earrings, and silver jewelry. This summer to fall transitional outfit would look good to wear for going to university or back to school. In addition, finalize your style by picking up a backpack to carry your belongings.
3. Lightweight Summer Dress + Knitted Cardigan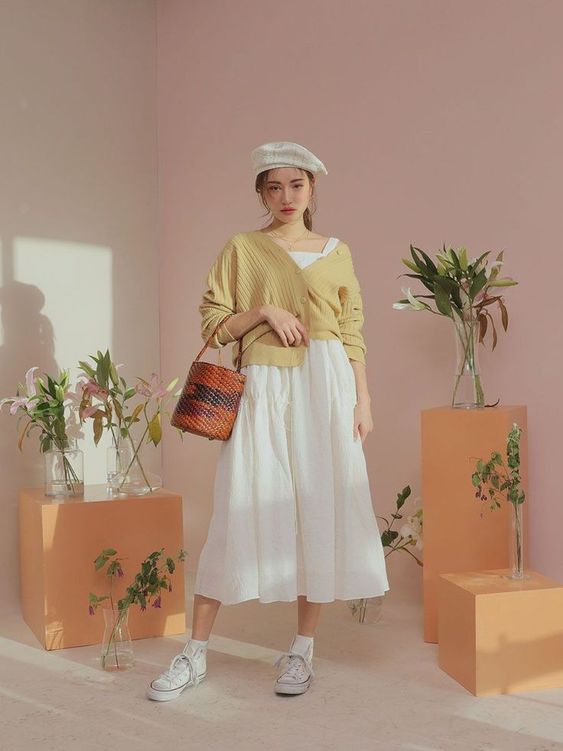 When the weather turns cooler but you still want to wear your summer dress, pair it with a knitted cardigan. It's also how to dress comfortably from summer to fall transitional outfit ideas. You can turn it to look chicer by getting additional details. Such as you can pick sneakers for shoes, wear a beret hat, and bring a craft handbag. Move to the hair, you can do a low ponytail with bangs that would look pretty on you.
4. Turtleneck + Collared Shirt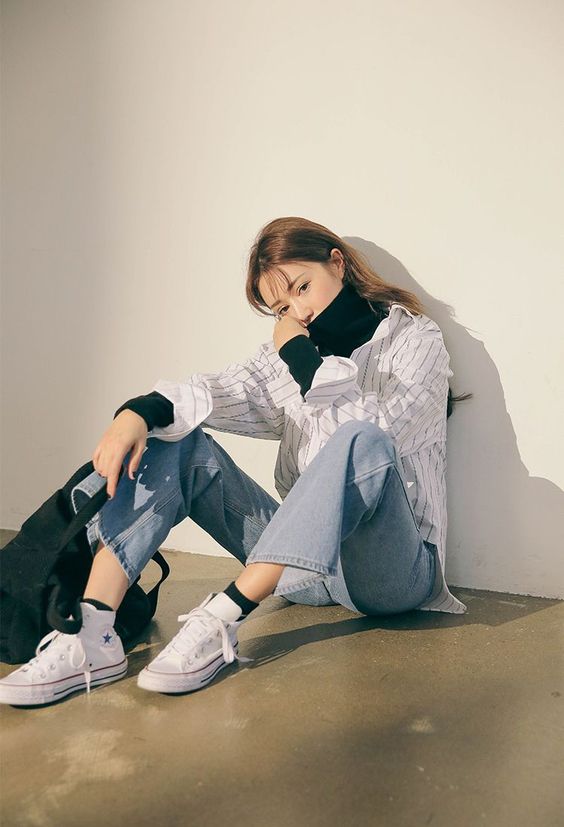 While summer is the best time to play with minimalist outfits, fall will go with layered outfit ideas. But for chic transitional outfit ideas between summer and fall, you can get it by combining a turtleneck and a collared shirt for the outer. If you want a trendy look, choose straight jeans and sneakers for the bottom style. If you want a more feminine look, pair it with a tennis skirt and ankle boots. Next, you can get a backpack to complete your outfit idea.
5. Long Sleeve Dress + Oversized Tee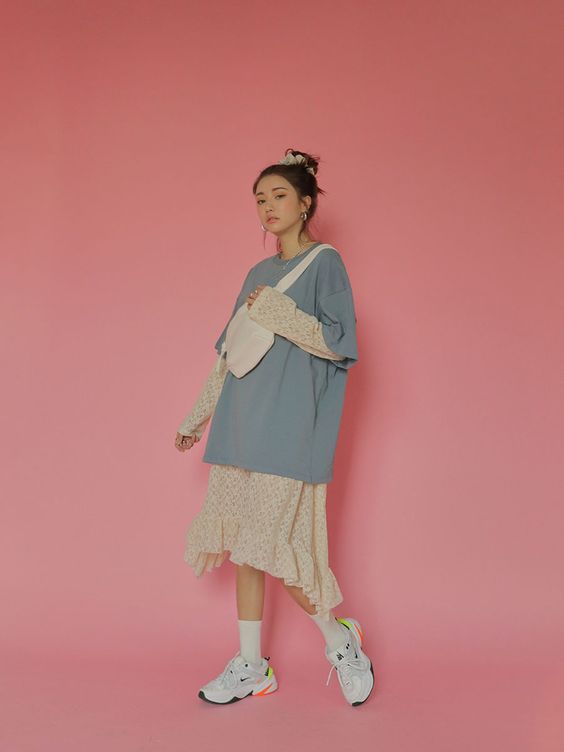 Choose this if you prefer simplicity in your outfit styling. Combine your lace midi dress with an oversized t-shirt. This outfit concept demonstrates a girly trendy look. Particularly when paired with sneakers or trainers for the shoes. This is an example of a truly chic transitional outfit idea. Not only does it have a seasonal feel, but it also has a feminine and trendy style. You can add a more trendy vibe to your performance by wearing a waist bag. And complete your chic look with a messy bun hairstyle with additional hair accessories.
6. Mini Skirt Style + Turtleneck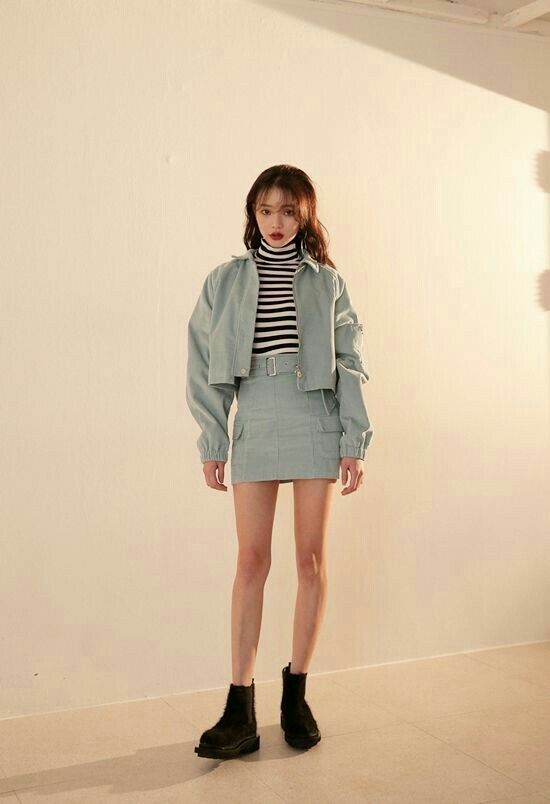 Still don't want to part with your summer outfit? It's okay girls, you can still wear it even in the colder weather like fall. The key to incorporating your summer piece into transitional outfit ideas is to pair it with your fall wardrobe. For instance, you can wear a mini skirt outfit ideas with a turtleneck. Obtaining layers is also essential. So, if you're wearing a lightweight turtleneck in a mini skirt style, layer it with a jacket. Don't forget to select the best footwear. You should wear ankle boots, chunky shoes, and knee-high boots with this outfit idea.
7. Sweatpants + Cropped Long sleeve Top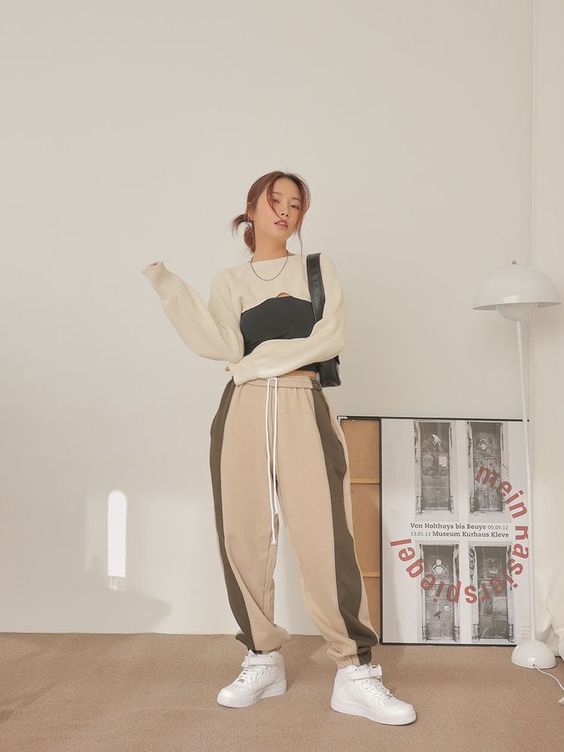 The comfy style for fall is the athleisure outfit. But when it comes to transitional between summer to fall, sweatpants and a cropped top are a great choice. While sweatpants would give you a warm feel, bringing a contrast with the summer piece in the top would bring chic transitional outfit ideas. You can match it with sneakers if you want to get a sporty chic style. Then support it with your easy hairstyle by doing a messy low bun. Make it look chicer by bringing a shoulder bag in your hand.
8. Lightweight T-Shirt + Cargo Pants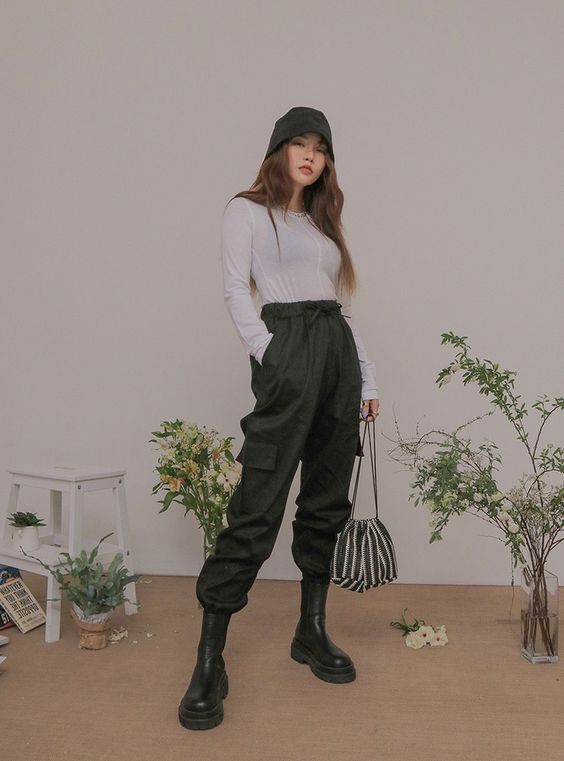 Have a boyish outfit in transitional outfit ideas with cargo pants and a lightweight long-sleeve t-shirt. The coolest way to make it trendy is by matching it up with army or combat boots. Bringing another trendy detail with a bucket hat into your style is also a great option. Another option, if you don't like a bucket hat you can wear a cap or just do a high ponytail without wearing accessories. Then, if you want to incorporate a slight girly style without being too exposed, you can pick a black-white striped bucket bag in your hand.
9. Athleisure Style + Zipper Hoodie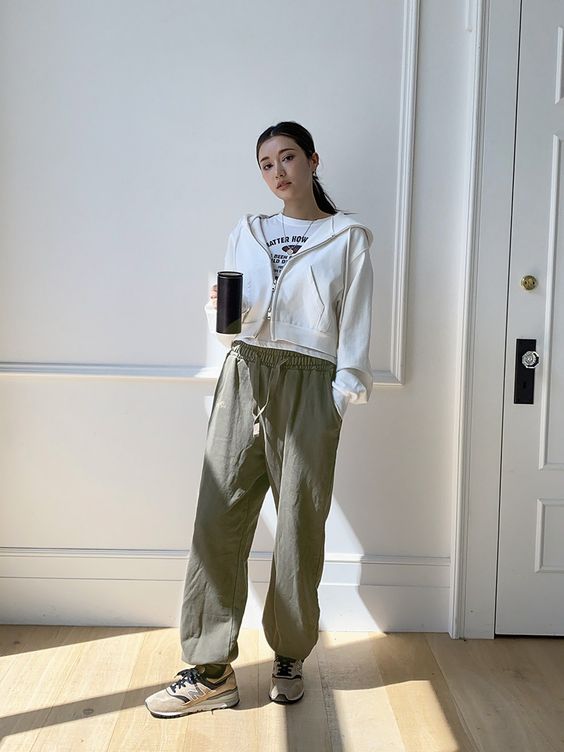 When you want a cozy layer for transitional summer to fall outfit ideas, an athleisure trend with a zipper hoodie is the answer. In a cropped style, it will give chic outfit ideas to match your sweatpants. For a simple complement, you can match it with your graphic tee underneath your hoodie. For the toe, bring trainer shoes that are perfect for your sporty wear. You can use this outfit for simple working out such as jogging outside or just chilling out at home.
10. Knit Midi Skirt + Matching Cardigan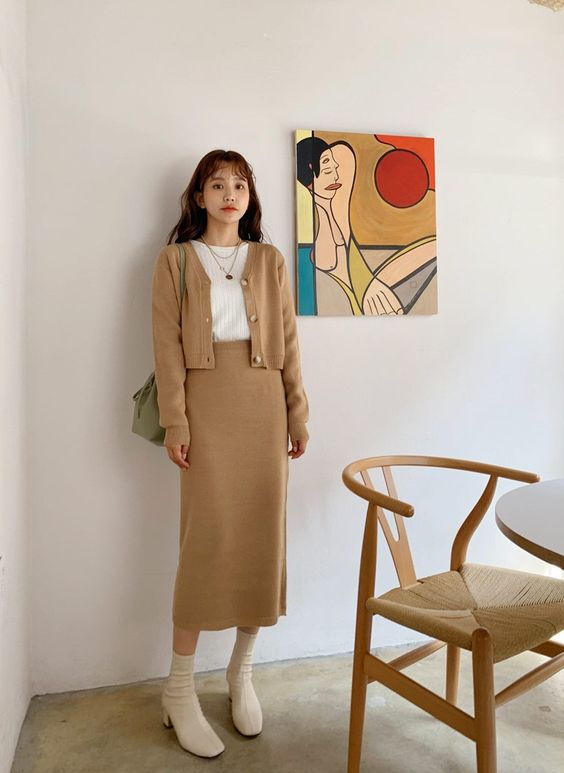 This brown two-piece outfit, which includes a knit midi skirt and matching cardigan, is ideal for transitional outfit ideas from summer to fall. You can pair it with a basic tee for the inner top and ankle boots for the shoes for a preppy work outfit. To have a complete style, you can bring a chic bucket bag on your shoulder to help carry your important things. Besides, perfect your outfit performance with fashion accessories.
11. Knit Vest Over Blouse + High Waist Pants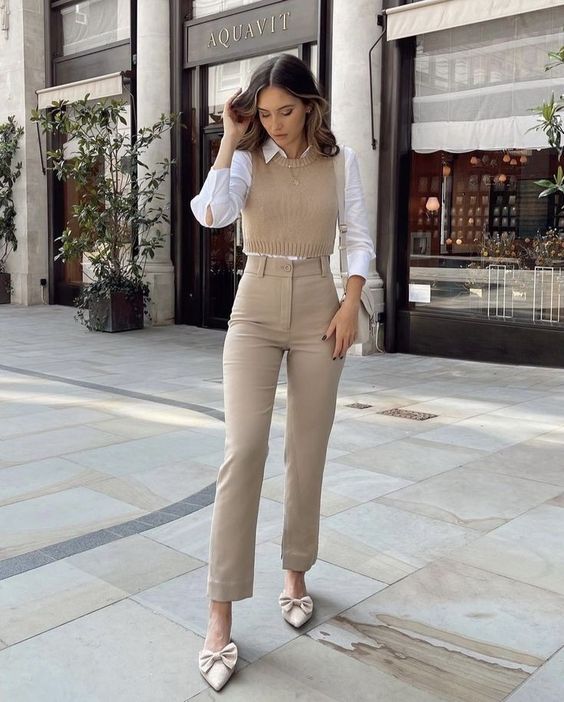 Now, let's look at a transitional outfit that you can wear to work. We recommend that you wear earth-tone color outfits in beige. For the full styling look, you can mix a knitted vest, white blouse, and beige high waist pants. For the bag, you can get a beige sling bag or shoulder bag. Move to the shoes, you can wear cute loafers in beige.
12. Long Tunic + Denim pants Style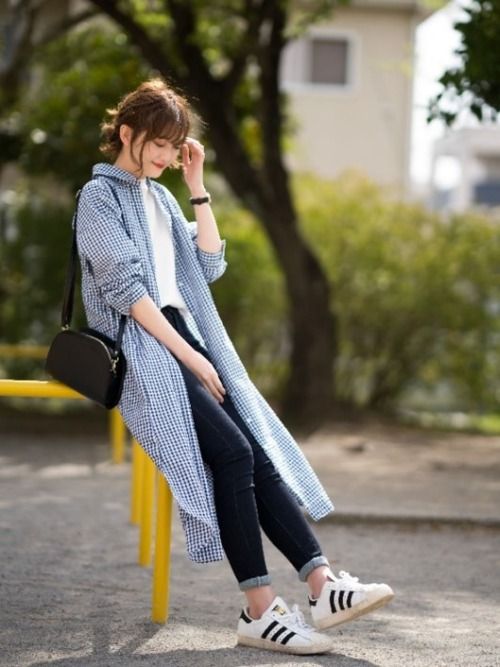 This one is for you if you want a casual look that you can wear in the transitional weather from summer to fall. Not just that, this tunic and jeans are a great option to become your chic transitional outfit ideas. This outfit idea is also an excellent choice for a fashionable hangout style. You can mix a long tunic with a basic tee for the inner top and get skinny jeans for the bottom. This look would be complete if you paired it with matching sneakers. Furthermore, wearing fashion accessories such as a watch and then styling your hair in a messy bun will elevate your fashion style. I think you already know which bag that match this outfit style. Yes, a backpack, tote bag, or sling bag is the right choice to bring your stuff!
13. Puffer Vest + Turtleneck + Jogger pants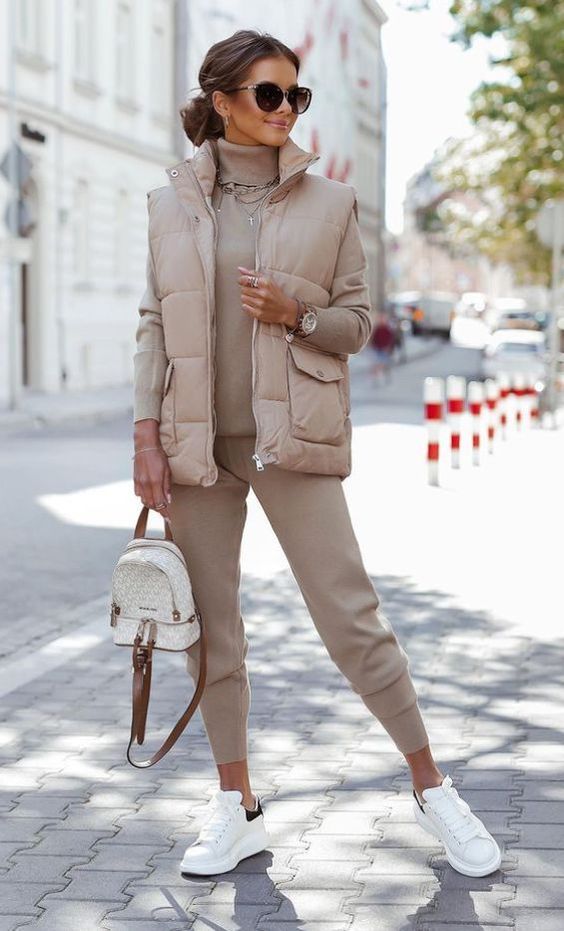 Still use the athleisure trend, another option to give you a sporty look is wearing jogger pants, a turtleneck, and a puffer vest for transitional outfit ideas. This outfit style gives you a comfy for the early fall season, while you don't want to look bulky with the layered outfit. When you want to go for a hangout with this look, you can bring a backpack purse, wear some fashion accessories, and then use sneakers for shoes.
14. Leightweight Turtle Neck + Cowboy Outfit Idea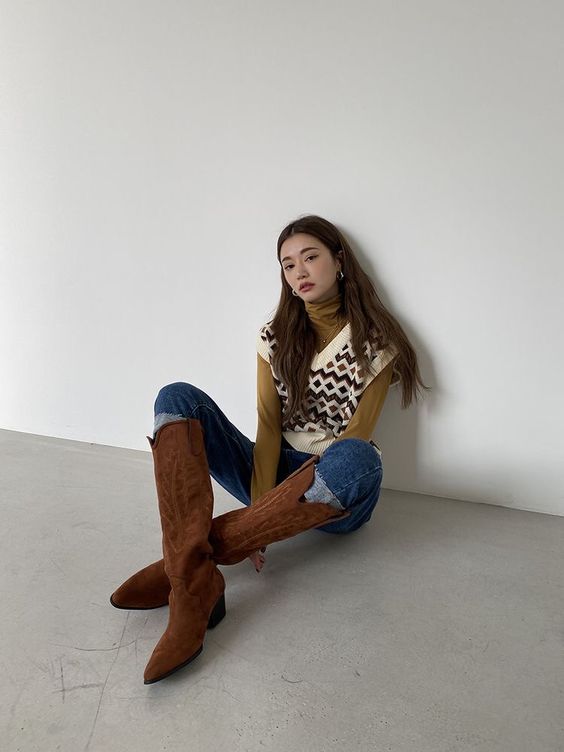 Another transitional outfit idea we give to you is inspired by the cowgirl style. For you girls who want to look aesthetic with your ensemble, you can draw your style in this look. So, you can match skinny jeans, and a turtleneck, then pair it with a vest for the outer top. If you want another option for stylish detail, you can wear a cowboy hat as an accessory. Choose footwear that can balance your outfit idea like knee-high boots. You can wear this to become your fashionable concert outfit idea. Furthermore, to perfect your styling outfit you can bring a waist bag or a sling bag when you want to go hang out.
15. Oversized Denim Jacket + Biker Shorts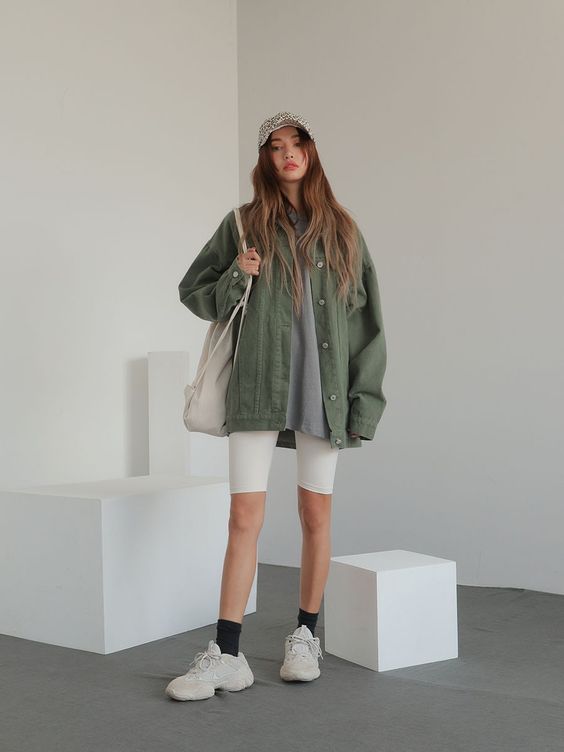 Searching for an outfit that feels comfortable yet stylish and chic during the transitional season? This idea would really into your style. Simply put together biker shorts with a large denim jacket for the outfit style. The inner, oversized t-shirt is what you need for supporting the look. Furthermore, you can match this outfit idea with trainer shoes or sneakers that would give you a sporty chic look. Play with accessories items such as a cap and get a tote for the bag.
16. Basic Outfit + Bomber Jacket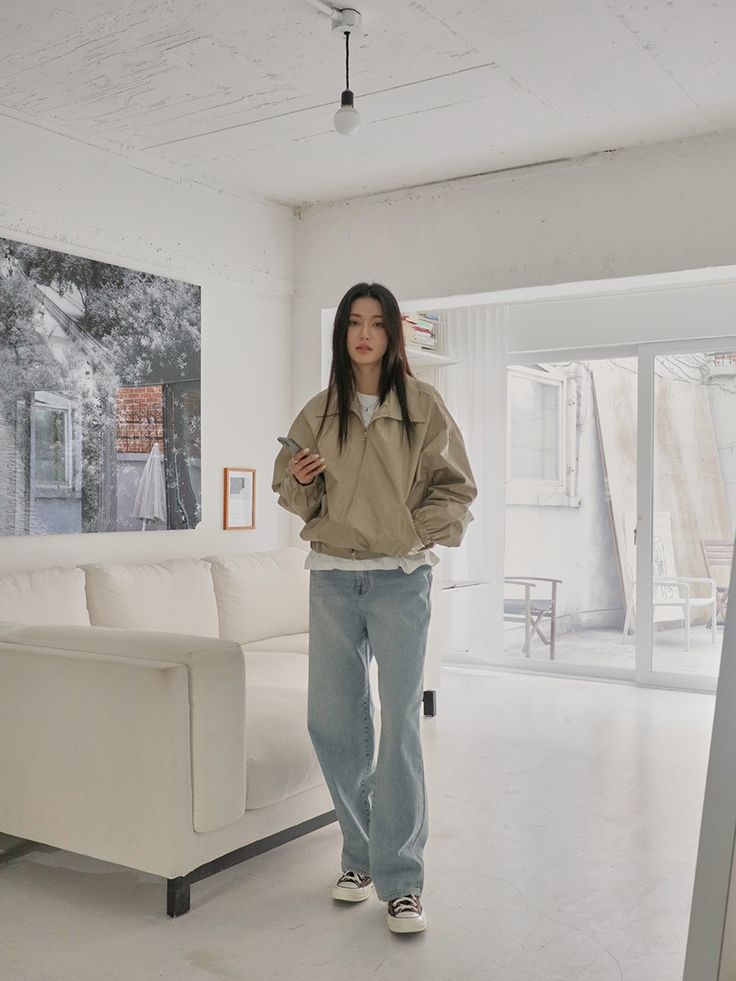 Anything that comes to basic would never let your appearance go down. Besides it is simple, you can also remodel it to become your fashion style. For coming with basic pieces in transitional outfit ideas, you can mix a t-shirt, straight jeans, and bomber jacket. For the shoes, I think you really know what to wear on for matching this style. Yups, nothing will look good with this outfit idea rather than sneakers, or trainer shoes. This kind of outfit style is suited for hangouts with your friends, going to college, or just chilling out at the Caffe.
17. Knitted Vest Style + Chelsea Boots
The following look combines a knitted vest style with ankle boots. This is yet another fashionable look to wear between summer and fall. Not only looking fashionable, but this outfit idea would make you feel warm and comfy at the same time. For complete performance, you can put together a larger collared shirt, and a knitted vest over it, then get ankle pants for the bottom. Then, if you think your outfit is too plain, add some accessories. For the hairstyle, you can keep it loose and straight down, then apply flawless makeup to your face for a fresh look.
18. Mini Skirt Style + Half Turtleneck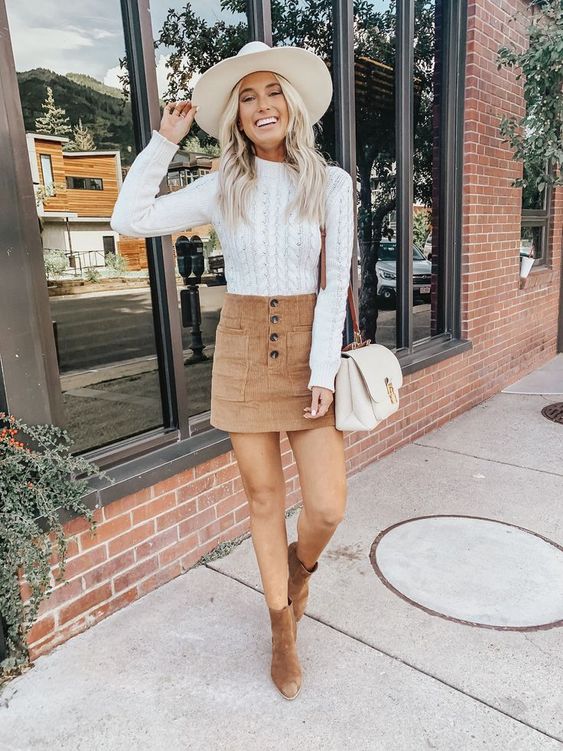 This half-turtleneck and mini skirt outfit style is another feminine look to wear between summer and fall. You can nail it perfectly by adding a cowboy or fedora hat for an accessory and get suede ankle boots for matching footwear. Wear this chic transitional outfit idea to meet up with friends, go to the pub, or simply walk down the street. Furthermore, for the bag, you can choose between a handbag and a shoulder bag.
19. Trench Coat + White Jeans
This trench coat and white jeans are what you need for chic summer to fall transition outfit ideas. Make sure to choose a lightweight coat that will keep you warm when the temperature drops and cool when the temperature rises. You can also get a short sleeve tee for the inner top. Then, choose cropped ankle white jeans and high sneakers for the bottom style to achieve a trendy look. Don't forget about the accessories, which can take your fashion style to the next level. Next, add a bit of feminine accent by picking a shoulder bag to carry your things.
20. Sweatsuit Set + Ankle Boots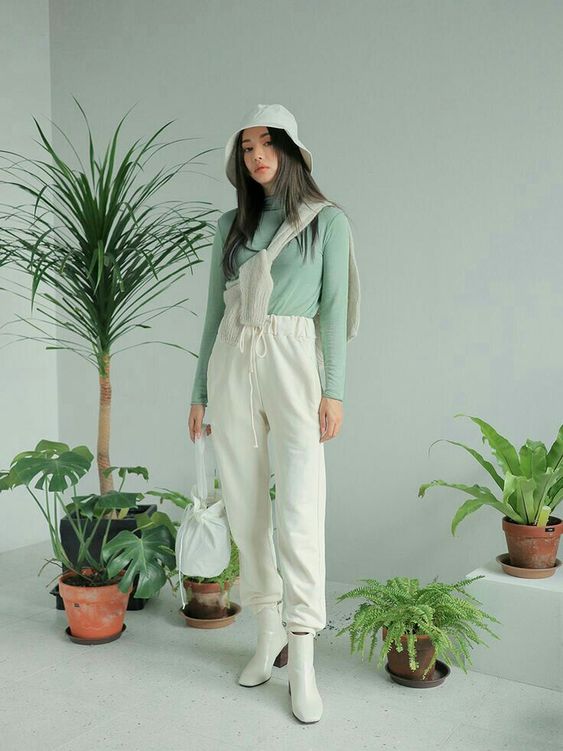 Wearing a sweatsuit set is a simple and easy style for creating a chic outfit during transition season. This outfit would provide you with a warm feeling as well as a stylish performance. If you want to recreate this look, pair sweatpants with a turtleneck or pullover sweater. To dress up your look, add a cardigan as a layer, a bucket hat as an accessory, and ankle boots as footwear. Instead of a handbag, opt for a bucket bag to elevate your style.
21. Shorts + Over Knee High Boots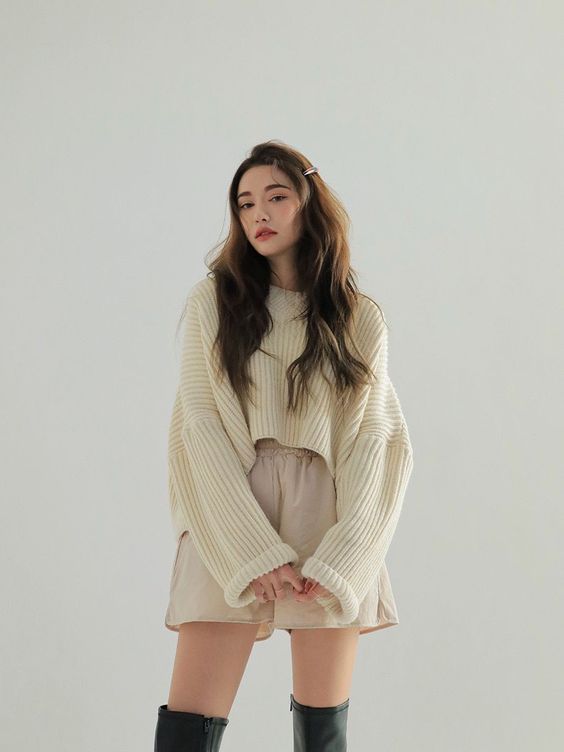 For teenage girls who want to look girly and cute, dress up with shorts look and support it with knee-high boots. Then, you can add a knitted cardigan or sweater for the top to have a chic transitional outfit from summer to fall. Moving on to the accessories, add some cute jewelry to your looks, such as drop earrings, a watch, and a bracelet. You can keep your hair naturally wavy or get a high ponytail with side bangs to complement your cute look. Finally, you can get a backpack, shoulder bag, or even a tote bag to carry your belongings.
22. Long Denim Skirt + Army Boots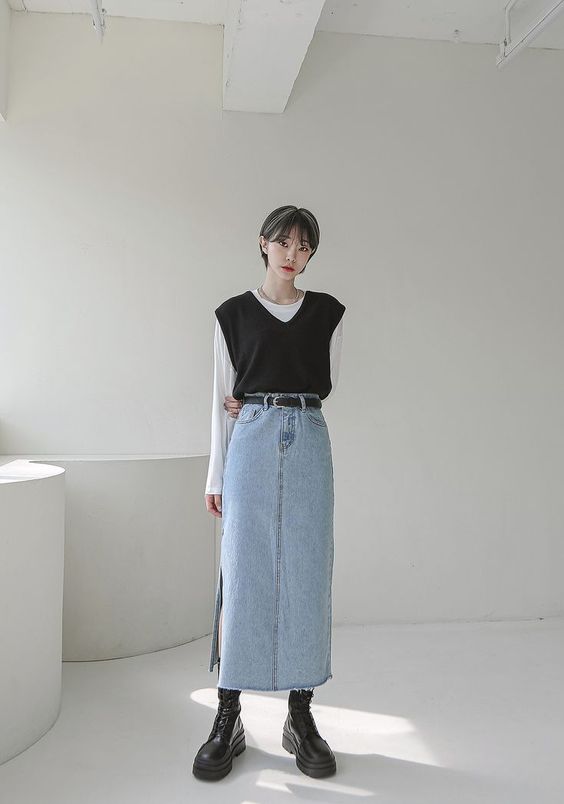 Want to incorporate some chic grunge style into your transitional wardrobe? Why not go for this look? You only need to wear a denim midi skirt with a sweater vest style and army boots for footwear. If you think it's a bit ordinary, level up your chic transitional outfit idea with some accessories. Support a trendy style with a short hairdo and get bold with a grunge makeup look. Finalize your style by picking up a mini backpack to help bring your belongings.
23. Denim Pants + Knitted Cardigan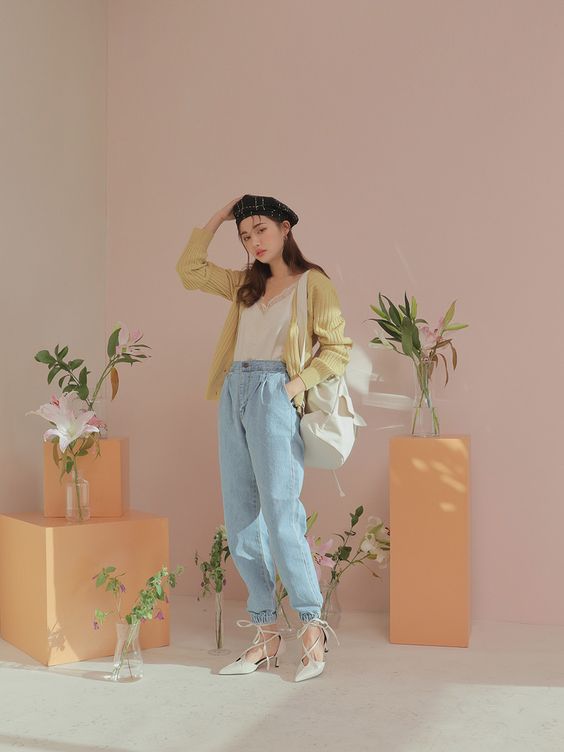 This outfit idea is inspired by the Korean street style and I believe it will give you a cute and chic look. Dress up with waist jogger jeans with a cami tank top and make it comfortable for a transitional outfit idea with a knitted cardigan for the outer top. Choosing a pastel coloring palette is also a way to give you an aesthetic Korean outfit idea. Moreover, if you bring up your chic fashion accessories, like wearing a beret hat, it would elevate your fashion style. For the hair part, you can do curly with the half-up hairstyle. Finish out this style with stiletto or lace-up high heels for the shoes, and get a backpack for the bag.
24. Leather Jacket + Bohemian Maxi Dress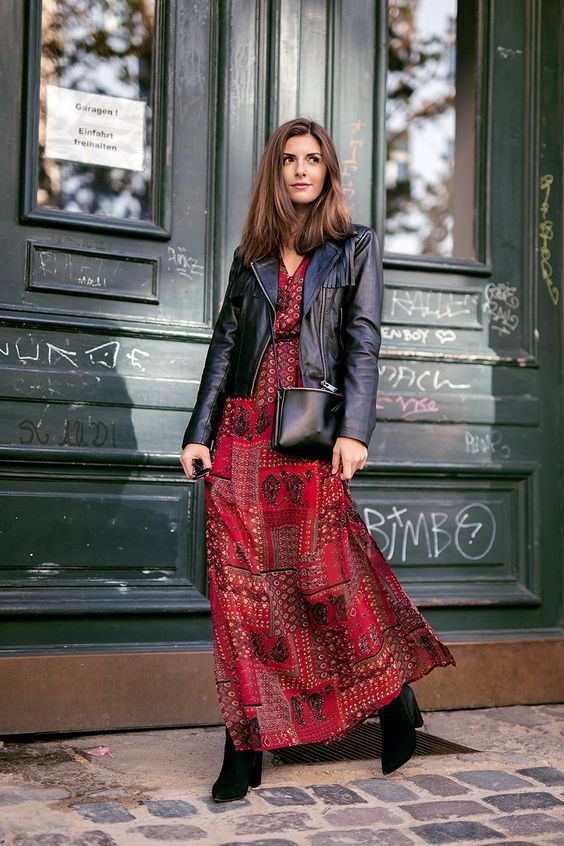 A bohemian outfit idea is a great option if you want something whimsy yet fashionable. Aside from that, this type of fashion style is appropriate for any season and occasion. Even for chic summer to fall transitional outfit ideas, a bohemian maxi dress and a leather jacket will do the trick. Moreover, when you get a pair of suede ankle boots on your leg. It can elevate your boho chic style to look more trendy. To give a more bohemian vibe, add details like a fedora hat and bohemian accessories. When you want a modest look, just keep it simple and you only need to add a leather sling bag to complete your ensemble.
25. Lightweight Blazer + Sportswear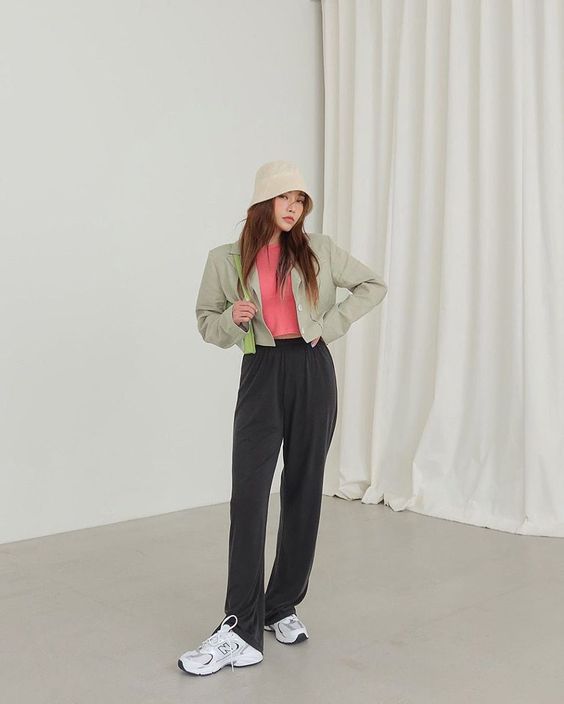 Don't you prefer to wear comfortable clothes to any occasion? Therefore if you're looking for a stylish summer-to-fall transitional outfit, try mixing sportswear with a lightweight blazer. This is an unusual combination, but trust me when I say it will take your fashion style to the next level. Don't miss out to bring accessories items because it would help increase your outfit performance. For this, you can wear a bucket hat and wear simple jewelry. Then, you can complete this outfit idea by wearing trainers for the shoes and getting a shoulder bag for the bag. This outfit is an appropriate fashion inspiration for hangout with your friends.
That's all we have to say about the chic summer to fall transitional outfit ideas. Do you agree with our suggestions? From that inspiration style above, the key piece you can bring for the fall transitional wardrobe is denim, a lightweight sweater or cardigan, a leather jacket, a trench coat, sportswear, and a blazer. For the shoes, you may think to wear any type of boots, from ankle boots to knee-high boots, trainers shoes, and sneakers. You can mix and match your outfits based on your fashion preferences and style. Simply combine your summer staples with your fall ensemble to nail your transitional outfit idea perfectly.