Olidfashion.com – Korean fashion has recently gained popularity around the world. This is due to the fact that Korean fashion is simple yet classy and chic to wear on a daily basis. There are also Korean street outfit styles that are popular in high-traffic areas at night like Soul, Itaewon, and Hongdae. It becomes a hidden spot for Koreans to show off their fashionable style through their clothing.
Korean street outfits are frequently inspired by K-pop and celebrity fashion. While minimalism remains a popular style in Seoul, with black being the main color of choice for streetwear. There are hints of gothic and punk styles as well. Fyi, every area has its unique street fashion styles. Sporty items and loose unisex items that are frequently one size are defined as Hongdae street fashion. Meanwhile in Ewha street fashion is more popular with girly and feminine casual Korean styles.
As increasing Korean enthusiasts, we specialize in the fashion industry, and at this moment would like to share a variety of Korean street outfit ideas with you. So, if you're interested and looking for some fun fashion, keep scrolling down! We're confident that you'll find inspiration here. Let's get started on the list!!
1. Stand Out with Men's Staple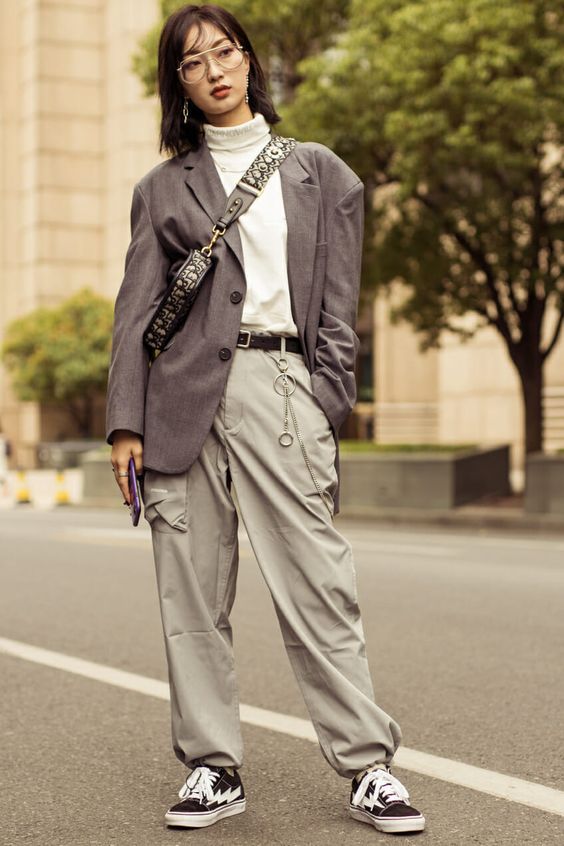 For the first Korean street outfit style, you can stand out with men's staples like suits to create a trendy boyish outfit look. For this, you can get a turtleneck for the inner, an oversized blazer for the outer, and pick big-size cargo pants for the bottom style. Then for the shoes, bringing sporty shoes or sneakers is a great choice. You can also play with your accessories items. And to complete your outfit style, select a waist bag or men's sling bag.
2. Red Tops with Waist Jeans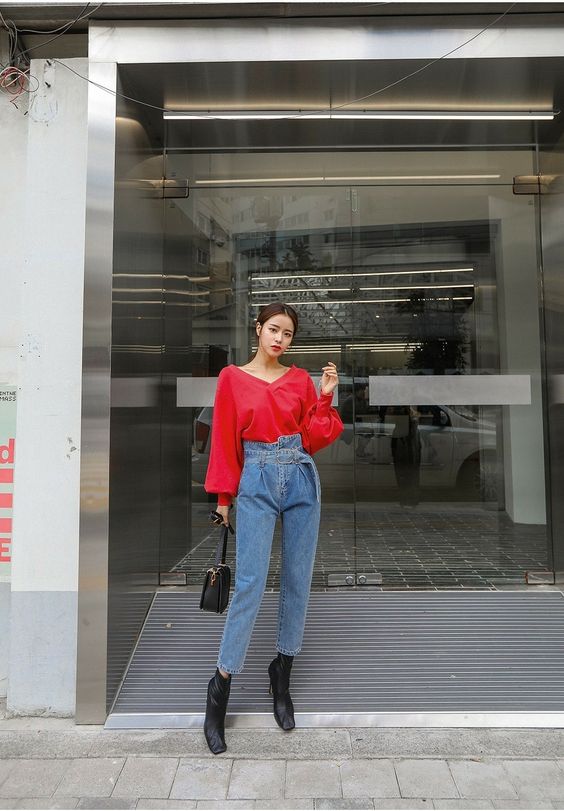 The next Korean outfit style is mixing up a bright red blouse with waist jeans. Pick one larger size than yours for the blouse and then tuck it into your jeans. You can get a statement for Korean street outfit idea with your shoes, by picking heeled leather ankle boots. Then complete your look with simple accessories and a handbag in your hand. In addition, you can also do your hair with a neat low bun and natural makeup look to elevate your appearance.
3. Aesthetic Look with Lilac Fur Jacket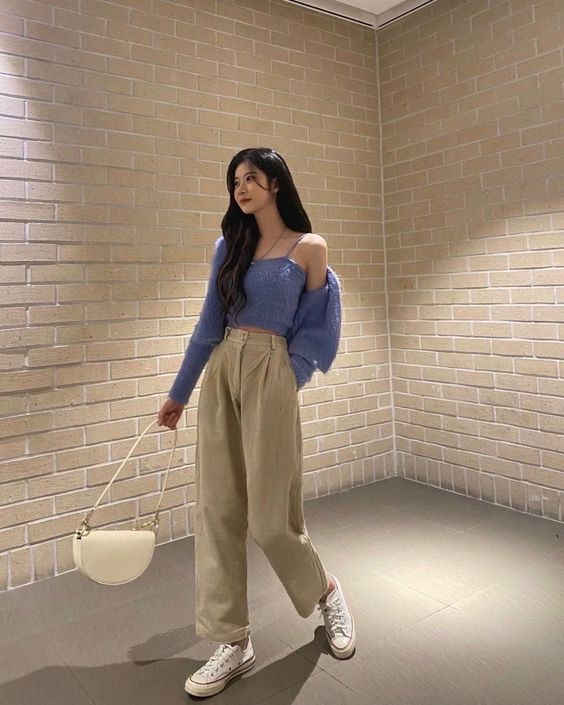 This outfit idea is for girls who like a feminine look with pants. An easy-going style for hangout with friends by matching up a lilac fur jacket/cardigan, a lilac tank top for the inner, and loose pants. For the toe, you can select converse or sneakers that look sporty chic in your Korean street outfit idea. For accessories, a thin necklace is quite enough. Then, an ivory saddle bag is what you can pick to elevate your style and help carry your important stuff.
4. Chic Style in Dress Over Blouse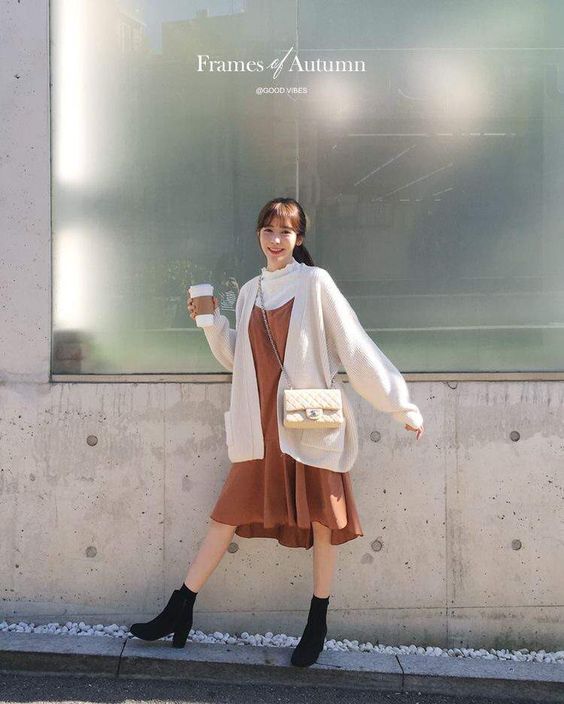 Autumn comes not only with cold weather, but new fashion styles. You'll find people on the street use layering outfits that make them feel warm when going outside. For the Korean street outfit idea, you can wear a dress over a blouse then layer up with a big knitted cardigan for a chic look during fall/autumn. Stand out your chic outfit performance by getting suede ankle boots for the matching footwear. Use this style, you can skip wearing accessories or get a simple one. Furthermore, you can grab your white or ivory chain Minaudiere bag.
5. Elevate The Look with Leather Jacket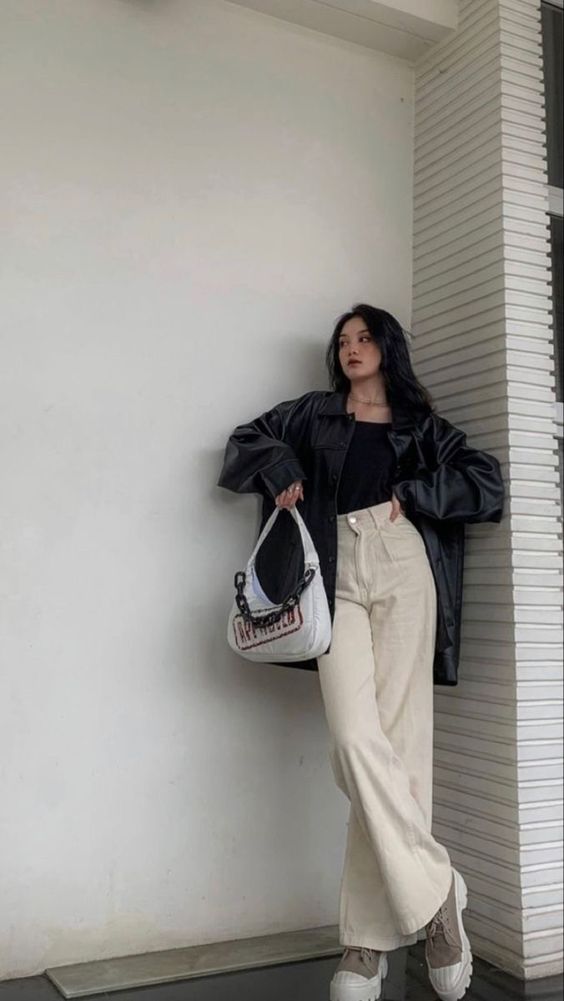 Wear anything with a leather jacket to make your outfit stand out. Even if you dress up just with a tank top and waist pants when you add a leather jacket, it turns out to become a fashionable and classy style. In Korean street outfit ideas, most of them use this leather jacket to give a classy and trendy accent to their fashion show. If you are still looking for a style, pick this idea. You just need to prepare anything in your wardrobe and then borrow your boyfriend's leather jacket. To complete the style, wear chunky sneakers and a hobo bag.
6. Match Knitted Vest with Biker Shorts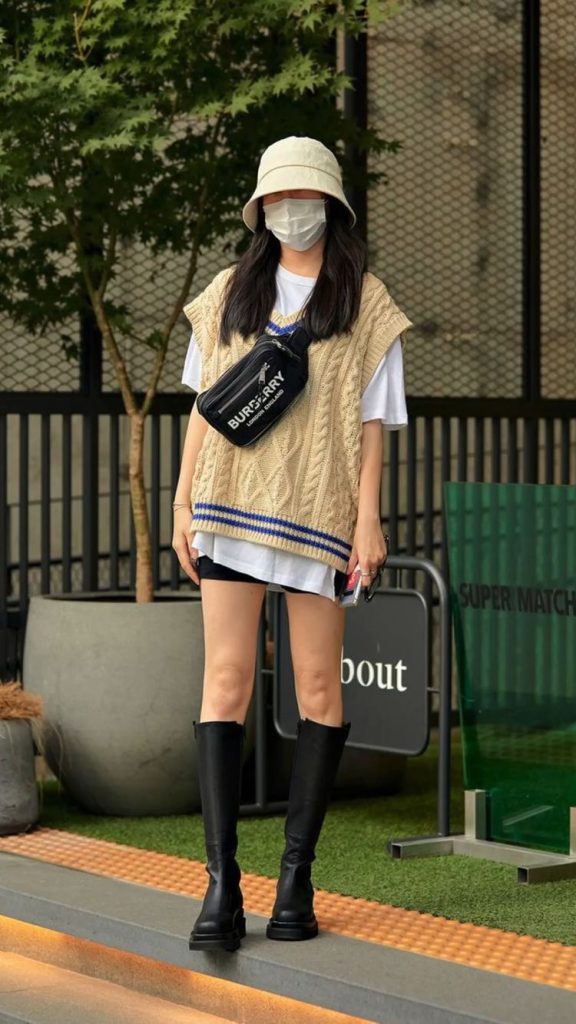 Teenage girls would like this Korean street outfit idea. This is simply, chic, and effortlessly becomes a daily lookbook. You can mix a basic t-shirt with a knitted vest over it. For the bottom, get biker shorts that give you a sporty chic style. Furthermore, when you do pair this outfit idea with tall boots you'll look trendy. Then, elevate your outfit performance by getting a waist bag or funny pack and a bucket hat.
7. Matching up Cargo Pants with Blazer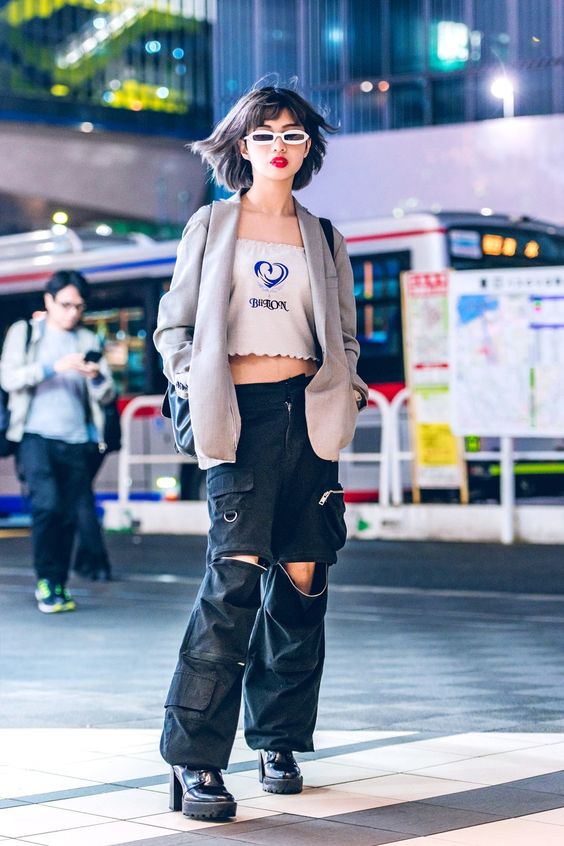 This look is popular among Korean idols as well as the majority of fashionable teenagers. From Seoul to Busan, you can see girls in their late teens and early twenties dressed as if they were in Hongdae! For this, you can wear a blazer with cargo pants. Get a tank top or cropped top for the inner top. Next move to the shoes, you can wear heeled ankle boots or army boots for a trendy style. Accessorize it to level up your look like wearing sunglasses. Then, for the bag, you can get a backpack to help carry your things.
8. Effortlessly Style with Baggy Jeans
Bring this outfit to back-to-school if you want to look effortlessly chic. Simply pair your baggy jeans with a cropped flannel and a sports bra as an inner top. You can wear this Korean street outfit style not only to school but also to a hangout after school. Just pair it with sneakers for the shoes, and get a shoulder bag for the bag to boost your appearance.
9. Play with Blazer and Mini Dress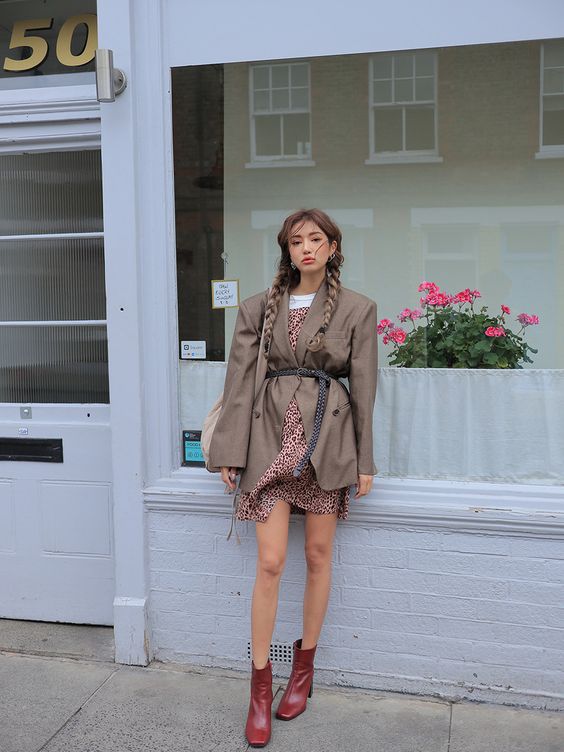 This trend dominated the Korean street outfit style throughout the spring and summer and is expected to continue this fall. Believe us when we say that this outfit will make you look cute, sweet, and fashionable all at the same time. For this, create a layered look by layering a dress over a t-shirt and then covering it up with a larger blazer. Make this look more stylish by tying a belt around your blazer. Then for shoes, you can match up with ankle boots. For the bag, a tote bag or shoulder bag could be the option.
10. Slight Of Vintage and Geeky Style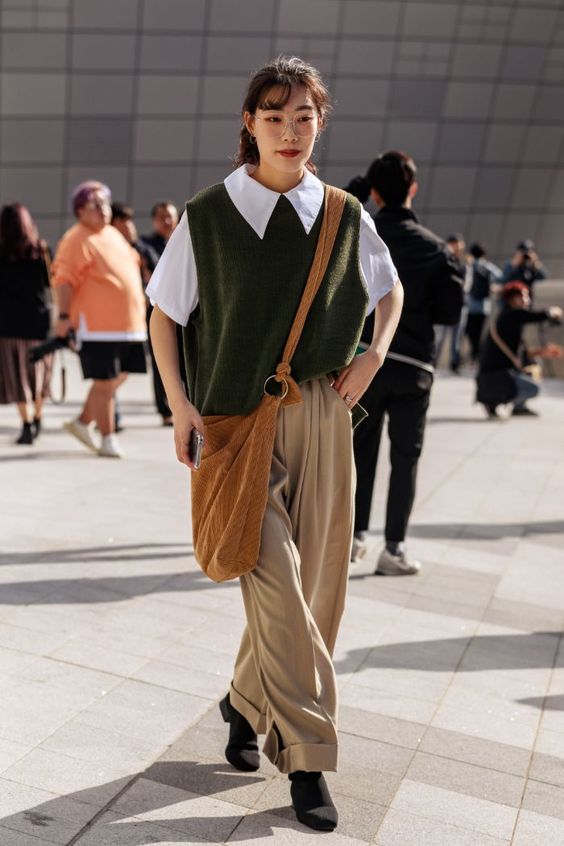 Whether you prefer sporty or feminine, you can incorporate it into the retro Korean street outfit style. This look took inspiration from vintage patterns, bright colors, and even bold cuts. This outfit can also be combined with another look, such as the geeky chic style. If you want to create the look, you can wear a blouse with a peter pan collar under a large sweater vest. For the bottoms, get loose trousers and suede ankle boots. Complete the look with a knitted sling bag, tote bag, or shoulder bag to carry your belongings. Moreover, you can support a geeky style with accessories like glasses and do your hair in a messy ponytail with bangs.
11. Getting Fishnet Stockings on Slit Dress
Now, let's find out a bit sturdy style in a feminine look. I feel amazed by this Korean street outfit idea which rocks on a mini dress with a slit and fishnet stockings. You can experiment with other details to make it more fashionable. For example, during the fall season, you can wear an oversized jacket and leather gloves that not only provide a stylish look but also provide a comfortable feel. Accessory items also play an important role here. You can wear stunning jewelry or bring a bit of a grunge look with silver fashion accessories. Getting a big belt over your dress also boosts your outfit performance to look chicer. Then, perfect your stylish look with a silver handbag and ankle boots for the finishing touch.
12. Bring Out Oversized Hoodie with Knee High Boots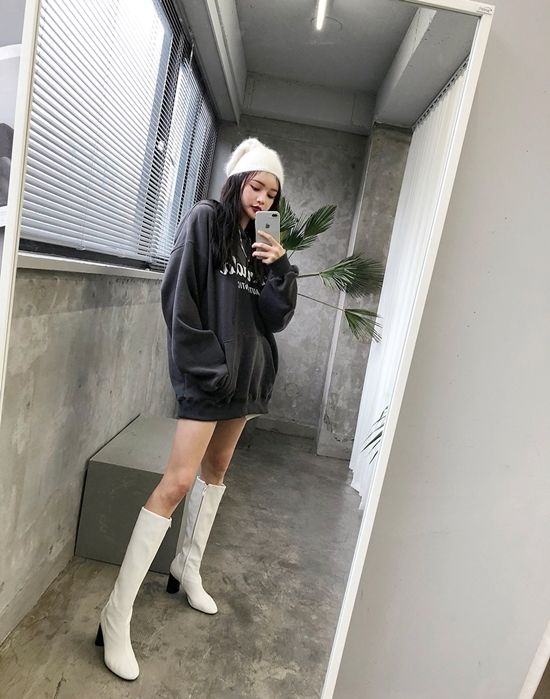 Combining cute items with trendy ensembles is one way to come up with stylish Korean street outfit ideas. This hoodie style is probably already familiar to you. Especially when you want to look sporty, casual, and comfortable. This item will never be overlooked in both men's and women's outfit ideas. You can wear your hoodie in a variety of ways, including as a mini dress. Simply prepare an oversized hoodie or your boyfriend's hoodie and pair it with over-knee-high boots. This way, you can more fashionably support and balance the style. Then, you can add cute accessories like a beanie hat and a shoulder bag to elevate your look.
13. Going with Knitted Sweater and Leather Pants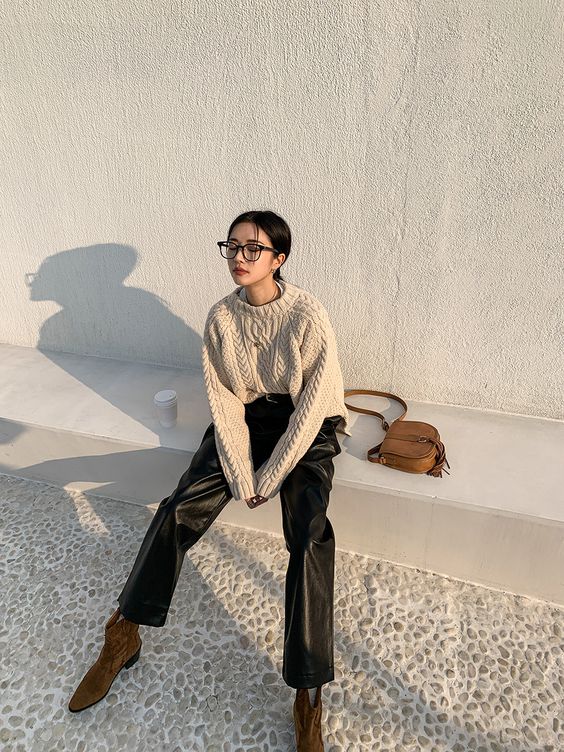 Searching inspiration for stylish fall outfit ideas? We love this simple look! Something that's a bit preppy and stylish to become Korean street outfit ideas. Have you ever thought about wearing a knitted top with leather pants? You should try it now! Tuck your comfy sweater in leather pants and finish out by wearing suede ankle boots. When you go outside, you will not only be warm but also fashionable. If it's too cold outside, you can add a scarf as an accessory. Then, go with a saddle suede sling bag or tote bag that would give you a chic styling look.
14. Simple Summer Staple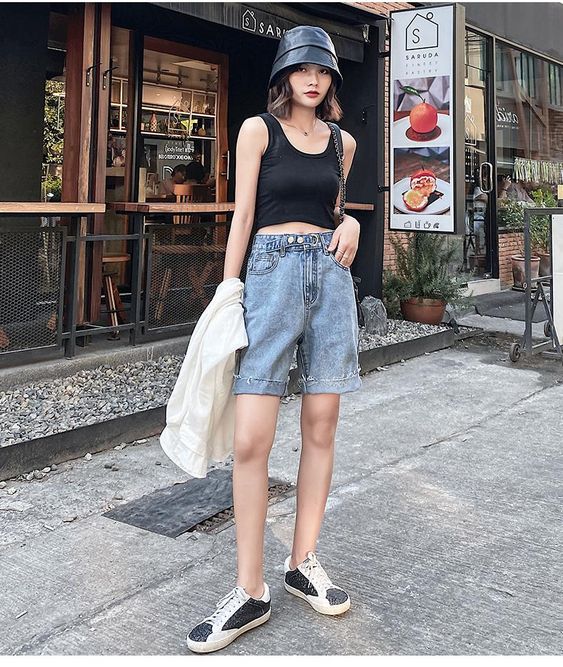 Do you intend to walk down the street this summer? Or do you just want to hang out with your friends in the cafe? Get this summer essential now! Wearing a tank top and denim shorts that you elevate with a shirt as the outer layer is not only fashionable. With a minimalist look, this Korean street outfit idea would put you at ease. Particularly for girls who dislike cute and girly things. However, the style provides a chic performance. When wearing this summer staple, you can pair it with sneakers, a shoulder or tote bag, and a bucket hat as an accessory.
15. Denim Over Mini Dress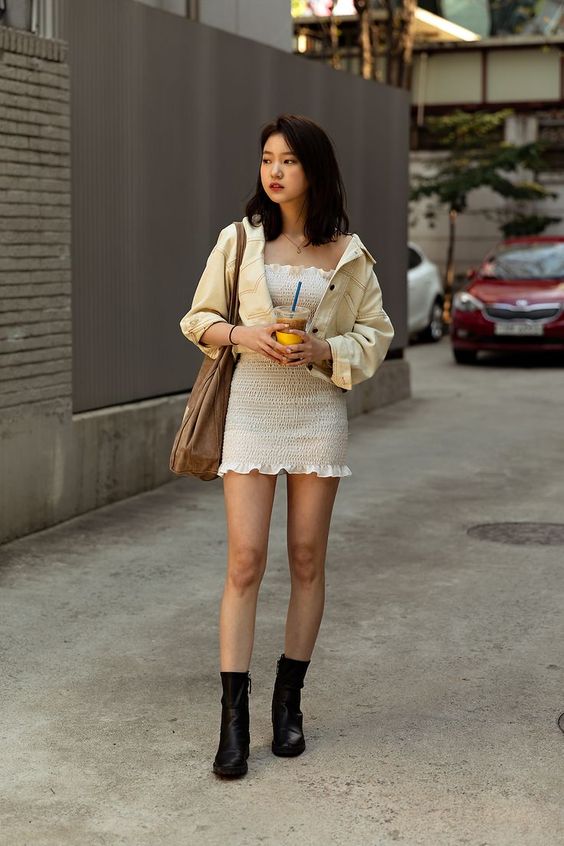 If you are bored with the common denim style or mini dress look, why don't you try to wear them together in one outfit style? Like this Korean street outfit idea that seems chic, sweet, and adorable at once. Start by wearing a short crinkle dress then elevate it with a cropped denim jacket over it. To have a chicer style, get ankle boots or army boots for shoes. Then grab your tote bag or shoulder bag to complete your outfit idea.
16. Get Chic Style with Heeled Boots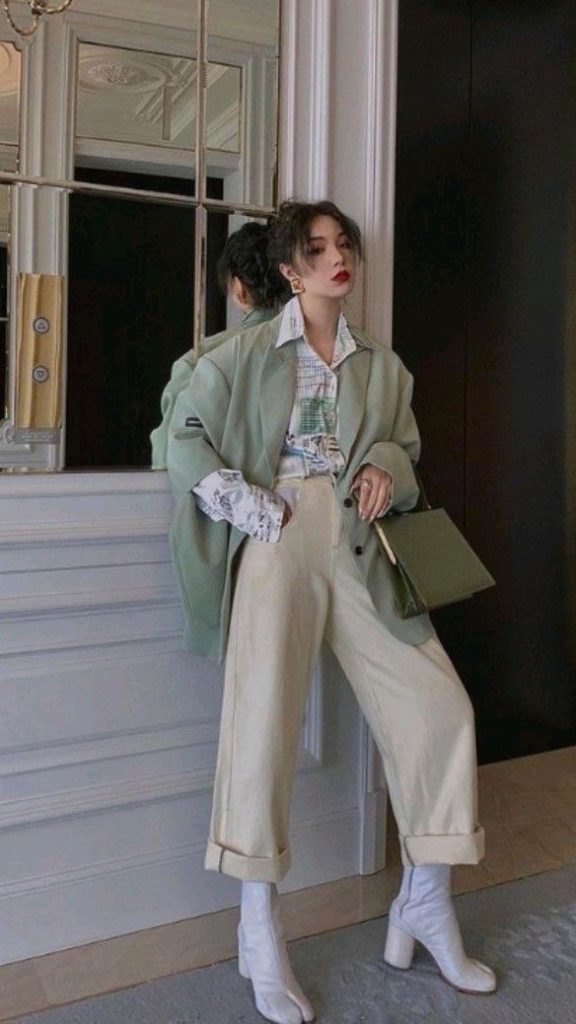 Another steady style that can help to look fashionable is using heeled boots. For the complete look, you can get a patterned shirt that layers up with a blazer for the top style. Then, for the bottom look, get waist chinos and white heeled boots. Wearing gold jewelry and bringing your favorite handbag can help you achieve a classy and elegant look. Furthermore, support this look by wearing a high ponytail and wearing bold makeup to resemble a Korean street outfit idea. For the option, you can use this idea as your girl's night-out outfit look.
17. Combine Blouse with large Trousers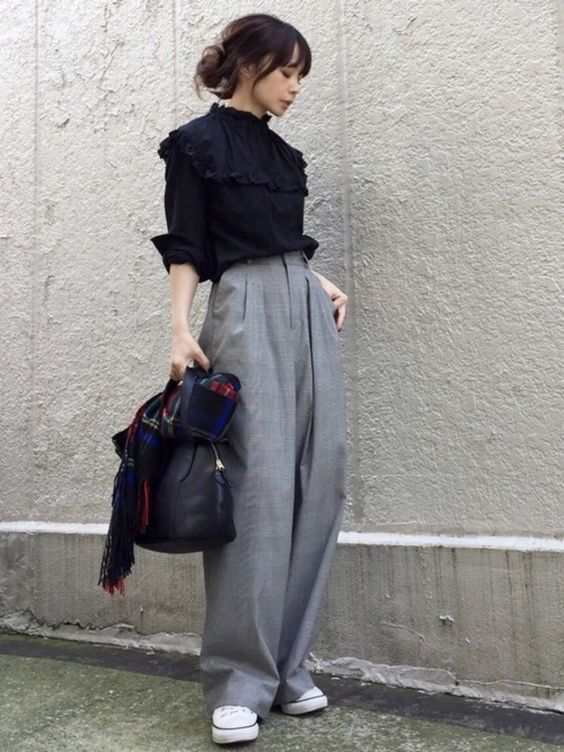 When it comes to street style, anything goes as long as it is comfortable and makes you feel confident. From a cute look to a trendy and grunge outfit style with a black ensemble. Besides, the outfit combinations are limitless. You can mix and match men's and women's clothing. Tucking your high-neck blouse into large trousers, for example. While you get an elegant and pretty style from your blouse, the men's trousers would give you chic and a bit of masculinity. This is what would make this outfit idea look different from others. You can add another detail such as accessories and get sneakers for shoes. Move to the bag, a doctor's bag would look better with this outfit style.
18. Layering Style for Winter Look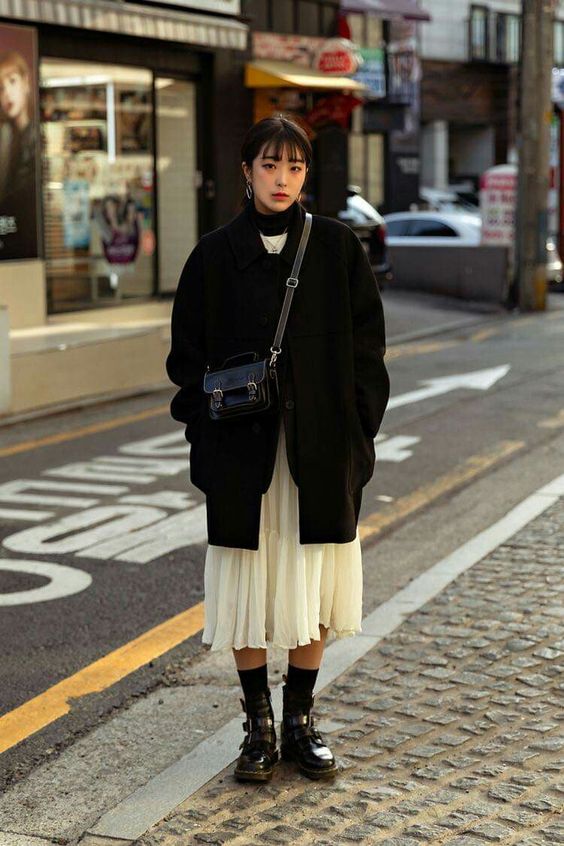 As fall goes by and winter comes, you need a more bulky and layered outfit. The problem is, how make it look fashionable even if you use more layers? The answer is you can find inspiration from Korean street outfit ideas. We found one for you! A chic style which's mix and matches outfits from a turtleneck and a chiffon flowy dress for the inner and then layers up with a big stylish women's coat for the outer. And if you think it's too ordinary, you can make a statement by wearing socks and timberland boots for the footwear. To bring a slight classy look, you can wear jewelry and accessories. For the bag, bring a mini leather bag that would match your classy yet trendy style.
19. Minimalist in Printed T-Shirt and Loose Pants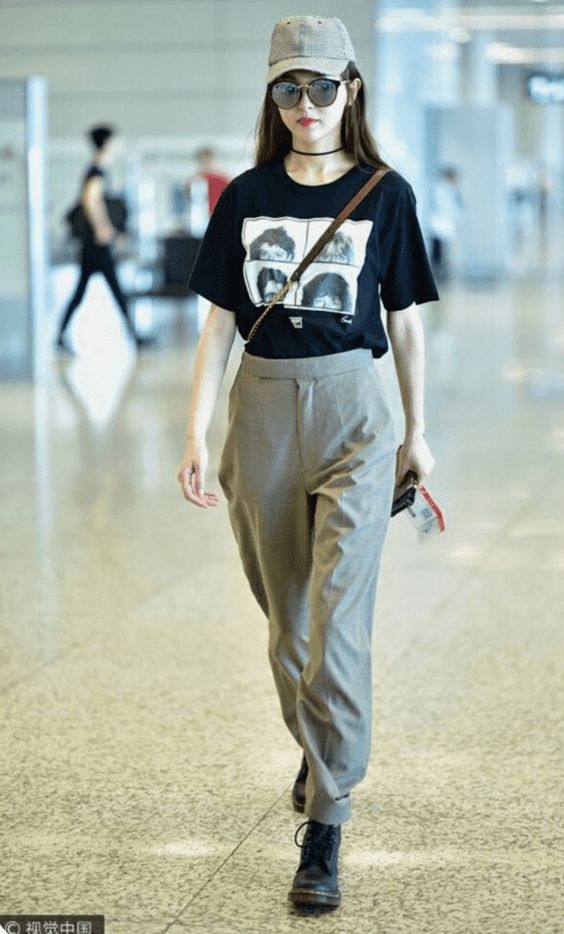 This Korean street outfit idea is perfect for those who prefer to dress effortlessly and simply on a daily basis. Not much you can bring, just bring a basic outfit consisting of a printed or graphic t-shirt and loose pants. Then, complete it with sneakers for shoes. Aside from that, add chic details by using some accessories like a cap, a simple choker, and sunglasses. For the bag, a sling bag would be enough to perfect your outfit idea. You can wear this look to become your fabulous airport outfit idea for a short flight.
20. Trendy Style in Cargo Pants and Tank Top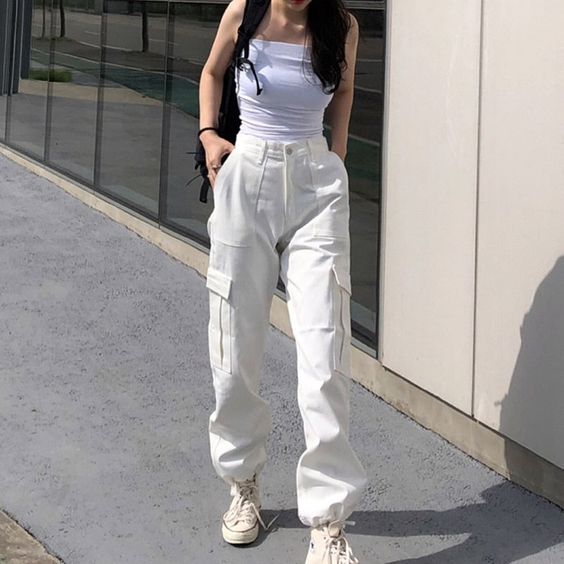 For the last outfit idea, we present cargo pants and a tank top style. I know you think it's too basic and simple. But most Korean street outfit ideas use these pieces. So, why not to try wear it? Besides, if you love being boyish and manly looks, this style would suit your fashion sense. Finalize your outfit look with sneakers or army boots that would match up with the cargo pants style. If you want to bring a bag, you can prefer a backpack, tote bag, or shoulder bag. Use this style to become your summer outfit idea.
Those are our Korean street outfit suggestions. What is your opinion? Isn't it simple and outstanding? I believe you will no longer wear a basic outfit once you've learned these ideas. Besides, you don't even need to buy a new outfit, girls! I hope you find inspiration and enjoy the topic of how to dress like a Korean street styler.