Olidfashion.com – As soon as the calendar arrives on October 28, it's the beginning of a spooky day which means you are ready for the Halloween party! Halloween is an annual event that always celebrates creepy and scary party themes. Also at this moment, you need to pull out your creativity to become anyone or anything you want with your easy and fun Halloween costume idea. You can turn yourself to look like a vampire/Dracula, fairy, scarecrow, mermaid, and other favorite characters that you see on TV or in film.
Even though Halloween is always been known for scary and creepy things, that's not meant your costume should always look frightening. You can also combine something that cute, pretty, and sweet to become your Halloween costume. There are numerous options available! For the specific inspiration style, we've rounded up 31 easy and fun Halloween costume ideas that you can pull out at the last minute. From DIY costumes that you make at home or go shopping for, we have a timeless ensemble here. We also include options for those looking for an edgy and bold look in the darkness.
1. Cute with Alice in Wonderland Costume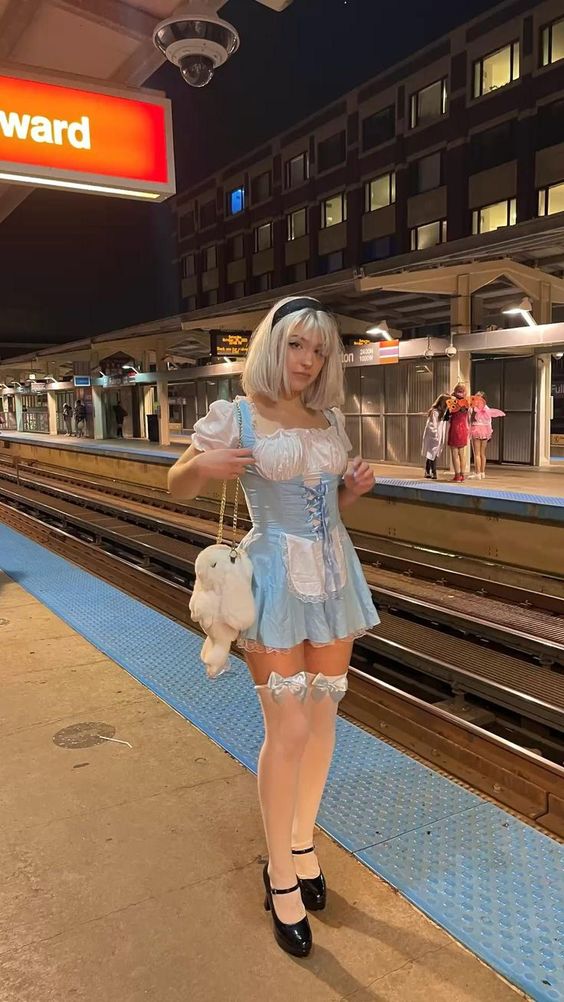 The first easy and fun Halloween costume idea that you can wear for a Halloween party is this Alice and wonderland style. All you need to pull off this style is a blue-white short Cottagecore outfit idea that you match up with cute white stockings, and Marry jane chunky shoes. Complete your style with a blonde wig, bandana, and cute bunny bag.
2. Style Up with Cowboy Look
For those who want to look trendy for a Halloween party, this cowgirl outfit style is what you really need. You just need to prepare a lightweight shirt, a tank top underneath, and skinny jeans. Then to draw this costume to look like a Western Cowboy, highlight it with a cowboy hat and cowboy boots.
3. Black Angel Costume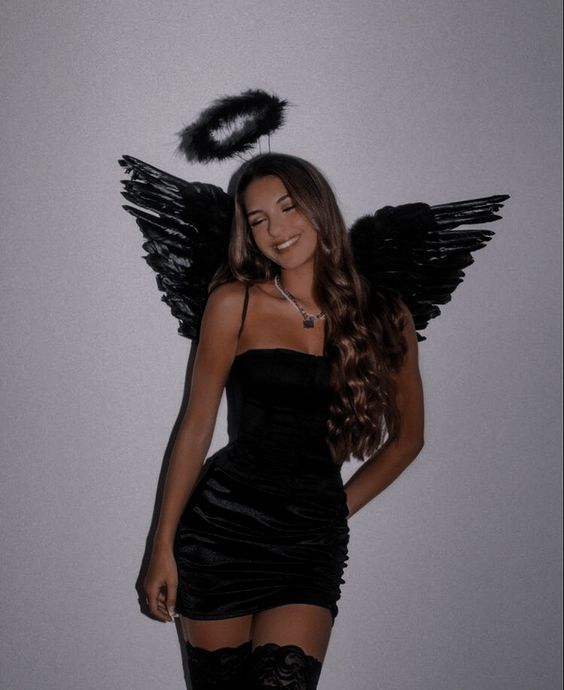 A fallen angel costume is something that you shouldn't miss for Halloween. Besides it's easy to create, it also needs less budget. For creating this black angel costume, you just need your black bodycon, black thigh-high socks, black loafers, and feather angel wings. Give another fun thing with a halo on your head to get the maximum fun Halloween costume ideas.
4. Cruella De Vil Costume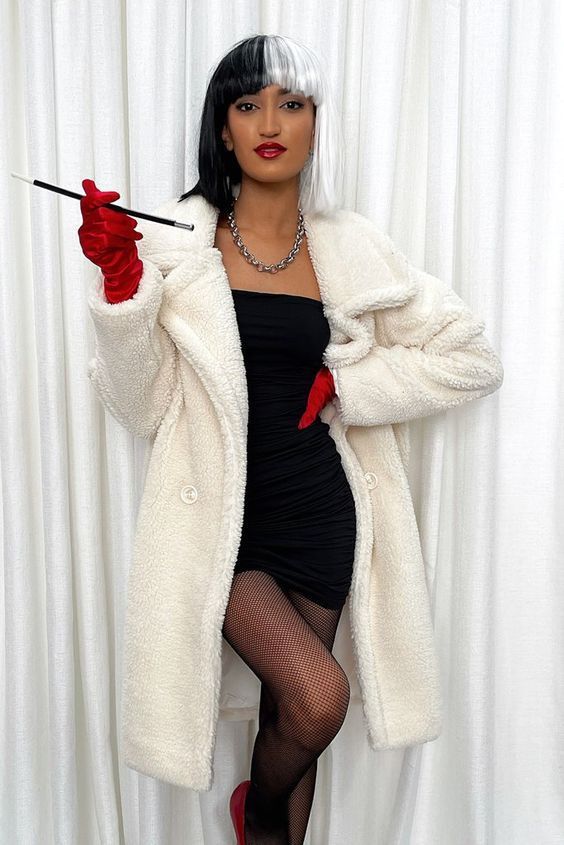 When you think about classic Halloween costumes, Cruella DeVil should on your list. A character from a Disney animated 101 Dalmantias film that appeared in 1961 has recently become popular after being adapted into a live-action origin story that showed a different side to the glamorous, high-fashion of the villain, Cruella DeVil. If you want to serve up this look as an easy and fun Halloween costume idea, you'll need a black dress, a white faux coat, red satin gloves, and a cigarette holder. Wearing a half-white, half-black wig will instantly transform your hair into Cruella DeVil's. Furthermore, wear fishnet stockings and red high heels to enhance your performance.
5. Hot Devil Costume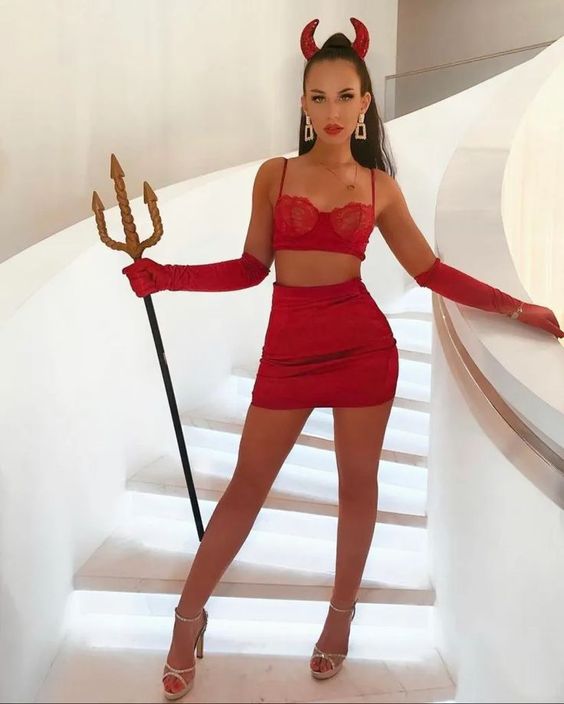 Is there another iconic costume than the devil to stand you out at the Halloween party? People may think this is classic, ordinary, and common, but you'll want to wear it anyway. Because you can do more styles from friendly to sexy, hot, or scary depending on your fashion sense. Furthermore, if you're looking for an easy and fun Halloween costume idea, this is a good one. For this, you can wear red or black clothes for the base. This devil costume looks sexy that includes a cami tank top and a mini-span skirt. And then you can stick this outfit with a pair of matching devil horns to complete the look. Furthermore, perfect your performance with silver strappy heels to give you a sexier style and hold a trident stick as an iconic accessory.
6. Disney Mermaid Costume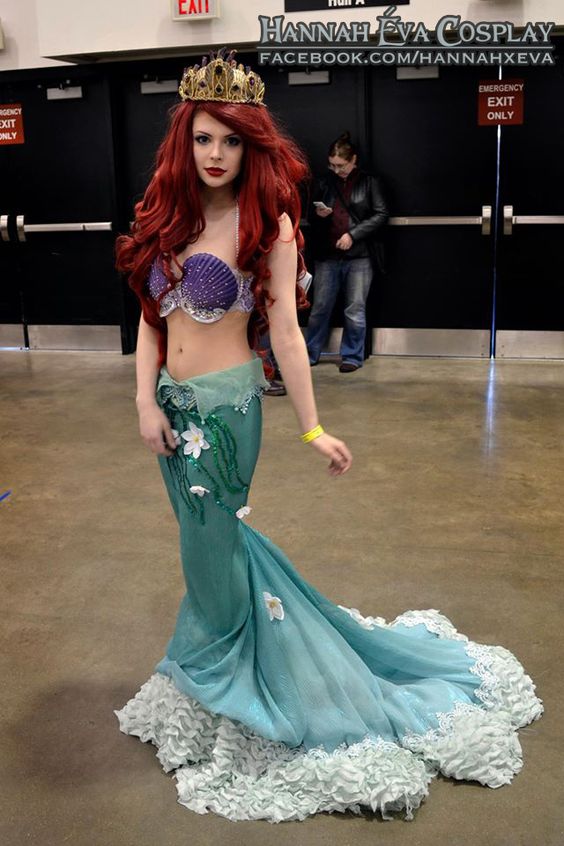 Halloween costumes shouldn't always look creepy, but something that is whimsy and mythical like a mermaid can be your inspiration. To look shiny at the Halloween party, you can recreate from Disney character ariel little mermaid style as your costume. If you want something that looks adorable and effortlessly, throw together your DIY mermaid maxi skirt with a seashell bra. Support your easy and fun Halloween costume idea using a red wig, pearl jewelry, and a crown. With this, you will look alike princess Ariel from little mermaid story.
7. Sexy Vampire/Dracula Costume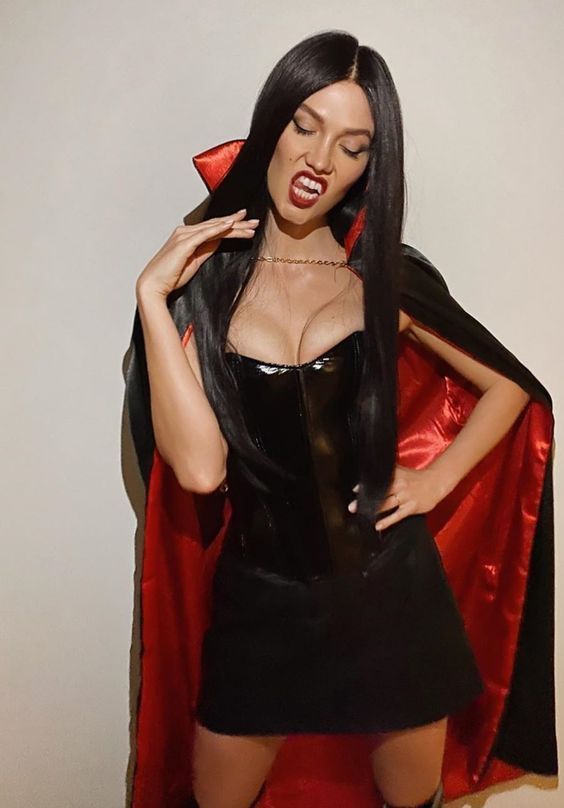 This is a timeless Halloween costume that you'll find out every year. A Dracula/Vampire style. There are also various ways to recreate this look from traditional to modern style. You can choose anything that looks best on you. If you want inspiration, we prefer this one. It's effortless and easy, but still stunning. You can wear a strapless black faux leather dress with over-the-knee boots. Then add the most important piece, Dracula's iconic black robe. Furthermore, elevate your Halloween costume with a bold makeup look using red lipstick as a point.
8. Woodland Fairy Costume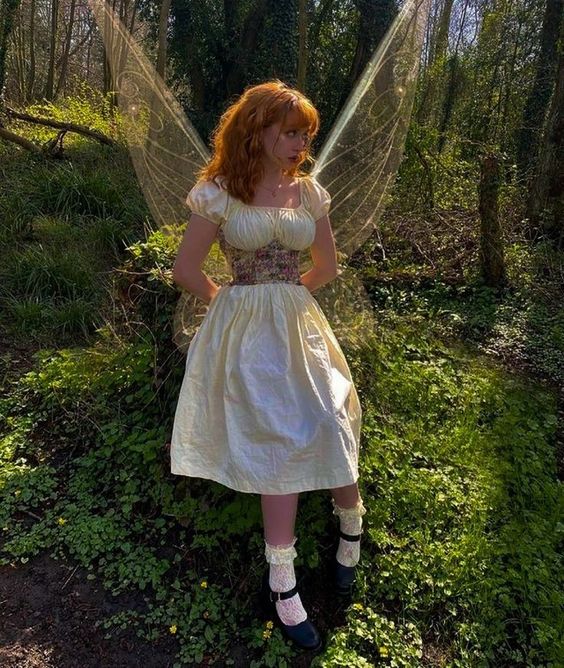 Transform into mythical figures with this woodland fairy costume idea. Since it's a Halloween costume, you can bring your imagination and creativity here. That's the fun part of dressing up! Regarding this woodland fairy style, it's such a simple costume. Fortunately, with a few key items, you can easily create a low-budget fairy costume. We love this vintage style where you need a victorian dress for the base look. Then, start to bring another detail such as cute socks with Marry jane shoes for the lower style, and get fairy wings from the invisible harness in your back as a complement.
9. Wednesday Addams Costume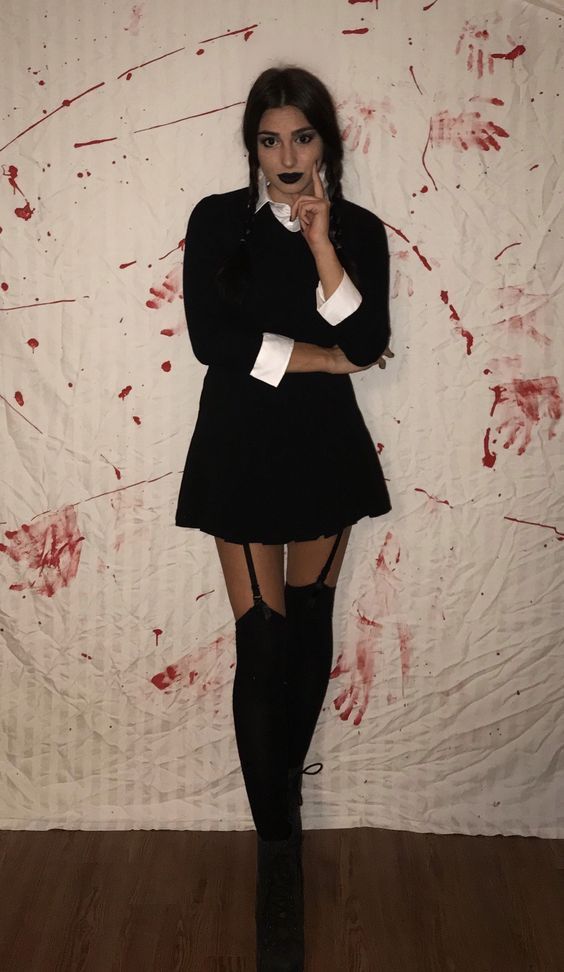 Wednesday Addams is a character that mostly recreates and appears at Halloween parties. At first glance, this outfit appears to be inspired by chic grunge and goth fashion. Besides, this costume is easy to do. For you who make it your easy and fun Halloween costume idea, you can begin with a black sweater, a white collared shirt, and a black tennis skirt. Then support it with black stockings and black shoes. If it's necessary you need to wear a black wig with two sides braided hairdo. Don't miss out on the makeup to elevate your Halloween costume.
10. Lara Croft Costume Style
Want to look like a cool strong girl? Here's a Halloween costume idea that's easy yet sexy and would bring a game face to your party tonight. Yups Lara Croft from "Tomb Rider"! This would be your last-minute Halloween costume idea because you just need to wear your daily outfits like an olive green tank top, black shorts, and black army boots. Something that makes this character live is using fake weapons as accessory items. Then, support your outfit performance by getting a braided hairstyle.
11. Chic Pirate Costume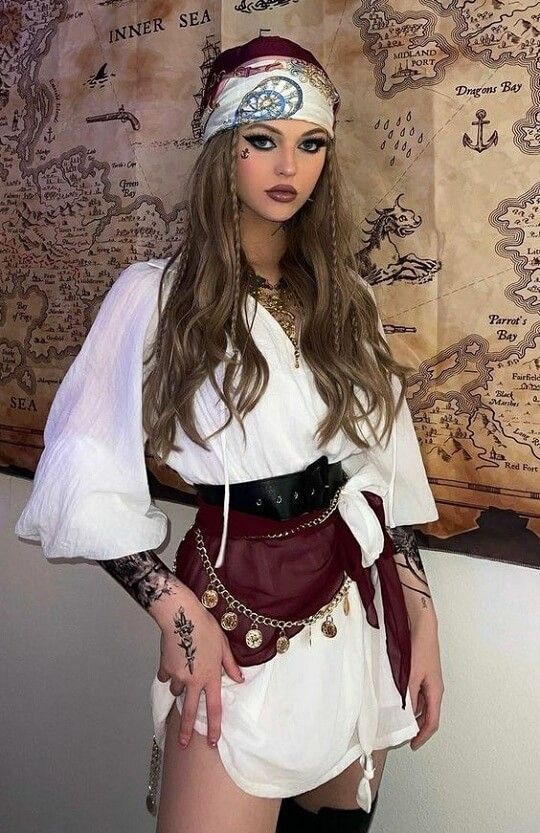 Whether you want to recreate Captain Jack Sparrow's look or anything that seems more fashionable, you can go with this pirate style. As you know, this is also a classic Halloween costume idea that easy and pretty fun to wear. From this look, you can start by rocking on your oversized white shirt or shirt dress with a large belt over it. Then, wear your over-knee-high boots and some accessories like a headband and some metallic jewelry.
12. Little Red Riding Hood Costume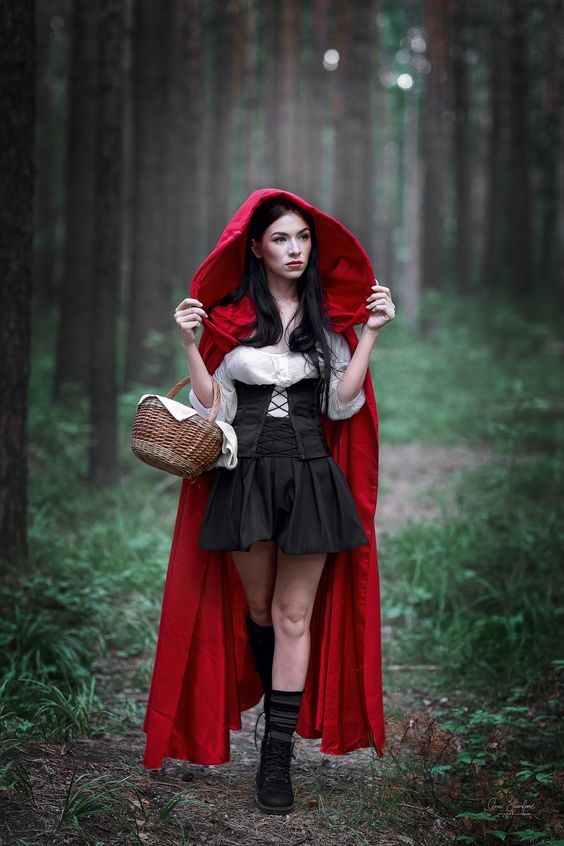 Another costume inspired by the story of Little Red Riding Hood. A girl should be delivering food to her grandma. She has to walk through the forest to arrive at grandma's house and at that moment an evil wolf is stalking her. For those who want to look like this girl in the story, you can wear a victorian short dress with a corset over it that you match up with a bright red hood. Furthermore, you can wear strip brown shocks with boots for the footwear style. Elevate your Halloween costume with a craft rattan picnic bag as an accessory.
13. Willy Wonka Costume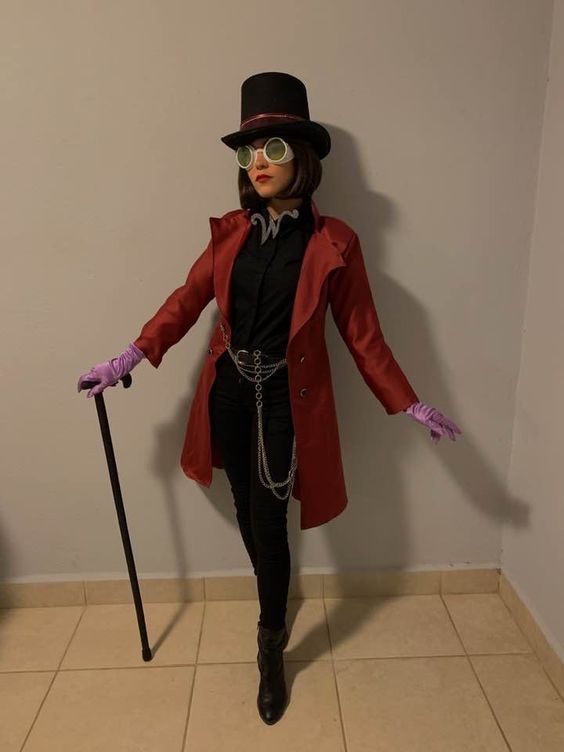 You, candy lovers, must know the classic Willy Wonka & the Chocolate Factory movie. The unique character of Willy Wonka with his fashion is mostly used for inspiring easy and fun Halloween costume ideas. Whether you celebrate a Halloween party with your friends, there are plenty of various versions of Willy Wonka out there. But we have one here! Then, what you need to wear to create the look is red suit/tuxes, a black shirt, black skinny jeans, and ankle leather boots. Another supporting detail that you need to incorporate is a black top hat, purple velvet gloves, metallic accessories, and a walking cane. This is optional, you can wear a bob wig and unique glasses.
14. Stunning Witch Costume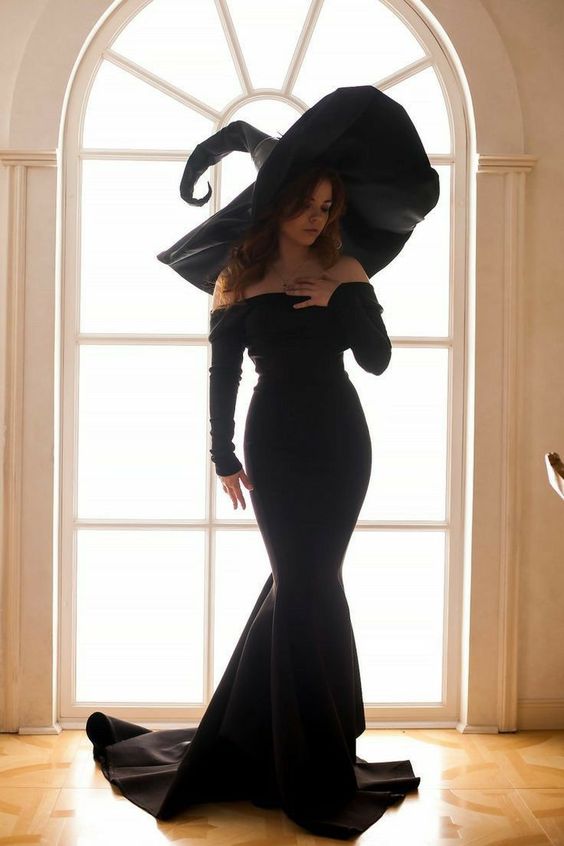 A classic witch costume has been a last-minute Halloween costume idea, especially this one. You can become a star at the scary Halloween party that will give you unforgettable moments. So, while a witch costume may ordinary, you can give magic to it. For the effortless Halloween costume style, just throw on a black off-shoulder mermaid dress as your base and elevate it with a big witch hat. You can wear this costume for a proper office Halloween party. Complete your style with black high heels, and black nail art, then if you want you can do a witch makeup style.
15. Harley Quinn Costume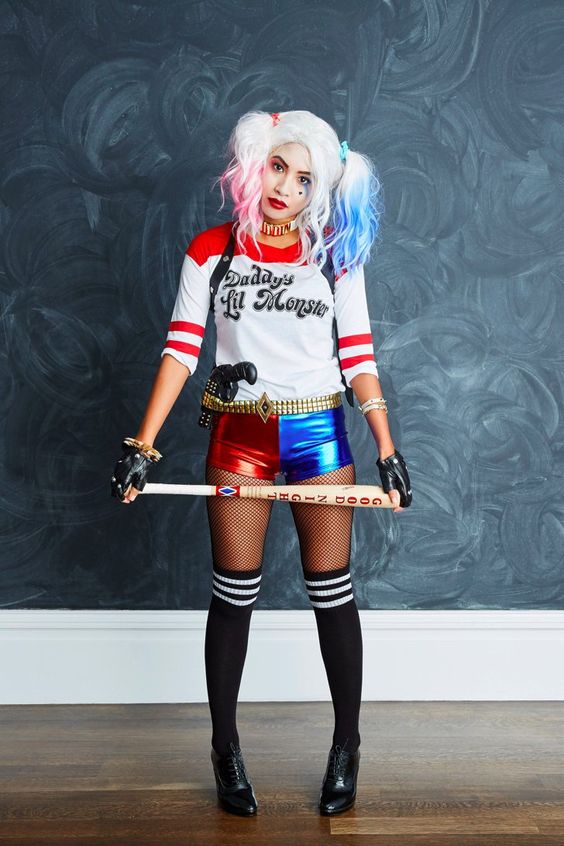 Like many movie-inspired costumes, Harley Quinn from Suicide Squad is also most favored to recreate for Halloween. Probably the most well-known Harley Quinn to become easy and fun Halloween costume ideas out there is this one. If you want to look like it, you need to bring a few key pieces that involve a Daddy's Lil Monster t-shirt, red-blue shorts, fishnet stockings, black long socks, and leather loafers. Moreover, you need to support it with a signature blonde wig with blue and pink pigtails and a Harley Quinn stick.
16. Joker Costume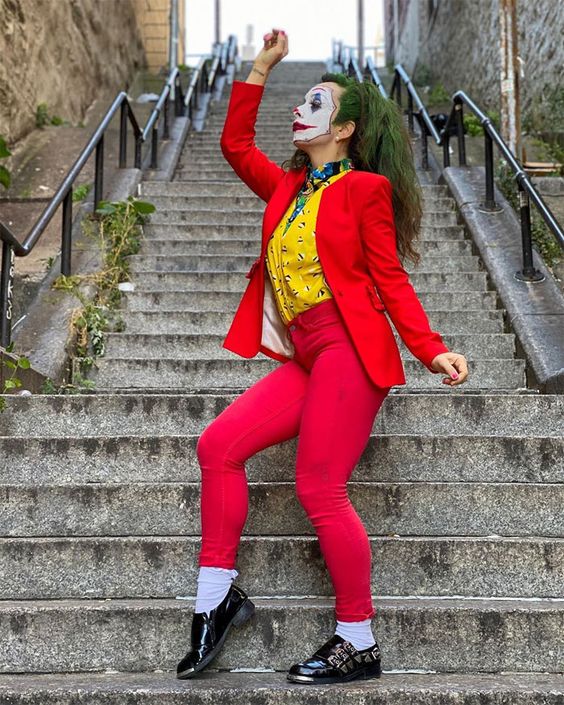 The jocker is another iconic character at the Halloween party. You can dress up as Joker as an easy and fun Halloween costume idea. When you search on the internet or Pinterest, there are a dozen versions of Joker style that give you more choices. This red and yellow suit is one of them. You can put together a yellow long-sleeved shirt with a red blazer for the top style. Furthermore, choose bright pink skinny jeans and black dress shoes to go with your suit. Then you can put on a green tie, but for the unique one, you can use your green scarf as an alternative.
17. Cat Costume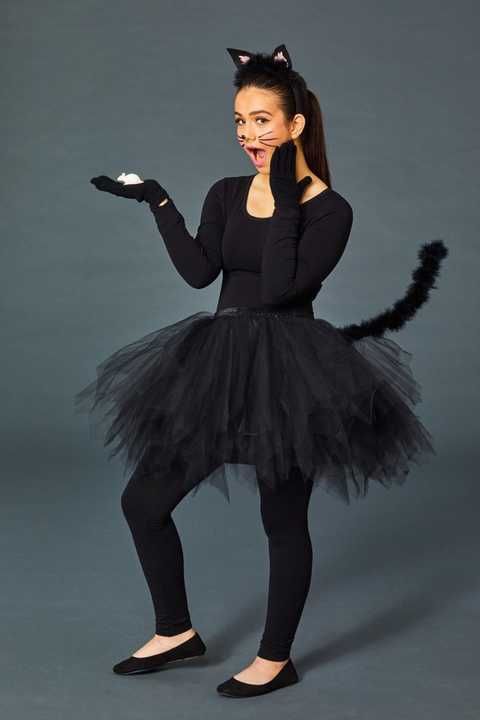 The Halloween party is always brought creativity in it, especially decorations and dress code. There are also numerous choices to look unique, and stunning, and stand out at the party with your fun Halloween costume idea. Start from spooky ghosts, animation, and film characters, to cute animal costumes. If you are a cat lover, draw a cute cat costume with a black long-sleeved t-shirt, a black tutu skirt, black tights, and black gloves. For the shoes, black flat shoes are a perfect choice. Then, add additional accessories like cat ears and tail with cat makeup to make you look like a real cat.
18. Fortune Teller Costume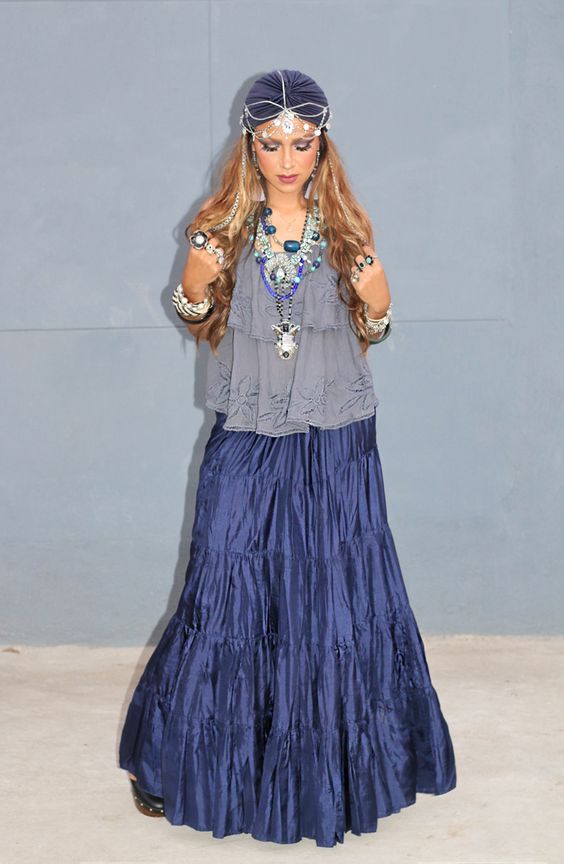 This easy and fun Halloween costume idea is inspired by bohemian style, more specifically a gypsy. Fortune teller style that is easy to recreate where you just need to prepare some bohemian pieces like a ruffle midi skirt with a sleeveless ruffle blouse. Then elevate your outfit performance with some bohemian accessories, and the iconic item is wearing hair accessories like a turban and head chain jewelry.
19. Bunny Costume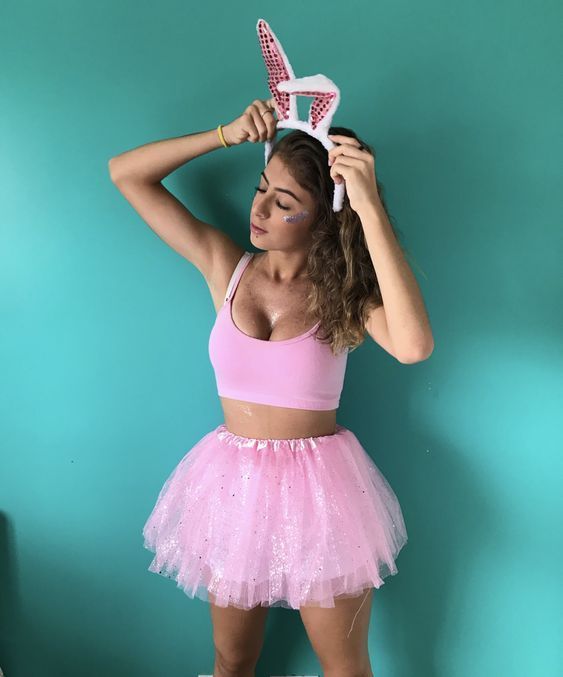 The next easy and fun Halloween costume idea, we have bunny style. Actually, this style is also can draw in various versions from cute to sexy styles. Like this one, it looks cute and adorable with a pink tutu skirt and a cropped pink tank top. For the shoes, you can get white knee-high boots or just use flat shoes. Don't forget to wear bunny ears that make you look cuter.
20. Maleficent Costume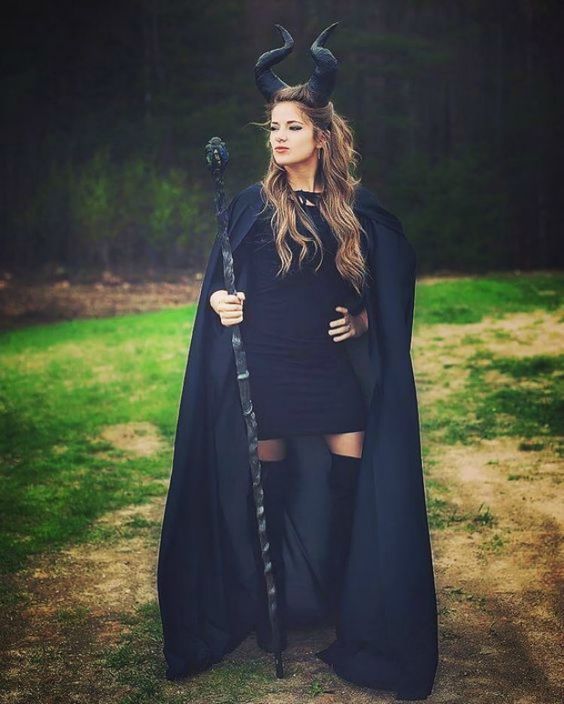 If you want to present an evil and powerful character at a Halloween party, you can bring this Maleficent costume. Ever since its release, the Maleficent movie has become popular and started recreating easy and fun Halloween costume ideas. This character is also called a dark fairy, that's why it looks perfect for a Halloween event. To appear in this look, you can wear a black long-sleeved mini dress, black knee-high boots, and a black long cape. Making up your costume seems forceful and magical with horns in your head as the key accessory. Maleficent costumes are not only good for Halloween, but it's also perfect for those who need last-minute ensembles to wear.
21. Bat Costume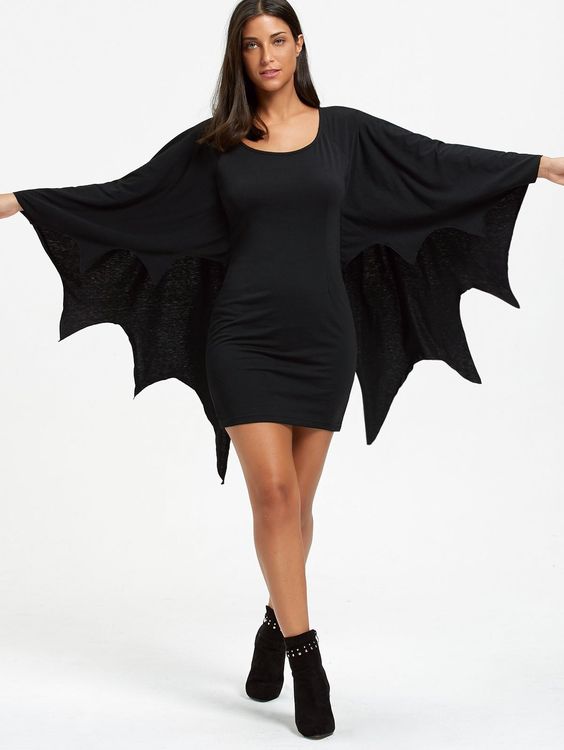 Have an easy last-minute Halloween costume with this bat costume. What you have to prepare is just a black bodycon that you add a cape-like bat's wings at the back. This fun Halloween costume idea is quite simple and easy to do. You can elevate your costume by pairing it with black suede ankle boots. Also, don't miss out to do bat makeup when you attend the Halloween party.
22. Ghost Buster Costume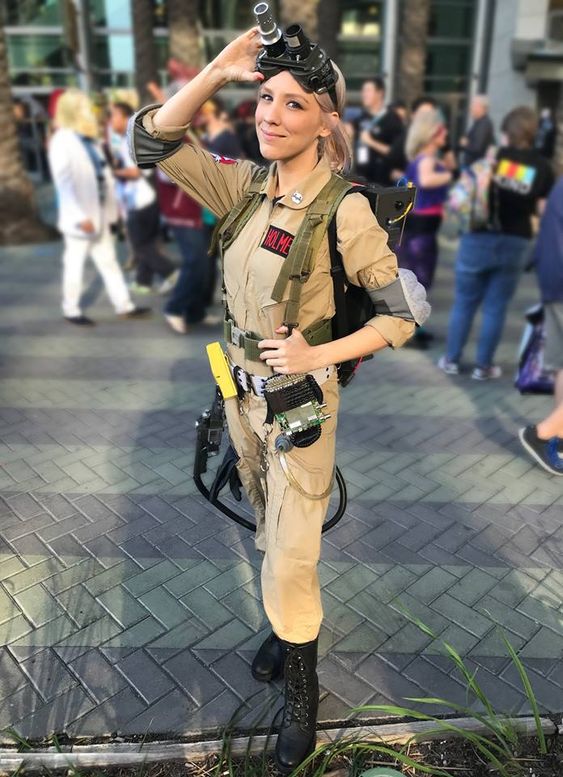 This one is inspired by the classic movie, Ghostbuster. To recreate this look, you just need to wear a safari outfit that involves a beige safari shirt and cargo pants. Then for the shoes, you can pick army boots. Perfect your Halloween costume ideas with some DIY ghostbuster tools.
23. Ghost Brides Costume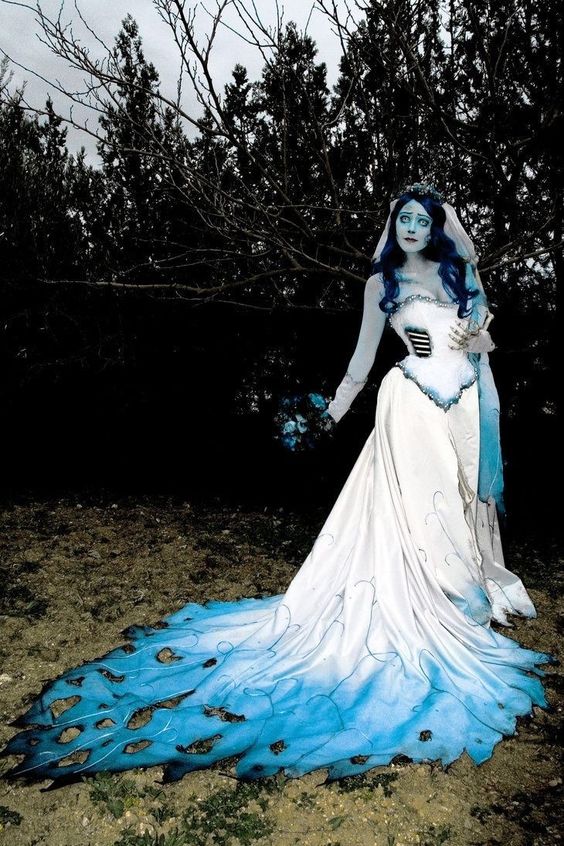 This costume was inspired by Emily from the animated film "Corpse Bride." Cosplay as Emily the Corpse Bride in scary elegance with a blue wig, skeleton gloves, hourglass body corset, long maxi skirt, and dress pump. Bring other detail accessories like a dark blue bouquet in your hand, and make Emily's makeup using blue face paint. I know you'll love this pretty Halloween costume idea.
24. Skeleton Costume
This is what an easy and fun Halloween costume idea meant. Skeleton costume idea. There are various skeleton costumes but this one is cute and spooky at the same time. You can wear a black mini-dress that has a skeleton motif on it. You can also opt for black tights under your dress to make you feel cozy. Pair your costume with black shoes and some accessories items like wearing a fedora hat to look stylish. Besides, you also need a little spooky Halloween makeup with a black-and-white palette to create a skeleton on your face.
25. Harry Potter Costume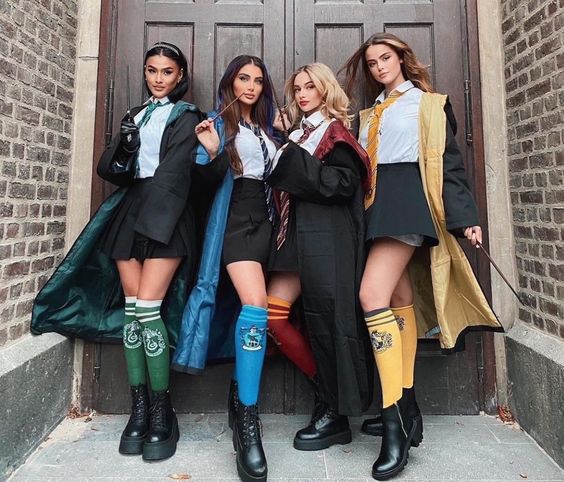 Dressing up for Halloween sometimes is tiresome. However, it also has so much fun while you can cosplay as your favorite figure. As you are a fan of Harry Potter books and movies, you may have various choices for your easy and fun Halloween costume idea here. You can dress like Harmonie, Harry, Ron, or other characters live in this story. Simply, you can wear a white shirt with a tennis skirt and then get a striped tie on it. Complete your style with long colorful socks, army boots, and a black long robe. Even better if you give some iconic accessories or wear costumes from families in Harry Potter films like Weasleys or the Malfoys.
26. Mime Halloween Costume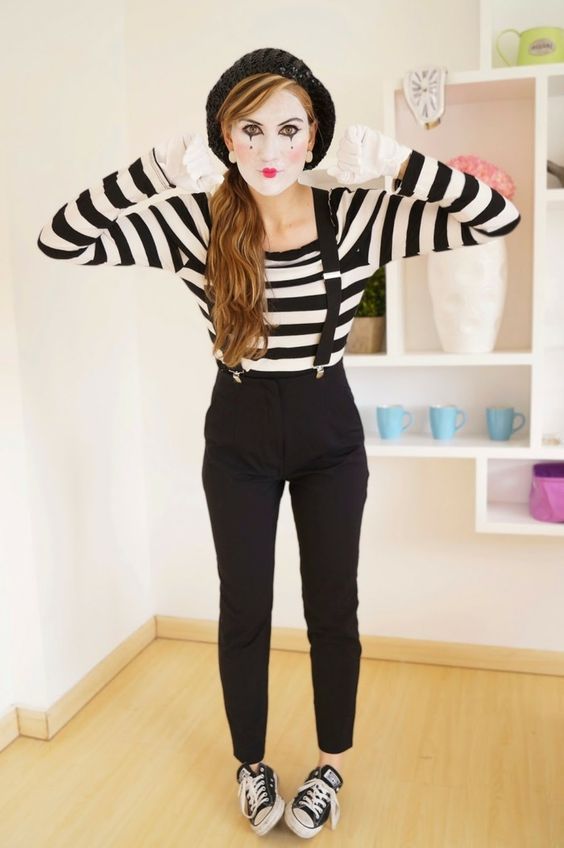 This classic mime outfit is easy to recreate. The key for this costume is to use a black and white strip pattern on your clothes. You can emulate the style of famous mime or your favorite ones. Some pieces that you need to prepare are a black and white striped basic t-shirt that would you combine with black pants. Depending on your shirt, you can choose white, black, or red suspenders. Another option, you can also get a trench coat for layering style when the weather gets cold. If you wearing a button-up shirt, elevate it with a bowtie Finish off your mime costume with a black or red beret or beanie, and then get a pair of sneakers for the comfy footwear.
27. Ice Cone Costume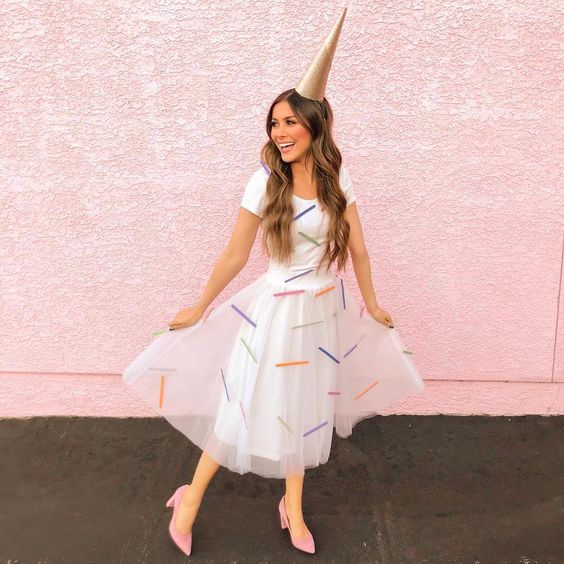 This ice cone costume looks cute, right? Besides, it's very easy to recreate using your daily outfit idea. What you need to wear is just a simple white midi dress with a tulle skirt that you give colorful ornaments to look like ceres in vanilla ice cream. Just make sure you create and wear a cone hat on the side of your head to stand your easy and fun Halloween costume idea. Furthermore, wear pink high heels for the footwear to make it look sweeter.
28. Scary Medusa Costume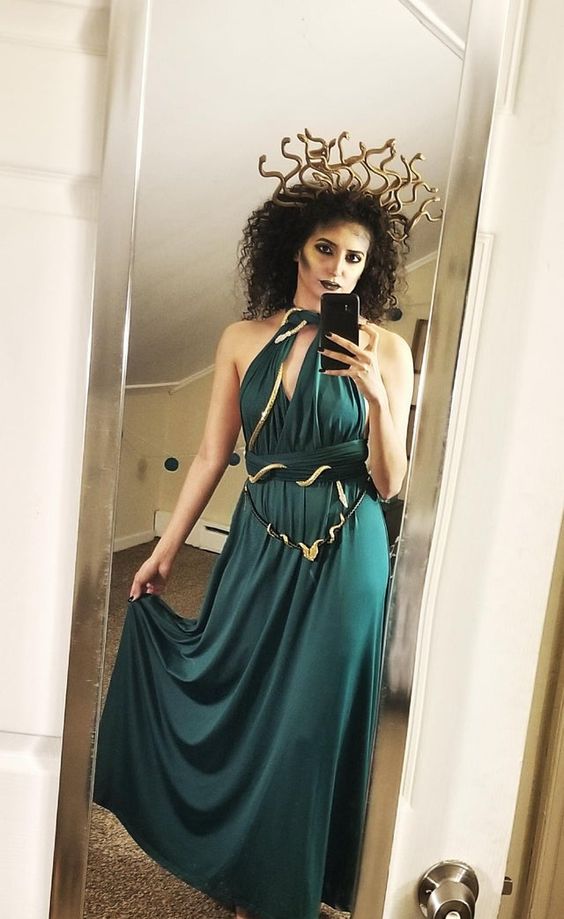 Your Halloween costume would look creepy and gorgeous in this Medusa look. A Greek mythological figure with a snake-filled head and a curse that anyone who looks into her eyes will turn to stone. That's why it would be perfect for Halloween costume ideas. For this, you can get a simple look with a green halter maxi dress that you modify with snake accessories. Furthermore, bring a snake crown on your head with a curly hairstyle to level up your Medusa style. Also, you need to support your costume with stunning Halloween makeup.
29. Marionette Doll Costume
Looking for something that looks vintage and retro to become your Halloween costume idea? We thought Marionette's costume can easily be done. One of the most iconic about Marionette is the gothic-looking style. That's why it looks perfect for a Halloween party. The first thing to do is dress up in victorian dresses, and for this, you can be a lady of the court or Irish beer girl, anything you want. Another detail that you need to consider is the strings that are attached to your arms with the crisscrossed wood above you. That's everything that would turn you into a Marionette puppet.
30. Mummy Halloween Costume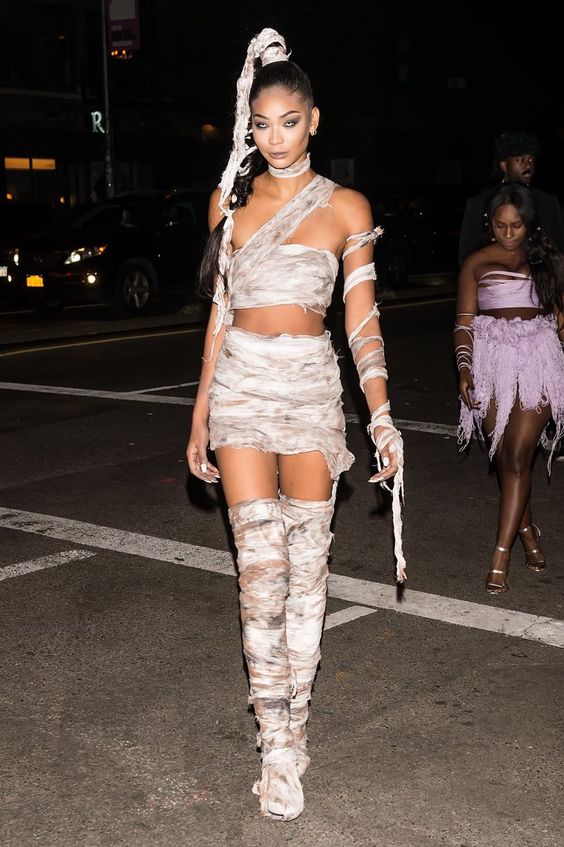 The creepy Halloween would be represented in your costume with this mummy look. Furthermore, whether you use a DIY costume or buy it at a thrift store, it's very simple to recreate this mummy style. You'll need gauze bandages and the right makeup to dress up as a mummy for a Halloween party. This mummy look is both scary and sexy, and to achieve it, you'll need a tube-cropped top, a span skirt, and knee-high boots wrapped in gauze bandages. Do a simple scary makeup that looks pale, you can also add blood stains if you want. Elevate it with your hairstyle by doing a high ponytail.
31. Tiffany Costume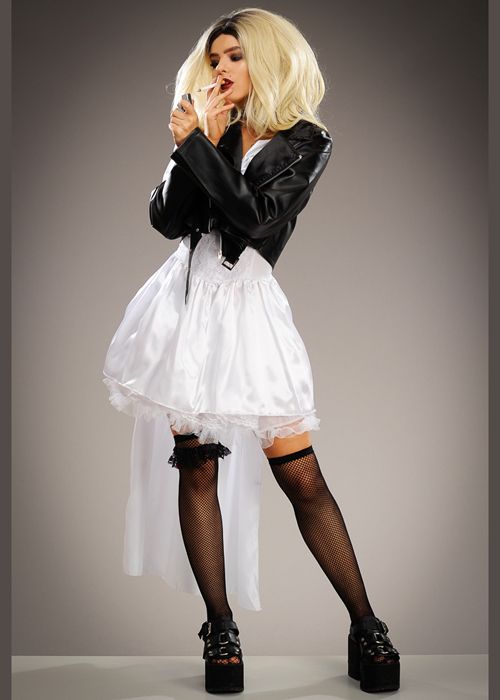 Tiffany Valentine is a character in the film The Bride of Chucky that has a rock n' roll style and murderous intentions. This would great to give you an easy and fun Halloween costume idea. If you plan to go on the look, you can start with a short wedding dress, leather jacket, fishnet stockings, and chunky platform sandals. Perfect with other details like a blonde wig and bring a fake knife as an accessory. While wearing this look to Halloween parties, you'll need a friend or partner to dress up as the famous killer doll Chucky. Besides being used for a Halloween costume, this Tiffany's style can also be your wedding dress style as long as you have a cool partner here.
That's all 31 Halloween costume ideas that you can pick to become inspirations. Do you want to try one of them? Or do you already have one in mind? The key to making anything you wear to a Halloween party unique is to draw inspiration from myth figures, horror movie characters, or animations. Bring your imagination and dress up as anyone or anything you want. When you have a simple Halloween costume, you can elevate it with makeup looks. Go to our latest article about pretty Halloween makeup ideas to assist you with the look.