Olidfashion.com – When we talked about the 80s fashion trends, you may find out vintage and retro pieces. Some iconic pieces, such as oversized blazers with shoulder pads, high-waist mom jeans, puff sleeve tops, and eye-catching colored outfits, would elevate your fall wardrobe essentials this season. We're not changing things up with new designs because no design is ever new. And we all know that fashion never dies; it simply hibernates until it is ready to resurface.
The 1980s fashion trend is making a comeback with something nostalgic but with a modern twist. It's now time for a new update on 80s outfit looks. The best part about this trend is that you can wear it with anything punky, trendy, glam, or, most importantly, a vintage outfit style. For this, you can wear oversized blazers with your casual outfits, wide-leg pants, or brightly colored outfits. Although it appears old-fashioned, as long as you pair it with the appropriate part of your modern wardrobe, you'll have a new fashion style in your closet.
Regarding the key elements of '80s fashion trends that you give a modern twist, you may consider color, playfulness, and comfort. Rather than play with really bright-colored outfits, you can choose pastel shades in a color-blocking style. Furthermore, you can choose something that timeless and versatile like leather jackets, waist jeans, or suits that would always be good for your modern style. If you want to fully know about the best 80s fashion trend to inspire your autumn outfit idea, keep reading here!
1. Oversized Blazer and Combat Boots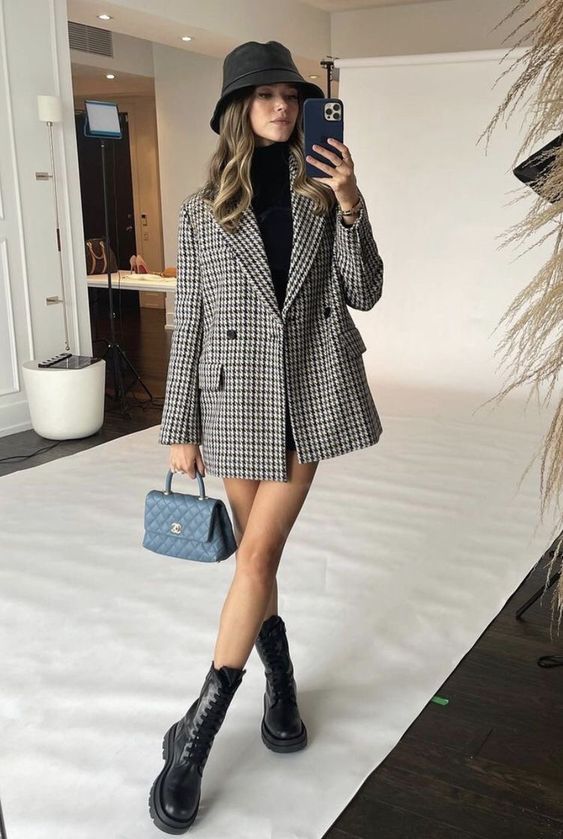 The first 80's fashion trend that we use for this fall is this oversized plaid blazer with combat boots. With this plaid blazer layered over your mini dress, you can make a statement about vintage and retro style. You can also add shoulder pads to stand more 80's fashion to your fall outfit idea. While you can also bring timeless combat boots that make you seem trendy. Classic boots that are easy to pair up with anything you wear and never go out of style entirely. Furthermore, add something with a modern twist like a bucket hat, accessories, and your favorite bag to perfect your appearance.
2. Button Up Midi Skirt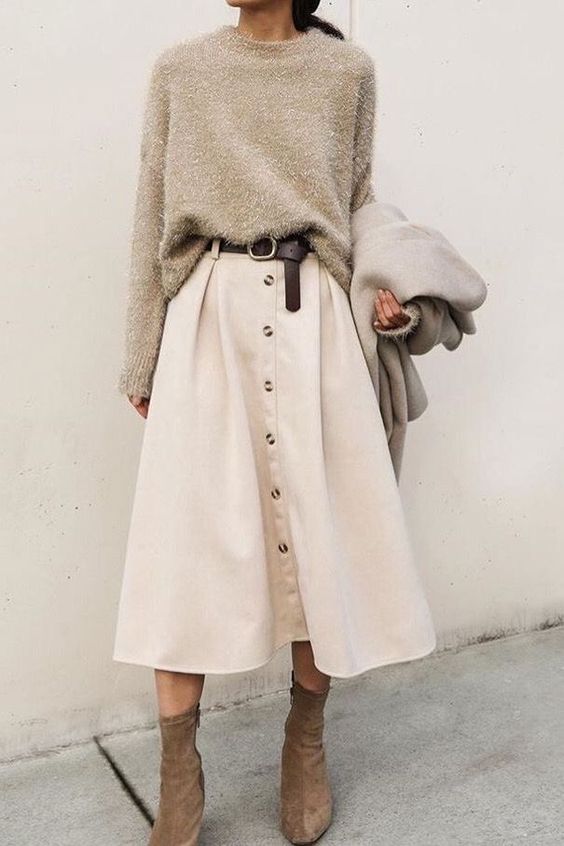 This button-down midi skirt looks better on your 80s outfit ideas. What you have to do just pair it up with a faux fur sweater and suede ankle boots. Then, add a leather belt and some vintage accessories. Making them in monochromatic beige is a great idea to give a modern touch. Besides, you can also get a beige long women's coat to elevate your 80s fashion trend this fall.
4. Goth Outfit Style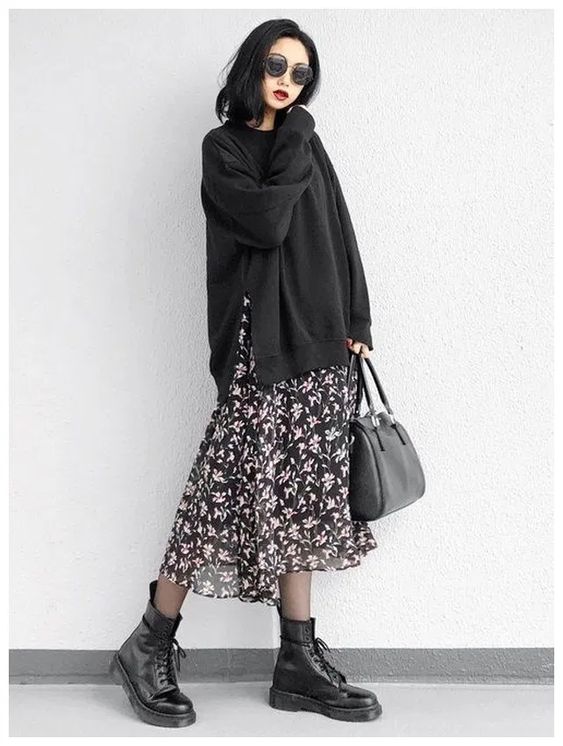 Come to think out of the blue, grunge or goth style is something that is also timeless. While you are also can look trendy and cool in this outfit idea. For those who want 80s fashion trends in chic grunge outfits. You can begin with all-black outfits, mix up a black midi dress with a black oversized sweater over it and use combat or army boots for the shoes. Stand out using this style by adding bold makeup look and get fashion accessories that are appropriate to your style.
5. Faux Fur Cardigan with Floral Dress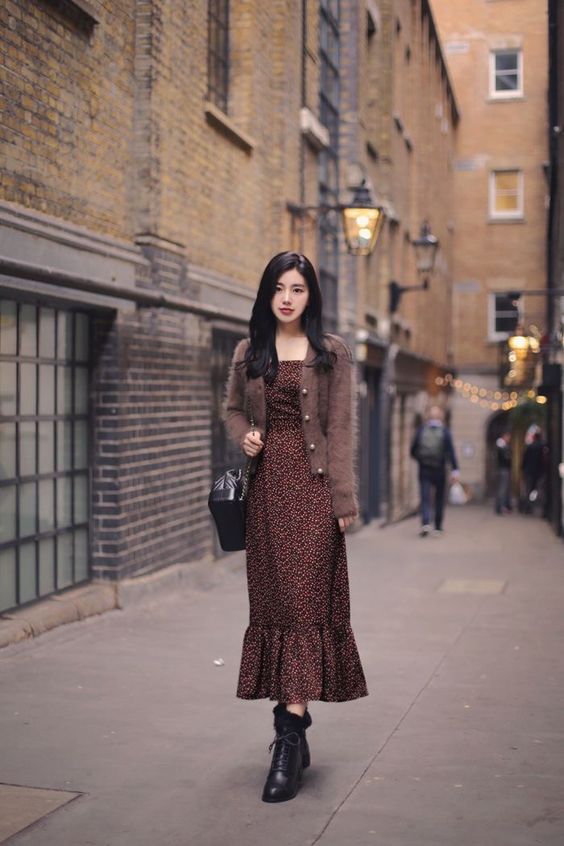 Looking for something that looks feminine for this fall? We offer you this 80s fashion trend involving a faux fur cardigan and floral maxi dress. Choose a strapless/spaghetti strap long dress with a bit of ruffle on the end of the dress that looks like a retro dress. Then cover up your dress with a faux fur cardigan to give you a sweet look. You may think it looks common, but bringing army boots for the footwear would elevate your style chicer and cool at the same time.
6. Mock Neck Top and Overall Dress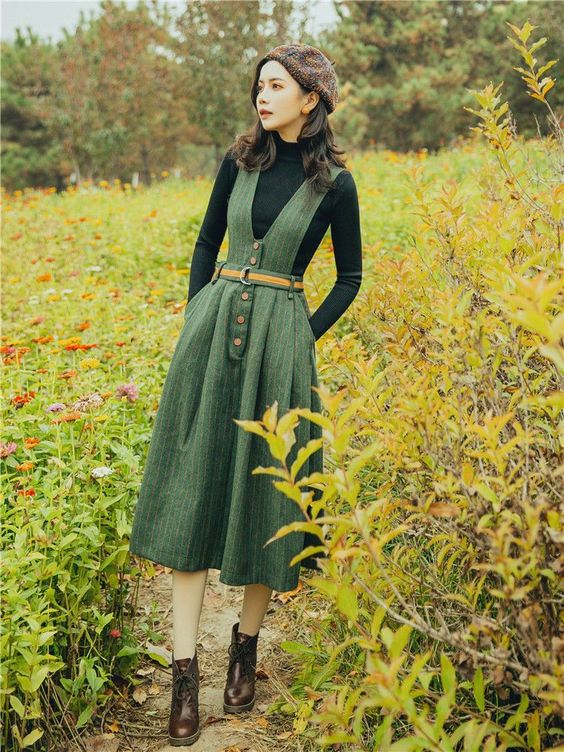 We adore this dress so much! If you think of something that looks elegant and friendly, this 80s overall dress would help you get the style. Whether you need an outfit for walking around the park, going on a date, or just hanging around with your guys, make this dress yours now. Mix a mock long-sleeved top with a plunging v-neck overall dress for the base look. Then, complete your outfit performance by adding another detail such as a belt over your dress, a beret hat, and other accessories. For the toe, you can choose a pair of leather boots that give your 80s fashion trend a bit of a classic and trendy twist.
7. Sweatpants and Leather Jacket Style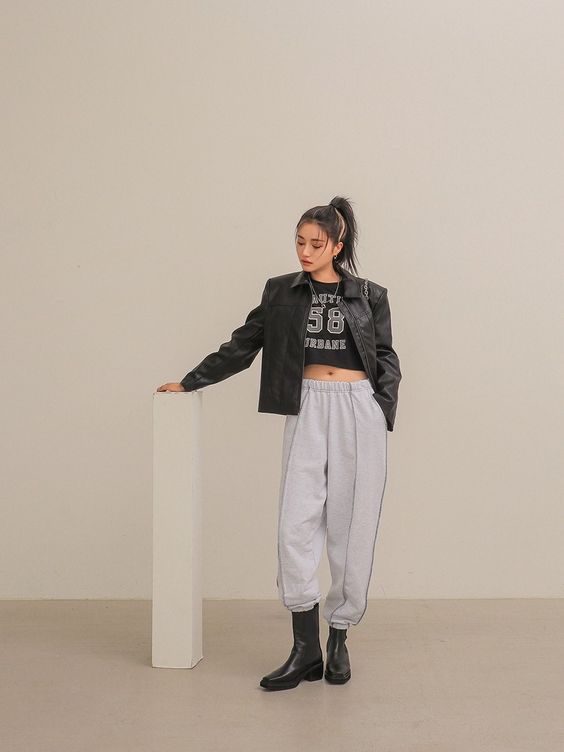 If you want to invest in your wardrobe, make sure you include a leather jacket in it. A piece of outfit that's timeless and never goes out of style that you can wear from time to time. Even when you want to draw 80s fashion trends on your daily look, you can use a leather jacket that you can pair up with anything in a modern twist. Like this one, you can pair up your black leather jacket with a cropped printed tee for the inner top, and get large sweatpants for the lower style. Moreover, you can get leather boots to make your style stand out. In addition, giving some metallic accessories, or wearing a cap would make you look trendier to go outside this fall.
8. Collared Blouse and Knitted Dress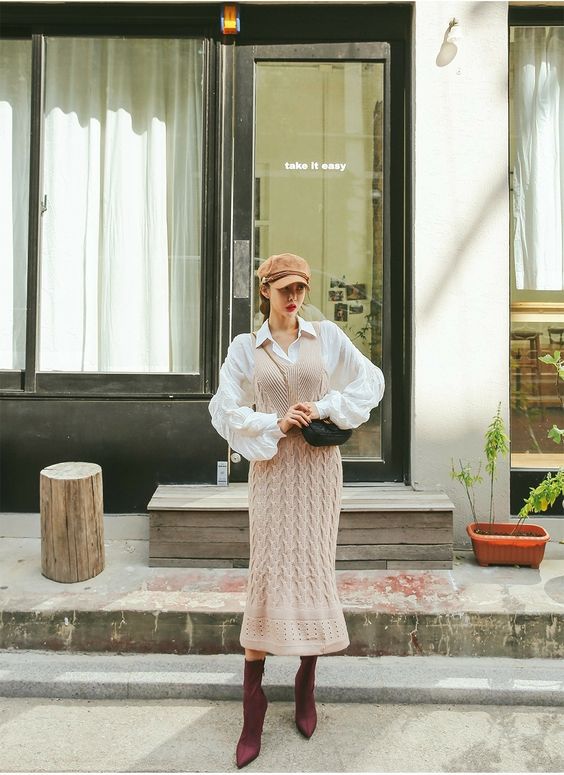 Knit clothes are fall wardrobe essentials that you should have on your list. And for the 80s fashion trend that you want to recreate for a fall outfit idea, you can pick up a knitted dress. Making it much prettier by getting a sleeveless knitted dress with a white collared blouse underneath for a layer. For the blouse, prefer to get one with a balloon sleeve that would bring a more classic touch. As for the shoes, it would be better if you can go with suede ankle boots. Finish out your outfit idea with vintage accessories items such as a beret hat and a Minaudiere bag.
9. Plaid Strappy Mini Dress with Puff Sleeve Blouse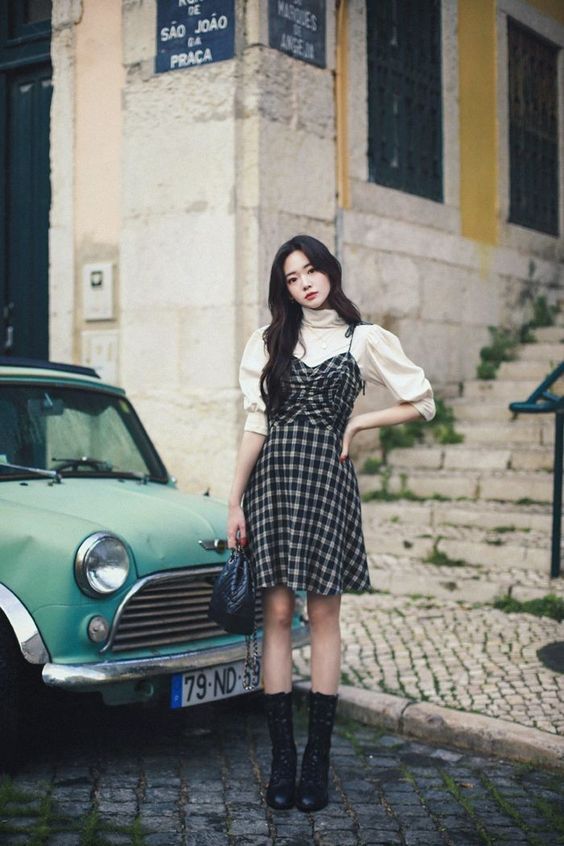 Even if it's fall, you shouldn't suffer from bulky and oversized outfits. You can still wear mini and short outfits. And then when you want something classic like 80s fashion trends, you can try this plaid mini dress to complete your fall wardrobe. What you need to do is just get a layered outfit idea by matching it up with a puff sleeve blouse underneath. If you think outside feels colder, you can also wear tights under your dress. Besides, you can also get army boots to help you feel cozy and trendy during autumn.
10. Pleated Skirt and Plaid Blazer
Time to go for something that looks feminine and mature for autumn outfits. For those who search for work outfit ideas, you can wear this 80s fashion trend which comes in pleated skirt and blazer styles. To have a full outfit look, you can get a turtleneck under your plaid blazer, and then match it with a pleated midi skirt. To elevate your fashion style, you can get a belt over the blazer and wear suede boots. Completing your style with accessories items and also choose between a mini bag or a Minaudiere bag to help carry your belongings
11. Monochromatic with Lime Suits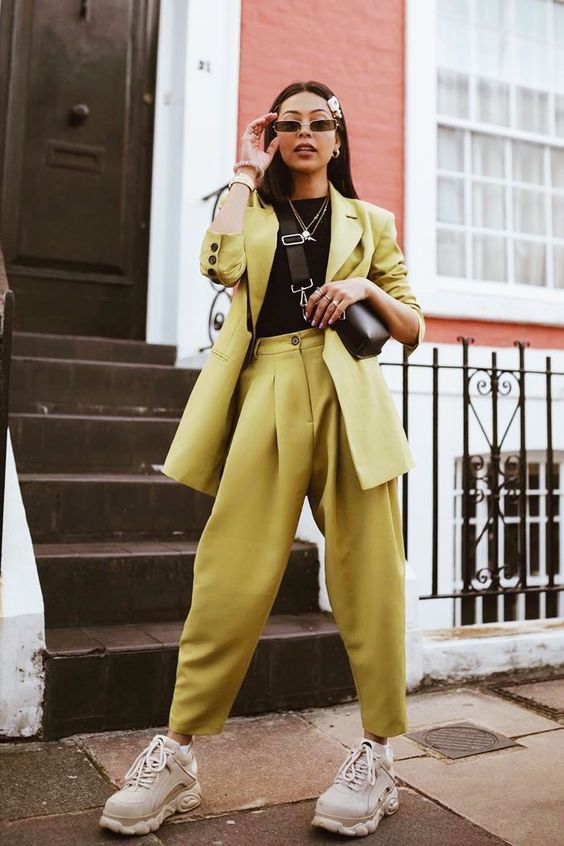 Monochromatic green lime suits for working and hangout style after work is something that looks gorgeous even for the 80s fashion trend. It's a kind of versatile throwback outfit that you can still combine with a modern touch. Get one-size larger suits with shoulder pads on the blazer. You can pair this outfit idea with a basic t-shirt for the inner top and get trainer shoes or sneakers for the matching footwear. Finish out the style with fashion accessories and use a mini sling bag to carry your stuff.
12. Straight Jeans and Oversized Blazer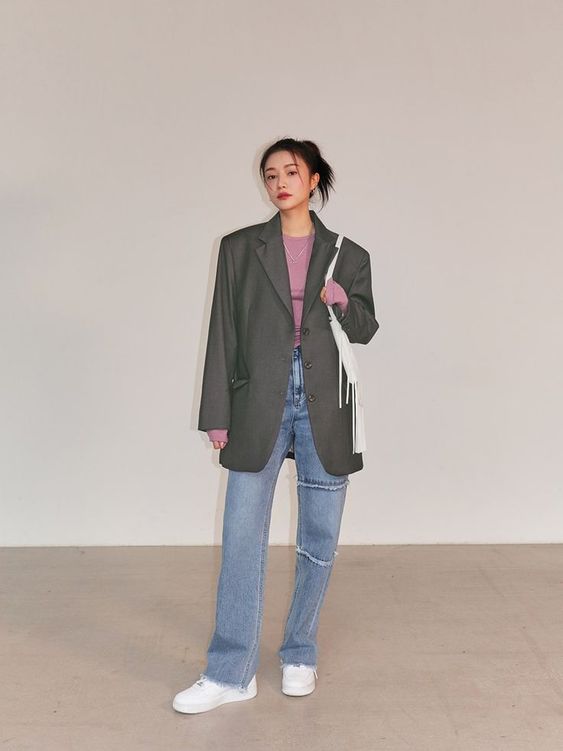 Another style that creates from a blazer, where you need an oversized outfit to recreate 80s fashion trends on your daily rotation. We love this blazer look that looks chic and trendy. This outfit idea is great for college outfit ideas by combining it with a crewneck/mock neck sweater and straight jeans. Finalize your outfit performance by getting sneakers for your shoes and a tote for the bag.
13. Suspender Style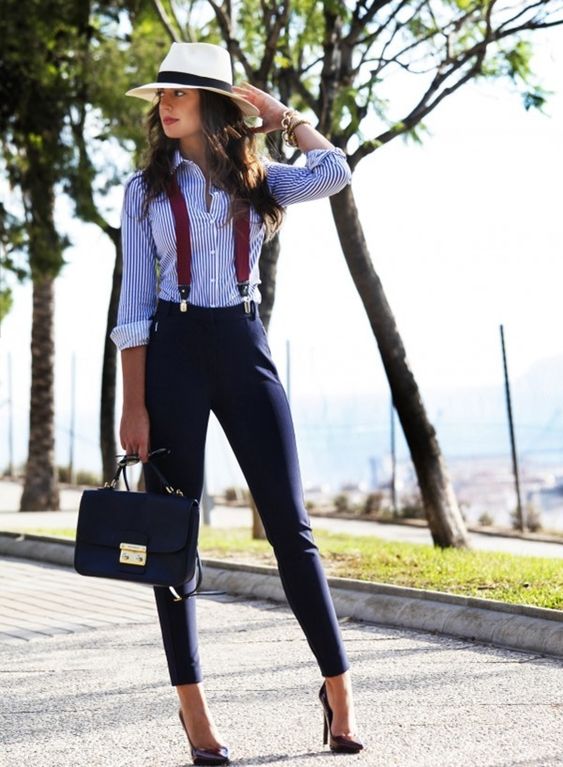 If you are wondering about a masculine look in your 80s fashion trend, suspenders should be going in. These classy accessories add a sophisticated yet elegant touch to your vintage look. Suspenders can help you achieve two distinct styles when you want to wear them. You'll get a tailored and casual look by matching up suspenders with other ensembles. This suspender style would fit to wear during fall. Mix up a striped button-up shirt with skinny pants and then apply button-on suspenders to elevate your formal look. For the shoes, you can wear high heels and then bring a message bag in your hand. Making your style look more contemporary by wearing a fedora hat as an accessory.
14. Vintage Overall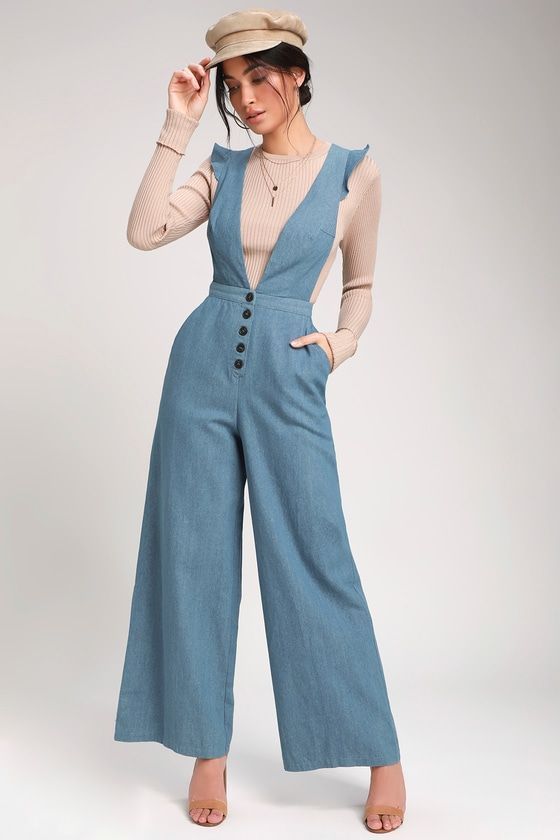 If there is an 80s fashion trend that is timeless and also easy to make your appearance look stylish, then overalls should be carried on! This is a type of unisex clothing that has been popular since the 1960s and continues to be hit today. Besides, there are various types of overalls that you can wear from denim pants overalls to overall dresses. If you want to be loud about vintage or retro looks, play with a wide-leg denim jumpsuit/overalls with a crewneck knitted top underneath. Furthermore, pair this overall outfit idea with open-toe high heels for shoes. Accessorize it with a baker-boy hat and some simple gold jewelry. If you want to go out or change out with this look, pick between a pouch bag and a round handbag that gives you another classic detail.
15. White Ruffle Maxi Dress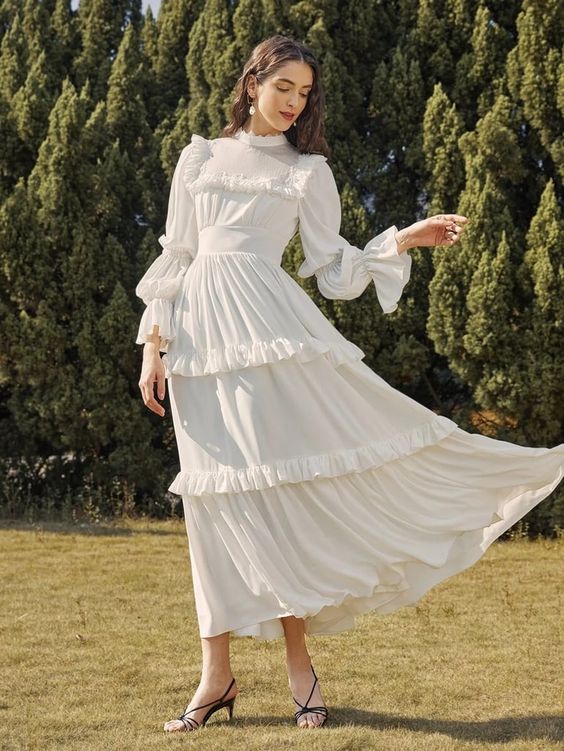 Dress up in this off-white ruffled dress, which actually makes you look like a vintage bride. Besides this 80s fashion trend also look great to become your daily style if you want something girly, elegant, and feminine. You can wear a mock neck long-sleeved ruffle dress for a formal dinner event or your romantic date night dress idea. When you want to look more classy in this dress, you can wear a blazer for a layer, then get strap-heeled sandals for the matching footwear. Support your elegant style with high updos hairstyle and wear simple jewelry like pearl stud earrings.
16. Ripped Jeans and Cropped Top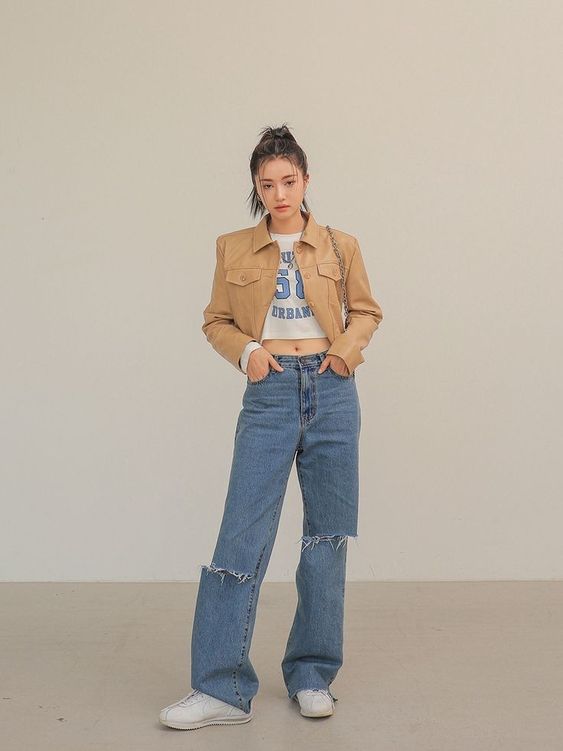 Another 80s fashion trend that you can wear for college outfit ideas, is ripped jeans! A piece that is truly versatile and timeless, since you can wear it from time to time. Whether it's summer or autumn, you can wear ripped jeans with anything in your capsule wardrobe. If you prefer a classic vintage look yet trendy, match ripped jeans with a graphic cropped tee and a brown jacket look go for going to campus this fall. Elevate your outfit style with sneakers and get a tote bag or Minaudiere bag in your hand. You can also do your hair in a high ponytail that looks great with your outfit idea.
17. Wide Leg Pants and Sequareneck Blouse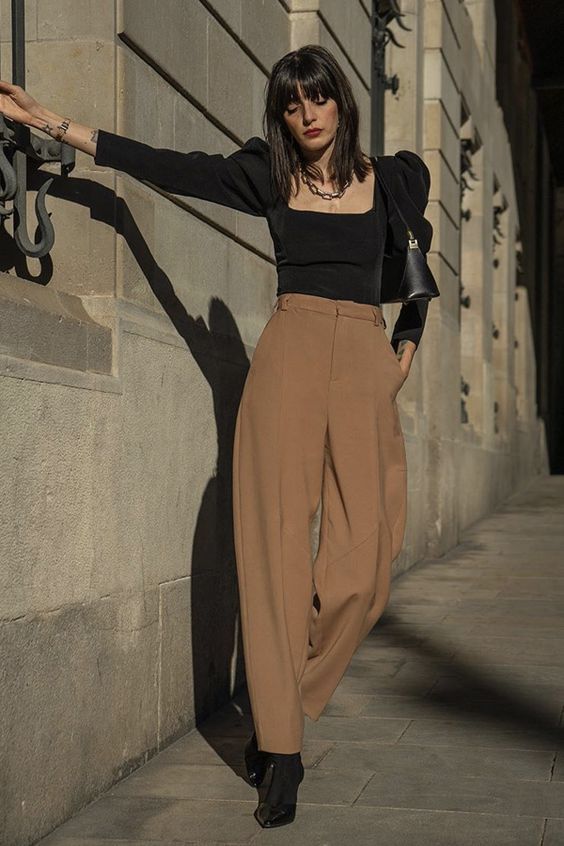 We really admire this square neck puff sleeve blouse that you can match up with wide-leg trousers to bring back the best 80s fashion trend to your fall capsule wardrobe. This style is simple but can give you two different looks, a formal and casual appearance at the same time. It can achieve a different style depending on what you bring for another detail. This look is great for a work outfit or a meeting outside with a friend. You can achieve a chic, classy look by wearing heeled ankle boots, a shoulder bag, and some gold jewelry.
18. Get Ready with Flared Plaid Trousers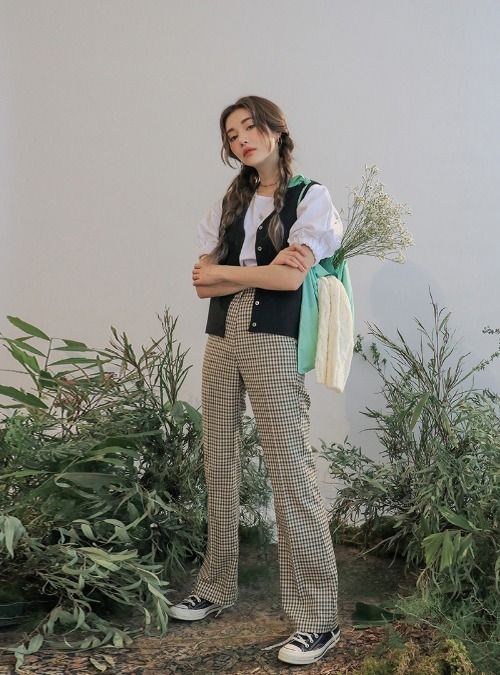 This is for those who enjoy the retro outfit style. A pair of classic pants that could give you a throwback look in 80s fashion trends. What else besides flared plaid pants? These pants truly represent those 1970s It-girls. You can wear it with a casual look for going to class or back to school outfit idea by matching it up with a puff sleeve blouse and a vest. Just level up your outfit performance with sneakers as the footwear, and get a chic tote for the bag. Besides, you can support your vintage style by doing a simple braided hairstyle.
19. Color Block Outfits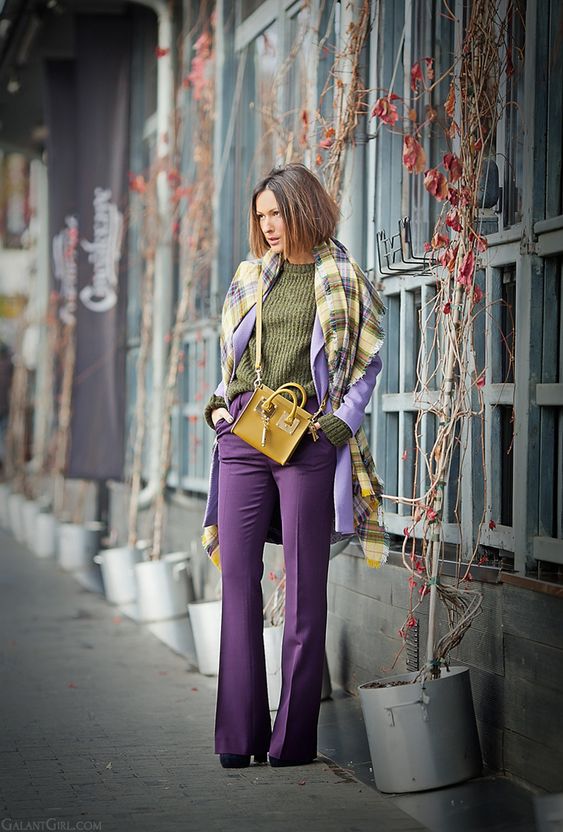 Color-blocking outfits are typically associated with 80's disco music. So, when you want to bring back the best 80s fashion trend, use a color-blocking style. During the 80s, some musicians experimented with their looks by figuring out contrasting colors matching in their outfits. They use bright shades with the patchwork trend that look unique. If you want to come with the style this fall, you can try this look! mix and match your outfits that have yellow, olive green, and purple colors. It can give you color blocking look. To make it feel like outfits from the 80s, you can use purple wide-leg pants, and an olive sweater then carries on a lilac blazer over it. Give a yellow hint with your accessories like wearing a plaid yellow scarf and use a yellow sling bag. For the shoes, get your platform high heels.
20. Style up with Corset Looks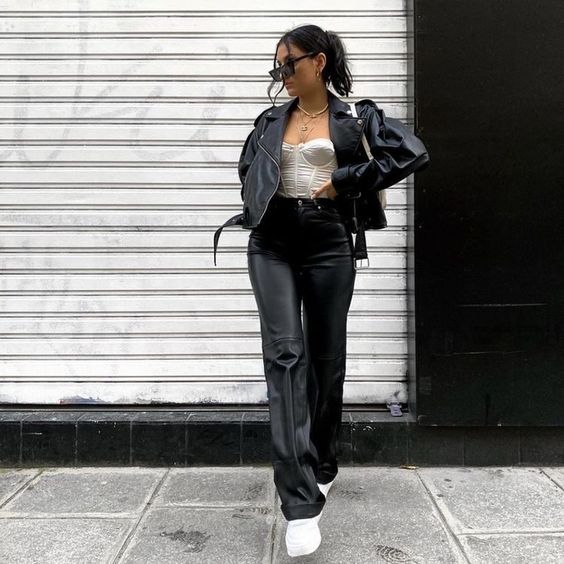 The corset outfit style has recently made a comeback. This is one of the most memorable styles of the 1980s fashion trend, and it is simple to modernize. In fact, this trend is extremely versatile because it can be worn with a variety of outfits. Wear a bustier corset as part of your night-out outfit by layering it with a jacket or wearing it over your dress/tops. For example, if you want to look trendy in your outfits, you can combine a corset with leather pieces. Choose a white satin corset for the inner top, a black leather jacket for layering, and leather pants for the lower style. For footwear, use white sneakers or trainers. Don't overlook accessories such as gold jewelry to complete your sophisticated appearance. Bring your leather shoulder bag and you're ready to meet a friend or attend a concert.
21. Stylish with High Waist Mom Jeans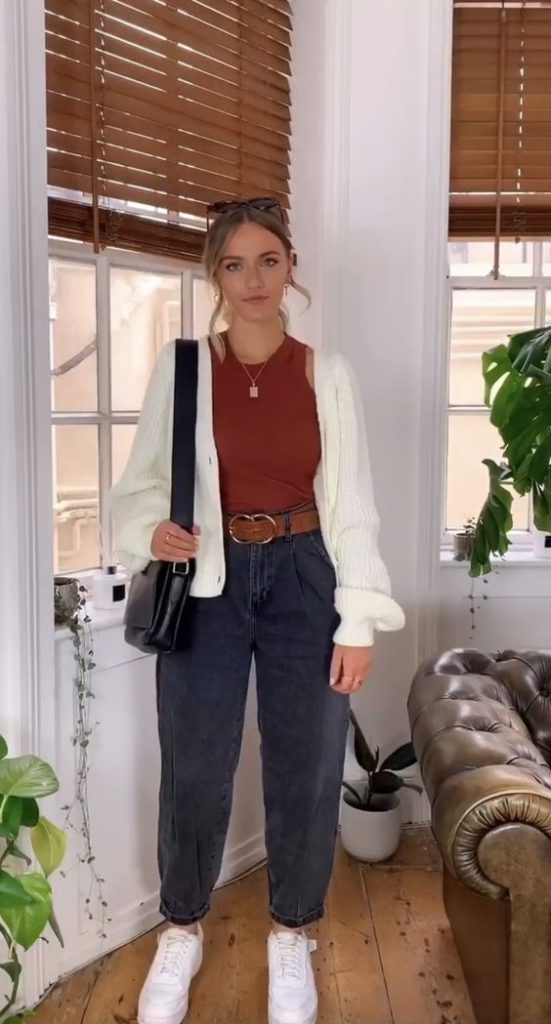 The 1980s fashion trends were a cool time for various pants. For women, the popular pants trend includes high-waist jeans, mom's jeans, ripped denim pants, leggings, and more. To copy this outfit idea, for sure you'll need to mix and match a sleeveless top with high-waist mom jeans. Then layering up with a knitted cardigan to have a style for the fall. You can also add vintage accessories by wearing a leather belt and using white sneakers for the footwear to boost your look. Finish out your outfit style with a shoulder bag or sling bag to help you save your stuff when going outside.
22. Bring Back Bright Varsity Bomber Jackets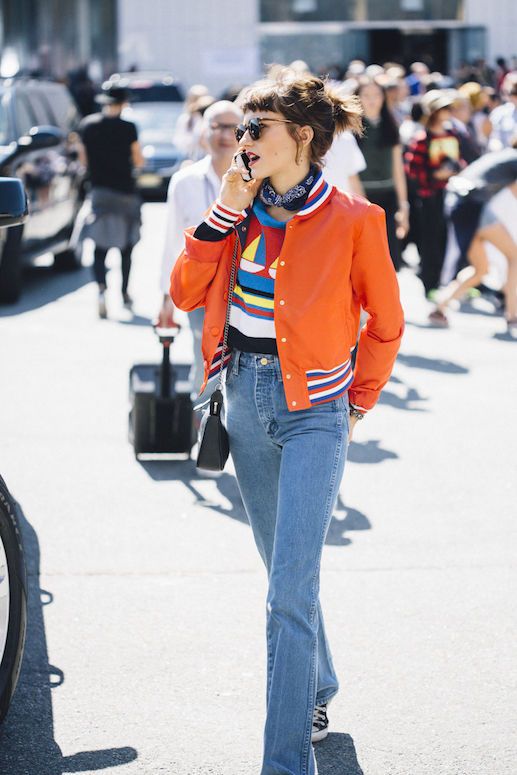 To have a timeless appearance, simply put a varsity bomber jacket into your outfit idea. This jacket has reached the high of the best 80s fashion trend up until now and become a classic piece in your wardrobe. When you want to boost your fall outfits, you can bring a bright-colored varsity bomber jacket in your style. Match this jacket to layer up your patchwork t-shirt for the top style, and wear straight high waist jeans for the lower style. You can add accessories such as a scarf tied around your neck, sunglasses, and a space bun hairstyle to make it look more classic vintage. Sneakers would be ideal for the shoes, followed by your sling bag to complete the style.
23. Wearing Plaid Vest Over Long Sleeved Blouse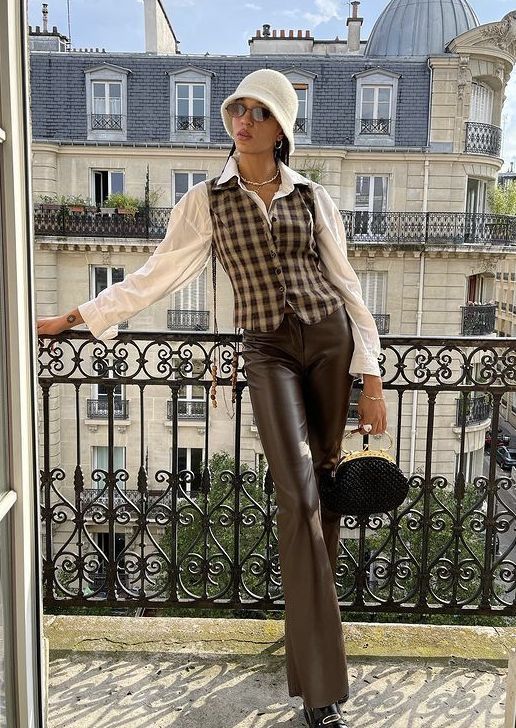 We'll just say yes to this retro style! This 80s fashion trend would give you a classy elegant appearance with an easy piece to combine. Simply, you can mix a plaid classic vest to go over your white collared shirt, and then bring faux leather/latex pants for the bottom look. For shoes, platform loafers would be perfect to add to your 80s fashion look. It would look best for your autumn outfit idea if you also adjust accessories like a crochet hat. Moreover, wearing gold jewelry and getting a classy round bag in your hand would make you seem a bit glamorous.
24. Layer Up Turtleneck with Button Up Shirt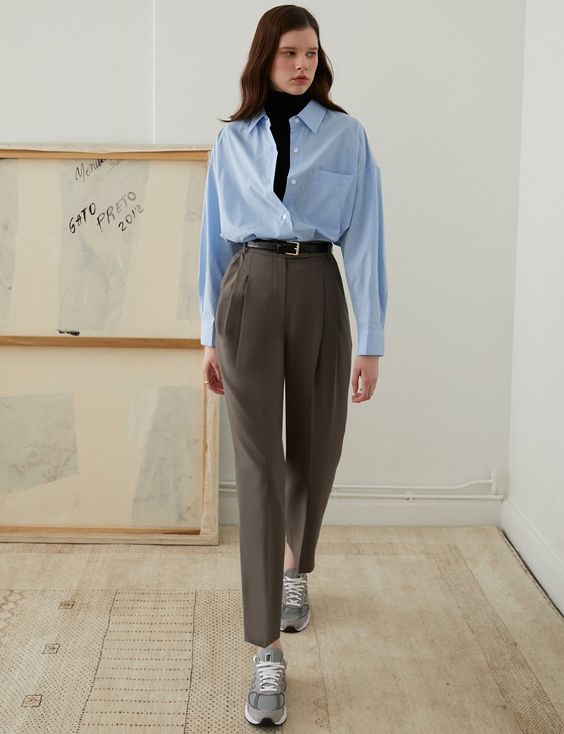 Getting layered outfit ideas are fall staples. Therefore, when you want to achieve the best 80s fashion trend in this look you need to combine a turtleneck and button-up shirt for the up style. While you need to tuck it into big trousers for the lower style to give you a classic vintage performance. For shoes, you can get a pair of sneakers or trainers rather than loafers for modern twits. Put on a belt over the trousers and you can use this style for going to campus or work during fall.
25. Polkadot Dress
There are various best 80s fashion trends that we couldn't miss, and this one is iconic! Yes, polka dots dress. During the 80s, the polka dots pattern is a common pattern to use in the fashion style besides plaid. When you want to strike out the 80s outfit looks, simply put polka dots dress in your daily wardrobe. To look in classic elegant style, you can wear a long-sleeved midi dress with a massive navy polka dot skirt. Get a point with accessories by wearing the same navy polka dot scarf around your neck. Finish out your outfit performance with a pair of open-toe white heels and pick between your clutch or evening bag to give you a rather pretty elegant style. You can wear this lovely feminine dress to go for first-date outfit ideas.
26. Rock on Your Transparent Dress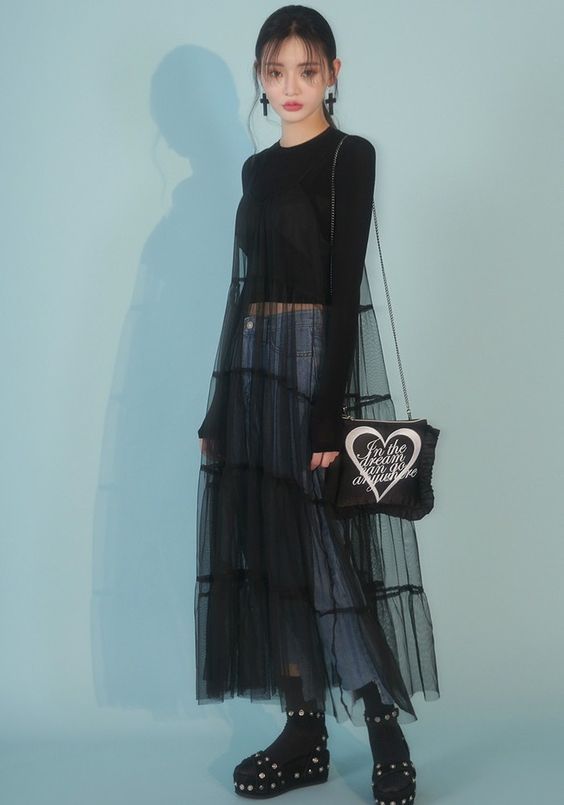 No wonder again the 80s fashion trend is also known for some goth and punk elements. You can see any typical black outfits with bold makeup and metallic accessories. However, with a modern twist, you can make this gothic style look more delicate and pretty. To achieve the look, you can copy from the style in the picture above. It looks nice without leaving the goth and punk elements. For this, you need to rock a transparent dress over your jeans style. Simply put together a long sleeve t-shirt with jeans, then layer up with a black maxi see-through dress over it. For footwear, you can bring a pair of chunky spiked sandals with black socks. Then, elevate it more with accessories items such as wearing black cross earrings and your chic sling bag.
27. Get your Turtleneck with Vintage Trousers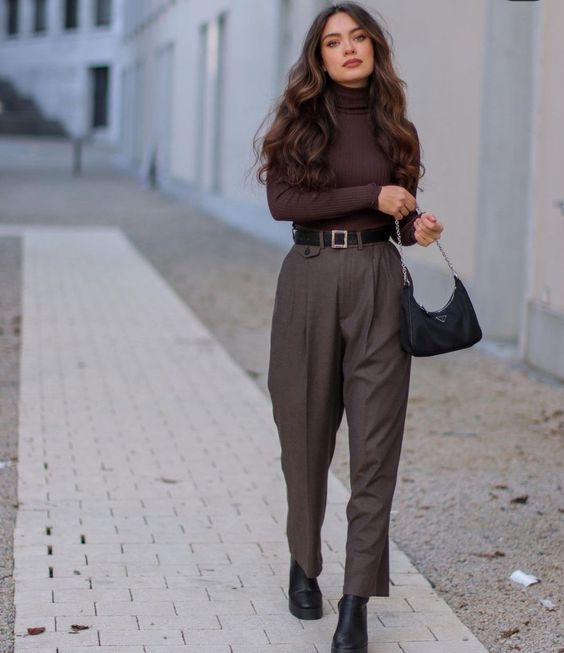 The final outfit idea is a very classic, easy, and simple look to achieve. It looks nice and cozy for walking down the street, hanging out with friends, or working in the fall. Consider wearing turtlenecks and trousers to replicate this look. As we know turtleneck is one of the common 80s fashion trends and continues to be popular today. That's why you can be easy getting a vintage outfit style with this piece while not appearing too old. To go further, get the best 80s fashion look by matching it up with vintage high-waist trousers. Get a belt over the trousers, and then wear leather ankle boots to highlight your retro appearance. For the bag, you can pick a shoulder bag to complete the style.
That's all we have about the best 80s fashion trend to inspire your autumn outfit ideas. Do you interested in these looks and want to put them into your fall wardrobe? Anything you wear today, just make sure you get the proper style. Because fall is closer to the winter, sometimes you'll feel chill especially if you have activity outside. So, bring something that makes you feel comfortable, warm, and also stylish.