Olidfashion.com – Have you planned a date night with your partner? In this situation, it can be really difficult to decide what to wear. Furthermore, you may feel under pressure to make a good first impression in front of your boyfriend or his family. Importantly, in anything you wear, you should always dress up comfortably and confidently. Women should always know how to highlight their beauty and look gorgeous in any situation. So, prepare yourself with outstanding night dress ideas for a romantic dinner date.
When deciding on your date night dress, keep in mind the location, season, and occasion, as these will all have an impact on your overall appearance. Whether you're going out to a fancy restaurant, having a family dinner, or simply drinking at the bar with your date, all you need is a stunning look by selecting the right piece of clothing. There are so many date night dress ideas that will make your lover appreciate you even more.
So, if you are out of mind about what to wear for romantic dinner, we've compiled some example dresses to inspire you. Explore these date night dress ideas, from elegant and classy to downright sexy and hot. Without further ado, let's take a look at them!!!
1. Look Extravagant in Black One-Shoulder Dress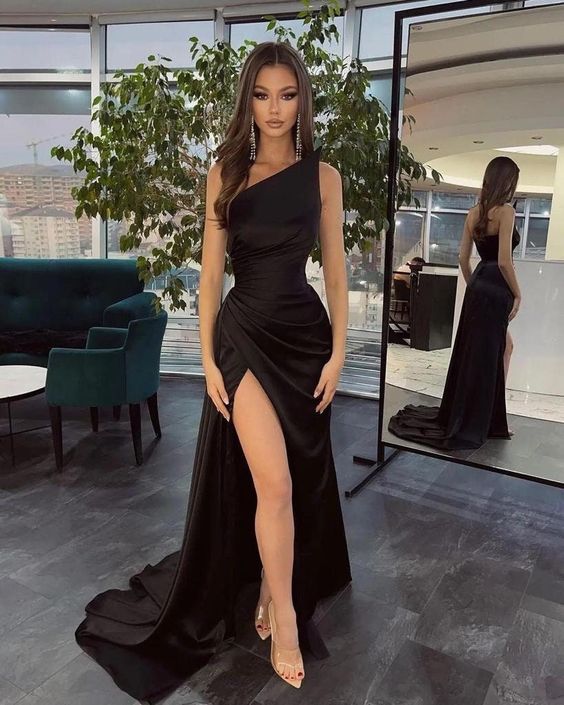 If you want to look elegant, the simple style of this black one-shoulder maxi dress is just what you need. The slim-fit dress that wraps your top body perfectly, and the flowy skirt with a high slit in the bottom, are pretty gorgeous to become a classy date night dress idea. You can match this dress with glamour accessories such as drop earrings. Then, support your performance with bold makeup look and a natural wavy hairstyle. For the toe, you can bring gold high heels or stilettos that give a classy elegant touch. Finilize your outfit performance with a purse or clutch in your hand. This dress is also perfect to become your prom night dress idea.
2. Stunning in Halterneck Dress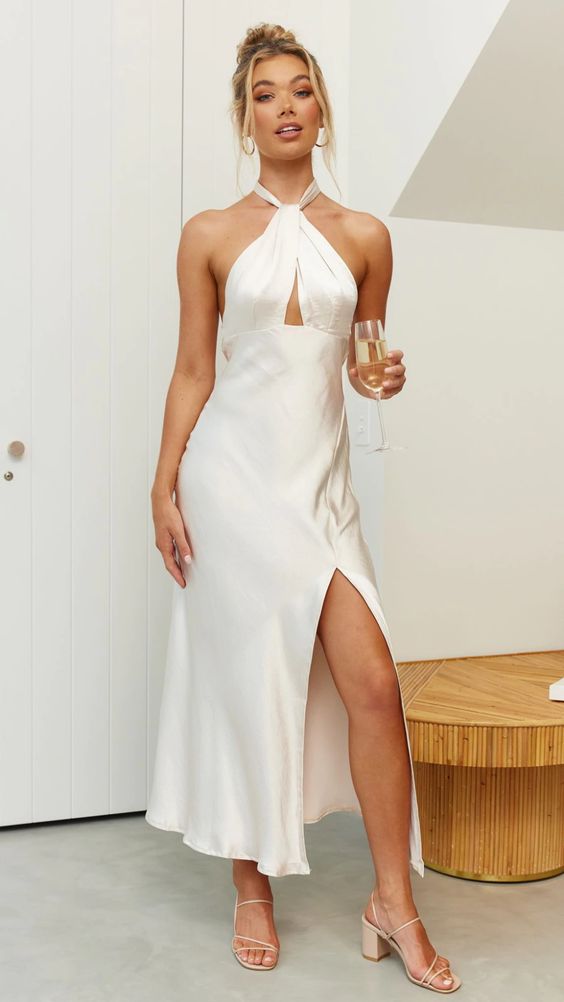 In this white halter bodycon dress, you'll look stunning in a fancy restaurant. Choosing a silk or satin gown adds a classy touch that highlights your beauty. This dress may appear simple, but who knows how much of an impact it can have on your date night outfit idea? If you are interested, start to shop for this dress and find matching accessories. Maybe you can bring out this halter dress together with strappy high heels, or just match it with stiletto. Then, do flawless makeup in the nude color palette, and you can style with updos for hairstyle. For the bag, a mini handbag, purse, or clutch would complete your stunning performance.
3. Lovely with Off-Shoulder Asymmetric Dress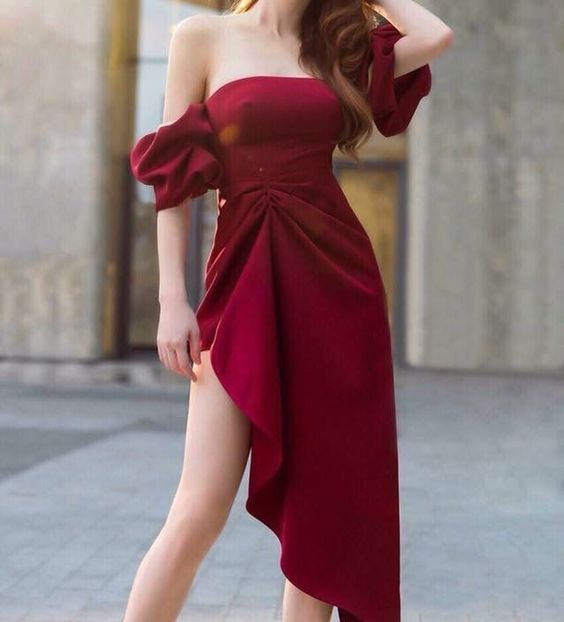 Those who want to stand out in a crowd can look powerful in red. And for the option, you can wear this red off-shoulder asymmetric dress that would make people bound to turn heads as soon as you enter the restaurant. To further execution, get this date night dress idea with red high heels or stilettos that give a monochromatic illusion. Besides that, accessorized your outfits by wearing pearl drop earrings to look elegant. Then for the bag, pick a mini handbag or clutch.
4. Classy in Sequin Balloon Sleeve Mini Cocktail Dress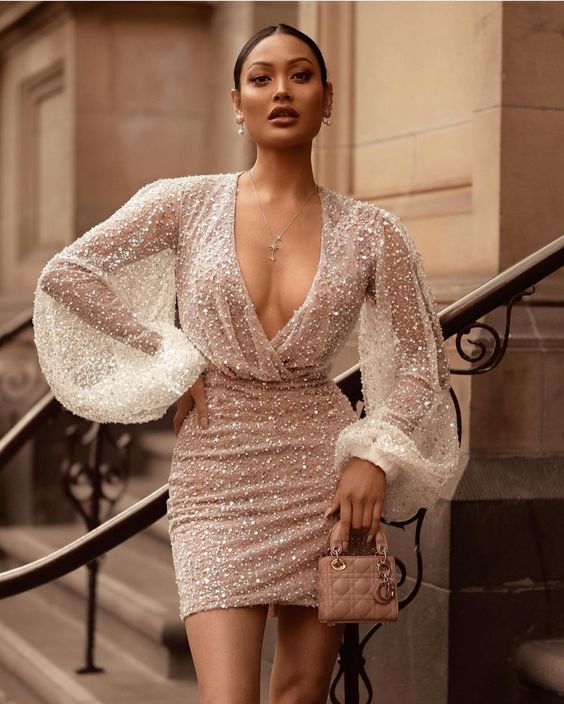 If you're looking for something glamorous but simple, look no further besides this sequin dress. You'll need it one day for a date or to attend a party. This piece also would be suitable to become your date night dress idea, especially for your party fun anniversary with your half. With the deep plunging v-neckline, it's a bit expose your body that would make you look damn hot and sexy. Moreover, the glittering from that dress would make you more gorgeous at the night. You can wear this dress with silver high heels and get a mini handbag to complement it. Maybe you want to level up your appearance, you can support this dress with a tidy elegant low ponytail hairdo, natural makeup look, and adorable silver jewelry.
5. Off-Shoulder Layered Ruffle Detail Jumpsuit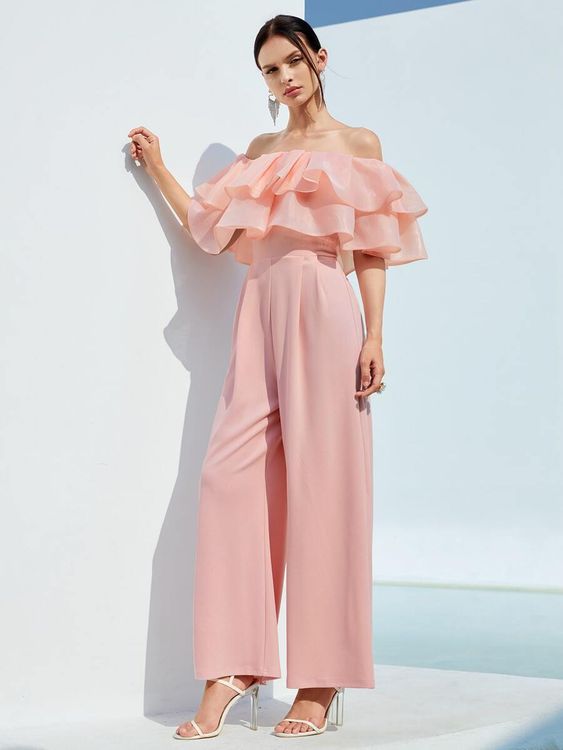 Aside dress, you can get another piece to wear for dinner with your partner. For instance this layered ruffle jumpsuit. Designed with off-shoulder and ruffle details, this jumpsuit looks elegant to become your date night dress idea. If you want to look more mature and elegant in this ensemble, you can do with your makeup, hairstyle, and accessories. Instead of a messy bun, opt for a tidy low ponytail for the hairdo. Makeup should be natural with a bit of smokey eyes. Then for accessories, choose something a little glamorous such as chandelier earrings and a diamond ring. Move to the shoes, you can match this jumpsuit with high heels that support your elegance. Furthermore, to perfect all your outfit performance, bring a micro handbag in your hand.
5. Simple Elegant Dress for Family Event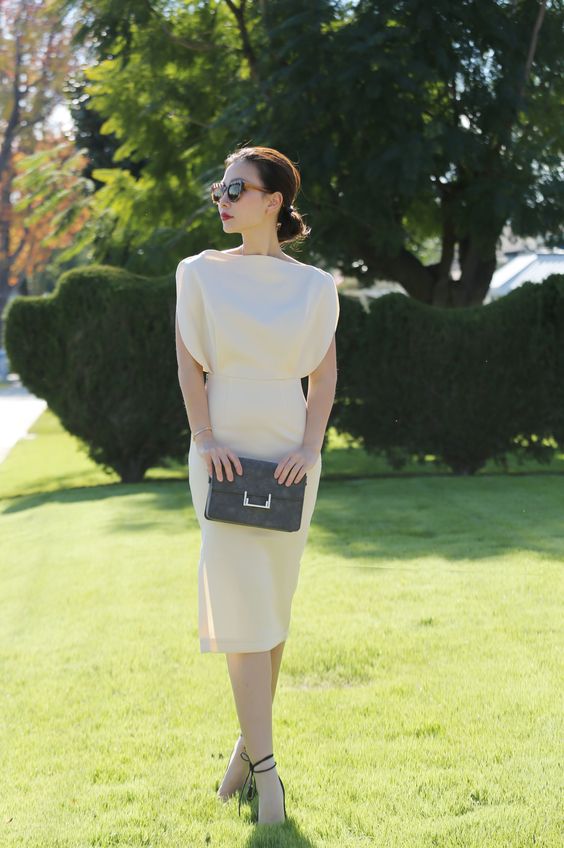 What would you think if your boyfriend's family invited you to dinner? You may feel that you should make a good impression on them. So, you would be puzzled about what to wear. So, we recommend this simple white midi dress for you. What makes this dress special is its ability to cover a part of your body while remaining you look elegant. This dress would make you look more mature, gracious, and pretty. It's the right choice to give a good image in front of his family. Then, you can wear this dress with black strappy high heels, do low bun hairstyles, and use flawless makeup with getting point on red lipstick. Then for bags, a clutch, purse, or your favorite handbag would be perfecting this date night dress idea.
6. Romantic Dress for Valentine's Day Dinner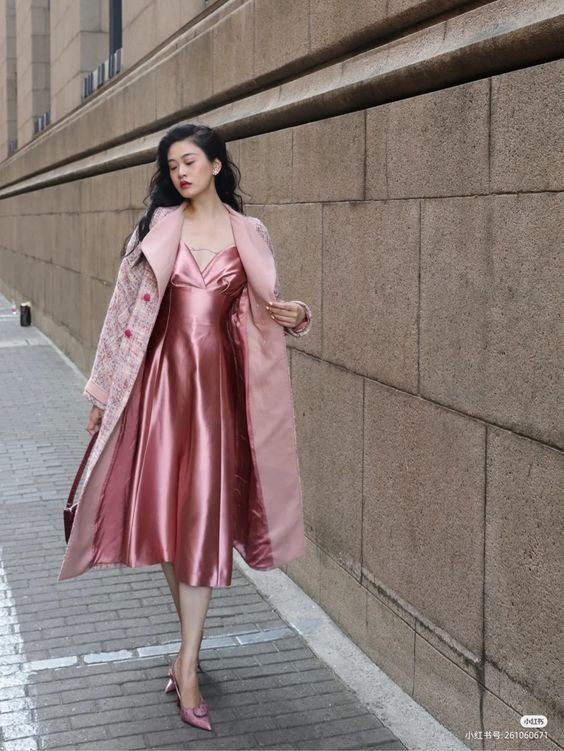 Have a romantic dinner for valentine's day? Set up your outfits in overall pink. This would look lovely and pretty adorable. You can choose a pink spaghetti strap silk midi dress and then layer it up with a pink long coat. To have a fully romantic vibe, you can wear pink high heels but if you want comfortable footwear, choose loafers. Pair your date night dress with a pink shoulder bag to complete the look. And don't miss out on makeup style, do a natural look with it. Moving on to hair, try a naturally curly hairstyle or a simple hair updo for an elegant look.
7. Shired Tiered Mini Dress for Summer Look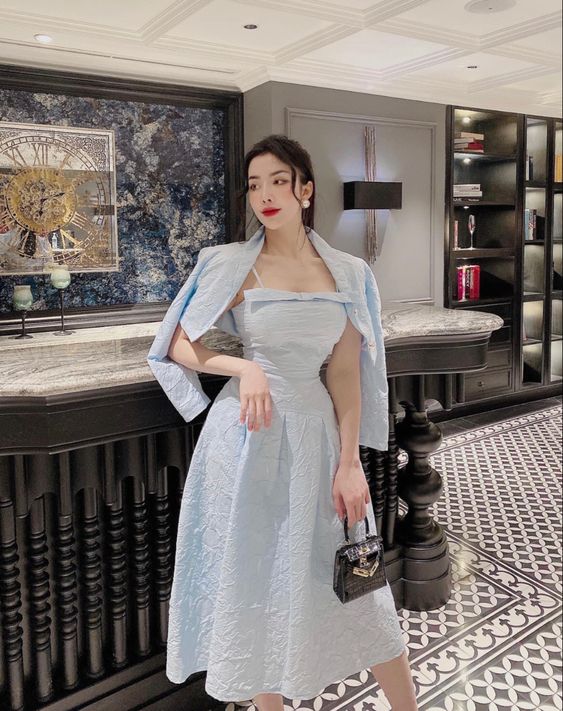 This semi-casual mini dress is gonna be great if you have to go for dinner after watching a movie with your partner. Aside from that, this dress is a simple one that can bring out more chic elegance to your look. You just need to bring a shired tiered mini dress then you can match it with a cropped blazer. For the shoes, get a pair of high heels that can help you to look more stunning. Bring this date night dress idea with a half-up hairdo and natural pink makeup look. For the bag, you can get a mini handbag to carry your important things. Don't miss out to style up this dress with elegant jewelry. With all of this, you'll get a great performance for a romantic dinner in summer.
8. Modest in Cross Halter A-line Dress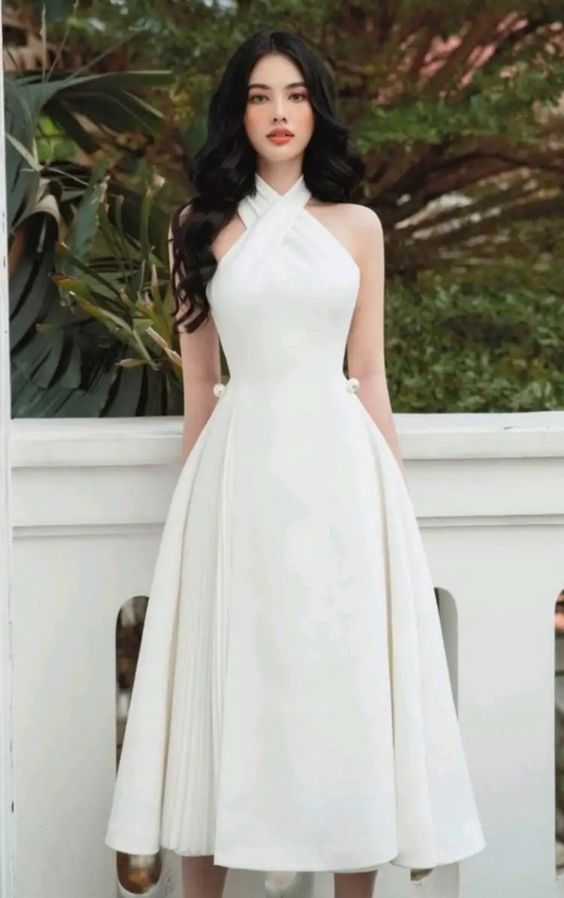 This dress is appropriate for feminine girls with a good upper body, particularly on the shoulder. Besides that, this dress can also show off your body silhouette pretty well. You'll look gorgeous in this simple cross halter dress since it would highlight your waistline and shoulder perfectly. Just do a simple curl hairstyle with natural makeup for a fabulous appearance. For footwear, stilettos or high heels work well in this dress look. Furthermore, when you accessorize with simple pearl jewelry and get a clutch bag in your hand. You are ready to have a romantic dinner with your partner tonight.
9. Strapless Dress for Dinner Party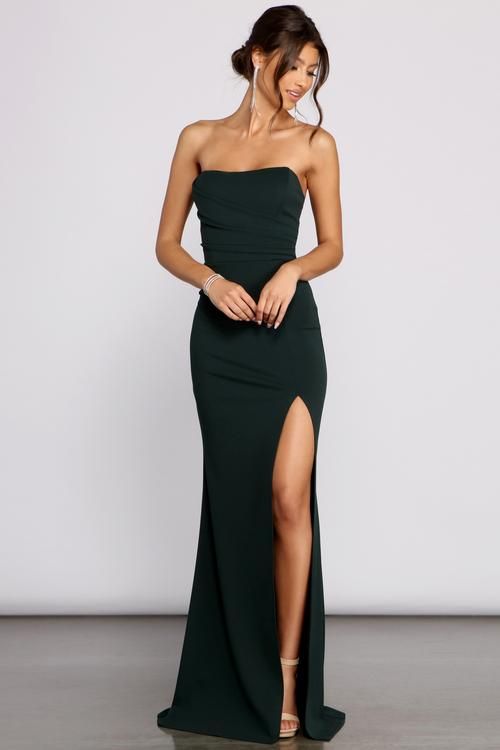 Aside from a halterneck dress or off-shoulder gown, another dress that can show off your shoulder and upper body nicely is a strapless dress. This type of dress would suit attending formal dinner parties. There are various types of strapless dresses you can choose from, but we prefer this one. It looks simple, elegant, and sexy at once. Styling this dress you just need to do a high updo for the hairstyle. Then, complete your stunning look by getting drop earrings. No need for extravagant details, just pair this dress with strappy high heels and you'll get a gorgeous date night dress idea. For the final touch, you can bring a clutch, purse, or handbag in your hand.
10. Stand with One-shoulder Jumpsuit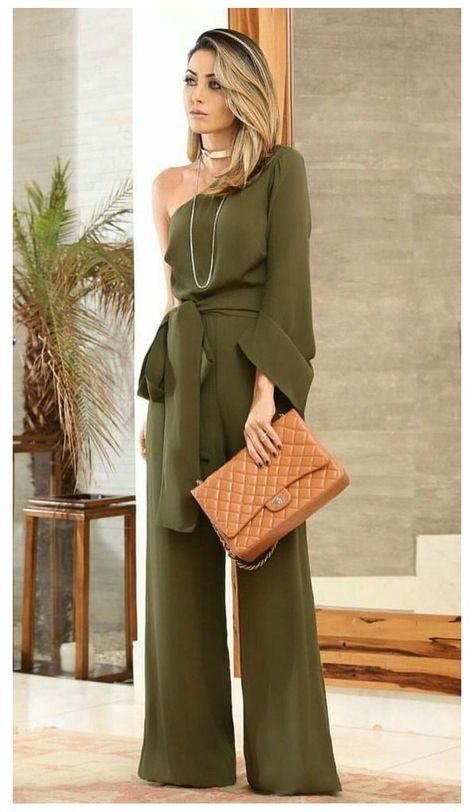 Getting bored with the dress and wanting something new? How about a jumpsuit for date night dress ideas? Even if you don't wear a dress, you'll look gorgeous just with this. Opt for a chiffon jumpsuit with palazzo pants and string in the waistline. For the hairstyle, make it a naturally straight wave and get smokey eyes makeup style. Next, come to the shoes, you can get a pair of high heels to make you look more stunning. Accessories are important too, grab some gold jewelry like a bit big necklace to give a classy glamorous vibe. Then, complete your performance by getting a clutch or handbag.
11. Beautiful with High Neck Dress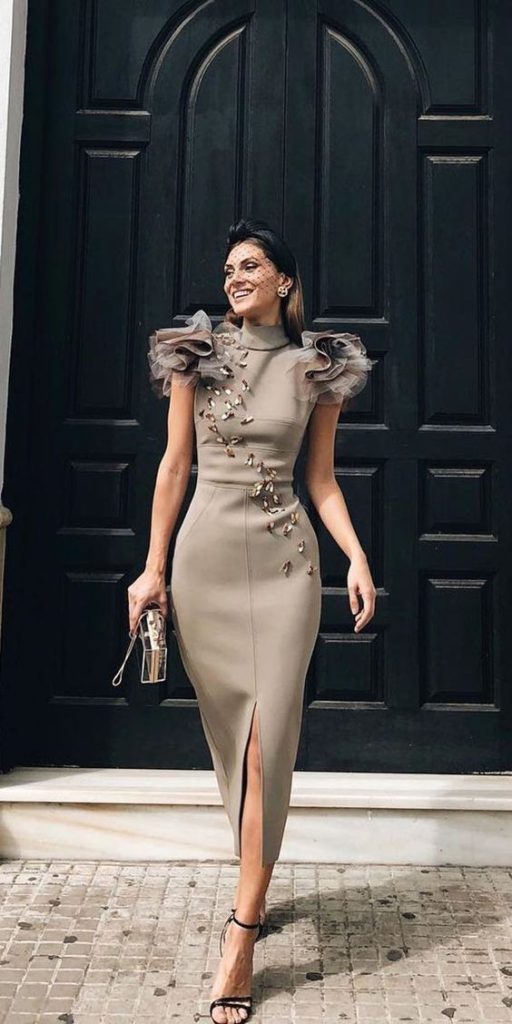 This dress will be ideal for hiding your broad shoulders. This high-neck dress with ruffle short sleeves can make you look elegant without being overly too many details. Having a slim-fit design makes this dress shape your silhouette perfectly. Aside from that, getting a short slit in the front help you to a bit freely move. Matching up this dress to get a more classic vintage style using a fascinator hat and do a tidy straight hairstyle. For the toe, it would be better to bring out high heels or stilettos. And then, complete your date night dress idea by having a clutch on your hand to carry your important things.
12. Gorgeous Black Tule Dress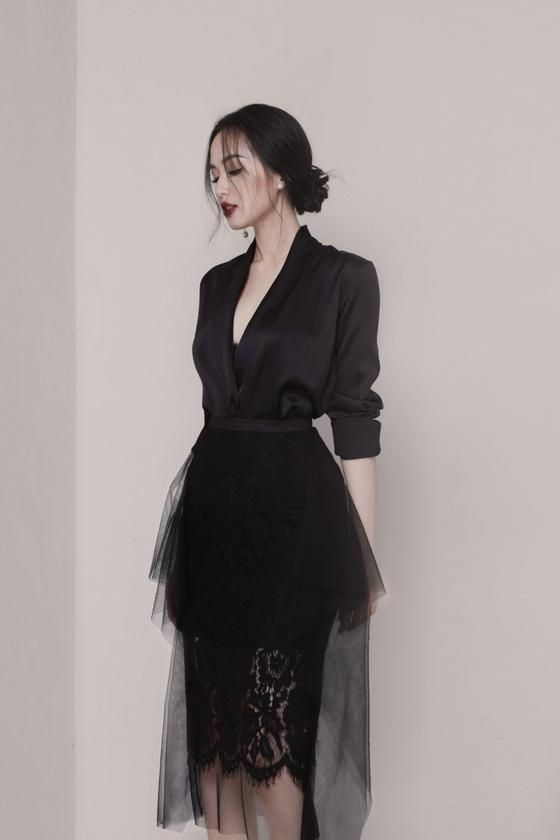 This kind of dress would be suitable for you who need formal pieces for dinner. A black tulle dress with a blazer style on the top makes this dress look gorgeous and brings elegance to your appearance. Furthermore, you can dress up with this dress and match it up with high heels of course to have a more stunning performance. For hairstyle, do a low bun style or you can also use a tidy low ponytail with a fascinator hat. For the makeup, try to use simple natural makeup with a little bold using red lipstick. Accessorize with simple earrings, and for this, you can pick drop earrings or pearl stud earrings. Then, also match up this dress with your favorite handbag or purse.
13. Bring Formalities in Tweed Dress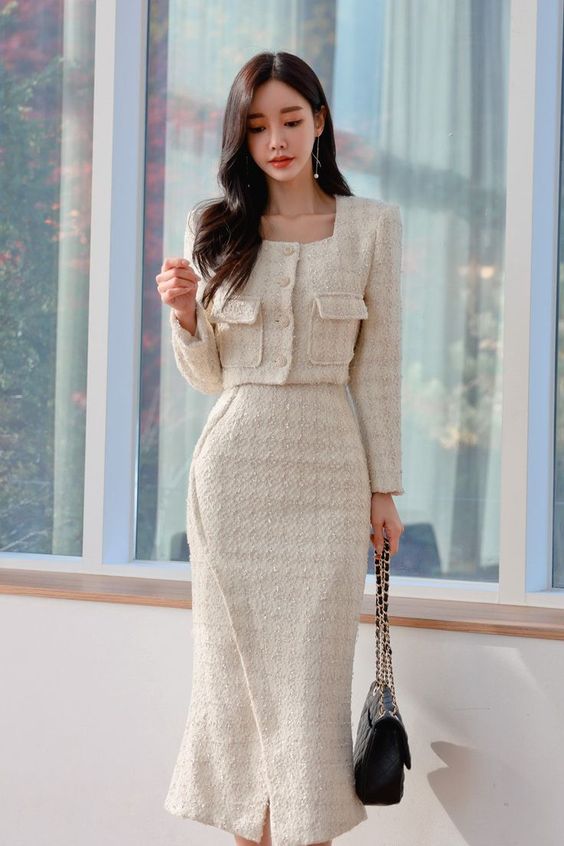 What do you think of tweed? This is for those who require formal style effortlessly. Tweed is typically worn as a work outfit style, but it can also be used as a date night dress idea. This works well when you plan dinner after working with your boyfriend. You just need to find matching shoes and accessories. Like you can pair this tweed with high heels for the shoes, and then get a handbag to help you perform elegantly. Move to hairstyle, you can do a high updo or just choose a natural wave hairstyle. For make-up, get a natural look by choosing a peachy palette. Furthermore, your outfit performance wouldn't max without accessories items. So, opt for something elegant like drop pearl earrings and a thin gold necklace.
14. Square Neck Puff Sleeve Mini Dress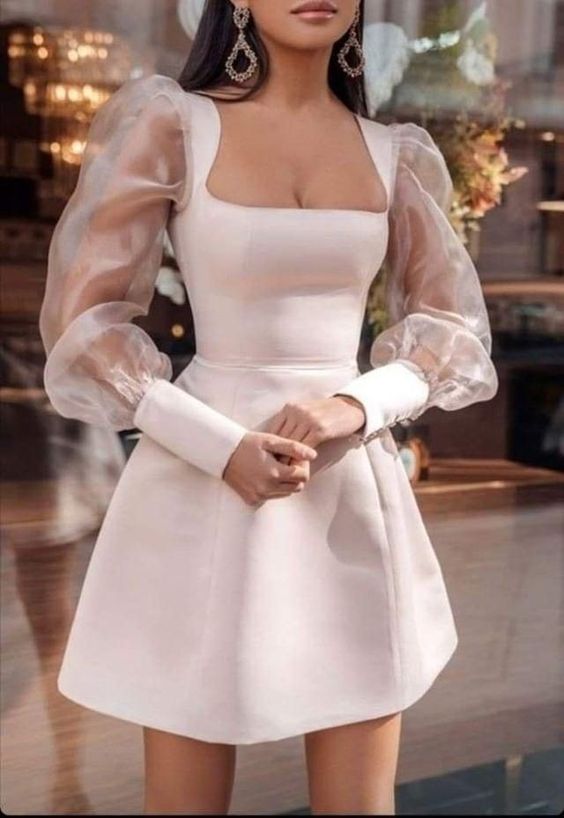 The next date night dress idea is a puff sleeve mini dress. This dress is ideal for a romantic dinner with your partner. This dress's square neckline gives you a strong neckline that brings an elegant performance. Aside from that, this outfit is appropriate for hanging out or prom night. You can accessorize this look with a straight hairstyle and chandelier earrings. Then, for the toe, go for strappy high heels or a stiletto. Perfect your outfit performance by getting a purse or your favorite handbag.
15. Spaghetti Straps Midi Dress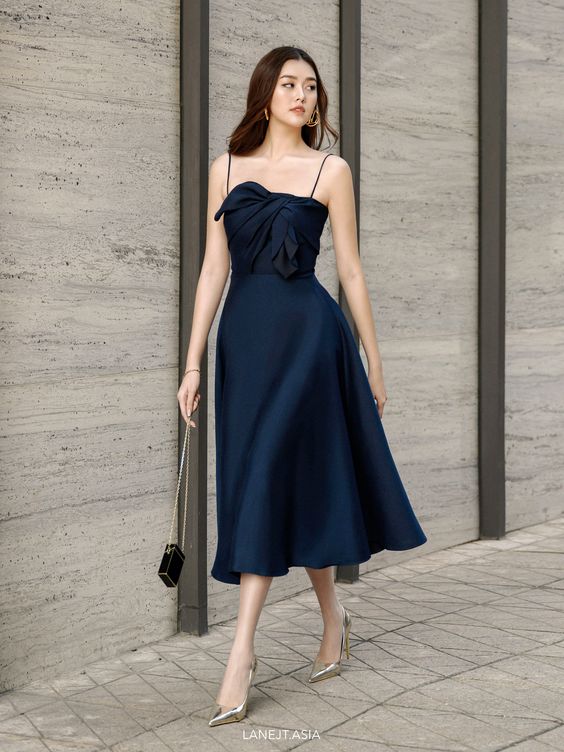 Having this navy spaghetti dress in your closet is well worth it for your daily summer lookbook. You can look elegant and chic even without much-detailing items when you go out or have dinner with your friends. You can also wear this dress as an easy date night outfit. Sometimes your beauty can come from something as simple as this outfit. The key you have to mix and match your dress with accessories items, hairstyle, and makeup look. For instance, pair this dress with silver high heels to give a fancy vibe. Then do a curled hairstyle and flawless makeup look. The last thing is getting accessories jewelry and a mini handbag with gold chain string to have a more glamorous vibe.
16. All Over Tassel Bodycon Mini Dress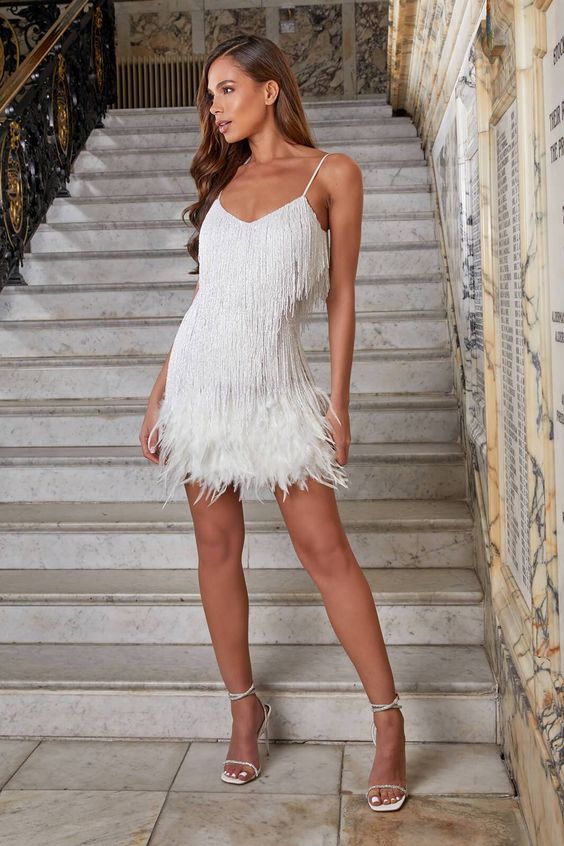 Run into your boyfriend in this cute dress. This dress has a simple style but looks nice to wear on your date either for go a drink in the pub or having a dinner date. Place this tassel bodycon mini dress that looks outstanding on you. Pair this dress with a white or silver stiletto and then do your hair in natural curly. For makeup, do the simple one in nude color for the lipstick to create an elegant performance. Perfect all your date night dress idea by getting a clutch, mini bag, or purse. Aside from that, this kind of night dress can become a contemporary dress in bohemian style.
17. Glamorous Red Metalic Maxi Dress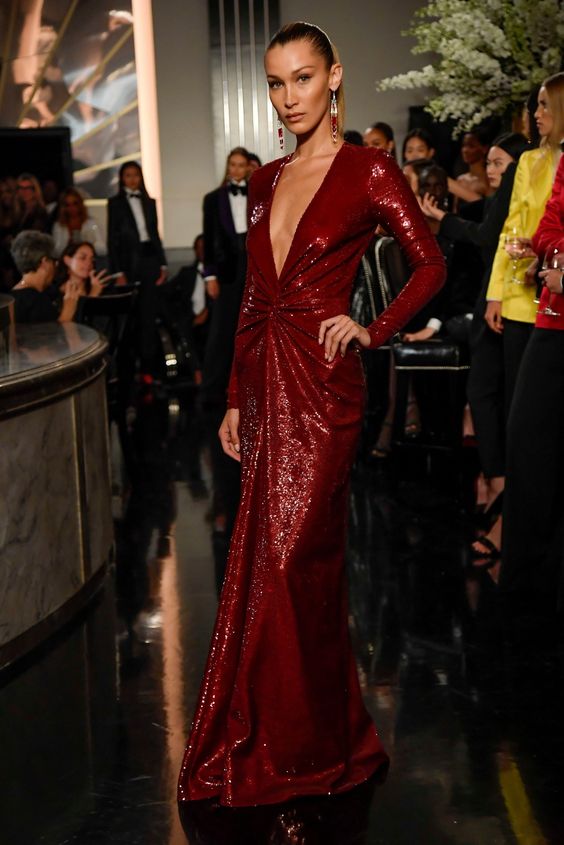 This metallic red gown is ideal for a glamorous performance. This stunning night dress idea will have you feeling like you're on the red carpet. Feel confident in your body silhouette, which has been created perfectly by this dress. With the plunging v-neckline, which looks stunning to show off your sexy style. To add a more classy view, you can apply a pair of chandelier earrings with a red ruby. And for the hair, a tidy ponytail would make you look bold and mature but elegant. To balance this dress performance, you need to pair it with stunning high heels. And for the final touch, you may get a quilted bag, clutch, or purse.
18. Pretty in Long Slit Dress Style
Choose this green long-slit dress if you want to perform classily in an effortless way. For the option, you can bring this dress out to attend a wedding with your partner or have an anniversary dinner. Without using more accessories, you'll look pretty. To balance and support this dress, you can use square diamond earrings. Bringing a silver purse in your hand, and strappy high heels for the toe style. Next, do a high updo to look elegant, or if you want to look more casual, do a curly hairstyle with a braid on one side.
19. Classic Vintage with Velvet Dress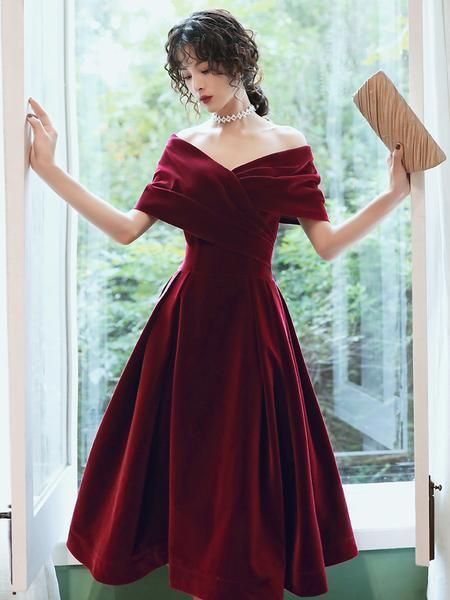 A vintage gown is a timeless outfit that is unique and sometimes historical. What else could be used to present vintage style besides velvet fabric? Furthermore, because the fabric shines, it can add glamour to your performance without involving any jewelry. However, you can still use jewelry like a diamond necklace and earrings. If you want to look stunning and classy, grab an off-shoulder red velvet a-line dress that you match up with red or wine high heels. Do a curly ponytail or a loose curl to your hair. Prefer you to obtain a bit of bold makeup with red lipstick as the point. Then, create a simple look with a champagne clutch or purse.
20. Getting Chic with Leather Ensemble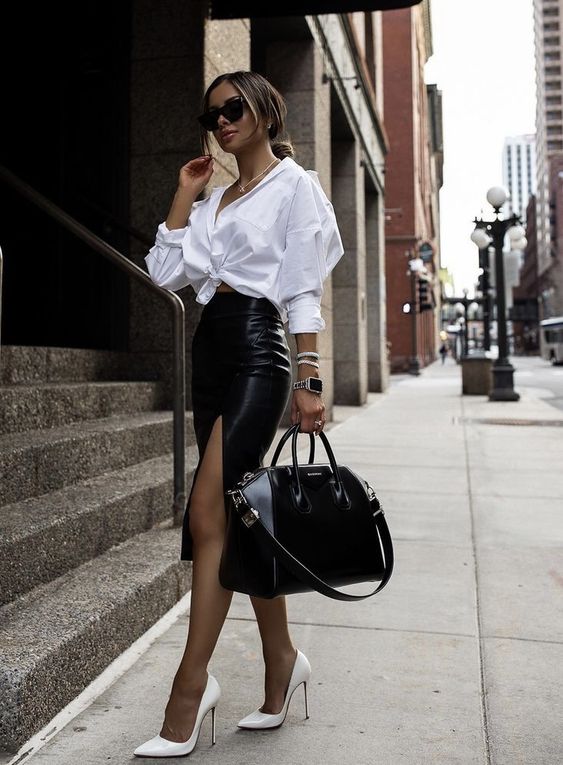 Your date night dress idea should not always consist of a long or maxi dress. However, you can bring a matching look by wearing a basic shirt and a leather skirt. If you don't want to wear a dress, this outfit is an option. I think it doesn't matter what you wear, it's a dress or not, as long as you know the place and occasions. Modifying your outfits is also a great idea. For instance, you can grab an oversize white shirt and then knot out a bit in the bottom. And then, match up with a high waist leather skirt. To make it not look common, you can add more accessories items such as diamond jewelry, a silver watch, or a necklace. Then, get a pair of white high heels to stand more elegant. For the bag, you can bring out a doctor's bag in your hand.
21. Opt Two Piece Dress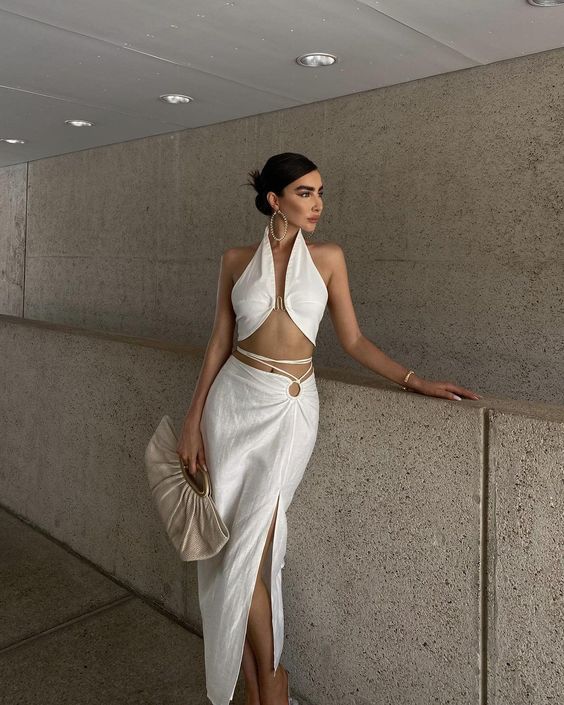 The last date night dress for you who want to look hot and sext at your dinner, you can get this matching two-piece style. Try to wear a cropped sleeveless top with an asymmetric midi skirt that has a cross-string on the top. It can make you look both sexy and elegant. When you go on a vacation to the beach and have a romantic dinner at a fancy restaurant, this style is ideal for that. Simply accessorize this dress for a dinner date with stunning gold jewelry and high heels for matching footwear. Don't forget to grab your favorite hobo bag to carry your belongings and complement your outfit look.
That's all we've got for date night dress ideas that will make you look stunning at your romantic dinner. Are you considering one of them? You can select one that truly reflects your sense of style and personality. The key is to pick what makes you feel confident and comfortable. Make sure you wear something that can attract not only your partner but people's attention around you. So, we hope you'll enjoy reading this article and get your inspiration here. If you want other inspiration date outfits, just search our article about feminine and stylish outfit ideas for the first date. Have good luck!!