Olidfashion.com – When it comes to work-appropriate wardrobe essentials, there are some clothes styles you need to consider. Because every work environment is different, that's why you have to know what to wear to look professional. Even if you work from home or outside, you should occasionally return to the office. You'll need to update your work outfit style for this. On the other hand, there are numerous factors to consider, such as how to balance your personal style with what is considered professional, as well as comfort and quality.
If you are confused about how to build your appropriate work wardrobe, chill out girls! We've put together the ultimate work outfit guide for women to help you look your best in the office. The best workwear, on the other hand, should include items that would complement your body type and are also appropriate for the type of office environment in which you work. And there are 3 types of work outfit styles: business professional styles, business casual styles, and smart casual styles. Let's go over the essentials now!
The Ultimate Guide Office Attire Dos and Don'ts
Whether you want professional or business casual work outfit ideas, here are some tips and tricks on how to dress appropriately for your workplace:
Your workwear should be tailored to the rules of your workplace.
Do whatever you need to do to stay comfortable, such as changing your work outfit according to the season.
Pay close attention to specific details like your hairstyle and makeup look to support your outfit performance.
Accessory items can be used to express your personal style, but don't go overboard.
Always check that your clothes are in good condition, and also make sure you wear clean and preppy workwear.
Don't wear flip-flops, hoodies, ripped or casual jeans if your office doesn't permit them, or you can wear them when you have a casual working environment.
Don't forget about hosiery (stockings) when you go with a skirt or a dress for work.
Don't wear jeans, especially in a formal workplace, unless absolutely necessary.
You can dress neatly and professionally for work, but don't overdress in front of the boss. For this, you can minimalize wearing accessories items.
Prepare not only your outfit but also your appearance by wearing perfume, doing your hairstyle, and applying makeup.
Business Profesional Style
When you're considering professional business style in your work wardrobe essentials, you need a pantsuit or wearing a dress and skirt that reaches the knee or just above it. For the top style, you need a collared shirt and get layered with a blazer or tailored vest. Then for the footwear, make sure to pick closed-toe shoes such as pumps and short heel loafers. Remember to support your professional attire with a tidy and neat hairstyle, and use minimal accessories. Here are some ultimate guides and pieces of clothing that you need to build your business professional work outfits.
1. Turtleneck and Pantsuits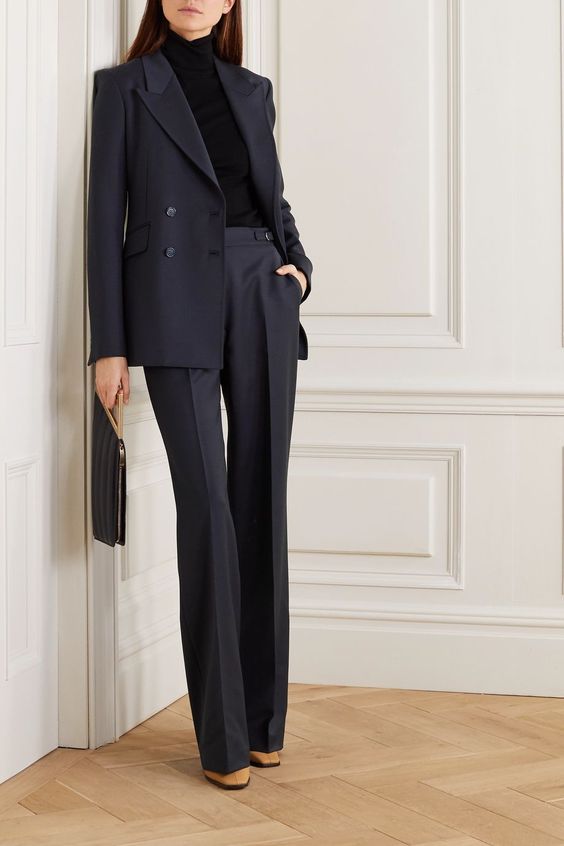 This classic design is an iconic style that you should put in your appropriate work wardrobe for women. For this style, you need to adjust pantsuits in neutral colors like black or navy. If you have to work during fall or winter, you can dress this pantsuit in a turtleneck under your blazer. For shoes, getting short heel loafers or pumps is a great choice.
2. Suit Vest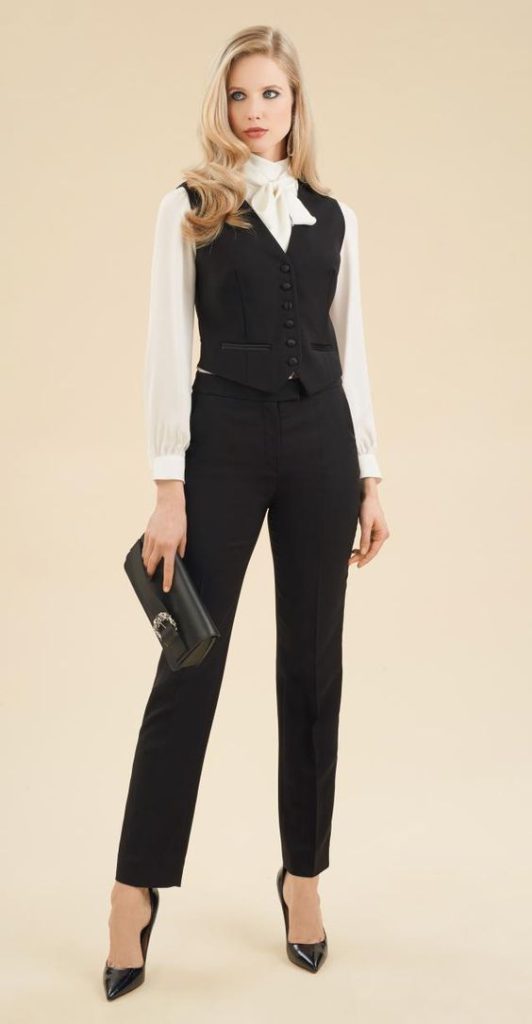 If you are looking for another way to wear your pantsuit for work, you can get this style. Rather you use a blazer for a layering outfit, select a vest for an alternate. For the full look, you can a mock white blouse with a vest over it for the top style, then wear trousers for the lower style. Furthermore, get a pair of pump heels for footwear. Accessorize it with a mini scarf that you tie around your neck. Play with minimal makeup and do a neat hairstyle even if it's straight loose. You can complete this professional work outfit with a clutch or a mini handbag.
4. Collared Shirt and Haigh Waist Pants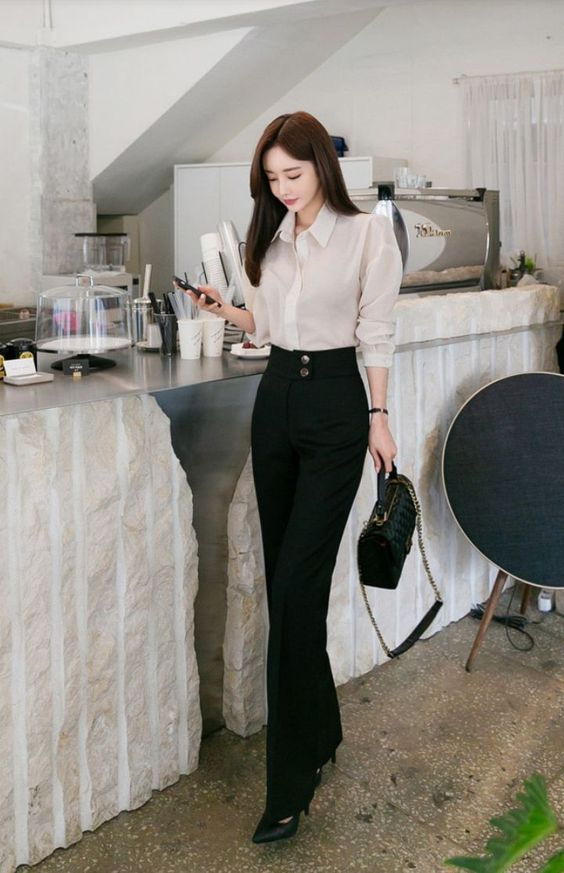 When you prefer something that effortlessly but still looks professional for work, I believe you'll catch this look! Yes, the combo of high-waist pants and a button-up shirt. That not only make you look pro but also simple and elegant. Furthermore, when you complete your work outfit idea with a pump high heels, put on natural makeup, and a neat hairdo you'll look perfect. also don't miss out to match your outfit with your bag. A Minaudiere bag or a handbag would be a great choice to complete your outfit performance.
5. Midi Dress and Blazer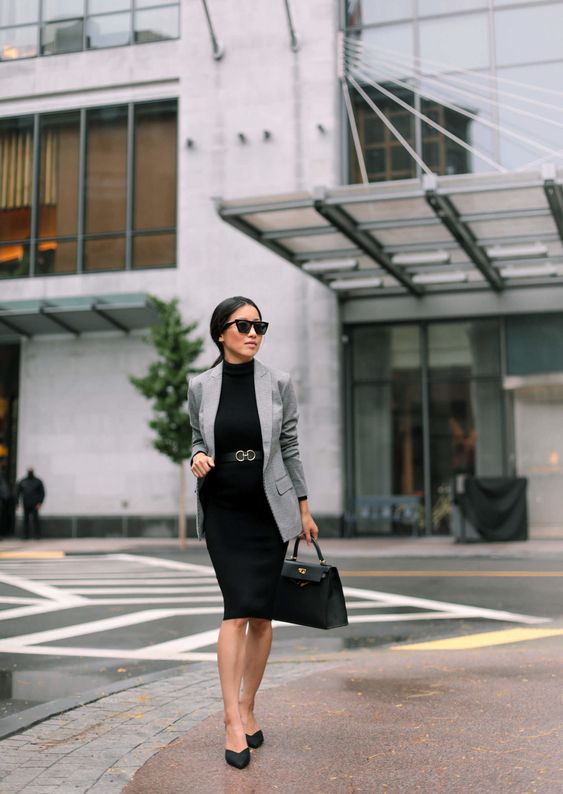 Another appropriate work wardrobe for women that you have to wear is a dress that reaches your knee or just above it that you layer up with a blazer. This looks gorgeous if you want something feminine and girly but pro like a boss. You can mix a turtleneck knit dress with a blazer or overcoat for a winter work outfit style. For the toe, make sure to use closed-toe shoes such as pump high heels or loafers. Perfect your work style with a tidy hairstyle whether you loose it straight or make a ponytail. Also, elevate your outfit idea with accessory items like a belt over it. Then, you can perfect your appearance by bringing out a handbag or a doctor bag to carry your stuff.
6. Formal Suits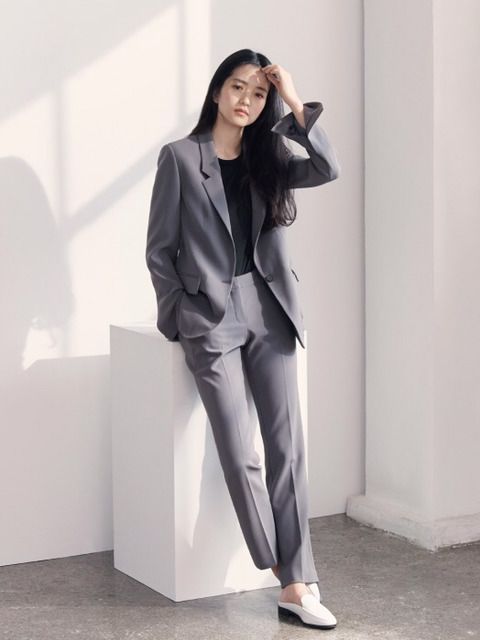 Even if pantsuits are a bit boring, they would help you with a formal look for a professional business work outfit idea. This is also a versatile piece that gives you a trendy style for a daily look, according to how you mix and match it. When you want formal workwear but still can be used for hanging out after you can copy this style. Mix grey pantsuits with a basic T-shirt underneath. Make sure you button up the blazer while you are in the office, and after work you can unbutton it for a more laidback style. For the shoes, get a pair of loafers.
7. Span Skirt and Blazer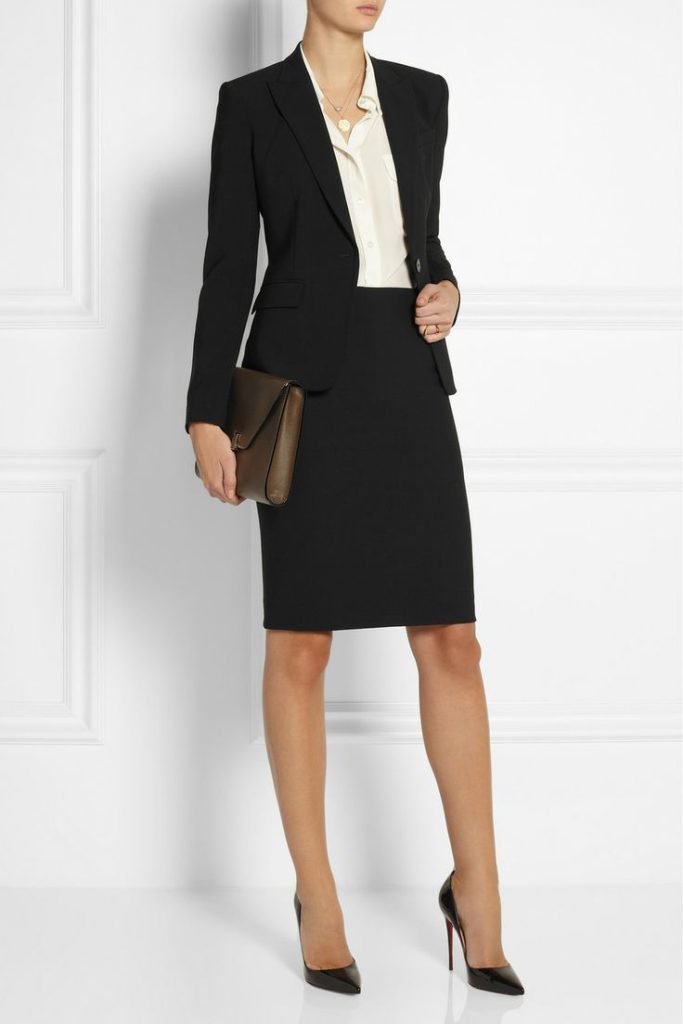 For formal dress in the office not only pants-suits, but you can also wear a skirt that you can match up with a collared shirt and a blazer. Choose a black span skirt that reaches your knee, then wear a white button-up shirt or collared blouse under your black blazer. For the footwear, you can pick between pump high heels or short-heel loafers, and choose anything that would make you feel comfortable in the office. Perfect your appearance with simple accessories and jewelry.
8. Double Breasted Blazer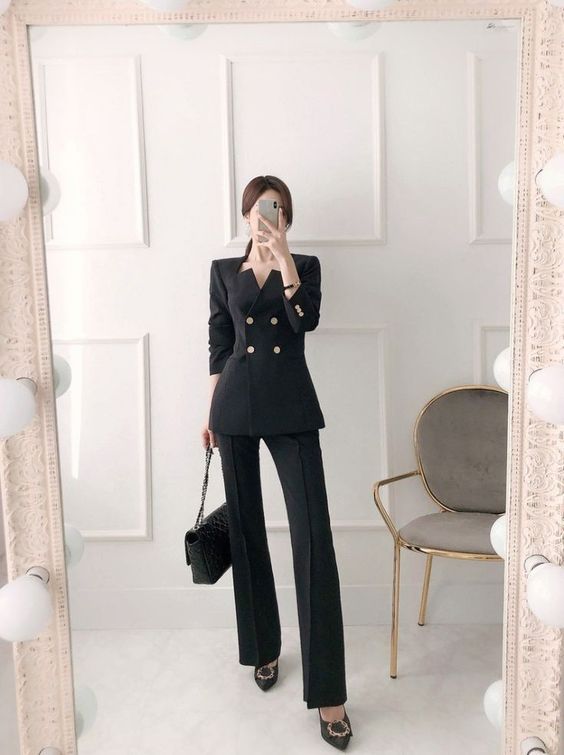 Another formal workwear with pants! It's easier to get a professional business work wardrobe with pants and a blazer. Something that definitely turns your appearance into a formal look. Rather than wear a common blazer with a shirt, you can choose a double-breasted blazer that seems more elegant and classy. You can use it to attend formal dinners or office dinners, meet with important clients, and presentations. To elevate your classy formal look, do your hair in a tidy low ponytail or low bun, apply natural makeup, or use a bit of bold makeup look to represent bossy.
Business Casual Style
Business casual work outfits mean you can dress up without a blazer or jacket and get more freedom to choose the cut, style, and color of your clothes. However, in this style, you need to still consider appropriate work attire that makes you look professional. Even if it's a bit laid back it doesn't mean you can wear a mini skirt or a mini dress. You need to follow professional work outfit rules in your office. You may wear a dress but make sure it's not too tight or short. Wear a collared shirt is advised pieces but you can freely choose the color and style. Or you can wear a blouse with a high neckline. For footwear, closed-toe shoes are still the appropriate ones.
1. Blouse and Span Skirt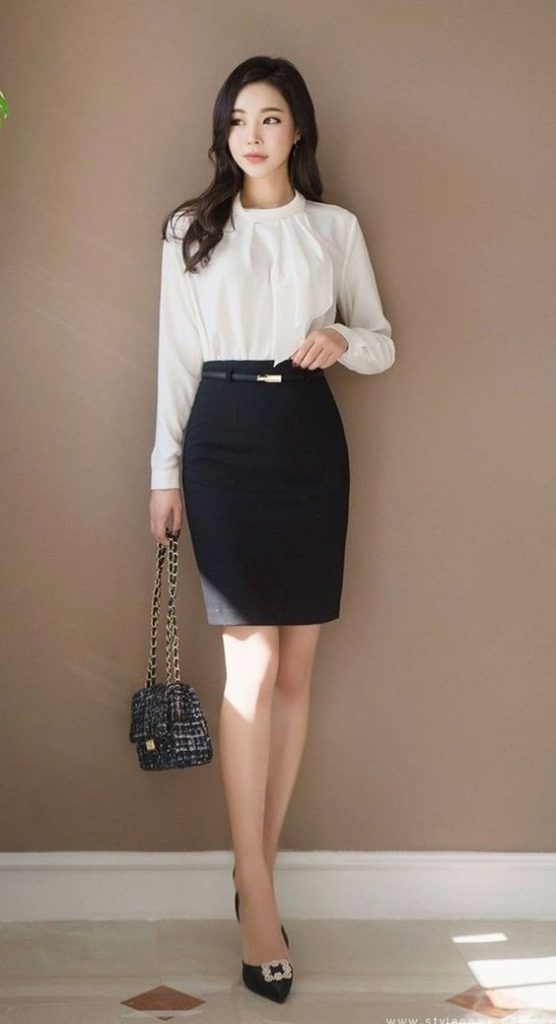 For the first business casual look, the combo of a white long-sleeved blouse and a black span skirt. If you are bored with collared shirts for the top style, you can use this style as your work wardrobe inspiration. You can also provide your business casual look with closed-toe shoes such as pump high heels, loafers, or flat shoes. Choose anything you want that would make you feel comfortable and confident. Wear accessories to elevate your appearance but don't overdo them, wear the simple ones. Just bring up a professional look for the rest of your work styles like neat hairstyle and natural makeup look.
2. Button Up Shirt and Trousers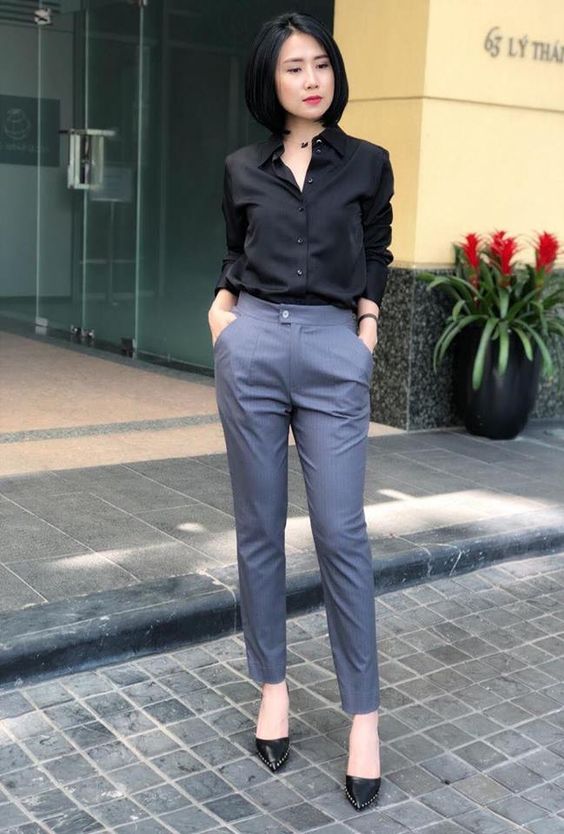 Next, we have simple and effortlessly workwear by pairing a button-up shirt with trousers. What you need to do is just tuck the shirt into the pant neatly, but you can make it a little more casual by unfastening the top two buttons. For footwear, you can pick between loafers or short heel pumps. Then for the rest, you can follow your company's rules on how to dress up in the office.
3. Grey Shirt and Waist Pants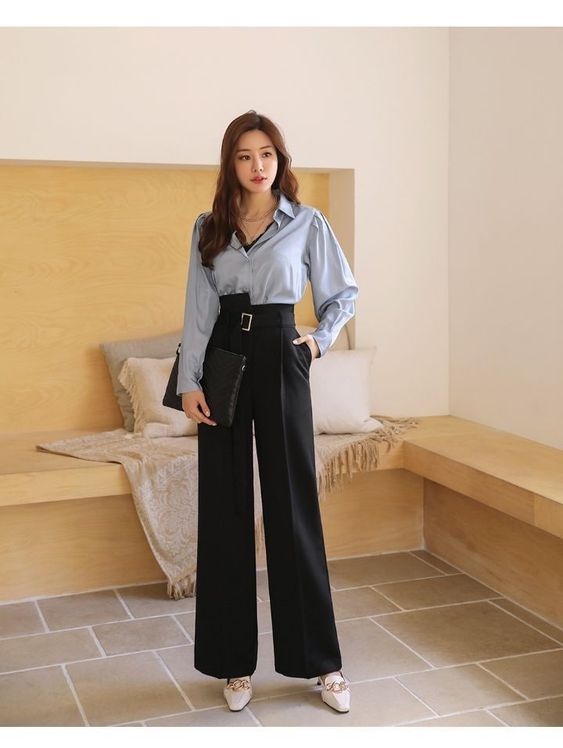 Another appropriate business casual work wardrobe consists of button-up shirts and trousers. If you're tired of wearing the same old trousers, try high-waisted pants with a high low cut at the waist. Instead of cotton shirts, choose a shiny lightweight fabric like satin or silk that will make you appear classy and elegant. Unfasten the two top buttons to give it a more relaxed appearance. You can wear this outfit not only to work, but also to a fashionable hangout after work, dinner, or a girl's night out. Simply complete your outfit with appropriate shoes, which can be either pump high heels or loafers. Then, carry a message bag or a clutch in your hand to help save your belongings while also making you appear elegant.
4. Tweed Set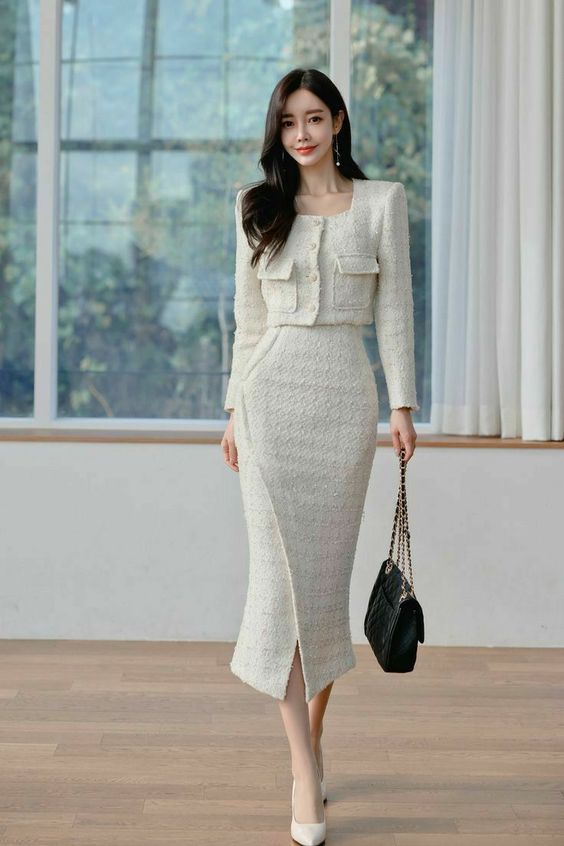 Following the next work outfit idea, we have a tweed dress set that helps you appear professional and elegant at the same time. There are various tweed sets that you can choose, but for a business casual style appropriate for work better you choose this midi skirt set. Included a midi skirt and a blazer at the top would be perfect if you want to look feminine and girly with your professional workwear. This versatile set is also good enough to become your dinner outfit idea or formal party night outfit. You can mix and match your outfits with proper accessories items, shoes, and bags. In the picture above, you can use white pump high heels for the footwear, bring a Minaudiere bag, and drop earrings to elevate your appearance.
5. Button Up Shirt and Span Skirt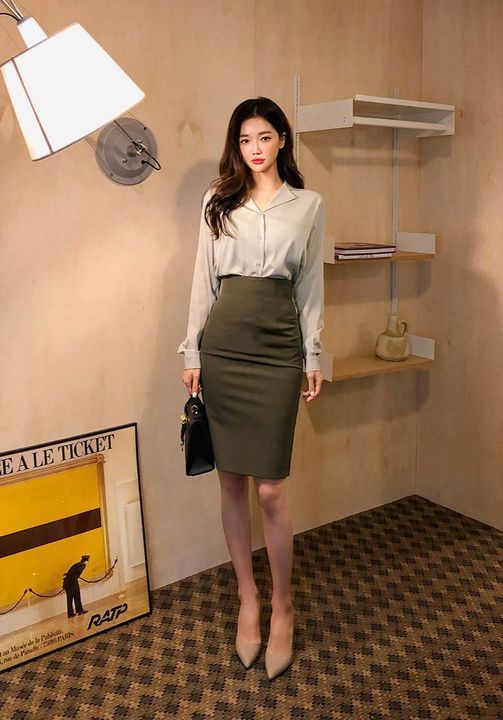 If you want to add another span skirt style to your work outfit style, you can incorporate this idea into your appropriate work wardrobe to boost your professional performance. Yes, a button-up shirt and a span skirt. Instead of going with a traditional color scheme like white and black, why not experiment with olive green shades? This would allow you to work in a business casual style without breaking any office rules. Furthermore, using nude pump high heels for the footwear would give you elegant look in pastel nuance. For the bag, you can pick a handbag or simple sling bag to carry your stuff.
6. Knit Vest Look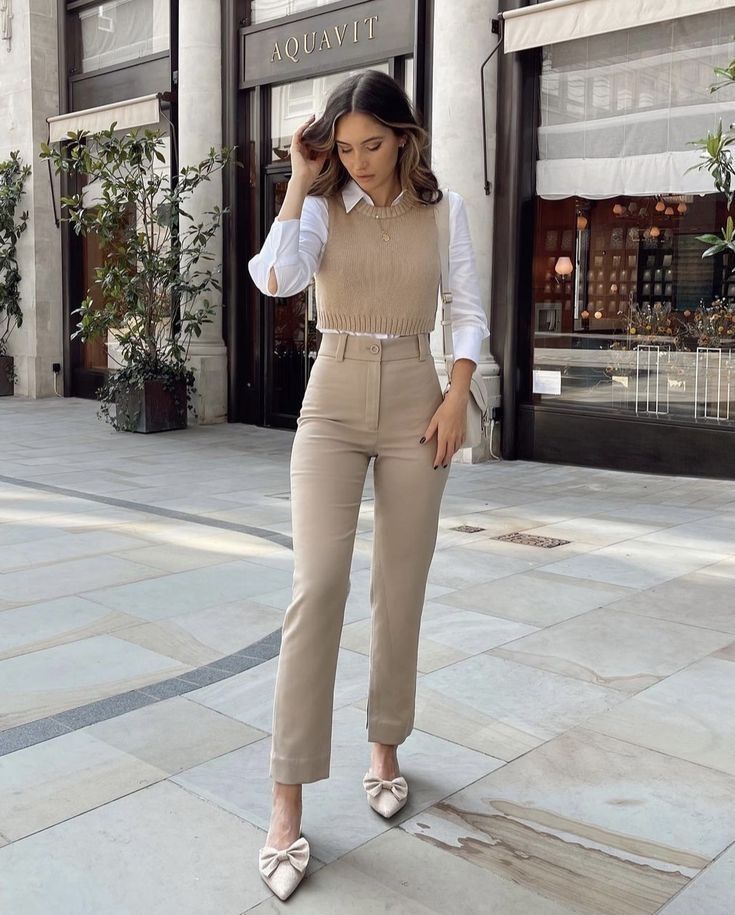 In order to give you not only professional workwear but also fashionable style, you need to see this work outfit idea. Adding a sweater vest over your shirt for the top style would give you another stylish inspiration for an appropriate business casual work wardrobe. While you can pick trousers or high-waist pants for the lower style. Besides, you can also choose beige as the color scheme that looks professional but more laid back in the office. This style also would bring a fresh look to the office. You can perfect this work outfit performance by wearing a pair of beige flat shoes and also a beige sling bag.
7. Shirt and Overall Dress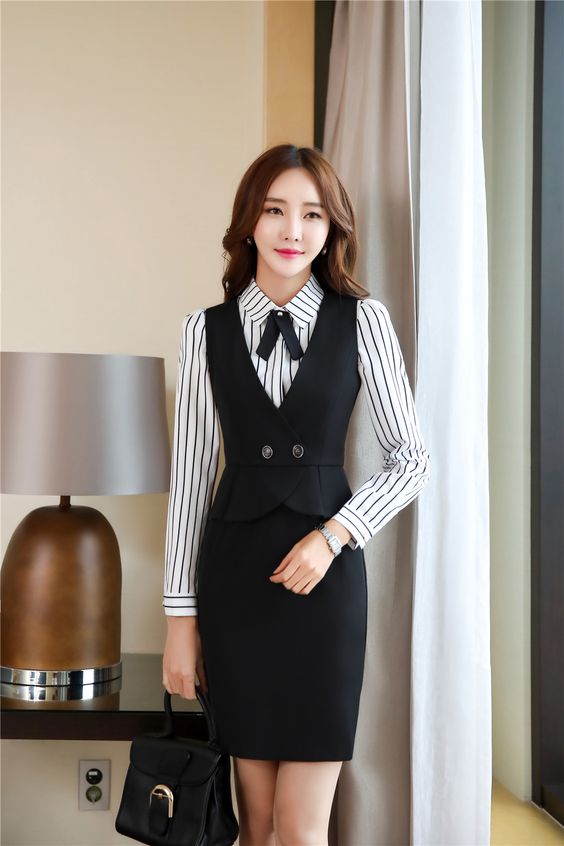 If you want to put effort to look elegant and feminine in the office without losing the professional look, maybe this overall dress and shirt combo would help you. Pick a striped shirt and an overall mini-dress over it. Then, elevate your professional appearance by adding a girl's silk bow tie and a watch for accessories. Like other professional and formal footwear, choose closed-toe shoes like pump high heels, loafers, or flat shoes. Then, match up your work outfit with your favorite handbag to perfect the look.
9. Blazer and Tulle Skirt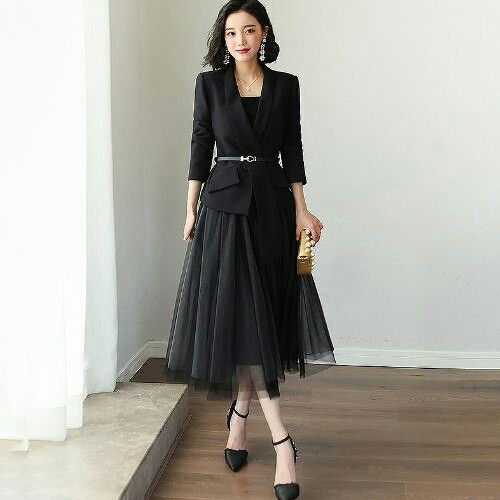 We adore this ensemble! Even if the top style appears formal, you can experiment with a tulle/tutu skirt to create business casual workwear in the office. It would give your workplace a new look, similar to cute yet bossy women. For creating a perfect elegant style, you can add a little belt over your blazer. Then, pick a pair of ankle strap pump high heels for a more elegant and stylish look. To improve the performance of your outfit, you can add accessories such as jewelry and a watch. However, keep in mind that if you wear this look to work, you should wear a simple accessory. If you want to wear it as an evening gown to a formal party, you can add some glitz with silver and diamond jewelry. Then, complete your style with a handbag or clutch in your hand.
10. Turtleneck and Wide Leg Pants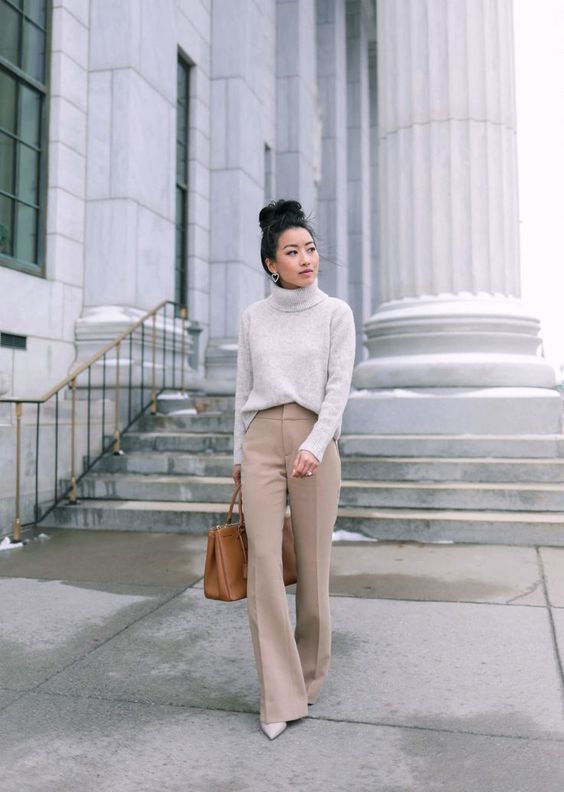 This turtleneck and trousers style is perfect for those looking for cozy and simple workwear during the winter. Turtlenecks are a traditional winter wardrobe essential that can provide you with not only comfortable but also business casual workwear. All you have to do is pair it with a proper lower style, such as these wide-leg pants. If you want, you can also add a stylish winter coat or blazer to give a more professional appearance. While you can wear pump high heels for the footwear. Also, get a handbag or a doctor bag to help you carry your belongings.
11. Collared Blouse and Midi Skirt
You who prefer a simple and effortless style in the office, maybe love this work outfit idea. You can mix a shirt with a peter pan collar that looks more girly with a midi skirt and flat shoes. Then, boost your workwear with accessories items like simple earrings and a watch. Also, support your outfit with a neat hairstyle and flawless makeup look. To complete your style, you can get a handbag to help carry your belongings.
12. Formal Midi Dress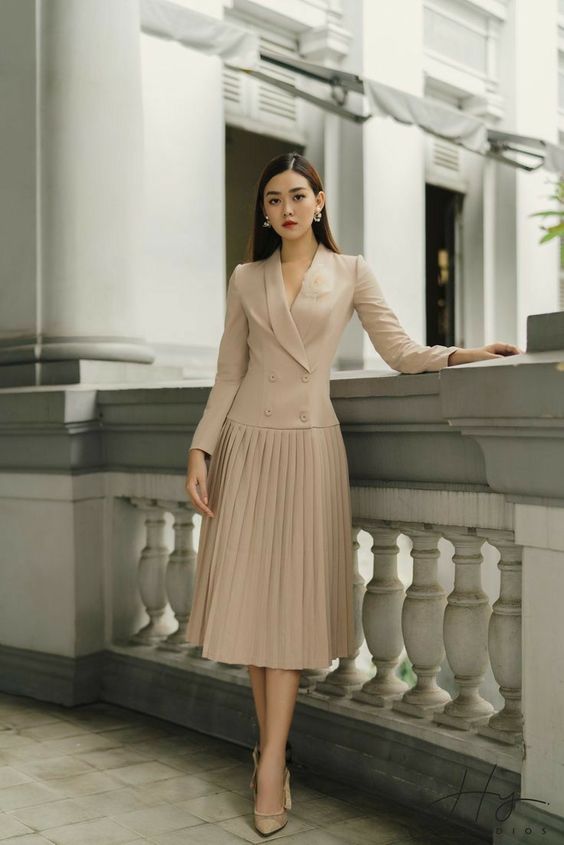 For the last business casual work outfit, we present this elegant blazer pleated dress for you. There will be some days when you get stuck and bored with a two-piece outfit for work, and this dress would be the perfect option. Keeping a dress in your appropriate work wardrobe gives you an alternate style each day for work. There are various dresses you can shop for become your work outfit idea. But importantly the length must be acceptable, make sure don't use too short dresses. This v-neck blazer pleated dress looks professional with a tea length that's fitting not only for work but also for a formal dinner party. A muted color like beige is the best choice and pair it with pump-high heels in the same color, you'll get a perfect appearance.
Smart Casual Style
The ultimate work outfit guide for women when it comes to smart casual style is dressing up more freely and fashionably. You wouldn't be stuck in pantsuits, blazers, and skirts again, but something that is more casual like jeans, basic t-shirts, sneakers, and flats. Although you are free to wear whatever you want as long as it is reasonable and polite, you have to keep following the official rules about dressing code at the workplace.
1. Mini Skirt and Blazer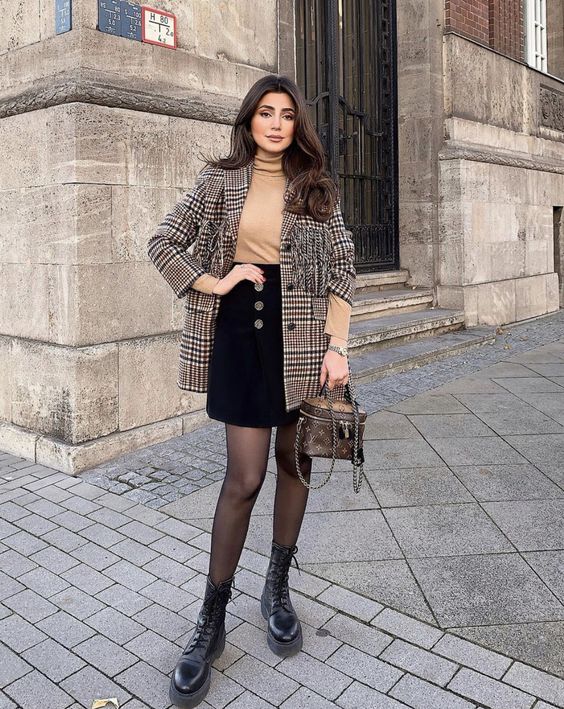 Wearing skirts for work? Why not! Having skirts on your work wardrobe essential would make it easy to mix and match your top style. Besides span skirts, you can also create smart casual work outfit ideas using a mini skirt. However, keep the length not too short or you have to layer it with stockings or tights. This workwear style includes a mini corduroy skirt, turtleneck, and blazer that fits for a fashionable winter look. For footwear, you can more freely pick any shoes that you want like these army boots to complete your work outfit performance. Then, finish out with your favorite bag and add accessories items.
2. Shirt and Jeans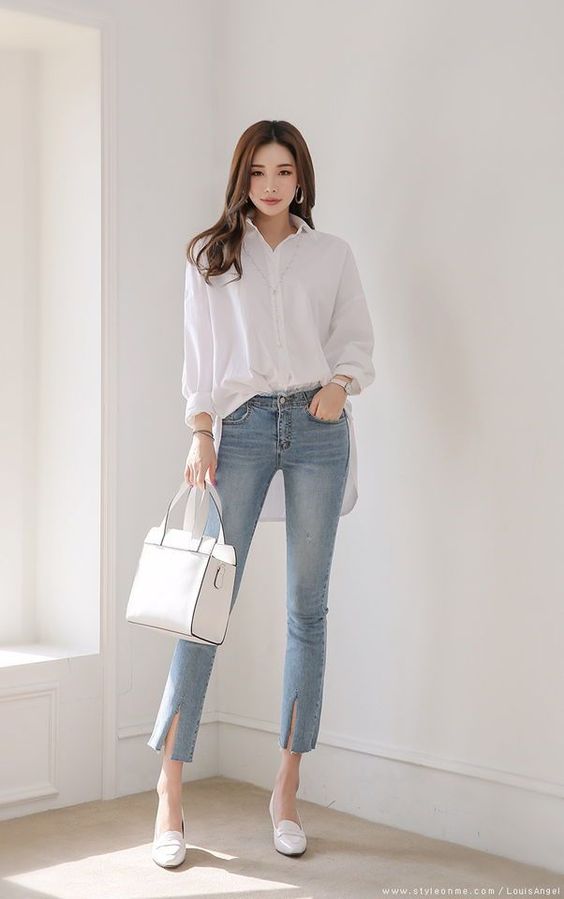 Jeans are acceptable for smart casual workwear as long as they are not ripped and patterned. For the color, make sure to keep them black or blue. Dress up by wearing jeans with appropriate tops such as a blouse or a button-up shirt. Like in the picture above. A simple and effortless work outfit that fits the laid-back workplace or while working outside. When it comes to shoes, loafers or sneakers may be a good choice if you have work with moving around a lot. Then, finalize your style with your favorite handbag to help carry your belonging.
3. Cami Top and Suits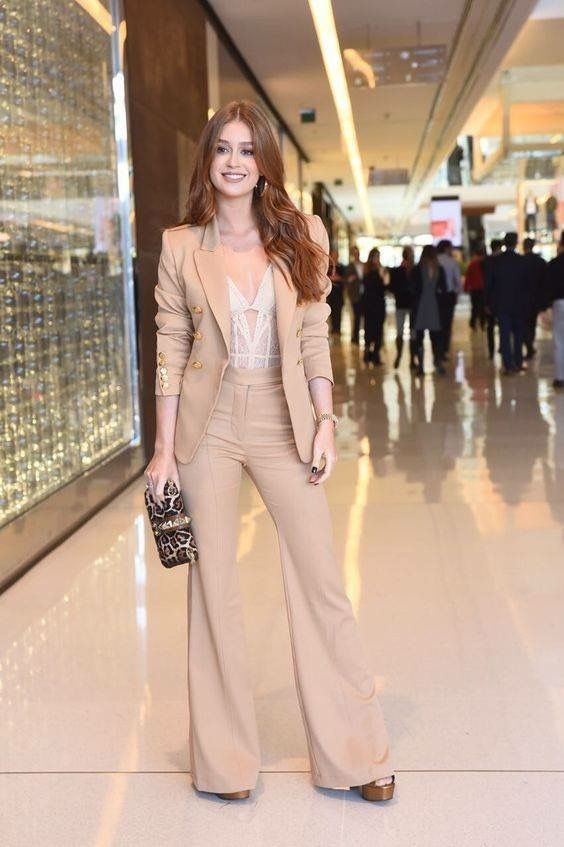 At least keeping perfecting suits for your appropriate work wardrobe is essential especially when you need to look professional. You can wear suits for business meetings and events. To wear this women's suit in a different way, you can match it with a cami top underneath. It would give you a smart casual style for a lunch meeting or an after-work social. Rather than you choose traditional colors such as navy or black, better you pick pastel shades such as nude, beige, or earthy tones for a fresh and stylish appearance. Move to the shoes, you can look casual and elegant by wearing high heels. Then finish out by wearing fashion accessories and get your favorite bag.
4. Sleeveless Blouse and Waist Pants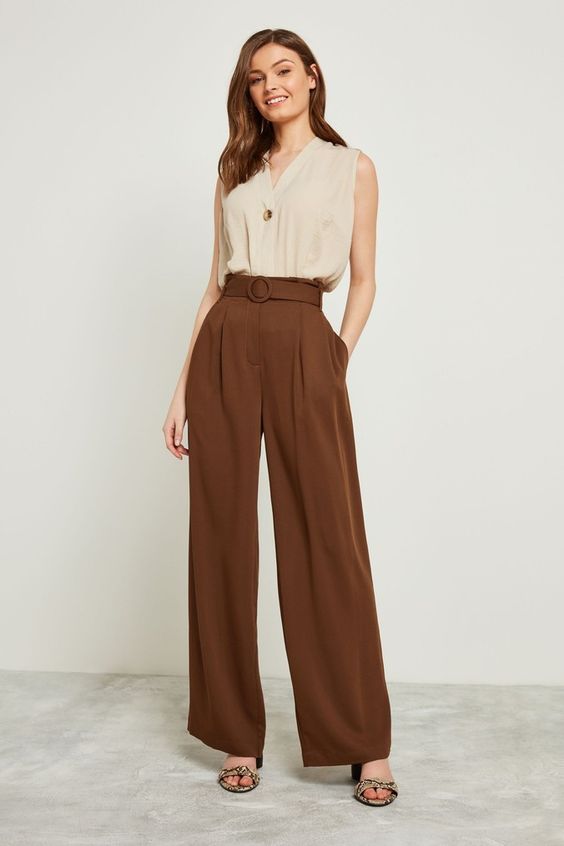 This sleeveless top and high-waist pants combo is an appropriate work wardrobe during summertime. This not only gives you a smart casual style but an elegant and comfy work outfit for summer. For this, you can pick a v-neckline lightweight blouse to tuck into your high-waist wide-leg pants. But when you think it's too revealing, you can layer it with a blazer. For the toe, you can wear high heels that would support your elegant look. Don't miss out on accessories items, make sure to get a simple one. Then, for the bag, you can choose between a handbag, a Minaudierre bag, or a clutch bag.
5. Blazer and Jeans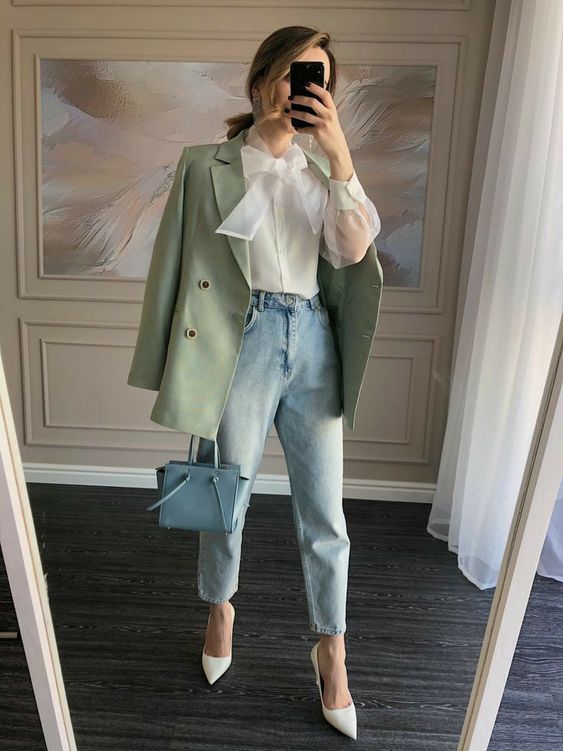 Jeans are still favorable pieces that use to create casual style in daily looks. Not only that, if your company allows you to wear them you can get dressed up with stylish work wear using these versatile pants. With the appropriate top, you'll look professional even using jeans. For instance, when you match jeans with a blazer and blouse for the top style. I believe you'll get a perfect smart casual style for work. For shoes, you can bring out a pump high heels to elevate your work outfit idea. Then, finish out your appearance with a simple handbag.
6. Long Vest Layer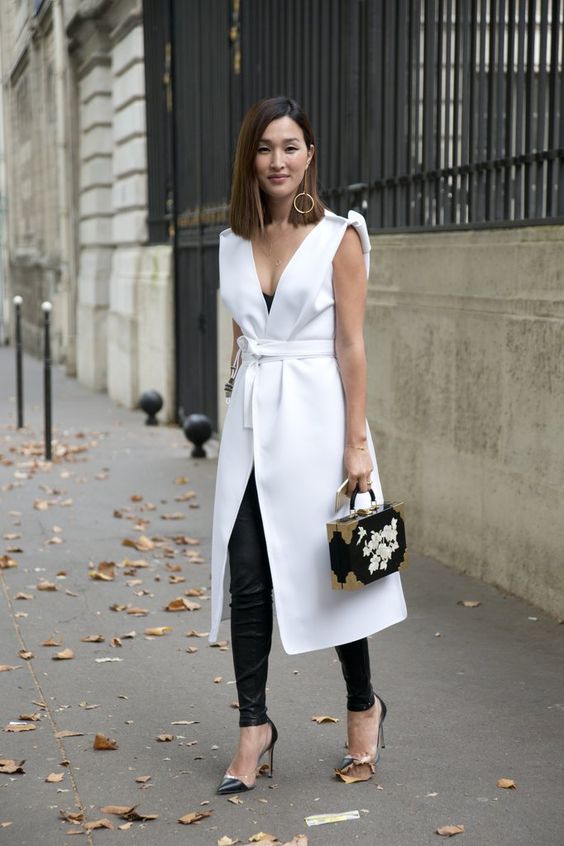 Getting layered outfit ideas for work shouldn't always use blazers. Alternatively, you can use a long vest as an outer that gives you a smart casual style. You can mix and match a long vest, a cami top, and black skinny jeans for a casual work outfit idea. Moreover, getting a pair of pump-high heels would level up your outfit performance. As usual, you can wear fashion accessories as long as you don't overdo them.
7. Trouser and T-Shirt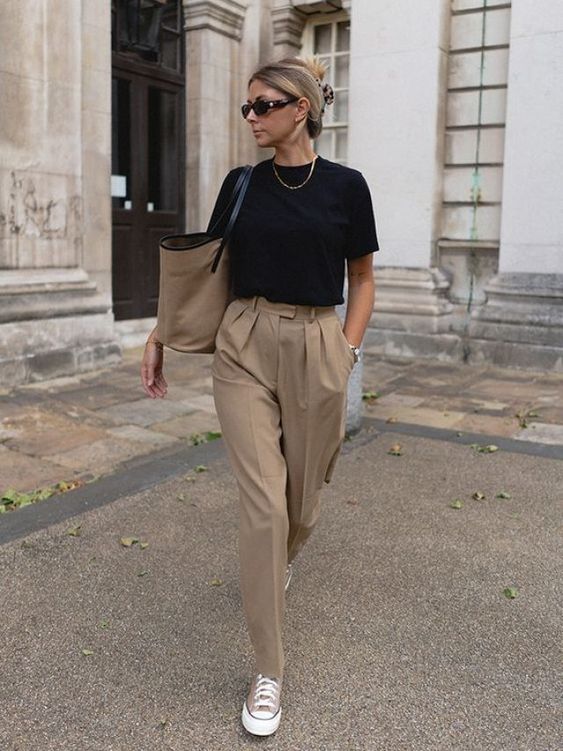 Wear a t-shirt for work? Why not! You'll still look professional even if you wear something that casual like a basic t-shirt. For This, you may need to match up the tee with trousers rather than jeans. It would support your smart casual style in the office. If you want, you can also add a blazer to add a more professional look. Then for the shoes, you can get sneakers for comfy and fashionable footwear. You can also use this style for a fashionable hangout outfit after work.
That's all we have about how to build an appropriate work wardrobe. We hope you'll follow some ultimate work outfit guides and get inspiration from this article. Just make sure you dress appropriately according to your office rules.