Counting the days to Christmas and the holiday! Isn't time flying so fast, guys? Because now, we are almost close to Christmas day again. I guess many people who've been excited about this special day, moreover almost every country will celebrate this moment. So, you have to prepare everything very well like places, outfits, makeup, and the last is hairstyle!
To welcome this special moment, we want you to make your hair as good as possible so you can capture this moment in a happy mood. So, do you already get ideas for your hair or know which hairstyle you will use? Don't hurry, you have to take a lot of time to search for every kind of hairstyle. And make sure it will not trouble you!
So, we have about 20 Christmas and holiday hairstyle ideas that you have to try! Pick one that you think is suited to you and can make you look pretty on this special day. Don't worry, our ideas will be easy to achieve, then very beginners friendly. Okay, let's look up the ideas!
20 Hairstyle Inspire for Christmas and Holiday
Straight Hair Will Make You Look Elegant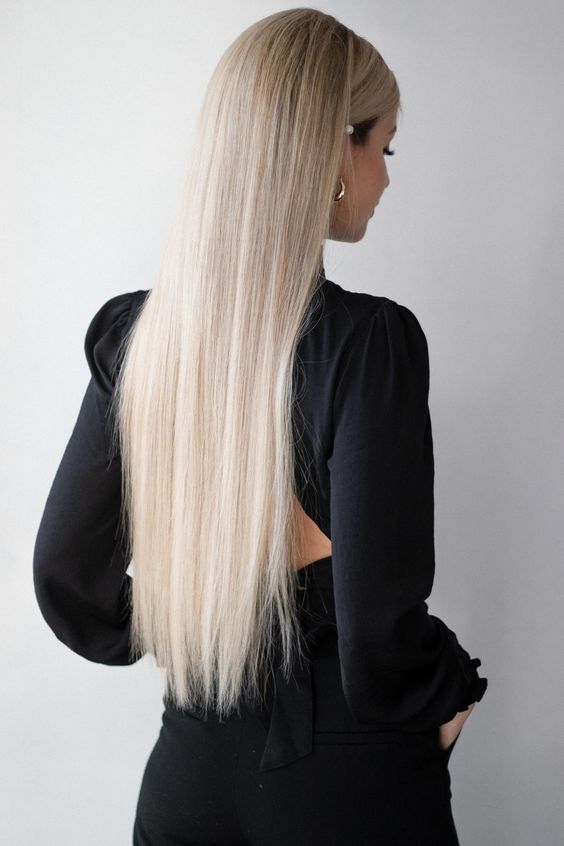 First, we have an idea that will make you look elegant! Yes, making your hair straight is the answer. If you already have straight hair, maybe you just need to brush up and make it look neat. Meanwhile, for curly hair, you can go on with an iron to help you get this hairstyle. If you want to look glamorous, add hair accessories that have a simple design and are made from gold. Put it on your bangs or the side of your hair.
Twisted Ponytail with a Bow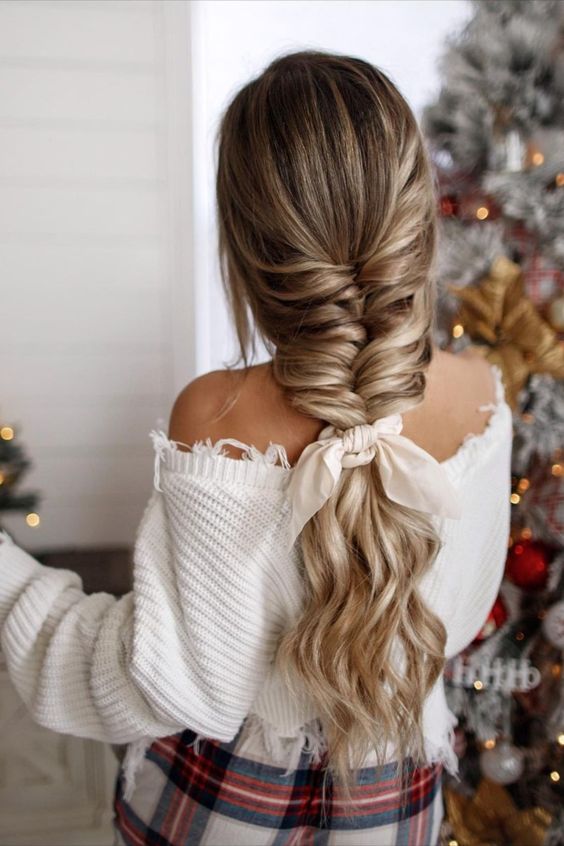 Next is a twisted ponytail. This is the kind of hairstyle that suits any age, even a kid or an old person. This hairstyle is may look simple but will make you look different. Therefore, you can put this idea into your list. To give a fashionable look, add a bow at the end of the hair to hide up the hair ties or you can use it to tie your hair.
Loose High Bun Hairstyle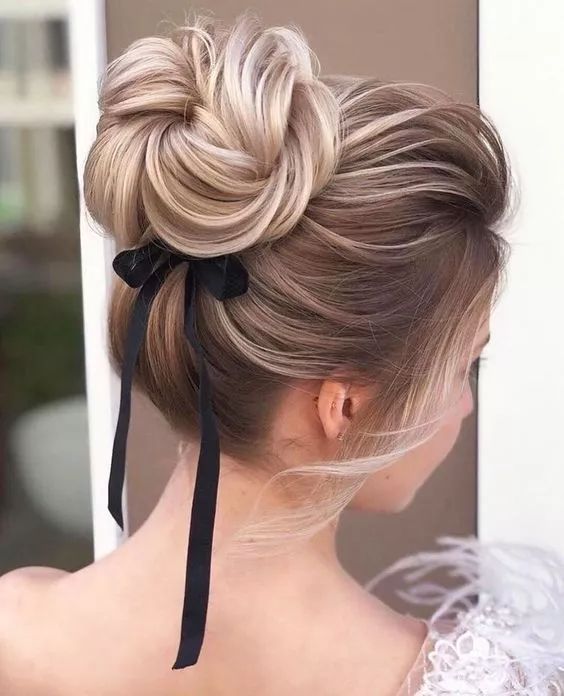 A loose high bun ponytail is very suited for people that want to look elegant but don't like a neat look. You just have to make the high bun as usual, furthermore, continue by pulling out a little bit of your hair to give a messy effect. Don't worry, it will still look neat if you can pull your hair slowly. Last, add a bow to make the bun tied tight.
Half Bun with Hair Chopstick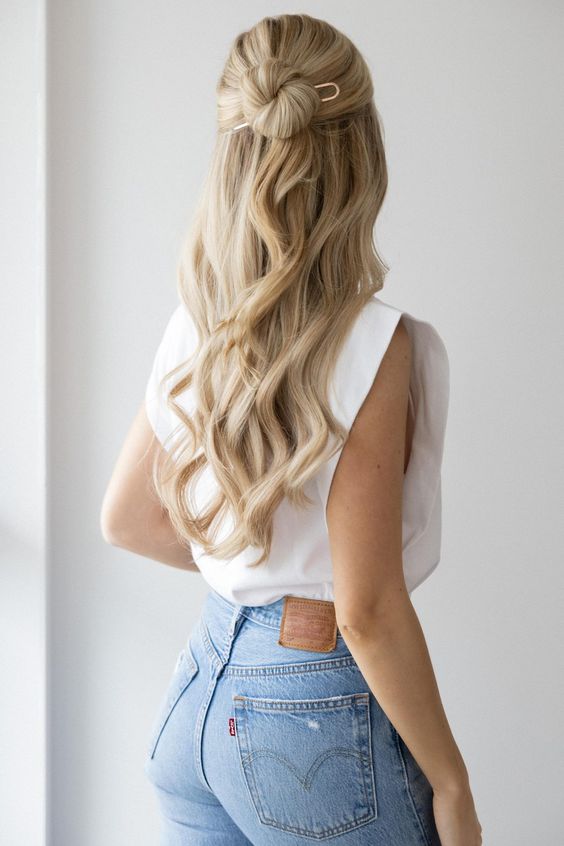 Who said chopstick is the tools that only can be used for eating? In Japan and China, they use chopsticks as hair accessories. As you can see from the picture, doing your hair into a half bun. Furthermore, use a chopstick to tie the bun. Be calm, girls, it can hold your bun very tight if you know how to use it. So, if you still hard to use it, you can learn it by watching some video tutorials.
Waterfall Braid Hair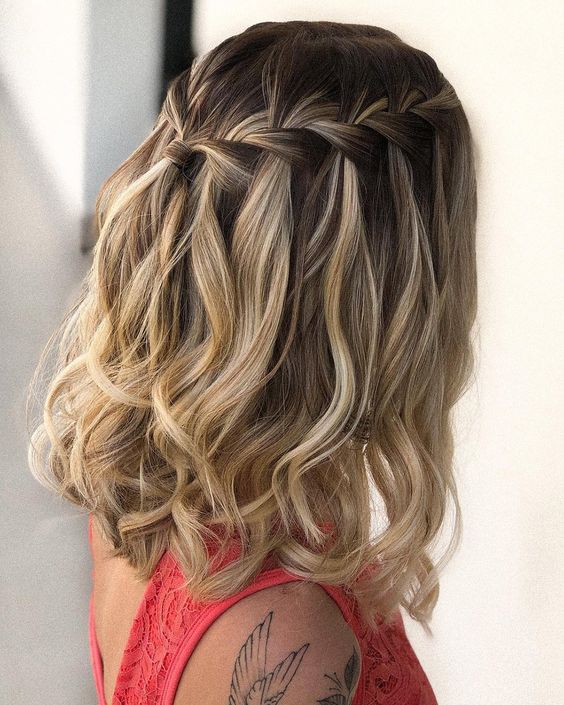 Many people think achieving waterfall hair is very hard. But it's not as hard as it seems, girls! Even there are a lot of videos that give a tutorial to achieve this hairstyle easily. This is one of the best ideas if you want to look glamorous on your Christmas day. Moreover, when you combine this hairstyle with your red or white dress, I believe everyone will stare at you!
Defined French Braid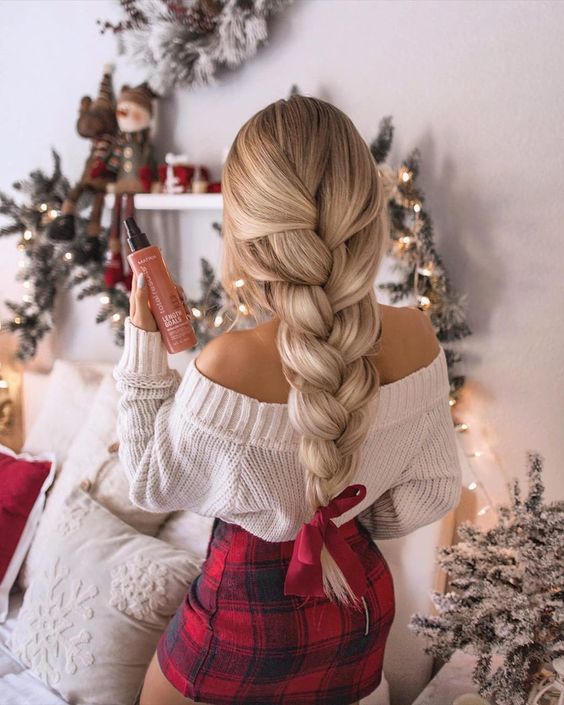 Move on to the hairstyle that was created for simple and girly people! Of course, a defined braid hairstyle is the best decision ever! Furthermore, use a bow or scrunchie for tying the braid that will make you look trendy on your Christmas. Now you're ready for capturing the moment with all people that you love!
French Twist Hair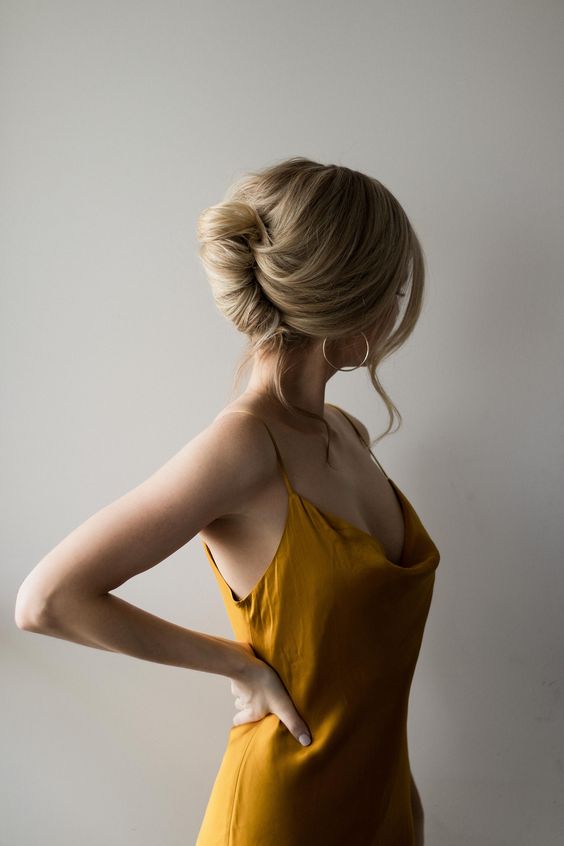 Going on to the hairstyle that most people think is complicated. It's one of the famous hairstyles that is usually worn by flight attendants. Am I right? I guess, you think the same when you hear the name of this hairstyle.
In the past, people usually call it croissant hair because of the shape of this hair similar to croissant bread. And people in French wear this hairstyle on special occasions. Therefore, we recommend this hairstyle to you! You only have to twist your hair from the bottom and bring it up, then secure it with bobby pins and you're done. Isn't it easy enough?
Make a Beach Wave Hair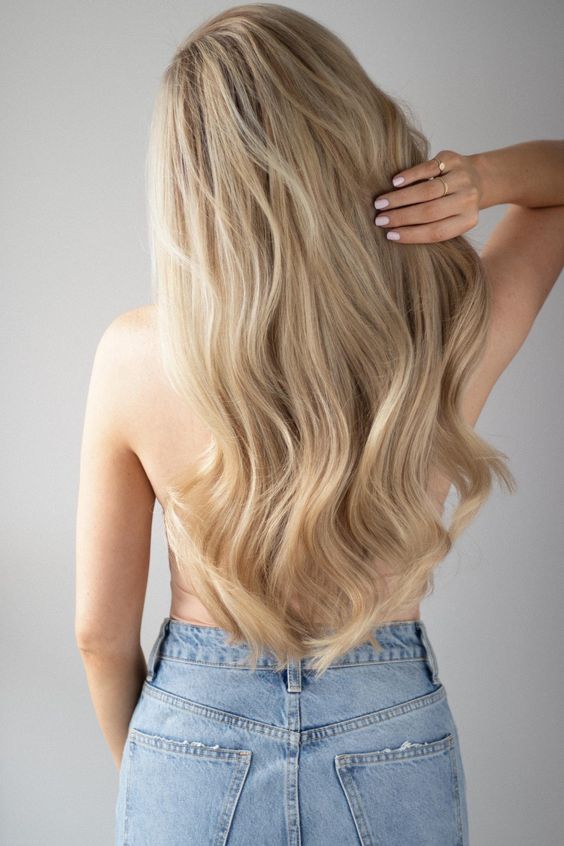 How about beach wave hair? Even though this hairstyle is look very usual, it can give you a feminine look. Besides that, beach wave hair can be mixed and matched to any outfit whether casual, chic, or elegant outfit. That's why it can be the perfect choice when you already feel stuck and clueless about the hairstyle that you should do. Moreover, recreating this hair is very easy and it doesn't take a long time.
Use Hairpins to Keep it Simple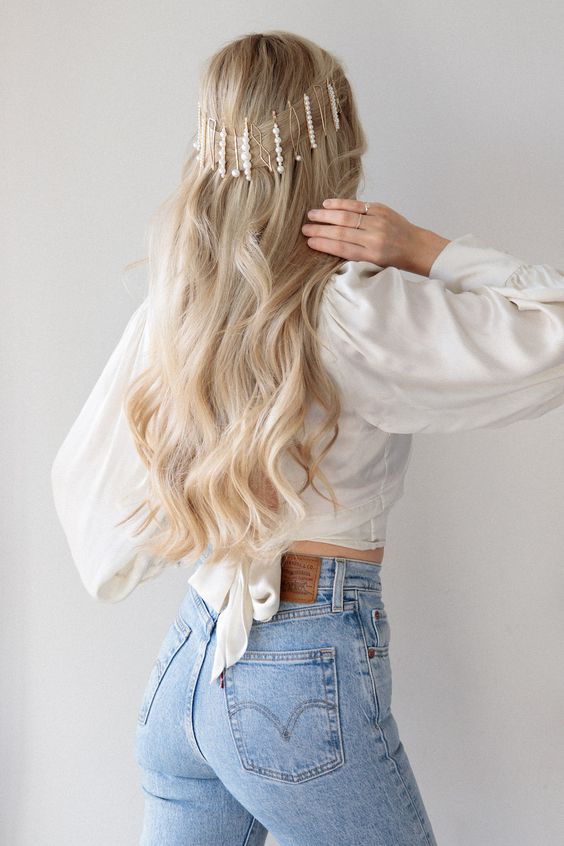 Still, want a hairstyle that is easy and simple to get? Okay, you can go on with hairpins. Before putting the hairpins, you have to curl or straighten your hair first just to make sure it looks neat enough. Furthermore, pull the side of your hair and bring it back. Then, you can secure it with a lot of hairpins that you like. Easy but will make your hair pretty in a short time!
Half Braid Ponytail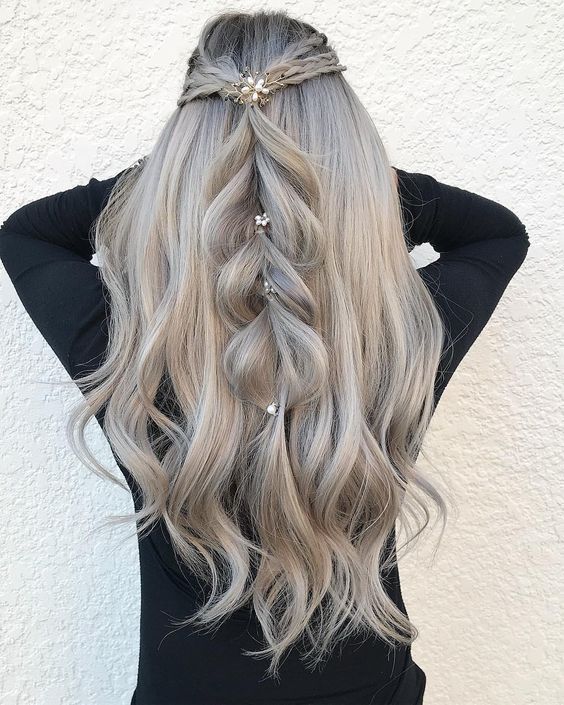 Choose half braided ponytail if you want to make your hair looks complicated. It will elevate your looks more than just making your hair into a half ponytail. This hairstyle is very suited for teenagers or for those who want to look younger. You may add a few hairpins on the braids if you want to look more feminine. Furthermore, nail this hairstyle with a dress or any girly outfit!
Add Scarf to Make Your Hair Prettier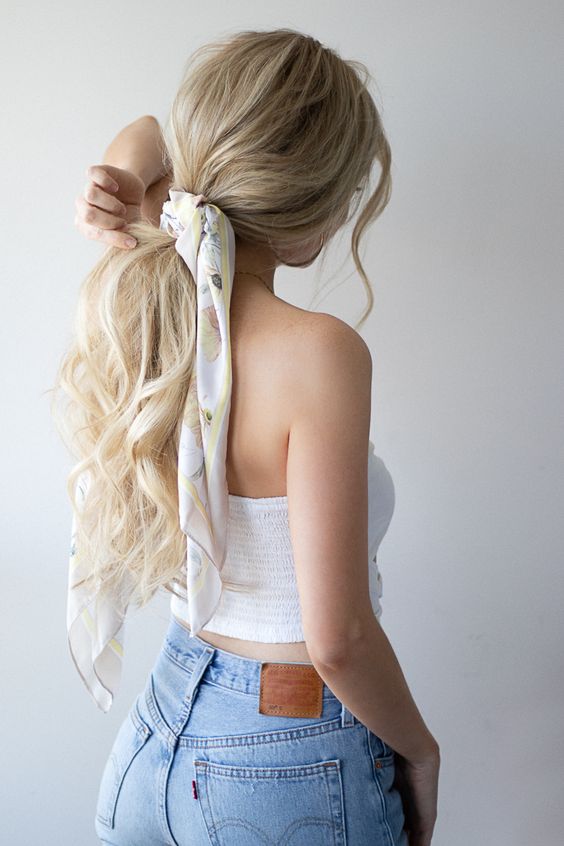 Another hairstyle idea that using hair accessories. Now, you can wear a scarf to change the hair tie. Believe me, it will make your outfit looks different and make it chicer. You can use it to make a low ponytail, braided hair, or headband. So, just be creative and you will make this scarf turns into a wonderful thing on your hair! Sounds interesting, right?
High Ponytail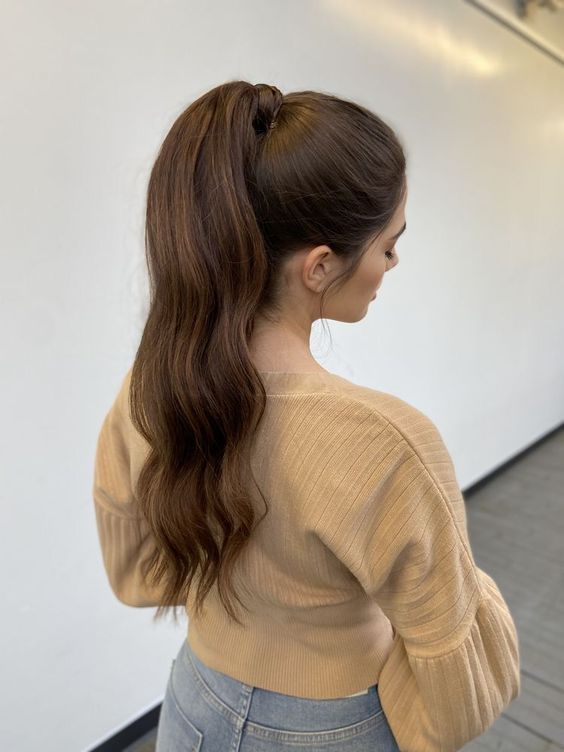 What kind of hairstyle that you wear when you feel confused? Me? Will go with a high ponytail! Because for me, a high ponytail can be combined with any kind of outfit or look. Moreover, it is very easy and does not take a long time to do. For this Christmas, just bring up the high ponytail to another level by taking a little bit of your hair and twisting it around the hair tie to cover it. And voila! Your high ponytail looks gorgeous, now.
Looped Half Updo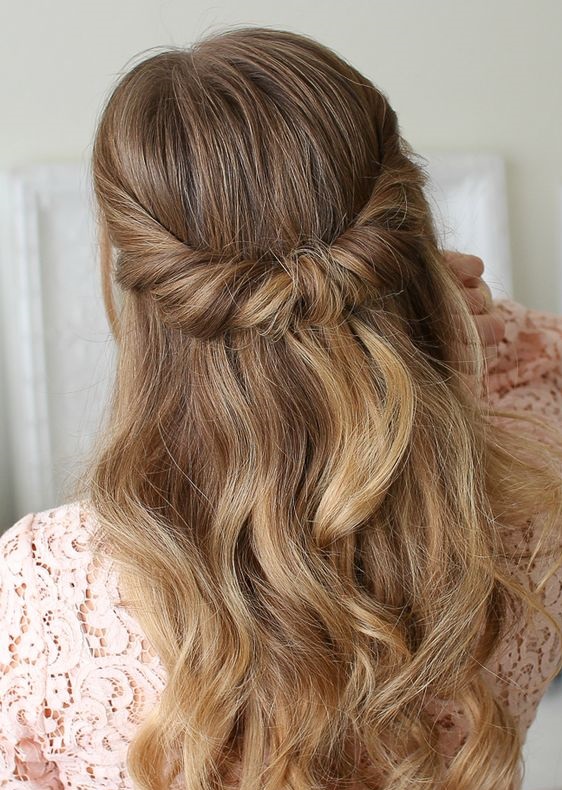 A looped half updo is a kind of hairstyle that looks hard to get. But actually, you just need to take the side of your hair and tie it. Furthermore, pull it in until it looks twisted and done. Very simple after knowing the step for making this hair, right? Make this hair more stylish by wearing a simple design headband or hair accessories that are made from gold or silver.
Loosely Braided Ponytail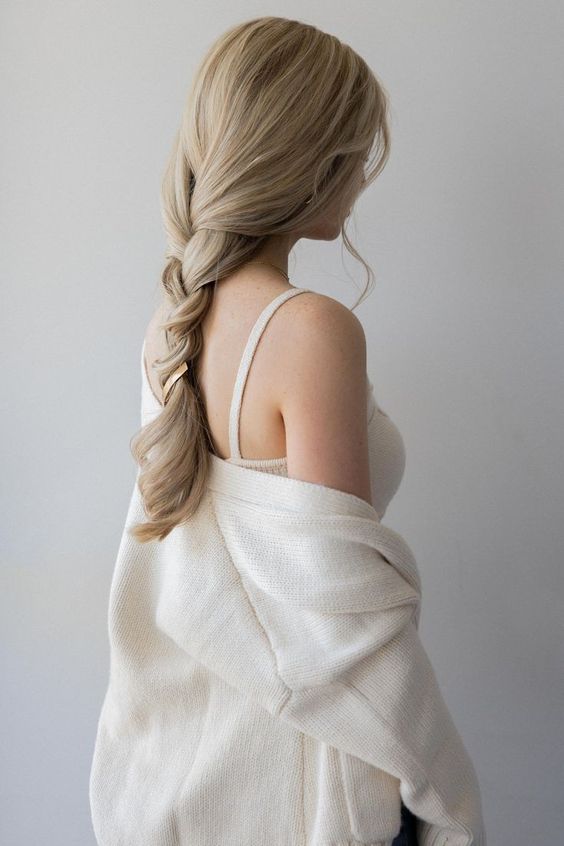 If you don't like the defined French braid, maybe you like this one. Yes, loosely braided ponytail! Same as making the defined French braid but the difference is you start making the braid at the bottom of your head. After the braid is finished, you can pull it slowly to make a loose effect. Then, continue to tie it with a hair tie or bow. If you feel it's too simple, just add hairpins or any hair accessories at the braided. Now, you can go to dress up and enjoy the moment!
Unfinished Bun Hair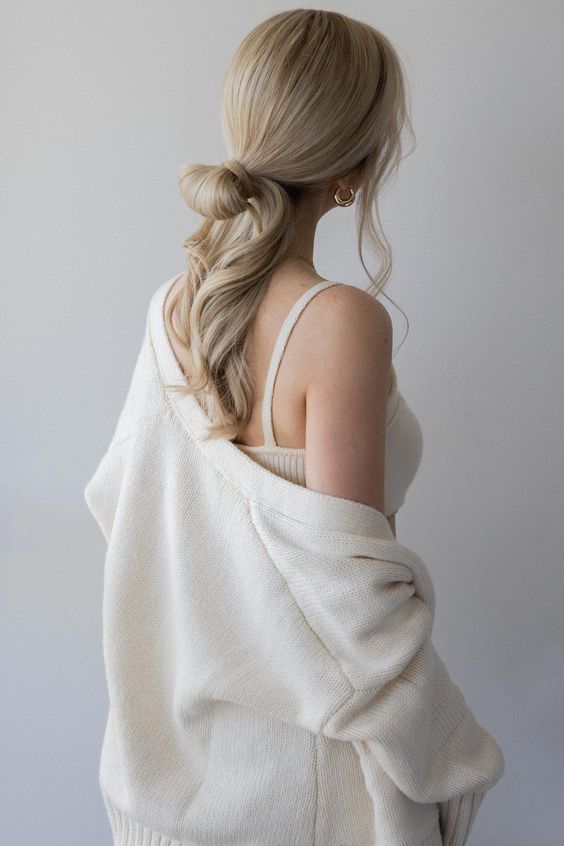 In hurry or feel lazy to do a complicated hairstyle? Okay, the unfinished bun will be the answer for you, girls! But to make it chicer, maybe you can choose a scrunchie for the hair tie or cover the hair tie with a scarf. Furthermore, you can do your hair like doing a low ponytail then at the end of the tie, you can let half of your hair loose. Mix and match this hairstyle with a boyish outfit!
Half Ponytail
Next is the most used hairstyle because it simple to achieve but can give a feminine vibe. You're right, half ponytail! When you hear those words, isn't half ponytail the first thing that crosses your mind? But now, we want to make this hairstyle differently.
Maybe you only use a hair tie, now we want you to add a scarf. Don't forget to choose a scarf that has the same vibes as Christmas. We suggest you let the bangs loose to cover your jawline so it will give you a slim face.
Messy Bun Hairstyle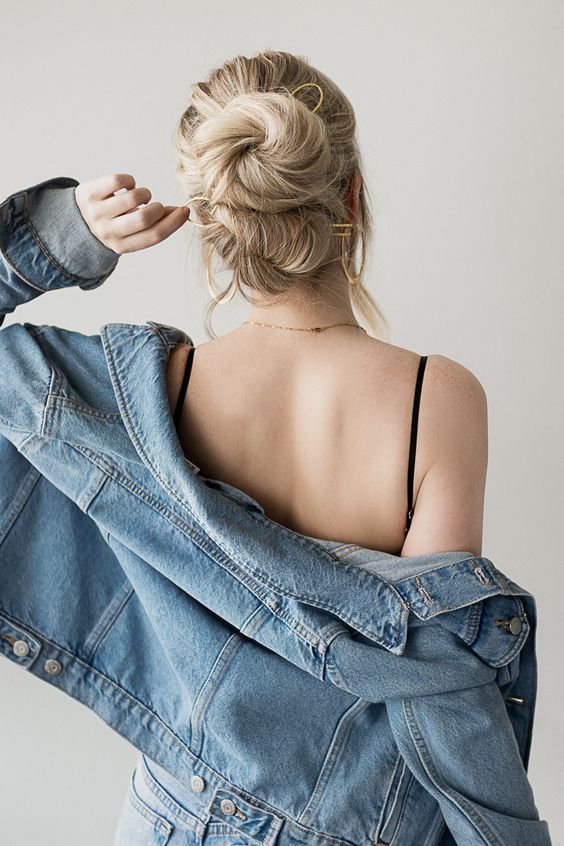 A messy bun hairstyle will never go out of style! This kind of hairstyle that suitable to use on any occasion including Christmas day! When you wear this hairdo, make sure you also wear an outfit that looks boyish but still formal. Remember this is a special day, and looking neat and formal is very necessary.
If you want to look more girly, maybe adding some headbands or hairpins at the upper of your hair can be a great solution. So, want to wear this messy bun hairstyle for your Christmas day? Let me guess that you already put it on your list!
Look Sweet with a Bow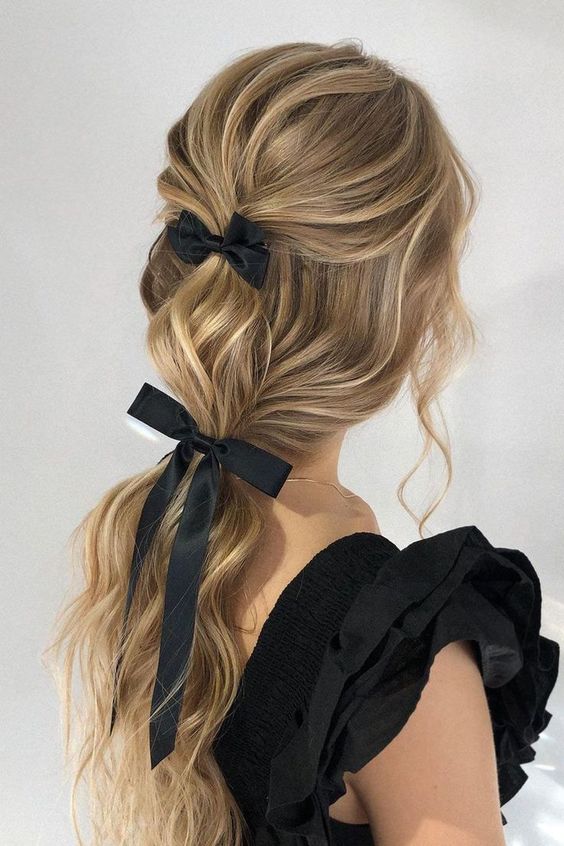 There's a hair accessory that makes you look chic, but there's also a hair accessory that can make you look sweet. The answer is by seeing the picture which is a bow! Yes, wearing a bow will successfully give you a sweet look, so when you wear a dress, just add a bow to your hair and it will turn out amazing.
You can use a bow for changing the hair tie, headband, add the bow to your braids, and many more ways of using it. So, go buy and have this item to make this Christmas more fashionable!
Crown Braid Hairdo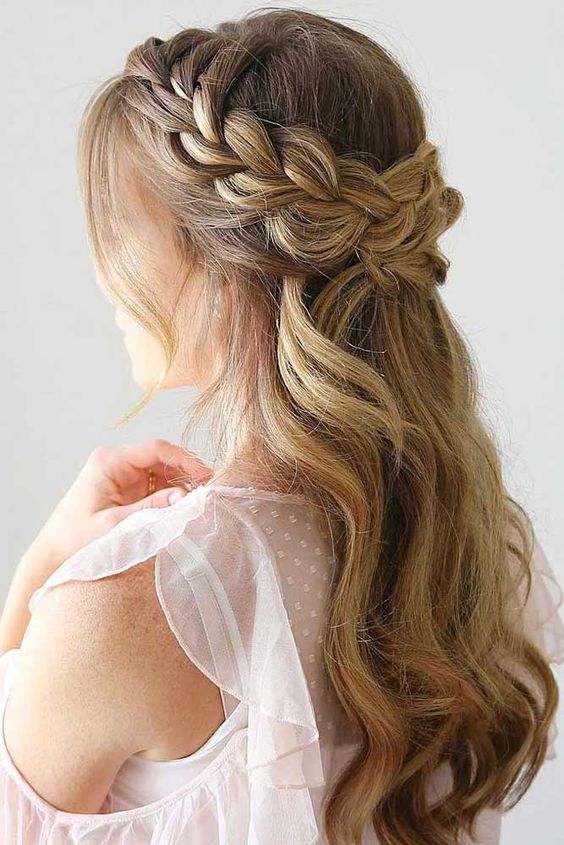 Usually, people use this hairdo for wedding parties, but I think the crown braid hair will also be perfect for Christmas. If you can style this hair with the right outfit, I believe you will look pretty and very feminine at this moment.
Don't know how to get this crown braid hair? So, let me give you an easy tutorial! First, take half of your hair and divide it into two sections. Make the braid from the upper part of your hair to each section and connect it by bringing it to the back. Then, secure it with booby pins to look neat. Furthermore, curl the rest of your hair to make your hair volumize.
Half Space Bun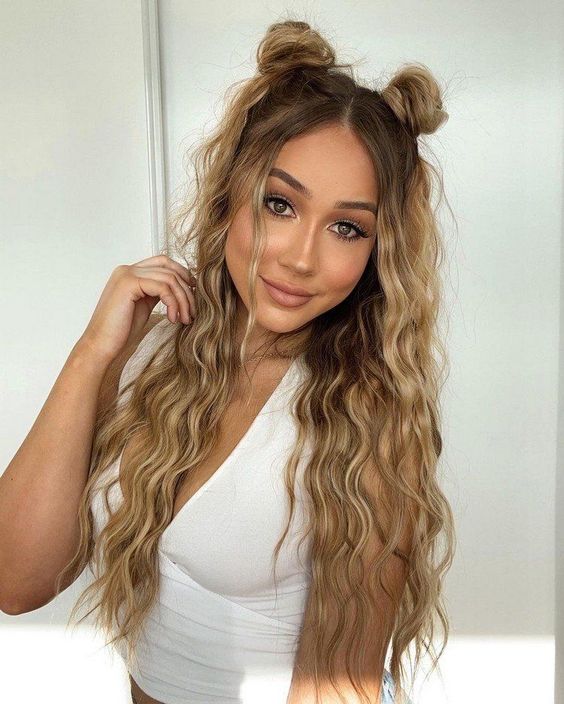 The last hairstyle is the kind of hairstyle that will give you an attractive and playful look. Of course, half-space bun! But this hairstyle is suited for you who are still teenagers or kids. Or if you still want to wear this hairstyle maybe you can go on with a colorful and cute outfit. To do this hair, you can take half of your hair and split it into two parts. Make a bun on each part by twisting it and lock with bobby pins. This is optional, curl the end of your hair if you want to look fabulous.
That's all about 20 hairstyle ideas for your Christmas and holiday! Got new ideas from the topic above? Choose the best hairstyle by adjusting to your face shape, hair condition, and also outfit. Don't look tacky by choosing the wrong hairstyle because this is your special moment and happens once a year. Believe the words, good hair will boost your mood! Hope it can inspire you and enjoy your Christmas or holiday!