Olidfashion.com – Going out to a party is one of the social life where you can get close to your friends or have new connections. Whenever we get to attend a party or event, we need to dress up and gain the best impression. It's a bit challenging when you want to dress up for a night party. You may have many thoughts about what to wear and how to present yourself with the best night party outfit ideas. Furthermore, you have to also consider the type of party and where you are going to attend.
Today with this article, we'll assist you to get simple and chic night party outfit ideas that will make you look outstanding all night. Aside from Christmas, Halloween, and Thanksgiving, there are countless times to throw a night party and hang out with friends. Like having a bachelorette party, wedding after party, or holding a birthday party at the pub, let's start dressing up! We have everything from a simple look like a blazer and matching set to a chic glam sequin outfit and elegant prom night dress. Of course, everything also includes the accessories, bag, shoes, and makeup look that fits with your performance for the evening party tonight.
We're happy to tell you that there are plenty of iconic options to look gorgeous and stunning at night parties. So, without further ado, here are 24 simple and chic night party outfit ideas for you to steal! Begin making a shopping list to refer to when deciding what to wear for a night out. Keep scrolling down to find the perfect party outfit for you!
1. Look Glamour in Sequin Pants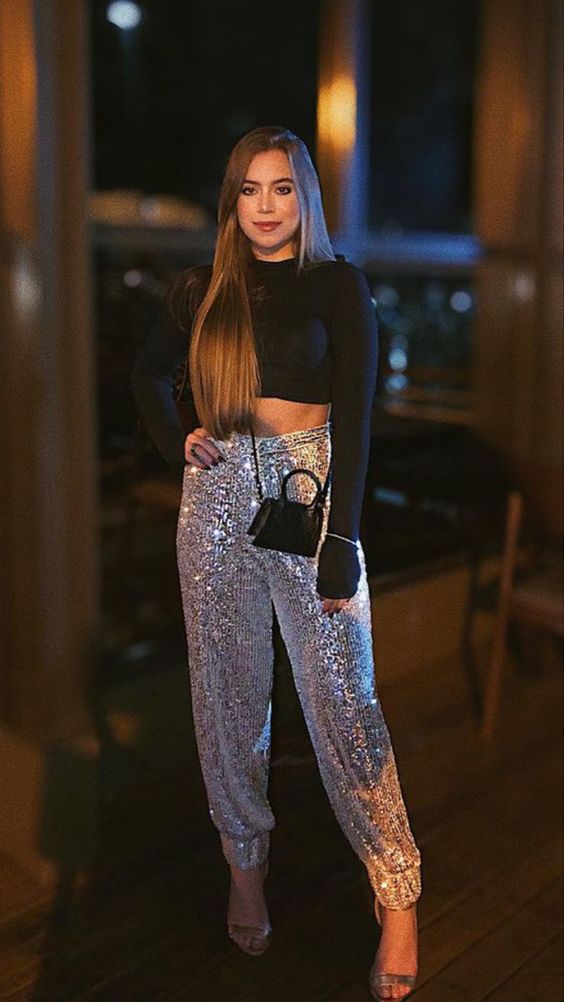 For first outfit ideas come to these sequin pants to pull out a glamorous look in your style. You can mix silver sequin pants and a cropped, long-sleeve t-shirt to have fun with your girl squad. Elevate your night party outfit with silver high heels, a micro bag, and simple jewelry. You can use this style for a fashionable hangout look, girls' night-out outfit performances, or a getting-out party at the pub.
2. Sexy Night with Long Slit Mini Skirt Set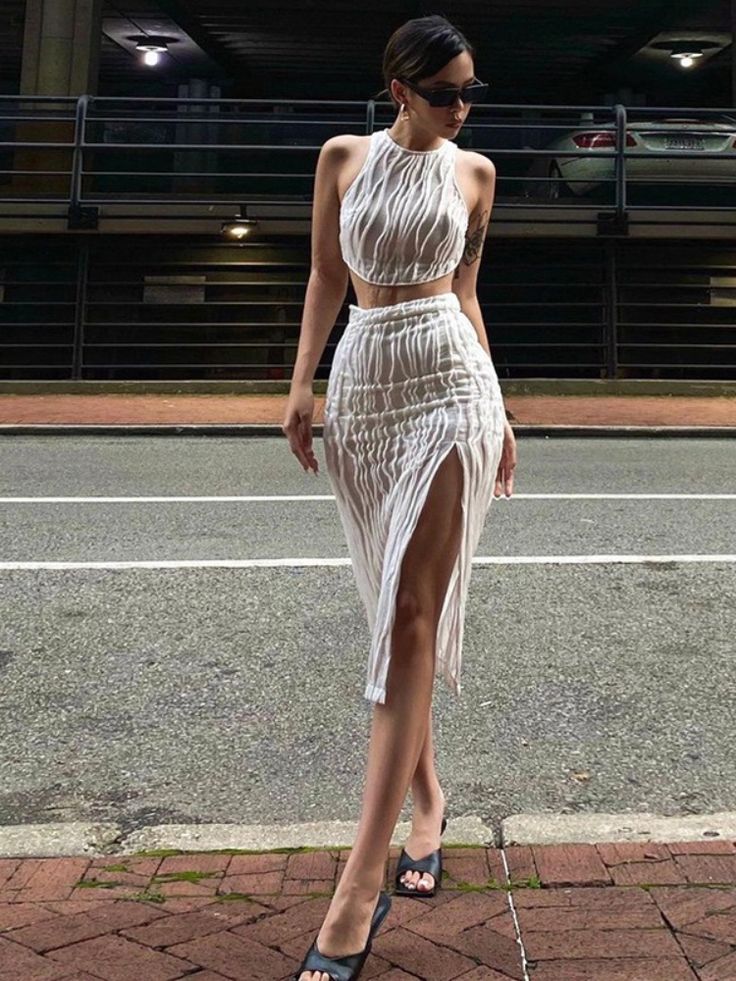 Look nice and sexy in your night party outfit with this long-slit mini-skirt set. If you are in a hurry or don't know what to wear, this party set including a long slit skirt and a cropped halter tank top would help you to look stunning with a simple style. Put on high heels for the footwear and grab a black Minaudierre bag for completing the style. Upgrade your performance for this night party with a flawless makeup look and fashion accessories. Like you can wear drop earrings and then do a high ponytail or low updo for your hairstyle.
3. Get Out in Black Style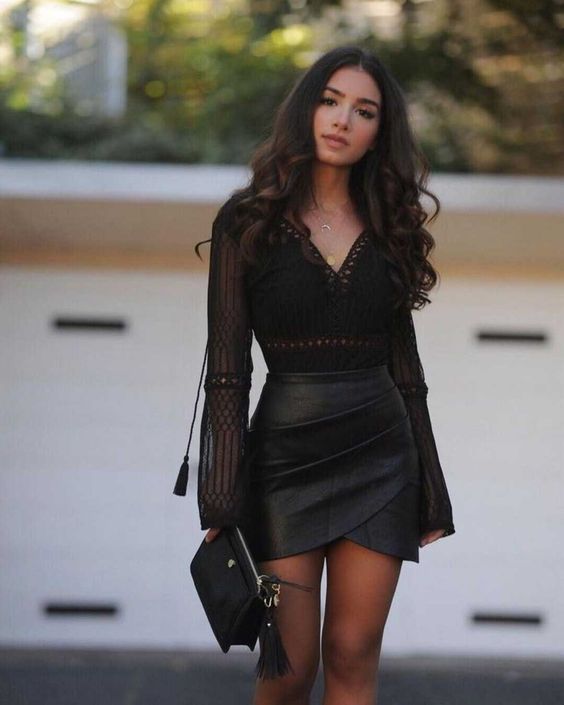 If you want something safe and easy, wear all black for your night party outfit idea. Try to mix a long transparent bohemian blouse with a leather mini skirt. To make it look cute, you can also wear bohemian accessories like tassel earrings, a simple necklace, and high heels for footwear. Furthermore, do your hair naturally curly and get natural makeup with pink lipstick for the perfect performance. Complementing with a black pouch bag with tassel embellishments to help carry your stuff.
4. Classy in Silver One-Shoulder Mini Dress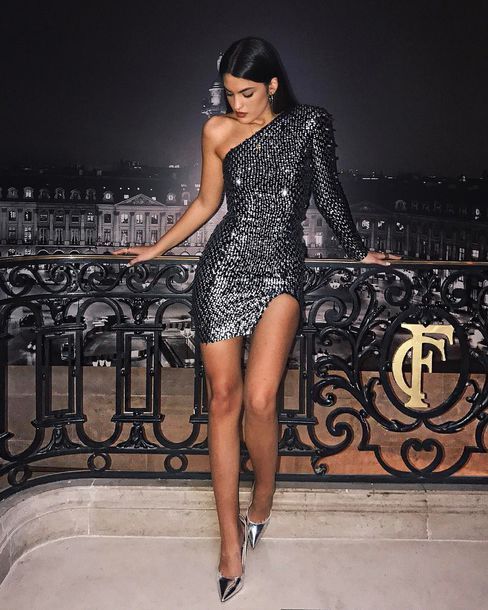 This one is featured for those who want to look classy yet glamorous at the same time. If you do have fun in the club with your guys, bring this to your night party outfit idea list. A one-shoulder metallic mini dress looks stunning and shiny at night. With this kind of dress, you don't need to wear shining jewelry to make you look charming at night. Make your look more stunning in this dress by matching it up with silver high heels, a bold and smokey makeup look, and a tidy straight hairstyle.
5. Look Pretty in High Low Dress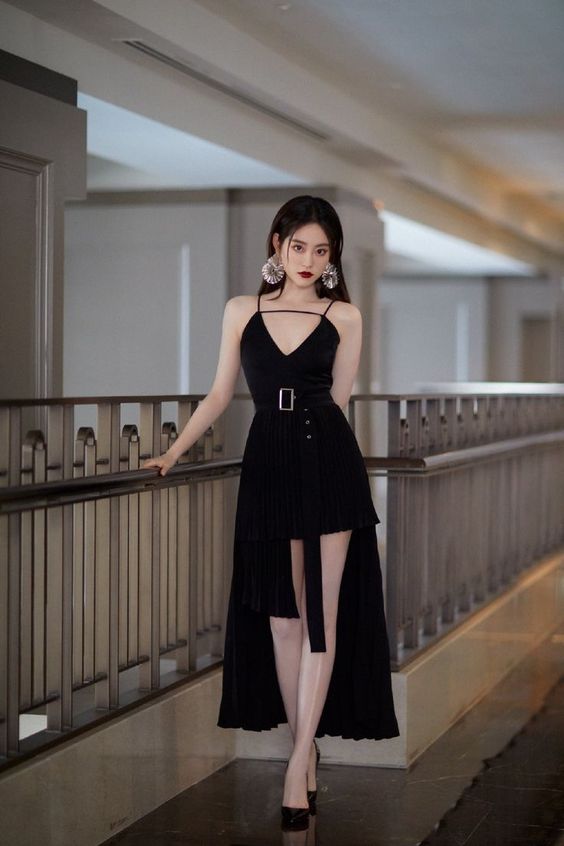 If you want to look sophisticated for night party outfit ideas, bring out this high-low dress. The sexy v-neckline and pleated skirt at the lower style make this dress fits for a chic night out style. Elevate your simple party outfit with a belt over the dress and wear shimmering pom earrings. For footwear, you can pick a pair of black high heels. And then, you can apply a bold makeup look with dark red lipstick for the point. Perfect your simple and chic night party outfit idea by choosing a clutch for the bag.
6. Going to Pub in Cowboy Style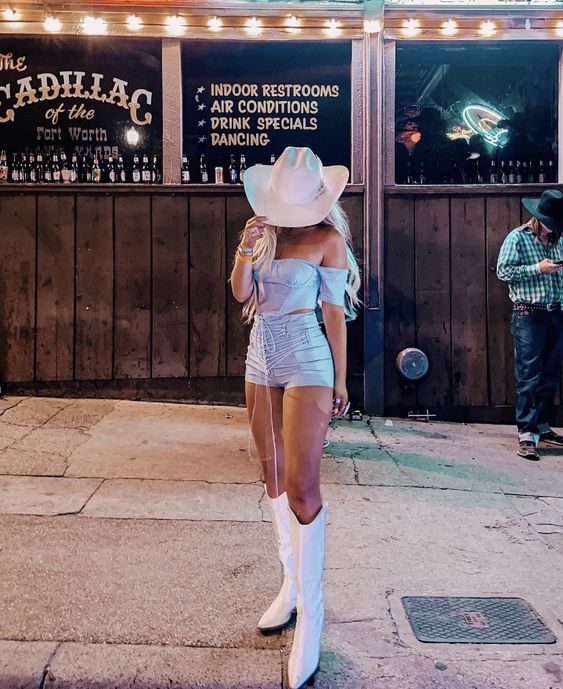 If you want to look sturdy at the night party, get a western wild cowboy look for this. This simple and chic night party outfit idea just needs to get statement with a cowboy hat and cowboy boots as typical outfits to wear in cowgirl style. For the rest, you can play with anything in your closet, from cropped denim shorts to corduroy span skirts. While the style above combines an off-shoulder cami top with lace-up short pants.
7. Simple Elegant with a Shirt and Trousers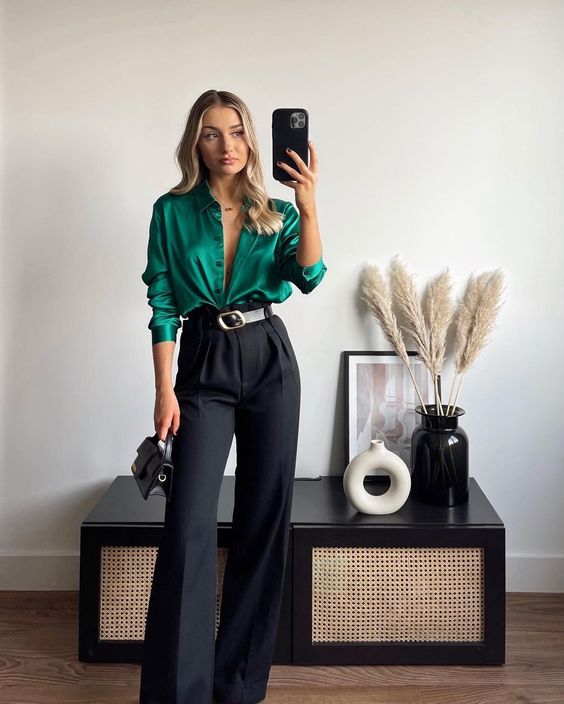 You can play with button-up shirts and trousers to present simple chic night party outfit ideas. This combo would give you a bit of formal style for dinner with your friends. The key is how you do to style them fashionably, like when you unbutton your shirt and then tuck it into your trousers. For this, better if you pick light and shiny fabric like satin for the shirt to give you classy vibes. Then for the trousers, pick one that has a little flare in the lower to give you the classic 80's fashion trend. Complement the outfit style with a big belt, and simple jewelry, then bring a mini handbag to carry your belongings. This outfit idea would make you look like a socialite.
8. Make a Statement with Pearl Beaded Top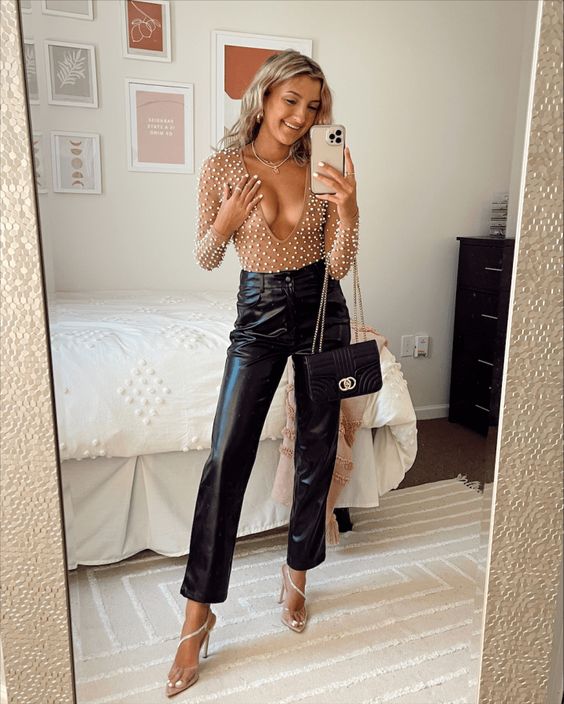 The next simple and chic party night outfit idea is coming in this pearl beaded top that pairs with leather pants. Choose a deep v-neckline see-through blouse that would give you a sexy appearance. While shiny faux leather pants would elevate your party style to become more classy. Draw attention to your footwear by choosing strappy high heels in rose gold or silver color. Then, you can also bring fashion jewelry like a gold necklace and wear big hoop earrings. This outfit idea would look stunning by getting a naturally wavy hairstyle and natural makeup with a nude color palette. Furthermore, for the finishing touch, you can bring your Minaudierre bag in your hand.
9. Dress Up with Night Gown and Jeans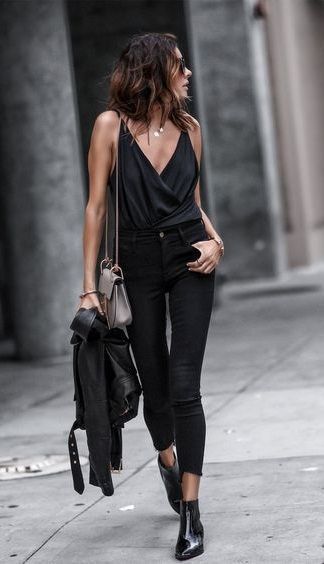 Another simple and chic night party outfit idea that you can recreate is this trendy nightgown look. This combination gives different look to your nightgown while you match it up with skinny jeans and a leather jacket. Bring leather ankle boots for the shoes also boost your appearance. Maximize your outfit style by bringing fashion accessories and get a sling bag or shoulder bag as a stylish bag.
10. Chic in Turtleneck and Mini Skirt Style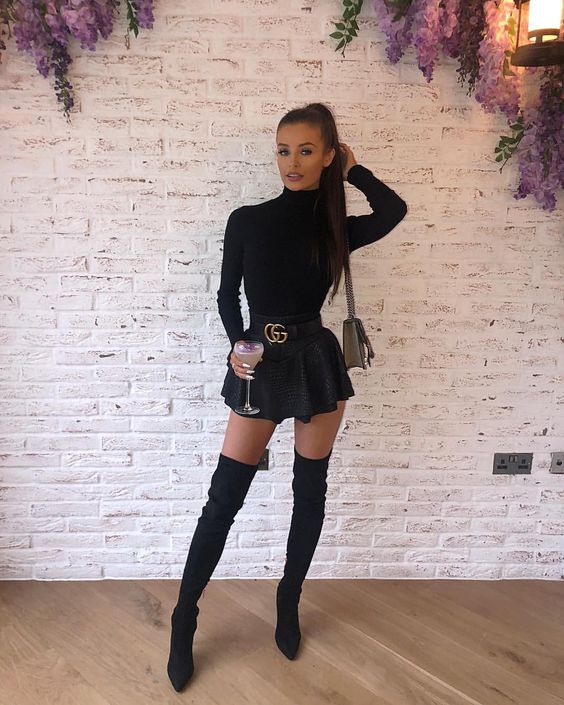 Have to attend a night party in the fall season, this turtleneck, tennis skirt, and over-knee-high boots are what you need to apply. You can just do anything with that fall wardrobe essential even for simple and chic night party outfit ideas. Times to get fun cocktails to warm up your body and have a party with your friends with a comfortable yet cute performance all night in this outfit style. You can also elevate your chic appearance by doing a high ponytail to your hair, using natural makeup look, and getting accessories items. Move to the bag, you can bring your favorite sling bag to help you bring your stuff.
11. Sexy Outfit Style in Night Gown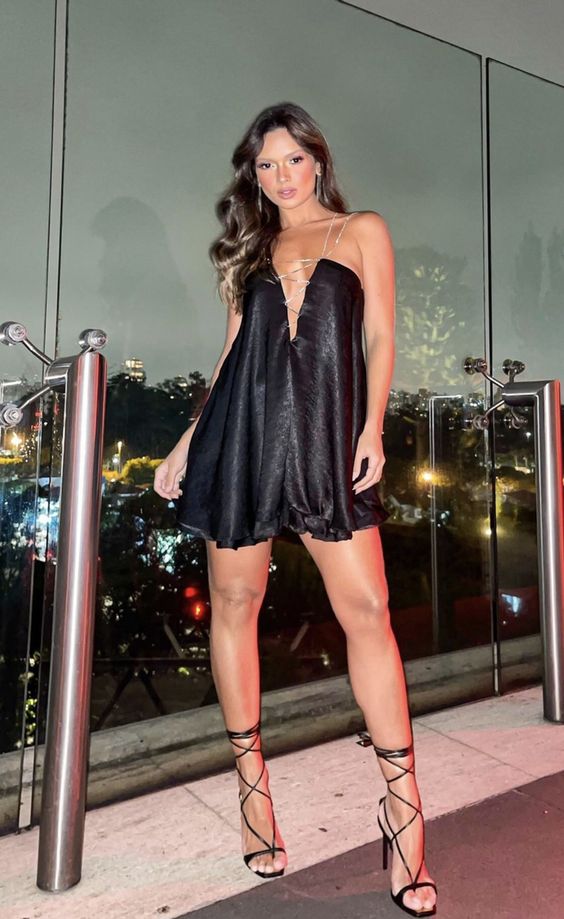 Something that is simple, sexy, and chic to wear for a party, just level up your nightgown! This would give you something unusual to attend your casual night party. You can pick a black nightgown with a deep v-neckline and spaghetti straps. For the shoes, go for gladiator high heels that would make your simple and chic night party outfit ideas look sexier. You can do any hairstyle but the perfect one for this outfit idea is a natural wavy hairdo. Next for accessories, you can bring drop earrings and a simple necklace. Furthermore, you can bring a clutch in your hand to finish out your party style.
12. Cute with Strapless Tutu Dress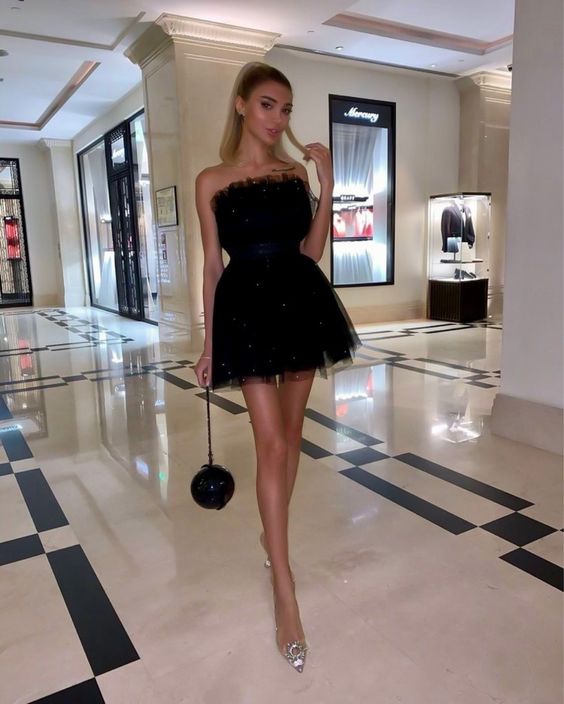 This outfit idea is perfect for those who need to look cute yet sexy at the same time. Yups, a strapless tutu dress is looking simple but fashionable and of course, it's cute. You can wear this dress with aesthetic pump heels and get a round bag in your hand. Don't forget to use accessories that would help to boost your look. Moreover, if you do a high ponytail for your hair would make you look adorable.
13. Look Classy in Leopard Print Outfits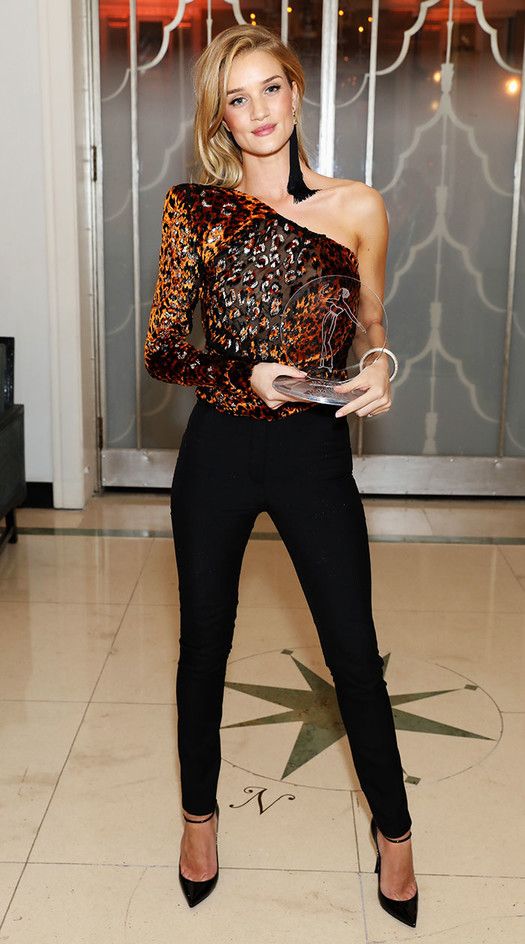 Need to attend a celebration of the award received, make sure you appear stunningly! For this, we have one simple and chic night party outfit idea to try on! Combine an off-shoulder leopard print top with black skinny pants. And then, perfect your outfit by wearing strappy high heels. Don't miss out on the accessories, you can play with pearl jewelry like for your bracelet, necklace, and earrings. For the bag, you may bring a clutch or Minaudiere bag that fits better with this outfit look.
14. Simple Chic Style for Party with Cullotes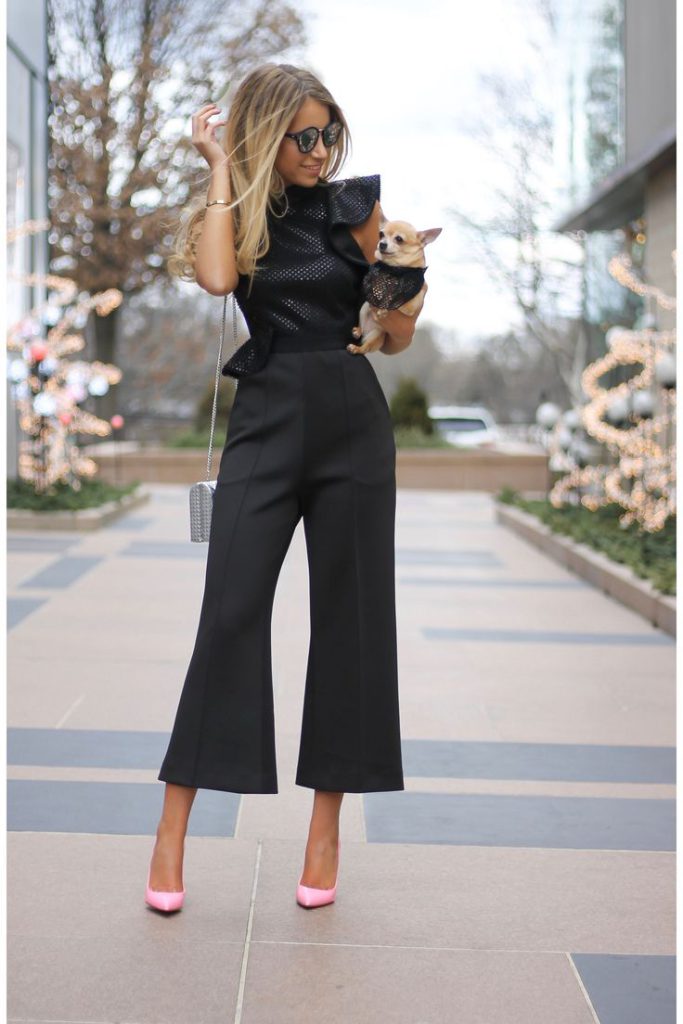 Whether you attend or hold a night party, you shouldn't always look glamorous. Something that is simple but classy may elevate your appearance. Like wearing this black ruffle sleeve blouse with culotte pants. It's pretty enough to give your simple and chic night party outfit ideas. However, if you want to give unusual hint to your outfit style, you can use pink high heels that give you color blocking style. Come to the bag, a silver cross-body bag would bring a little shine to your appearance. You can also play with accessories and jewelry, and also match your hairstyle. You can do anything hairstyle that you want like a natural wavy, a high ponytail, or a simple braided hairstyle.
15. Sheer Dress Look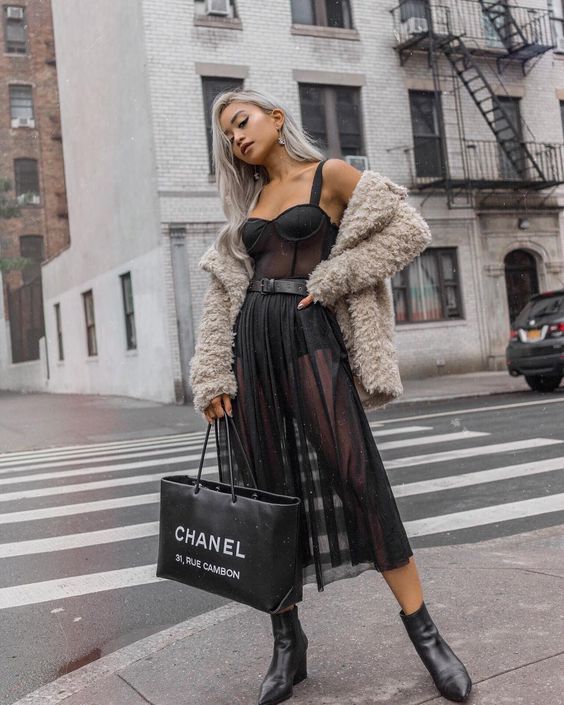 We know, for you that want to look trendy and sturdy in a dress, this style is gonna be in you! A black sheer dress would look chic in a grunge outfit style. For this, you can combine this dress with short pants underneath and then fix your style with army boots or leather ankle boots for shoes. Get a belt over the dress as an accessory and give you a more trendy look. You can wear this dress for a street walk, hang out, or night party outfits. Elevate your outfit performance with your bold makeup look and use fit hairstyles such as a two-braided hairdo, a high ponytail, or a natural wavy hairstyle. Furthermore, if you do go out during fall you can grab your faux fur jacket over this dress to make you feel comfy and stylish outside.
16. Style Your Blazer for Dress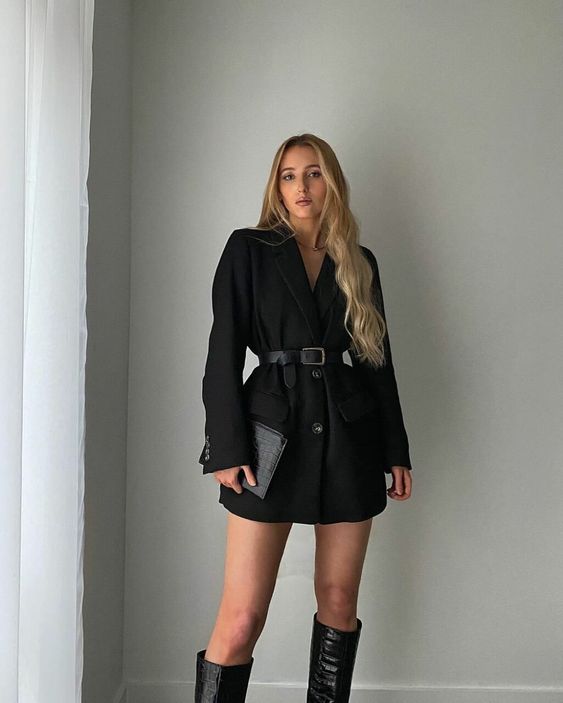 We have something that easy, simple, and versatile to wear, it's a blazer! You can do anything with this piece, from casual to formal looks, or for hangout or night party outfit ideas, you can achieve fashionable style. For inspiration, you can wear an oversized blazer as a dress that you get a belt over it and then pair it with over-knee-high boots. This combo is also good to attend some formal events like a dinner party, or a company night party. With this simple and chic night party outfit idea, you'll absolutely look elegant yet classy. To perfect your outfit performance, you can do a natural makeup look, a wavy hairstyle, and then get a clutch on your hand.
17. Keep It Chic with Latex Corset Top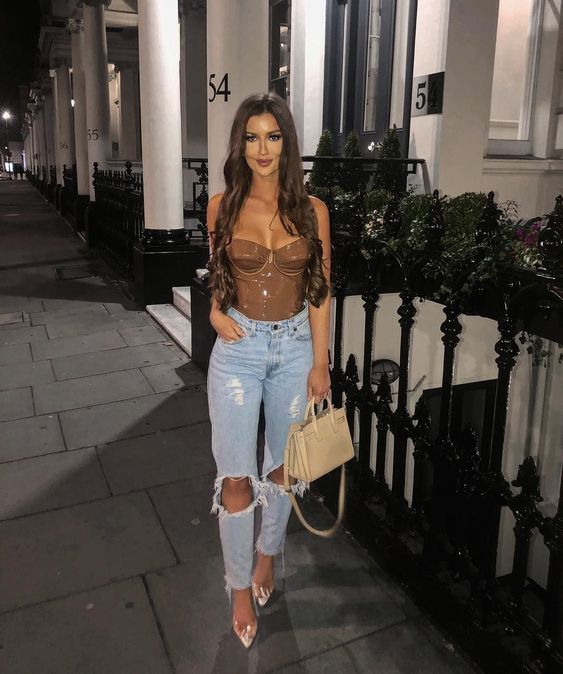 This sexy style is gonna hit you! Who said you can't look feminine in jeans? This one provides you with sexy, girly, and feminine styles even if you wear jeans. Just try to pair your ripped jeans with a latex corset for the top that looks fits with your body. You can were this combo as your simple and chic night party outfit idea. While you do a bold makeup look with nude lipstick and hooded eye makeup as the point. For the hair, you can do a half-up hairstyle with a bit of curly or just make it curly. For the toe, you can wear a pair of high heels, and don't forget to bring your favorite handbag to elevate your style.
18. Going Out with Scarf Top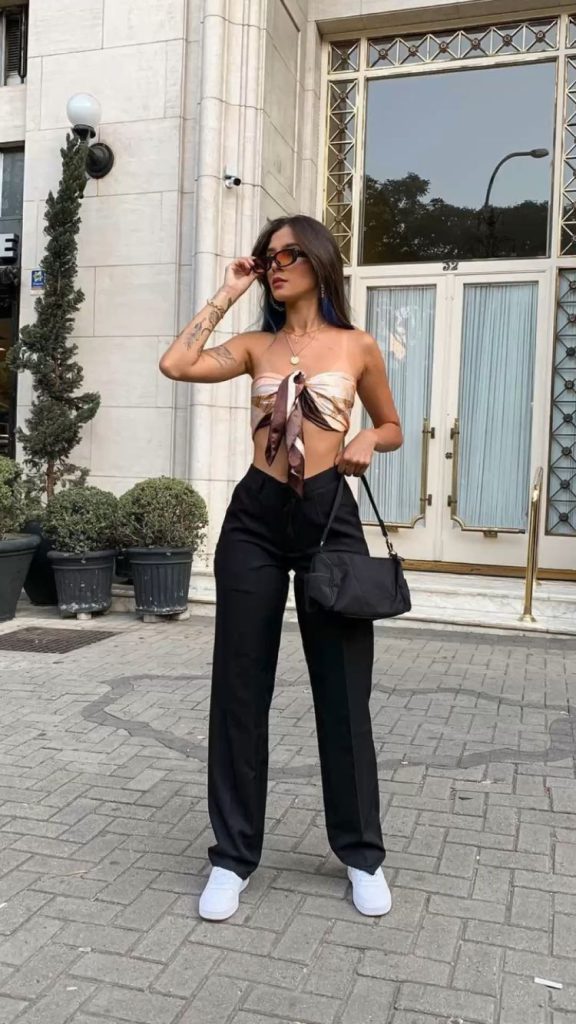 This style is perfect for summer night party outfit ideas. Besides, it looks simple, it's also chic for hangouts. A scarf top and pants are alternative outfits when you want something that feels different to wear for an event. You can dress it up so that it's appropriate for a walk, or match it up with other clothes in your wardrobe like using a long slit skirt to get a sexy night party outfit style. If you go with pants, you can use sneakers for the matching footwear. But if you go with a more feminine look, strappy high heels may complete your performance. Accessorizing is also important, so you can wear simple accessories like big hoop earrings and a gold necklace.
19. A Shirt Dress and Ankle Boots Combo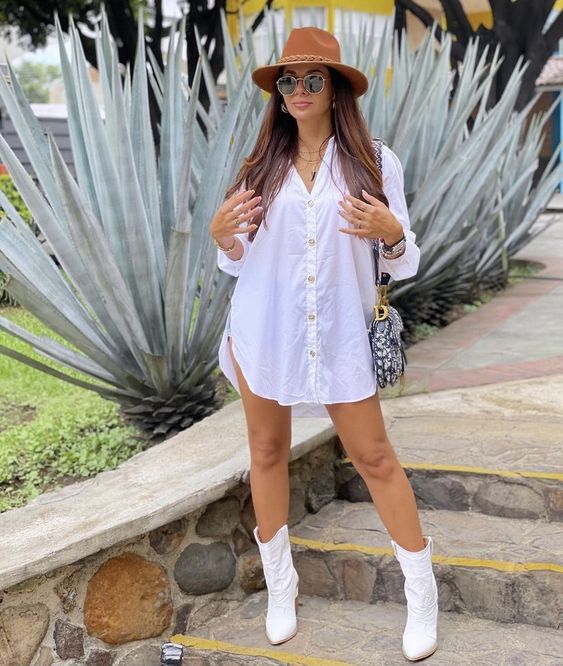 Other versatile pieces that you can bring to your night party outfit idea are oversized shirt dresses and knee-high boots. You'll never go wrong if put them together and go to a pub for hanging out and party. To make it look chicer and more stylish, you can add another detail like wearing a cowboy hat or fedora hat. Bringing out some bohemian accessories also could help to elevate your outfit performance. Then, when you want a little classy look you can choose a snakeskin bag in your hand to finalize the look.
20. Look Stunning in a Metallic Pleated Skirt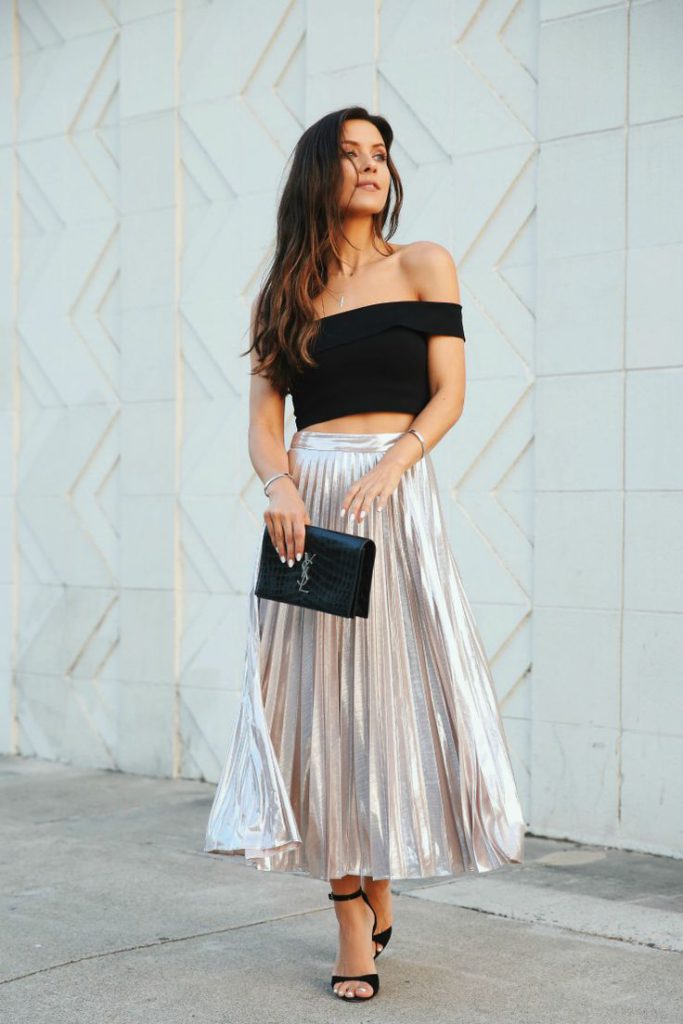 Get this combo if you want to get a simple elegant night party outfit. What you need here is only a metallic pleated skirt with an off-shoulder top. Then for the shoes, you can go with strappy high heels. You can bring this combo style either for formal or casual events. To make you look stunning, you can add simple jewelry like a thin necklace. Furthermore, a clutch, evening bag, or flap bag is the best bag to complete this look. Simply choose what you desire.
21. Styling up See Through Polka Dot Blouse for Night Party
Transparent and see-through clothes are a trend now. You can build your simple and chic night party outfit idea from that pieces. Like in the picture above, which styling up a see-through polka dot blouse and pants for a beachy night party style. You can choose a balloon sleeve and a collared blouse that give you a dramatic elegant vibe. To support the look, you can do a lower updo hairstyle, with minimalist makeup. Because the clothing is full of embellishments, you can skip wearing accessories and just choose a belt. For the shoes, pick strappy high heels and choose between a clutch or purse for the bag.
22. Sparkling with Sequin Mini Dress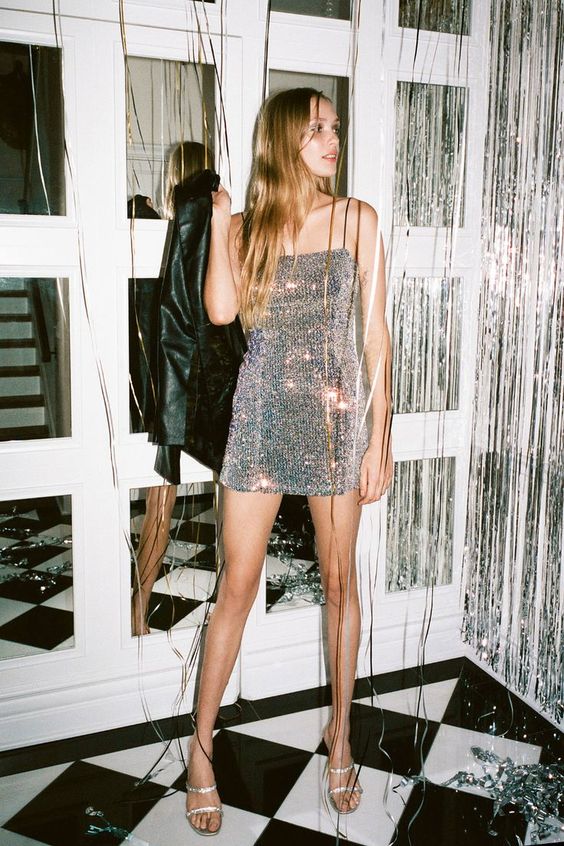 When you want absolutely simple and chic night party outfit ideas, a sequin dress may be a perfect match for this! This dress is also a timeless fashion that appears from 80's vintage looks to modern looks up until now. Simply, you can pick a spaghetti strap sequin mini dress, and a pair of silver high heels, then get a leather jacket for layering. This is quite enough to give you a gorgeous shiny party outfit to make you look stunning all night. Because of the sparkling from your dress, you don't need to wear any jewelry. Use simple makeup, do a straight or natural wavy hairstyle, then let your dress do the rest.
23. Spice Up Your High Waist Jeans with Cropped Sequin Top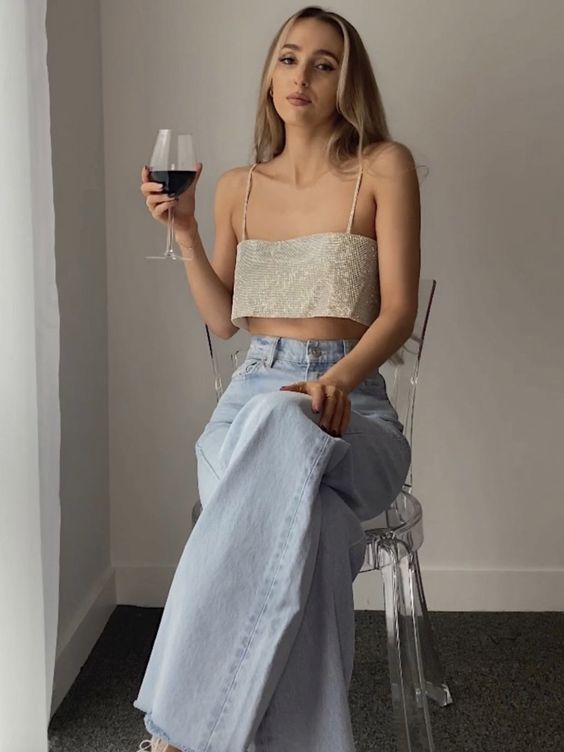 If you don't like the idea of the sparkling dress too much like the style before, you can make a statement with that. Like choosing a sequin cropped top rather than a sequin dress to spice up your simple and chic night party outfit idea. To make it look casual, you can also wear jeans for matching clothes. Then pick high-waist jeans with wide legs to give you the 80s fashion trend here. As for the shoes, you can wear high heels. This style would make you look chicer. Get a Minaudiere bag or shoulder bag to complete your outfit idea.
24. Fur Strapless Top and Jeans Style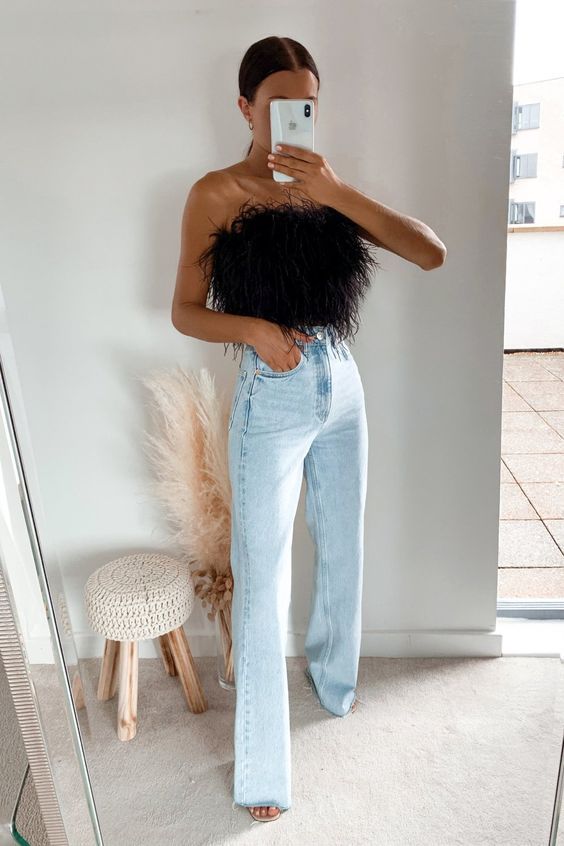 Mixing and matching outfits for a night party can be difficult. However, there is a lot of fun to be had here as well. You can also try something new and unusual, such as this one. Wear your strapless fur top with jeans. It appears to be cute, nice, and fun to try on, right? Something girly and feminine with a sexy touch at the top can look great with jeans. In order to level up your style, you can wear strappy high heels with this outfit idea. Also, do a tidy low ponytail with natural makeup inspired. Because it reveals more about your up body, especially your shoulder and neck, it would look better if you get accessories here like a stunning necklace and drop earrings. You can also complete this simple and chic night party outfit idea by getting a clutch in your hand as a bag.
That's all we have about simple and chic night party outfit ideas. After you read this article, we hope you'll get inspiration on what to wear for a night party outfit. Especially when you have to attend more events during the holiday. Make sure to choose outfits that make you feel comfy and confident. This is what would make you look stunning all night!