Olidfashion.com – What you wear is extremely important as each season passes. And now, it's time to get dressed up again for winter. You need to know some of the essential items that you need to put in your winter wardrobe. So, you can stay warm while also looking fashionable and stylish in the chilly weather. For the men's winter wardrobe essential list, you can opt for warm tops like turtlenecks, knitwear, sweater, or coat and jacket. While the lower style, you can choose thicker fabric for your winter pants. When it comes to dressing for seasonal style, you need to know must-have items to elevate your fashion this winter.
Some of us prefer to dress in outfits that are both comfortable and warm. However, some of us also want to look stylish and fashionable even in freezing weather. Don't worry guys! At this time, we'd like to assist you in discovering some important items that you must include in your men's winter wardrobe essentials to elevate your winter fashion. We have rounded 20 must-have items you need to boost up your outfit idea while the snow starts coming. Without further ado, let's get into the essentials down below!
1. Crewneck Sweater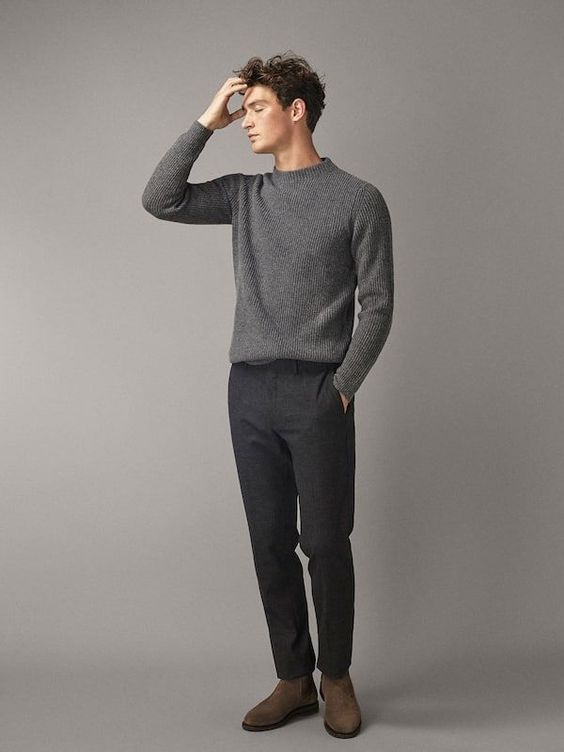 The timeless men's winter wardrobe essential must come with a crewneck sweater. This versatile top is just perfect for any winter outfit ideas. Besides, you can match this piece with any bottom style. Matching a crewneck sweater with jeans would give you a laid-back outfit style. Furthermore, you can layer this top with a jacket or coat.
2. Knitted Turtleneck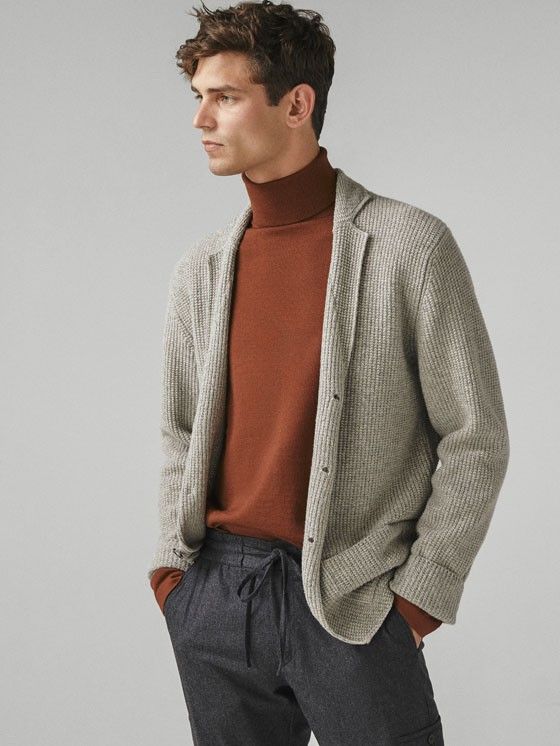 The next men's winter wardrobe essential that you need to shop for is the turtleneck. Same as the crewneck sweater, this piece can be mixed with anything in your closet. However, a turtleneck would give you a more formal appearance. You can wear it under your suits and make it your preppy workwear during winter.
3. Velvet Blazer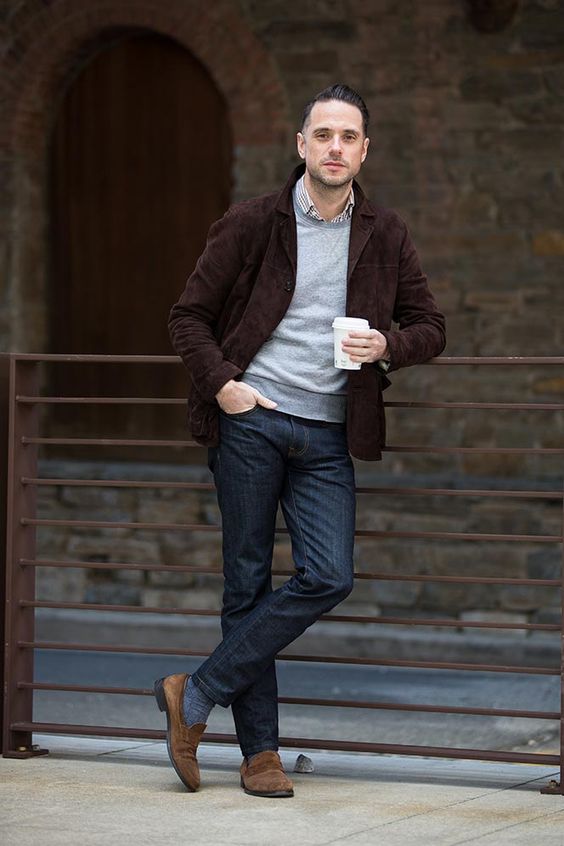 If you want to give a fashionable vintage style to your men's winter wardrobe essentials, a velvet blazer shouldn't miss out. This ensemble would elevate your winter look. You can put it together with jeans and a sweater to give a smart casual look. While having velvet suits is a great choice for a Christmas Eve party.
4. Shearling Jacket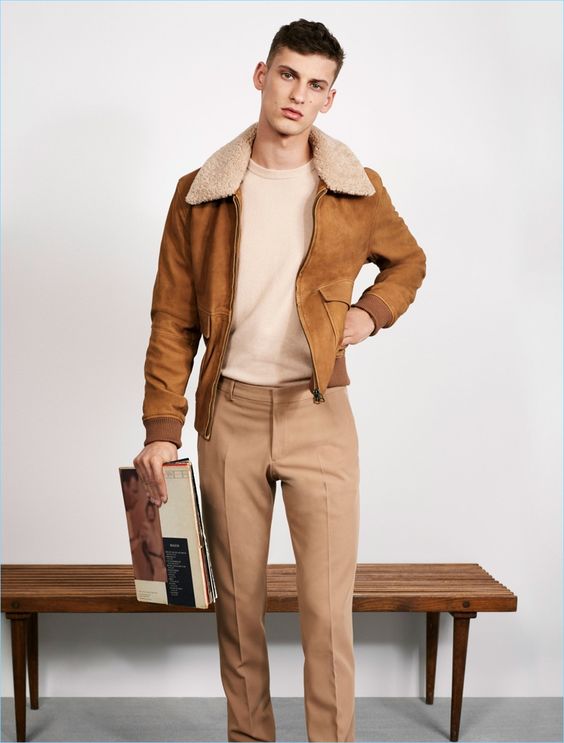 As you see that winter has harsh cold weather. That's why you need something that would make you feel warm and comfortable during this time. So, a shearling jacket should be always your men's winter wardrobe essential. but this jacket also makes you look stylish yet trendy. You can have a fashionable layered outfit idea when you bring this piece to your outfit.
5. Puffer Jacket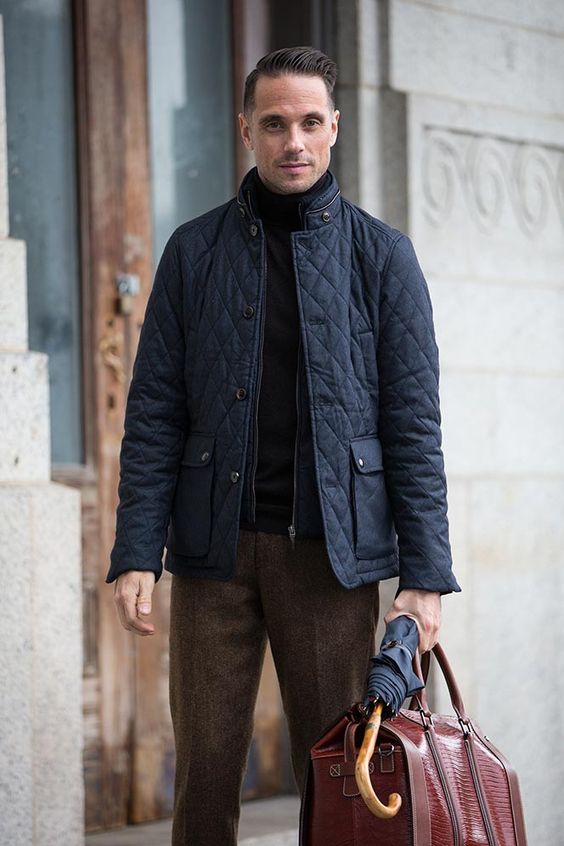 Puffer jackets are also an important piece when it comes to men's winter wardrobe essentials. Like a shearling jacket, a puffer jacket would also make you feel warm especially when you plan on activities outside. This jacket can make you feel warmer and can be brought in any outfit style from casual to formal. Creating a formal look by pairing this piece with a turtleneck and trousers. For the shoes, if the weather is not too cold you can wear loafers but when it gets colder, make sure to get your boots.
6. Wool Overcoat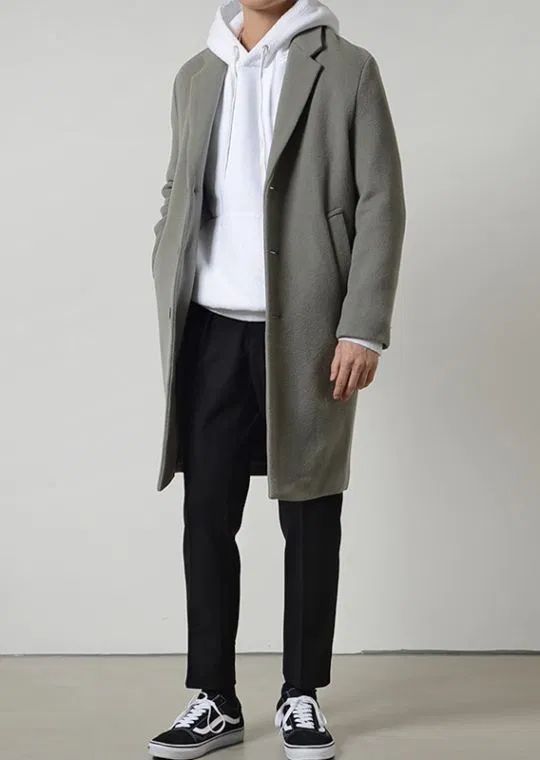 If you want to go outside when the temperature drops, take out a warm yet stylish wool overcoat for your outfit look. This men's winter wardrobe essential really helps to boost your appearance even in the colder weather. If you want a well-dressed look, it looks great to layering outfits with this overcoat. Besides, there are also available colors and lengths that you can choose, but overall this outwear has a length that hits around the knee. If you want to match up this coat with any clothes in your wardrobe, you better pick and select colors such as navy, grey, or camel. This piece of clothing would offer you a timeless and fashionable winter performance!
7. Leather Jacket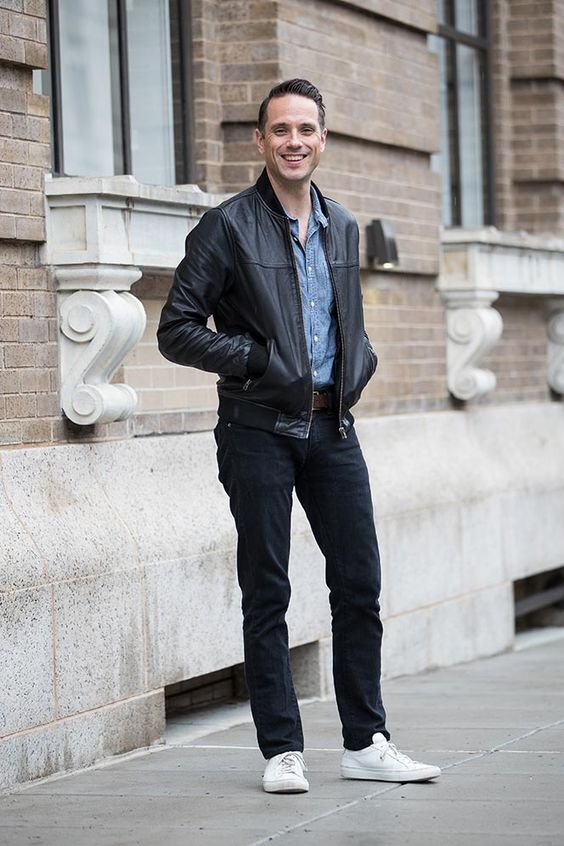 A leather jacket is one of the most versatile pieces you should put on men's winter wardrobe essentials. With this clothing, you'll get a fabulous and trendy look in any season even for winter. You can wear this leather jacket with almost anything. If the weather becomes colder, you can match up this jacket with knitwear and black jeans. To make this piece look cooler, play with denim shirts, denim pants, and sneakers or boots. However, you have to wear this look when the temperature got warmer. Or keep it casual with a basic t-shirt underneath.
8. Knitted Vest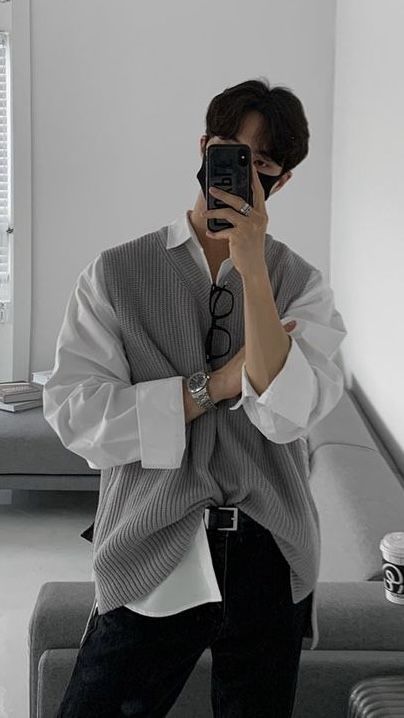 When we talk about men's winter wardrobe essentials, this knitted vest shouldn't be missed out. This item is an important piece for a layered outfit idea. You can use this for elevating your formal suits while making them comfier and warmer. In addition, for the early winter season, you can wear this vest as an alternative style when you wouldn't have a bulky style.
9. Cable Knitwear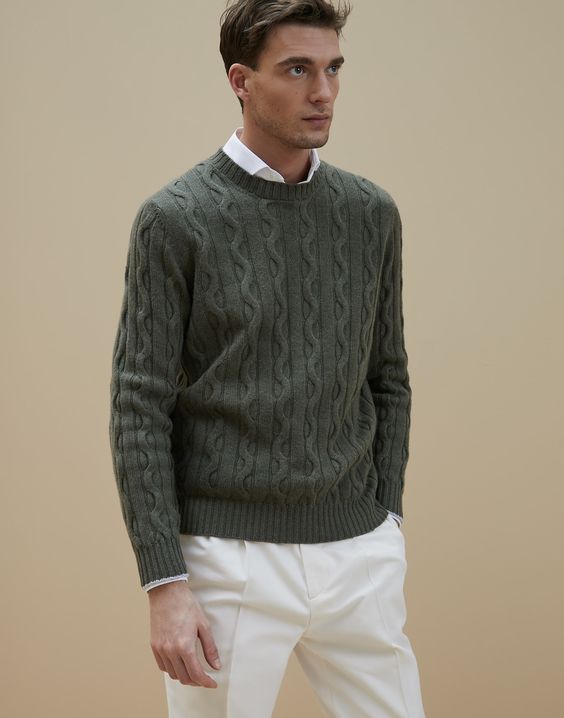 One of the traditional men's winter wardrobe essentials is cable knitted wear. This richly textured cable knitwear can reflect the winter season most. Everything would look better when you pair it with this piece. Also, there are various types of cable knitwear that you can select from. Oversized cable knitwear would make you feel warm and comfy. While if you are bored with a mere cable knit pattern, you can elevate your winter outfit idea with Versace cable knitwear.
10. Flannels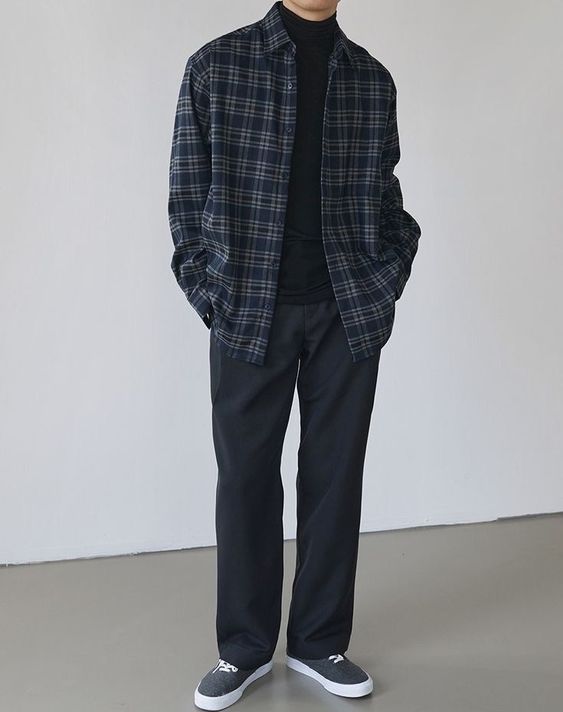 Flannel shirts are another casual layering style that every man's winter wardrobe should include. This piece will look great with a variety of outfits. Wear it with a simple t-shirt and jeans for a laid-back look. For a more cool and warm look, pair it with a turtleneck. Choose great colors such as navy, red, or even bottle green to elevate your winter look. To avoid looking like a logger, leave the buttons undone and pair them with something plain underneath. You can also wear this shirt to become your back-to-school outfit or college outfit idea. For a cozy trendy style, you can mix and match it with a turtleneck, and for the lower style, you can match it with black straight pants and sneakers.
11. Hoodie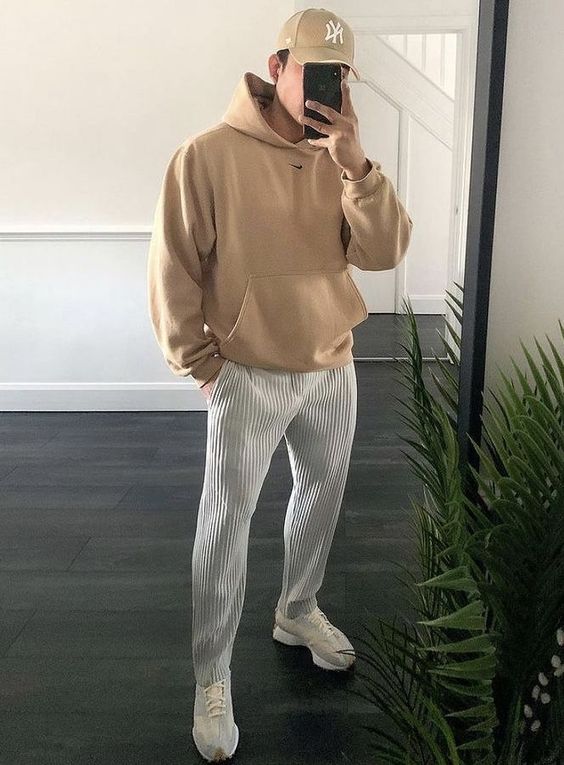 A hoodie is the next versatile ensemble that should be on every man's winter wardrobe essentials list. This type of timeless piece, which you can wear at any time and in any season, will provide you with a variety of trendy looks. As for a winter essential, wear this hoodie with sweatpants for a casual and sporty chic look. Not only that, but you can pair it with winter coats and jeans to create a stylish hooded blazer outfit.
12. Brown Suede Jacket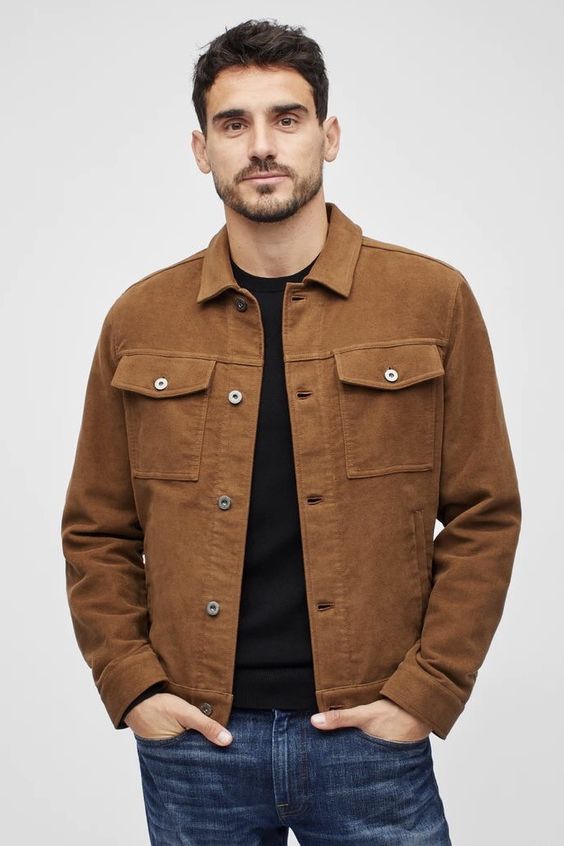 Brown suede jackets are great for trendy stylish outfit ideas. This piece is also versatile and you can wear it all season even during winter. Believe us, you have to put this brown suede jacket on your men's winter wardrobe essential list. It would help to level up your style during the cold season. This piece can be mixed and matched with other pieces underneath such as a basic t-shirt, a turtleneck, or a crewneck sweater for the top style. For the lower style, you can wear jeans, trousers, or corduroy pants.
13. Knitted Cardigan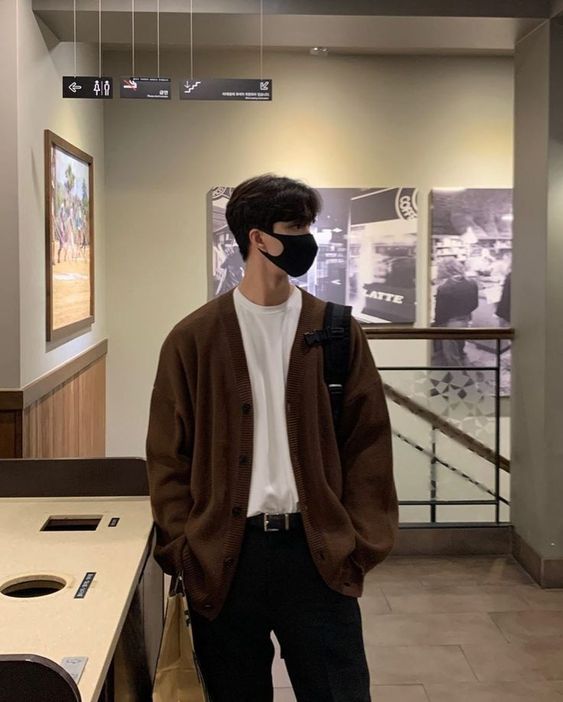 Another casual for men's winter wardrobe essential that you need to put on your list is a knitted cardigan. You can wear this cardigan when you want something that looks delicate and casual but feels warm for cold weather. This piece can also be mixed and matched with other outfits in your closet. When you want a cool casual style, pair a brown knitted cardigan with a white tee underneath, and get black trousers for the lower style. Furthermore, you can wear a cardigan for a smart casual style by matching it up with a button-up shirt.
14. Denim Pants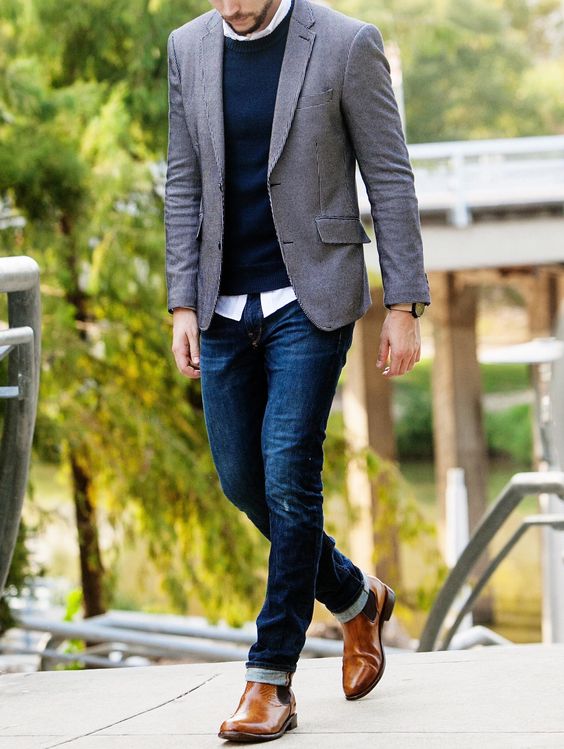 Denim and jeans are basic ensembles that every man should have. Even for men's winter wardrobe essentials, these versatile pieces look great on your outfit performance. Anything you want to show up in your outfit look, whether bohemian outfit, smart casual, or trendy style, rock these denim pants with ease. Pair it with cable knitwear and boots to look stylish on winter eve for hangout with your friends. Or wear it with a turtleneck, an overcoat, and ankle boots that give you a semi-formal appearance.
15. Corduroy Pants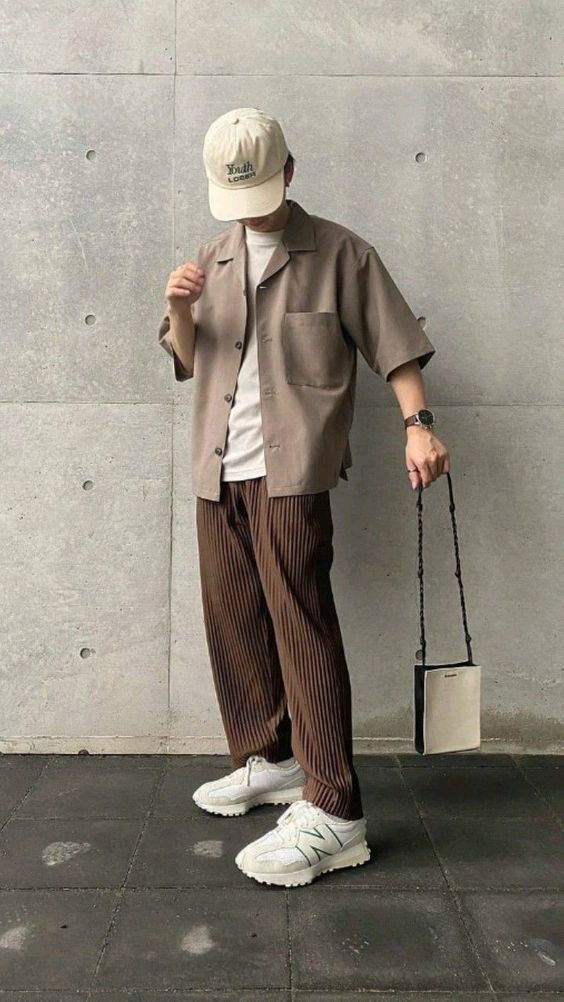 When you get bored with jeans or sweatpants, bring on corduroy pants on men's winter wardrobe essential list. The corduroy fabric is warm and it would be best for winter style. Because corduroy has various weights, so you can pick a thicker material for a more comfortable feel in sub-freezing temperatures. And for style, you can mix and match your top clothes such as a turtleneck, sweater, or flannel with these kinds of pants. Besides, corduroy pants also give a vintage and retro feel to your outfit performance.
16. Chinos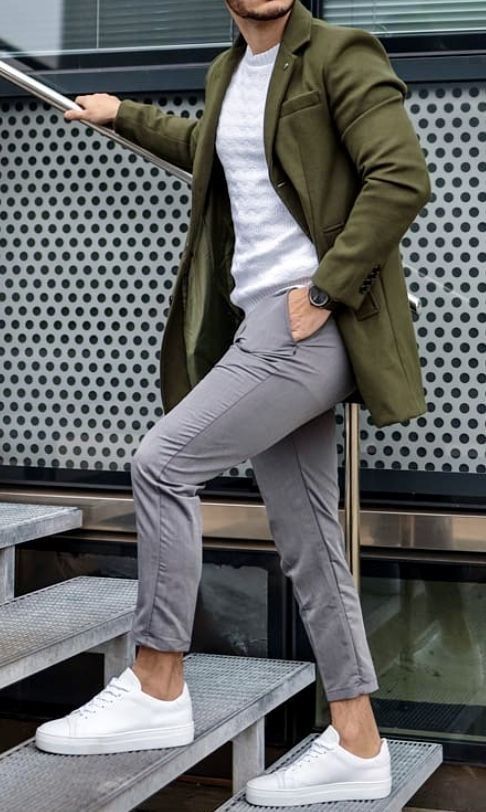 Chinos are the most versatile piece of clothing in your wardrobe, as they can be worn with almost any outfit. And for winter, chinos are slightly thicker to help you feel warm and comfortable in the colder temperature. One of the best points about chinos is they can effortlessly wear and match with any top and shoes. These are also alternative pants if you want a tailored look by matching them up with a collared shirt, knitted vest, and a long stylish coat then choose loafers that would elevate your preppy workwear. Besides, you can also get a cool outfit idea by matching up chinos with knitwear and bomber jackets while getting sneakers for the footwear.
17. Cargo Pants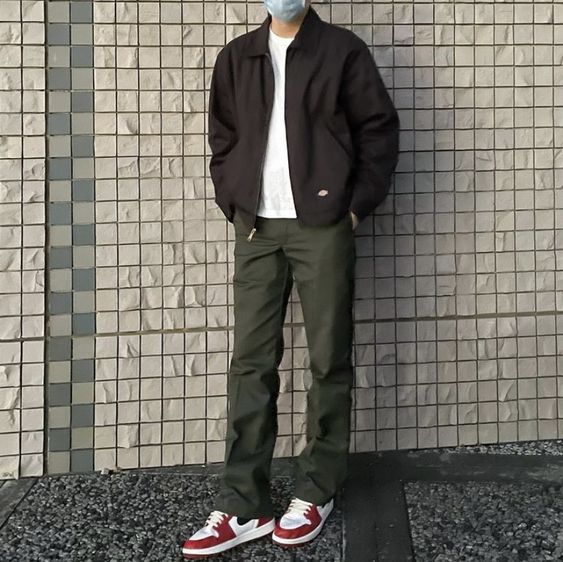 Another option that you should bring to your men's winter wardrobe essential list is cargo pants. Kind of casual pants for the workday but look sturdy and trendy. Not only rooted in function but also look cool and brings a 90's fashion trend to your outfit performance. You can pair these pants with the right top and shoes to elevate your winter look. For a tailored look, better you choose cargo pants where the pockets are flush against the pants. But mostly, this pant looks good in street style.
18. Suede Chelsea Boots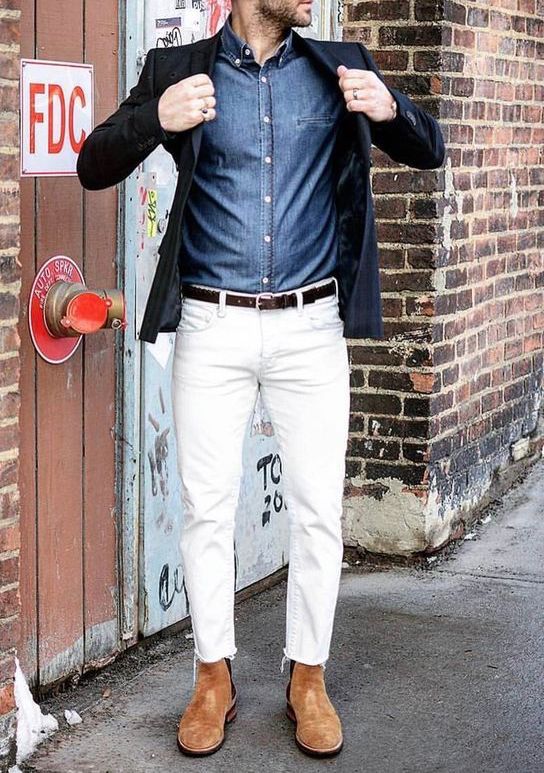 The ultimate men's winter wardrobe essential, especially for footwear are boots. And if you're looking for a boot that is stylish during winter, suede Chelsea boots are an excellent choice. They're versatile, comfortable footwear, and can also be dressed up with any outfit ideas from formal to a casual look. However, you have to apply a water-repellant spray to your boots if you want a waterproof style. Overall, these boots are a great winter option that can be dressed up depending on your needs.
19. Combat Boots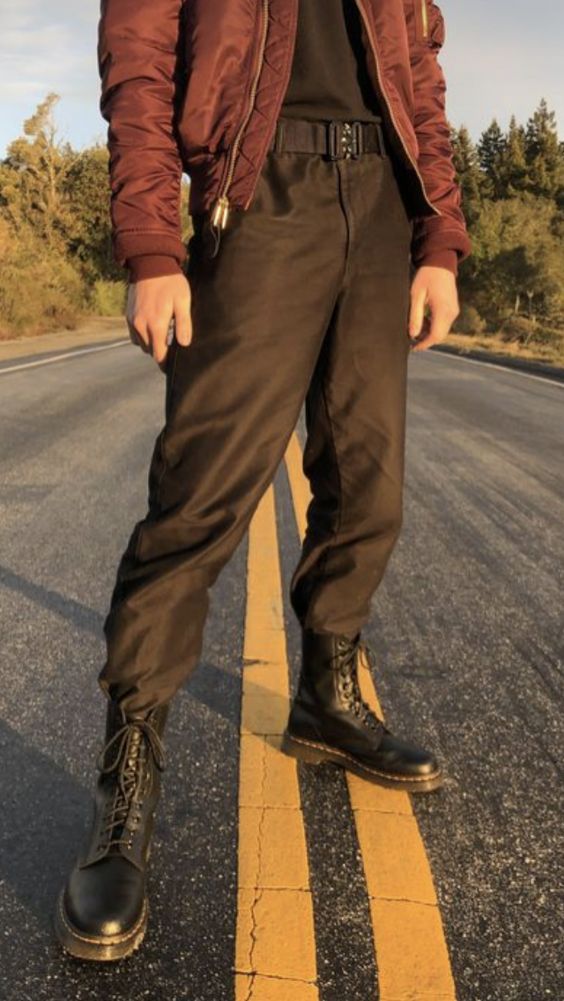 It's difficult to imagine going through the winter without a pair of boots. When you want something a bit bulkier and warmer footwear for the harsh winter, we like to go with combat boots. Besides, with this pair of boots, you'll look trendy, sturdy, and cool at the same time. Military boots are the origin of combat boots, with laces, thick soles, and higher shafts all functional features designed to protect soldiers' feet that also provide appropriate traction on icy surfaces. However, recently these boots continuously show up on runways or street styles. And you can put it on your appropriate list for men's winter wardrobe essentials.
20. Beanie Hat and Scarf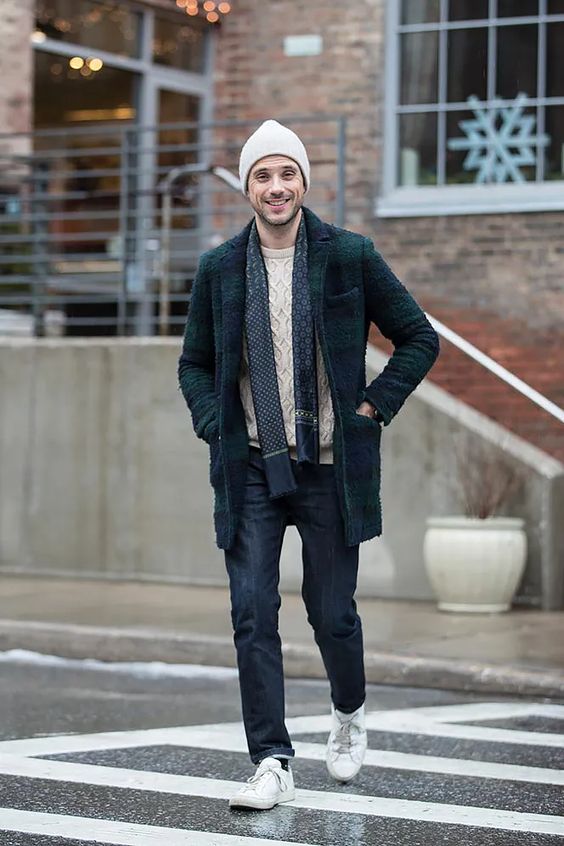 A scarf and beanie hat are the next men's winter wardrobe essentials. If you need accessories to dress up your winter look, a scarf and a beanie hat are ideal. These accessories items are a stylish and masculine way to finish off your winter outfits. You can wrap a scarf around your neck or let it just hang loose. Besides, there are also many scarf materials like cashmere, wool, or silk. Not only make your appearance looks fashionable, but it can also add more warmth to your outfit. Beanie hats are usually made from warmer fabrics such as wool, cashmere, and other sturdy cotton. It's difficult to beat the warmth and comfort of these hats. Furthermore, beanies can be worn in a variety of styles. Use the top lump, the back lump, or none at all.
Recently, trend fashion outfits have opted for a comfortable feature. People like to mix casual looks with semi-formal attire for daily outfits. And there's no doubt that comfortable outfits will elevate your fashion look this winter! Choosing men's winter wardrobe essentials is necessary for keeping you feeling comfortable and looking stylish. That is why we have compiled a list of 20 must-have items for your winter wardrobe!