Olidfashion.com – Taylor Swift, the famous American pop singer, never fails to catch our attention with her wonderful fashion sense. Beginning with her incredible collection of casual styles, sporty chic looks, mixing leather outfits to create a classy look, to the most elegant girly look in a floral dress, they are all stunning! So, at this moment we'll show you how to pick and mix outfits that will turn out to be the best Taylor Swift outfit style for daily looks.
Taylor Swift has worn a variety of fashion styles throughout her music career. Her iconic fashion for her first appearance is country-girl and rock-n-roll style, with curly hair and cowboy boots. After a few years, she changes her appearance by adding bangs, red lipstick, and replacing her cowboy boots with high heels. Even if you don't take direct inspiration from Taylor Swift's outfit styles, you can use them as a fashion muse to guide your daily look.
Taylor Swift has a wide range of fashion styles that we can incorporate into our wardrobes. She is frequently seen wearing amazing outfits wherever she goes, whether it's for a chill-out in a coffee shop, a romantic dinner date outfit, a fabulous red carpet look, or her music concert costume. They're all fantastic! We can't deny that her fashion sense is one of the most eye-catching. Here are the best 15 Taylor Swift outfit style looks for you to try on!
1. Business Casual with Pinstripe Suits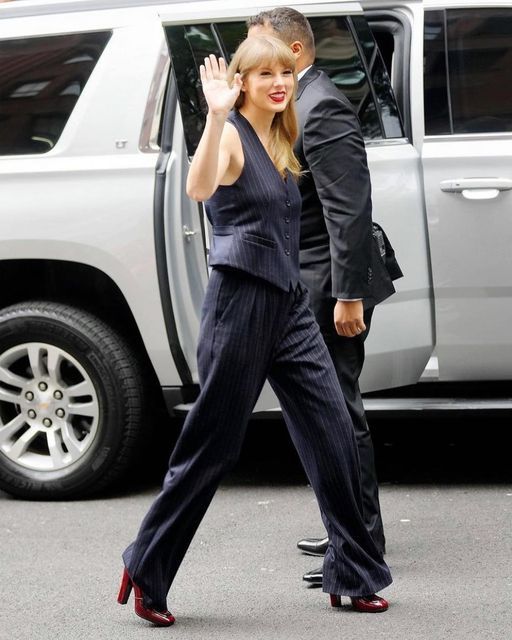 For the first look, we have a business casual style. Here, Taylor Swift uses pinstripe suits including a vest and trousers that pair with maroon platform heels. This look is simple to achieve and does not require much effort to appear dignified and elegant like a 'boss.' One point plus of wearing this Taylor Swift outfit style is that it makes you feel comfortable. This ensemble can be used as a work outfit idea, attending formal events, or as your business trip style.
2. Get Point with Chic Blue High Heels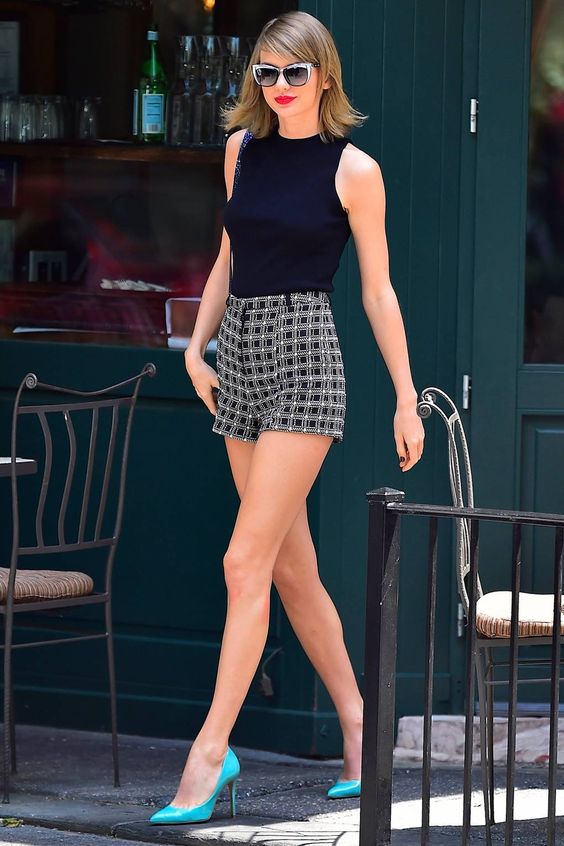 Taylor Swift never fails to amaze her fans with her looks and fashion style. Even if she is dressed casually, it just looks perfect on her. One of the simple casual looks to copy on your daily style is by mixing up a sleeveless top with high-waist shorts. As seen in the image above, she can change an ordinary outfit to become outstanding by pointing at her high heels as the main show. She wore bright blue pump heels, which enhanced the beauty of her legs. So, you can play with your footwear here and wear anything you want. This Taylor Swift outfit style is easy to recreate and a good style for summer outfit ideas.
3. Cute in Mini Dress and Cardigan Style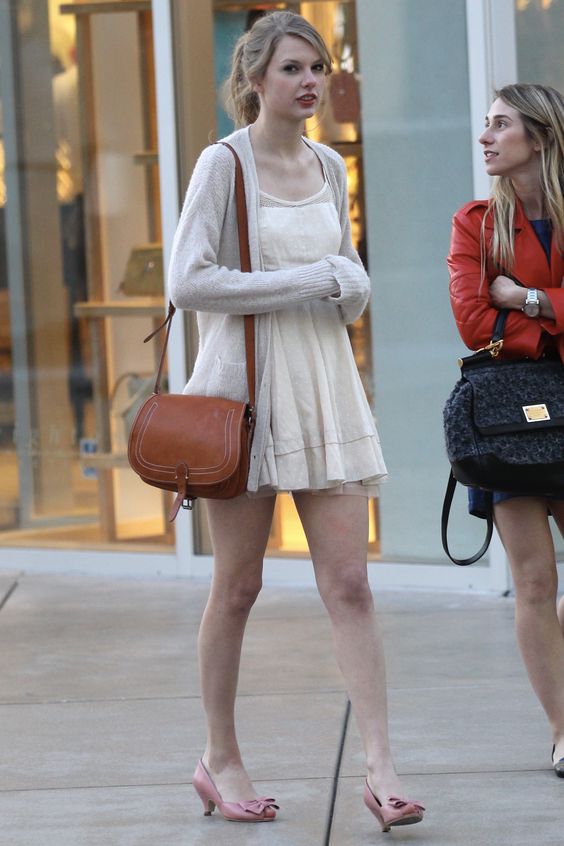 Taylor Swift's outfit style inspired this look, combining a simple mini dress and cardigan. We think it is a great style to become your casual cute outfit look for daily rotation. We can copy this fashion look to become your cute college or back-to-school outfit idea. For the full look, she wore a plain white mini dress, the same color cardigan, and a pair of lovely pink short heels. If you want something that is more comfortable and chic, you can bring out sneakers for the footwear. Furthermore, get a sling bag to complete your outfit performance.
4. Sexy Elegant with Long Slit Maxy Skirt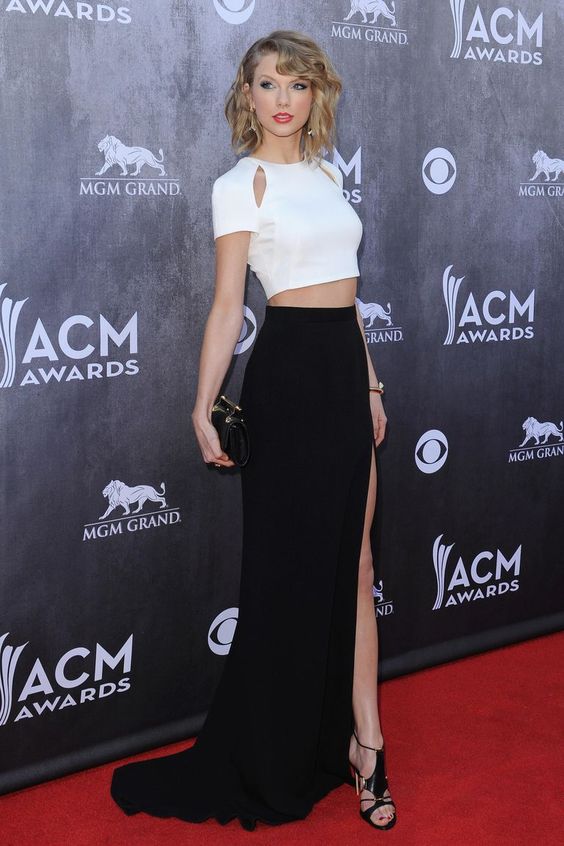 Her outfit style slayed us yet again! Oh my goodness, she looks stunning in her red carpet-style! We can list the fashion items she is wearing in the image above as your inspiration to copy. She is dressed in a cropped short sleeve top and a black long-slit skirt. You can pair this elegant dress with a pair of strappy high heels and bring your evening bag for a stunning dinner outfit. You can add accessories with drop earrings and a big gold bracelet. Also, support this Taylor Swift outfit style with your makeup that's pointed in your bold eye makeup and red lipstick.
5. Flower Dress for Spring Style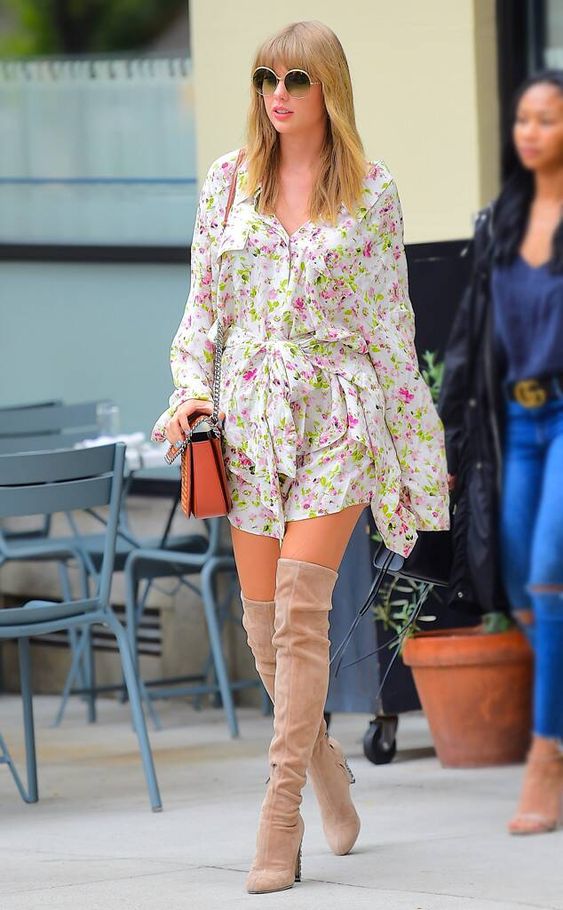 We can copy this Taylor Swift's outfit style to look feminine and girly during springtime. A long-sleeved floral dress that mixes up with over-knee suede boots would level up your street style. To emphasize the dress, get a belt over it that's showing a chic elegant look. Another thing that you can add to this look like sunglasses and a pair of chic hoop earrings as fashionable accessories items. To finish out your simple spring outfit style, you can bring a leather sling bag.
6. Glamour Use Silver Dress and Tigh High Boots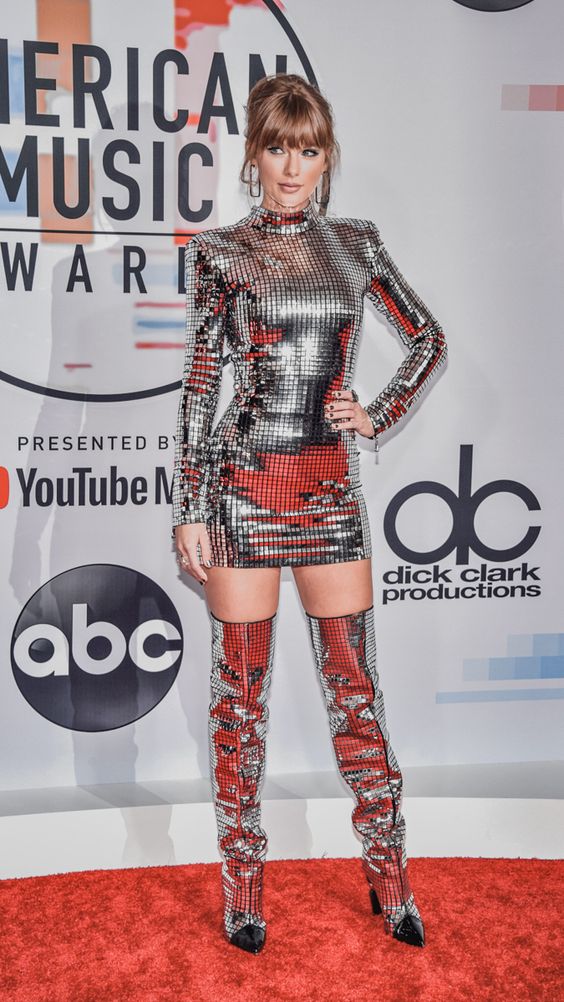 This glamorous look was inspired by Taylor Swift's outfit style in her song "mirrorball." Use this look as a night party outfit idea that will have you shining and shimmering all night long. To elevate your glamour mini dress, pair this style with platform shoes or high-knee boots. On the other hand, if you want to show off your legs more, simply stand in your silver high heels. To perfect the style, you can support it with your hairstyle and makeup. Don't forget to add accessories to your look, but don't overdo it. If you want to bring a bag, you can choose between a clutch and an evening bag.
7. Get Ready with Mini Skirt and Fishnet Stocking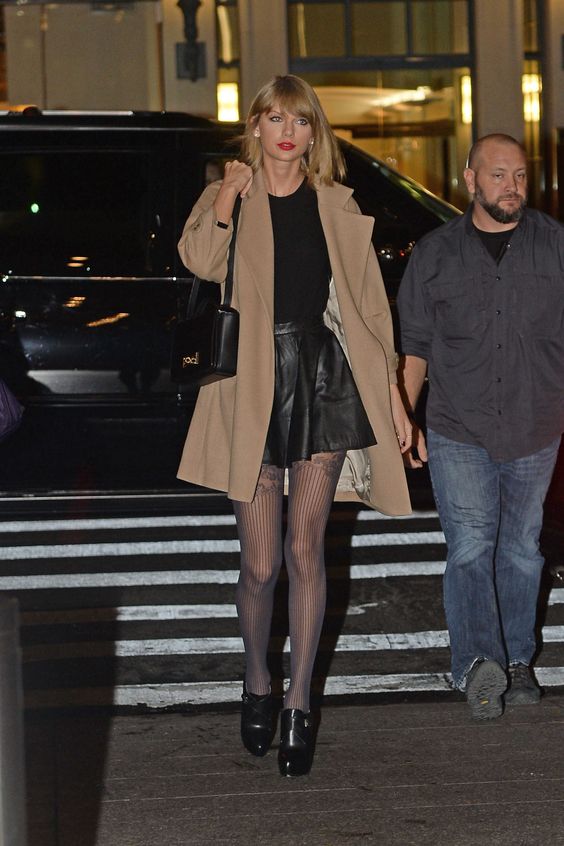 We can't deny that she looks awesome in a mini skirt and fishnet stockings combo. We can list the fashion look she is wearing in the above to copy into our wardrobe. She creates a layered outfit idea with a black basic t-shirt and camel coat for the upper look, and a black leather mini skirt and fishnet stockings underneath for the lower look. You can make changes to the shoes you choose if you so desire. You can choose ankle boots, Mary Jane shoes, flat loafers, or even army boots to make yourself appear tough. Make this Taylor Swift outfit inspiration cooler by adding some accessories to your trendy look. Isn't she looking great in this outfit? Would you like to wear it on a daily basis?
8. Elegant with White Backless Dress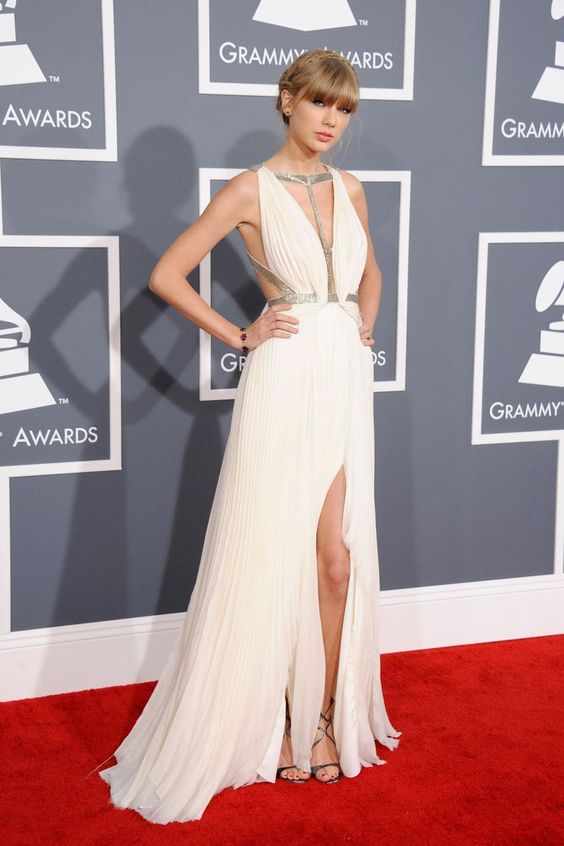 With this stunning white dress, she is rocking on the red carpet! We love this Taylor Swift outfit style as inspiration for an evening formal party or dinner. She is wearing a backless white dress with a deep v-neckline and flowy skirt that make her look elegant and damn beautiful. That look makes us want to copy and try it as a prom night dress. You can level up this gown by wearing accessories and strappy high heels, then bring a clutch or evening bag to carry your belongings. Besides, you can support your outfits with makeup and hairstyle.
9. Trendy Style Use Leather Jacket and Ripped Jeans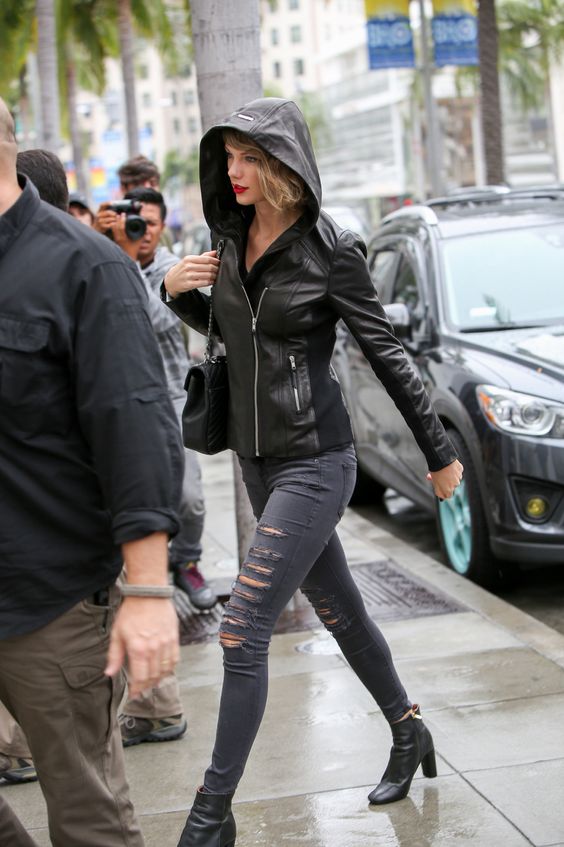 If you don't know what to wear, we can peek at celebrity and pop star fashion. At this point, we have Taylor Swift's outfit style, which is trendy and cool. Furthermore, the outfit idea is simple to imitate. This is a trendy style that appears timeless and can be worn by people of all ages. Yups a leather jacket and ripped jeans combination! What do you think? It's simple and easy, isn't it? Furthermore, you can pair this outfit with any type of trendy shoe, such as ankle boots, lace-up boots, sneakers, platforms, and more. You can wear this outfit idea as your biker style, street style, or hang out with friends.
10. Short Overall and Fur Coat for Midnight Afterparty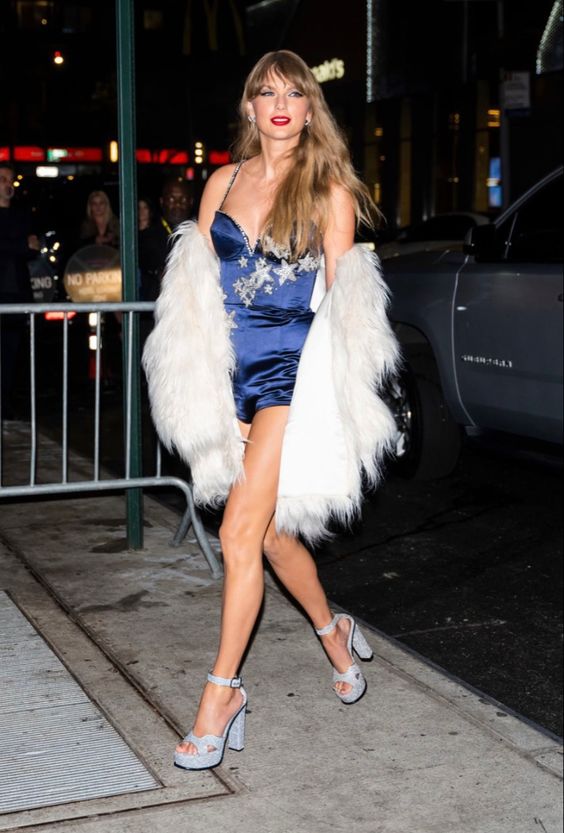 Do you have trouble matching your clothes when you go out on a night out or a party with friends? If that's the case, we can try Taylor Swift's outfit style. She looks great in a blue silk short overall and a white faux fur coat. It makes her look more gorgeous and sexy. We can also copy her look by wearing silver platform heels with silver jewelry as a complement. Looking stylish with bold makeup and a natural wavy hairstyle, a must-try when out with friends at a night party or clubbing!
11. Profesional Coat Idea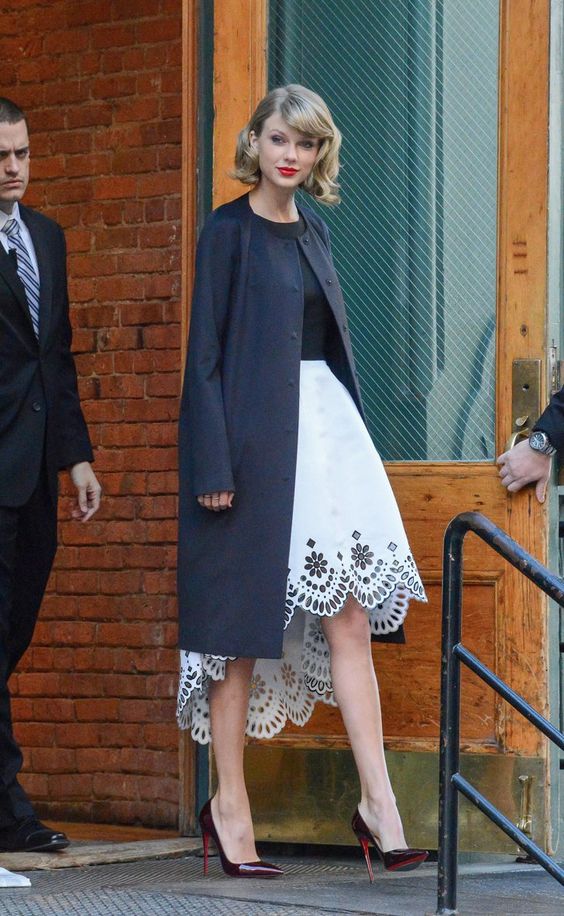 Taylor Swift appears to be a mature and prestigious woman in this fashion style. She's dressed in a high-low dress that's layered with a long coat. Besides, she also pairs this outfit style with marron stilettos. If you want to dress up for formal occasions, this Taylor Swift outfit style would look great to try on. When you also want to elevate it with a bit retro look, add a beret hat as an accessory. For the bag, choose between a handbag, an evening bag, or a clutch. With this, you will catch people's attention.
12. Rock N Roll Style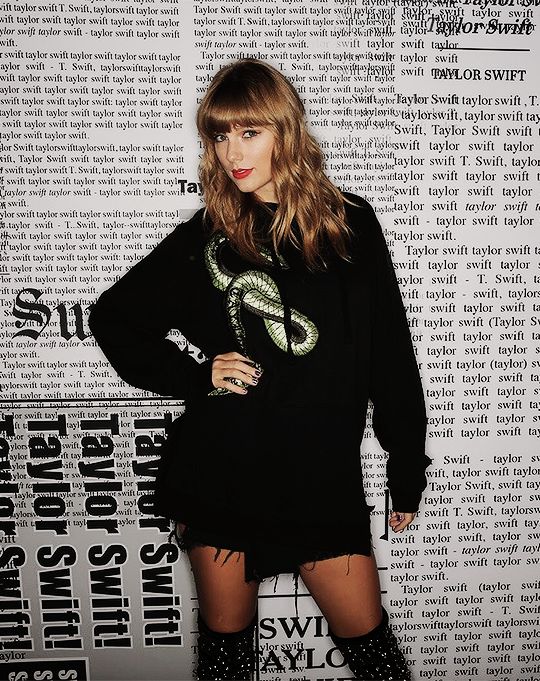 She slayed us with her rock 'n' roll style, which we adore! We love how she wore an oversized outfit with a cropped denim skirt and of course knee high boots. You can copy this Taylor Swift outfit style by wearing a black oversized graphic jumper/sweater for the upper and get a black denim skirt for the lower style. Then, you can balance this look with black knee-high boots that adorn with sequin to have a more glamorous style. For the accessories, you can skip them or bring some metallic jewelry. Overall, you'll look damn cool!
13. Simple Elegant Look in Flower Midi Skirt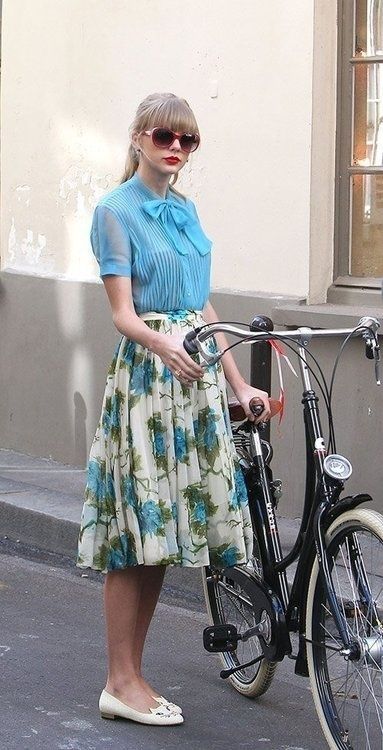 As you can see, she looks lovely even only wearing a simple dress, right? We know in this Taylor Swift outfit style, she looks elegant and mature. When you want to copy this celebrity style, just mix and match your outfits which include a see-through blue blouse with a floral pleated midi dress. For the shoes, if you want comfy but chic footwear you can choose flat shoes. However, if you want to look a bit more elegant you can wear short heels. You can use this fashion style to walk around the city, go on a picnic, or use it as a pretty first date outfit idea.
14. Sporty Style Idea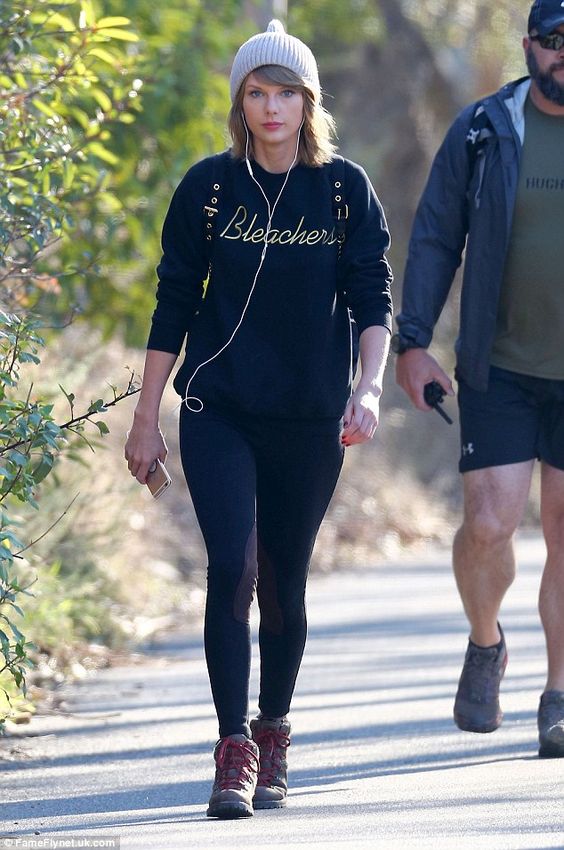 Are you looking for a comfy sporty chic style to elevate your daily wardrobe? We'd love to give you this leisurely look to brighten your day! This Taylor Swift outfit style appears comfortable for jogging or as a laid-back outfit. If you want to copy this styling fashion, you can be dressed up in a navy sweater with black leggings or tights and lace-up trainers for the shoes in the photo above. Put together a cozy sporty look in the same color that looks striking, simple, and chic. You can also wear a beanie hat, which makes her look cute, and carries your belongings in a backpack.
15. Vintage Outfit Style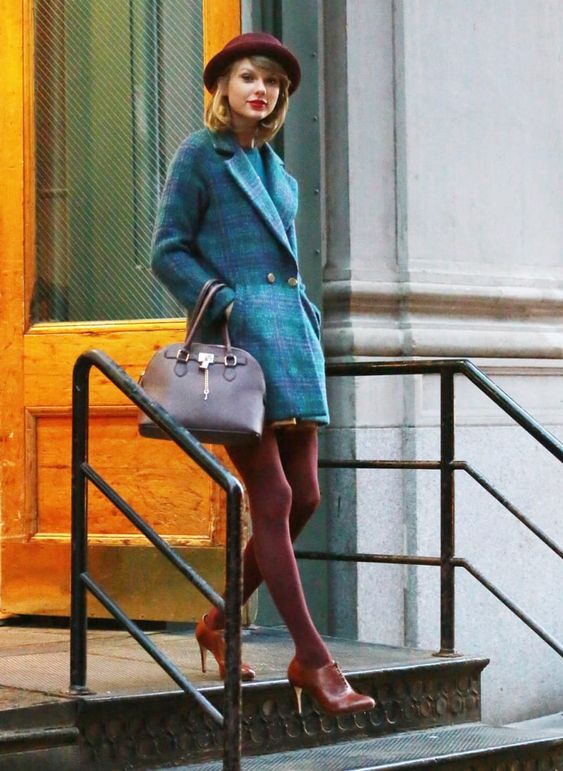 This is one of our favorite Taylor Swift outfit styles! If you are seeking a simple fall outfit style, we'll love to give you this look for inspiration. Besides, this classic vintage outfit style is easy to recreate. What you need to do is just wear red thermal tights, a green plaid coat with a green crewneck sweater, and a tennis skirt underneath. You can finish off the look with a red fedora hat for a head accessory, clog heels for the footwear, and a black brown handbag for the bag. Moreover, when you put a little bold makeup with red lipstick and a blonde bob hairstyle, this would give you iconic Taylor's style for Halloween costume ideas.
That's all we have about the best 15 Taylor Swift outfit styles to try on. Taylor Swift, an American pop singer, has shown us a lot of outfit style inspiration that will help to improve our daily wardrobe. We can copy her style from feminine, elegant, and trendy, to a sporty look. In any case, we can wear whatever outfit we want. One important thing about having a great fashion style is feeling confident in every step we take. We hope this article has helped you find the perfect outfit for your look, and please let me know which Taylor Swift outfit style you believe defines yours!