Olidfashion.com – Thanksgiving is here! It's finally time to sit down with your family and enjoy pumpkin pie, mashed potatoes, and all of the other delicious Turkey Day fare. Whether you're hosting a small gathering or a large feast, Thanksgiving dinner is the perfect time to show off your fall outfit style. Also, we're sure you've already gone through your wardrobe to get the perfect Thanksgiving outfit looks. For this purpose, you can pull out all of your favorite fall fashions like flannel, sweater, knitted dress, and more fashionable outfits for women to do so.
Whatever your Thanksgiving plans this year, the most important thing to think about is what you'll wear. Ideal outfit ideas for fun family gatherings during chilly weather can come from your fall wardrobe essentials. Make sure you wear something that leaves you feeling comfortable yet stylish for Thanksgiving outfit looks. Whether it's you attend a formal gathering with your family, or a casual Thanksgiving dinner with friends, I think you want to look your best. You can go for a full semi-casual look with a blazer and fancy dress, or keep things simple with jeans and a sweater. Take inspiration from the 18 Thanksgiving outfit looks listed below to help you get ready!
1. Casual in Jeans and Jacket Style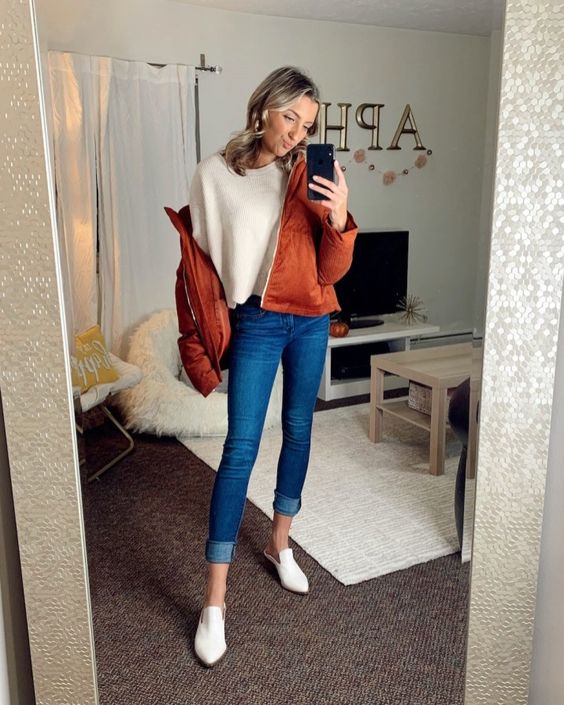 For the first Thanksgiving outfit look, we have a casual style with the basic outfit you can wear during fall. If you want something that is effortless, simple and doesn't need much time for preparation, try to mix a sweater/turtleneck, a shearling jacket, and skinny jeans. For footwear, you can pair this outfit with white ankle boots. This look would be perfect for a casual dinner with your friends, and family, or going to hang out on holiday.
2. Look Cute with Mini Skirt Outfit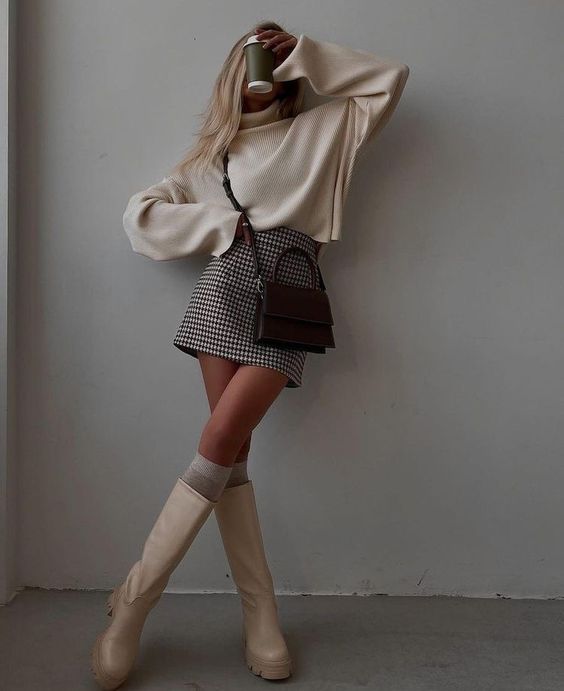 Next, we have a cute outfit idea, especially for a teenager to become her Thanksgiving outfit look. We adore this modest mini-skirt dress that you elevate with a big turtleneck sweater and knee-high boots for a complementary look. Furthermore, you can still bring other details like fashion accessories and then get matching bags to make you seem more fashionable. You can wear it to hang out with your friends in a coffee shop, or just walk down the street before Thanksgiving dinner with your family.
3. Chic in Ripped Jeans and Brown Sweater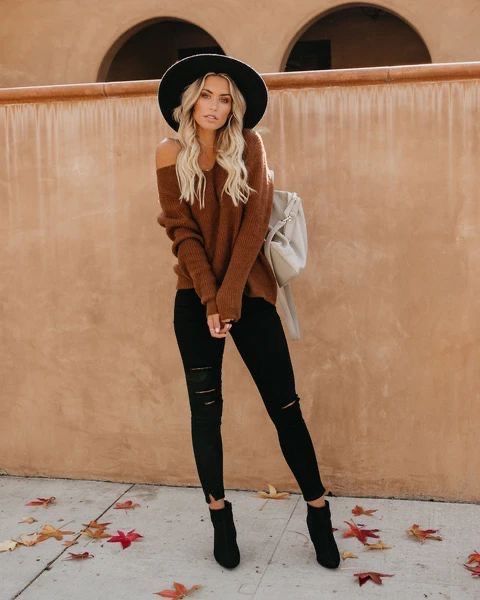 Another stylish Thanksgiving outfit look that will make you look cooler and more fashionable at family dinners and friend gatherings, is this ripped jeans and a brown sweater style. Especially when you add accessories items such as a fedora hat, it would boost your appearance look chicer. For the final look, simply pair this outfit with ankle boots for shoes and a backpack to carry your belongings, and you'll be ready for Thanksgiving.
4. Get Ready with Bohemian Dress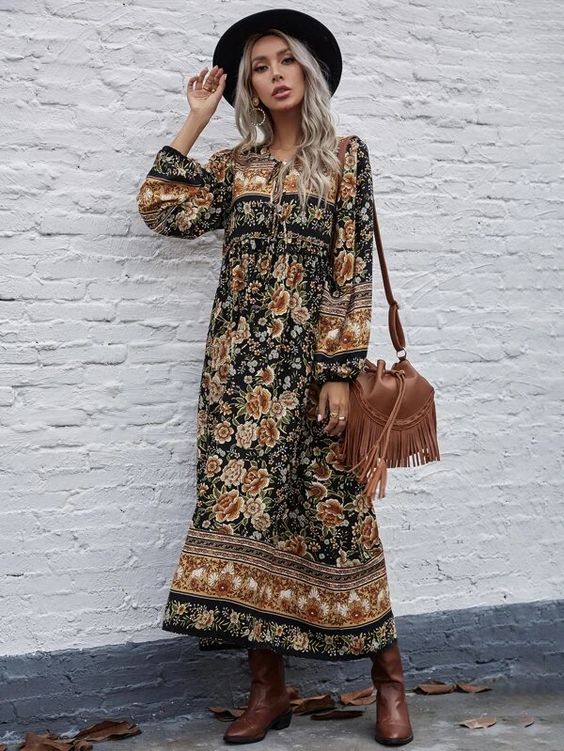 Consider showing your Thanksgiving outfit look in a Boho chic style. For this, you have many options but a simple one is wearing a bohemian dress. Like this one, what you need to do is just style a floral maxi dress that's typical of the bohemian pattern. You can level up your outfit performance with bohemian accessories such as getting a cowboy hat, stunning big hoop earrings, and more. Then, for the shoes, you can pick a pair of leather ankle boots. Complete your Thanksgiving outfit look with a leather sling bag with tassel adornments.
5. Overall and Turtleneck for The Perfect Combo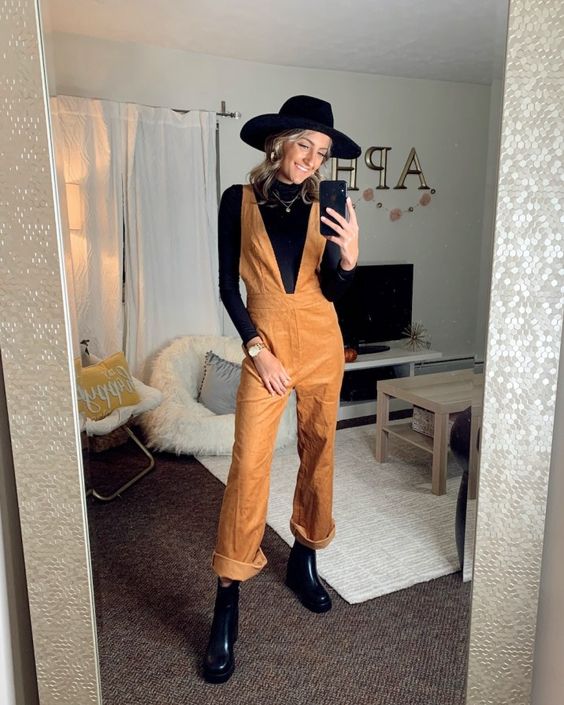 To prepare for Thanksgiving dinner and the holiday, you can play with anything in your closet for a fashionable look. Similarly, this overall and turtleneck ensemble. We love how this matching look allows you to dress up in a chic and effortless manner. And ladies, if you are bored with the common outfit style, you can wear a fedora hat and other fashion accessories to level up your appearance. Then, to finish out your Thanksgiving outfit style, put on your ankle boots as your matching footwear.
7. Elegant Outfit Idea with Midi Skirt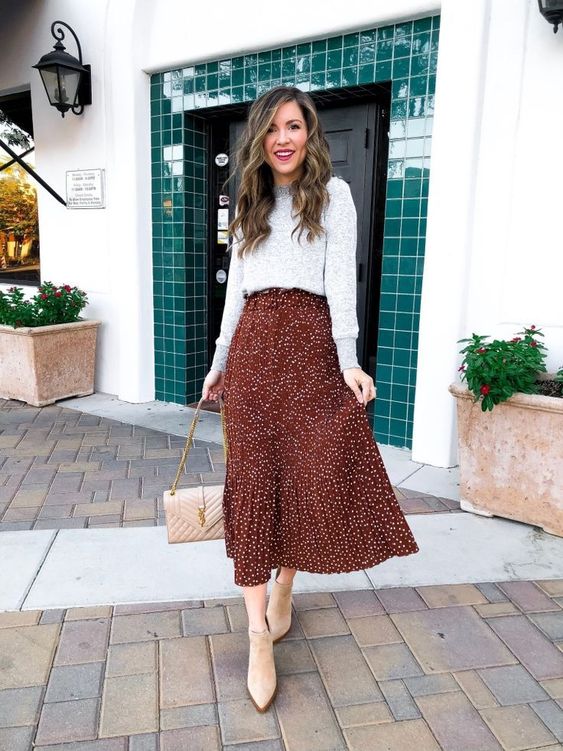 We have an elegant Thanksgiving outfit look that will impress everyone at dinner. At this time, we present a casual chic outfit that will make you appear feminine yet laid back. Tuck on a turtleneck or sweater with a flowy midi skirt. Spice up your look with a pair of suede ankle boots and get your favorite shoulder bag. We believe that this can be your last-minute style while still looking adorable.
8. Feel Comfortable with a Scarf Cape Style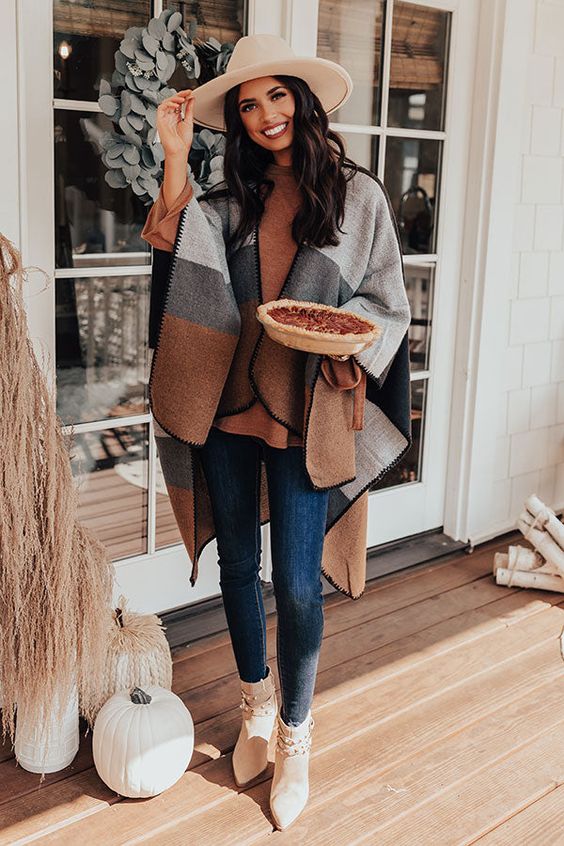 Fall has its own unique fashion aesthetic. Similarly, Thanksgiving outfit looks are mostly inspired by fall outfit ideas. Because you're dealing with a transitional season that makes you feel both cold and warm in the short term, make sure you're wearing something that can help you with that. For such an outfit, consider using a scarf as a cape to keep you warm. You can try to mix and match your outfit from a basic style like wearing a sweater and jeans then layering up with a blanket scarf as a cape. To enhance your Thanksgiving outfit style, simply add suede ankle boots or knee-high boots. Not only that, give some accessories items like a belt over the scarf, a fedora hat, and some chic fashion accessories that would also boost your performance.
9. Get a Shirt Dress and Knee Boots to Look Chic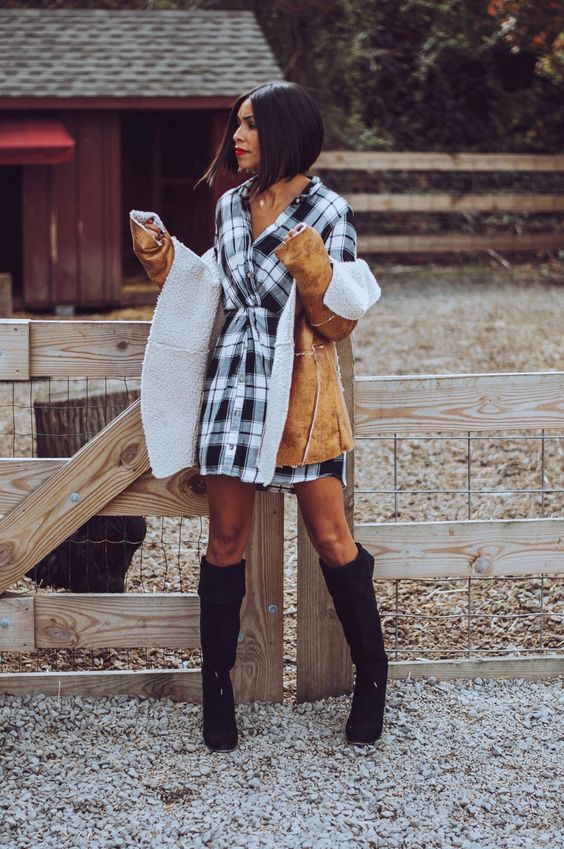 Another cool Thanksgiving outfit look is bringing up a shirt dress and knee-high boots combo. This matching outfit appears to be trendy and cool. If you want to feel warmer, layer it with a shearling jacket for the ultimate in style. Furthermore, you can complete this trendy fall style by wearing a fedora or cowboy hat and lifting your look up with some fashion accessories items.
10. Make it Simple with Mini Dress and Tights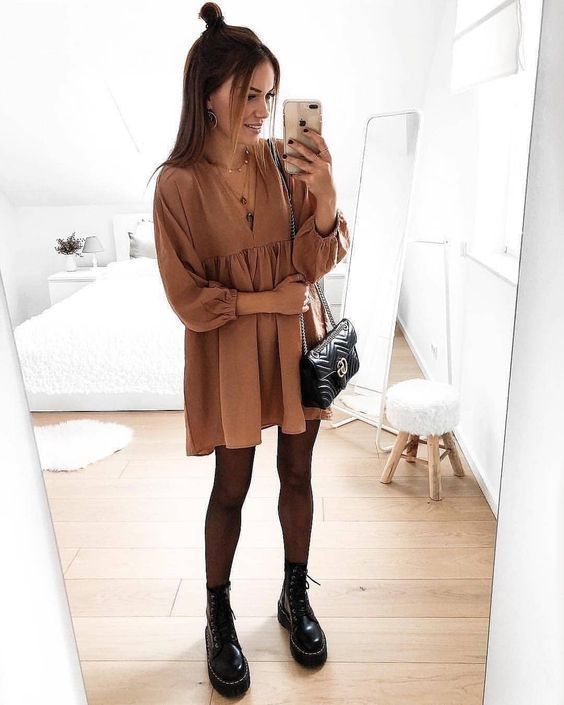 If you search for something simple to wear for a Thanksgiving outfit look, this mini dress can be your option. You can choose a brown long-sleeve lace mini dress that you match up with black stockings or thighs then wear a pair of army boots. This outfit idea makes you look sturdy yet adorable. Especially when you add some accessory details. To support your chic appearance, you can do a space bun hairstyle. After all, complete the outfit performance by getting a Minaudiere bag in your hand.
11. Combine Pleated Mini Skirt with Long Coat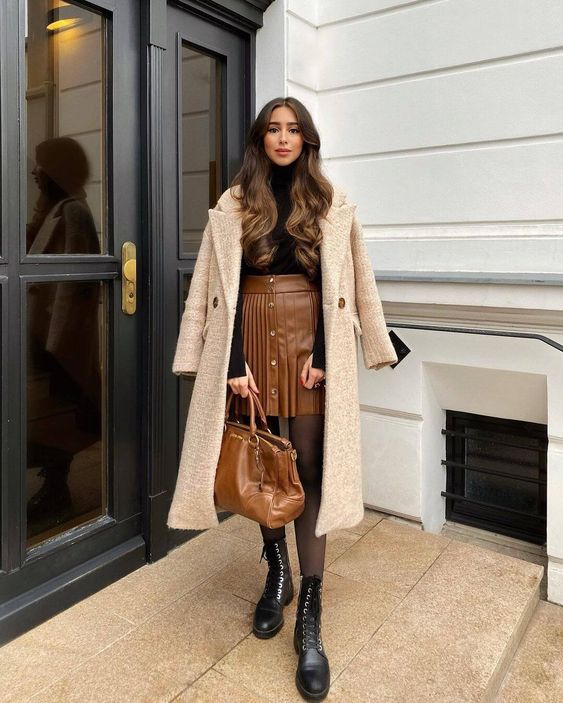 Have you made a reservation for Thanksgiving dinner at a restaurant? Simply incorporate this sophisticated ensemble into your Thanksgiving outfit look for tonight. Try pairing a black turtleneck with a leather pleated mini skirt, then layering it with a long stylish winter coat. You are welcome to bring a variety of footwear styles. If you want a trendy and cool look, wear stockings with army boots, but if you want a girly and feminine look, wear stilettos. Don't skip on your makeup; go for a soft natural makeup look with nude lipstick. In addition, a natural wavy hairstyle will complement your outfit. So, get ready and bring your favorite bag to have a good time.
12. Play with Plaid Pattern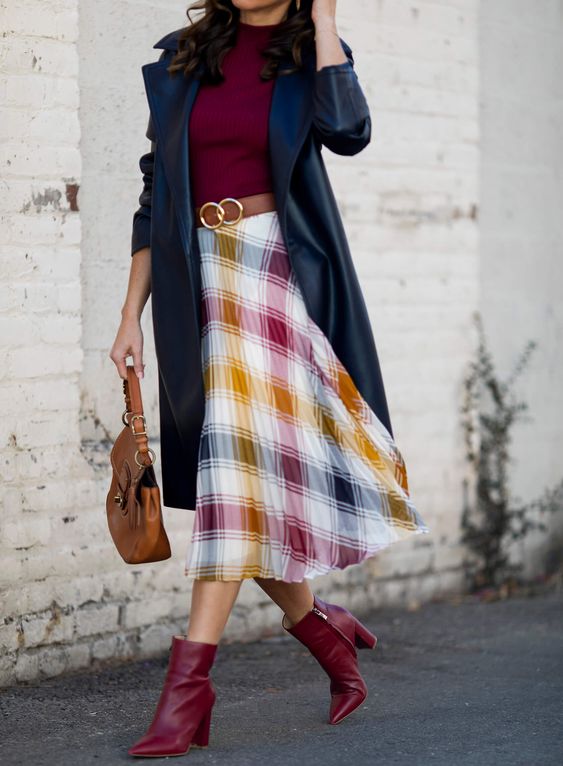 It may seem boring to wear a solid ensemble for daily rotation. And to make it more chic and colorful, you can play with patterns. One of the most favored patterns to go with Thanksgiving outfit looks is plaid. You'll never go wrong bringing plaid to your Holiday fits. Try to add a colorful plaid midi skirt to your Thanksgiving dinner outfit style. Simply wear a burgundy mock sweater and a black leather coat for the top style. While for the lower look, you can elevate it with a plaid chiffon midi skirt and leather ankle boots. Add another detail that stands your outfit performance like a beret hat for a classy appearance. Accessorize your outfit with a belt and large hoop earrings, and you can also get a handbag to complete the look.
13. Mix and Match Your Leather Jacket with Mini Dress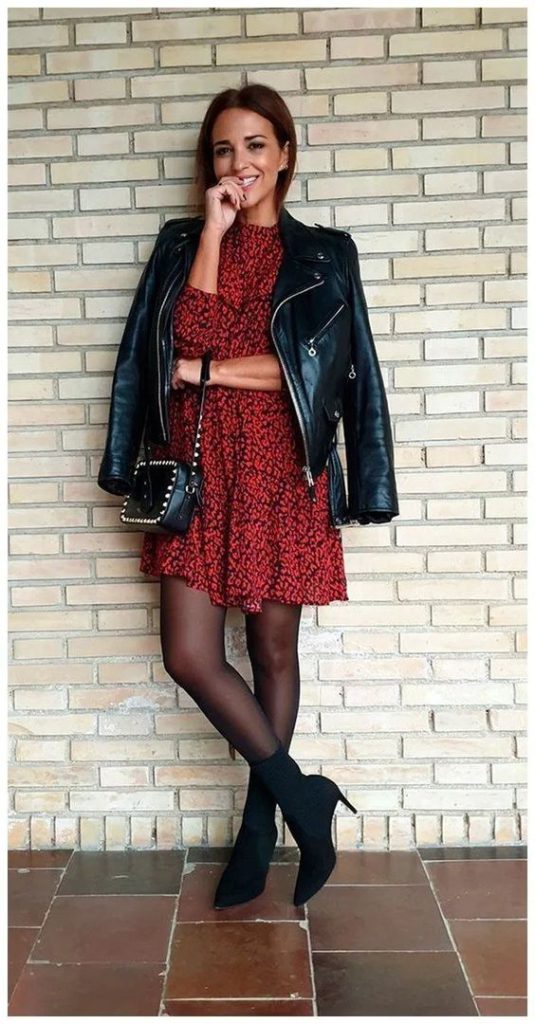 The image above portrays a stylish mix-and-match Thanksgiving outfit look. A layered outfit idea that goes with a leather jacket and a mini dress is cool. You can also add winter tights or stockings for the lower style to have a chic look while also wearing heeled ankle boots. To complete your trendy and stylish look, you can also wear a fedora hat and bring a spiked leather bag. This outfit look is so good for hanging out and chilling out at the pub with your friends.
14. Layer Up Your Oversized Shirt with Turtleneck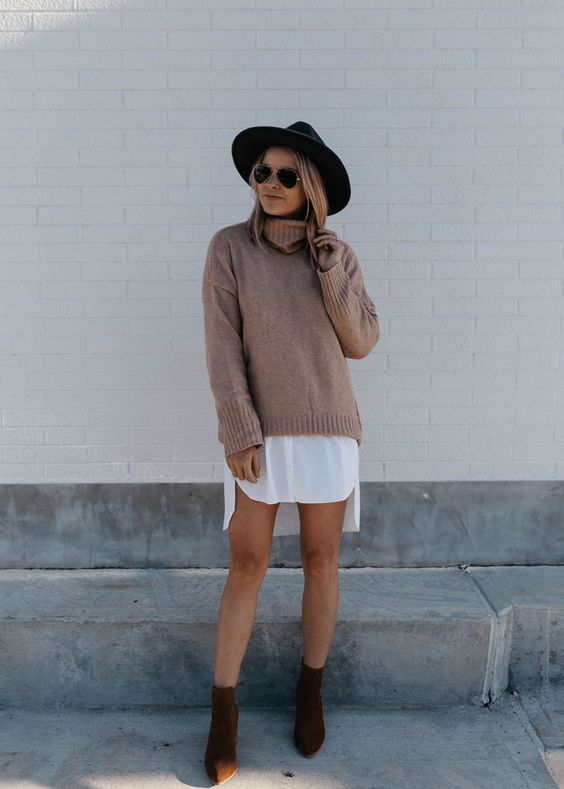 Get ready for Thanksgiving time with this simple look! Something that is easy and stylish either for a family dinner or hanging out tonight. Come with a layered outfit idea by wearing a big sweater/turtleneck over a shirt dress. For footwear, you have the option of wearing ankle boots or knee-high boots. Furthermore, make your Thanksgiving outfit look with chic accessories like a fedora hat. To perfect your appearance, get your shoulder bag or handbag to carry out your important things.
15. Classy Outfit Look for Thanksgiving Dinner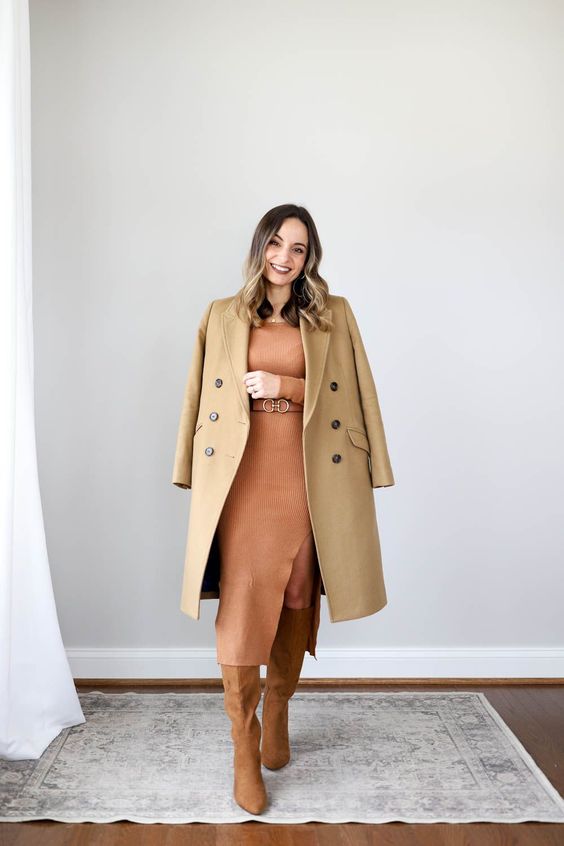 The ideal Thanksgiving outfit look that you can wear for a family dinner is this comfy and elegant look with a camel coat. The full style is wearing a long-sleeve-knitted dress with a long slit and a camel coat then boosting it up with a pair of suede boots. Put a belt over your dress that emphasizes your waistline. This classy outfit style wouldn't be complete without having perfect makeup, hairstyle, and accessories. For this, you can pick a bit bold with the smokey makeup look. For hairstyle, do a simple natural wavy hairstyle. Then, you can finish out your overall performance by wearing simple jewelry and bringing a clutch or evening handbag.
16. Style Up Your Knitted Vest and Shirt Dress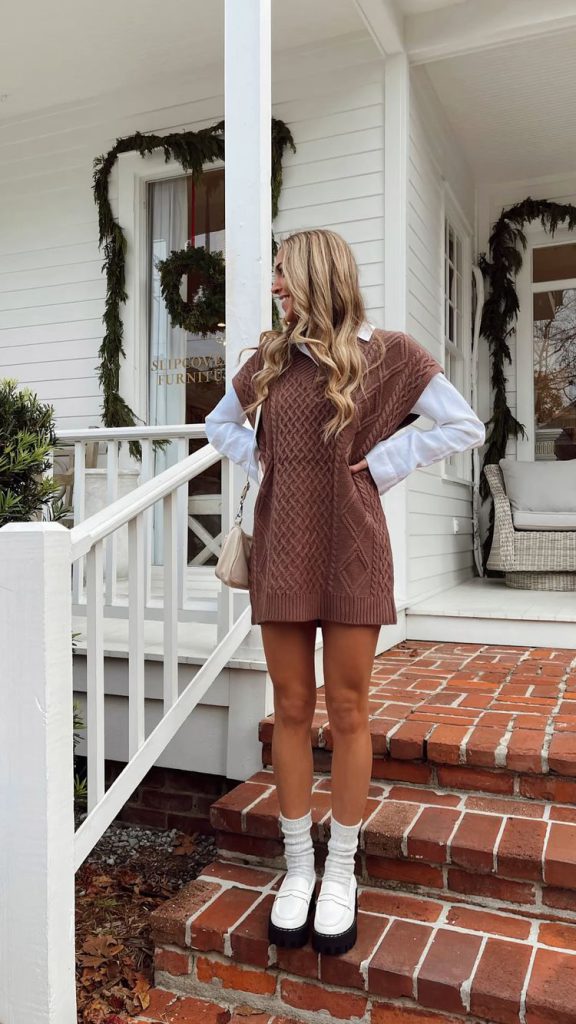 If you want another casual and laidback style for Thanksgiving dinner, we have this knitted vest and shirt dress look. This white shirt dress simply matches with a knitted vest for layering. To have a chicer look, just make sure to choose oversized outfits, as outfits with loose features are known to be more comfortable. For the toe, platform shoes and socks are perfect to chill out in the crisp autumn air! Boost your styling outfits with accessories and a shoulder bag if you want to go outside with this style.
17. Bring Your Knitted Dress Out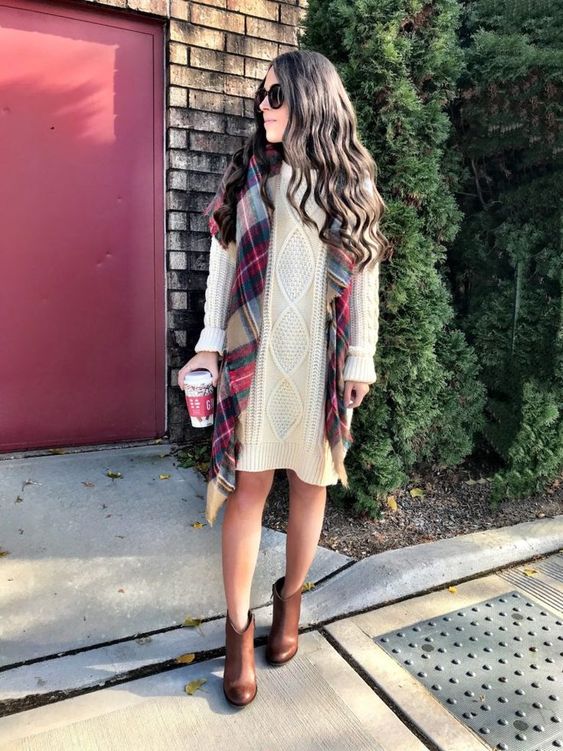 As we said before, Thanksgiving comes in the fall season. That's why we can't leave behind knitwear for the fashion look. This knitted dress can make us feel comfortable and stylish. You can match it up with tights or thermal leggings as an option for a warmer feel and chicer look. Then, pair this outfit with heeled ankle boots or over-knee high boots. These matching pieces are effortlessly simple and perfect for Thanksgiving outfit looks. You can add a scarf, a fedora hat, and fashion accessories to elevate your appearance.
18. Mix Trousers and Cardigan for a Semi-Casual Style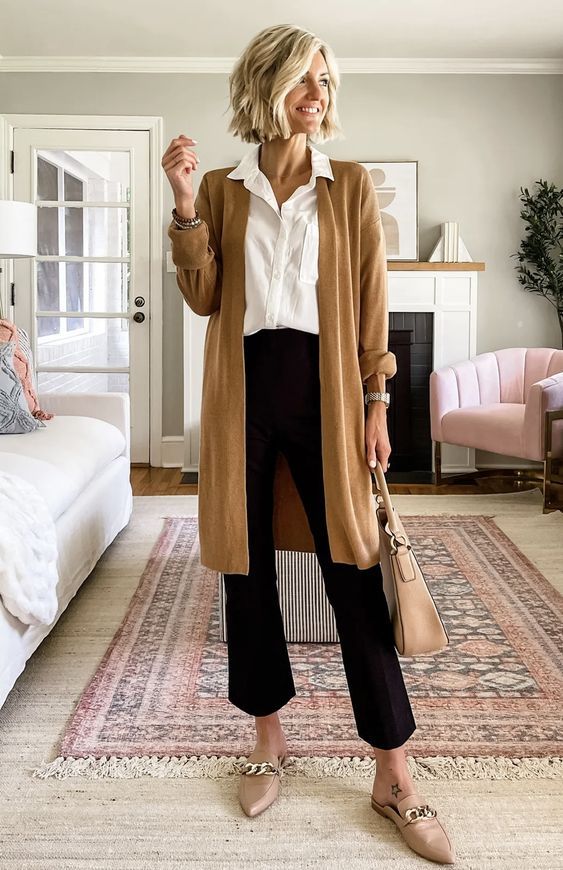 A cardigan is breathable and comfortable, so pair it with a button-up shirt and trousers for a semi-casual Thanksgiving outfit look. Besides, this versatile ensemble can be matched up with any shoes that can stand your outfit performance. You can make this outfit idea look a little laidback by picking up a pair of backless loafers as the footwear. But if you want to have a more formal style, you can wear high heels. Besides you can add some fashion accessories and get a handbag to elevate your appearance. This style is perfect for Thanksgiving dinner after work.
19. Catchy Look with Retro Jeans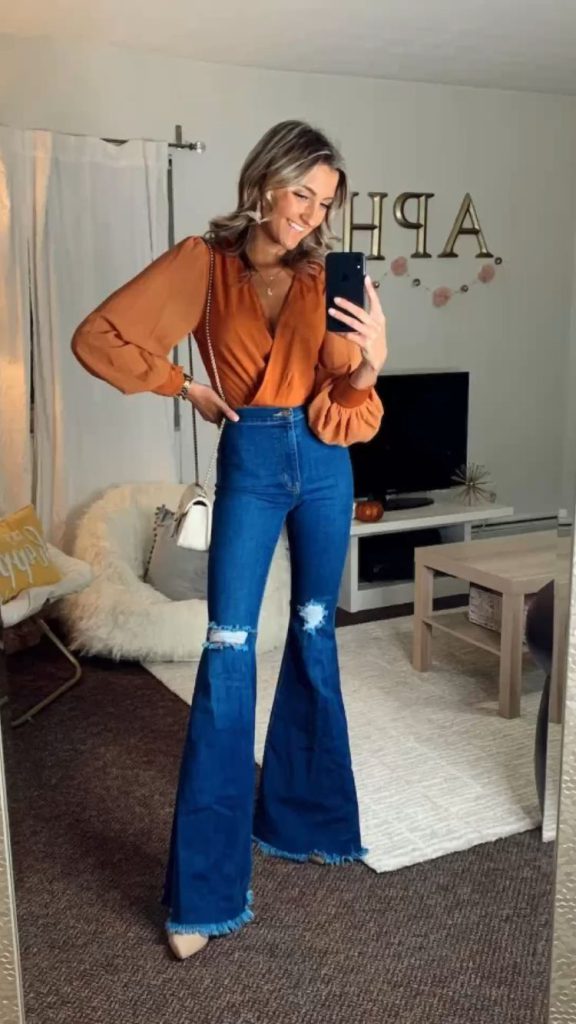 To elevate your Thanksgiving outfit looks with a retro outfit style, pair flared jeans and a balloon sleeve blouse with a deep v-neckline. Even if this is old fashioned outfit looks, you'll still appear chic and stylish. You can match this outfit with your favorite high heels, or if you want something that is more classic vintage you can wear platform wedges. Add a cowboy hat, big hoop earrings, and a big belt also give you a pretty chic look. However, if you want to appear modest and elegant, simply add simple jewelry. After that, get a mini sling bag for a finishing touch on your Thanksgiving dinner style.
The cool air has already welcomed us with some fun events like Halloween and Thanksgiving. It also coincides with the autumn season, allowing us to enjoy warm days while the rest of the year is colder. It is critical to plan out your Thanksgiving outfit. Not only will you look fashionable, but you will also be at ease with the transitional season. In addition, in the article above, we shared 19 Thanksgiving outfit looks that primarily make use of your fall wardrobe essentials. We hope you enjoy our discussion and find some new ideas to wear for Thanksgiving dinner.