Olidfashion.com – Are you have a petite body and don't feel confident about it? Don't worry girls, we would try to help style the outfits that make you look adorable. We would assist to cover up your flaws with some cute outfit ideas that would look good for petite girls.
When you have short and petite bodies, finding the right outfits is a bit challenging. Aside think about fashion trends, you need to consider your height and proportions. If you find yourself drowning in oversized outfits, looking shabby in a big dress, or find incredible long jeans that make you feel desperate, then you probably know what it means to be petite. To guide your petite wardrobe, we'll explain how to mix and match your apparel to become cute outfit ideas for petite girls.f
You may not realize some of the fashion influencers on Instagram or Pinterest are actually quite petite and short. This is because they find a few tricks such as making the wais accentuated by wearing a belt over a dress, using high waist pants, or choosing cropped tops and mini dresses, in this article we would give you some inspiration cute outfit ideas for petite girls. So, let's check this out!!!
Petite Fashion Rules
If you have short in height you should know what you do in your fashion style. For this, let's find out some rules to help you become adorable and get some cute outfit ideas that would be appropriate for your petite body.
Make sure to wear monochrome outfits and avoid combining outfits with various colors.
Prefer you choose fit outfits according to your body type in the right size. However, when you want to model oversized outfits, make sure to balance with other details.
When choosing the tops and bottoms style, remember the 2/3 – 1/3 rules you need to follow. Make sure that 2/3 part for the bottoms and 1/3 for the tops.
Consider the pattern too. If you want to have elongated looks, better you get vertical stripe patterns for the bottoms or dress. But when it comes to two-piece style, you can bring horizontal patterns for the tops.
Don't wear anything that is boxy or has square shapes. This wouldn't be fitted for your petite body.
When you prefer to wear a dress, choose a long dress or mini dress rather than a midi dress.
Besides the outfits, you can use the most obvious way to look taller by choosing high heels for the best footwear. But, you can also wear other shoes that are not cover up your ankles such as sneakers, or flat shoes.
You can also bring the illusion of a taller body with high boots, as long as you choose a short outfit looks.
Your outfits wouldn't be perfect without accessories items, so you need to combine your outfits with some proportion accessories. Remember don't too overdo your accessories. That would just make you look odd. You can also get a belt to keep your outfit slim and svelte.
Cute Outfit Ideas for You Petite and Short Girls
Considering the rules above, we have compiled 33 cute and fashionable outfit styles for short petite girls. So, let's check it out, girls!!!
Basic with Shorts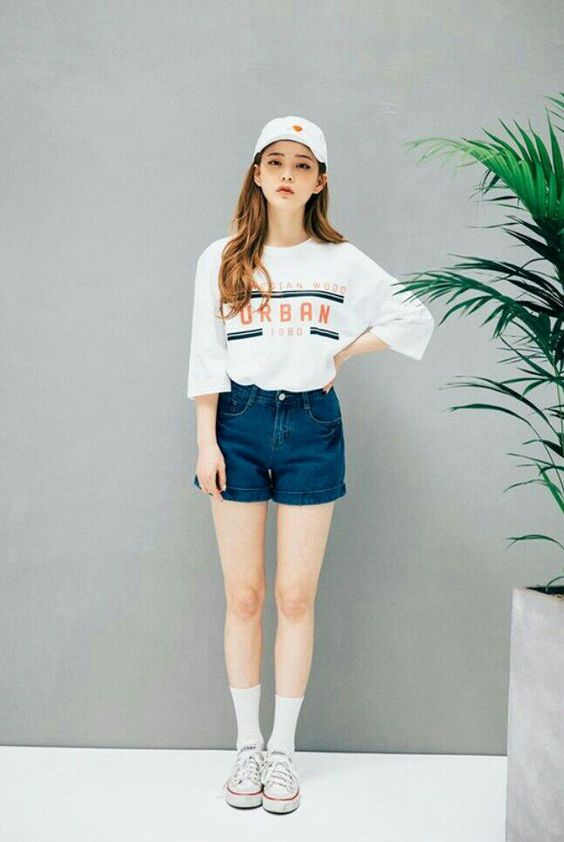 Wearing basics is the safe way to create your daily fashion. You can also get cute outfit ideas for petite girls by pairing your basic t-shirt with denim shorts. Tucking your tee under the pants would give the illusion that you have longer legs. Besides that, perfect this fashionable outfit for short girls by completing with other part details. For such you can wear a sports cap on your head and get a pair of socks and white sneakers to make your leg comfier. For the bag, you can choose a cross-body bag or a mini backpack to help you carry your important things while hanging around outside with your friends.
Chic Layering Outfits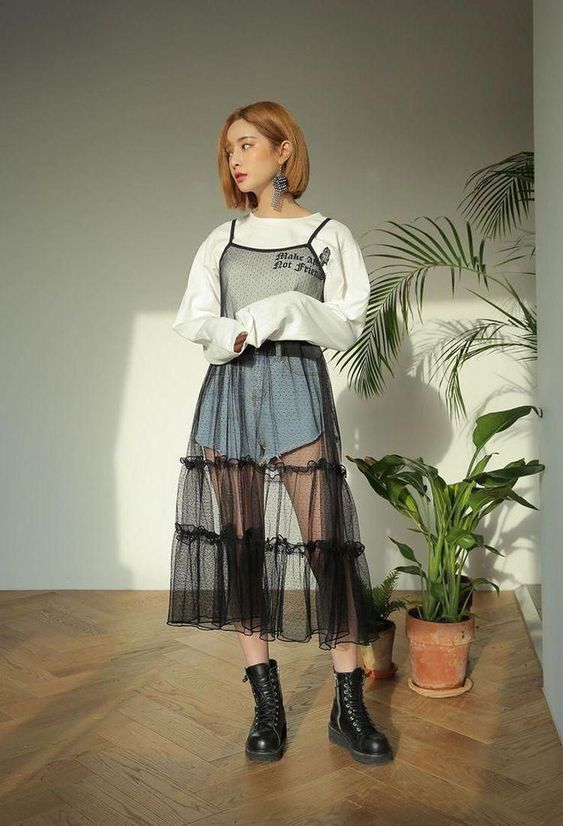 If you have a petite body usually a bit difficult to use the layering outfit style. This is because when you are wrong on layering your outfits, that would make you look bulky and odd. So make sure to make fewer layers on your fashion design. For a trick, you can bring flimsy or thin garments like the picture above. You can mix and match your long sleeve tee with short jeans and then layer it with a black transparent dress. We suggest you choose a bit large tee that would make you look cute when wearing it. Then, perfect your cute outfit ideas with army boots to bring a little chic grunge vibe. Adorn your performance with chic accessories items that would make you outstanding enough.
Summer Flowy Dress Style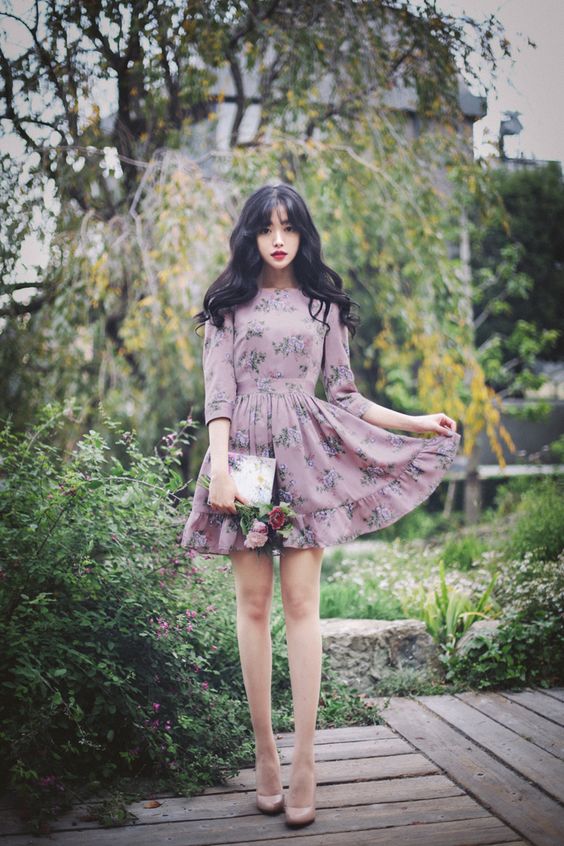 Keeping petite girls look cute, you have to wear a short dress style. For this, you can get a flowy mini dress in floral patterns in a viola purple color that could be your pretty first date outfit. Choose the crewneck style for the neckline of your dress, with long sleeves. This would make you seem elegant in a modest way. Then, perfect your performance with pink pastel high heels and a clutch bag.
Combine your Cropped Top with Culotte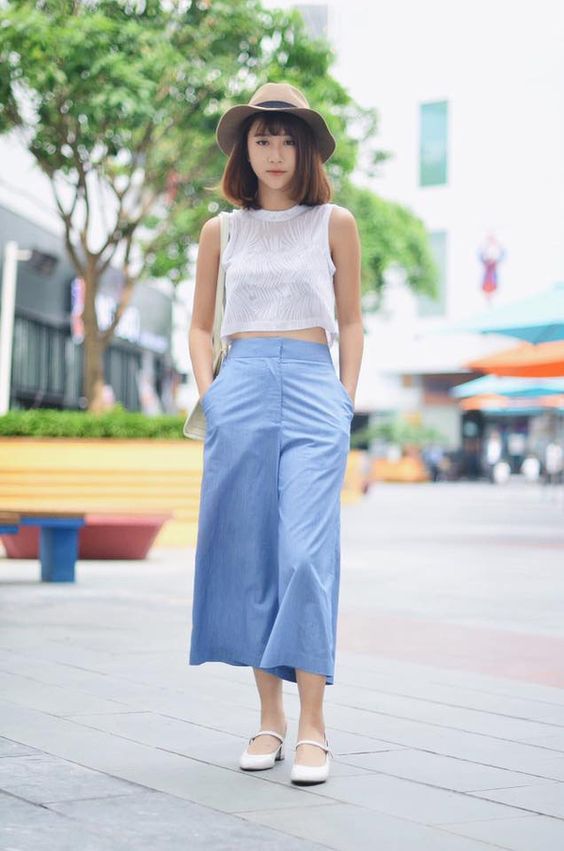 Follow the rule 2/3rd – 1/3rd in fashion style if you are petite girls. It means you should cover 2/3rd of your body in the bottoms and 1/3rd of the top. That's why we recommend this cute outfit idea for you. Wearing high waist culotte pants with a cropped sleeveless top would be perfect for your body type. This outfit would keep you looking cute and adorable in casual style. Then, perfect it with some accessories items like a Panama or fedora hat. For the bag, you can choose a canvas tote bag. For the toe, pair this outfit with Mary jane's flat shoes that look cute with your look.
Shirt Dress and Knitted Vest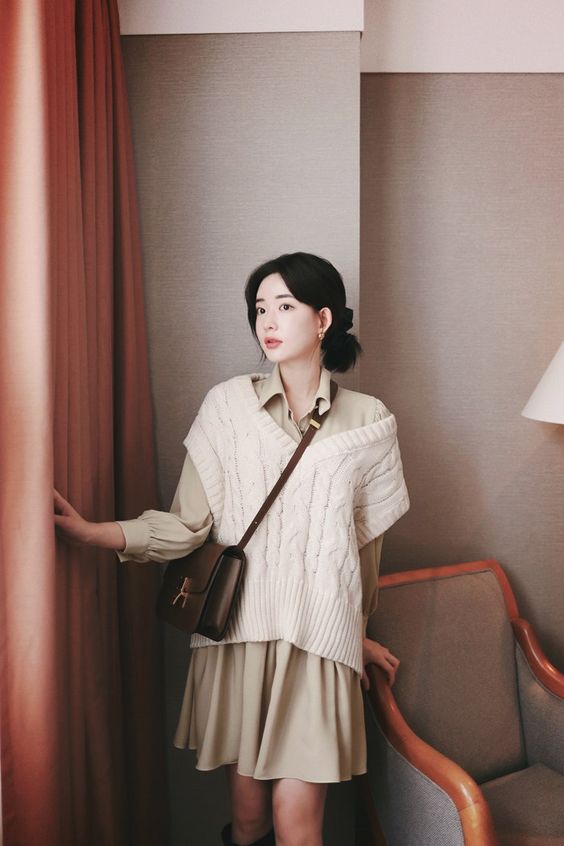 Layering is the easiest way to liven up your style, but don't go overdoing it. Especially for the fall or winter season, you need to get a double outfit to wear. Regarding petite girls, it's usually a bit tricky to get layering outfits. That's why finding the right pieces is a must. We have one cute outfit idea in layering style for petite girls. you can try to combine a shirt mini dress with a knitted vest. Assure your outfit style would be comfortable to use during cold weather, so pick a pair of knee-high boots for the matching footwear. This actually would also balance your outfit performance. Besides that, complete your overlook by getting a brown leather mini cross-body bag.
Dress Up with Overall Style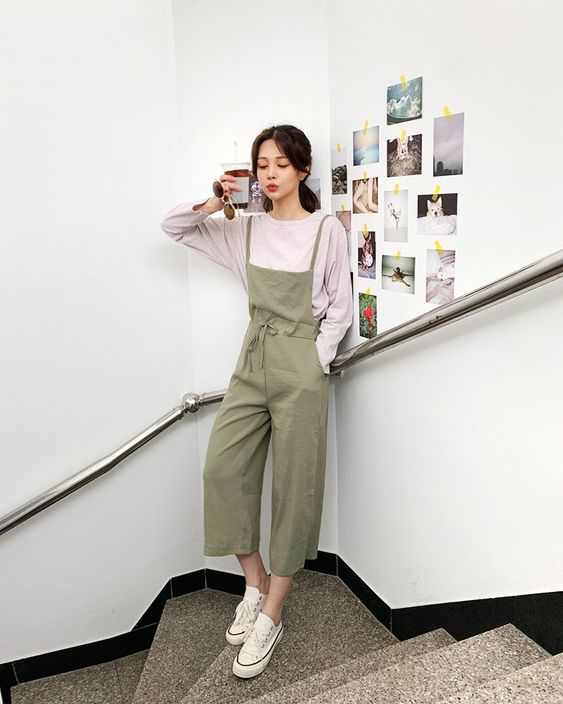 Get confused about what to wear for petite girls, come to this simple outfit style. Designed to make you feel comfortable and freely move, thanks to an overall. This is an outfit for boyish girls who have bustle activities outside. You can also use it for a simple and comfy outfit for school by wearing it together with long sleeve tee and white sneakers. And use a canvas tote bag or back[pack to help carry your things.
Cute Elegant Mini Dress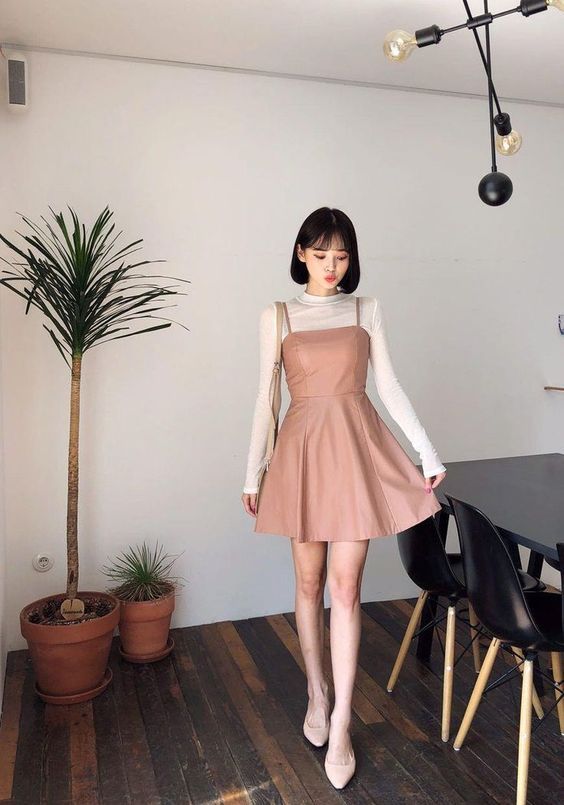 Short dresses actually could be very effective for petite girls. This kind of dress automatically created the 2/3 – 1/3 look. You need to opt for a fitting slim short dress with a high waistline to make you look even taller. For the alternative, you can make layering with a fitted long sleeve tee that makes you an elegant silhouette. To support your cute outfit idea, you can get nude high heels. For the bag, bring your mini sling bag to carry your important things.
Bring Out Your Tennis Skirt With Knitted Sweater
When you get bored with the mini dress but want to look elegant and chic, got this mini skirt style. This is for you who like all the things that look feminine and makes you pretty. For the top style, you can get a big knitted sweater for fall style. Then, perfect your appearance with a pair of black stockings and chunky shoes that make you comfortable and warm.
Styling Your Vintage Denim Skirt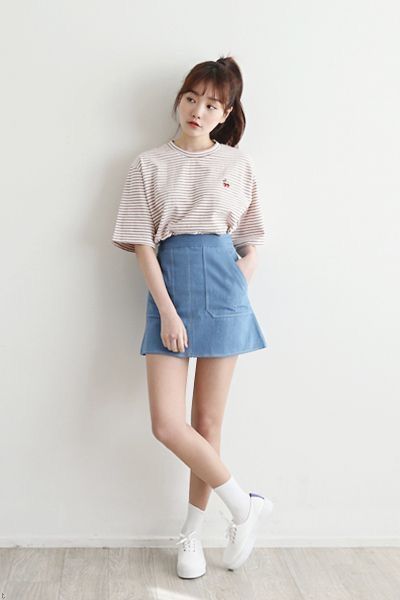 You know old fashion has been popular lately. So, you can create cute outfit ideas for petite girls in vintage style by wearing a striped t-shirt and slim-fit denim skirt. This is really simple, right? Besides that, getting this outfit would make you look a bit taller in the frame. Then, complete your chic style with white socks and sneakers on your legs.
Look Cute in Off-Shoulder Top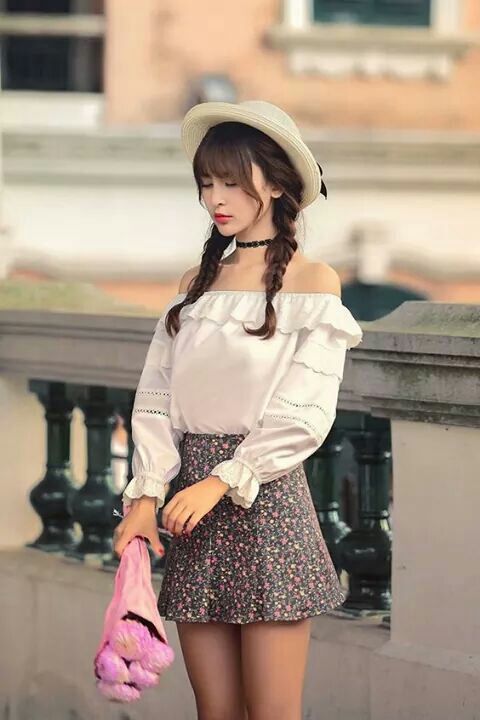 This is one of the outfits would petite girls want to wear to create cute outfit ideas. Yups, it's a combination of a mini skirt and an off-shoulder blouse that is simple and easy to copy. This kind of outfit emphasizes your shoulders more and makes a point for cute girls. Then you can support the outfits with your hairstyle by creating braids on both sides. That's a really adorable look!! Especially when you perfect the look with additional items such as fashion jewelry and a straw hat. For the toe, you can get a pair of loafers or you can wear sneakers. And for the bag, you can get a sling bag or mini backpack in your hand.
Cute Styling with Denim Jumpsuit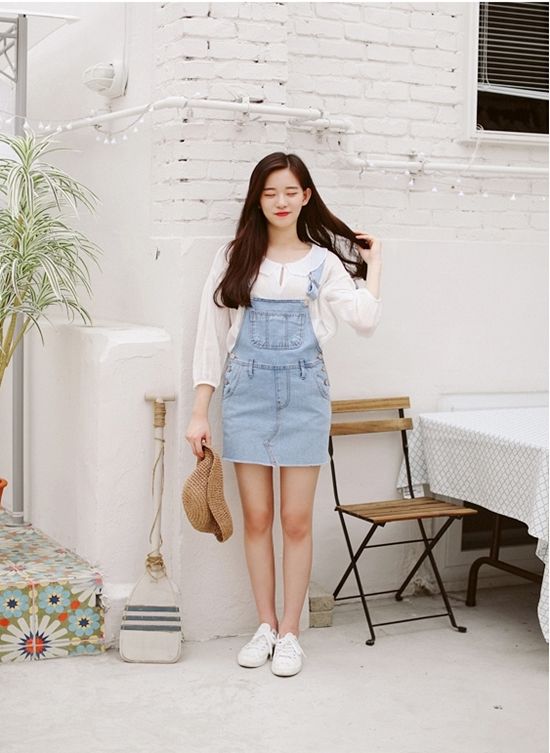 Another short style to wear for cute outfit ideas for petite girls is using a denim short jumpsuit. There are two styles you can choose, a short jumpsuit dress or short jumpsuit pants. When you want a feminine vibe, get the dress and pair it with your long sleeve blouse for inner tops. Then for the leg, you can get sneakers that make you feel cozy to move. And then don't forget to bring some accessories such as a straw hat that looks chic in your outfit style. For the bag, you can bring your sling bag or a backpack to save your important things.
Elongate Style with Long Flannel Outwear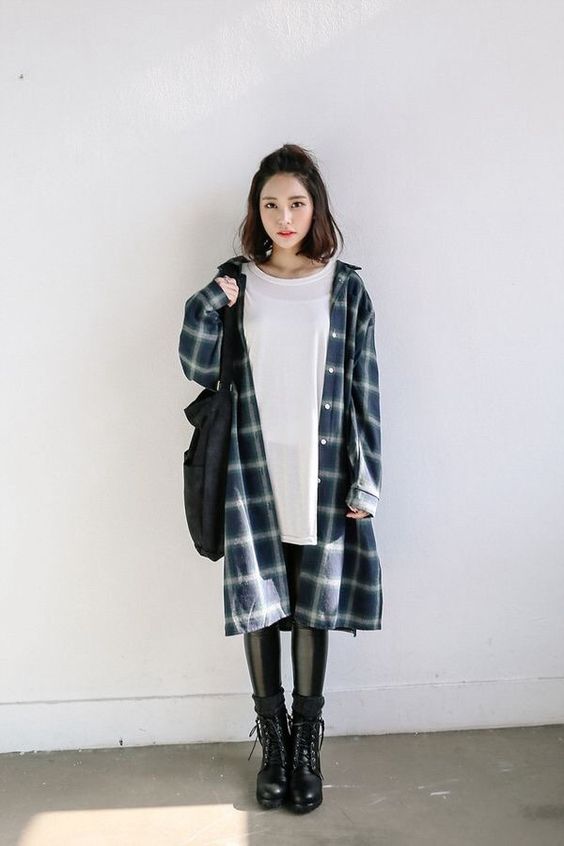 The way to elongate your short and petite body is by wearing something that would give the taller illusion. For this, we recommend you to try this outfit style. Yes, long and oversized outfit ideas. yOu can try to mix and match a flannel long outer with an overside basic white tee underneath. For the pants, opt to get slim-fit ones like leather skinny pants for balancing. Then, support your performance with army boots that help you get both trendy and chic styles. Then, bring a canvas tote bag and it's ready to go the college.
Look Cute in Boyfriend Hoodie
For petite girls, that's necessary to bring fit outfits for daily looks. However, it doesn't mean you couldn't wear oversize and big clothing. The rule is you need to balance it with other styling outfits. For instance, if you want to wear a boyfriend hoodie, it would look like a dress for you, so you can get short biker pants for the bottom. Or if you want something more feminine, bring a tennis skirt. Then, get sneakers and socks for matching footwear. For the bag, a crossbody bag or backpack would fit your cute style.
Get Point on Your Belt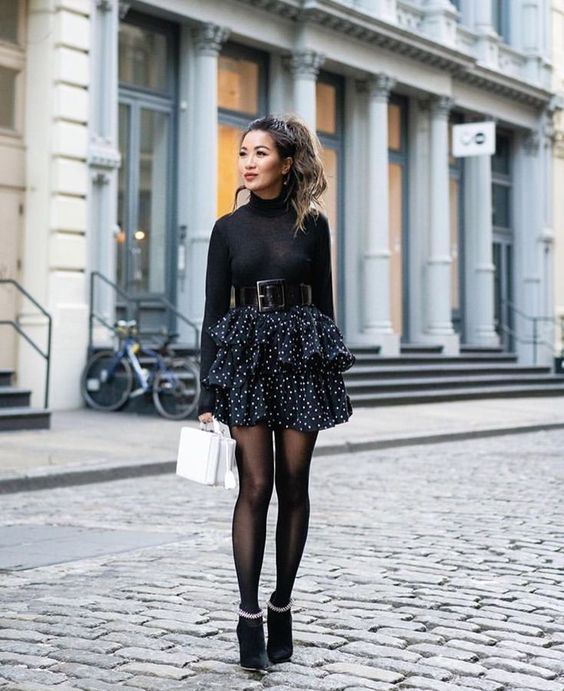 Push on your cute outfit style for petite girls by appropriating accessories items. You can add a belt over your dress to perform a slim fit curve. Besides that, bringing monochromatic outfits such as black to create an elegant look. So, why don't you begin to copy this style? Tucking a black turtle neck top in a ruffle mini skirt and then getting a big belt over it is a great way to bring cute outfit ideas for petite girls/women. You may bring on a black stocking on your legs that would make you feel warm and confident. And for the toe, get a pair of ankle-heeled shoes to make you taller. Furthermore, to save your things you can bring a white mini handbag or a clutch which is can support your elegant style.
Bring Harmony in Short Suits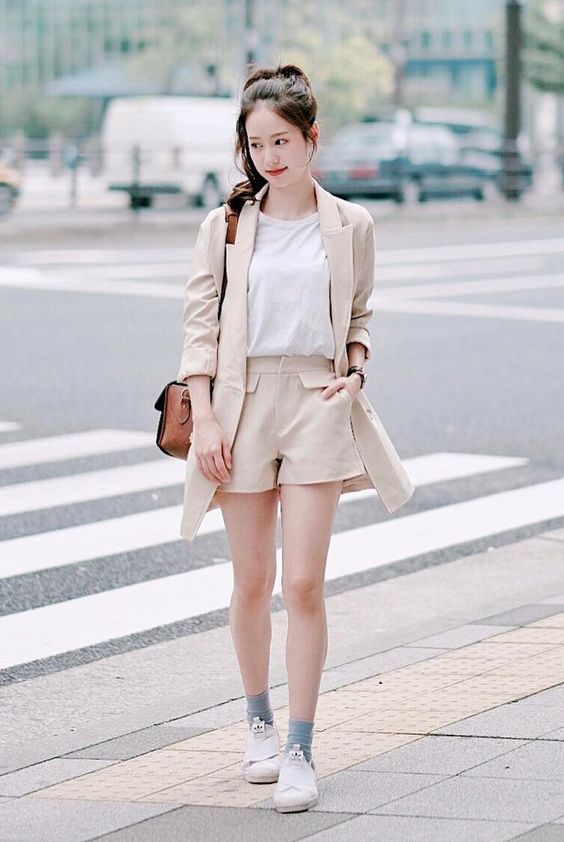 Ok, now let's find a bit formal look but still cute for petite girls. For this look, prefer you to choose short suits and a basic t-shirt for the inner top. Bring beige into your suits for a monochrome that's suited for short and petite girls. For the shoes, you can get a pair of beige loafers and get a bit of grey hint in the socks. Then you can perfect your style by accessorizing with simple jewelry and get a brown leather bag to bring your things.
Strappy Top and Ankle Jeans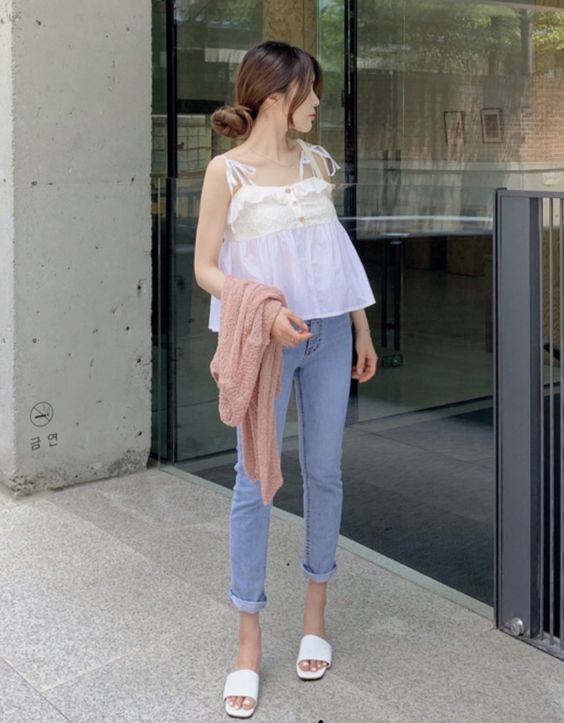 Another cute outfit idea to try on that is simple and fit for petite girls is combining strappy tops and ankle jeans. This style helps you look girly in your jeans performance. Better you pick slim fit or skinny jeans then roll a bit up above your ankle. This kinda trick gives a taller illusion, especially when you get pictured. Besides that, playing on your tops by getting a cute cami top would make you have an adorable style. For the option, if you are not too confident and comfortable going out with tank tops, get a cardigan for layering. For the footwear, slip-on or loafers could support your cute style.
Smart Casual Look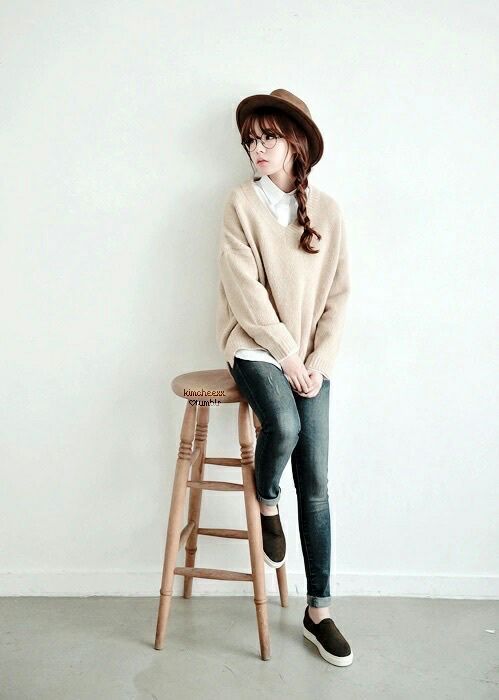 This one we took from the nerd girl style. You can begin by combining a sweater and collared shirt for the inner. for the bottoms, pick skinny jeans, and better to fold up a bit up to the ankle. Then, perfect your look with glasses as accessories and slip-on shoes for comfy matching footwear. To bring on the cute vibe, you can braid your hair with bangs and get a fedora hat for complement accessory.
Combining Two Cropped Styles for Summer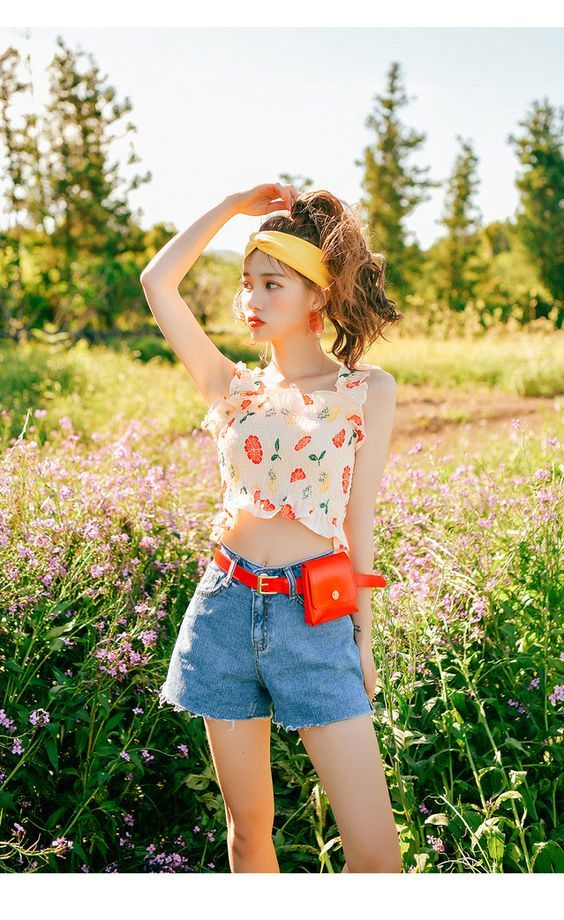 Bring the summer festival with this cute outfit idea by presenting two-piece of cropped clothes. Mix and match your colorful sleeveless crop top with crop denim shorts. Bring fresh colors like yellow and red that bring summer to your outfit look. Regarding the shoes, better you choose white sneakers for a chic and fashionable outfit idea. You can bring summer fashion accessories like cute earrings. Then, you can style your hair with a ponytail and get an eye-catching headband. For the bag, a mini waist bag that you stuck in your shorts like a belt would seem chic and cute.
Sporty Look for Petite Girls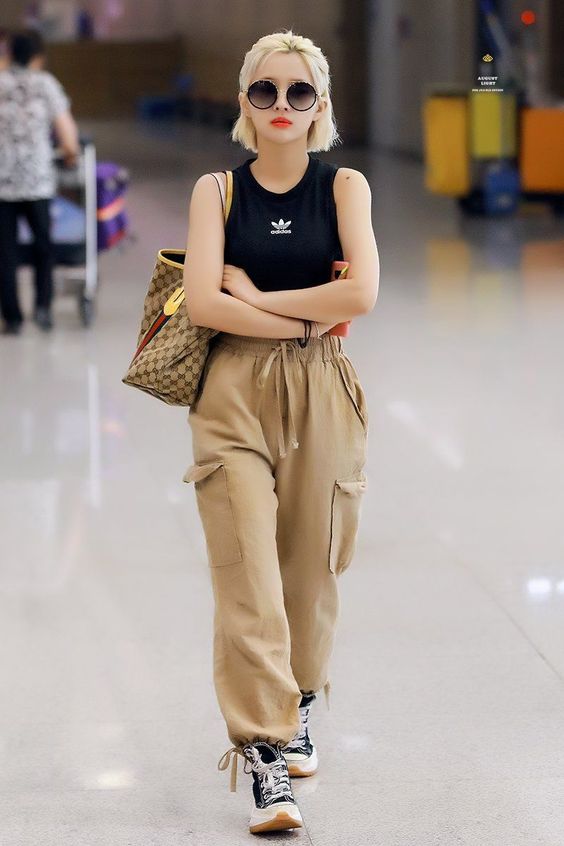 For you who love a sporty style, you can try to mix cargo jogger pants and a tank top. This may give you a simple look but it's still chic and perfect for your petite body. Make your sporty outfit complete by picking up trainer shoes or high sneakers. You can wear it to become your stylish airport outfit and get a tote bag to save your things on the aircraft. However, it would be better if you can layer it with a jacket to make you feel warm.
Fluffy Outfits for Cute Winter Style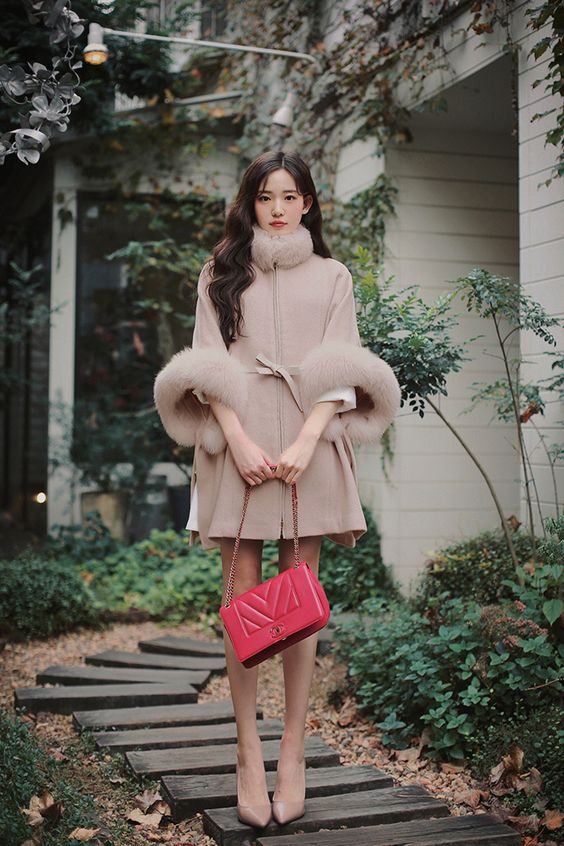 Are you a girl who loves feminine things? Maybe this fluffy stuff would suit you better. Especially if you want to perform cute outfit ideas for petite girls. Just bringing this women's coat into your dress it's enough to satisfy your expectation. For the inner style, you may get a white mini dress with half-long sleeves. For the shoes, better to match them with your coat and nude pink is a great choice to bring elegance and cuteness to yourself. And the rest style, you can pick accessories that match your outfit look such as bringing a red mini handbag that would spotlight your feminine accent.
Bring Striped Two-Piece Outfits for Summer Fit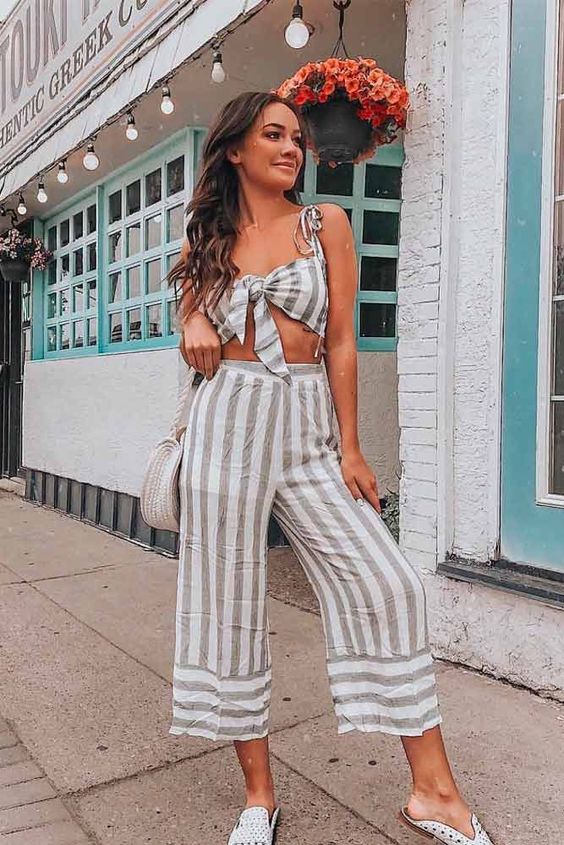 As we know that a pattern that is suited for petite girls is horizontal and vertical stripes. This is because when you apply these patterns to your outfit, it gives elongated and higher looks. So, when you want to create cute outfit ideas for your petite body, just try on a two-piece in a vertical stripe pattern. This outfit also become the fashionable beach style that you can wear for traveling. To get fully dressed, bring on a straw sling bag, and slip-on shoes that bring casual fashion.
Trendy With Jogger Pants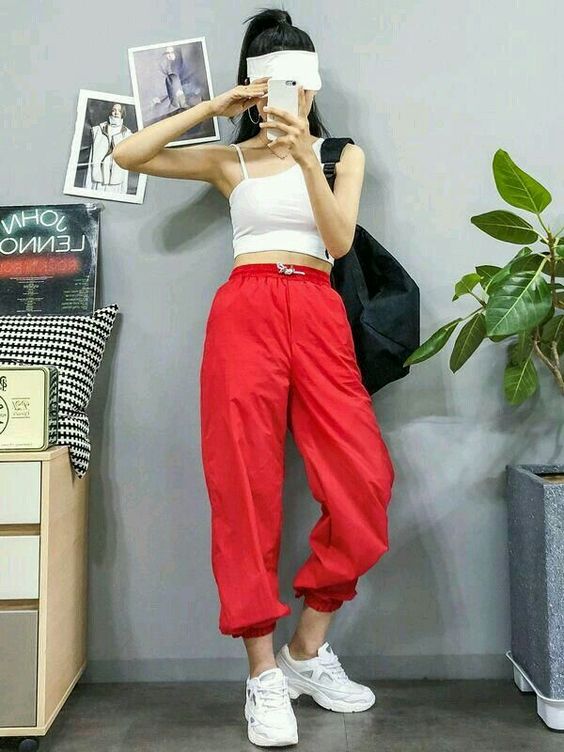 Trendy clothing sometimes is far from a cute vibe, but when you bring this outfit idea you will get both of the styles. Yes, get sporty sweatpants with a girly cropped tank top. Then for shoes, you can get sports trainer shoes that are comfortable to wear for activity outside. More supporting details such as a razor hat that would look cute when you get a ponytail for your hairstyle. All this ensemble would be great for training in the morning or your gym style. So, you also need a backpack or sporty bag that saves all the things you need.
Dress and Sneakers Outfit Style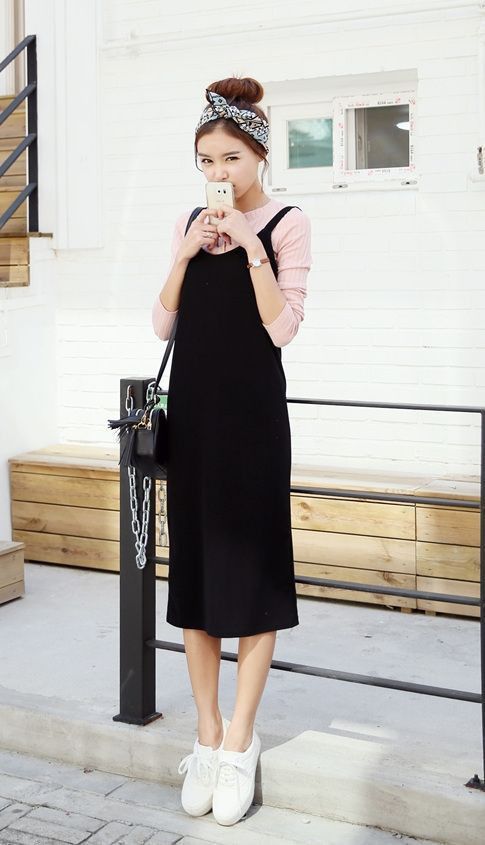 When you like dresses but don't want to wear mini dresses, this knee-length dress fits you more. Furthermore, this kind of dress wouldn't break the 2/3 – 1/3 rule standing for the petite girl style. From this dress, you can have many outfit performances. And one fits for cute outfit ideas, just bring dress and sneakers style. Simply, you can see the outfit idea in the picture above. Aside from that, you need to support the outfits with your hairstyle and some accessory detail.
Style Your Hight Waist Pants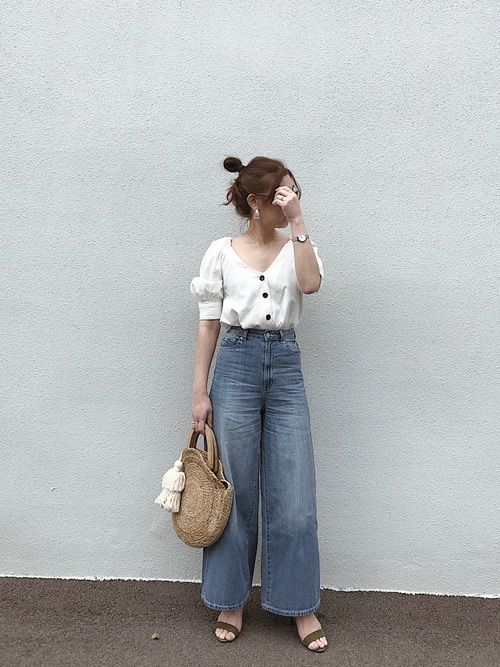 Next, let's find a style with high waist pants to create cute outfit ideas. So, we'll recommend you get high waist jeans with a cute puff short sleeve shirt. For the shoes, better you choose high sandals. And then for the bag, get this chic round rattan bag to encourage your lovely style.
Shorts and Flannel Combination
If you like shorts and flannel, this outfit idea really fitted with you. As well, this combo is also good to wear both for petite girls and high girls. You can create a simple look by wearing a basic tee for the inner between these pieces. For the footwear, you can choose chic and comfortable shoes to balance this outfit like sneakers. Finish your outfit performance by carrying accessories like a tote canvas bag and a cap to make you look chicer.
Midi Skirt for Fall Outfit Look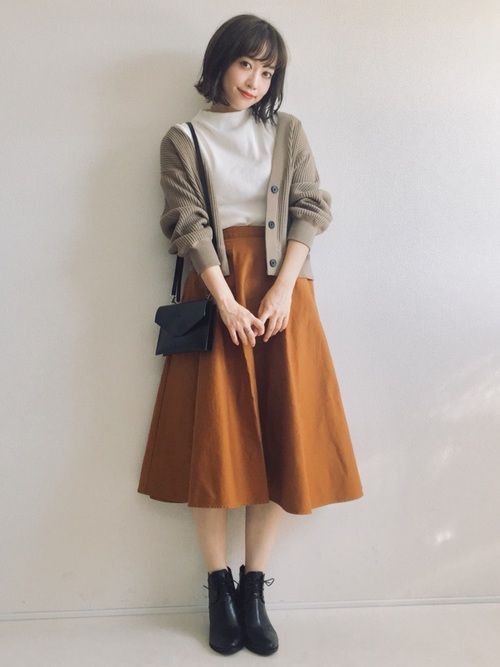 Some modest outfits that look down to earth have their own charm. Like this one, we love how the midi skirt looks nice with a basic t-shirt and a knitted cardigan. Choosing earthy tones like brown shades would be matched your fall outfit ideas. Basically, it would be cute to wear by petite girls, even if it doesn't make you look taller, but is worthy enough to make you look pretty. You just need to bring perfect shoes and accessories to get matched with your outfits. For instance, bring ankle boots to make you feel warm and comfortable walking outside. For the bag, you can get a black mini sling bag that looks great for fitting your style.
Big Denim Jacket in Tennis Skirt Style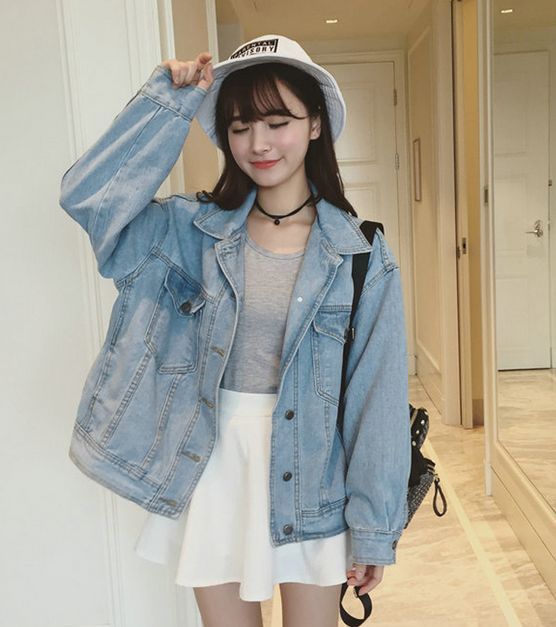 The next cute outfit idea is using a denim jacket and tennis skirt. We know you will love it very much, especially teenage girls. This style produces a simple and easy outfit to use on any occasion. For this, you can mix and match your denim jacket with a basic t-shirt for the inner top and a white tennis skirt in the bottom style. For the toe, you can get white socks and trainer shoes or sneakers that would balance your outfit performance. Don't miss out on accessories, you can get a bucket hat and fashion jewelry. And for the bag, to help you carry your things better you bring a backpack.
Layering Style with Shirt and Sweater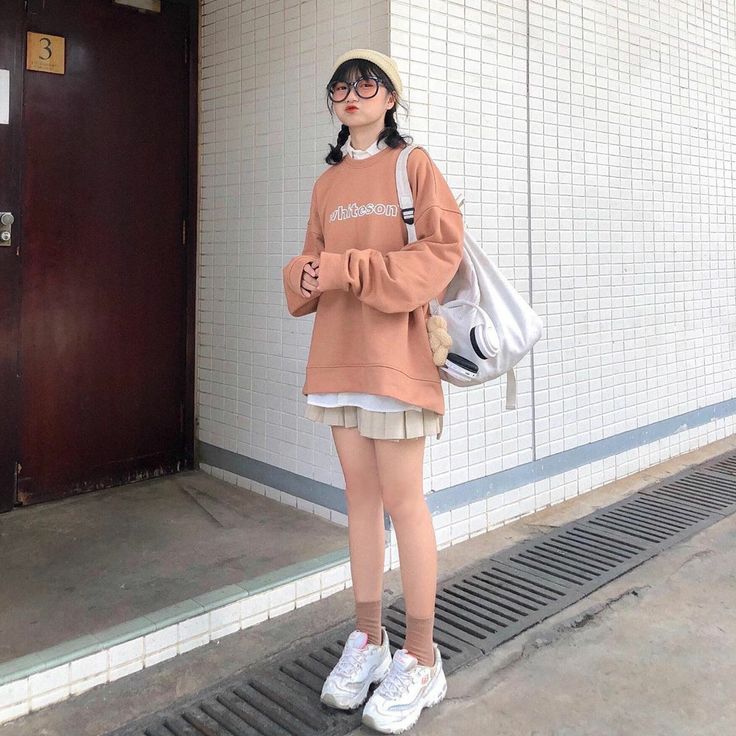 We know that the Korean outfit style become hype now and also mostly it brings feminine looks. This is also would great vision if you want to create cute outfit ideas. At this moment we want to deliver a style that is more casual which teenagers use either to hang out with their friends or go to school. Yes, it's a layering style that combines a sweater, shirt, and tennis skirt. This style could look nice even if it's used by petite girls.
Summer Dress and Cardigan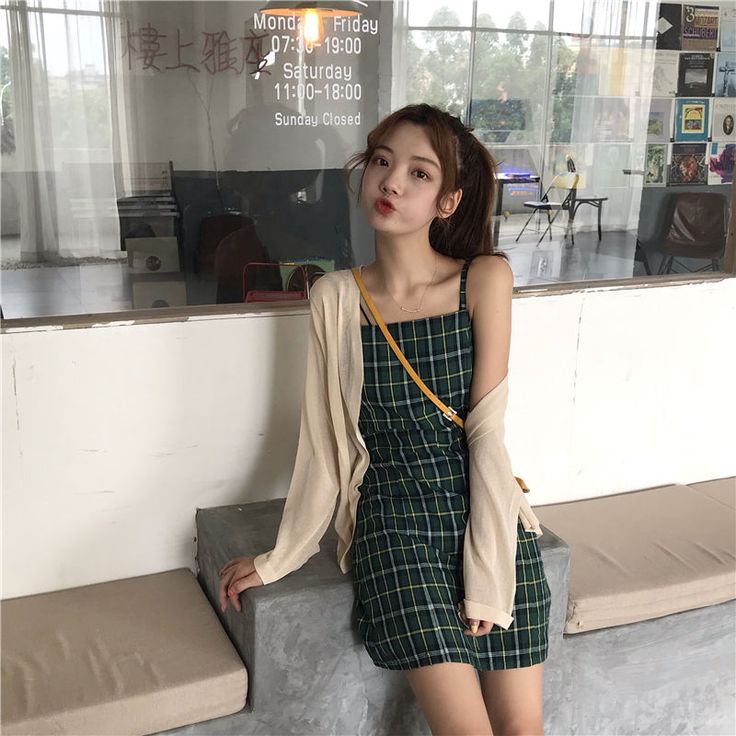 Want a modest and cute outfit idea but still fashionable outfit for short girls, get this plaid summer dress. For this, you can mix and match it with a light cardigan. Bring your outfit look in earthy tones combination such as olive green and beige. Then for the bag, a mustard mini sling bag would be perfect for your outfit performance. And then, get white sneakers or loafers that would perfect your appearance. Add some accessories and style your hair in a ponytail to make you prettier and adorable.
Cute Peasant Dress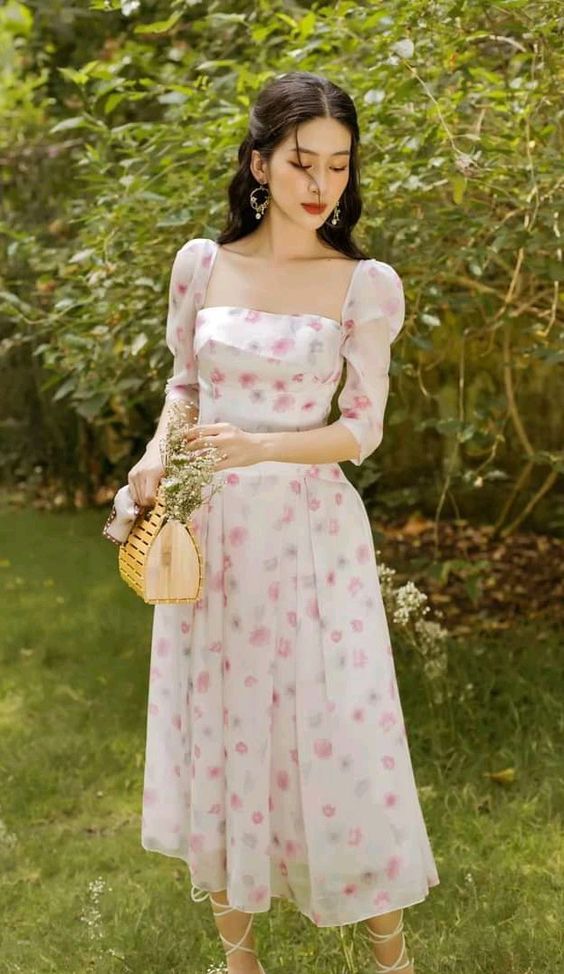 Now, we have come to the last cute outfit idea for petite girls. This is a great option for feminine girls in order to look prettier in old fashion style. Have you seen the cottagecore outfit dress? A kind of vintage styling outfit that appears in a soft and lovely peasant dress. This dress has been popular lately and it's an excellent choice for picnic fashion style. The square neckline can bring retro style, meanwhile, the floral motifs can support your cute and girly look. You can mix it with chic gladiator sandals or if you want a simple one, just get pretty loafers. It would be suited for you who want to go picnic in the garden.
Finally, we have performed some cute outfit ideas for petite girls for inspiring you. Are you interested? You may get some fashion design that will succeed to make you feel confident even in your petite body. Take your time and begin to find what you think matches you. We wish you get inspiration outfits from our article.