Olidfashion.com – Who doesn't want to look good in any situation? Every woman wishes to appear beautiful, and this can also be seen through her eyes. People used to say that the eyes are the windows to the heart. As a result, you can use eye makeup ideas to try to look lovely. You can experiment with various types of eye makeup, from simple to smokey and glamorous. And don't worry if you're not an expert! Here are some simple and easy eye makeup ideas for beginners to help you make your eyes pop. We also provide you with step-by-step instructions!
Makeover your look like a goddess with simple eye makeup ideas for a stunning appearance. You can experiment with a limitless color palette, but make sure you choose the right shades and follow some essential tips. This will assist you in mastering the art of eye makeup style. Believe us when we say you don't have to be a maestro to have fabulous eye makeup. Begin with a small amount of practice and work your way up until you are skillful. Choose an eye makeup starter kit with a palette in a few simple shades and a tiny makeup brush, then get ideas from a beauty vlogger.
So ladies, are you ready to turn your face more stunning with easy eye makeup ideas? Well, today we'll give you step by step to do easy eye makeup, especially for beginners. Keep scrolling down to get some simple eye makeup tips!
1. Apply Eye Primer First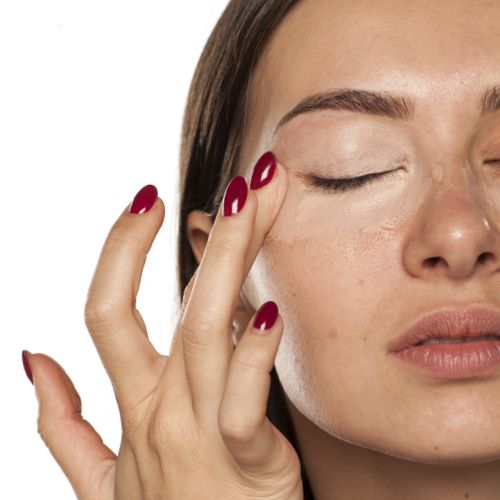 The first step that you have to do is to apply eye primer. This step is basic to make your eye makeup idea look smooth and long-lasting. Even if you have oily lids, you shouldn't skip this step. For the alternative way, simply apply a small amount of eye primer and allow it to dry before applying basic eyeshadow. Eye primer creates a flawless surface for makeup and then protects it from sweat, rain, or the natural oil produced by your skin. This is a key to making your eyes look stunning for hours.
2. Use Concealer to Hide Dark Areas on the Eyes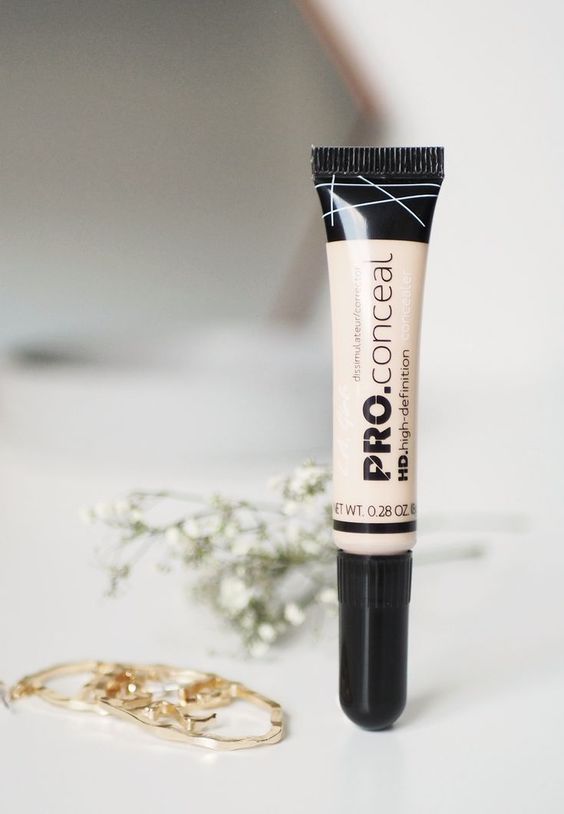 If you have darker areas on your eyes, concealer is an important thing that you need. Applying this after your eye primer would help to even your skin tone. Make sure to choose base colors that match your skin's color to avoid getting grey shade on your makeup. Apply concealer under your eyes and then pat or brush it smoothly to blend properly. This will not only conceal your panda eyes but will also make your easy eye makeup idea look smoother and more flawless.
3. Swipe Eyeshadow Gently on Your Eyes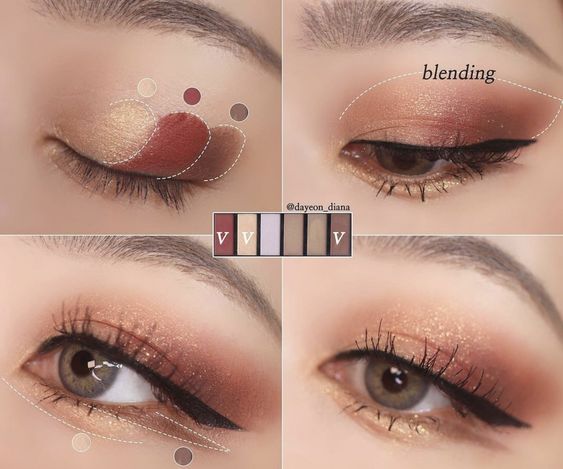 Choose an eyeshadow shade based on the look you want to achieve with your eye makeup idea. This would add depth and dimension to your eyes. For this, you can experiment with limitless color palettes and glitters. However, for easy eye makeup ideas for beginners, better to choose long-lasting eyeshadow shades that are easy to blend, such as brown, pink, or light shades. Swipe the eyeshadow that you have chosen across the entire eyelid with a brush gently. But if you're working with liquid eyeshadow just use your fingers. Furthermore, want some tips to apply eyeshadow correctly? Here we go!
Eyeshadow tips for beginners:
If you want to look dramatic, try using three-toned eyeshadow. Begin with a lighter eyeshadow, then a medium color tone, and finally a darker eyeshadow at the end of the eyelid. Then, using a brush, blend the colors properly.
Cover your eyelid with white eyeliner first if you want a less pigmented eyeshadow to look vibrant and pop up.
To create a soft everyday look, you can apply eyeshadow all the way up to your brow bone or stop at the crease of your eyes.
For the area under your eyes (just below the lash), use three-toned eyeshadow from a dark shade to a medium shade and a lighter shade. Then, blend them well using a brush.
Applying eyeshadow while your eyes are open and working down toward the lash line is the key to avoiding eyeshadow that extends beyond your crease.
4. Contour Your Eyes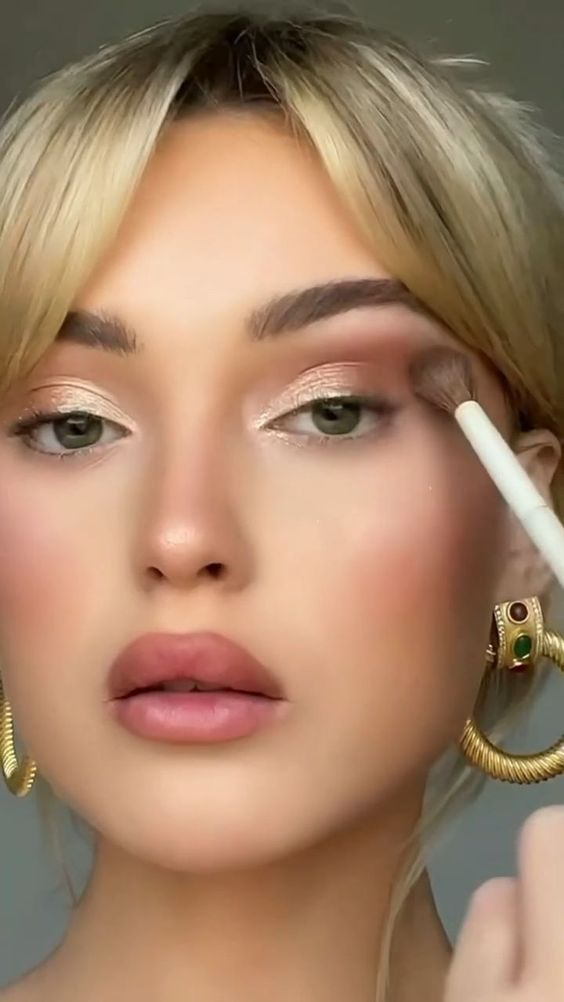 The next step is contouring your eyes. This is would make your simple easy eye makeup idea look more stunning and gorgeous. Have contouring in your eye makeup to give depth and dimension to your eyes. For this, you have to apply a darker eyeshadow like brown, starting from the outer corner of the eyelids toward the crease.
Eye contour tips for beginners:
Use dark eyeshadow palettes like deep brown that fit in any eye color to contour the eyes.
Sweep dark eyeshadow with a brush between your brow bone and eyelid, following the shape of your eye. For a properly blended contour, brush back and forth in a half-moon shape several times.
Avoid darkening the innermost part of the eyelid, as this can close and make the eye appear smaller.
If you want to create a hooded eye makeup look, begin with your eyes open and use your brush to mark the area where you want the dark color to arise. Close your eyes and blend the eyeshadow in a "V" shape on the outer corners of your eyes.
If you have deep-set eyelids, better to apply the contour while your eyes open to easily determine where it will be the most visible.
5. Line Your Eyes Using Black Eyeliner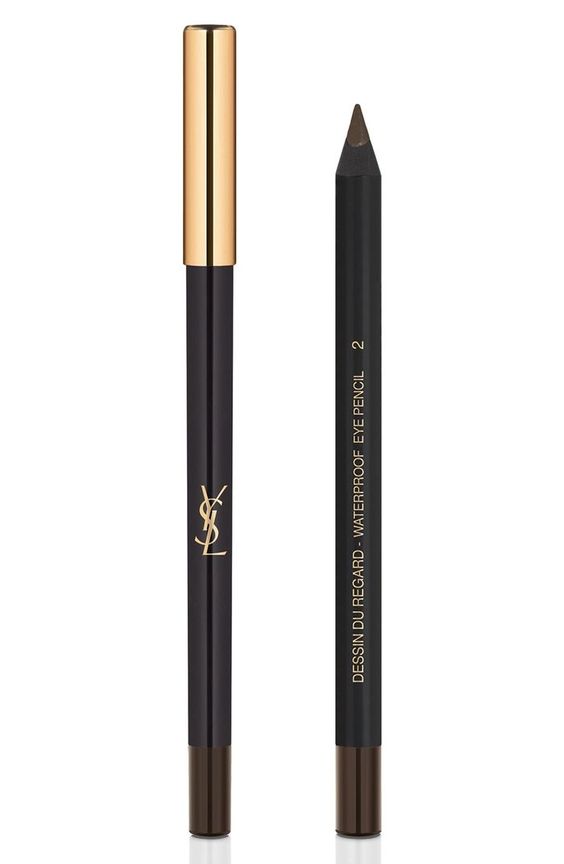 When you want a striking appearance on your easy eye makeup idea, try to apply eyeliner. Lining your eyes make your lashes appear thicker and emphasize your eye shape look bigger. Besides, you can also get a bold makeup look by applying eyeliner. Depending on the texture of the eyeliner and how you apply it, you'll get various types of eyeliner look on your eye makeup. Besides, there are also some types of eyeliner that you can wear like pencil liner, liquid liner, and more. The perfect eyeliner to use in easy makeup ideas for beginners is a pencil liner. Because the long handle provides a comfortable grip and the waterproof formula keeps your eye makeup stunning for a long time
Eyeliner tips for beginners:
When applying eyeliner, tilt your head up and look down rather than straight at the mirror. This will make it easier for you to apply eyeliner to your eye makeup look.
If you don't like to use eyeliner, you can have a similar effect that's easier to remove with a super-dark eyeshadow.
Apply the eyeliner as close to the lashline as possible so that it blends in with your natural lashline. This will make your lashes appear thicker.
If you want to achieve a perfect winged eyeliner, start at the lash line at the pupil and work your way toward the corners with a liquid liner. But when your hand is too shaky to use a liquid liner, line your eyes with a pencil liner first, then outline it with your liquid liner.
To reach the perfect shape and winged effect, use a pencil liner with a thin but blunt tip. You can also keep your eyeliner from crumbling by freezing it before sharpening it.
To achieve smokey eye makeup look, use a pencil liner, which is softer and creamier. Smudge it out with a brush for an effortlessly cool smoky eye effect.
If you like to use liner on your waterline (the inner-most rim of your eyes), the bristles may irritate your eyes; therefore, cover this line with one of your favorite waterproof eyeliners carefully.
6. Lengthen Eyelash Using Mascara or Extention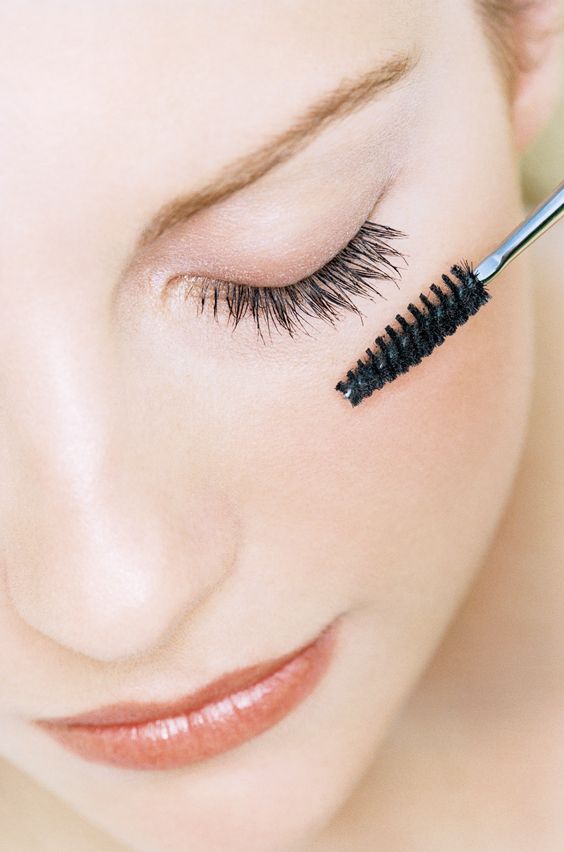 Add volume and lengthen your lashes by using mascara or false lashes. Applying mascara would give you a bright-eyed look that makes your eye makeup more lovely. Even if applying mascara is an easy step, however, to get the maximum effect you need to know the proper way for this. For the tips, here we go!
Mascara tips for beginners:
For the first, use an eyelash curler for good effect. You can heat up the curler with a blow dryer before curling your eyelashes with it. This helps you to get a longer eyelash effect.
Layering mascara slowly to achieve volume without weighing them down. Wait about ten seconds before applying a second layer. This is how to avoid clumpy lashes!
Another way to get perfect eyelashes, use a tissue to wipe away any excess mascara from the wand before applying it. This is would help to avoid you get clumpy and weight lashes.
Besides, the way you hold mascara also matters in the final look. Hold the mascara wand horizontally for creating a thicker lashes effect. While holding it vertically (especially for lower lashes), would give a more natural appearance.
7. Apply Highlighter to Highlight Your Eye Makeup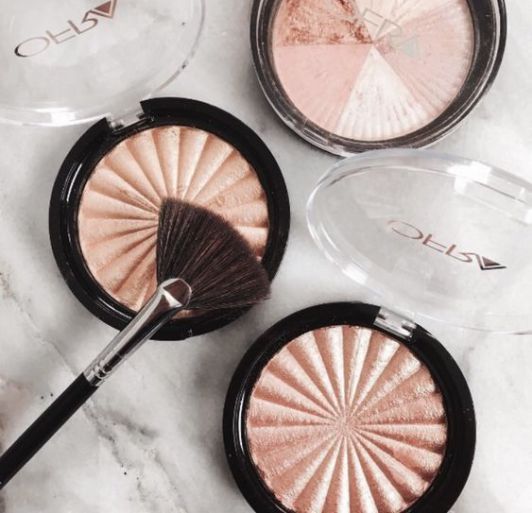 Add shimmery or glitter highlighter as the final step to make your eye makeup idea look more stunning. Highlighting your eyebrows and eyes is especially important when applying makeup for evening events. Simply apply a highlighter below your brow and to the inner corner of your eye to create bigger, bolder eye makeup. You can also apply the glitter eyeshadow to the inner corner of the eye, where the upper and lower lids meet, with a finger. In essence, using a highlighter in your eye makeup would brighten the appearance of your eyes and also hide your tired eyes.
That's all the step-by-step to follow for an easy eye makeup idea from us! What is your opinion? It looks simple and easy, right? Besides this step is also friendly for beginners. You no longer need to be concerned about your eye makeup. It might be difficult on the first try. However, if you practice it constantly, you will quickly master it. After you skillfully, you can create any type of makeup style from glam makeup ideas to flawless or natural makeup look. We hope you'll enjoy our tutorial and can easily follow the tips to get a gorgeous eye makeup look on any occasion.