Olidfashion.com – Are you planning a date with your boyfriend? If this is your first date, it may be both tense up and exciting. At the moment, your focus is to impress your boyfriend by dressing up in the best outfit. Ugh, it can be challenging and tricky to pick out your date outfit ideas that are appropriate for any occasion. But don't worry ladies, we're here to assist you!
The key to coming up with the best date outfit ideas is to be yourself! You don't have to change your fashion sense based on what your boyfriend likes. That just would make you feel uncomfortable during the date. Make sure you dress in something that truly represents who you are. You can start making a statement with your casual outfits by wearing a t-shirt and jeans on a casual date, wearing a stunning gown to a romantic dinner, or going sporty chic style if you go on a date while working out.
You must consider your date outfit idea based on the time and location. Whether you're going on a romantic dinner date in a luxury restaurant, a lovely home date with Netflix time, a watching movie date, or just hanging out in the cafe, make sure to prepare your best performance. Therefore, we'll help you by compiling 20 date outfit ideas for any occasion that you must have as part of your great dating fashion collection.
1. Movie Date Outfit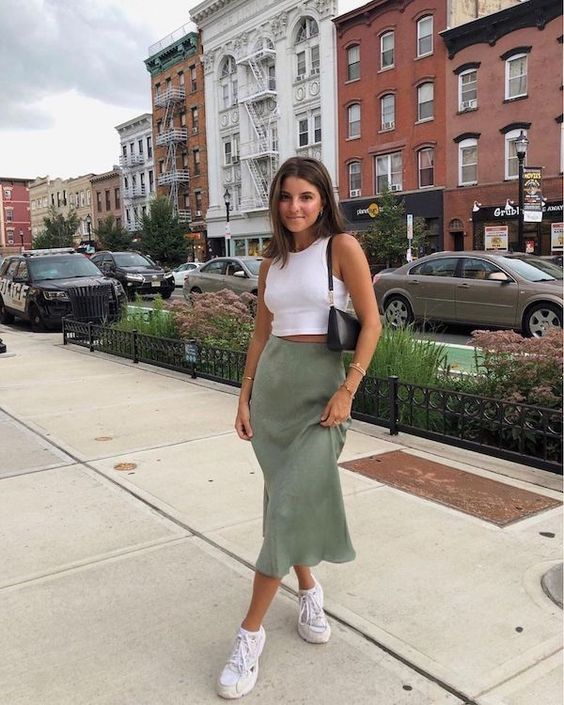 A combo of a halter tank top and midi skirt style is the first date outfit idea you must have for a movie date. You should also pair this look with white sneakers for a chicer appearance. Choose your favorite shoulder bag to carry your essentials. Then adding simple accessories and jewelry to make you look more attractive. It's a simple and easy casual outfit, so you won't have to spend much time getting ready. Because the cinema can get a little chilly at times, you can wear a cardigan as an option to keep warm while also looking cute.
2. Museum/Art Galery Date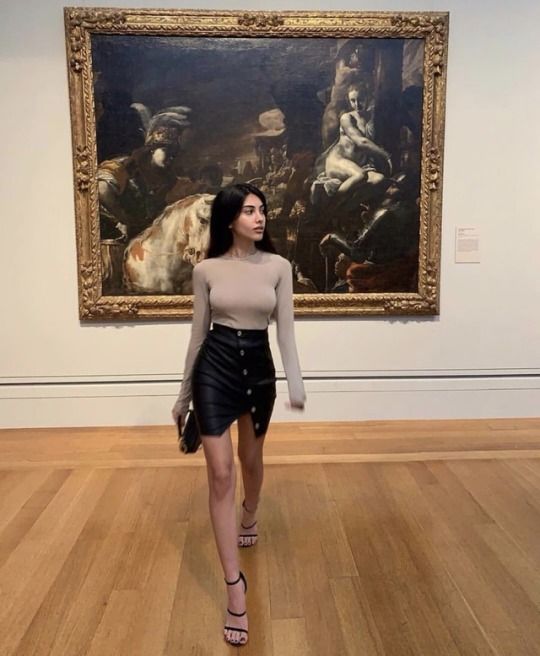 You may try this outfit if you plan a date at the museum. This date outfit idea will make you look elegant yet sexy at the same time. For this, you can get a long sleeve bodycon top with a leather-span mini skirt. Then for the toe, a pair of stiletto sandals would perfect your elegant appearance. If you need a bag to help carry your things, you can choose between a mini handbag, wristlet bag, or shoulder bag. Now, you are ready to take enjoy various masterpieces of art at the museum with your partner. If you want to have another inspiration for a museum date outfit, check out our latest article about museum outfit ideas!
3. Lunch Date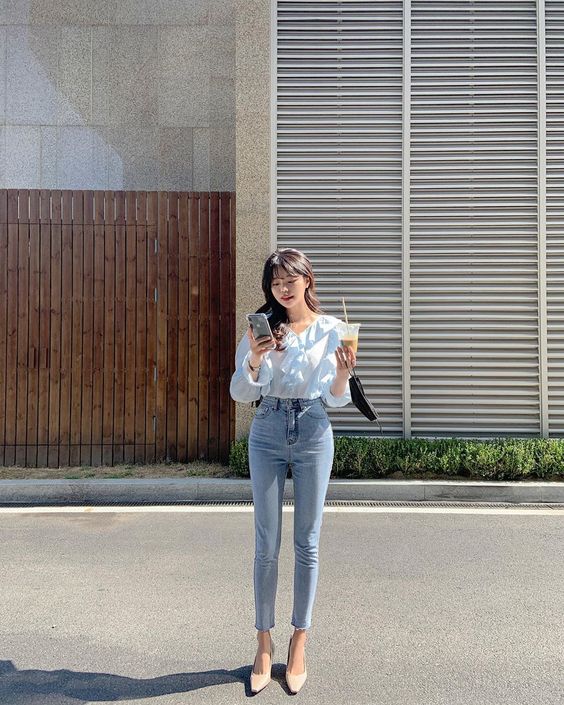 Are you planning a lunch date? If you don't have much time to spend together and you both work in the same place, plan a lunch date. As a result, you must look beautiful while also at work, and this outfit idea is ideal for you. For this, you can wear a cute lace blouse with high-waisted jeans to work. Then complement the look with high heels and a shoulder bag. Not only look good for workwear style but it's also a perfect lunch date outfit idea.
4. Beach Date Outfit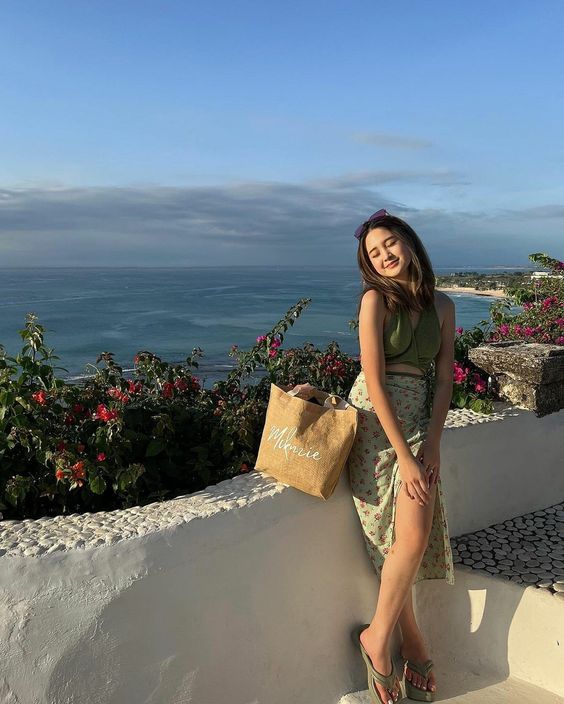 Many couples dream of going on vacation together. And if you have the chance now, make the most of it. And for those who want to have a trip and beach date, you can try this stylish beach outfit. You just have to wear a floral midi skirt with a halter cropped top or tube top. This breezy outfit would make you at ease in the hot weather at the beach. Because you need to walk on the sand, sandals would be a great choice. And if you want something fashionable, just pick between bohemian or gladiator sandals. In addition, to protect yourself from the heat and UV light, you can wear a floppy hat and sunglasses. Complementing this beach date outfit idea with a canvas tote bag or rattan handbag.
5. Casual Date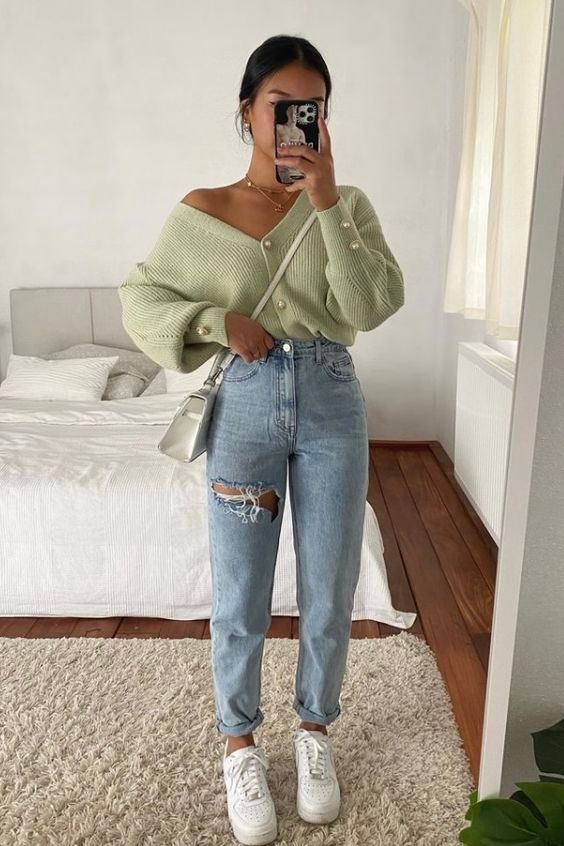 With this date outfit idea, you can have another casual date this fall. Mix and match your knitted cardigan with a tube top for the inner and wear ripped jeans for the lower outfit. For shoes, sneakers are a great option if you want a chicer look. You can use this outfit idea for hangout in the cafe, watching movies or just street walking with your boyfriend. Furthermore, finish out your date fashion style with a shoulder bag or a mini sling bag to carry your stuff.
5. Dinner Date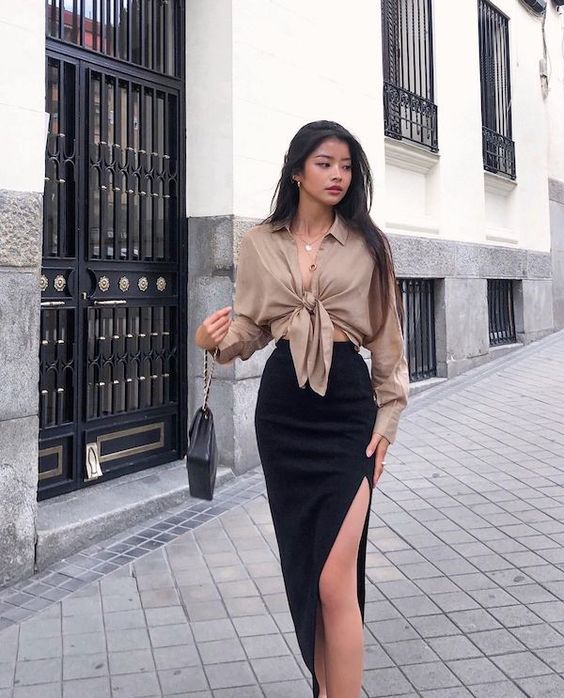 This matching button-up shirt and long-slit maxi skirt look are perfect for a romantic dinner date. When you don't want to wear dresses, this date outfit idea is ideal. With this, you can look elegant and flirty at the same time. Mix and match your outfit by wearing a brown shirt with a knot in the front and a black high-waist maxi skirt. For shoes, strappy high heels would be ideal for a sexier look. Don't forget to add accessories or jewelry to make yourself look more elegant and classy. Then, bring up a Minaudiere bag in your hand to complete your romantic dinner date outfit idea.
6. Coffe Shop Date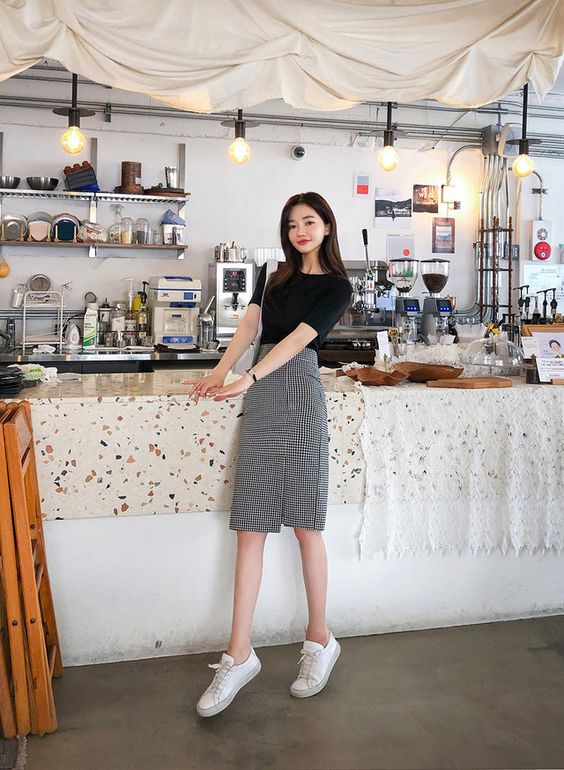 You can make this basic t-shirt and midi skirt style your coffee shop date outfit idea after school. This easy outfit will make you look lovely in a minimalist casual style. For the full look, pair your summer tee with a high-waist plaid midi skirt, and then get white sneakers for the matching footwear. Besides that, this effortless fashion also looks great to become your fashionable hangout style during summer. Finish out this outfit idea with fashion accessories like a watch and simple jewelry, and you can also use a shoulder bag to bring your stuff.
7. Library Date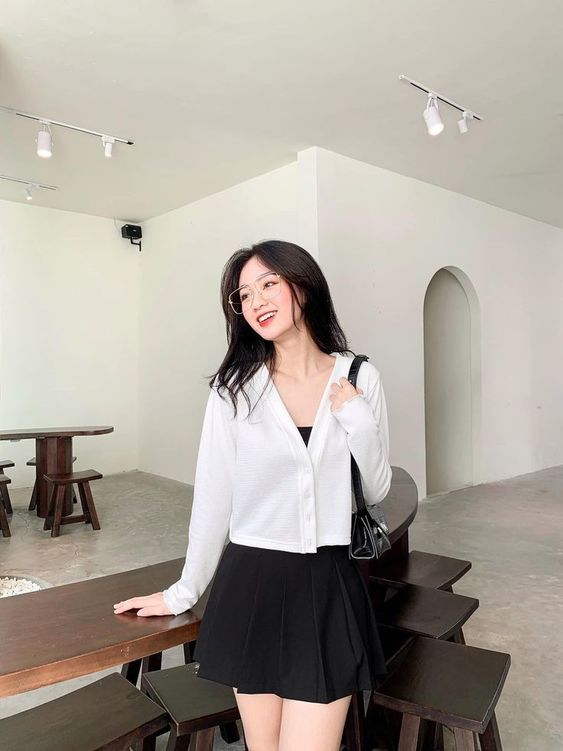 During exams, you can study with your boyfriend to improve your test scores. You can also use this opportunity to have a library date with your boyfriend. Even though this is a very rare opportunity, it may occur at some time. So, we have an ideal date outfit idea for that moment. Mix your tennis skirt with a lightweight cardigan and a tank top for the inner top. Then, style this outfit with sneakers or loafers for the shoes. Never consider wearing high heels at the library. Aside from making you feel uncomfortable, the sound of your shoes knocking may distract other visitors. For the bag, you can choose a shoulder bag or a tote bag. You can also wear reading glasses as an accessory.
8. Watching a Concert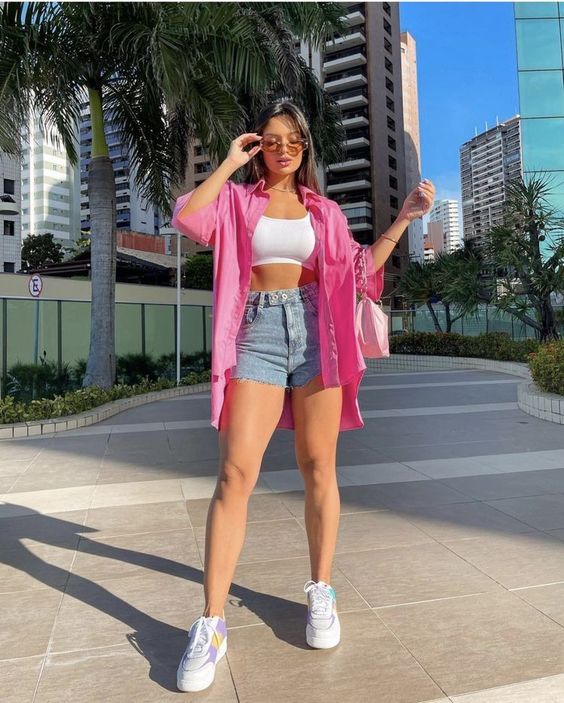 If you are bored with just a romantic dinner date or watching a movie for a date, watching a concert can become an alternative fun date. You can also invite friends to join and make it more lively. Now, let's prepare your concert outfit idea that also uses for dating style. For this, get your large pink shirt to match up with a sports bra underneath and cropped denim shorts for the bottom style. Get a pair of trainers or sneakers for the footwear to have a more trendy style. Completing your outfit by getting a pink shoulder bag and sunglasses.
9. Bowling Time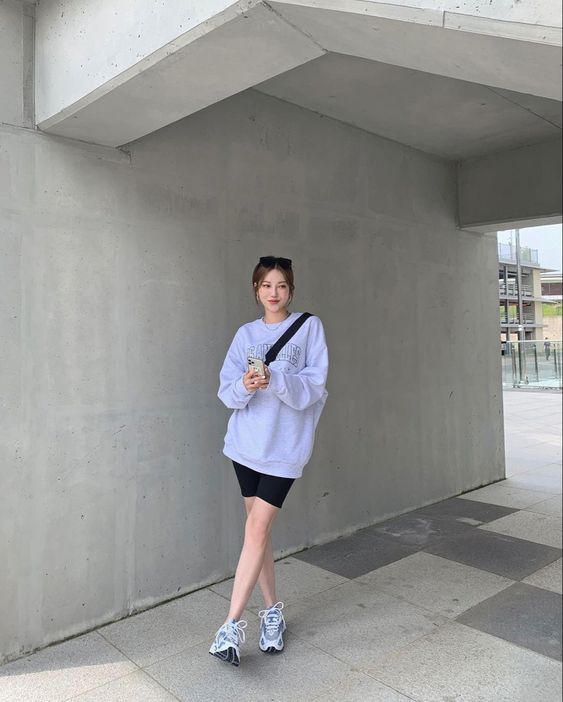 When it comes to date outfit ideas, comfort should be your top priority. You'll feel good and confident if you choose appropriate clothes for dating. Like when you have this sporty-chic style for bowling time. For this, our favorite combination is a simply chic look with a hint of trendiness by wearing a hoodie or jumper and biker shorts. You can finish out this style with fun jewelry items that have recently popular among teenagers and then wear a waist bag or funny pack as your bag.
10. Evening Date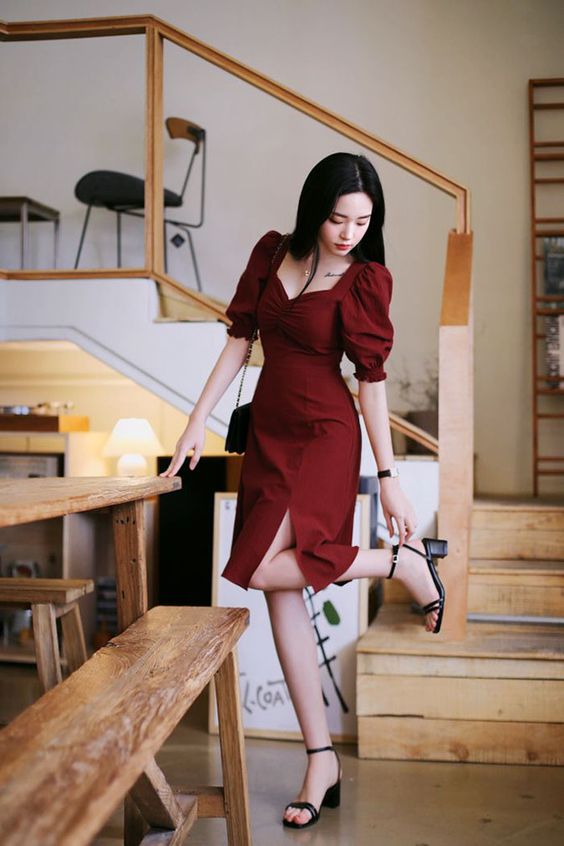 A great time for planning a date is in the evening during the weekend. After a week full of hard work, spend the weekend with your boyfriend and plan an evening date. Show your personal look that's elegant and flirty with this red gown. Choose a red puff sleeve mini dress that reveals some of your lovely skin but not too much. Then pair it with classic black strappy heels for footwear to keep it simple and elegant. Furthermore, bring a Minaudiere bag to carry your belongings. Accessories are necessary to improve your appearance, and for this style, a simple watch and gold jewelry are enough. And for a more sexy look, wear bright red lipstick.
11. First Date Outfit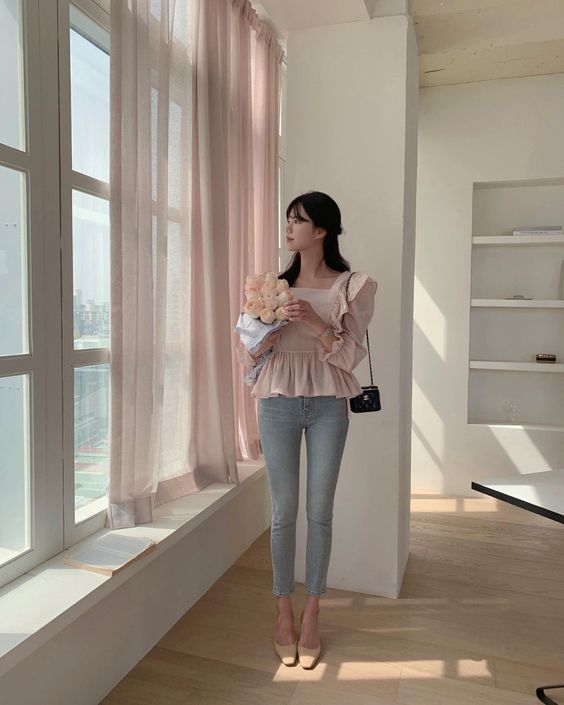 Getting a good impression on a first date is necessary. And your appearance is the first thing that would be evaluated. You may be stressed out right now about deciding what to wear. Remember that they will be only looking at you from the waist up during the date, so get a point with your tops. Make sure you find a top that can flatter your figure while not being overly revealing. And this square neck blouse seems perfect to become your first date outfit idea. When you wear it, the first impression is pretty, cute, and elegant. You can pair it with skinny jeans and pointed-toe heels to get a more chic elegant style. Then finish out your outfit idea with a micro handbag or your shoulder bag. If you want to have more of an idea about this, read our previous article about pretty and feminine outfit ideas that you can wear on a first date.
12. Amusement Park Date Style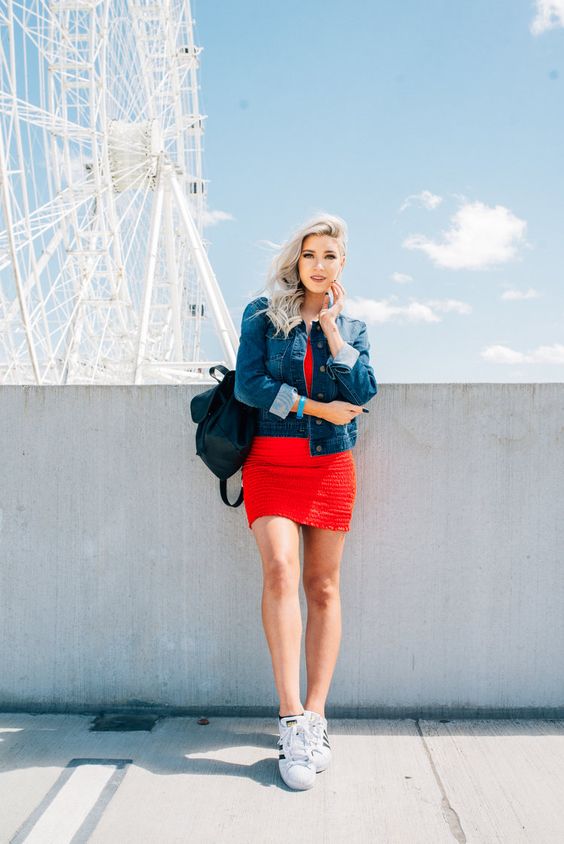 Who says the amusement park isn't a good place for a date? Make a day out to an amusement park with your partner. This would be a fun date while getting nostalgic about your childhood. For this date outfit idea, you can get a semi-trendy style by wearing a bodycon mini dress with a denim jacket for layering and then pair it with white sneakers. Don't ever think about high heels because you'll walk more here. Sneakers, trainers, loafers, and flat shoes are great options because they would help you to freely move and wouldn't hurt your feet. Get more fashion staples with a cap, sunglasses, and a backpack to complete your outfit style.
13. Arcade Date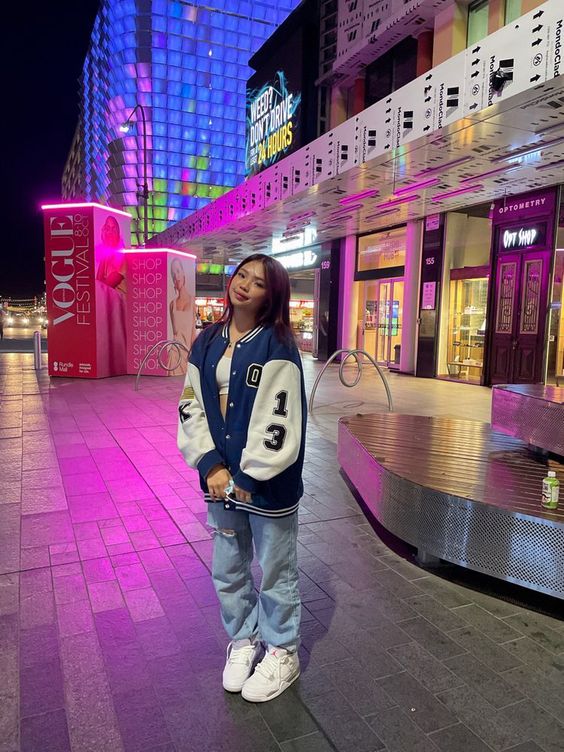 Going to the arcade on a date? Why not? It would make spending time with your boyfriend more enjoyable. You can play a couple of games together or just play to challenge each other. Now, let's figure out the best arcade date outfit for you. We prefer this trendy look, which consists of a varsity/baseball jacket with a sports bra for the inner top and straight jeans for the bottom. An oversized outfit is also a good choice here, and you can get it by wearing your boyfriend's jacket. This outfit would be complete by matching up with white sneakers or trainers. That would give you a trendier look. For the bag, may you should get a waist bag to carry your important stuff.
14. Going Picnic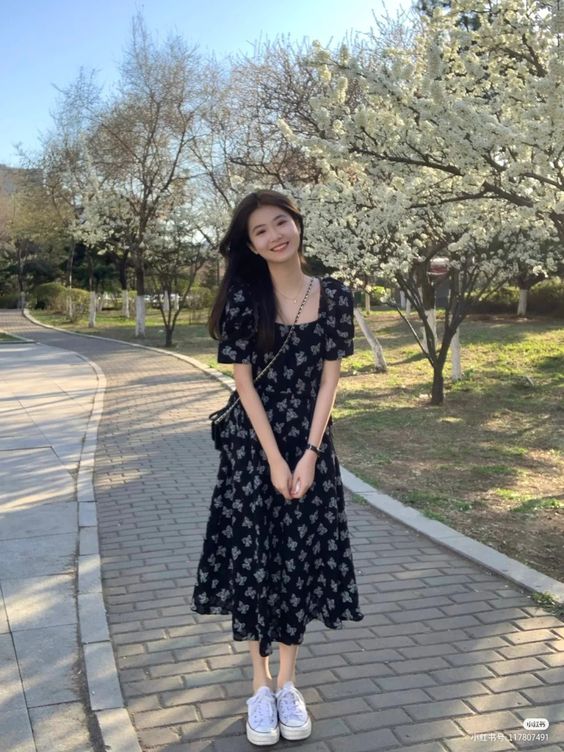 Spring and summer are ideal seasons for picnics and dates. When you have planned a picnic with your boyfriend at that time, just prepare your best appearance. Because spring/summer is a great time to wear dresses, you can dress up in a lovely floral gown for a romantic picnic. If you're a careless person and don't want to ruin the moment with clothes that get dirty easily, go for a black peasant gown with pink floral prints. Then for the shoes, if you want to look feminine and girly you can select loafers or flat shoes. But when you want something that chic, you can choose sneakers for the matching footwear. Complete your date outfit idea by wearing a pretty sling bag.
15. Meeting His Parents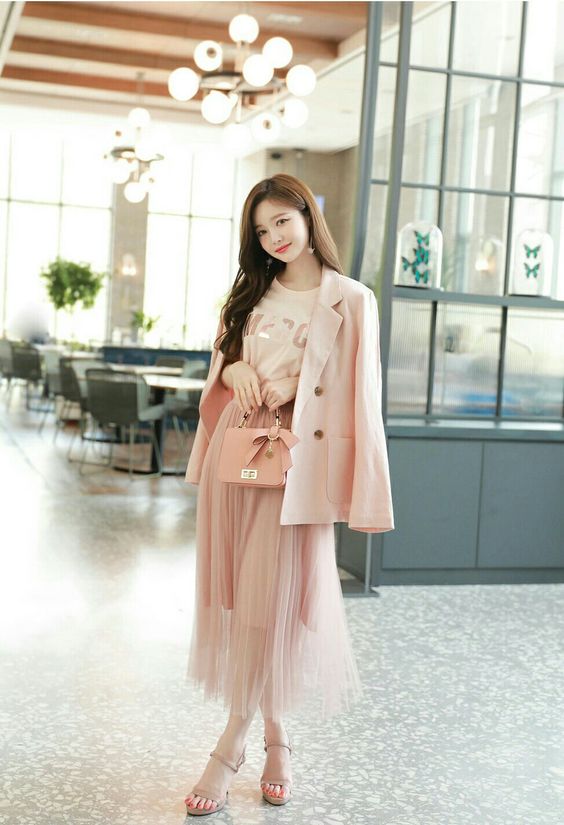 Meeting his parents, like your first date, should leave a good impression. Of course, the first thing you should think about is your outfit. Because this is an important meeting, you must dress elegantly and classily. So, you can go with this formal date outfit idea that includes a blazer and midi skirt style. Choose a monochromatic look like wearing pastel shades that make you look cuter. You can wear a pink blazer on the outside and a pink t-shirt on the inside. Then, for the bottom look, bring your pink chiffon midi skirt. To look elegant, choose beige high heels as your shoes. Then, include some accessories, such as drop earrings and simple jewelry. For the finishing touch, grab your pink handbag. This outfit idea provides you with an elegant and classy look that is perfect for meeting his parent for family lunch/dinner.
16. Valentine's Date Style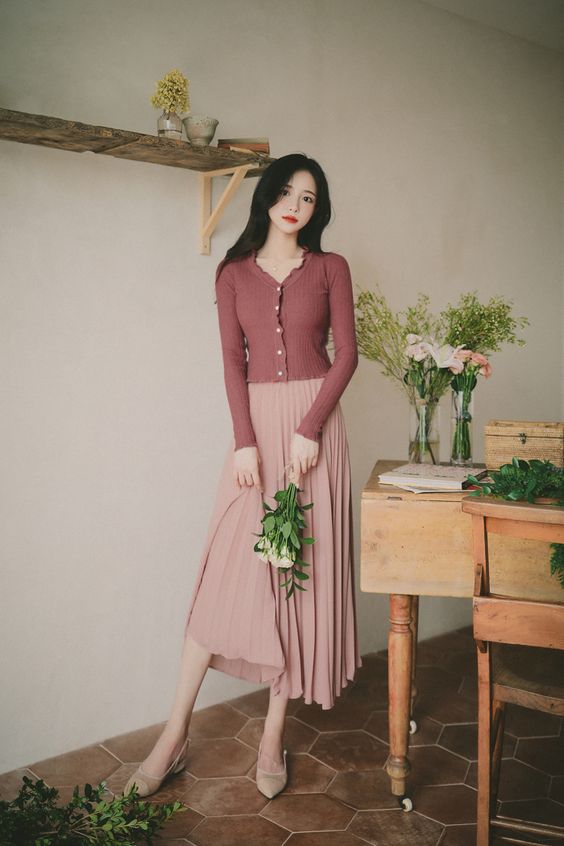 Need a proper outfit for Valentine's day date? This midi skirt style is appropriate for you if you prefer something feminine and elegant. It's modest but still, makes you look lovely. Simply, you can mix your fit knitted top with a pleated skirt. Then, elevate your date outfit idea by selecting slingback heels for the footwear. Besides, you can skip wearing accessories or just use simple ones. For the bag, you can match it up with your favorite sling bag. You can use this style to go out for a valentine's day outfit and spend all day with your boyfriend.
17. Date Outfit at The Zoo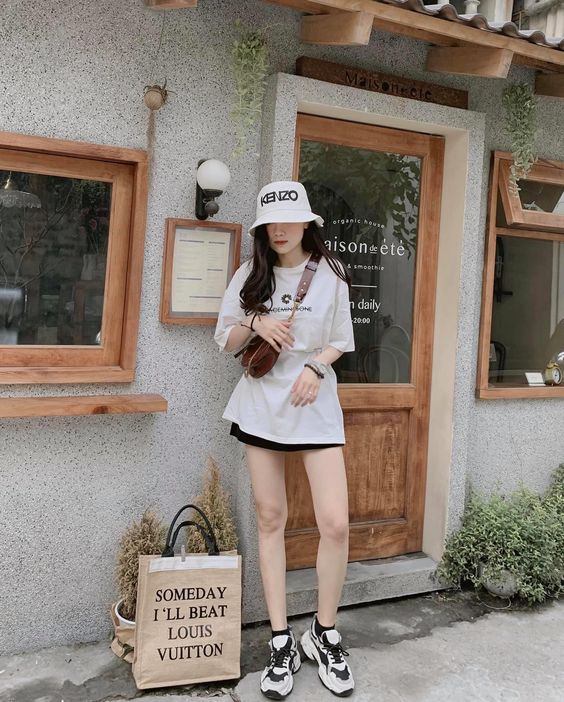 Another great spot for a fun date. Yes, it's a zoo! Zoos are great places to strengthen your relationship because they are fun, relaxing, and beautiful. They have so many interesting things that keep everyone feeling excited. With a bit of preparation, you can make an unforgettable zoo date. Regarding your outfit, make sure to wear something that is both comfortable and fashionable. You can try to wear this style for zoo date outfit ideas. Mix your basic t-shirt with shorts and sneakers. If you think that's too simple and ordinary, spice it up with accessories items like a bucket hat and sunglasses. Move to the bag, you can pick between a funny bag, a backpack, or a tote bag.
18. Sporty Look for Golf/Tennis Time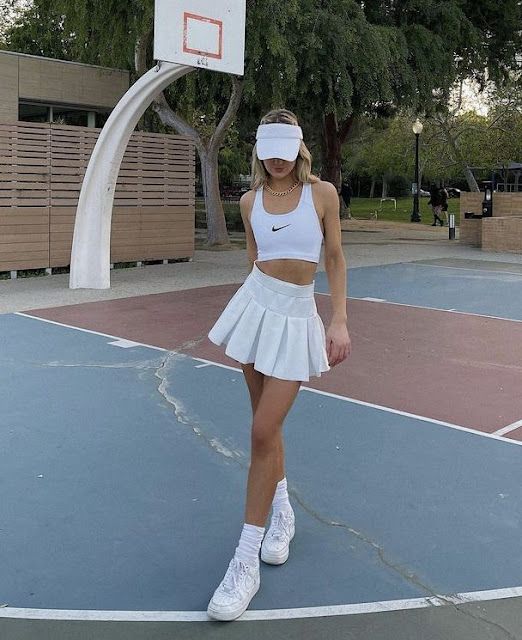 After giving you some ideas for dinner date outfits, movie date outfits, and concert date outfits, we now give you a style for golf/tennis dating. If you have a boyfriend who enjoys golf or tennis, you can plan a date around his hobby. For this, you must prepare an outfit that is both comfortable and attractive. Therefore, we give you this sporty date outfit idea. The combo of a tank top and a tennis skirt! This style can truly give you a sporty chic outfit while you spice it up with trainer shoes. Another option, you can wear a collared tank top and a span mini skirt. Accessorize it with a visor hat and some simple jewelry. Then, get a duffel bag to carry your stuff.
19. Aquarium Date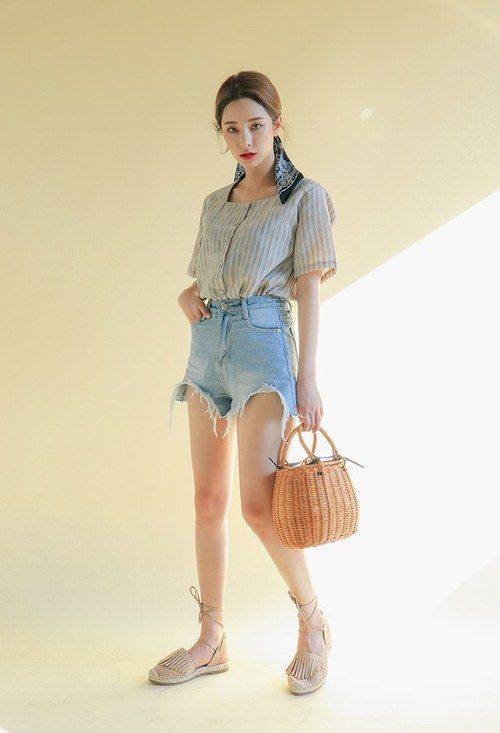 A beautiful place for a romantic and fun date is the aquarium. This is a place where you can spend time alone with your boyfriend while admiring the beautiful underwater scenery. Use this chic outfit style if you need to dress for this event. Mix and match your short sleeve blouse with cropped denim shorts. When you need something chicer and stylish, you can bring a bohemian hint by choosing bohemian sandals for the footwear. Furthermore, have this craft rattan bag to elevate your bohemian style. Not only that, do an easy bohemian hairstyle by using a scarf to tie your hair. And if you want, you can also add some bohemian accessories.
20. Netflix Date at Home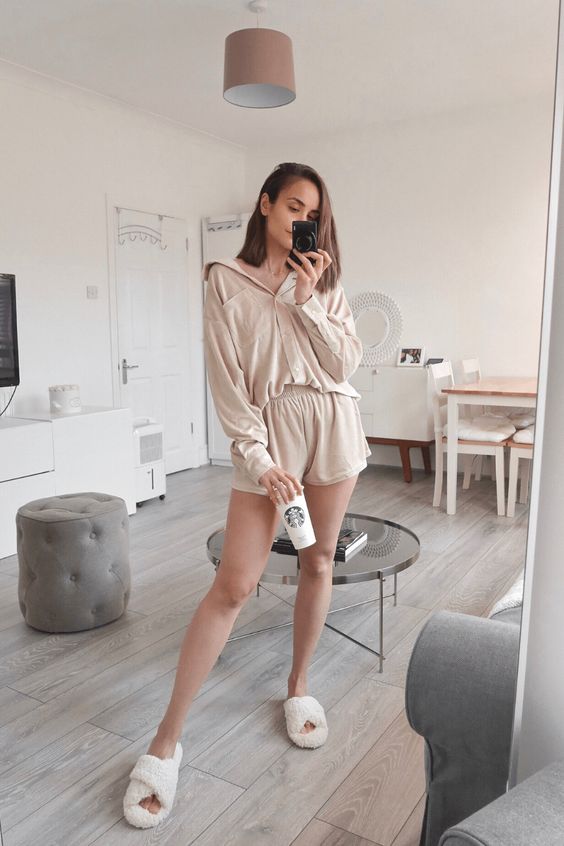 You can spend time with your partner in a variety of ways. Besides having a romantic dinner, hangout together, or going picnic, you can chill out at home with your boyfriend by watching Netflix. It seems more intimate and romantic to me. However, it doesn't mean you can overlook what you're wearing. You can keep fashionable with casual date outfit ideas by styling pajamas. You can pick this set of short pajamas, or you just can wear a legging with a hoodie. Making it as cozy as you want. If you want a more fun date at home, you can use a couple's pajamas.
So there you have it: 20 date outfit ideas that we have already shared with you! So, pick your outfit and make them fall in love with your lovely appearance. I wish you can get inspiration from our date fashion collection, which helps you look your best on every date. The key to making you look more charming is to always feel confident in whatever you wear. The point is that you should also consider the time and place for dating to have appropriate date outfit ideas for different occasions.