Olidfashion.com – Whether you're at a music concert or a music festival, seeing your favorite rock band, or listening to live country, pop, or reggae music, your appearance plays a role. When putting together fashionable concert outfit ideas, the genre of music as well as the venue are important factors to consider. From suits for jazz music in luxury places and seeing your favorite pop star's on a stadium tour to casual concert halls on outdoor grounds, you'll want to arrange your outfit around the type of show you're attending.
To become your preferred look when attending concerts and music festivals, start styling sturdy outfits with boots and sneakers, or a casual look with bohemian outfit styles. Also, incorporating the artist's signature style elements is one way to get fashionable concert outfit ideas. Color, silhouette, and signature accessories are all examples of this to include in your outfit concept.
Then, to decide what to wear to a concert or music festival, you can look up the styling look on the internet. Therefore, we're going to assist you by sharing some fashionable concert outfit ideas which are gleaned from Pinterest. Take a peek at our huge list down below to help you get started right away!
1. Stunning in Bohemian Style with Lether Jacket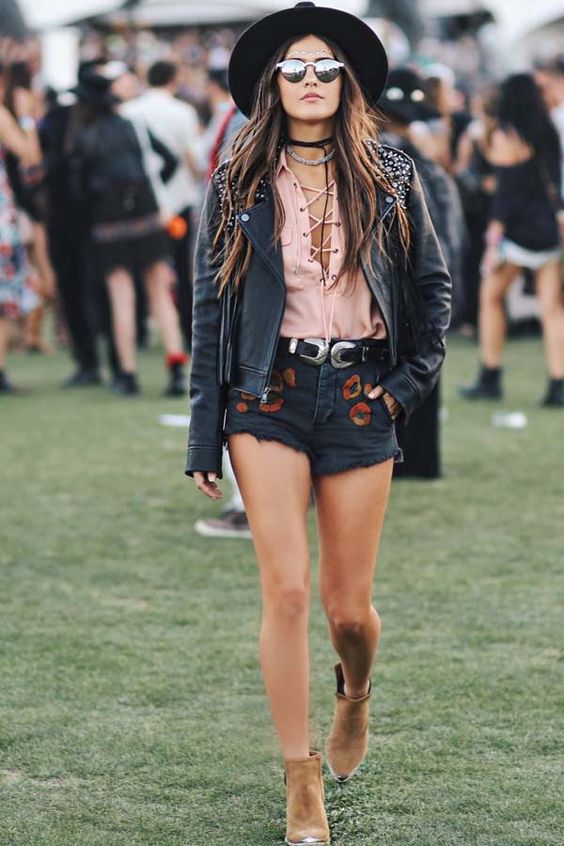 For the first fashionable concert outfit idea, we suggest you bohemian style with a leather accent. For this, you can mix a lace-up t-shirt with floral shorts then layer up with a leather jacket. To elevate your chic style, you can get bohemian accessories such as a fedora hat then get suede ankle boots for the footwear. Accessorize with a cool leather belt, fabric jewelry, and sunglasses. For the bag, you can pick a tassel sling bag or leather backpack to emphasize a more bohemian look.
2. Get on One Shoulder Top and Leather Pants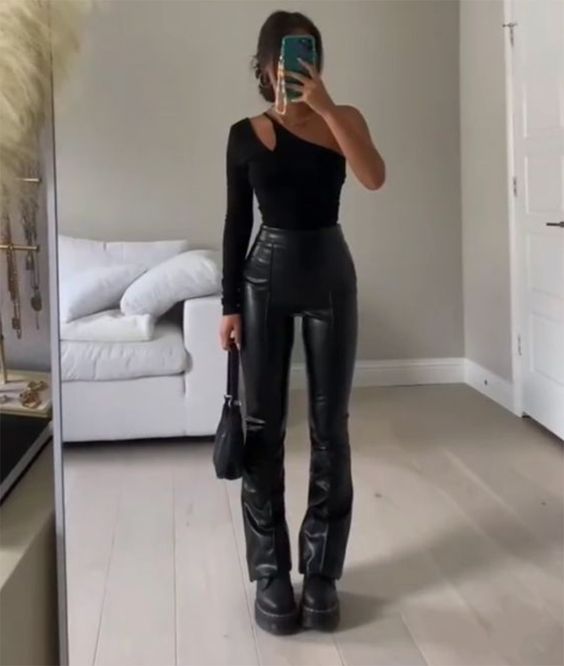 The next style is using one shoulder top and leather pants combo. For those who want to look sexy but sturdy, this look is perfect! You can mix a sleek one-shoulder top that creates your silhouette beautifully with leather pants for the bottom style. Then, bring on chunky shoes to give trendy and a bit grunge style. With this fashionable concert outfit idea, you can skip accessories or pick a simple one. Like big hoop earrings and a shoulder bag. To help you look more stylish, you can elevate it by doing a low bun hairdo.
3. Look at Leopard Skirt for Chic Performance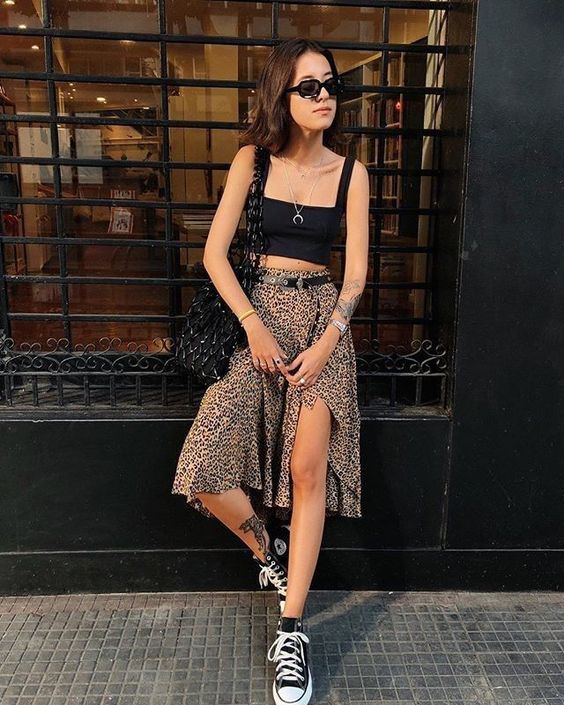 If you simply want to enjoy the music concert or the festivals while wearing a casual outfit, this is the one for you! You can wear your leopard skirt with any tank top you own. Perhaps you could add accessories such as a necklace, waist belt, and sunglasses to make yourself look more fashionable. Then wear shoes that are comfortable and do not hurt our feet, because we will be standing and walking for several hours. For this, prefer high sneakers for the matching footwear and chicer style. For the bag, you can pick a tote bag, shoulder bag, or mini backpack.
4. Glam in Sequin Cropped Top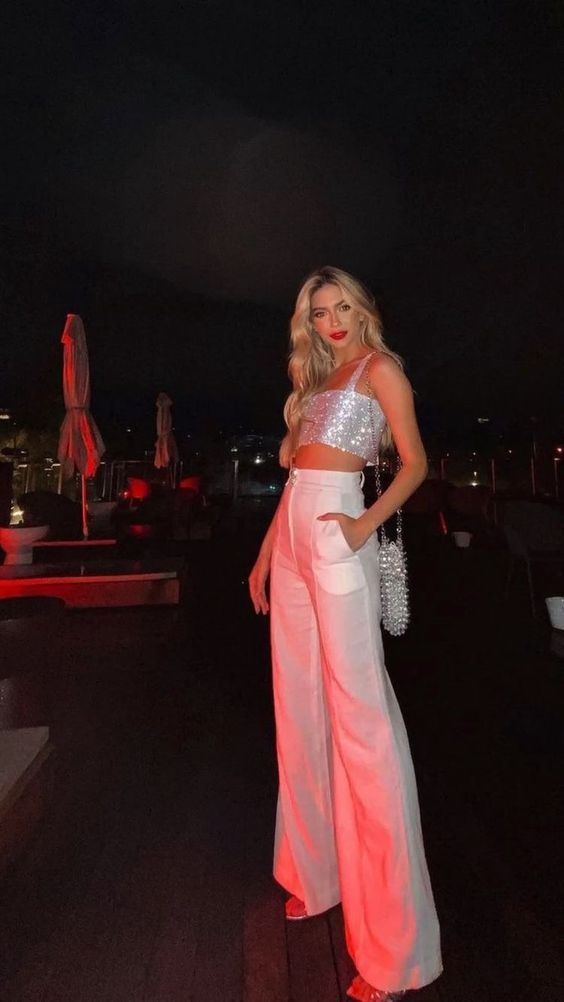 Wear a sequin outfit to a night concert to add glam style. You can choose a sequin cropped top and pair it with white palazzo pants for glam and fashionable concert outfit idea. All you need to finish the look is a pair of silver high heels and a silvery sling bag. This is really stunning girl's night out outfit idea to go music festival or concert.
5. Play with Grunge Style
I think you can't skip this one if you do really need a fashionable concert outfit idea. This simple yet sweet style would rock on your plan to see summer music festival. You can play with a breezy top like this see-through t-shirt. You can use a sports bra or cropped tank top for the inner. Then, cropped shorts can you place for the bottom style. For the toe, simply you can get ankle boots to level up your appearance. This outfit idea also can give you a chic grunge style when you pick in a black scheme and are supported with bold makeup. Accessorize it with sunglasses and a leather belt. Then get your sling bag to make you ready to enjoy the concert.
6. Simple Trendy Style in Strapless Cami Top and Leather Pants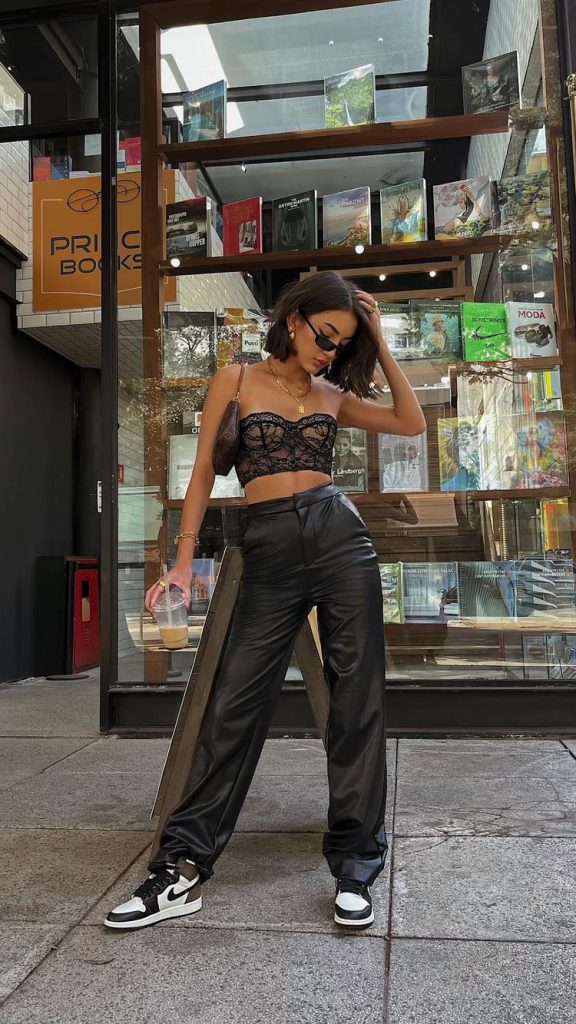 Sometimes you don't need a complicated outfit to go to a music concert. Simple style with a minimalist look is also can bring a fashionable concert outfit idea. Like this one! A strapless cami top that you wear with leather pants. To elevate your sturdy and trendy look, wear sneakers or Skechers that would make you feel comfortable all along the event. Then, accessorize it with gold jewelry and simple fashion accessories. For the bag, you can bring a shoulder bag.
7. Cute Concert Outfits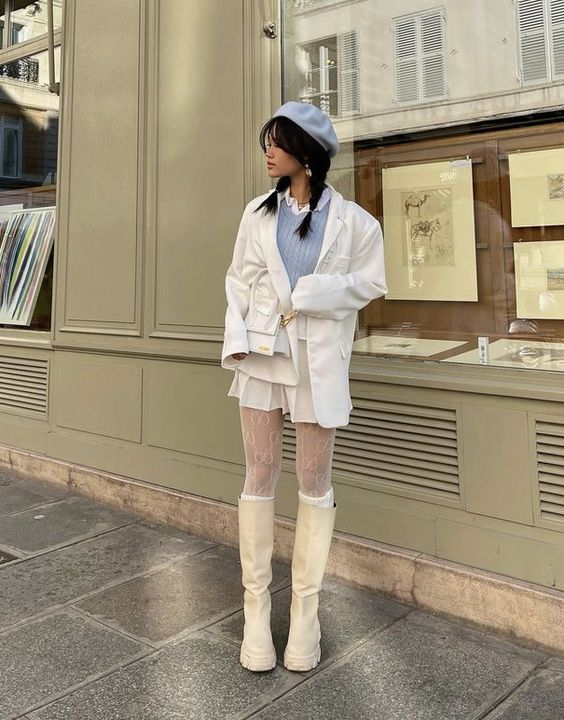 This outfit concept is inspired by Korean fashion. This cute outfit style is suitable for girls who want to attend K-pop music concerts. We give you a layered outfit idea that includes a shirt and knitted vest for the inner then get a blazer for the outer. For the bottom, you can wear a tennis skirt and stockings. Move to the shoes, high boots are what you need to support and balance your cute appearance. Add accessories like a beret hat and cute earrings that can help you look prettier. Especially when you do your hair in two braided styles, that would increase your cuteness. Perfect all with a sling bag to help you carry your belongings.
8. Bring Back Retro Outfit Look with Flared Pants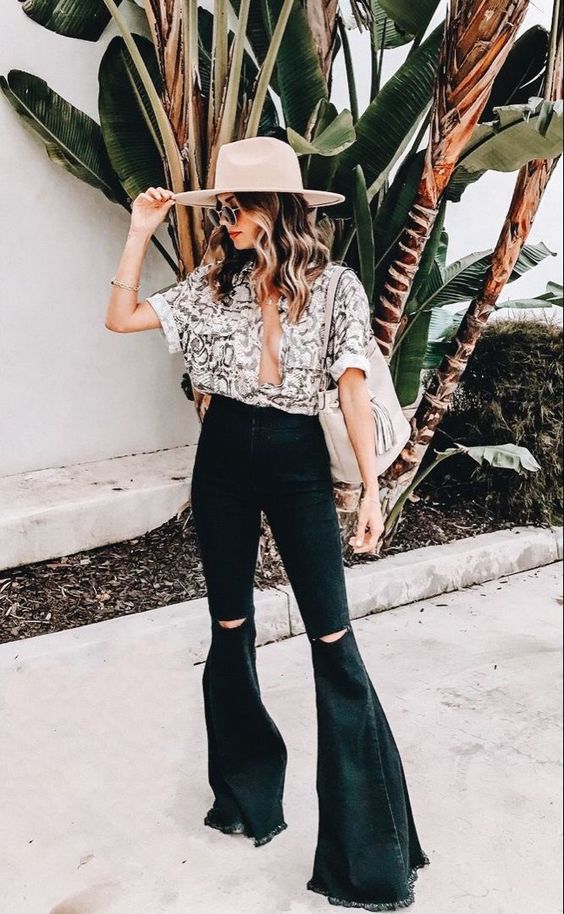 Another way to create a fashionable concert outfit is to incorporate retro and vintage styles. Do you know that flared pants or jeans are the most popular attire? Without a doubt, this piece is capable of bringing 80-90s style into your outfit look. If you want to make a statement with these pants, pair them with a patterned shirt. To appear sexier, unbutton your shirt and tuck it into your pants. Bring simple jewelry, a fedora or cowboy hat, and sunglasses as accessories. Then you can add wedges or chunky shoes and a shoulder bag to round out your look.
9. Country Music Festival Style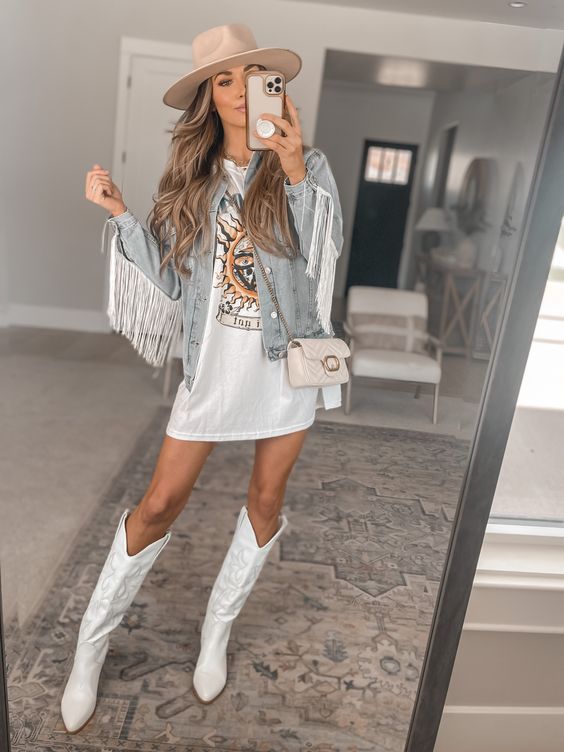 Have you ever attended Coachella? An annual music and art festival that's gathered some of the top artists in California. For this event, you want to look gorgeous in the outfit you wear right? There are certain staples in this show that you must achieve to become fashionable concert outfit ideas, such as bohemian, country, and cowgirl outfit styles. Like this fabulous clothing style! Yups, combining an oversized printed tee, a fringed denim jacket, and knee-high boots can bring excellent performance to go concert. What's more? You can add accessories such as a cowboy hat or fedora hat to elevate your cowgirl yet bohemian outfit look. To make it look chicer, you can pick a mini or micro sling bag for the bag.
10. Wearing Sporty Chic Style to Pop Music Concert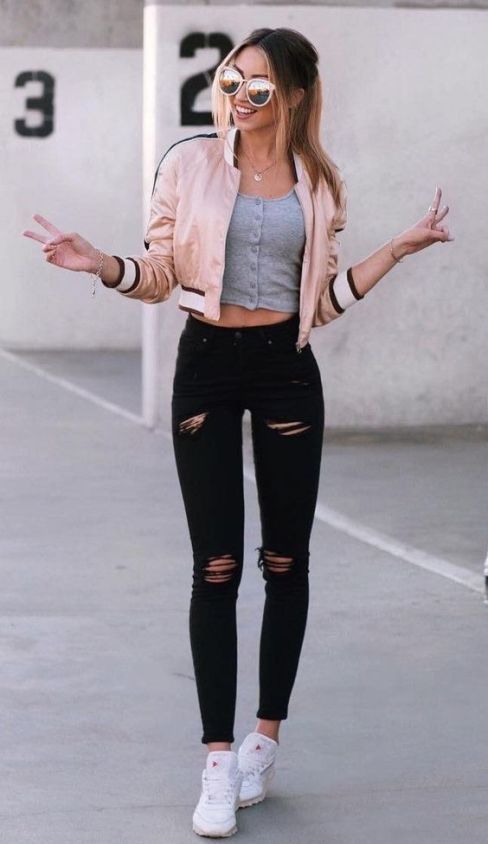 For those who prefer simple but stylish clothes, get this chic sporty look to go to a concert. You can start with ripped jeans for the bottom style, then a cropped tee, and layer up with a jacket for the top. to catch a more fashionable look, you can accessorize your outfit with simple gold jewelry and sunglasses. For shoes, get a sporty style with trainers, converse, or sneakers. To elevate your sporty style and fashionable concert outfit ideas, do your hair in a high ponytail.
11. Lean on Denim Shirt and Span Skirt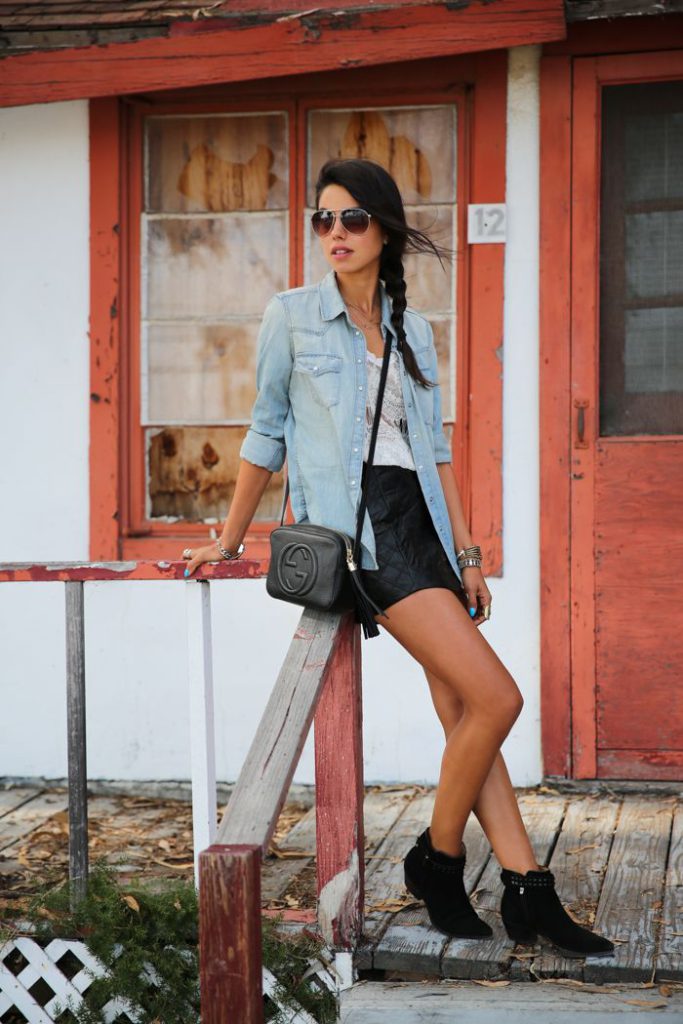 If you going to an indie music performance, you can bring a laid-back vibe to your outfit. You can lean on a denim shirt to mix up with a span mini skirt. To complete the style, you can get a sleeveless tee for the inner top. And give trendy style by choosing suede ankle boots. Accessories items also can help you get a fashionable concert outfit idea. Then, get a leather sling bag to complete your outfit performance.
12. Simple with Halter Top and Leather Pants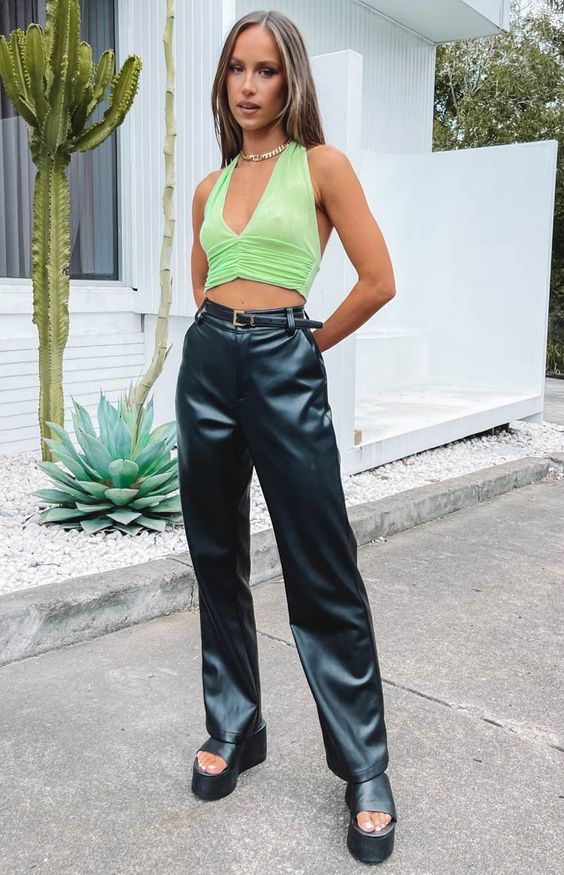 Another leather pants style that can bring a fashionable concert outfit idea is when you pair it with a halter tank top. Not too many items or ensembles, this outfit is enough to make you look stylish. You can skip on wearing accessories to keep up your simplicity. Move to the shoes, choosing chunky wedges are a great step up to this outfit style. For the bag, prefer to bring a shoulder bag.
13. Bring Festival with Tassel Kimono Style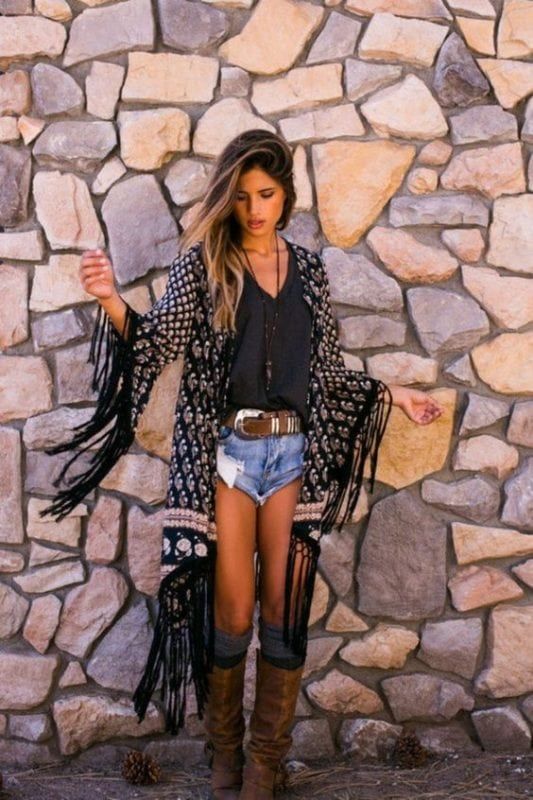 Outdoor music festivals and concerts may be more of a fashion show than any other type of music event. For example Coachella! Most people will be dressed in unique and fashionable concert outfit ideas. And this is one of them. A combination of shorts and a long-flowing kimono would be ideal for windy outdoor concerts and music festivals. For a cool look, you can create a bohemian style by choosing a fringed or tasseled kimono for the outer, a tank top for the inner, and cropped shorts for the bottom style. Then, pick knee-high boots for the footwear and balance your style. And also don't miss out to complete your outfits with bohemian accessories to elevate your appearance.
14. Rock on Your Mini Skirt and Knee High Boots
I have nothing to complain about this outfit, but I adore this styling look. What do you think? Do you agree with me? Wearing a mini skirt with a cami top as an inner and a leather jacket as a layer makes you look elegant, sturdy, and trendy all at the same time. Especially if you choose knee-high boots to complement this fashionable concert outfit idea. Furthermore, to boost your appearance chicer, you can support it with accessories and do a high ponytail to style your hair. Don't miss out to match up your bag, we suggest you wear a shoulder bag.
15. Chic Casual Style in Denim and Sleeveless Tee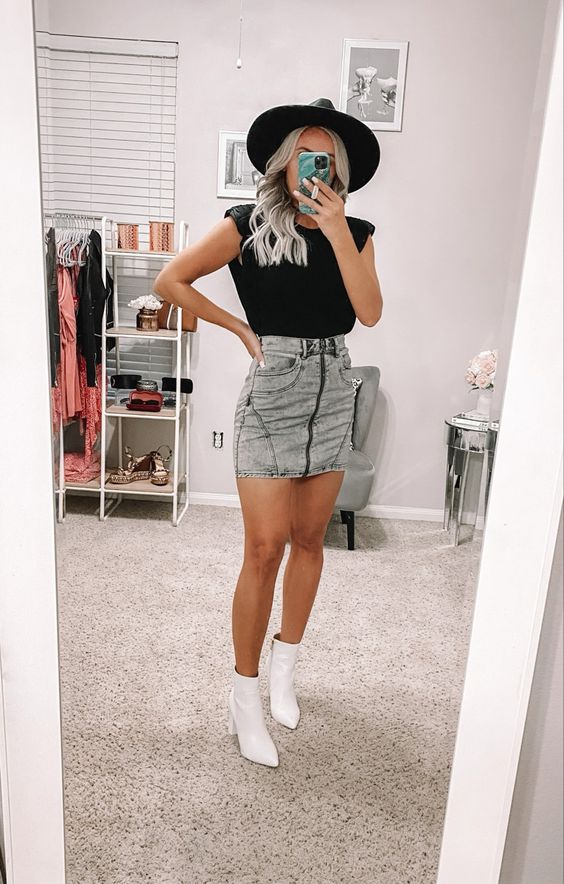 Next, we give you denim style again! If you are a denim lover, you can't miss this one. A denim skirt that pairs with a sleeveless, and wears on a fedora hat that gives you a country outfit look. Moreover, you select ankle boots or knee-high boots to support this fashionable concert outfit idea. Get the finished style by wearing a sling bag and accessories.
16. Ripped Jeans and Flannel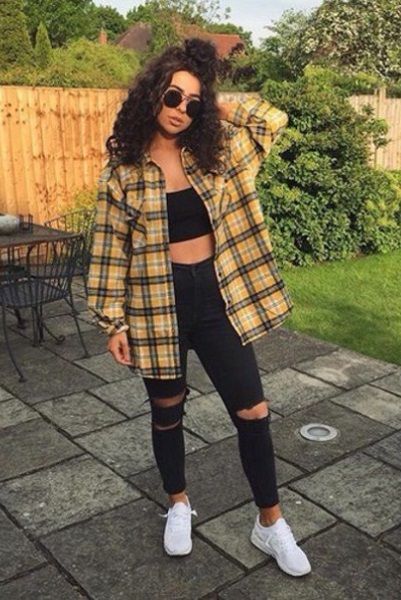 Ripped jeans and flannels are another indie concert outfit idea that you can wear. Simply, get ripped skinny jeans, a strapless bra for the inner, and make a flannel shirt for the outer. To emphasize your fashionable style, you can support it with sneakers or converse for the footwear. Then, bring a waist bag to stand your trendy style.
17. Layering Outfits with Corset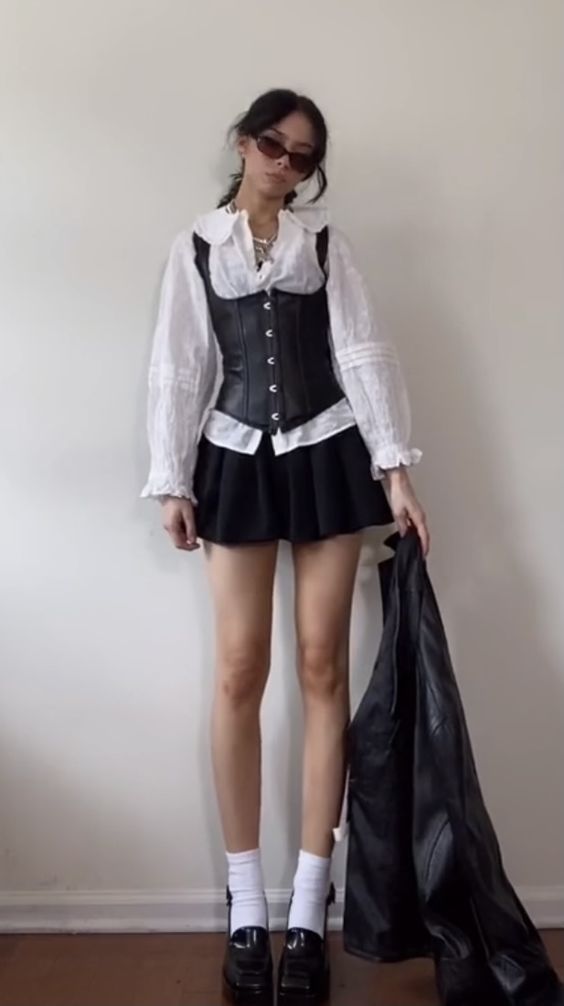 A subtle '90s look is currently trending. Try a mini skirt with a blouse and corset over it. Keep it simple and comfortable with socks and loafers for the footwear. This is what I meant about fashionable concert outfit ideas in classic style. This outfit is suitable to attend an underground or rock music festival. Just elevate with accessories and get a shoulder bag to help carry out your stuff.
18. Match Overall with Tank Top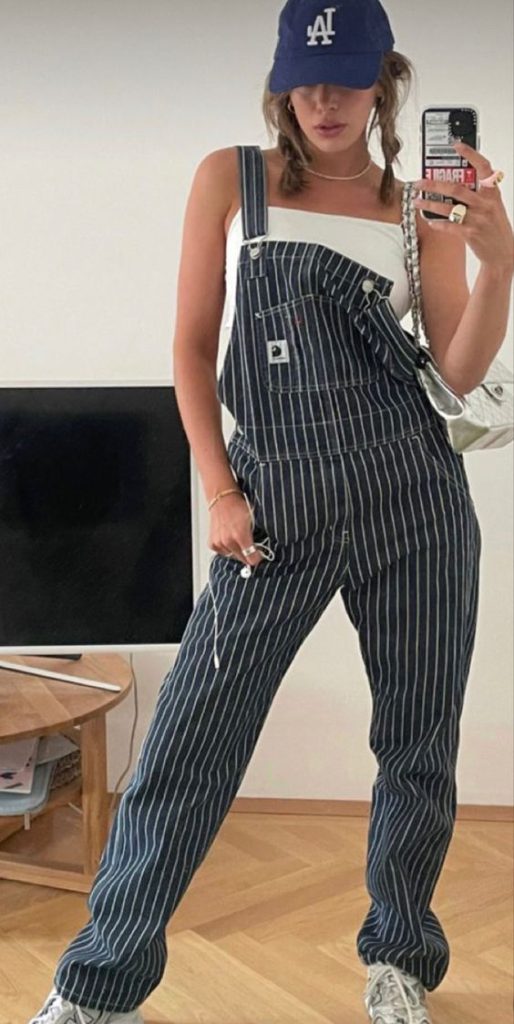 You can match an overall with a tank top to draw a simple fashionable concert outfit idea. For the footwear, you may pair it with sneakers or trainers that look comfortable and stylish. To have a more stylish and cute appearance, do your hair in messy two-sided braids and wear a cap. Accessories will level up your look to more contemporary and chic. For the bag, you can wear a shoulder bag or backpack.
19. Max Your Mini Dress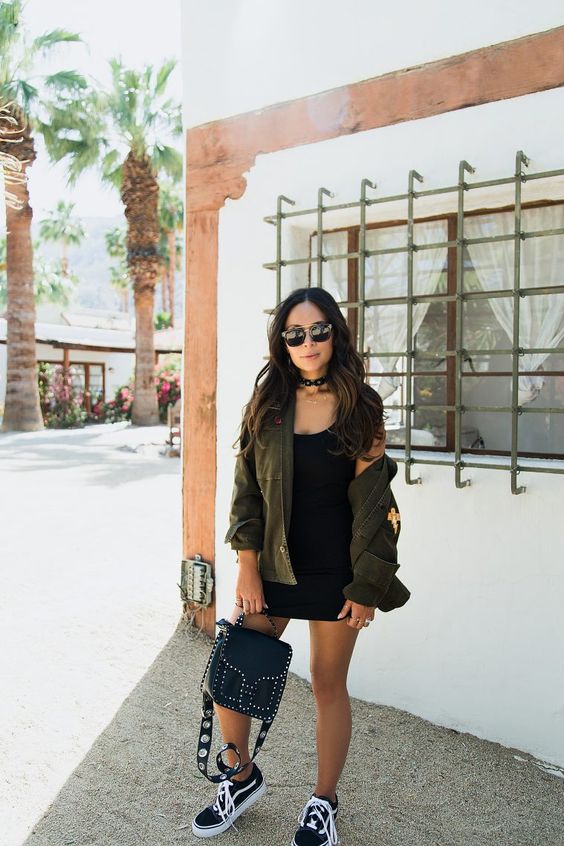 This mini dress looks lovely, yet sporty, for attending a concert or music festival. Whether it's a pop show or an outdoor festival, you can choose s black mini dress and then pair it with a bomber or denim jacket. Sneakers, Skechers, or trainers for comfy footwear. In addition, you can wear a delicate denim choker, sunglasses, and fashion jewelry as accessories for an elevated touch. Then, bring a sling bag or handbag to perfect your fashionable concert outfit idea.
20. Back To Basic with Shorts and Tank Top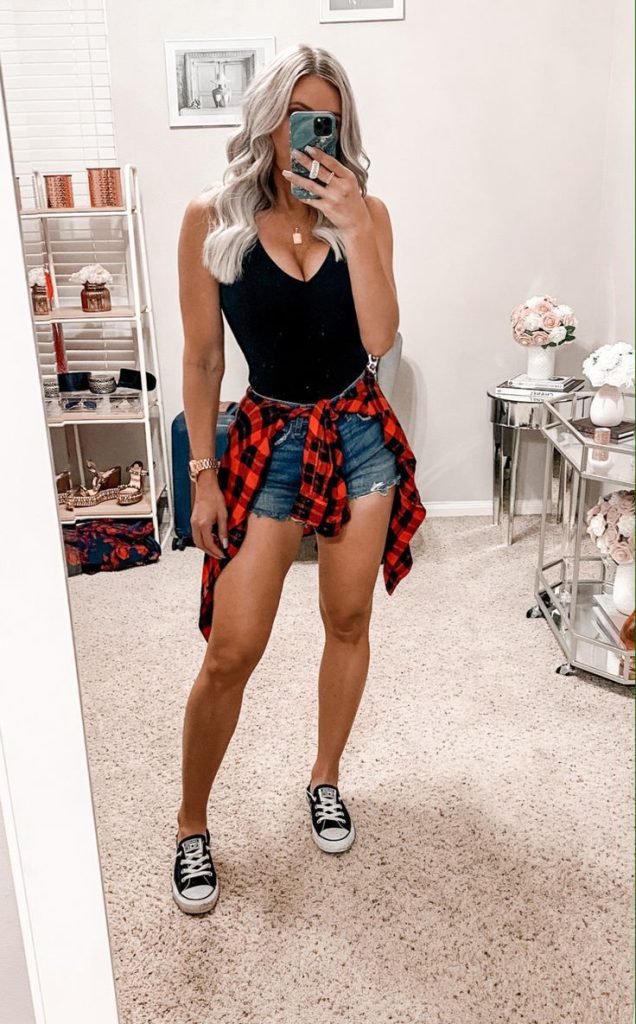 I love basic! Because we can create different types of styles from that basic ensemble. If you want to go with the basic ensemble to get a fashionable concert outfit idea, prefer this one. A combo of shorts and a tank top, then bring a little hint by wearing red flannel for the outer. You can bring this casual outfit style to a pop music concert in the stadium or outdoor venue. Because you'll actually stand long, better you wear comfortable shoes like sneakers.
21. Mini Skirt and Stocking Style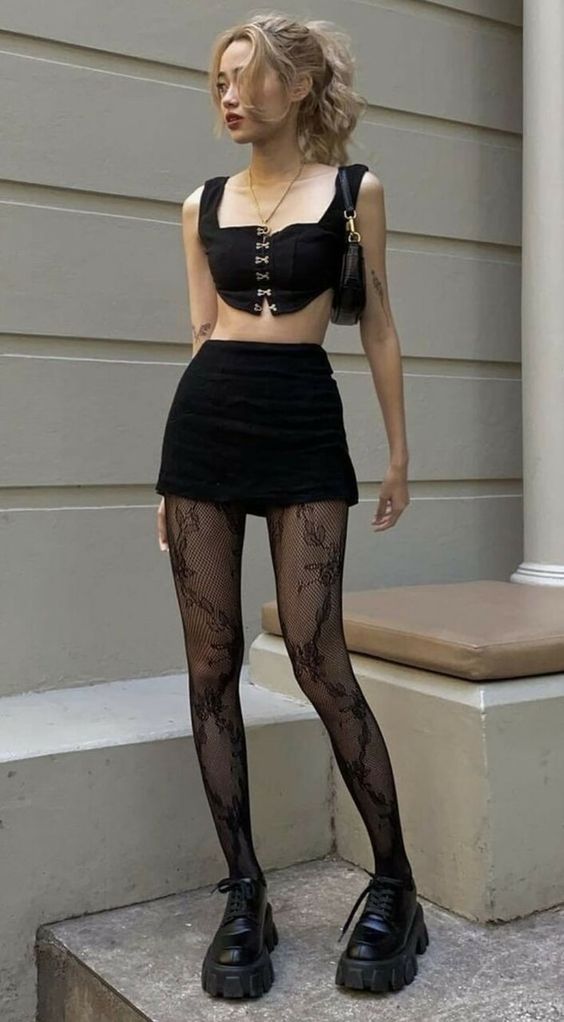 A '90s-inspired grunge look is the manifestation of casual cool for a reggae, metal, rock, or electronic music concert. A lace-up bohemian tank top, span skirt, and stockings are fit for your fashionable concert outfit idea. Especially when you go with chunky shoes for footwear, it will keep things elevated. Of course, you can support your grunge and goth outfit look with bold makeup and a messy hairstyle. For the bag, a black shoulder bag is enough to give you a complete style.
22. Get Point with Your Army Boots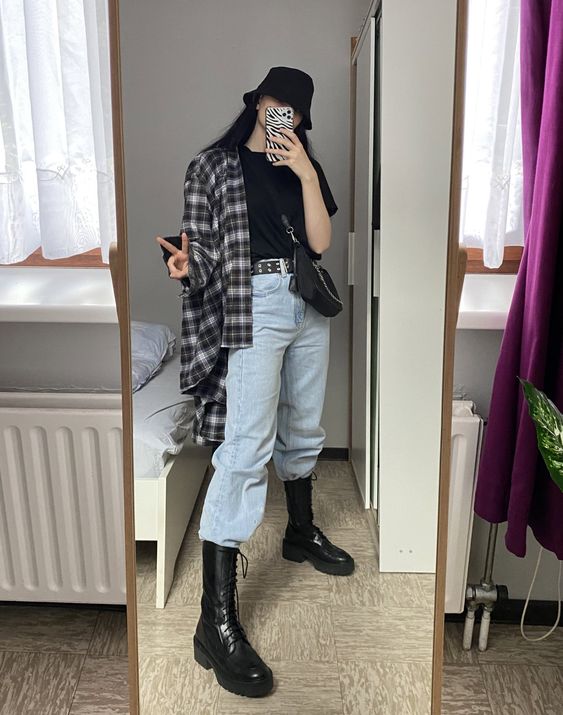 Preparing for a concert with some sturdy and trendy style by getting points from blue jeans and army boots. For a complete look, you can get a basic t-shirt for the inner and flannel for the outer top. Also, bring a bucket hat to emphasize your trendy style. When using this outfit idea, you can go without accessories, but if you do, a spike belt will give you a rockstar vibe. Then, perfect your look by bringing a waist bag or a men's sling bag that gives boyish look.
23. All in Black Style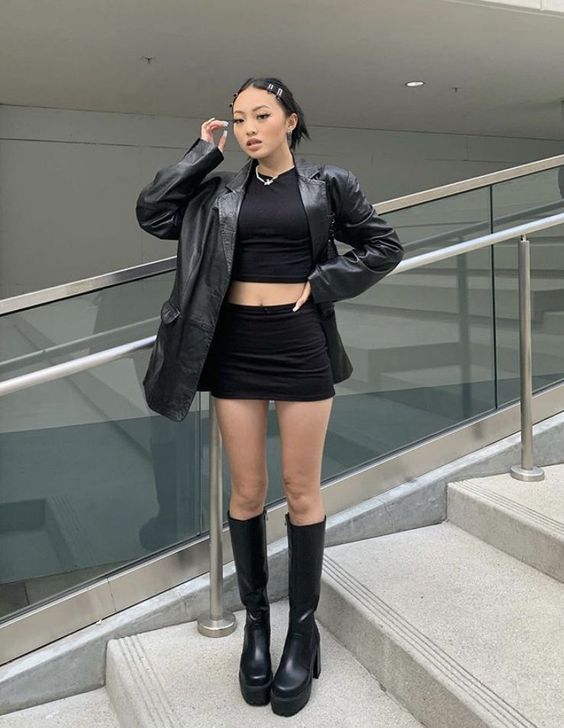 Keep simple in monochromatic style but sturdy with all in black outfit look. Simply, you can put together a sleeveless cropped tee, a span skirt, and a large leather jacket for your fashionable concert outfit idea. Then for the toe, leather knee-high boots are what you need to balance the style. then, for the bag, you may choose a black shoulder bag. This can you used to see your favorite band standing on a stadium tour.
24. Going on Vintage Look with Red Jeans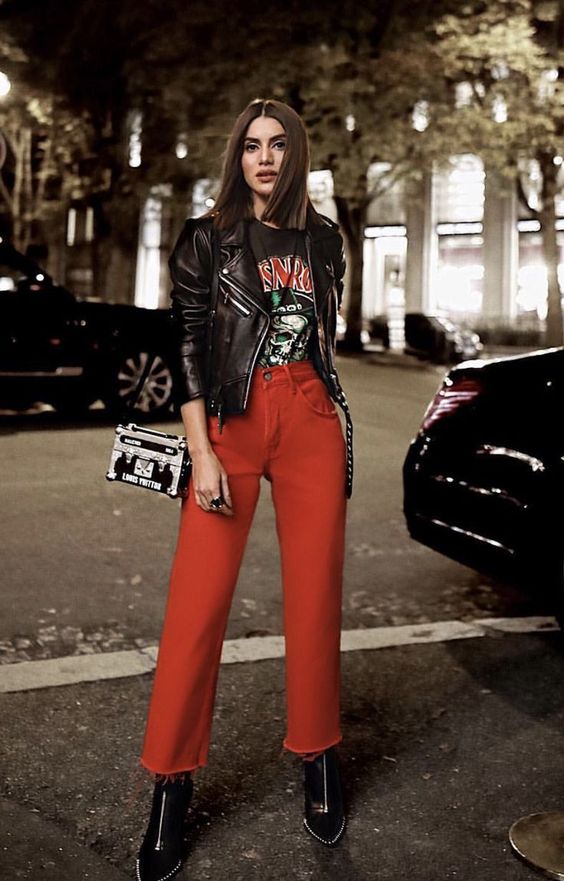 If you want to create a nostalgic '90s feel to your fashionable concert outfit idea, opt for this look now! What else besides a leather jacket, a graphic t-shirt, and a red cropped jeans ensemble? This can be your alternative vintage look and ankle boots would keep it all perfect. Then for your bag, you can use a unique sling bag with a retro design.
25. Sleek and Studded Style with Blazer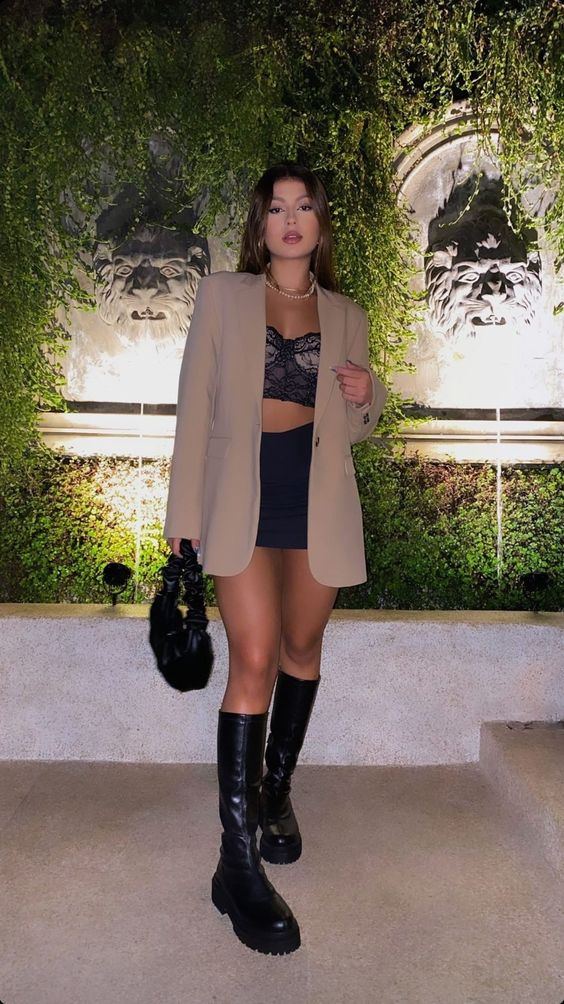 When you want to attend a pop concert, the right time to bring out a trendy look. You can experiment freely with other clothes in your wardrobe. Like this elegant yet trendy blazer style. Do something different with this piece by matching it up with a lace bra for the inner top and span skirt. Then, bring a more trendy style with leather chunky boots for the footwear. You can also use some fashion accessories to elevate your outfit performance. For the bag, you can select a shoulder bag.
26. Mix Your Waist Jeans and Ankle Boots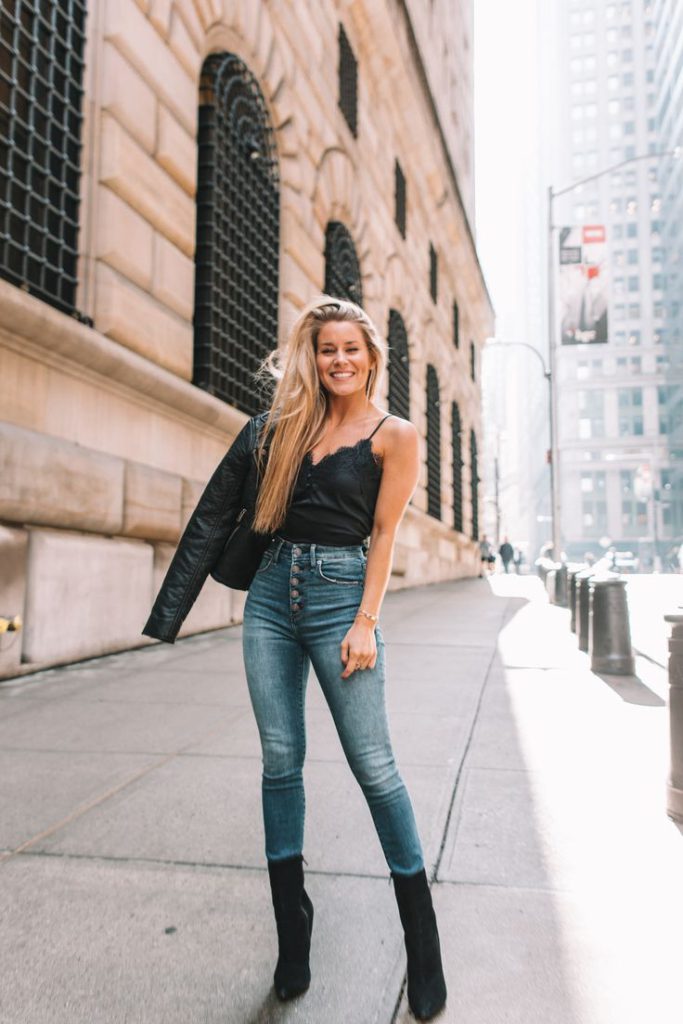 Wear a great pair of fitted jeans and a black v-neck spaghetti strap lace tank top for a sexy and simple look. This outfit idea shows more about how to put your personality and confidence into your fashionable concert outfit idea. With this kind of styling outfit, you'll beat the heat with its comfort but still be chic. To give a trendy feminine look, pair it with ankle suede boots for the shoes. Take it to the next level with a leather jacket and a shoulder bag to perfect your summer outfit look for a music festival.
We have shared some fashionable concert outfit ideas to wear to the music festival. Regarding the place and music genre that you would be present, keep in mind it takes effect on the outfits you wear. So, with the right mix-and-match outfits or by following the preference above, I think you'll get stunning performances to enjoy your favorite star's concert and music festival.