Olidfashion.com – Pregnancy is a wonderful time for every woman. Congratulation that you will become a new mom now. When you get pregnant, it will be a little tricky and challenging to have chic fashionable outfit ideas. You may be getting a hard time dealing with clothes options because of the baby bump which getting bigger. In the early pregnancy, you may be not too confused about what to wear for daily style. However, when began in the 2nd and 3rd trimesters, you will start to hard find a fashionable outfit that would make you look chic.
If you look for something that's a comfortable and chic outfit during pregnancy, you are in the right place now. We will gladly inform you about the 22 chic fashion styles for maternity outfit ideas in this article. Get a fabulous appearance with the combination of your pregnancy glow and fashionable outfits. Go ahead and start to choose your pregnancy style by scrolling below then pick what you really desire.
22 Chic Maternity Outfit Ideas for Pregnant Moms to Look Fashionable
We know that sometimes becoming pregnant women is hard especially when choosing outfits. Because of the baby bump in front of their belly, they need something that is both comfortable and chic to use. So, we give you some ideas about what you need to wear during your pregnancy here.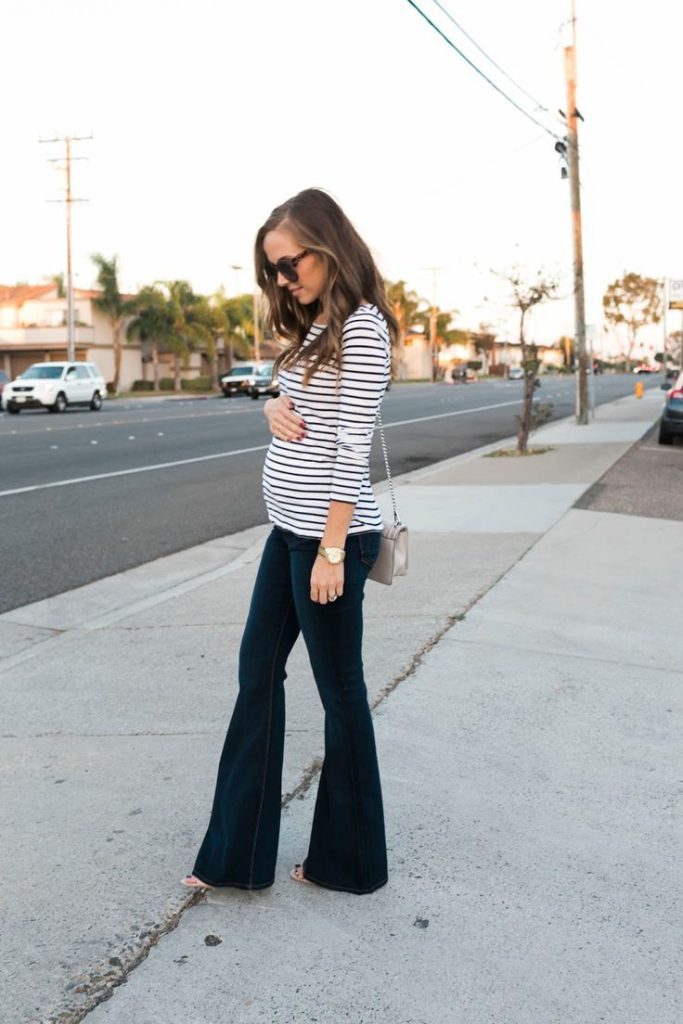 1. Wide Leg Pants and Striped Tee
When you are in the 2nd trimester, you can still wear jeans and pants. Get wide-leg pants and a long sleeve striped t-shirt on your chic pregnancy outfit ideas. This still makes you look chic even in simple fashion design. For the toe, you can bring short heels or sandals. Make your appearance perfect for hanging out by getting a simple bag and accessories.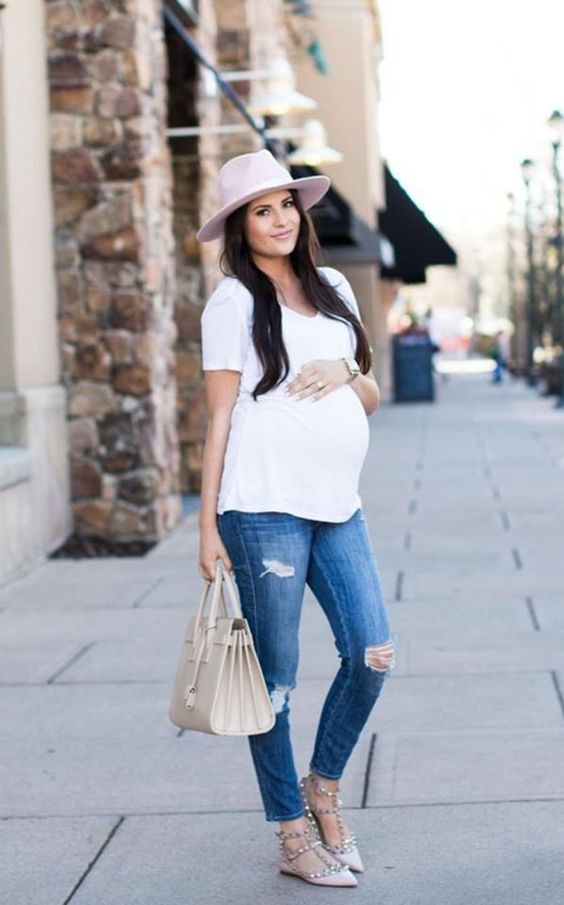 2. Ripped Jeans and White Blouse
Who said that pregnant women can't wear jeans? You can still wear jeans as long as choose the stretchy ones and not make you feel uncomfortable. In the second trimester, your baby bump starts to appear. It's a bit problem when you want to wear jeans. But now, it will be easy to find maternity jeans that are designed especially for pregnant girls. Het the trendy chic fashion style in ripped jeans mix up with a white oversized t-shirt. For the footwear, pick a pair of spikes flat shoes. Accessorize it with a cowboy or fedora hat to make you look fashionable enough.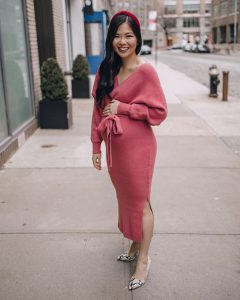 3. Lovely Pink Dress 
Look beautiful with your baby bumps in a lovely pink knitted dress. This ensemble would perfect your valentine's day style with your husband. For a gorgeous appearance, you should bring this dress with a red beret hat as accessories. And for the shoes, just make you comfortable and chic with white flat shoes. This mom's pregnancy outfit idea will show how beautiful you are that support your pregnancy glow.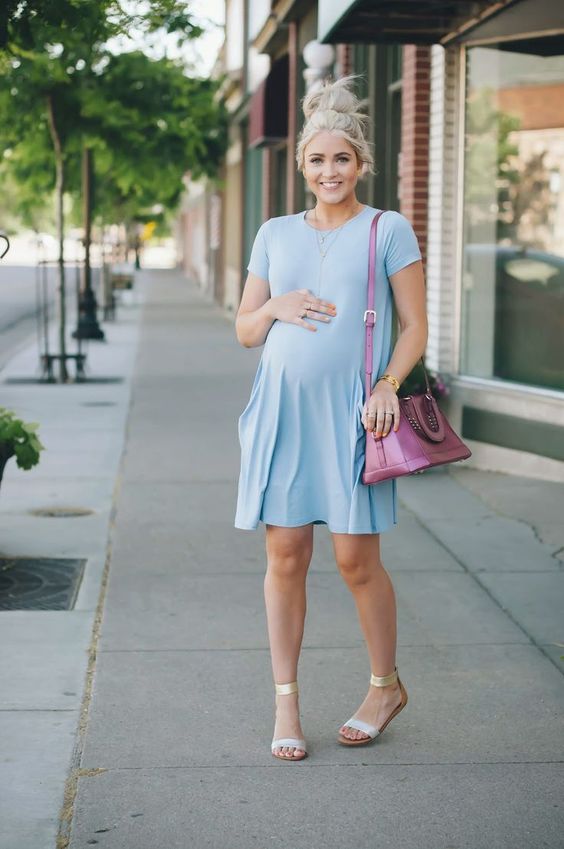 4. Casual Mini Dress
Wearing a dress is the perfect one when it comes to maternity outfit ideas. The loose design would make you still be comfortable doing activities and also look chic. You can try to pick a short sleeve pastel mini dress that you wear together with fashionable sandals. To bring a more chic statement into it, get a magenta handbag for a clashing color idea. This pregnancy outfit style would bring casual sight with the lazy bun hairstyle.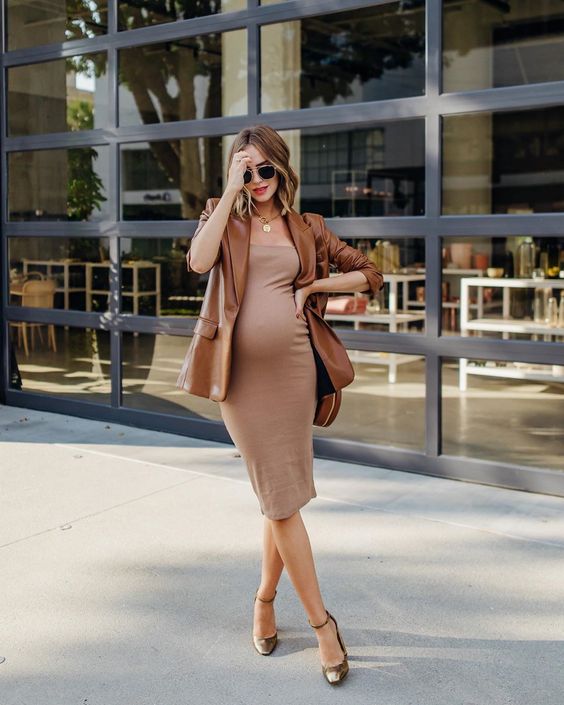 5. Bodycon Dress with Leather Blazer
For those who go to work even during their pregnancy, this outfit idea would really help you. Pair a bodycon dress with a leather blazer. This actually gives you fashionable work outfits for pregnant women. For footwear, you can choose short heels. Don't wear the high ones, it would make your feet feel tired quickly. Don't forget to give accessories to your chic outfit style with simple jewelry and a simple leather bag.

6. Sheer Bohemian Dress
Pregnant and summer, that two combos would make you feel uncomfortable all day. Because of this, you need to wear something comfy like a sheer dress. However, don't too expose your body. Choose a long-sleeve floral mini sheer dress with the wrap style on your belly for a bohemian clothing idea that looks fabulous in pregnant girls. We loved how this dress would be perfect for any occasion. To make you more cozy and chic, just bring out sneakers rather than high heels.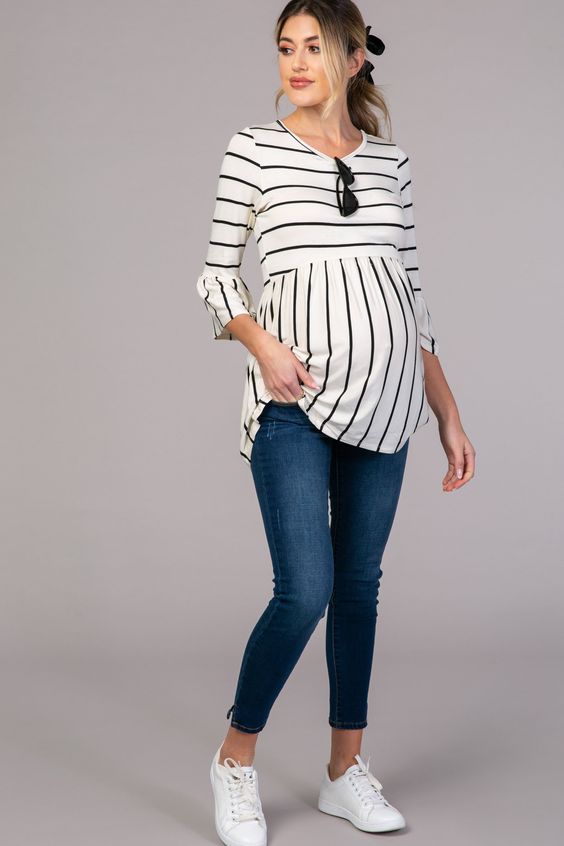 7. Fashionable Maternity Skinny Jeans
Don't be afraid to wear jeans during your pregnancy. To make it stylish, bring maternity skinny jeans that would help you get chic fashionable outfits. That kind of jeans would show off the shape of your legs which makes you a bit look slight. Tuck a long stretchy t-shirt, and get sneakers for comfortable footwear. Get this idea for a casual trendy pregnancy fashion style to your wardrobe now.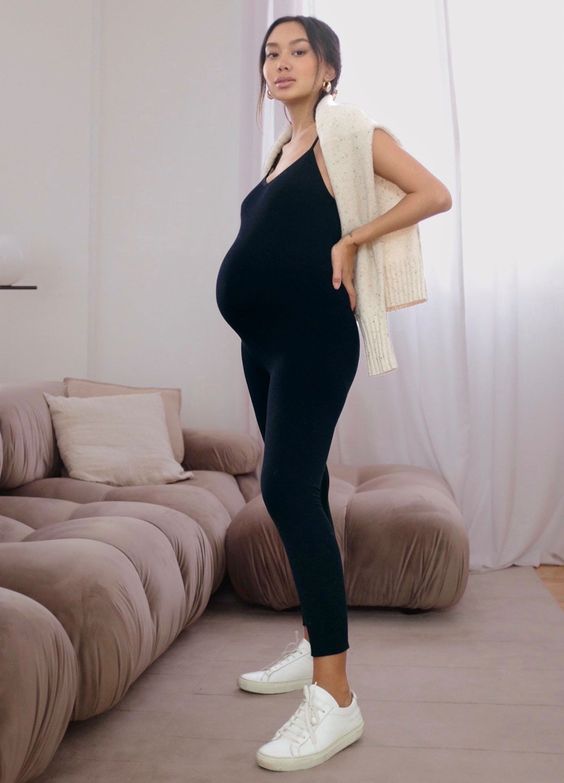 8. Strechy Tank Top and Legging
Leggings are a secret key to creating a chic on your maternity outfit style. This flexible piece can be matched up in any outfit in your wardrobe. From the maternity tunic, yoga clothes, or tank top. You can begin by wearing this legging with a black tank top and sneakers for a yoga style. Get this ensemble more fashionable by having a knitted cardigan over it.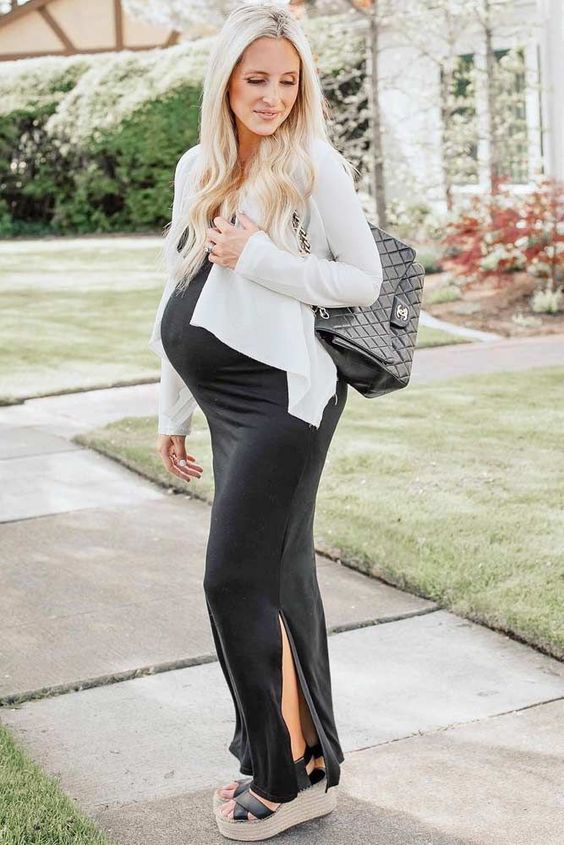 9. Black Maxi Dress and White Cardigan
The simple chic maternity outfit style is wearing a tank dress that you need to wrap up with a cardigan. Dress it up fashionably with the wedges on the feet, and get a big tote bag if you're running errands.
10. Comfortable Sweater Dress
Aside from stylish outfits, what's important for pregnant moms is simple and modest outfit style. They need to wear something which makes them freely move and anything loose. You shouldn't buy new outfits, just wear something in your capsule wardrobe. For example a sweater dress. The design is loose and makes you free to do an activity. Besides that, you also still look fashionable with this outfit style as long as you can match it properly with other details. For a chic way, you can pair this mint dress with white ankle boots. Don't forget about the other accessories such as big earrings and a blue sling bag to complete your style.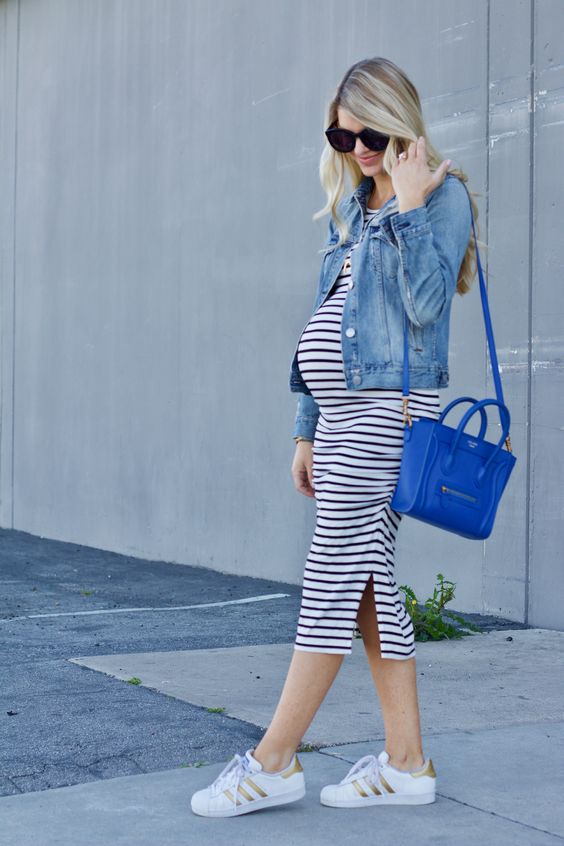 11. Striped Midi Dress and Denim Jacket
Denim is a kind of versatile garment that is suited to anything. You can bring this piece into your chic fashionable pregnancy outfits for layering style. Paired your denim jacket with a striped dress and sneakers for a casual feel. Get it chicer with a blue handbag in your hand. You will look adorable even with your big bumps with this outfit style.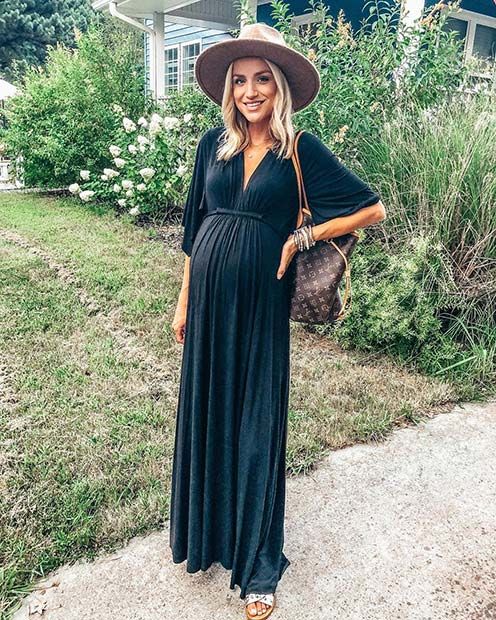 12. V neck Long Maxi Dress and A Hat
If you want something different and stylish, get light goth outfit ideas with a v neck black maxi dress and a cowboy or fedora hat. This brings elegant and chic style to pregnant moms. Complete your outfit ideas with fashionable sandals and a big tote bag.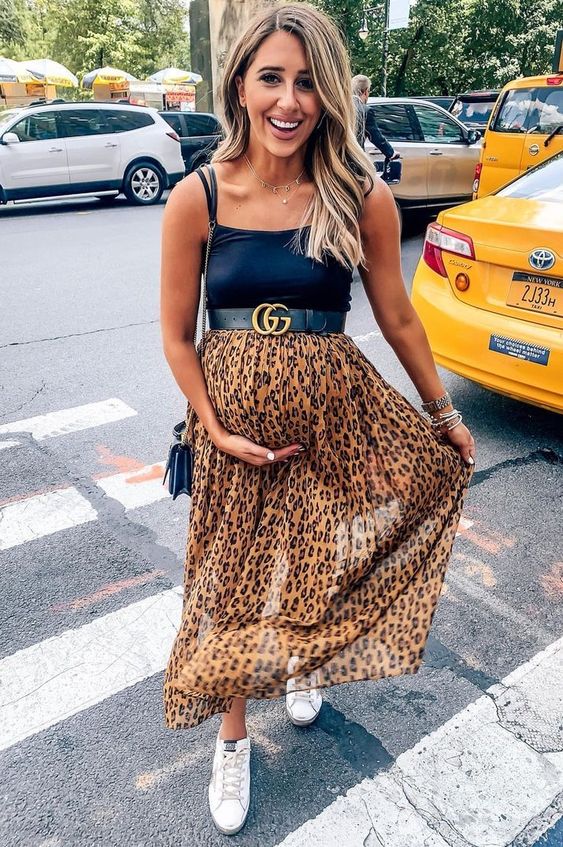 13. Leopard Print Skirt
If you looking for something classy and chic for your pregnancy outfit ideas, try this leopard skirt. Tuck a black tank top under this skirt. For the chic details, you can add a belt over it. Still, you need to remember not too tight wear the belt. Avoid to give pressure on your belly, it would make you uncomfortable. Finalize your maternity outfit ideas with simple accessories items and a mini sling bag. For the toe, you can get trainer shoes for the cozy footwear.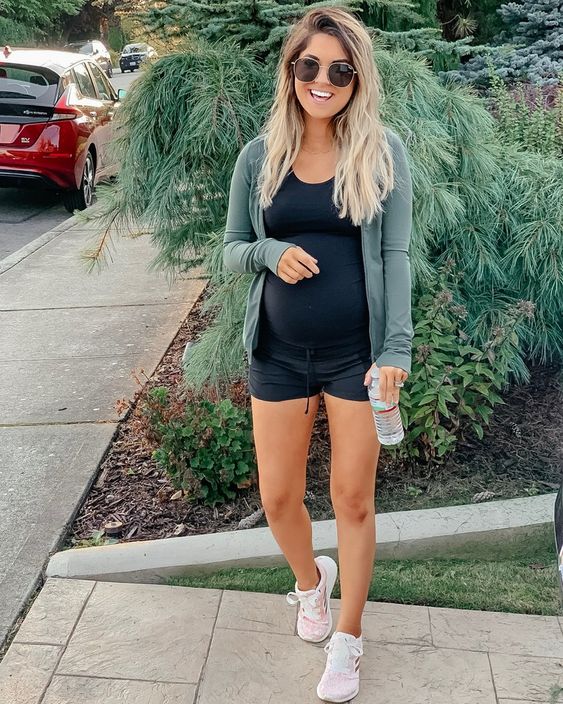 14. Short Outfits and Cardigan
Most pregnant women generally avoid wearing shorts. But now, just dang it on your chic maternity fashion style. It's also suited for summer outfit ideas during your pregnancy time. For this, you need to find shorts with stretchable materials that would be comfortable to wear and not pressure your belly much. Combine your shorts with a black tee and olive green cardigan for balance. For the footwear, select the cozy white trainer shoes.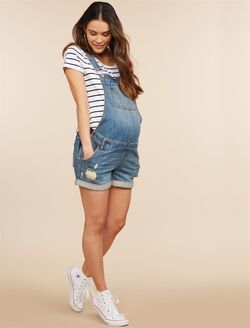 15. Short Jumper and Sneakers
If you have a petite body, experiment with short jumpsuits. Styling your jumpsuit loosely wouldn't bring pressure to your belly or on your waistline.   Then combine with a striped tee underneath, and for the toe pick a pair of sneakers. This fashion style would help you look chic during pregnancy time.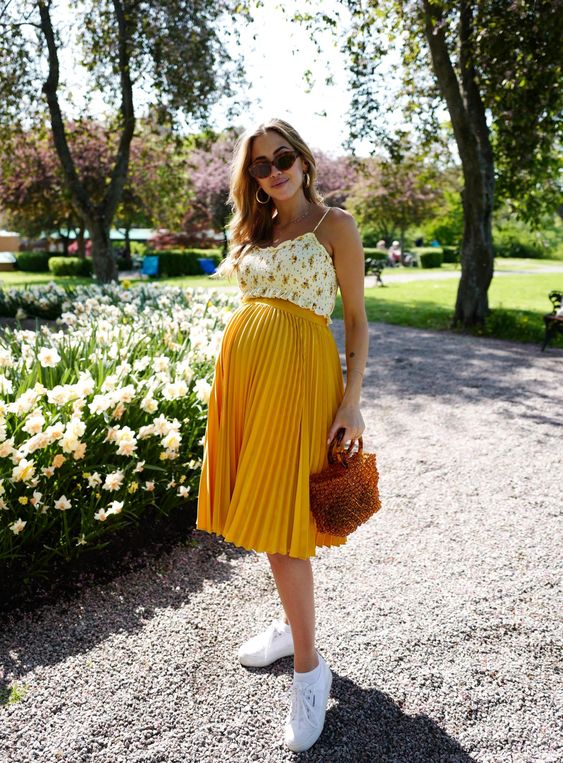 16. Floral Toppers and Bright Pleated Skirt
Bring colorful sight to your chic maternity outfits style during summer with floral toppers and a yellow pleated skirt. You can get a strappy cropped top and then wear a pleated skirt highly on your belly bumps. For the feet, get white trainer shoes. Then, bring a craft bag to make it look better for picnic style.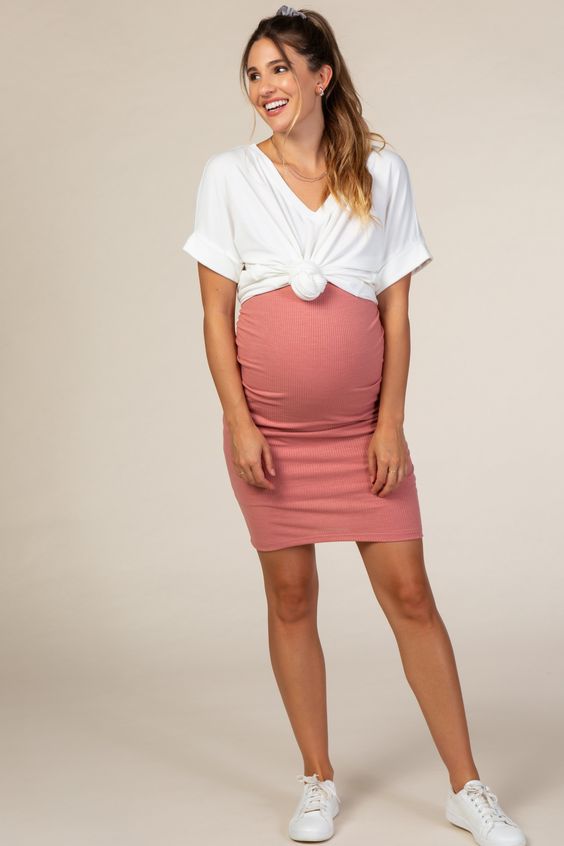 17. Knot T-shirt and Fitted Dress
You shouldn't be shamed with your bumped belly, because new life is coming from it. Some pregnant girls usually avoid fitted dresses and choose loose ones. They don't feel comfortable and confident wearing fitted dresses because they become big and fat with baby bumps. Make the world know that you are pregnant and still beautiful with the chic maternity outfit ideas. For a simple way, you can get a tank-fitted midi dress in pretty pastel colors like pink and then wear a knot white tee over it. Complete your outfit style with sneakers or trainer shoes for a bit trendy sight.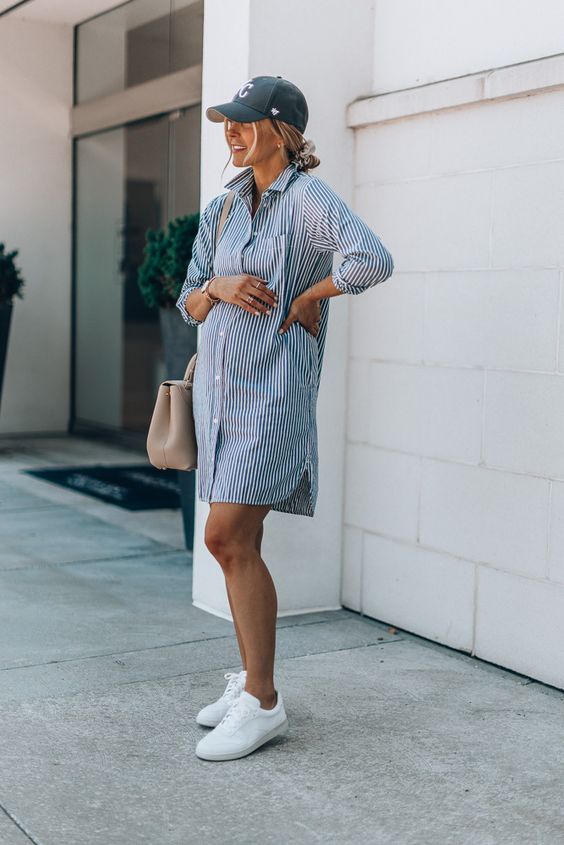 18. Oversized Shirt Dress
Having oversized outfit ideas in your pregnancy style is also the way to create a chic fashion. For the modest and simple way, just bring a striped shirt dress. For an option, you can wear shorts underneath. Get the casual and trendy sight by wearing trainer shoes on your feet, and then a cap on your head. Matching up the outfit with a beige sling bag to save your things.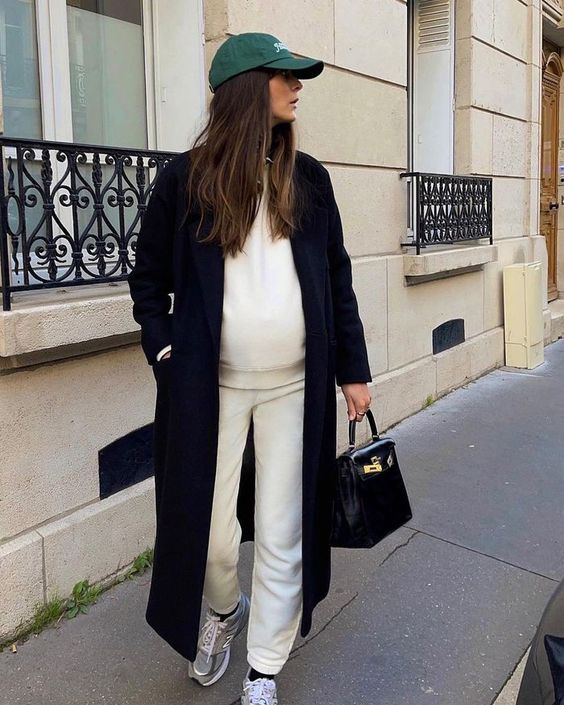 19. Sportwear Style
Keeping mom feels comfortable during the harsh weather is important. You need something that is warm enough when it comes to winter. The sportswear thet includes a crewneck sweater or hoodie and sweatpants is actually a great choice. Give additional warmth by getting stylish women's coats. As for the footwear, the best ones for this mom's pregnancy outfit idea are sports shoes. Bring other details for a chic and fashionable image with a handbag and a cap.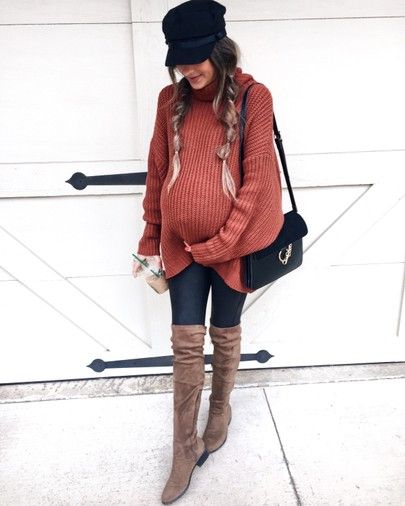 20. Knee High Boots Statement
Being pregnant women shouldn't make you look dull and shabby. You need to wear something fashionable and chic even with the big bumps. Get fall outfit ideas for mom to be with a burnt orange large turtleneck, black tights, and over-knee-high boots. Give additional details like a beret hat on your head for accessories. Then, bring a sling bag in your hand for completing your hang-out style.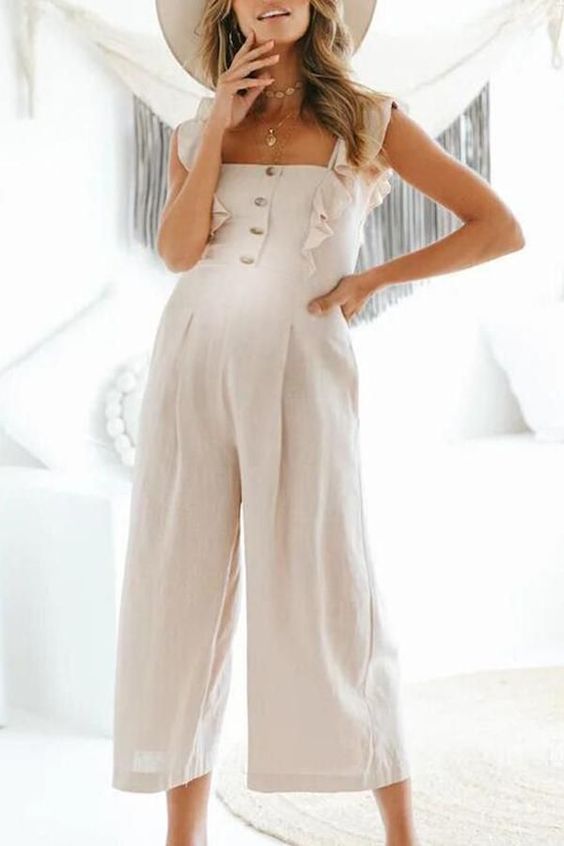 21. Comfortable Romper 
When you want to have a fashionable maternity style effortlessly, just stand up with a jumpsuit. Broken white colors with cotton materials would be great to wear for your vacation outfit ideas. This ensemble is actually useful to bring on your babymoon on the beach. The lace trims for straps and button-up statement make this outfit look chic and comfortable to wear. You can add some other details such as a straw hat, simple jewelry, and bohemian sandals to get a perfect performance.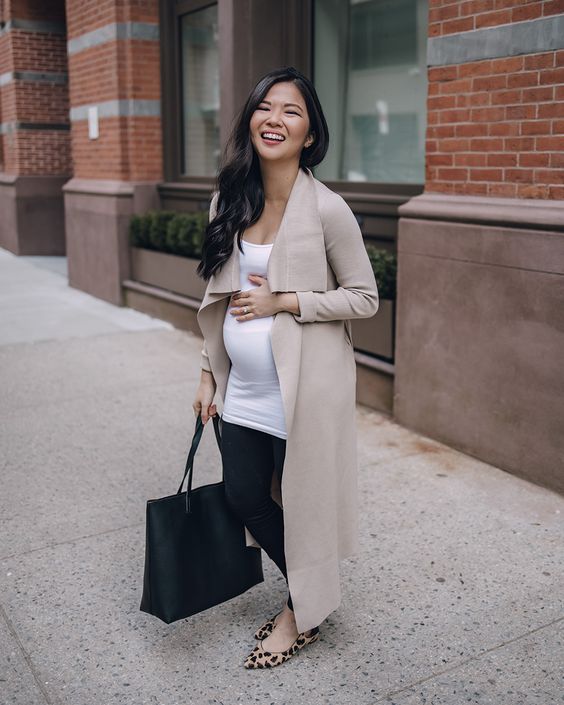 22. Long Cardigan and Leopard Flat
A pregnant mom is usually a bit sensitive to temperature. They are easy to feel either sultry or cold. That's why you need to get the best outfit style for this. Getting layered outfit ideas may be a solution. You can wear a stretchy tee with tights and then layer with a long cardigan. For the chic statement, you can bring leopard flat shoes into this style.
Conclusion 
Those are some of the maternity outfit ideas to give every mom a fashionable and chic pregnancy style. What you need to consider first when you choose the outfits is their comfort. Pregnant women need something that makes them feel comfortable, free to move, breathable, and not give pressure. That's why the rather you look for aesthetic outfits, the better you think about the comfort maternity outfit ideas. Choose stretchy materials, not tights, and a bit loose. You also can mix and match the outfit in your capsule wardrobe. Don't be afraid to express yourself, just be confident. Good luck!