Mask has many types and one of them is a DIY mask. A DIY mask has been a popular and trusted mask that you can use because there are no chemicals ingredients inside. So, this mask will be safe even for sensitive and acne-prone skin. Even using natural ingredients, not every ingredient can be used for a mask.
If you choose the wrong ingredients, it will cause your skin irritated. So, at this time we will tell you about the DIY mask recipes that you can follow based on your skin problem. But do you know about a DIY mask? And what's the benefit of a DIY mask? Let us find the answer!
What is DIY Mask?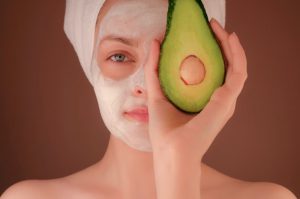 The word DIY can be meant as "do it yourself". That's why a DIY mask has meaning as a mask that you made by yourself from natural ingredients. Besides resolving any skin problem, this DIY mask can be safer and not have side effects on your skin.
Even if this mask is safe and does not have side effects doesn't mean you can use this mask every day. Because if you use this mask every day, your skin barrier will become thin and makes your skin dry. Therefore, you can only use this mask 1-3 times a week.
The Benefits of DIY Mask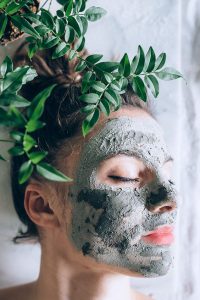 After you know about the meaning of a DIY mask, it's time to know the benefits that you should know about this mask. So, here are some benefits of a DIY mask.
1. Make Your Skin Fresh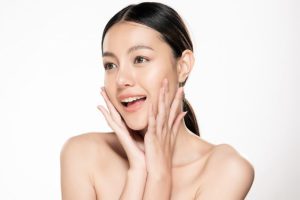 Same as the other mask, a DIY mask can also make your skin fresher because a DIY mask can cleanse your pores difference when you just wash your face using a facial wash. Because sometimes, facial wash can't cleanse your pores.
2. Make Your Skin Calm and Give the Nutrition to Your Skin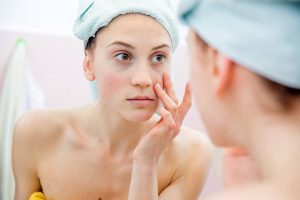 Some natural ingredients have the function to make your skin calm and especially for acne-prone skin. By using this mask you can also relieve acne. Besides that, natural ingredients have a lot of vitamins, that's why it can give nutrition to your skin, also can brighten your skin, and removes dark spots.
3. Can Detox Your Skin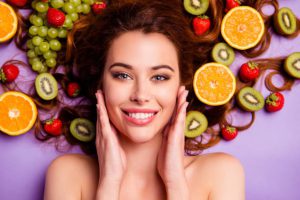 Detox is natural proses that every human body did to get rid of the unnecessary and toxic substances on the skin. So it's really important to do a detox at least once a week to prevent acne and any skin problem.
4. To Exfoliate Your Skin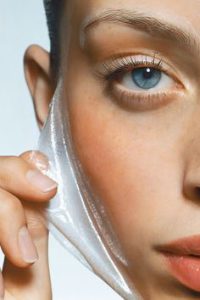 Exfoliate has the function to lift up the dead skin cells. Some people do exfoliate to remove the dust and dirt or leftover makeup that can make skin look dull. That's why you need to exfoliate your skin at least once a week to make your skin look bright and flawless.
9 DIY Mask Recipes Ideas That You Can Follow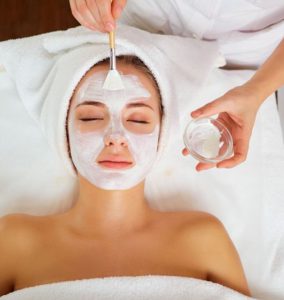 Even a DIY mask is using natural ingredients that will safe for your skin, but not all ingredients will be suitable for your skin and some ingredients will make your skin irritated. So to prevent this bad result happen to your skin, here we have some DIY mask recipes ideas that you can follow and will be safe for your skin.
1. Oatmeal and Honey for Breakout Skin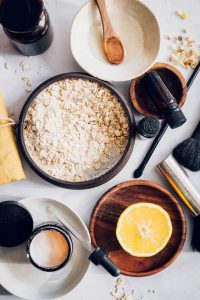 Oatmeal is a type of seed that is made from water and milk. this ingredient has a lot of vitamins, minerals, fiber, and antioxidants. This is the reason why this ingredient becomes one of healthy food. Besides that, oatmeal is not only used for healthy food. But you can use this ingredient as a DIY mask. And oatmeal has been used as a mask for a long time.
For this recipe, you can mix oatmeal with honey. Because oatmeal has a function to calm your irritated skin, break out skin, brighten your face, and calm the acne. Meanwhile, honey has the function to give moisture to your skin and also can make your skin calm. Use this mask 2-3 times a week, but it's fine if you just want to use it once a week.
2. Avocado and Honey to Give the Nutrition
Avocado has been popular for a beauty mask because it has benefits to hydrate your skin, increase the skin elasticity, fix the skin barrier, even the skin tone, and the last can prevent acne. And to make this mask, you can mess up the avocado using a fork or spoon and then mix it with honey to make it easier when you want to apply it to your face.
This mask will be suited for any skin type because it will not make your skin dry and irritated even it's will safe for you who have sensitive skin. You can use this mask 2-3 times a week to get the maximal result.
3. Tomato Can Resolve Acne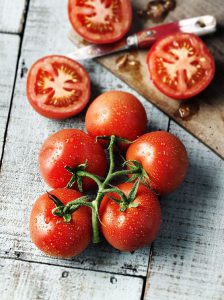 For you who have acne skin, this ingredient will be the best choice! Because a tomato has the benefits to calming and resolving your acne. Besides that, the tomato has the function to hydrate your skin, reduce oil, anti-aging, lift up the dead skin cells and can protect your skin from UV light.
So how to make a mask from tomato? All you have to do is prepare fresh tomato, then you have to cut the tomato into a few slices. Furthermore, put it on the part of your face that you need. But if you have inflamed acne, you can make the tomato into a juice. Then, put it all over your face and let it dry for around 10-15 minutes. Use this mask 1-2 times a week to get the result.
4. Removes Dark Circle Using Cucumber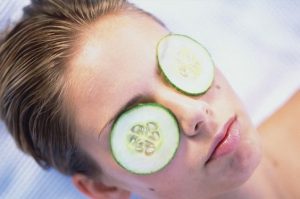 Have a dark circle that is hard to remove? Cucumber will be the answer to resolve your dark circle! You can cut the cucumber into a few slices that you want, after that you can put it on your eye. Use it regularly 2-3 times a week. And you can see the dark circle will get better.
Besides to removes dark circles, cucumber can also help to resolve acne, anti-aging, hydrate your skin, and calm your tired skin even it can be used for irritated skin.
5. Brighten Your Skin Use Turmeric and Yogurt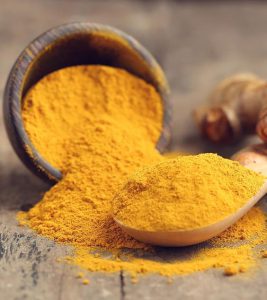 Turmeric has been popular to brighten the skin because turmeric has an antioxidant and can exfoliate your skin. And turmeric can also even your skin tone for you who have hyperpigmentation. You can mix turmeric with yogurt.
Yogurt has ingredients antifungal and anti-inflammatory. Also, yogurt has Lactic Acid which can lift up the dead skin cells on your skin and brighten your skin. You can use this mask once a week. Furthermore, after using this mask you should cleanse the mask with a facial wash to remove the yellow effect from the turmeric.
6. Egg White to Minimize Pores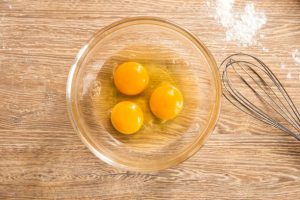 For you who are always insecure because of having big pores, this gonna be the solution for you! Because now you can minimize your pores only by using egg white. This mask has been used for a long time ago. And eggwhite also can brighten your skin and removes dark spots on your face. But you can't use this mask every day because can make your skin dry, you just can use this mask once a week.
7. Aloe Vera for Calming Your Redness Skin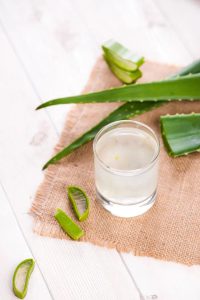 Aloe vera has been popular in South Korea. Usually, this ingredient is used as a moisturizer because it can moist and also calm the red skin. Besides that, aloe vera can also be used for acne-prone skin and sensitive skin. How can make a mask from aloe vera?
First, prepare the aloe vera. Then you can cut the aloe vera skin and you will found like a gel inside the leaf. Furthermore, move the gel into a bowl and you can apply it all over your face using a brush mask. Leave it until it is dry and you can cleanse it. This aloe vera mask can be used 2-3 times a week because there is no side effect from this ingredient.
8. Exfoliate Your Skin Using Coffee and Milk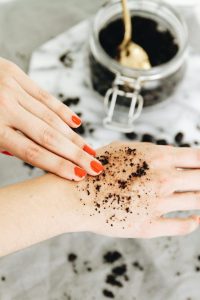 DIY masks can also use to exfoliate the skin, and coffee is the most used ingredient for exfoliating. To make this mask, you can mix coffee with milk. Coffee can be a smooth and gentle scrub that has the function to lift up dead skin cells. And milk has the function to brighten your skin.
This mask is not only used for the face, but you can use it for your whole body. Because it has safe ingredients and will not make your skin irritated. If you have acne-prone skin, this mask will not be suited for you because this mask can cause inflammation on the skin. And to use the exfoliating mask you can only use it once a week.
9. Chocolate Mask to Detox Your Skin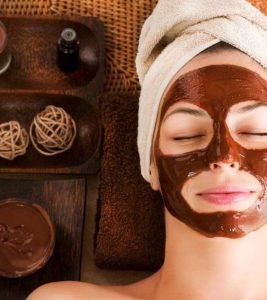 Who's in here who loves to eat chocolate? I'm sure almost every girl loves chocolate because it can bring up the mood and it's has a tasty taste. But have you known that chocolate can be a beauty mask? I know you will think it's weird but this ingredient has many benefits for the skin that you can use for a mask.
You can use this mask after melting the chocolate but you have to use dark chocolate with no sugar. After the chocolate melt, you can apply it to your face and wait until it dries. Furthermore, you can cleanse using warm water.
Chocolate has the benefits many benefits like detoxing your face, making your skin calm, protecting your skin from UV light, anti-aging, moisturizing your skin, and the last it can relieve stress. So, now you want to eat the chocolate or use it as a mask for having healthy skin?
Now, what do you think about a DIY mask? Isn't it interesting? If you feel doubt about using a mask that has chemicals ingredients, this mask will be helpful for you. Besides feeling the benefits, making this mask also feels satisfying! And then this mask will be safe for any skin type and not have a side effect that will cause your skin irritated. I hope these DIY mask recipes could help you to get healthy and flawless skin!