Has spring arrived in your country? Isn't it feel so exciting? I'm sure you can feel the excitement because you can do anything in the springtime. Like having a picnic in the garden, hanging out with your friends, and seeing the beautiful flowers bloom. So, what kind of activity would you do this season? You should have a plan for it!
After deciding the activity that you will do in spring, it's time to decide about the outfits. At this time, we will give you some outfit ideas with a girly style perfect for spring 2023. Maybe one of our ideas can interest you and you can put it into your list of outfits.
Not only that, but we also give you ideas that you can wear for any occasion from formal occasions to casual occasions. I guess, this topic already interests you, right? So, here is about 24 girly outfit styles to wear in spring.
Spring 2023 Outfit Ideas in Girly Style
Span Skirts with a Crop Top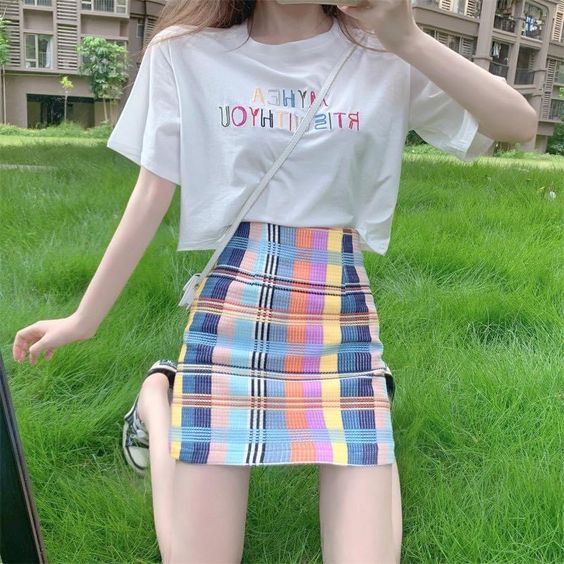 The first girly outfit style that we would give to you is a combination between span skirts and a crop top. Certainly, this kind of outfit that you can wear for hangouts or street walking. You only need bead accessories to give you a cute look. Furthermore, use sneakers and a shoulder bag for the last touch of this outfit style.
Jogger Pants and Tube Tank
This is the girly style but still carries a boyish style too. Or you can get the assumption, a neutral outfit that can be worn when you don't want to look girly or even boyish. Yes, you can mix jogger pants with a tube tank. If you want to add outerwear, you just have to adjust to your mood. A cardigan if you want a girly style, or a bomber jacket if you want to carry the boyish style.
Midi Split Skirts Could Make Your Legs Longer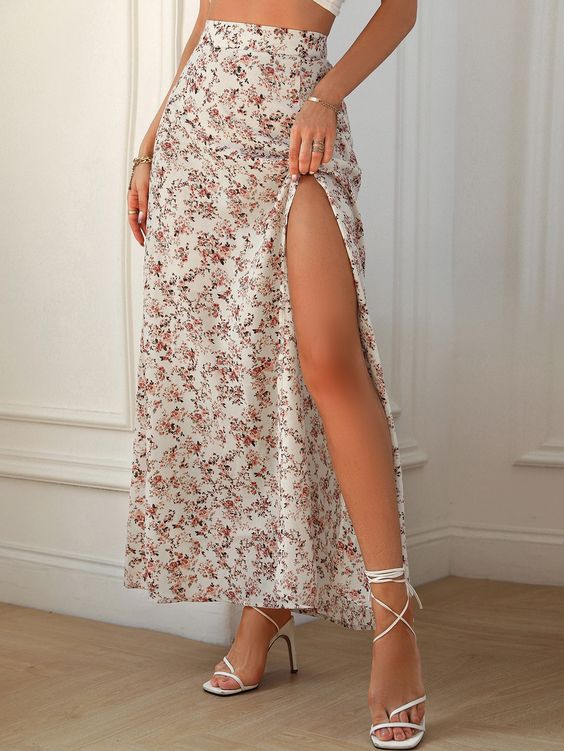 Next is the idea that is intended for short girls or what we usually call petite girls. If you have this body type, you don't need to feel unconfident. Because you can give a hack by using the right outfit like midi split skirts. This kind of skirt will make your body taller and also you can style it with any kind of top. If you combine it with a t-shirt it would be a casual outfit. But if you style it with a blouse or shirt you can get the feminine style.
Mix One Shoulder Top and Loose Pants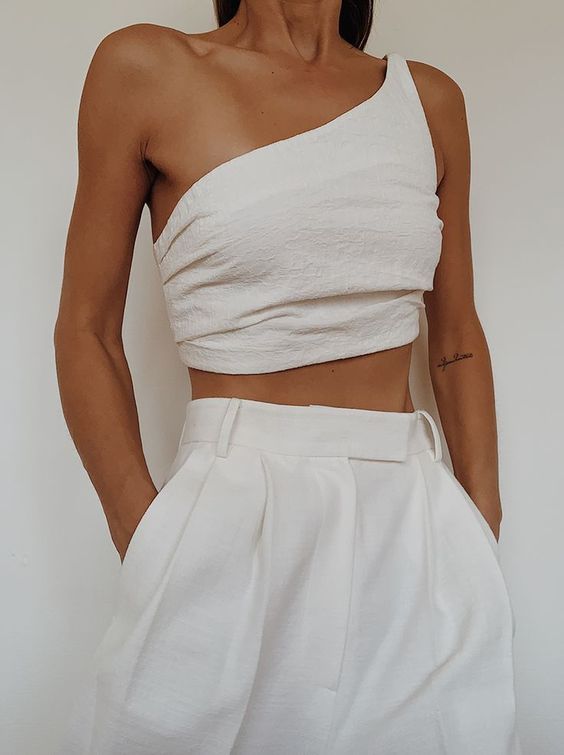 Want to look girly using pants? Here is the solution for you! First, put on loose pants and then use a one-shoulder tank as the top. To support your fashion style, you must add accessories that are made from gold to give a glamorous look. Now you look girly and elegant at the same time!
Mini Flare Skirts and a Cardigan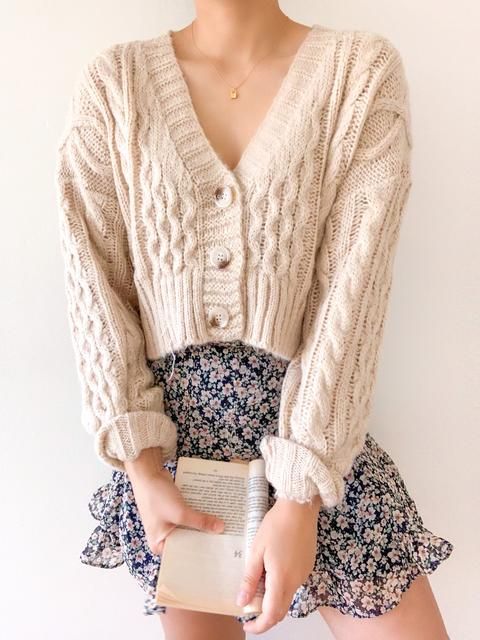 Mini flare skirts and a cardigan would be the perfect spring outfit combinations. Not look too much but also not looks ordinary. Moreover, if you add simple design accessories like a necklace, earrings, or bracelets. Furthermore, for those who love to wear hair accessories, you can go on by using a headband or a bow. Don't forget about the lace-up sandals and a rattan sling bag to complete your outfit look.
Use Short Baggy Jeans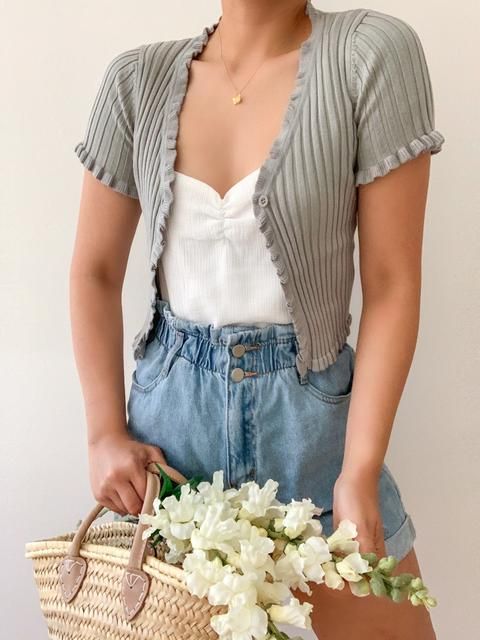 Still with a cardigan, but now we want you to style it with short baggy jeans. You could make the cardigan for the outer top, then, wear a tank top as the inner. You may skip the accessories part if you feel this outfit is enough. But if you love using accessories, just choose one that has a simple design.
Satin Floral Dress for a Party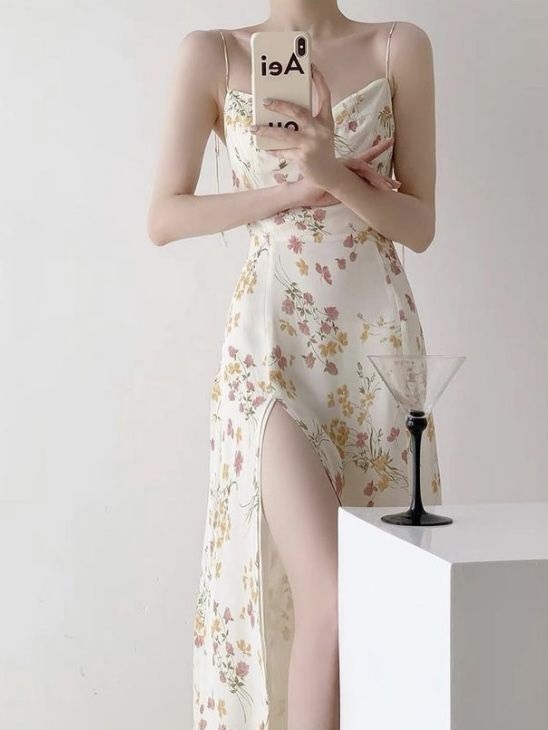 Satin floral dress for those who want to attend a party. We want you to choose a floral pattern for matching the springtime. Besides that, it can also make you look more attractive. For the part of the shoe, you may choose between ankle-strap heels or peep-toe heels. And last, a clutch to save your important stuff.
Spring Outfit Ideas for Work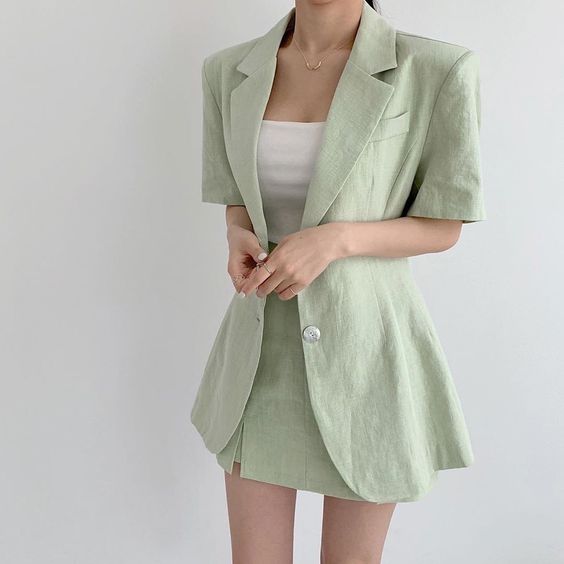 Want to wear a spring outfit for work? I think you made an amazing decision. Because of the different seasons, should wear a different outfit to make you look trendy. Mix and match short pants and a blazer. For the innerwear, use a tank top or a basic t-shirt. Next, make your outfit fancier with silver accessories.
Midi Dress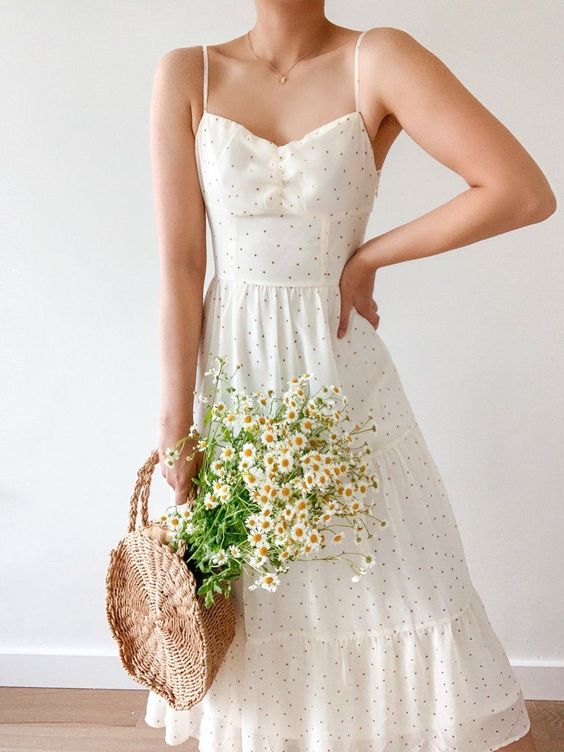 Love wearing a dress even for a casual occasion? It's fine! You could wear what you want to wear girls! Don't let anything disturb you to improve your fashion. Therefore, a midi dress will be the right choice for you. You can make this outfit chicer by adding some accessories that match your dress. If you feel confused with the shoes, I think you would like lace heels or ankle-strap heels.
Short Ripped Jeans and Square Tank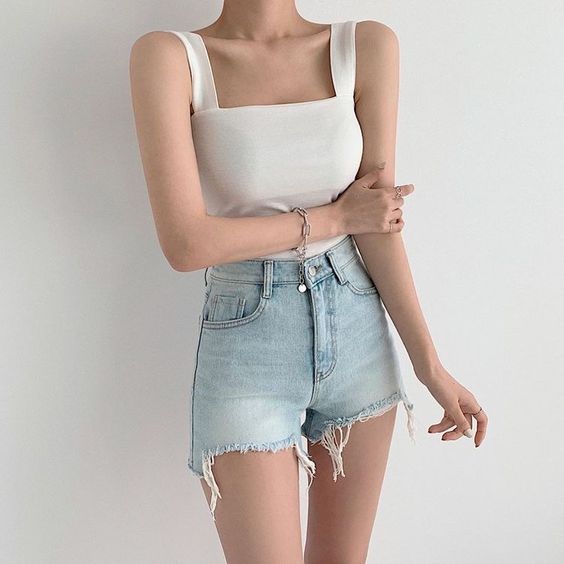 Even though this style is basic, but combining short ripped jeans with a square tank can create a girly look. You can make your outfit more feminine with necklaces, earrings, and bracelets. Just make sure you're not using too much of it to prevent the tacky look and balance the outfit. Now, you're ready to go outside!
Mix and Match Mini Skirts with an Off-Shoulder Top
Mix and match mini skirts with an off-shoulder top. Who agrees with me this top is suitable for spring? You can get the girly look and the cool feeling at the same time. Fill the blank space on your neck with a pendant necklace. Believe me, this kind of outfit will make you feel confident to wear for going to the garden or date.
Cargo Denim Skirts and Long Sleeves Top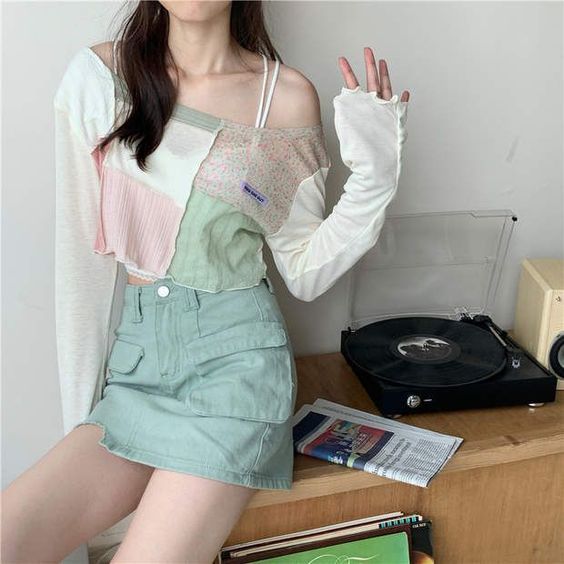 Cargo denim skirts are going to be wonderful if you style them with a long sleeve top. To improve the girly side, you can make your hair to be a half ponytail and use hairpins to secure it. Don't miss out on the necklaces, earrings, and bracelets. Furthermore, for the shoes, you can wear any type of it as long it can make you feel comfortable.
High Waist Jeans and Puffy Sleeves Top for Casual Feminine Look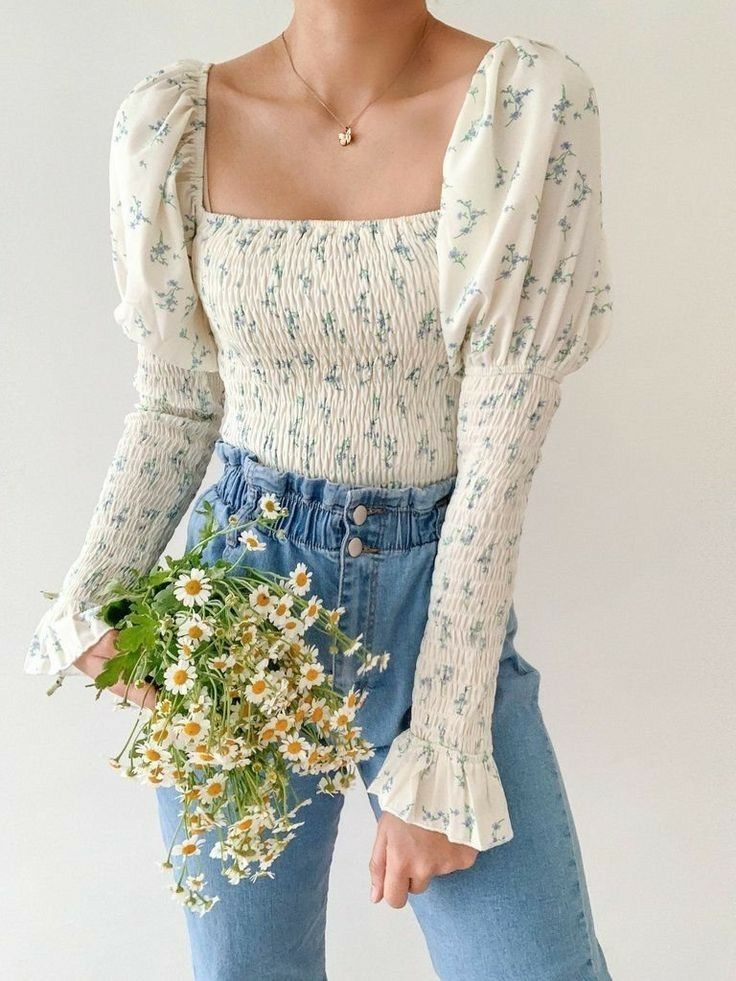 Get the casual feminine look by wearing puffy sleeves top. Then, you can pair it with high waist jeans. But if you don't like wearing jeans, you can change them with skirts or loose pants. Next, level up your outfit style with a few accessories. This outfit is suitable to use for hangouts or attending casual occasions.
Look Cute in a Bow Tank
Your outfit will look cute if you wear a bow tank as the top. Next, you only need mini skirts for the bottom to complete your outfit. Furthermore, choose the kind of shoes that will make you look more feminine such as sandals, flat shoes, or even heels. Lastly, for the bag, wear a shoulder bag.
Halter Dress for the Elegant Vibes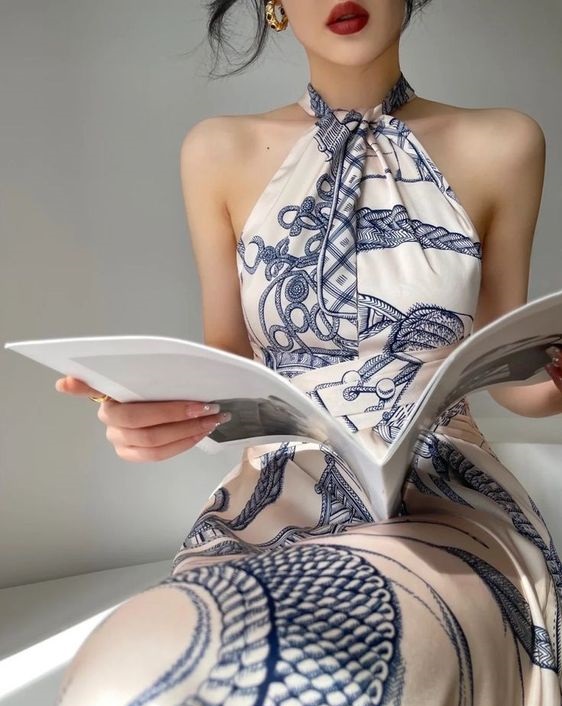 Looking elegant is almost every girl's desire. So, to get the look that you want, you have to wear a halter dress. Maybe this dress is being underrated now and not hype. But believe me, the design of this dress will make your body shaped beautifully and gorgeous. This can be another choice of dress to wear for a party or other special event.
One Set Outfit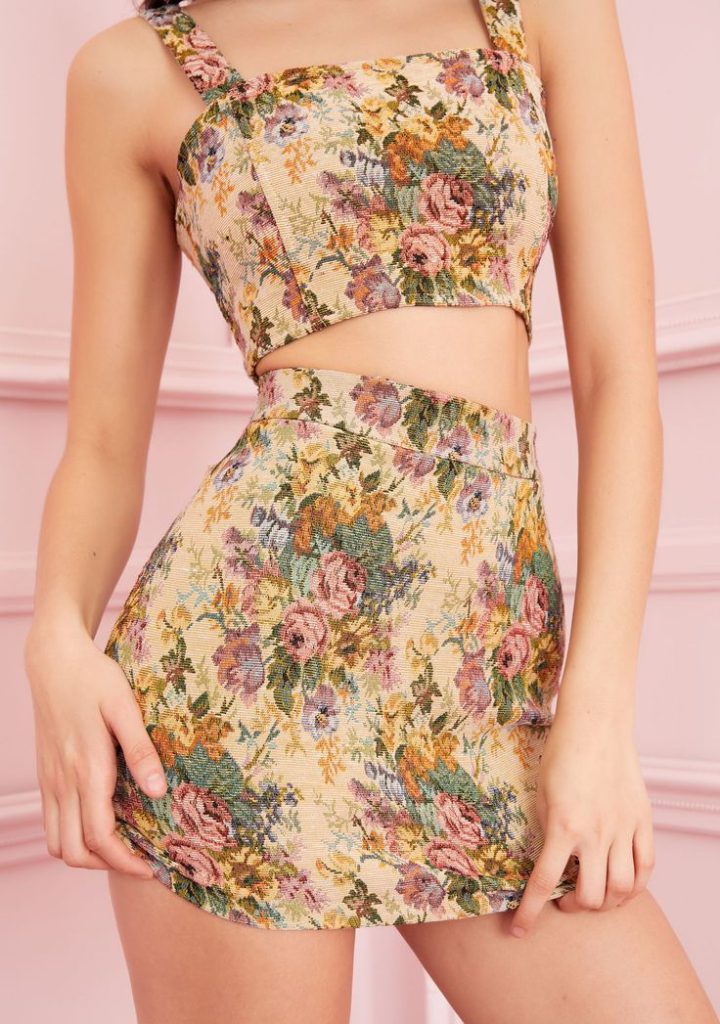 If you don't know what to wear or are feeling stuck, one set of outfits will save you! Like the picture above, the pairs of crop square tanks and span skirts look good together. Moreover, it has a floral pattern that will support the springtime. You just have to choose the right accessories, shoes, and bag to make this outfit more stunning.
Wrap Dress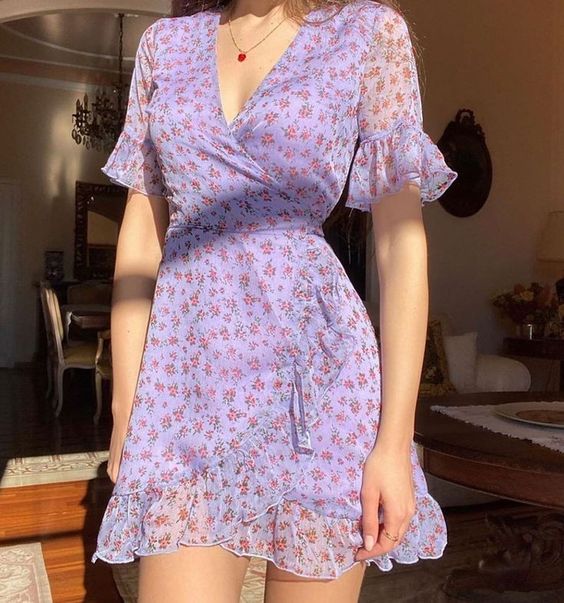 A wrap dress is gonna be a great choice for those who want to look girly and mature. The other benefit of having this dress it could be worn for any occasion even for a special occasion. Very worth having, right? All you have to do is just choosing the shoes, bag, and accessories based on the event or place that you want to go to.
Wear Embroidery Skirts with an Off-Shoulder Top for Date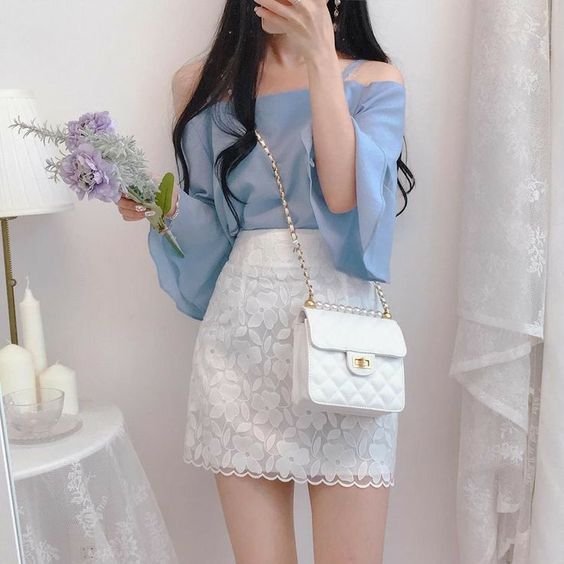 Springtime is perfect for having a date. And of course, you need a pretty outfit to wear on this special day! That's why we choose embroidery skirts and an off-shoulder top for you. We do not recommend wearing a lot of accessories that possibly make you look tacky. I guess earrings and a bow are already enough to finish out your look. Furthermore, choose heels for the shoes and a sling bag for the bag.
Short Denim Pants and a Knit Top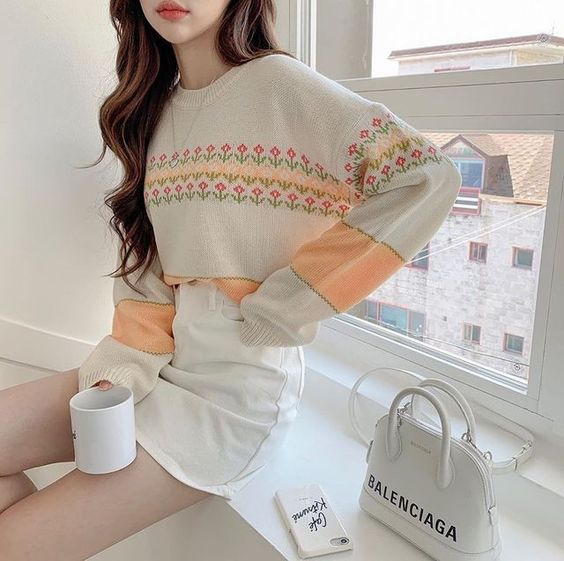 Style the short denim pants with a knit top. You can get the girly style by using a top that has a floral or any girly pattern. Hairstyle and accessories can also determine the looks of your outfit too. Therefore, you have to be careful with it. Because this outfit will be weird to combine with heels, we suggest you change it with sandals.
Puffy Sleeves Dress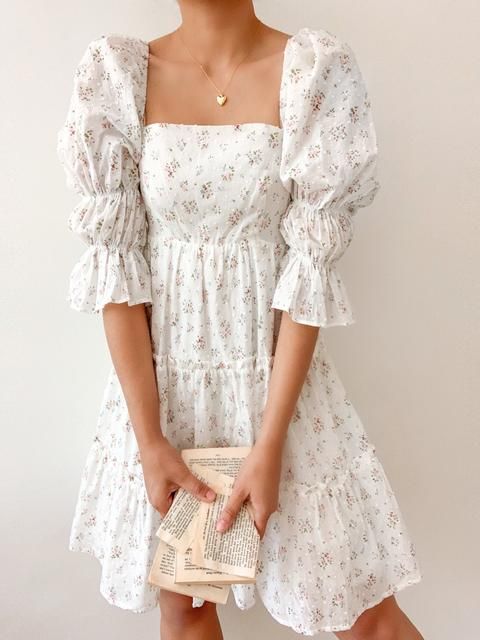 I know you have been familiar with puffy sleeves dresses. The dress that was hyped in last 2020 could make you look feminine and girly. This dress is one of the must-have fashion items because the design is timeless. Moreover, if you choose a floral pattern that could give you a vintage style.
Style Your Bodycon Dress with a Shirt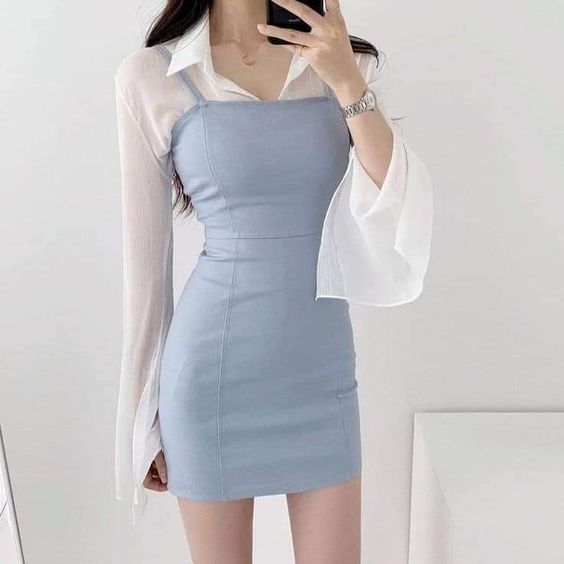 Need more about the ideas for work? If the previous idea carries the formal casual style, this idea going to be the formal classy style. First, wear a bodycon dress, then you can use a transparent shirt or blouse as the inner. You can also wear an outer if you want to. For the finishing touch, give heels and a handbag.
Asymmetric Skirts to Get the Unique Style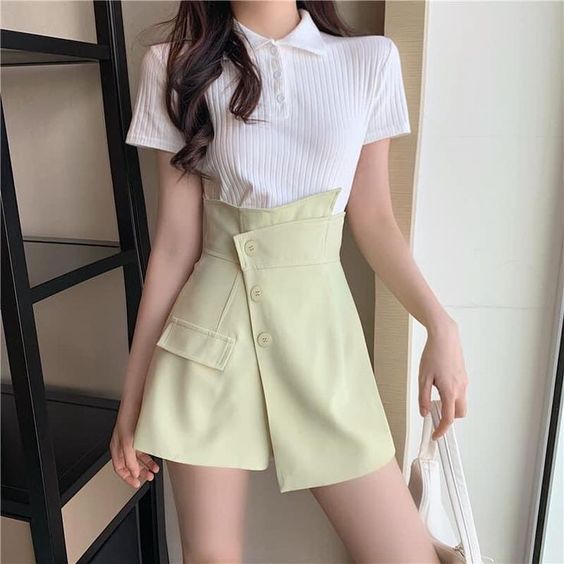 Want to make your girly outfit look unique? Then, asymmetric skirts will be the choice for you. For the top, you can adjust to the occasion. But if you want to follow the picture, you can wear a polo top. Believe me, this skirt is the fashion item that you will love.
Off-Shoulder Dress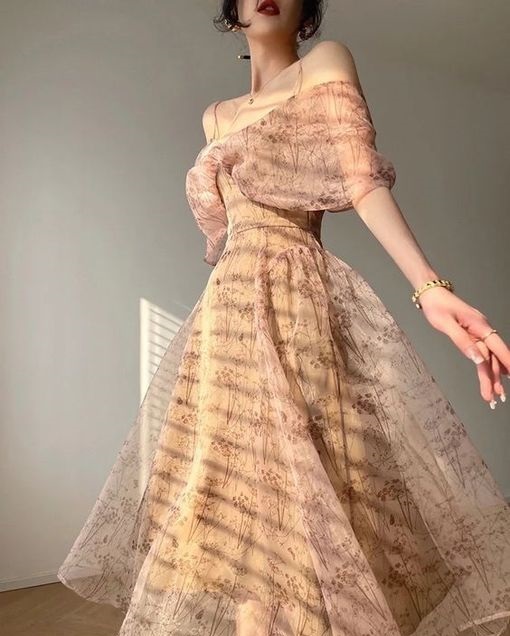 Wear an off-shoulder dress for going to the garden. Or you can also wear it for attending parties. If you just want to go to the garden, I guess lace-up sandal is enough to prettier this dress. Meanwhile, for parties, we recommend you wear heels. It's up to you to choose what kind of heels, just make sure it can give you a comfortable feel. Next, a clutch to bring your important items.
That's about 24 spring 2023 outfit ideas in girly style. Isn't every idea make you feel interested? Of course, the answer going to be yes. Because we give you a rare idea that can make you look stand out on every occasion. Just remember, when doing the mix and match you need to consider everything and be careful to avoid a tacky look. I hope you like this topic!