Olidfashion.com – Who loves traveling aboard? Going to beautiful places in different countries either for relaxing on the beach or exploring beautiful nature sights in new destinations. Because sometimes you need to take a break from your busy work or study. Aside from that, by traveling you may learn about unique cultures from each country you have visited. Even about their fashion style. You need to fit your travel outfits where you stayed a while for vacation. By doing this, you will be easy to mingle with the locals.
Do you tend to wear different outfits when you go traveling in different countries? If yes, sometimes you would feel a little trouble handling your travel outfits. Starting from comfortable outfits to wear in each country you visit, to something unique that is usually worn there. You must know what you'd wear in each country as your travel outfit ideas.
In theory, your vacation will be full of chic travel outfits. But, in fact, you better wear something that's equally comfy and fashionable. Therefore if you want to achieve balance we've round up 20 travel outfit ideas that look good and cozy for vacation style in different countries according to where you would go. So, ready to see what we'll share? Go on to scroll down here, and find out what style can be inspired you!!!
1. Simple Outfit Style to Walk Around in Italy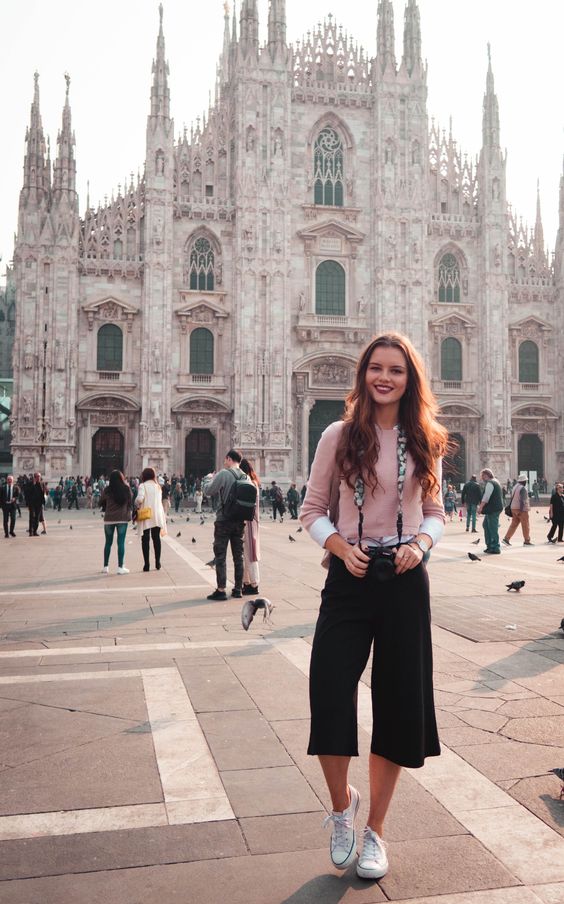 Italy is one of the favorite countries for the tourist because offers complete travel destinations, from historical attractions with many museums and artistic buildings, and beautiful natural scenery, to culinary treasures. When you think of travel outfit ideas to wear there, this outfit style would look comfy and fashionable enough. You just need to try mixing your sweater with a button-up shirt underneath for the upper style. And then get black culotte pants for the bottom style.
Now let's continue with shoes, to make you feel comfortable when looking around in Italy, better you wear sneakers or trainer shoes. This kind of footwear is the best choice when you have to walk all day. For the bag, bring a backpack to carry your important things. You can also have accessories such as a watch on your hand, sunglasses, and a hat to level up your vacation style.
2. Leopard Print Skirt in London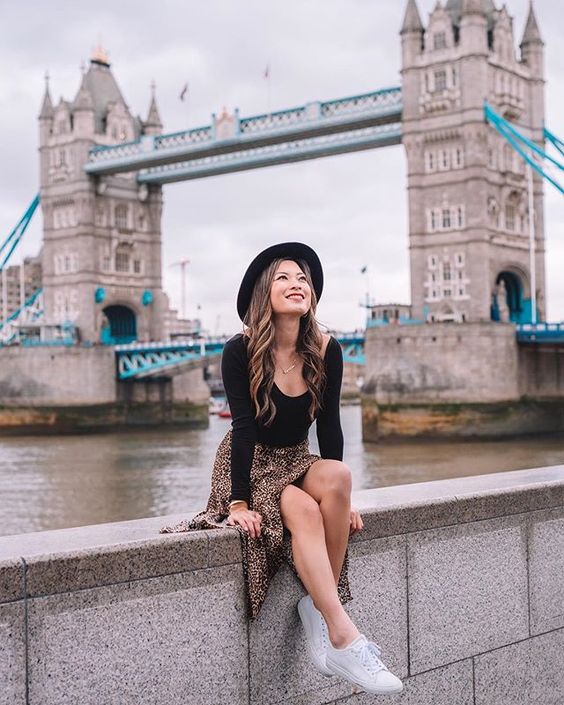 London – England's capital city where knowing with many historical city buildings has appealing points to attract many tourists visited. Some tourist destination in London is such as Big Ben, the Tower of London, Buckingham Palace, the London Eye, and Tower Bridge you can visit with family or friends during your holiday. When you plan on vacation there, rather bring this travel outfit idea. Yes, a leopard print skirt with a black long sleeve t-shirt with a plunging neckline. This combo is actually a bit simple but still classy and fashionable.
You can continue to add anything you love, like some accessories such as a fedora hat. It just would make you get trendy and classic. This is good to accompany you to walk around London and enjoy the scenery on your own. So, for this, you need to wear something comfortable on your toes such as sneakers or trainer shoes. Then for the bag, a cross-body bag or mini backpack is the best option to help carry your stuff.
3. Simple Beige Overall for Traveling to Egypt
This is will the best travel outfit idea to bring to Egypt. Yes, you can mix a beige overall with a puff sleeve white blouse underneath. Just believe me this combo is such a great outfit to wear in the desert for seeing the pyramid. Then, add a desert hat to support your overall look.
For shoes, you can mix this outfit with over-ankle boots, or just pick desert boots that would make you feel comfortable walking in sand. To help you avoid the heat and UV light, aside from the hat get sunglasses and a scarf for this. And then, to carry your important stuff you can get a backpack on your shoulder.
4. Pretty Sunset Color Dress in the Maldives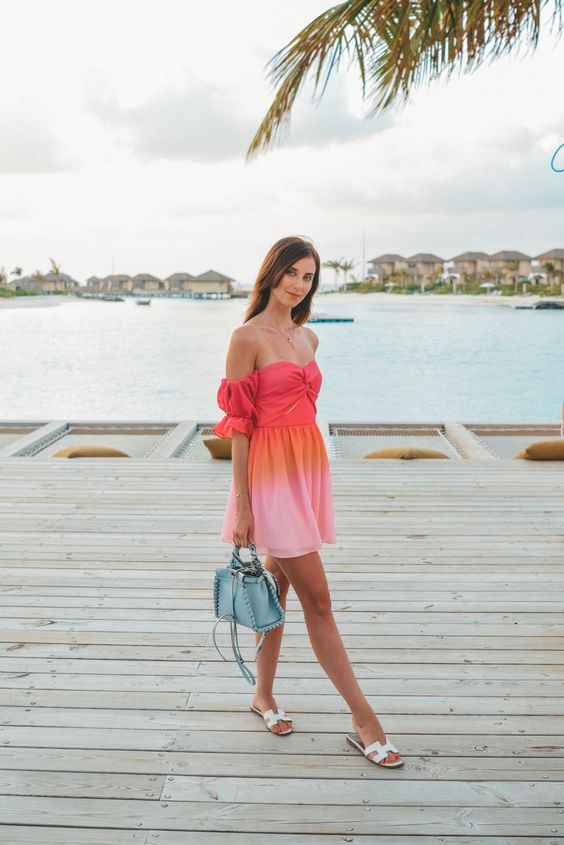 Do you have a preferred destination for your honeymoon? Maybe the romantic Maldives can offer the perfect atmosphere for a classy and romantic honeymoon. Besides that, it can be a destination for relaxing and cooling down from hectic activities. From the beautiful beach, tropical islands, and pretty sunset scenery, you can enjoy it there.
For this, you can wear an orange off-shoulder mini dress in different gradations that make it look alike sunset colors. For your toe, better get comfortable sandals to support your chic appearance. And then, for the bag, get a blue handbag to match your beachy performance. Accessorize your outfit with simple jewelry like a modest necklace.
5. Chic Bohemian in Texas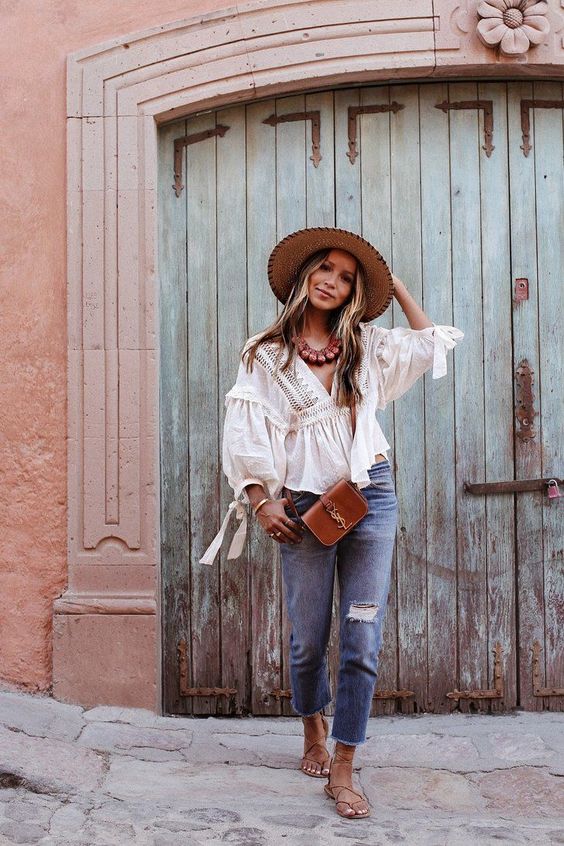 Another travel outfit idea that you can wear when you decide for going to texas for vacation is this countryside cowgirl outfit look. What comes to this outfit idea is a bit like a bohemian style that combines trendy cowboy hats and boots. You can wear a white v-neck lace blouse for the top and ripped jeans for the bottoms.
Continue with the shoes, to make you comfortable and chic bring gladiator sandals for a boho-chic style, but when you want a trendy styling look get cowboy boots for it. Concerning accessories, you can bring a rattan hat or cowboy hat on your head, some unique fashion jewelry can adorn your outfit look. And for the bag, you can get a mini sling bag in earthy tones such as brown for the bohemian concept.
6. Knee High Boots Style to Go on Central Park New York City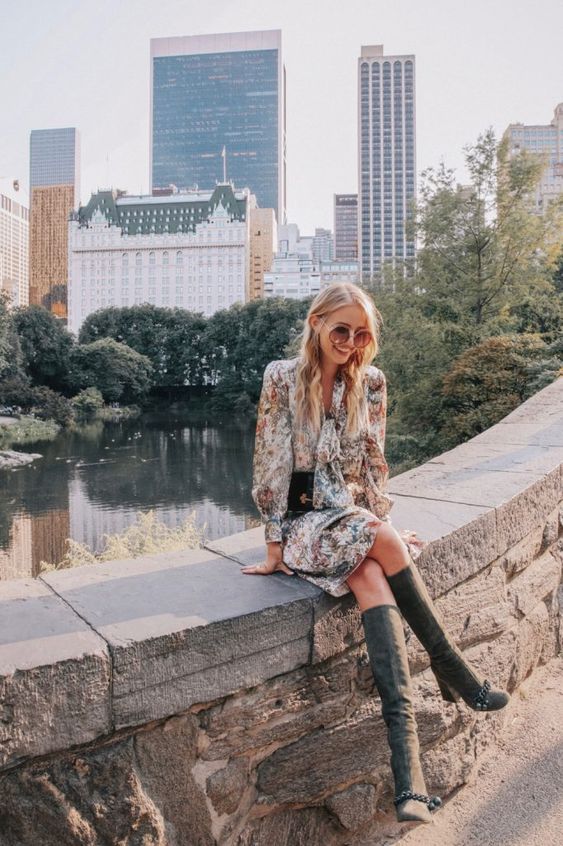 Need any fashion ideas for traveling to central park in New York City? Why don't you try to wear this knee-high boots outfit style? You can start to carry on your boots with a floral long sleeve mini dress style. Complete your travel outfit idea with accessories such as sunglasses and a clutch bag that would make you look fashionable to walking around the city.
7. Lace Dress for Traveling in Greece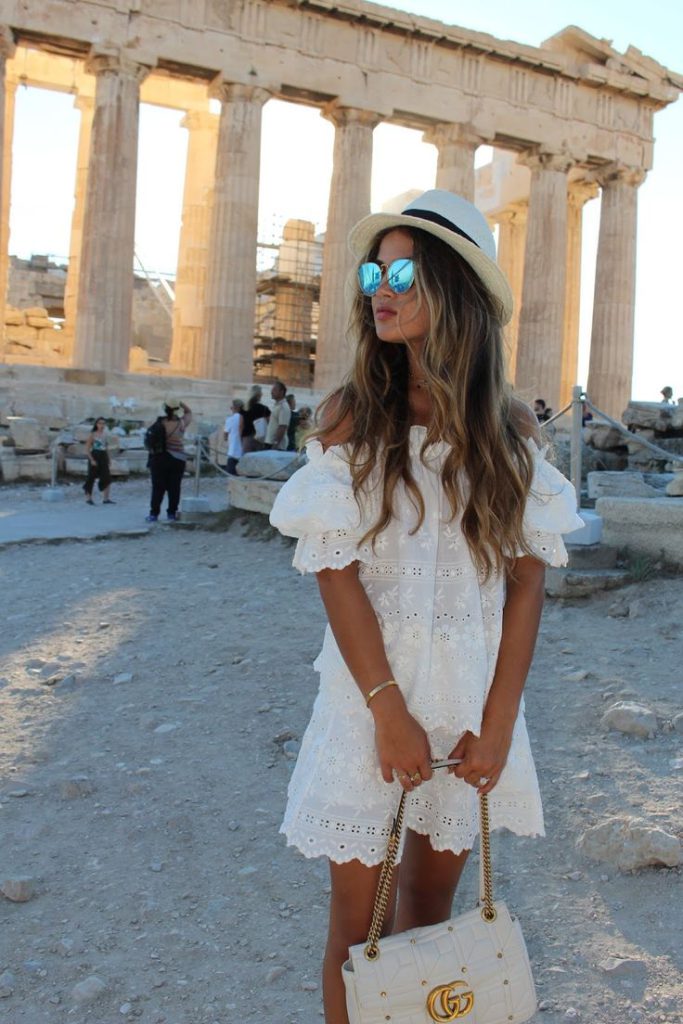 Have a plan for a summer vacation in Greece? You may need our help to find what you'd wear there. Remember that Greece is a Mediterranean country, so when it comes to summer the temperature is up to 35-45 degrees celsius. Pretty hot isn't it? That's why you need to include summer outfits in your suitcase.
To have comfortable travel outfit ideas in Greece during summer, this white lace off-shoulder mini dress would really help you. Add accessories such as a fedora or straw hat and sunglasses to avoid sunlight. Besides that, it's important to have comfortable walking shoes to explore Greece, so we recommend you get a pair of sandals or flip-flops that let your feet breathe. Then complete your outfit performance with a white mini sling bag to have a fully fashionable style.
8. Tropical Print Dress to Travel in Hawaii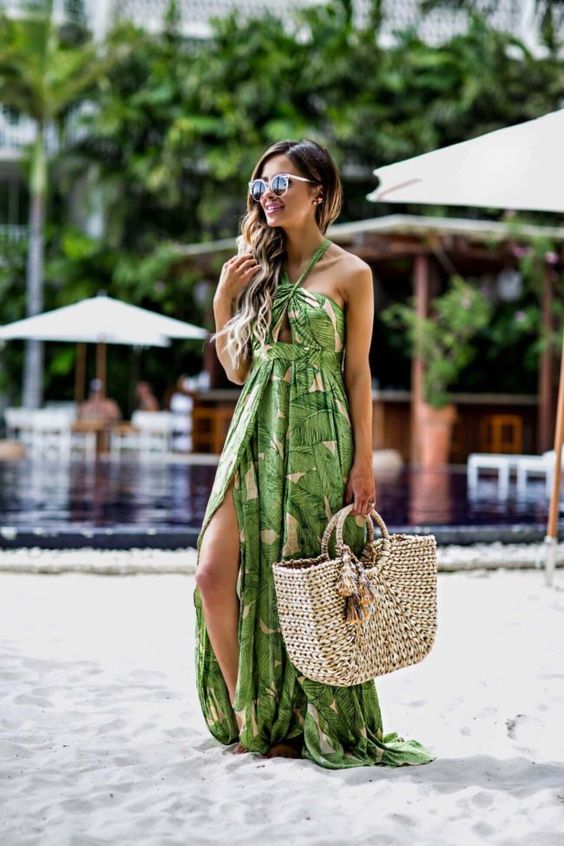 Going to a tropical island like Hawaii for a vacation? That's a great idea. Having nature scenery with a beautiful beach, sunset, and surfing is kind of heaven for you who want to take a rest from working. So, are you decide to go there? If yes you also need to get travel outfit ideas that look great in there. Don't miss out on tropical pattern clothes like palm leave motifs, the iconic outfits that are usually worn on tropical islands like Hawaii.
You can be styling your outfit look with a green tropical maxi dress with a bikini underneath. Then get a gladiator or bohemian sandals for matching footwear. To level up your appearance, you may get a rattan hat and a craft rattan tote bag in to save your important things. And the last, finish it with sunglasses to make you look chicer.
9. Off-Shoulder Dress for Summer Vacation in Spain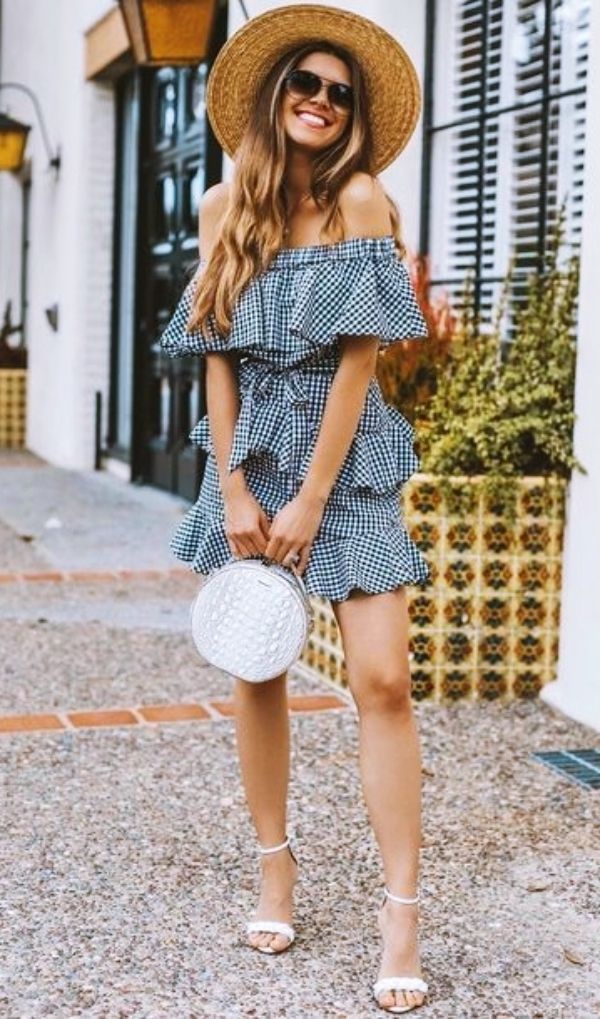 Depending on where you're headed in Spain, we've compiled some information about fashion fit there. Now it's time to decide on travel outfits to wear in Spain. Keep in mind that Spain is a place full of individuality and boldness, so wear what makes you comfortable and love much. And we've one chic and stylish outfit for you. It's a flowy off-shoulder mini dress.
You can add some accessories to give you a cute and pretty style like a straw hat and round crocodile skin handbag. Then prepare your outfits to have comfortable walking throughout the city and level up your performance with platform sandals, strappy heels, or wearing sneakers for a chicer look. Also, finished your overlook with sunglasses. With this, imagine you enjoy gelato on Seville street or just walking around in Alicante park.
10. Outstanding in Leather Pieces for Paris Fashion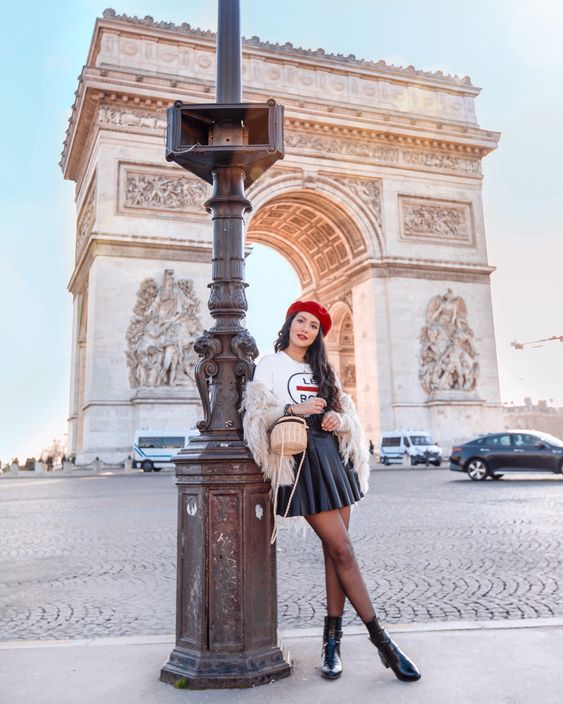 Every city has its beauty and history. Even so Paris. A beautiful city that many couples would visit as a romantic honeymoon destination. There are some famous places such as Eiffel Tower, the Love wall, and some aesthetic architectural buildings that you can adore. Your vacation would be complete without wearing the appropriate travel outfit idea. When you go to Paris, you can wear something that fancy and classy such as branded outfits, or wear leather ensembles such as the picture above.
You can mix your branded long sleeve t-shirt with a leather mini skirt, then support your fancy look with a fur jacket. To make your look chicer and fashionable, you can get stockings and ankle leather boots on your legs. Perfect your overlook with some accessories such as an eye-catching red beret hat, a rattan bucket bag, and some fashion items. Support your classy elegant style with a bold makeup look in red lipstick. For your hair, style it with a natural wave hairstyle.
11. Elegant Cropped Top and Long Skirt in Venice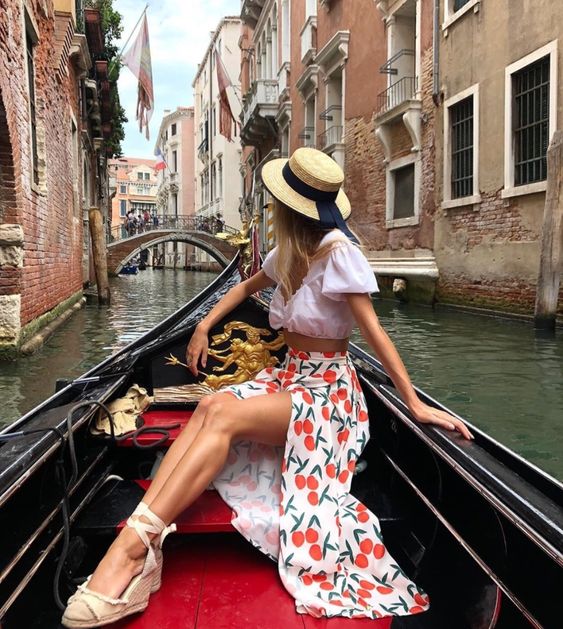 Do you like the romantic city of Venice? If you go there, what you'd wear on your travel outfit ideas? Still confused? Go easy, girls!! we would help you style your outfit with this matching look. Try to mix a lovely patterned long slit maxi skirt with a cropped puff short sleeve top. I think it would be pretty enough to make you look sweet and chic when you go around in the canal by a canoe.
Supporting your chic elegant style by bringing out strappy wedges for the shoes. Then, get other detailed items to stand your performance more with a straw hat on your head. The thing that is important to carry your stuff, which is it's a bag, you can get a mini cross-body bag for this outfit look. Just complete your outfit with a little more detail and use sunglasses for avoiding sunlight.
12. Comfy Blazer for Turkey Travel Outfit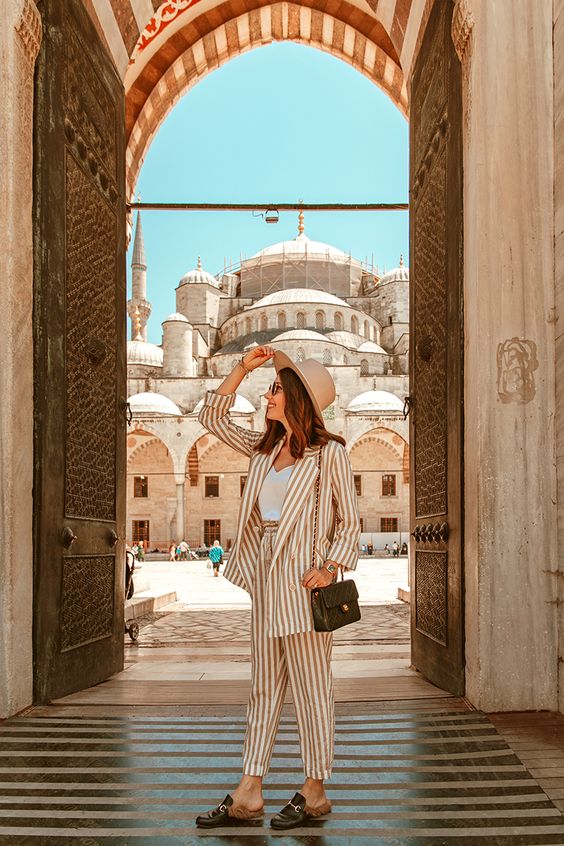 As a Muslim country you're visiting, Turkey is a fairly liberal destination. However, you must a bit of care about your outfit look. When you have solo travel in Turkey, the dress code in terms of what to wear in there is always regarding your destinations. We've one travel outfit idea that may you like and fit to wear to this destination. Yups, two-piece blazer outfit with trousers.
We believe this outfit is the safe and stylish one to wear while you travel in Turkey. You can try to mix a tank top for inner in your blazer and trousers style. Move to the head, you can add a fedora hat and sunglasses to support the look and make you have a chicer style. For shoes, pick a pair of loafers that would make you feel comfortable walking the city around. Then, complete your outfit performance with a mini sling bag to carry your belongings.
13. Chic Button-Up Dress for Japan Travel Style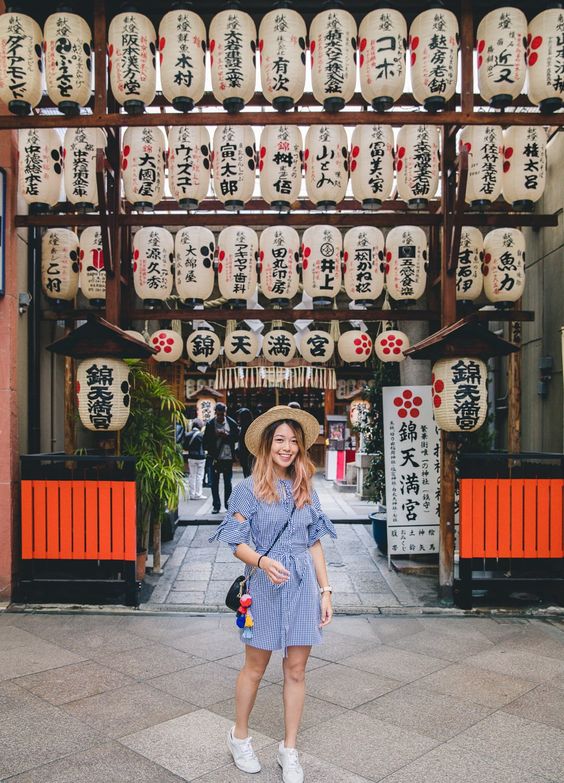 Have you ever traveled to Tokyo? One of the cities that's always crowded and the center of tourism destinations in Japan. If you go there, what you'd wear as your travel outfit idea? When you are concerned about being simple, comfy, but stylish, prefer this button mini dress to carry on your luggage. If you have a petite body, better to choose vertical stripe patterns.
You can get fully dressed by wearing another detail such as shoes and accessories. For your toe, when you need to walk much in your trip, you must pick comfortable shoes like sneakers. And for the accessories, bring a straw hat that could make your performance got chicer. For helping you carry your stuff, make it look cute and simple by bringing a mini canteen sling bag in your hand. Then, accessorize it in a simple way such as using a watch and simple fashion jewelry.
14. Safari Looks in Africa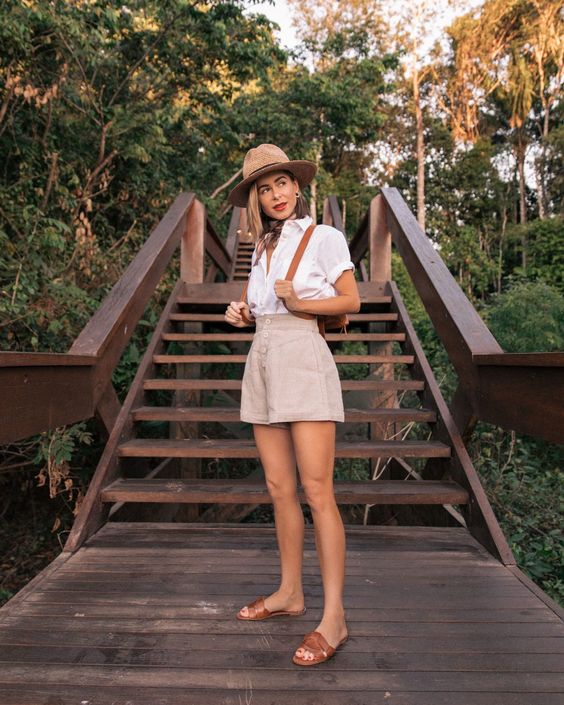 The next travel outfit idea that you can wear outdoor style in Africa is this safari outfit. As you know that Africa has many Savana with many wild animals and forests. For those who like nature, it would be a great destination option. However, to support your vacation style, you need to wear appropriate outfits.
The Safari outfit is an iconic style that is usually worn in Africa. For this look, you need to wear a white button-up shirt or safari shirt together with beige shorts. For the toe, you can wear comfortable sandals. But, you should wear something safer such as ankle boots or hiking shoes if you want to walk around in open nature.
15. Basic with Pants when Traveling in Amsterdam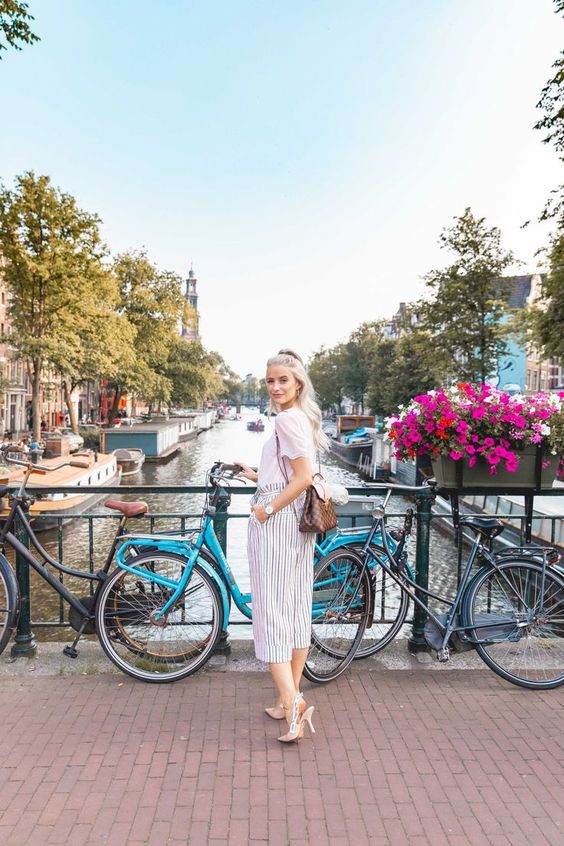 Wondering what to wear while traveling in Amsterdam? We'll give you fashion tips on your travel outfit idea. Amsterdam is the capital city of the Netherlands, and one of the excellent tourist destinations. There you will find more cultural and historic attractions like canals, a red-light district, and multiple noteworthy museums.
When you go traveling to Amsterdam, keep in mind to check the weather, always! Once you know what season is in there, you can focus on your travel wardrobe. When you plan to go during summer, you can tuck a simple basic t-shirt in ankle stripes pants. Opt for black and white color schemes for appearing presentable in the local's style. Then for shoes, prefer to get comfortable ones like sneakers if you plan to ride bicycles throughout the city. But when you want a bit pretty and chic style, you can get a pair of short heels with back straps.
16. Chic Modern Qipao Dress in China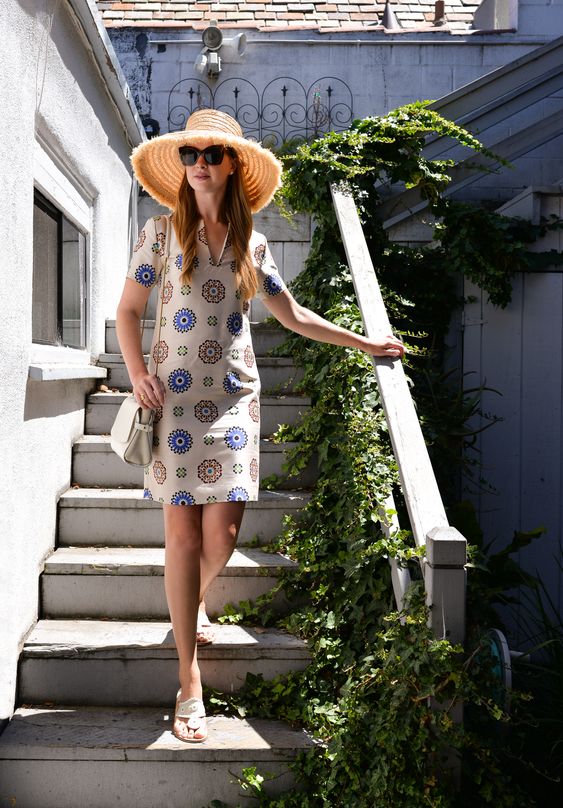 What about China? What you'd wear while you traveling there? For this, you better opt clean, tidy, and conservative outfits with a little cultural accent like this modern qipao dress. The Chinese people would appreciate it when you dress up like them. So, bringing this dress for your travel outfit is a good idea.
You can adjust your dress with comfortable sandals, a big straw hat, and sunglasses that look chicer to exploring China. For the bag, a mini sling bag could be enough to save your things up. And for addition, you can get simple jewelry and make your hair in a naturally straight style.
17. Elegant Belted Dress in Dubai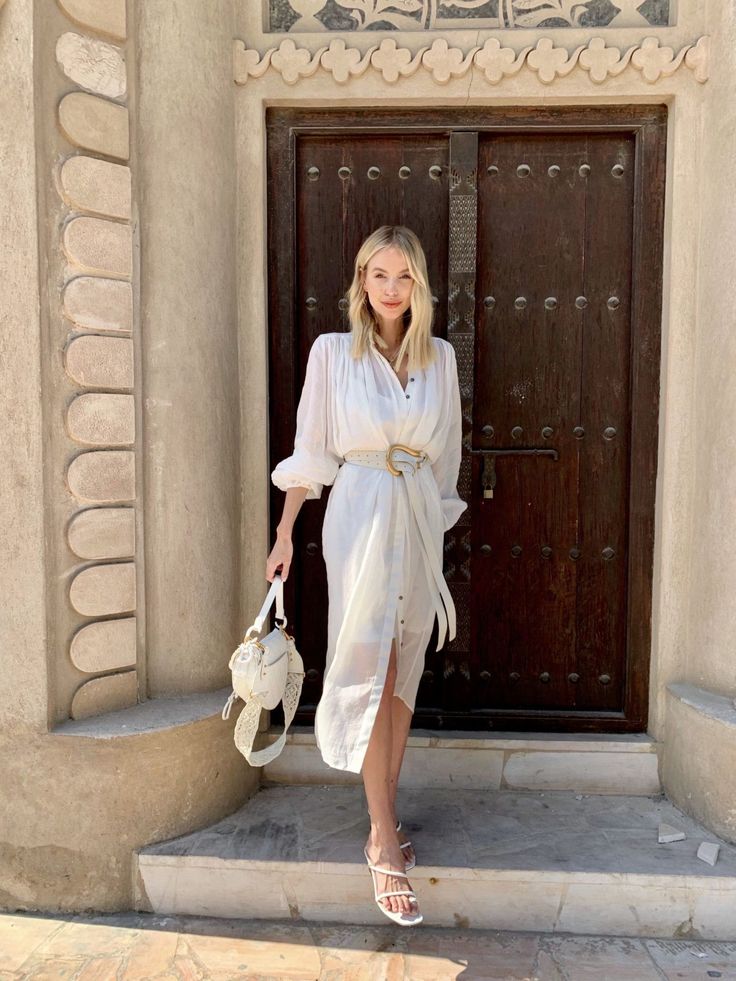 What to wear in Dubai is the biggest concern for the traveler. We hear that Dubai is a bit strict because this is one of the Muslim countries that uphold modesty outfits. Standart for the travel outfit ideas to Dubai is should cover the shoulder and knees. So, you require this long sleeve midi dress to look stylish going to malls and hotels there.
You can get a layering style by getting a white mini dress for the inner and a white loose linen tunic with a belt over it for the outer that gives you modesty but elegant style. Then, you can bring a pair of white strappy sandals to add more leisure style to your look. For the bag, get a white mini hobo bag in your hand and help to carry your belongings. This outfit look actually matches for hot weather in Dubai.
18. Blazer and Dress for South Korea Traveling Style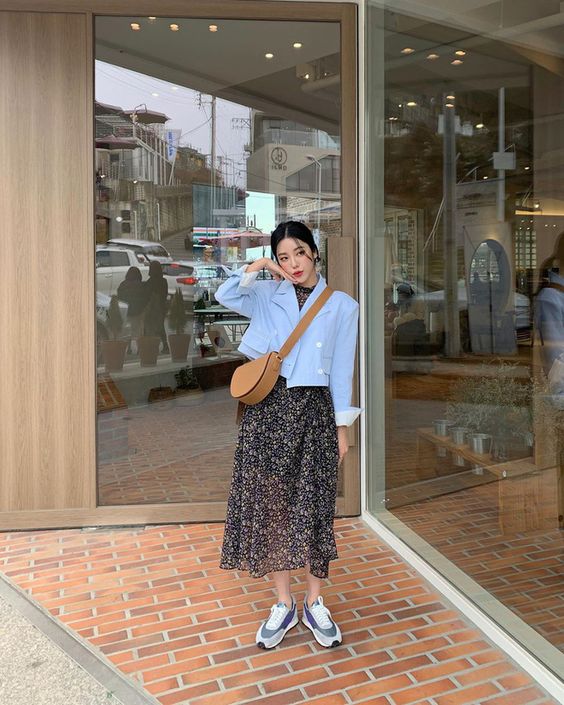 Anything about Korean is popular nowadays. From fashion, and drama, to travel destinations. When you plan on vacation there, better during spring and summer. The nature scenery like on Jeju island which is full of cherry blossoms is wonderful that you shouldn't miss out. How about your travel style? What you'd wear there? So, let's take a look at this style.
Korean outfit ideas are typically cute and elegant looks. People there love something in natural and pastel schemes to wear. When you are trip in spring, you can get a flowy maxi dress that's covered with a pastel cropped blazer. For shoes, getting comfortable tennis shoes makes you enjoy exploring Soul, the capital city of South Korea. And for the bag, just bring a saddle sling bag on your shoulder to save your important belongings. For option, you can wear a floppy hat or just make a simple bun hairstyle.
19. Desert Outfit Style in Rajasthan India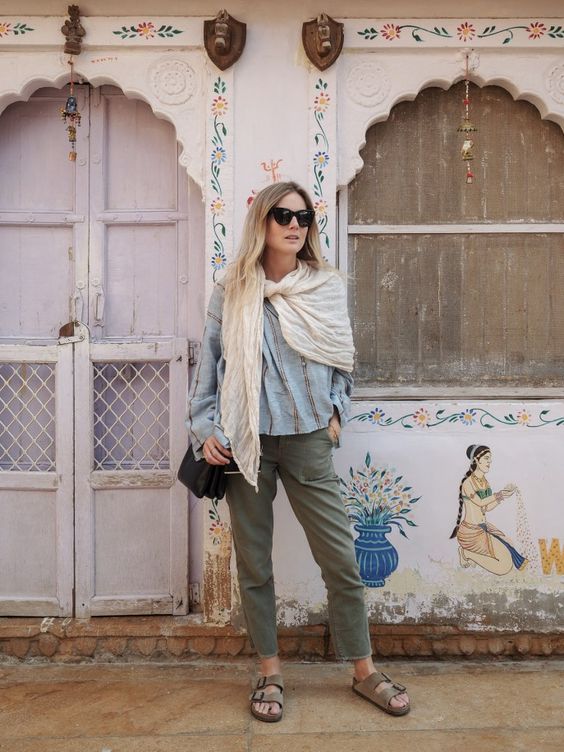 Travel outfit ideas to wear in Rajasthan India are a bit tricky because the weather can be extremely hot with dusty air. For this, you better dress in conservative, light, and airy clothes when you go to India. For sure, you can present desert or bohemian clothe styles with simple and lightweight outfits while traveling to India.
You can wear a cotton long sleeve top to give you coverage with a modest appearance. For the bottom half, you can wear lightweight jeans or cargo pants and cozy sandals. Then bring another detail such as sunglasses and a light shawl to protect you from rays and dusty air. For the bag, bring a simple sling bag or waist bag to carry important stuff.
20. Lovely Halter Neck Dress in South France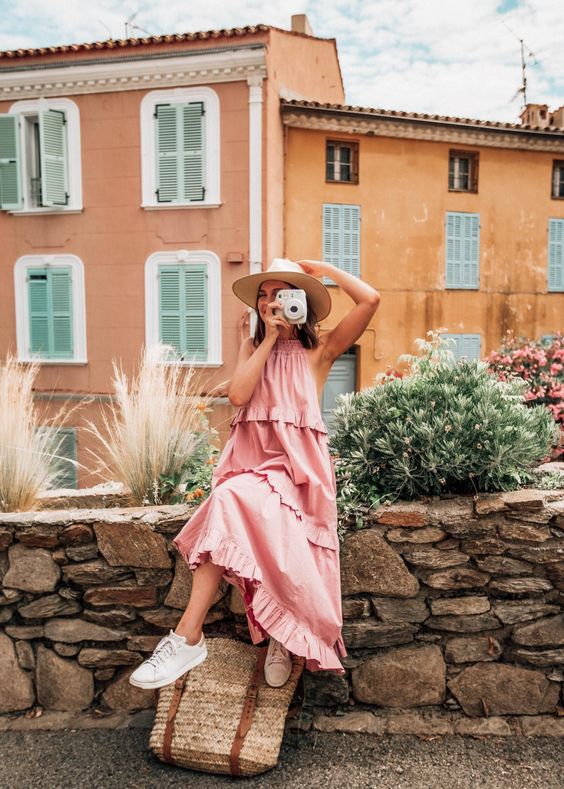 The South of France usually comes with seaside scenery that's complete with fancy private beaches, countryside, and a cosmopolitan town vibe. When choosing what travel outfit idea to wear there, we think about a lovely halter pink dress. Add a pair of white sneakers for a comfortable and chic appearance. Then, accessorize it with a floppy or straw hat, and sunglasses to protect you from UV light. When you explore the countryside or beaches in south France, opt to bring a craft tote bag that brings chic rustic style to your outfit performance. Don't forget to bring a camera and pictured some beautiful scenery there.
That's all about travel outfit ideas for different countries that can be inspired you. Start to prepare what you need for your trip and journey. Being stylish while walking around your tourist destination can increase your mood. It can help you to rest up from working and refresh your mind. Just create some beautiful memories there with lovely outfits whether alone or with someone love. Therefore, we hope you can get plenty of outfit ideas for your journey from what we share here. Get more travel styling by reading our article about the best comfy and fashionable travel outfits lookbook!