Lazy day? I'm sure all of you have experienced this phase. Especially for you who do work from dust till dawn, it will make you very tired and have sleepless nights. To get enough rest and have enough time for sleep, you have to shorten the time for preparation. But how to shorten the time? because you can't skip the things you do in the preparation?
All you have to do is prepare the outfit at the night, choose a simple hairdo or curl your hair before you sleep, make a simple breakfast, and the last thing that will take a long time to do is makeup. Usually, doing makeup will take 1-2 hours, moreover, some people take almost 3 hours for makeup. So, how to get makeup in a short time?
The answer is to choose simple makeup! on a simple makeup look, it still makes you look pretty, your face will look awake, and the important thing is just takes 15-30 minutes to do. Are you speechless? And how to do makeup just for 15-30 minutes? Don't worry girls! At this time, we will tell you how to achieve easy and simple makeup for your lazy day.
How to Do Easy and Simple Makeup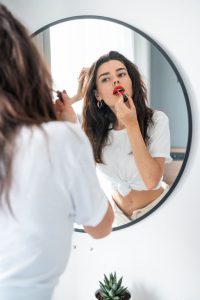 Maybe some of you will take a long time to do makeup, but if you know the important step of doing makeup, you will get a flawless and fresh makeup look in only 15-30 minutes. You can imagine how this is so helpful for you to shorten the time of your preparation. So, how to achieve this flawless and fresh makeup look that will be suitable for your lazy day? Here are the tips!
1. Don't Ever Skip Skincare and Sunscreen!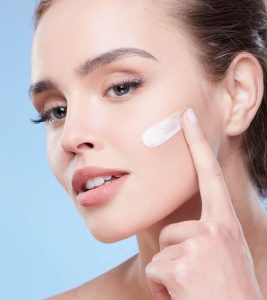 Even if you're in hurry and feel lazy to do makeup, you still have to do your skincare and sunscreen. Because it can help to prepare your skin for makeup and will make your makeup easy to apply to your skin. Besides that, wearing skincare and sunscreen will help your makeup stick well so your makeup is not cakey even if you wear it for a day.
Furthermore, there is some function of skincare and sunscreen, which is to protect your skin from dust, dirt, chemicals of makeup, and UV light. So, your skin will not easy to get acne or look dull. And don't forget to touch up your sunscreen every 4 hours.
2. Primer to Get Flawless Makeup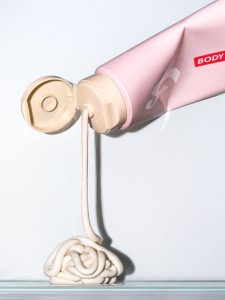 Do you know the function of primer? Yes! It will help you to get flawless makeup. Because primer can blur your big pores, hold the oil on your face so your makeup will not cakey or melt if you wear it for a day, and hydrate your skin if you have dry skin. Therefore, you should wear primer based on your skin needs or skin type.
You can wear primer on the part of the skin that is easy to get oily, have big pores, or the part of the skin that needs extra hydration. So, you can apply primer on the T-zone area and chin if you have oily skin, cheeks if you have big pores, and the last is forehead also smile lines if you have dry skin.
3. Skip the Foundation and Wear Concealer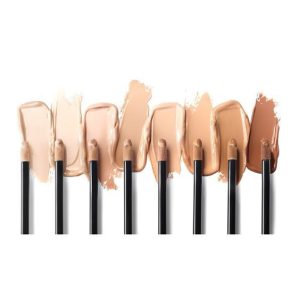 Wearing foundation or bb cream will take too much time for your preparation. That's why you can only use concealer to cover the blemishes and hide the uneven skin. Because we skip the foundation, your blemishes are not perfectly covered. Therefore, you should choose high coverage concealer to cover all your blemishes and get flawless-looking skin.
Wear concealer on your under-eye, the part that has dark spots or acne, uneven skin, and the area that you want to highlight. Using a little bit of concealer can help to get natural-looking skin and also can prevent your makeup will be cakey or patchy if you use it for a day.
4. Cream Contour to Make an Illusion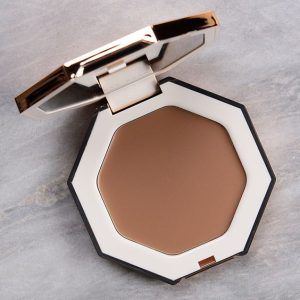 After using concealer, your face will be flat and lose a dimension. Therefore, you need to contour your face to bring back the dimension and also can help to give an illusion. On this natural makeup, you need a contour product that has a natural finish, so you can use cream contour. Besides having a natural finish, a cream contour is more long-lasting than a powder contour.
Apply cream contour on your under the cheekbone, jawline, and the side of the nose to give the dimension to your face and can give an illusion that you have a V-shape face with a thin cheek and pointed nose. Isn't it something that you wish for? So you don't have to worry and feel insecure if you have a big shape face and chubby cheek.
5. Cream Blush to Make Your Face Look Fresh
Do you know blush is one of the secrets to making your face look more fresh and awake? Therefore, now you don't ever skip this important step anymore. And I'm sure you want your blush to stay longer and even stay for a day if it can. So, to have a long-lasting blush, you can choose cream blush. Because cream blush can stick well on your skin than the powder blush.
Furthermore, cream blush can make a natural finish blush that will be suited for this natural makeup look. You can use cream blush on your apple cheeks and bring it to your nose to give the natural blushing. And there is a tip for you! if you don't have a cream blush, you can also use your favorite lipstick or lip tint as your cream blush and it can save your money.
6. Compact Powder to Get More Coverage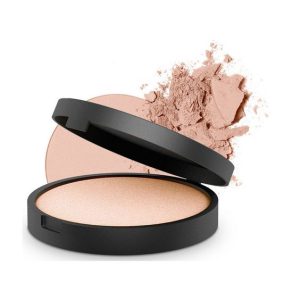 Because you skip the foundation and only use concealer, I'm sure you still need coverage to make your skin look more flawless. That's why you can choose compact powder for this makeup look. Usually, compact powder has more coverage than loose powder.
Don't worry, you still can do a baking technique using this compact powder. you just have a little bit extra to swap the powder using the beauty sponge and apply it to the area that easy to gets oily. After that, you can clear the powder using a powder brush and blend it all over your face.
7. Make a Natural Brows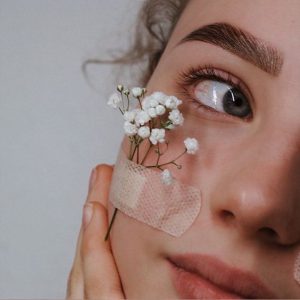 Natural brows are the key of this makeup. So, you need to make the brows look natural as possible. You can do the brows following your natural brows shape using an only eyebrow pencil, avoid using pomade brows because it will make your brows look on fleek and not natural. Then you can match the color of the eyebrow pencil with your hair.
Furthermore, brush your brows and brings it up. Then, you can draw the natural line and fill the blank space. After you feel it's enough, brush your brow to make it natural and use brow mascara to make the brows hair stay in place.
8. Skip the Eyeshadow Part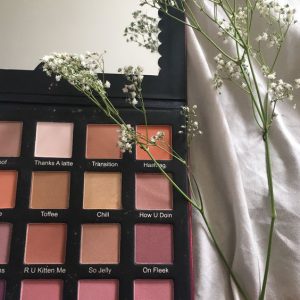 Do you know doing your eye makeup can take too much time besides doing the eyebrows? Maybe you can't skip the eyebrows part because that's the important step that will make your face look pretty and fresh, but you can skip this eyeshadow part! Because your eyelid has its natural color like a brown color.
But if you give a concealer to your eyelid and lose the natural color of your eyelid, you can use one color of eyeshadow which is brown color. And to make it more simple and easy, you can do the eyeshadow using a contour. So you can apply the eyeshadow when you're doing the contour step, this trick can also shorten the time of your makeup.
9. Make Your Eyes Look Sharp with Eyeliner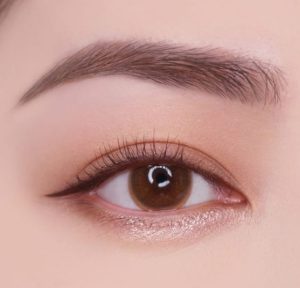 To make your eyes awake, you need to do the eyeliner to sharpen the eyes. Without eyeliner, your eyes will look glazed. Especially for you who have small eyes, using eyeliner will make your eyes longer and bigger. To support this natural makeup, you need to draw the thin liner with a small wing at the end of your eyes to give a long illusion of eyes.
10. Mascara to Give Volume and Long Lashes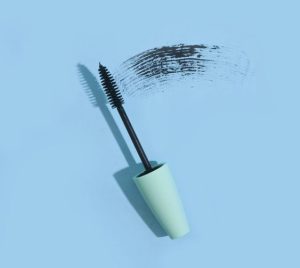 Who's in here can't skip this part? I'm sure not only me who thinks this step is very important. Even I can skip the eyeliner than skip the mascara. Because mascara can make your lashes thick and long that makes your eyes look awake and pretty.
But be careful when you want to choose the mascara because some of the mascara can give a smudge under your eyes if you use it for a long time. That's why you need to choose waterproof mascara if you want to use it for a day. Before applying the mascara, you should curl your lashes first and you can apply the mascara on your upper and lower lash!
11. Get the Glow Skin Use the Highlighter
Glowing skin using skincare? Maybe you can, but it's hard, especially for you who have trouble with the skin. Also, after using the powder, you will lose the natural glow of your skin. So, how do the people who have trouble with skin and do thick makeup have glow-looking skin?
The key is using a highlighter! There are many tricks for using makeup that you should know. And one of that tricks is this. You can choose a cream highlighter to get the natural glow you want. You can wear a highlighter on the highest part of your face, like the cheekbone, nose, brow bone, and chin.
12. Use Lip Tint for Having Natural Lip Color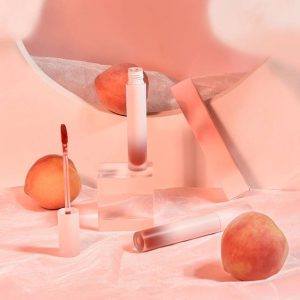 Using lip tint can give the natural lip color and also will look natural that suited for your natural makeup. Besides that, lip tint will not make your lips dry and patchy. Different like lipstick or lip cream because it will make your lips dry after you use it for a few hours. And also both of that products have side effects like making your lips darker.
Before applying lip tint, you can use the lip balm first to moisturize your lips. Furthermore, you can apply lip tint on the inner part of your lips to give the ombre lips. And if you feel the color is still too light, you can build up until gets the color that you want.
13. Long-Lasting Makeup Using Setting Spray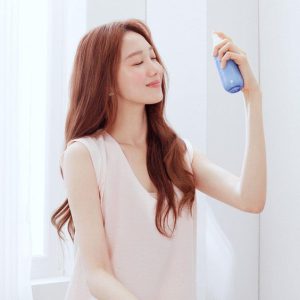 All of you have known the key to having long-lasting makeup is setting spray. This is the last part of your makeup that some people think is unnecessary. But some makeup experts know this is the part that you can't skip because can make your makeup flawless and not cakey even if you use it for a day. And don't forget to choose a setting spray based on your skin type!
So what do you think about this makeup tutorial? Isn't it very easy and helpful for you who in a lazy day or a hurry? Believe me, this makeup will only take 15-30 minutes but can make you look pretty, and also this makeup is suited for a newbie. I hope you can clearly understand and follow this easy and simple makeup that will suitable for your lazy day.