Olidfashion.com – Who hasn't heard of Selena Gomez? She is a Hollywood multi-talented star who worked as a singer, actor, and producer. Selena began her career as a Disney actor and since then become well-known. Having a pretty, sweet, and cute face combined with a petite body makes everything one wears look chic and fashionable. This is why people begin to recognize Selena Gomez as a fashion inspiration.
We love how Selena Gomez styles her outfit perfectly. She truly knows the way to highlight her elegance and beauty. She plays with every piece of clothes, mixing and matching them properly, then also uses makeup to create her image. Now you can see that she sometimes could look cute, sexy, elegant, and boyish.
Getting Selena Gomez's fashion look is simple and easy to copy. That's why you can also look like her if you want to know how to mix and match clothes by recreating her outfit ideas. So at this moment, we'll share some Selena Gomez outfits inspired to help you get chic and stylish fashion for any occasion. Okay, now let's find out what we have here!!!
1. Casual with Leging and Long Cardigan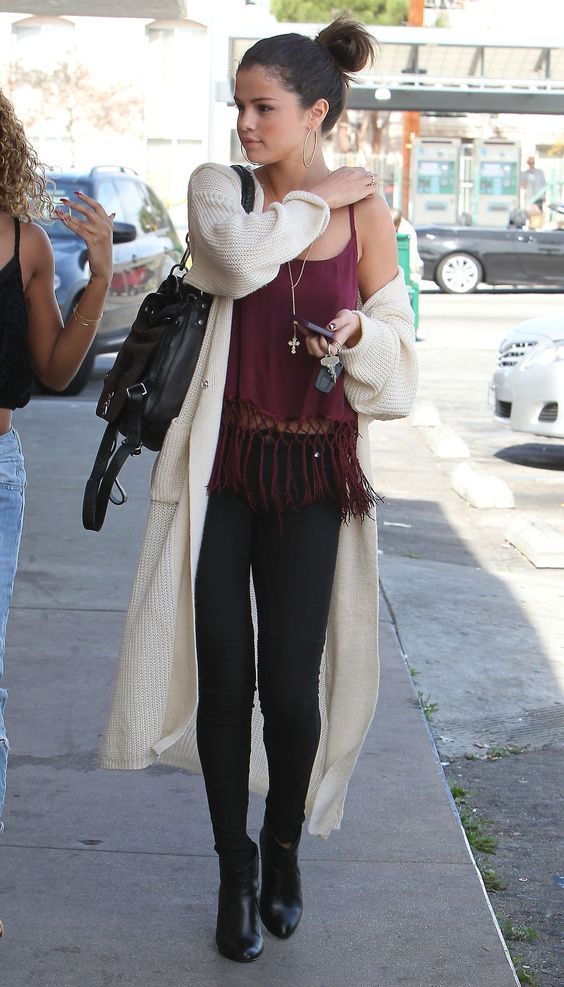 Why don't we start with the casual one? Selena Gomez outfit inspired, we can try to mix and match a tank top with a long knitted cardigan and black legging. You can just wear this fashionable look for drinking coffee in the cafe, or just walking around the city. If you want a bit bohemian style, pick a tank top with tassel embellishment.
Next, match this Selena fashion looks with a pair of black leather ankle boots. This will give you a slightly trendy style. Then move the bag, you can get a backpack or shoulder bag. For the option, you can also opt for a canvas tote bag for a chicer style. Then perfect your outfit performance with gold jewelry like big hoop earrings and a necklace. If you don't like it, just grab your fashion accessories.
2. Cute in Short Dress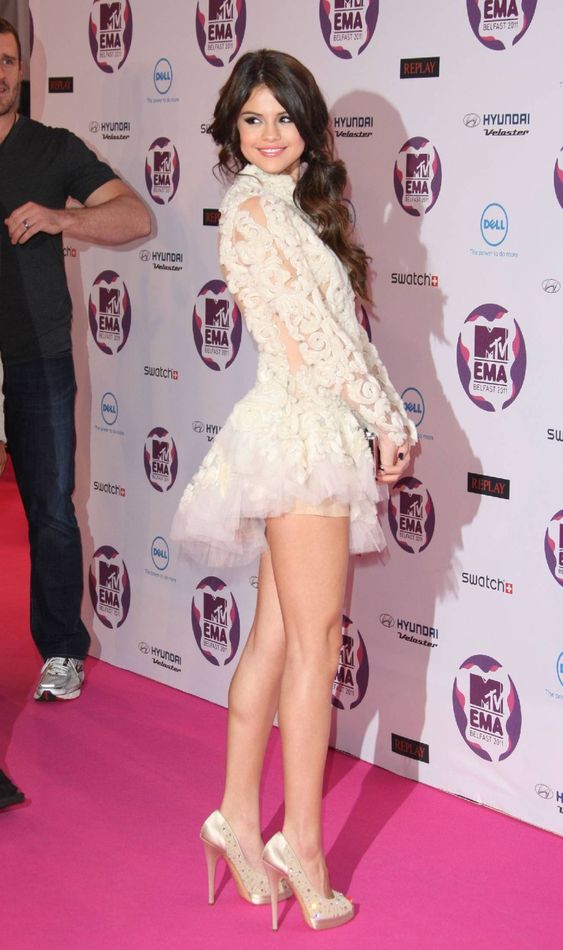 We love to look at Selena in a mini dress style. This makes her look cute but elegant. A white long sleeve mini dress can you pick to become your prom night dress, especially for those petite girls. You can match it with gold or silver high heels for stunning looks. Then grab a clutch on your hand for a matching bag.
For accessories, just give simple jewelry and fit it with your hairstyle. If you have a side ponytail with curly hair, make sure don't wear hanging earrings. But if you prefer a bun hairstyle, make a statement with your jewelry.
3. Two-Piece Dress for Formal Occasion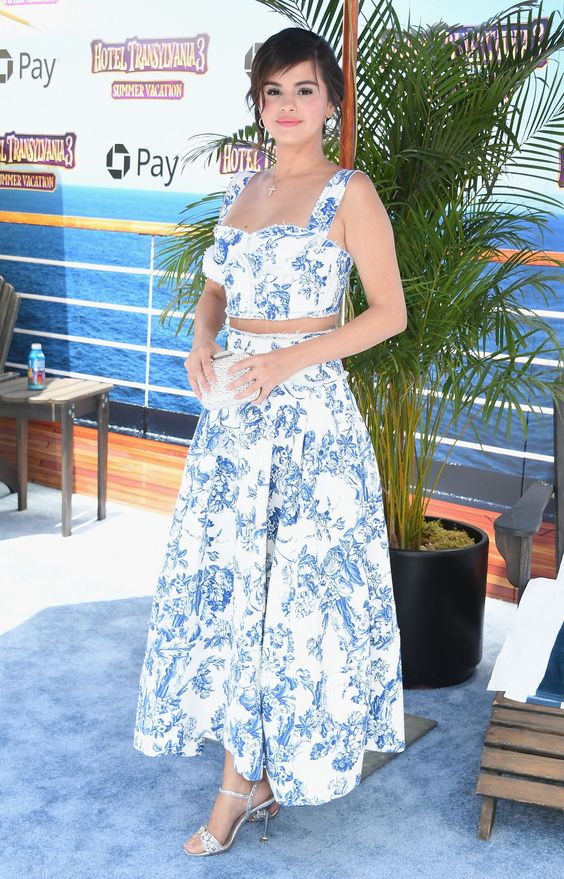 For you who feel stuck on mixing and matching outfits, try to bring this Selene Gomez outfit-inspired. Yes, a two-piece dress. Use it as a pretty dress for your first date. Pick a matching two-piece outfit in a cami tank top and maxi skirt. Not only look great in casual events, but you can also wear it on formal occasions. Such as having dinner with your family or going to your friend's wedding.
If you want to look elegant like Selena with this outfit, prefer to pair it with high heels for the footwear. Then you can add fancy detail such as gold jewelry for accessories, just keep it simple as you can. For the bag, a micro silver clutch would support your classy elegant style. Because it's a formal event, get your hairstyle with a high bun.
4. Square Dress and Sneakers for Contemporary Looks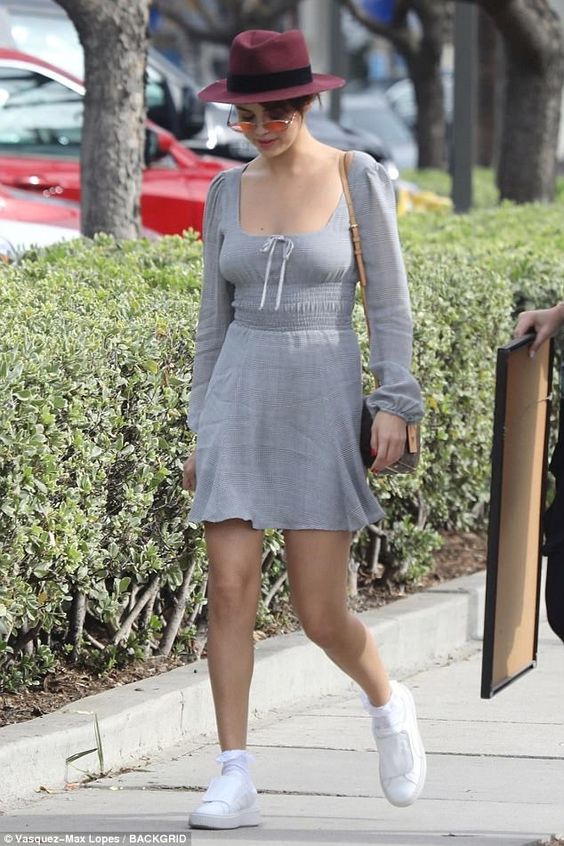 Look contemporary with Selena Gomez outfits inspired! Just bring a square neck mini dress and sneakers into your daily performance. This styling outfit would seem a little vintage yet chic especially when you bring a fedora hat for accessories. You can wear this dress just for a street walk, hang out, or college style. To help you get the perfect outfit performance, bring other detailed accessories such as simple jewelry and sunglasses. For the bag, you can choose a sling bag or backpack to save your things.
5. Playful Style with Overall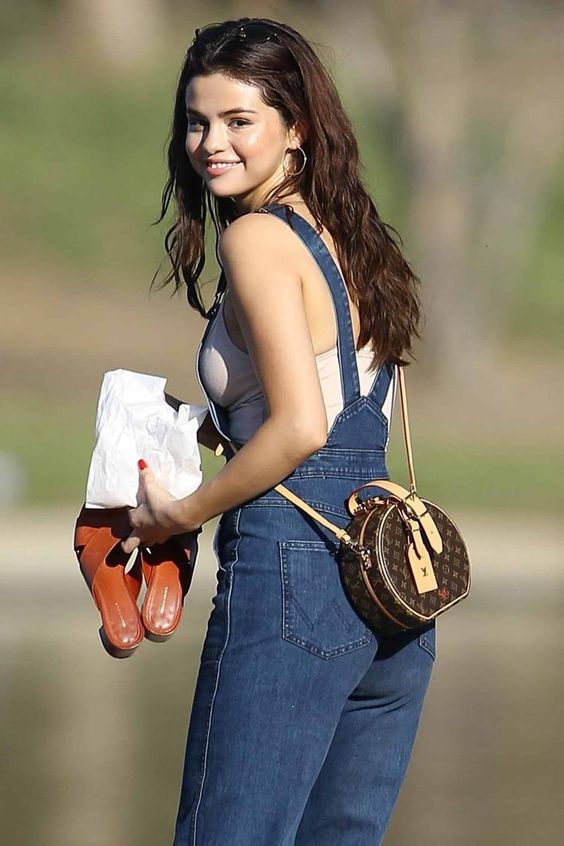 On several occasions, we look at Selena wearing overall for her daily style. And it looks cute on her. Then, for you who want to get an inspired outfit from Selena Gomez, try on an overall with a tank top. This would give you a playful and cute appearance. But if you are not too confident, you can match overall with a basic t-shirt rather than a tank top.
We suggest supporting outfit performance with your hairstyle. If you want to look cute and playful, two braided hairstyles are suited. When you want to look mature, get a natural wavy hairstyle or high ponytail. Then for comfy shoes, you can choose sneakers or sandals. But you can also wear high heels with overalls to give sexy looks. Furthermore, bring a mini backpack or sling bag to perfect your styling outfit.
6. Elegant in Monochromatic White Dress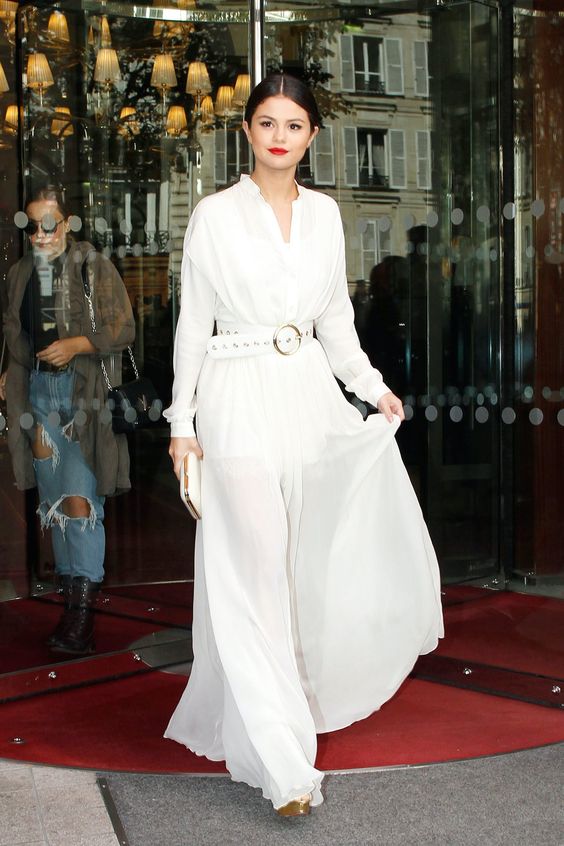 Next, we have outfit ideas that would make you look like classy elegant girls. This outfit would be suitable to attend formal events such as evening dinner or going to a company party. What you need is only a white long sleeve flowy dress. Then, you can match this dress with gold or silver high heels.
For the hair, actually, you need to style it in a tidy bun, low ponytail, or just make it straight. Look outstanding with monochromatic white by adding white accessories such as a belt over your dress. For the bag, get a white clutch that has a little gold accent to save your important things and complete your outfit performance. If you need makeup inspiration, just get in natural style with a red statement on the lips.
7. Patchwork Dress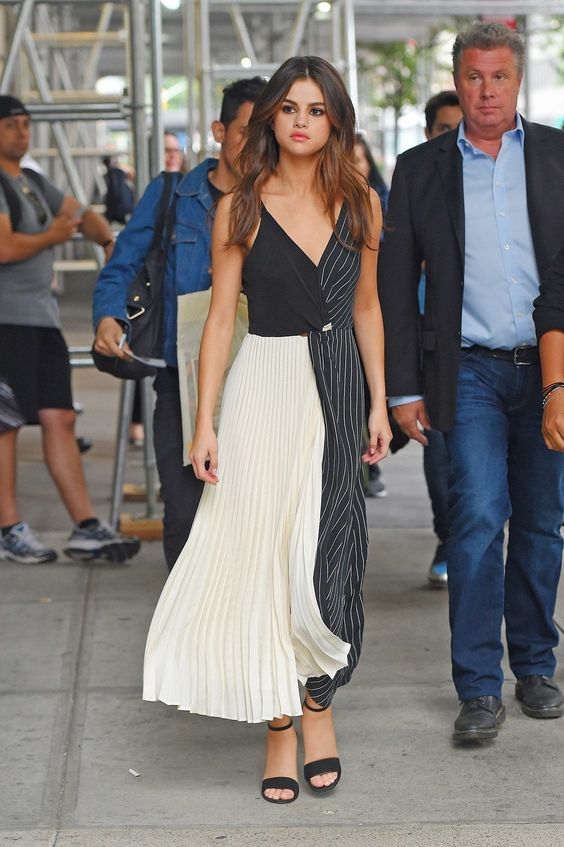 Looking for something different? Get this patchwork dress as a sophisticated outfit idea. The patchwork trend is about combining many different patterns, fabrics, and colors in one outfit to create a one-of-a-kind image. This is also a kind of eco-friendly outfit that can reduce fashion waste.
For Selena Gomez's inspired outfit, you can use this to attend social occasions. Just match it with strappy high heels or your other favorite heels for matching footwear. Then, complete with accessories items like a thin necklace or small earrings. For the bag, choosing a clutch or a mini handbag is a great choice.
8. Get Halter Dress for Chic Stylish Outfit Ideas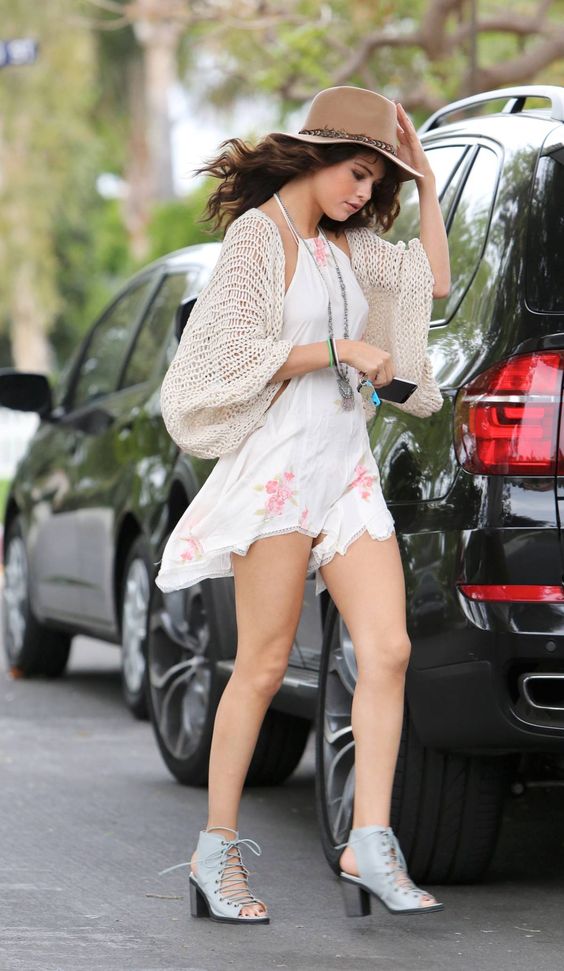 Need outfit idea for a fashionable beachy style? Just look at this Selena Gomez outfit inspired. I believe you would like it because it's a simple, chic, and sweet style. Choose a light halter mini dress to layer with a crochet cardigan. For shoes, you can pick lace-up high ankle boots or gladiator sandals.
Your outfit wouldn't be complete without adding accessories items. For this, you can add bohemian fashion accessories like necklaces, bracelets, and silver hanging earrings. Don't miss out on the hat, because you'll go to the beach better to wear a hat like a straw hat, fedora, or floppy to protect you from heat. Because your concept has a slightly bohemian style, you better complete it with a crochet hobo bag or a rattan handbag.
9. Sporty Style with Sweatpants and Cropped Top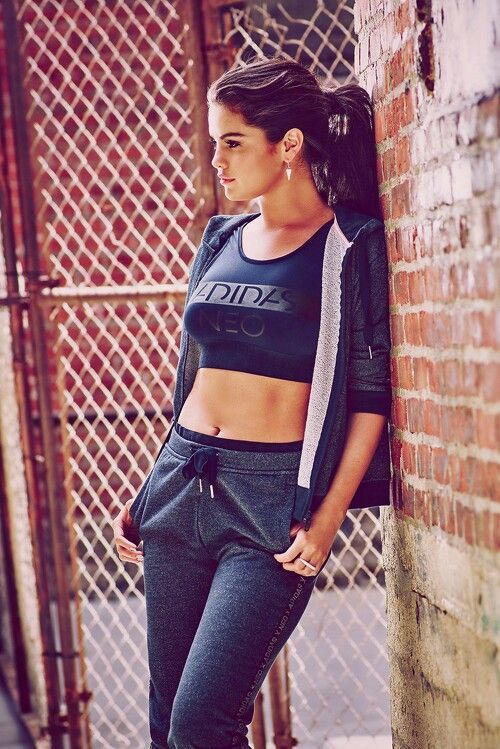 For you who love working out and going to the gym, this Selena Gomez outfit-inspired would look good for you. Have a sporty look by matching up sweatpants with a cropped tank top, or even you can use a sports bra. Choose the fabrics that are light, breathable, and make you feel at ease for doing exercise.
You don't always use this sporty outfit to go to the gym, but also wear it to become a comfortable hang-out style. Just layer it with a zipper jacket or use a puffer vest that can bring fashionable and chic performance to your clothes. For the shoes, of course, you need to pick the comfortable ones such as sneakers or trainer shoes. Then, set your hair in a ponytail, messy bun, or two braided hairstyles. Furthermore, for the bag you can select a duffel bag to save your belongings, or when you go to hang out with your friend just bring a waist bag.
10. Warm and Comfy with Fur Coat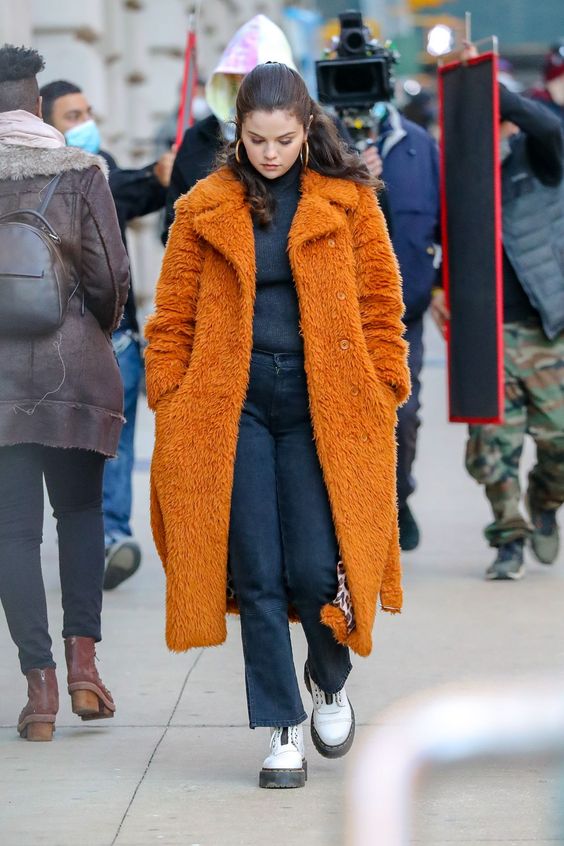 Not only just summer, casual, and formal clothes, we also have fall/winter outfit ideas inspired by Selena Gomez's outfit style. This outfit style seems comfy and warm even if you go outside in cold weather. You can get a turtleneck that you match with jeans and get layered with a warm fur coat.
Furthermore, you can do a half-up hairstyle or just a natural wave style to make it simple. Move to the shoes, you can choose chunky shoes that make you feel warm outside. Better you don't wear high heels or you can change it with high boots. Next, for bags get a handbag or shoulder bag.
11. Chilling Out with Hoodie and Jeans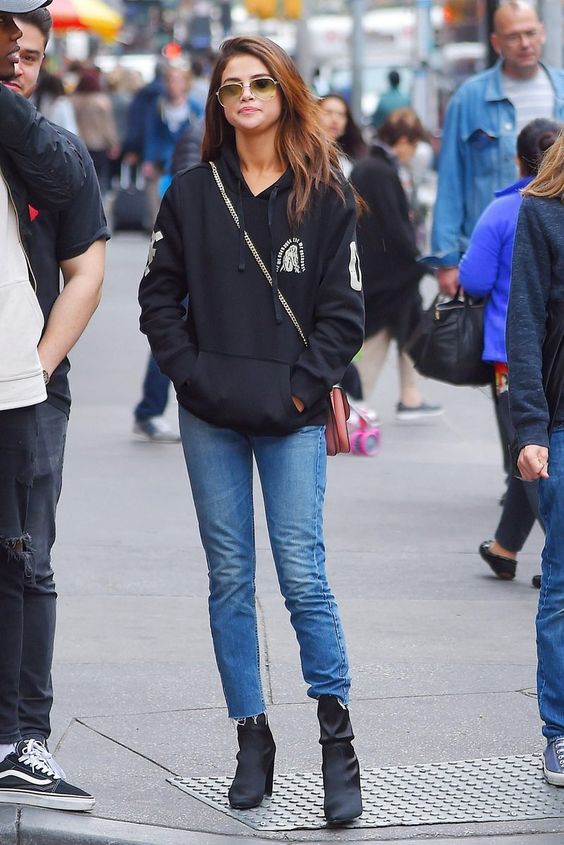 We'll give you another simple outfit idea inspired by Selena Gomez's fashion looks. This outfit idea would be loved by girls who like boyish outfits. You just need to obtain a hoodie with ankle-cropped denim jeans. To give you a chic styling appearance, you can pair this outfit with ankle boots rather than sneakers. Then bring a sling bag to help you carry important things. Use this outfit style for layback hang out with friends.
12. Feminime in V-neck and Shorts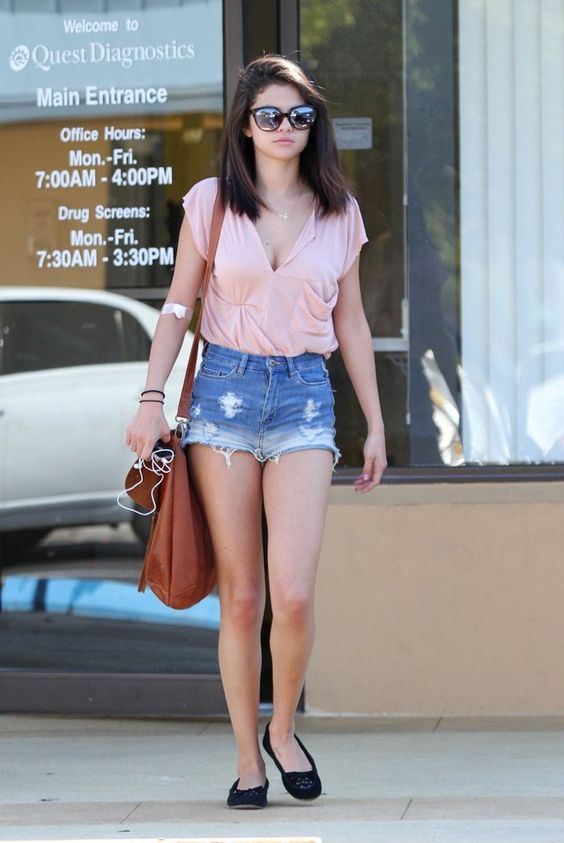 Next, styling outfits for feminine girls! What's more fashionable and chicer than these ripped denim shorts and v-neck tee. From the top style, it would direct you to look sexy yet playful in the summer. And with the cropped shorts, will give you a bit messy but still trendy.
If you want to look more fashionable in Selena Gomez outfit-inspired, you can add a little detail such as a tiny necklace, sunglasses to help you avoid Uv light, and some fashion bracelets. For the footwear, you can pick a pair of sneakers if you want something that's comfy and free to move. However, when you want to look a bit girl just choose loafers without heels. To complete your outfit performance, you can opt for a shoulder bag or tote bag to carry your belongings.
14. Outstanding Dress with Corset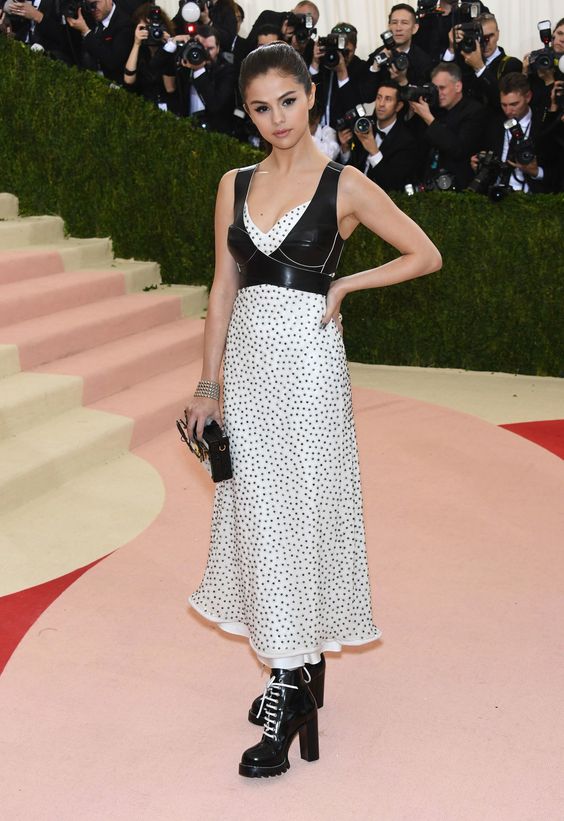 Look outstanding use a simple dress? Why don't you remodel it by giving a corset on the outside dress? Or you can use Selena Gomez's fashion style which matches a common dress in an unusual way use a leather cropped top over the dress. To make it cooler and a little grunge style, you can get a pair of chunky lace-up boots for the footwear. Do a high ponytail and get smokey eyes makeup to create a strong image. Complete your overlook with chic metallic accessories, then bring a chain sling bag in your hand.
15. Denim Skirt and Blazer to Get Bossy Looks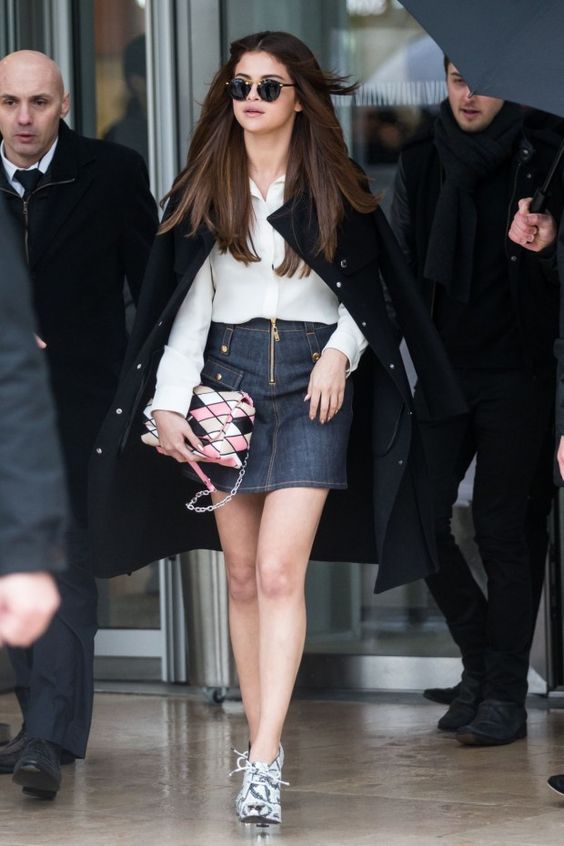 For you who don't know what to wear for going to work, just try to recreate this Selena Gomez styling outfit. You can start by wearing a white button blouse and then get a blazer over it for the top style. Then, match up with a zipper denim skirt for the bottom style. For shoes, just wear high heels or if you want something that comfortable, loafers would be suited too.
Move to the hair, you can do a natural wavy style, or use a tidy high ponytail for a more formal look. Then for makeup just prefers a natural look. But if you want a bossy look, get red lipstick on you to bring a bold and strong look. Then you can bring a sling bag, or just pick your favorite handbag. If you want a more bossy style, choose white and black color palette in your outfit performance.
16. Trendy in Leather Jacket Statement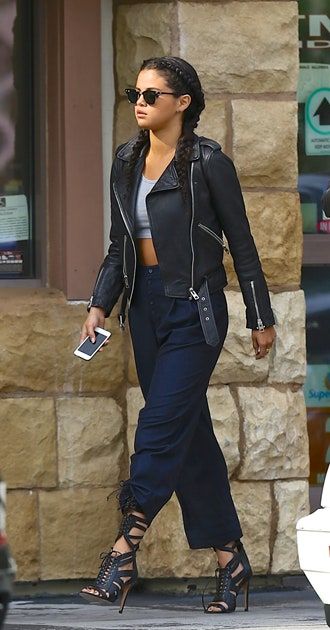 Do you need a night girl outfit for hanging out in the pub? Use this Selena Gomez outfit inspired if you want to look outstanding and funky. If you have a leather jacket in your closet, just take it out and bring it together with your tank top and trousers. What's more interesting about this stylish outfit is wearing gladiator high heels. What an amazing combo!! Then, support your performance by choosing two braided hairstyles that make you look chic yet trendy. Perfect your overlook by getting metallic accessories and sunglasses. Then for the bag, pick a shoulder bag.
17. Bring Floral Dress for Summer Vibe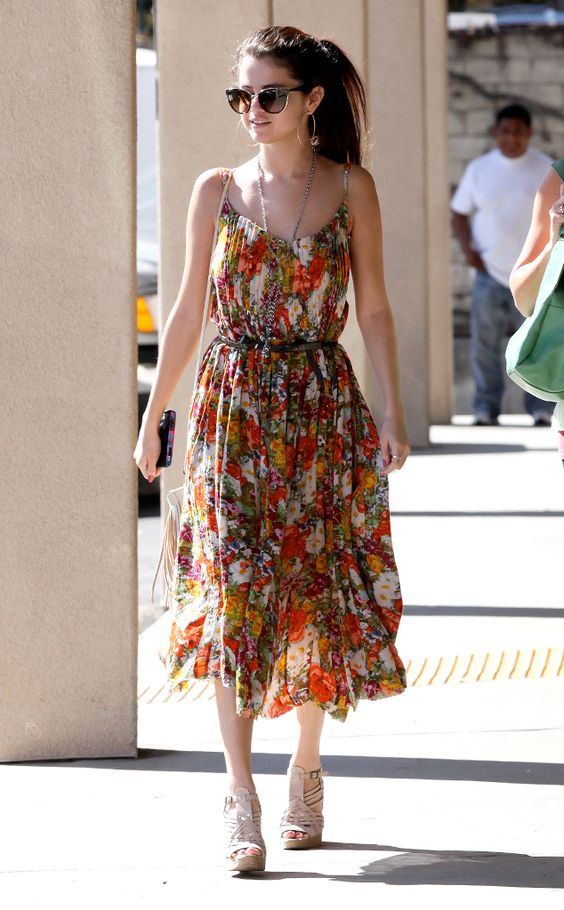 Put on your strappy floral dress if you want to bring a spring and summer vibe into your outfit idea. This makes you feel like flower blooms that feel fresh and cheerful. You can wear this kind of dress for street walking or picnic in the park. Pair this dress with wedges or high heels for a pretty styling. But when you want a bit to feel comfortable and freely move, just pick sneakers.
Don't forget to give another fashionable touch like accessories items. You can get silver jewelry, sunglasses, and a mini belt over the dress. Then for a choice, you can get a straw or floppy hat to help you avoid the sun. Complete this summer outfit idea by wearing a bohemian sling bag.
That's all about Selena Gomez outfit ideas to inspire your daily lookbook. So, from now on you don't feel confused about mixing and matching your outfit. Just follow what we share above, and choose the style that really into you. I believe it can level up your appearance to look like Selena Gomez. What's more important, be confident in anything you wear. It's a key to being fashionable!! So what do you think girls? Are interested now? Or if you want to look another celebrity style, just read our article about chic and casual outfits inspired by Jennie Blackpink. We hope you'll get some inspiration from there too.