Olidfashion.com – Have you ever thought about how to style your airport outfit look? Maybe for some people, to look fashionable in the airport it's not necessary because people are usually not interested in you. Especially for men who are always ignorant about their appearance. But think again. The Airport is the best place to show up your fashion styles. It would look like street fashion shows. Some people prepare their best look to go to the airport. Because this is the beginning of their fun journey, so they have been dressed up perfectly.
There would be a bit tricky when it comes to airport outfit ideas. Not only find how to bring your style in a trendy and fashionable look but also think about the comfort of your fit. Besides that, still need to consider your travel purpose. Some people need to wear something that looks formal like business attire when they need to meet clients as soon as their landing. Or the others need some warmth and comfortable pieces to wear when they should have a long flight that makes you should stay long on the plane.
Go easy guys, we will give you some fashion inspiration that would make fulfill your desire for cool, comfy, and fashionable in the airport. We have compiled 18 trendy airport outfit ideas to perfect your traveling style. Are you interested? Let's find more below!!!
1. Casual Style with Shorts
Going on your trip stylishly, get this trendy airport outfit to look casually with shorts. For this, you can mix your black Bermuda shorts with a basic T-shirt and white sneakers. Typical of man's fashion who want to have a simple and minimalist style. Getting black hues in your outfits is a great choice that would make you still look trendy in the airport even though just wear a basic day-to-day style. For the bag, you can choose a backpack that helps you save your important thing. And then get a simple accessory like sunglasses that would show a cool side of yourself. But, we suggest you wear this style when you have a short flight.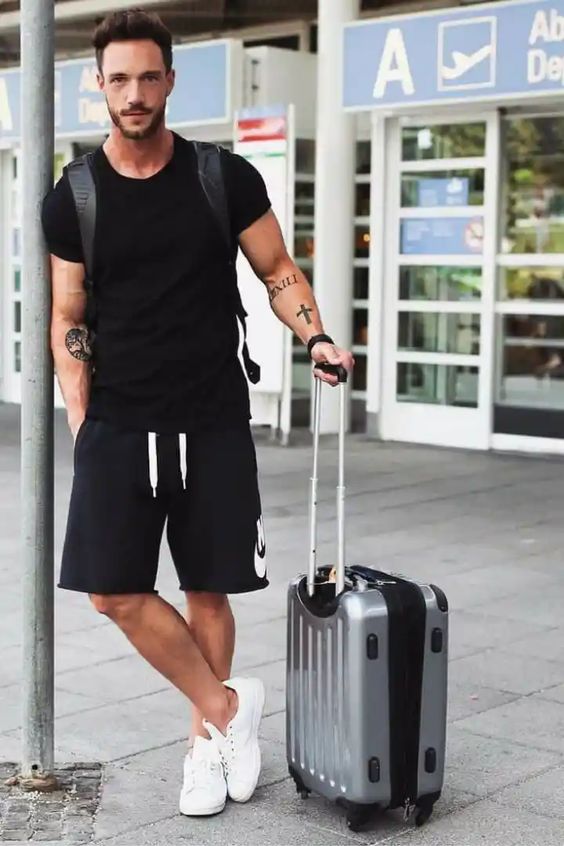 2. Trendy in Leather Jacket Style
Have classy style for a trendy airport outfit look with a leather jacket. You can mix it with your black straight trousers and a half turtleneck. As you should know, besides making your look more fashionable for travel style, this ensemble could also be a comfortable fit in the aircraft. You can make it more trendy by pairing it with white sneakers and grabbing some fashion accessories items. For the bag, you can get a duffel bag that would help to save your important things.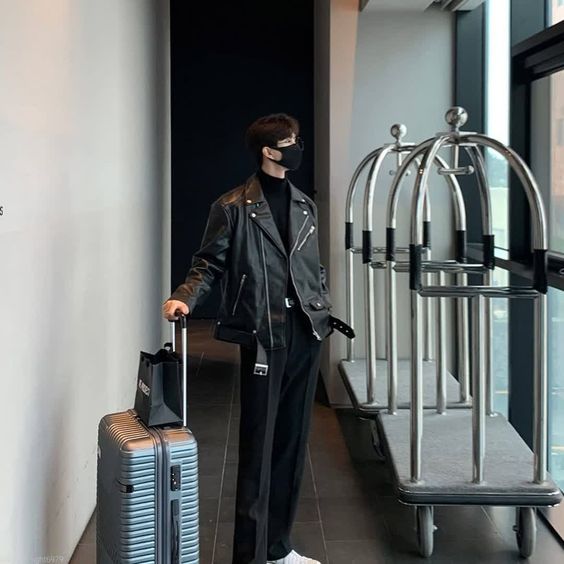 3. Mix Your Denim Jacket with Shirt
For you men who want to look semi-casual for trendy airport outfits, you can try this one. Mix your button-down shirt and pants with a denim jacket. Support your performance by choosing white sneakers that would bring comfy and trendy travel styles for you. Perfect your fashion with accessories such as your favorite watch, sunglasses, and other fashion jewelry. For the bag, you can choose a backpack to carry your things when you are on the airplane.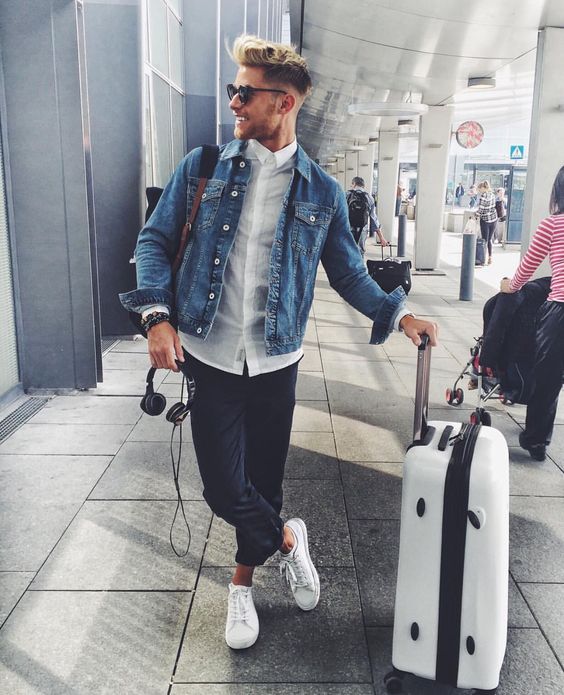 4. Go for All Black
Choosing monochrome black is a great option for a trendy traveling style. This color shade would make you look fresh and stay fabulous even in your hectic activity when you go traveling. If you want to have a comfortable fit in the airplane, bring a layering style like wearing a basic t-shirt, a knitted cardigan, and a sheepskin jacket for the top style. For bottom looks, get black navy pants, white socks, and trainer shoes. Then, wear accessories such as sunglasses that would strengthen your cool style. For the bag, get a duffel bag in your hand to carry some of your important things.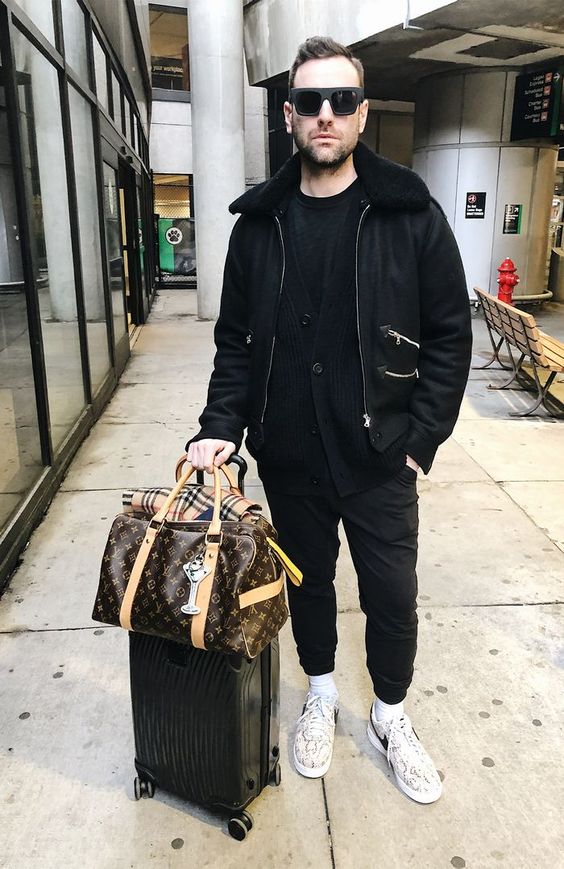 5. Simple with One Set Hoodie
Bring effortless style that would make you feel comfortable during your traveling by plane use one set hoodie. This style is simple and takes a minute when you should hurry going to the airport. Just grab your hoodie over your tee, and wear sweatpants under it. For the shoes, having your favorite sneakers would give you another point for a stylish look. Bring all your trendy airport outfit style by adding a cool waist bag to save important things that you need.
6. Smart Casual in Sweater Shirt Style
Going on a business trip? Bring a smart casual fashion style into your trendy airport outfit idea. For this, you need to mix and match your classic button-up shirt with a sweater over it. And then, grab black trousers and sneakers that bring a semi-casual combination. For the bag, getting a duffel bag is enough if you just stay for a short time. Bring your best performance to the airport by giving accessories such as a watch and sunglasses that make you look cooler.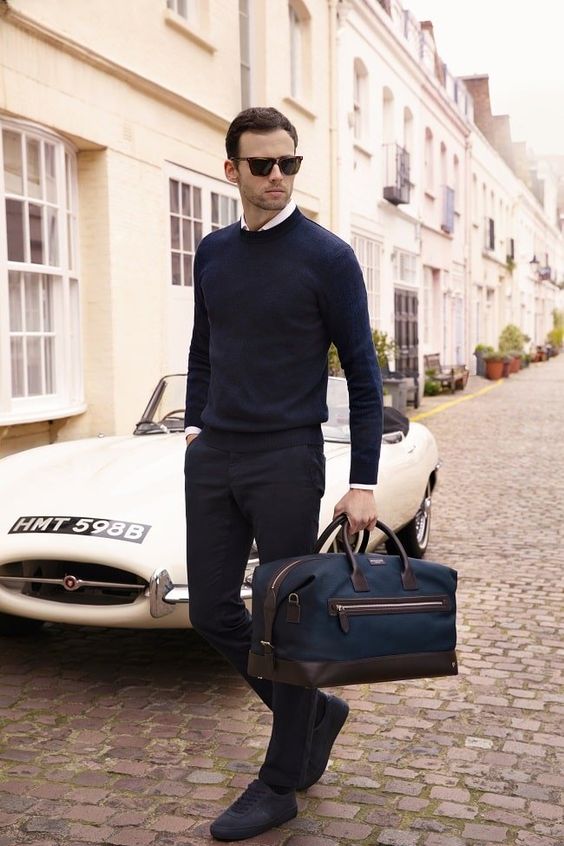 7. Get Your Blazer with Casual Tee
You can mix up your blazer with a basic t-shirt and chinos to have a casual and simple style look. This outfit will keep you stay cool and trendy during your travel term. Match this outfit style with loafers for a bit relaxed and when you want to have a more trendy style, pair your outfit with sneakers. Then, play on your fashion accessories that would improve your appearance.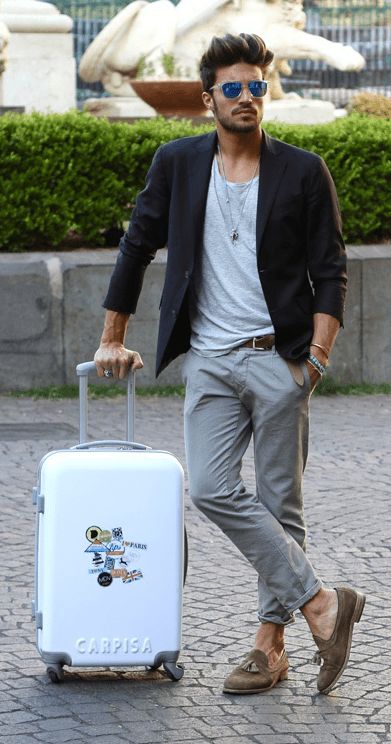 8. Feel Comfy with Long Coat
Have a long flight trip? You need to wear something comfortable enough even to sleep on the plane. That's why we suggest you bring this outfit style. You can match your black v-neck t-shirt with cargo pants and then layer it with a stylish men's coat. Perfect your trendy and cool performance with fashionable accessories such as your silver jewelry, metallic belt, and sunglasses, and for the rest get leather ankle boots that would make you have outstanding performance.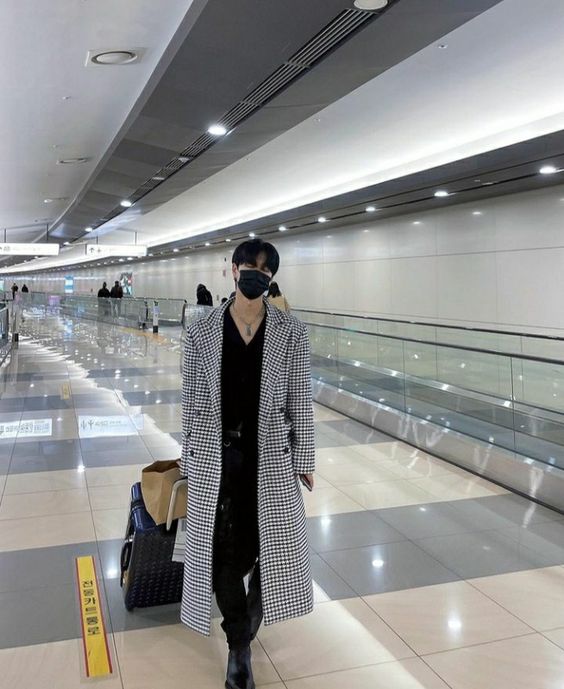 9. Bussines Man Outfit Look
Another formal ensemble that would look trendy in airport style is this suit combination. The trick is matching your formal suits with another layback style such as a denim shirt and sneakers. Don't miss out on accessories items, you need to support your trendy airport outfit with another detail such as a leather belt, and sunglasses, and choose the right bag to carry your necessary things. For this, you can get a duffle bag or message bag that has more capacity for storing goods.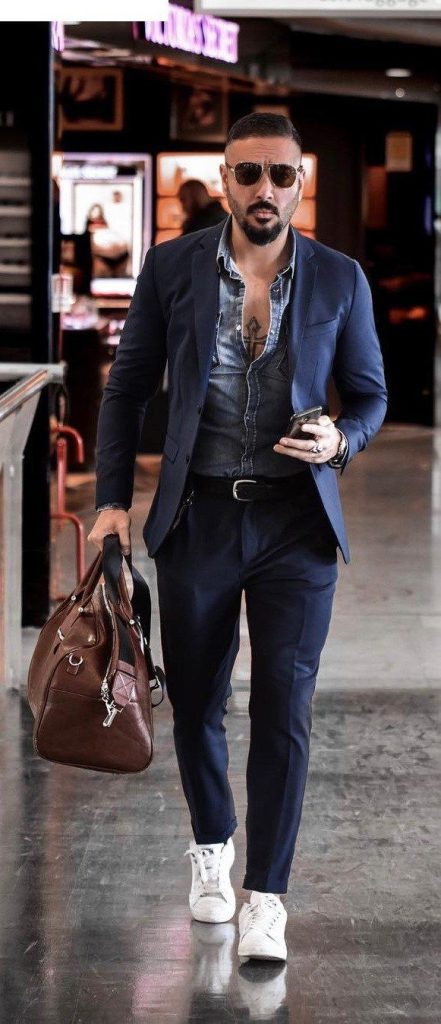 10. Cool in Sweatshirt and Cargo Pants
If you want something really simple but still great to wear at the airport, bring on this crewneck sweater style into your outfit idea. Just bring this piece with cargo pants and sneakers, it would make you look cool. Besides that, grab your bucket hat on your head and crossbody bag that help you bring your stuff on the plane. So, what do you think about this look?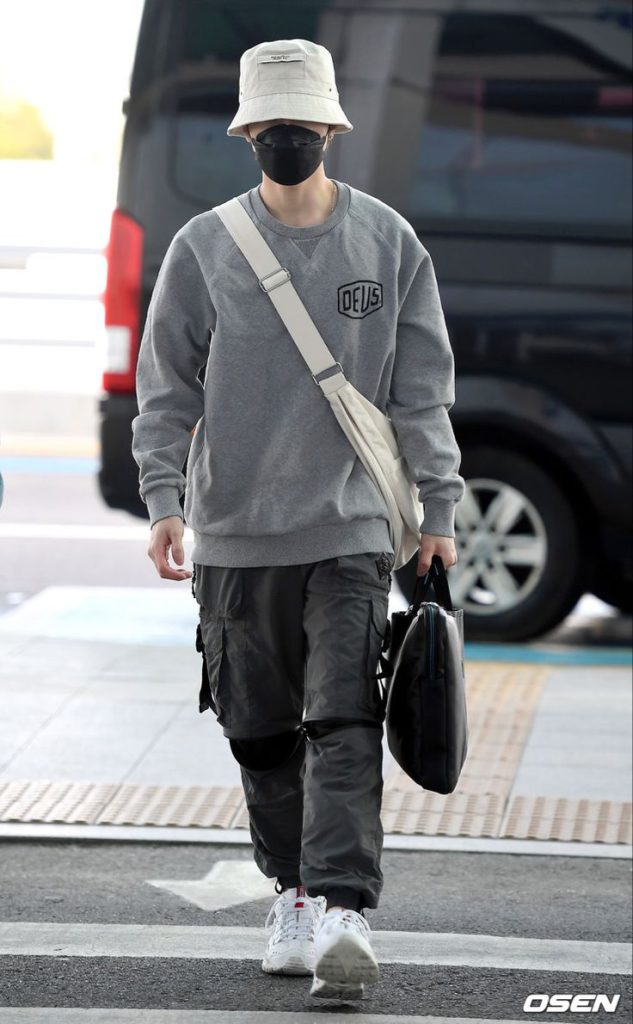 11. Get Your Simple Stylish with Ripped Jeans and T-shirt
Another simple and comfy style to copy on your trendy airport outfit idea is matching your tee with ripped jeans. For this, you can choose a large tee then you need to balance it with your ripped skinny jeans. Bring on this outfit look in grey and black color palette, that would stand your cool fashion style. For the shoes, you can wear a plaid white black slip-on, or just wear white sneakers. But when you want to bring more cool and trendy styles, grabbing your boots is a great choice to perfect this style. If you are the type who wants to look mysterious, you can wear a cap on your head. Then, for the bag, you can choose a duffle or bowling bag to save your stuff.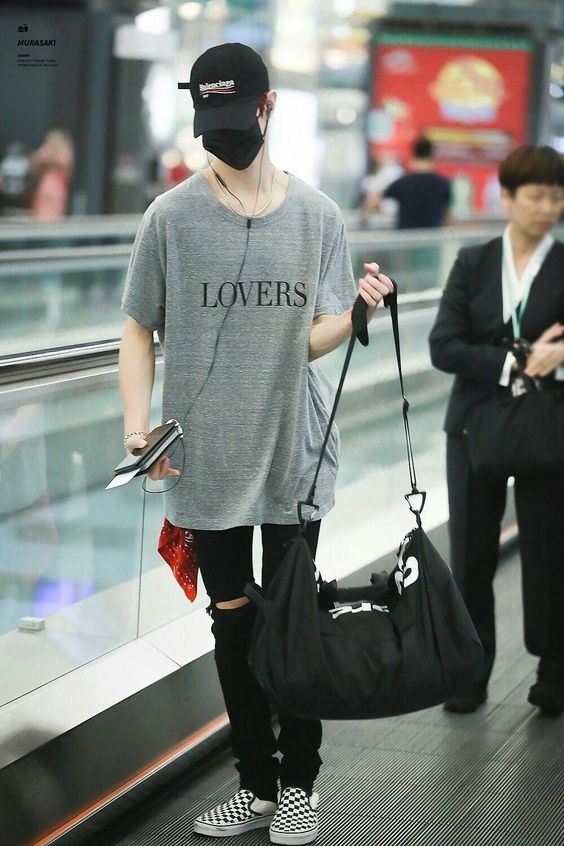 12. Wear Your Baseball Jacket
Men typically wear something that simple but make them stay cool. So, this look could give a point to apply for their trendy airport outfit idea. Matching up your jeans with a tee and baseball jacket. That looks simple and easy but styling your look more trendy. For the toe, you can pair this outfit with something that looks casual like sneakers or trainer shoes. And then for the bag, you can get a briefcase in your hand.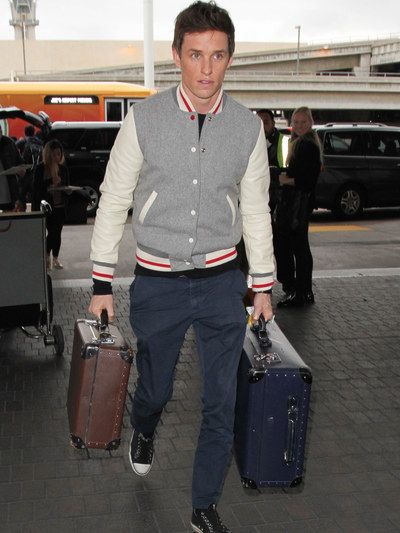 13. Back to Basic Style with White T-Shirt
Getting basic is never fail to bring you fashionable style. So, wearing on white tee and jeans help you enough to look stylish at the airport. This outfit is much better to choose when you have a short flight. But when you have to spend a lot of hours in the aircraft you can still wear it in the condition you should have to layer it with a warm ensemble like a jacket.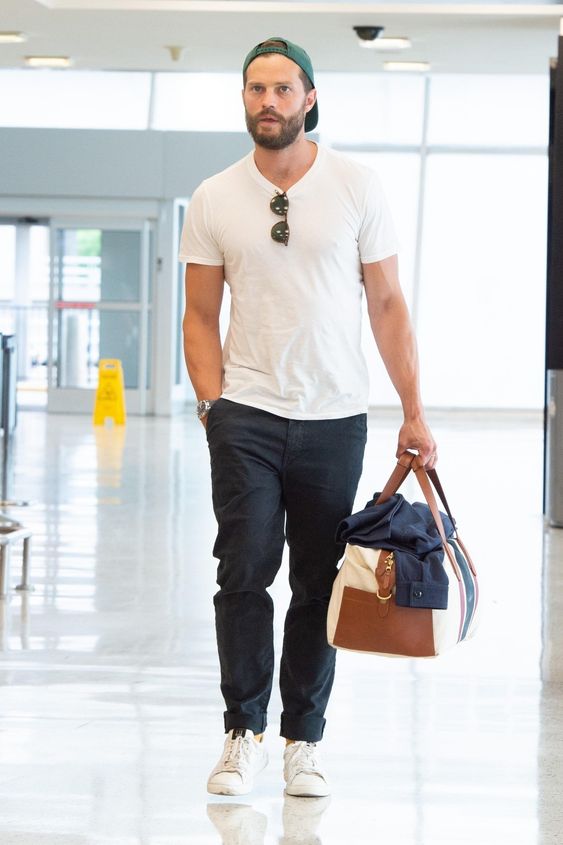 13. Cozy Look with Fur Jacket
Do you need something comfier and warm to wear but still look trendy? We're sure that this outfit style would help you more. Yes, picking a fur jacket to layer your turtleneck would make you keep warm on the plane. Furthermore, when you pair this with your black skinny jeans, it would pretty enough give you a cool outfit look to wear in the lounge airport. For the shoes, go on your Chelsea ankle boots to stand up your appearance more. Also, bring other accessory details such as wearing sunglasses that make you have a cool performance.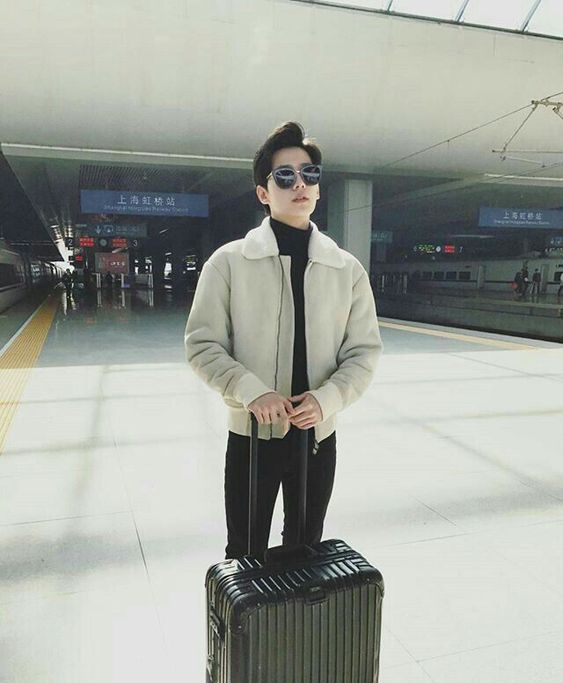 15. Set Your Hoodie with Blazer
From the cozy to simple outfits, it looks at how men style their performance every day. However, when they have to go traveling by plane, they need not only simple stylish outfits. They also need one that would make their long journey in the aircraft seem comfortable and fun. So, let's begin with this hoodie blazer styling look. For this, you just need to bring out layering outfit style with your casual and comfy hoodie with a classy elegant blazer for the top ensemble. For the bottoms, bring your trendy style with black ankle jeans and sneakers. That looks simple but give a big impact on your airport outfit performance.
16. Bring Out Modern Safari Style
This modern safari outfit would be great to wear during your traveling in the desert and savanna. Even when you wear it for airport outfit ideas, this still looks fashionable. For this, you can mix and match a safari shirt with beige ankle pants. Then support your outfits with accessories such as a small scarf to become a tie around your neck that make you look fashionable and cool. Besides that, balance your style with matching footwear like suede loafers shoes that bring an elegant look. Then, bring out more accessories such as sunglasses, fashion jewelry, and a watch. You can get a cross-body bag or message bag to help save your important stuff for the bag.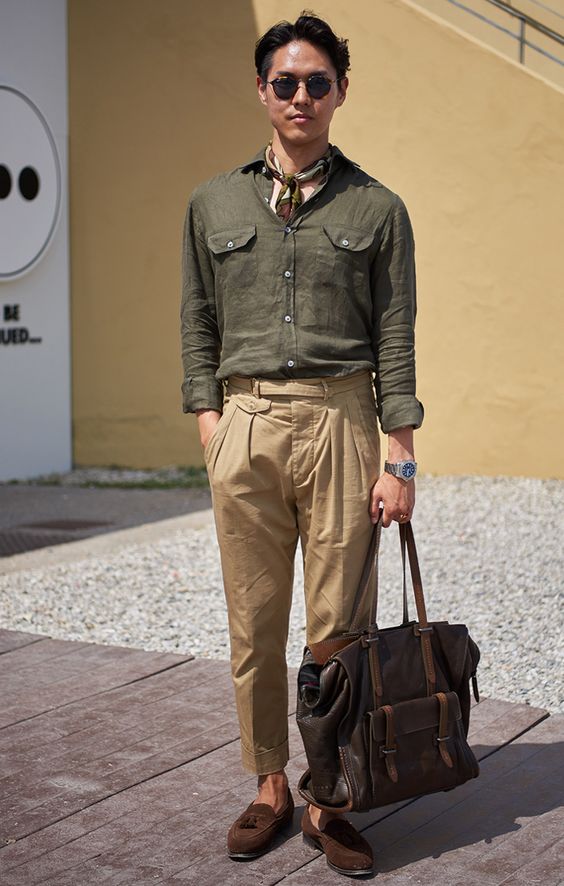 17. Work On with Your Blue Jeans
Who loves to wear jeans? This piece is one important fashion inspiration for men. The versatile garment would look great on any occasion. So it wouldn't be boring to bring these pants even into your trendy airport outfit ideas. When you don't know to match your outfits, just grab your basic white tee with a zipper jacket for the top, and get straight blue jeans for the bottom. For the toe, get your trendy black sneakers. This outfit combination would make you look trendy in a while. And then, bring on a cap that would make you look cooler. Furthermore, for the bag, you can choose and wear a backpack.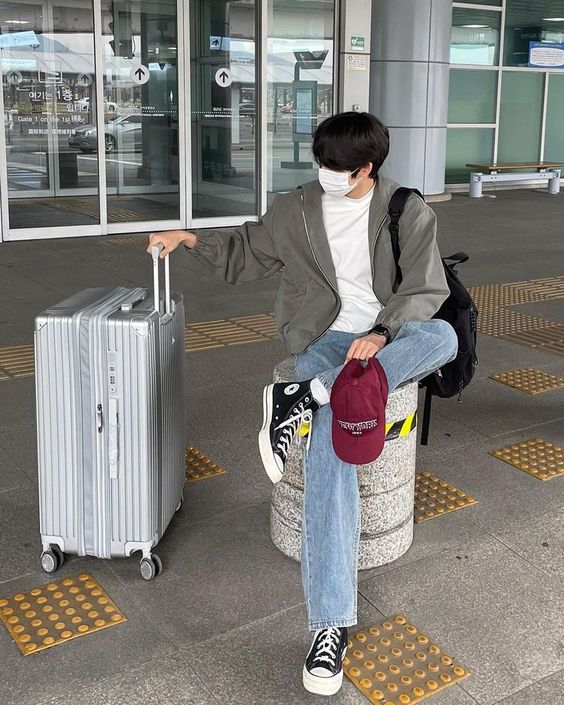 18. Back to Basic Style with White T-Shirt
The last comfy, simple, and trendy airport outfit idea for travel style is to wear your crew neck shirt and black skinny jeans. You may see it's very modest, but actually, it wouldn't fail to help you look trendy. To keep you warmer in the aircraft, you can wear a tee underneath your jumper. For the shoes, sneakers are the best ones for comfortable footwear. And to complete this outfit look and help to bring your important things, you can wear a backpack bag, cross body, or messager bag. Adding some accessories such as sunglasses and a cap to make you look more trendy and cool.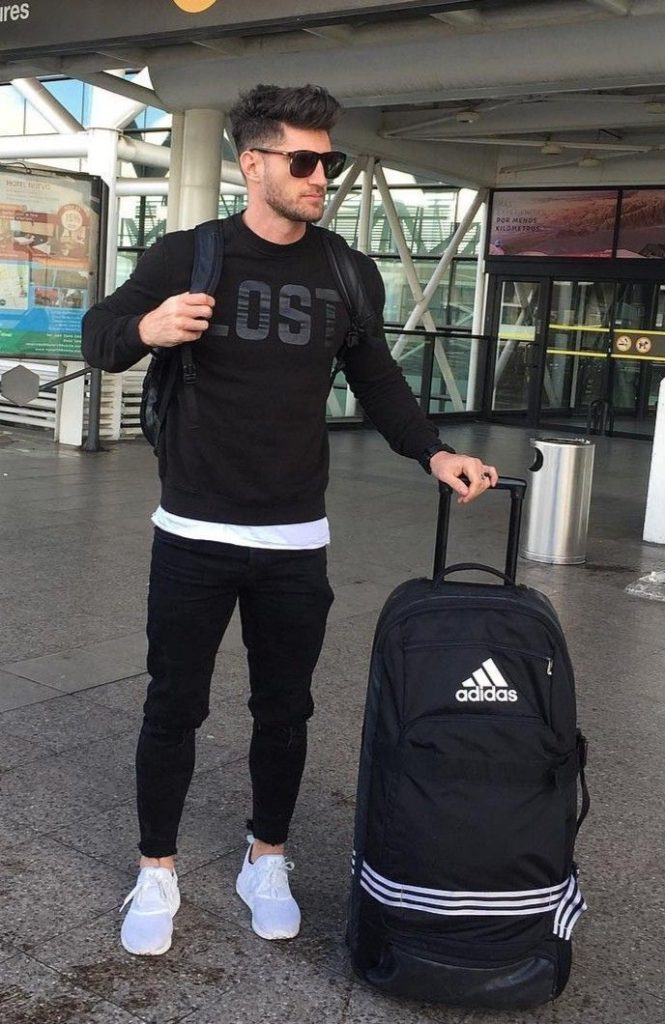 Finally, we can give you inspiration about trendy airport outfits for men. To mix and match your fashion style in the airport, you need to consider the comfy feel of your fit first. Make sure to wear something that supports your traveling style, whether for business trips or vacations. So, make your journey enjoyable and fun by wearing the right outfits. When you want to have traveling with your partner, you can read our article about how to mix and match airport outfits to look chic and fabulous then, become your partner's fashion adviser.