Olidfashion.com – Attending business meetings with clients or your boss not only formal way at the office but also informal outside like in a cafe. It may be easy to prepare meeting materials and presentations for you that become a corporate staff, but when it comes to meeting attire it's a bit stressful.
For women who generally always style their outfits properly on any occasion, that's not a problem. Different from men, they usually get difficulty choosing their meeting attire. This is because they have fewer outfit options. So, the ability to mix and match ensembles should be owned.
Preparing meeting attire is not the same as preparing your daily workwear in the office. However, it's not too different. In this situation maybe you need to give a bit more effort because you will meet with important clients. Your tender would be successful depending on your performance. So, here we try to tell you the types of men's meeting attire in the corporate style.
What To Wear in Corporate Style as Meeting Attire for Men
Besides preparing the presentation for clients properly, you also need to know what to wear for meetings. Your successful meeting not only depends on the materials but also on the way you presented it. For this, you need to dress well. Knowing where you will hold the meeting with clients is important to avoid having awkward costumes. For this, you should follow some general rules below.
If you want to attend a formal meeting, better you prepare a white collared shirt with white buttons. And for casual meetings, you can also get a shirt with a collar in any color. Either formal or casual meeting, just pick button-up style and then should be tucked in and pressed in your pants.
Wearing a blazer for formal meeting attire is a must. When it comes to a casual meeting, using a blazer is not necessary but still can add style even in a casual one. For this, better to choose dark tones with minimal pattern.
For the formal meeting, better you choose two or three-piece suits as your meeting attire. Make sure that the suits are high quality and tailored well.
In a business casual style, chinos, jeans, and other pants are usually acceptable as long as you choose dark tones with no rips. But for formal meeting attire or dinner, you must wear trousers or pants and don't wear jeans.
For the footwear, when you attend formal meetings better to wear brown or black oxford shoes with matching socks. For the casual business style, you can get sneakers, Chelsea boots, suede shoes, and others.
When you want to accessorize your formal meeting attire, it's better you wear a silk tie, leather belt, and watch. While casual meeting attire, you can get a simple stylish belt, and also a watch.
1. Formal Meeting Attire
When you should attend a formal meeting with some executives and leaders, you need something that formal and suit is a must. At serious meetings, they usually discuss crucial things such as financial and legal matters. So, in this situation, your meeting attire is necessary to prepare well. This is because anything you wear, it's all getting judged and can affect decision-making. Here is some formal meeting attire in a corporate style that you should be wearing.
Formal Suits

Wear one set of grey suits that includes a striped shirt, blazer, vest, and trousers would be a great idea for a formal meeting attire. To perfect your formal attire, you need to match it with a pair of loafers. When you wear preppy suits, besides increasing your look, it also makes people will trust you and think you are credible enough.
Tweed Suits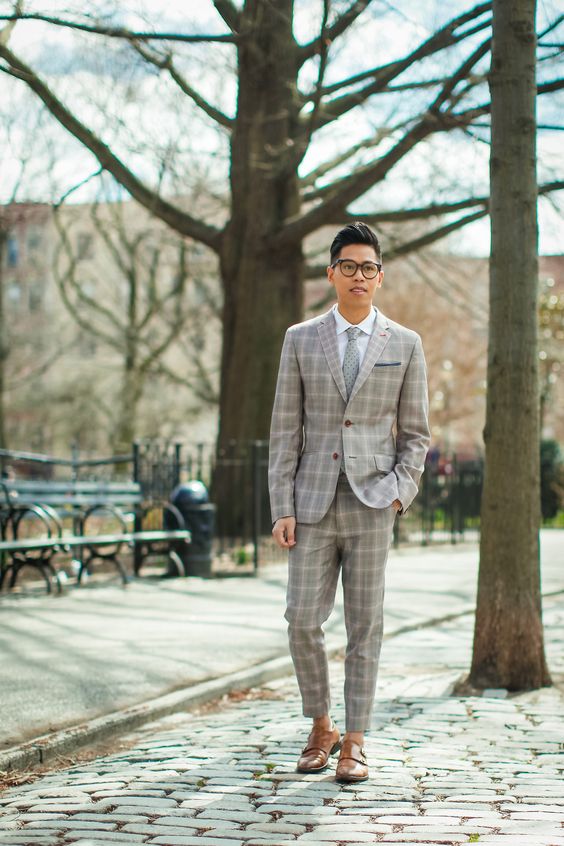 Have a meeting during winter and fall, tweed suits are a great option for this. Having a plaid pattern with the ash grey tones makes it a bit look vintage but still gets the professional looks. You can mix the suits with a white shirt and grey tie. For the footwear, choose formal loafers such as brown monk shoes.
Tie Freestyle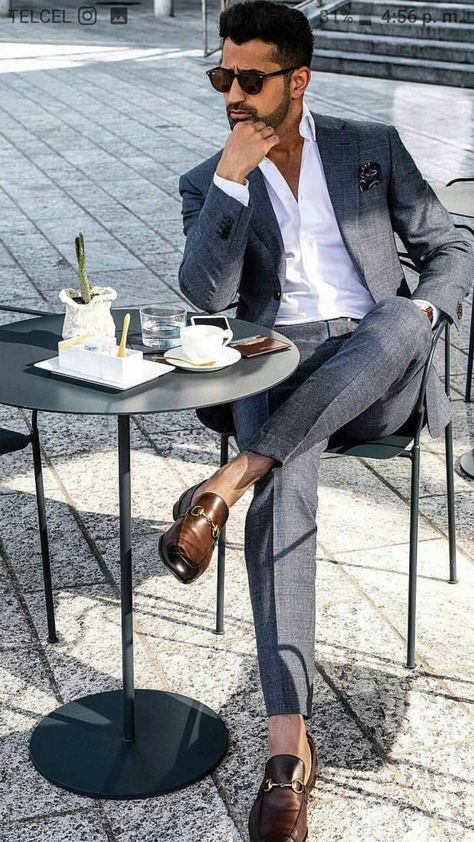 If you want something that's a bit casual in formal suits, you can get it in a tie freestyle. For this, you can wear a black charcoal suit with a white button-down shirt underneath. Let one or two upper buttons loose. It would make you get a little lay-back vibe. However, it wouldn't make you lose your charisma. Pair it with brown loafers, and this meeting attire is ready to wear for casual meetings outdoor.
Double Breasted Blazer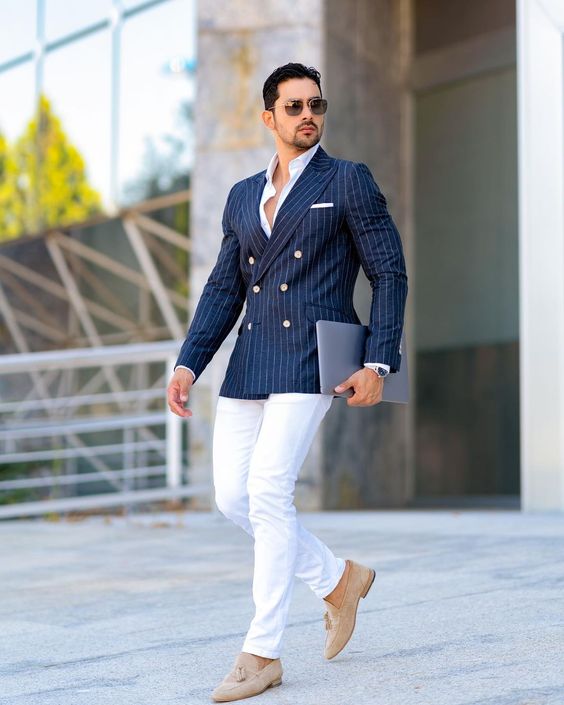 Another formal attire that you can wear in your corporate style for meetings is a double-breasted blazer. Getting a striped navy blazer with a white shirt underneath and white pants for bottoms makes you look cool in a formal look. Get the perfect ensemble for meeting in the office with cream loafers.
2. Smart Look for Semi Formal Meeting
Like how you organize your proposal and material for the meeting, organizing your look is also important to achieving your success. The way you appear in the room with the proper attire would make you get confident to make presentations in front of your clients. Aside from formal suits, to have semi-formal meeting attire you can try on is a smart look. Here are some example outfits to inspire you.
Sweater Style with Tie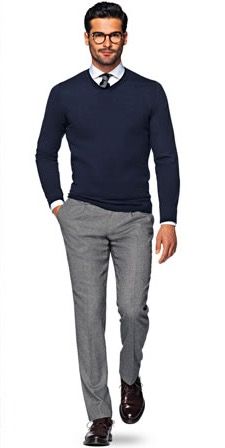 When you want to have smart look in suits, rather than using a blazer over the shirt you can change it with a sweater. Have a dark sweater over your white shirt and then give grey trousers for the bottoms. For a more formal look, you can wear a tie. For your toe, pick brown leather loafers and black socks. Accessorized with glasses to make you look smart and professional in meetings.
Sweater With Blazer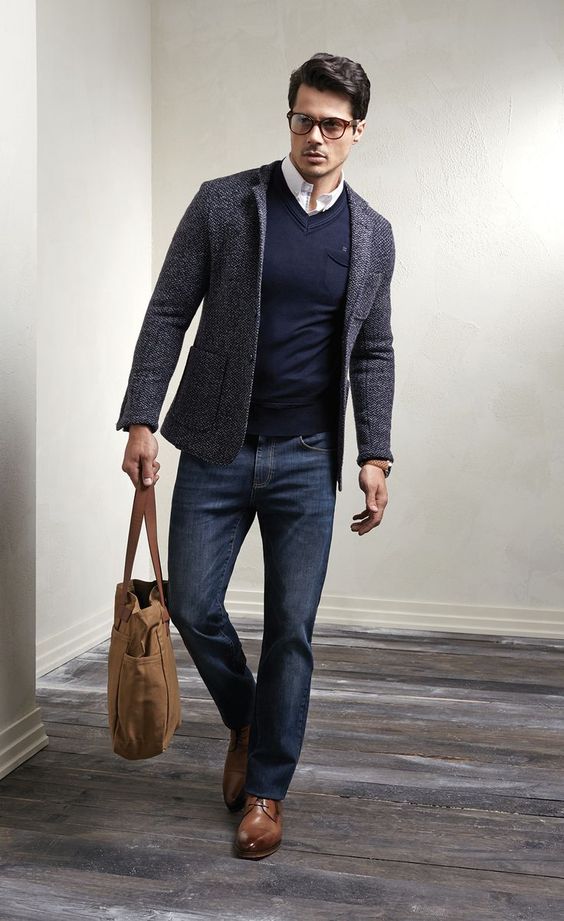 Another smart style with a sweater is matching it up with a blazer. In this way, you shouldn't get a tie as an accessory. Besides that, you can change your trouser with denim pants to look more casual. With this, you will get smart-casual meeting attire for men. Complete all with the loafers and glasses to give a nerd guy style to your outfits.
Vest Outfit Style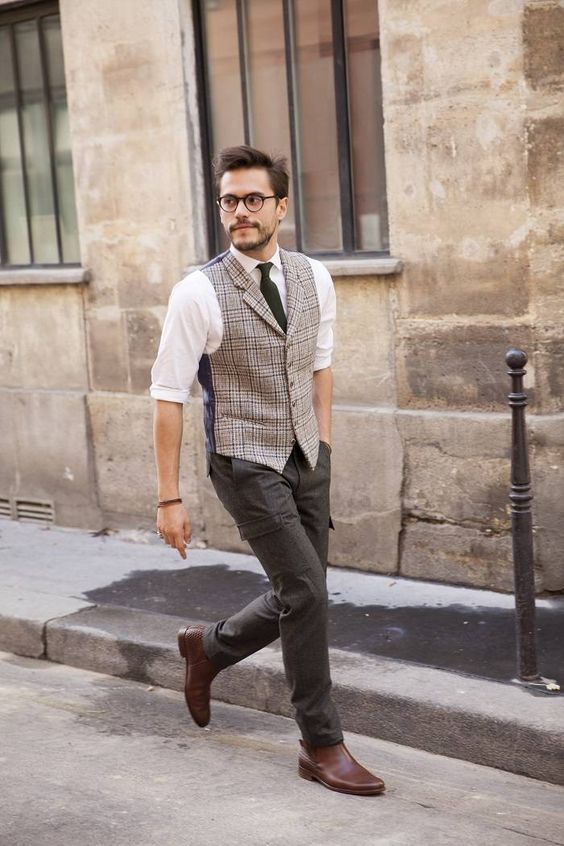 If you don't like too bulky in layered style in men's meeting attire, try this one. Pick a vest to switch up the sweater to form a smart look. For this, you can get a long sleeve white shirt with a tie and then a brown vest over it. For the bottoms, bring out slim-fit cargo pants for lay-back style. Complete your appearance by having accessories such as glasses for the smart casual for corporate style.
3. Business Casual Outfit Style for Meeting
Business casual is the other name of casual style for men. This style is used either for attending meetings on a casual occasion or hanging out, it's no different. Actually, there are so many kinds of business casual outfits in men's wardrobes. So, We want to tell you some of them to inspire you.
Casual Shirts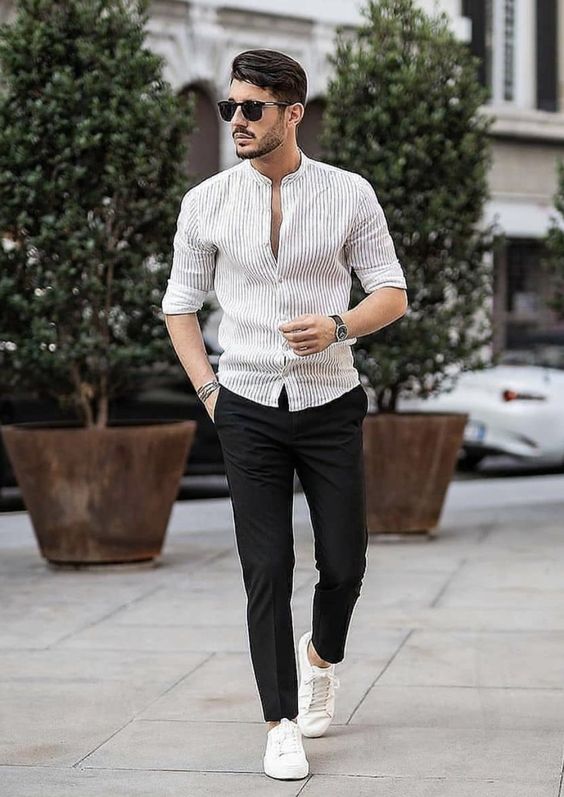 Like the rules, either for formal or casual meetings it's better to wear a shirt on your men's outfit style. This ensemble would bring a bit polite impression. To use it in a casual style, you can pair it with black trousers and then get sneakers for the casual shoes. Get the best performance by giving some stylish accessories such as a watch and sunglasses. This attire would be good to wear for the meeting in a cafe or coffee shop.
Bomber Jacket Style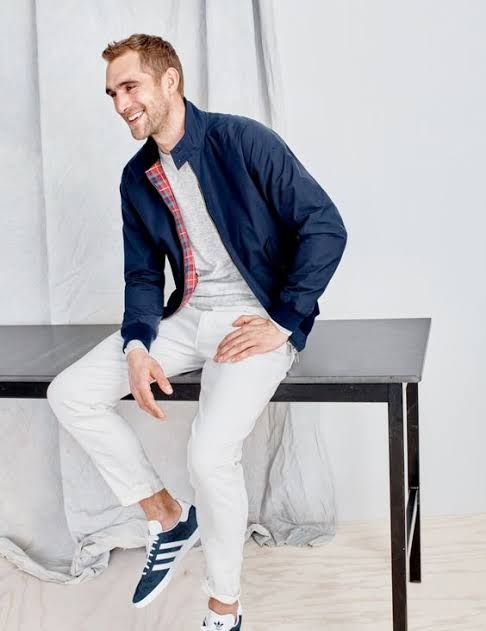 If your office doesn't think much about workwear, getting a sporty style may be good too. For this, you can drag on your navy bomber jacket to style with your tee and white pants. Stood up the casual feel with sneakers for matching footwear. This style is used by them that's work at the outside office.
Cardigan Look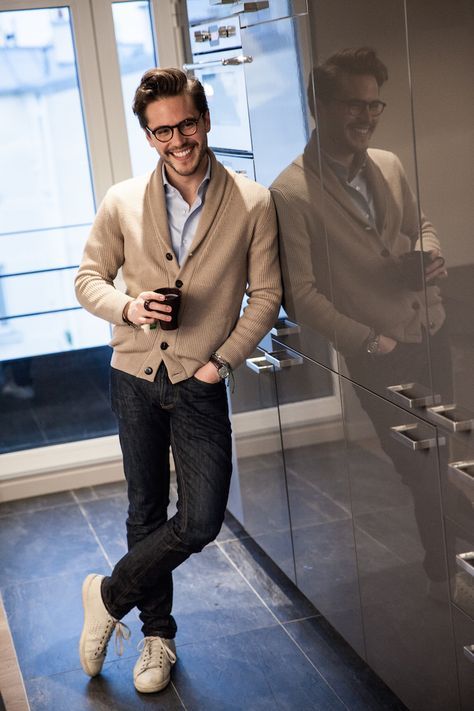 Having a Friday meeting, you need something that simple and casual. To get this style, you can try to wear a shirt, a cardigan as the outer, and then jeans for the bottom style. To give you a comfortable outfit, bring sneakers on your feet. You can also give some stylish accessory items like a watch, a fashion bracelet, and glasses.
Blazer and Sneakers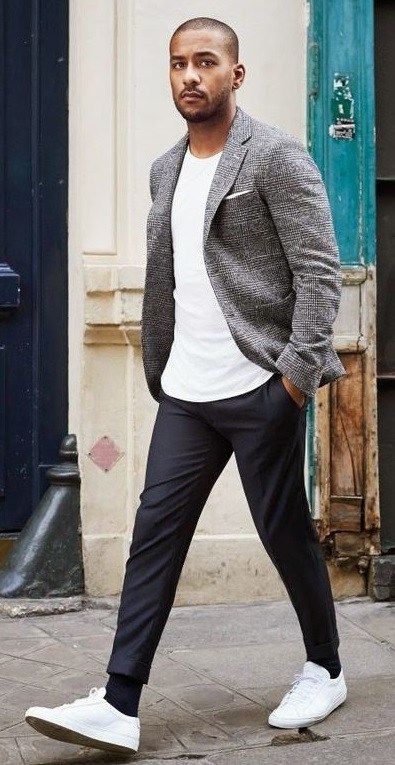 Blazer usually comes in business formal meeting attire, but it also can use for a statement on a casual look. It would make your men's casual outfit style more fashionable and cool. You can wear a grey blazer with a white t-shirt underneath and dark trousers. Sneakers are the favorite when it comes to casual outfits style for men.
Floral Shirt and Trousers
Want unique and outstanding casual meeting attire for men, try this outfit style. A floral black shirt paired with black trousers and black loafers. To make it good for business meeting attire, you should style it by tucking it on the pants. That's good to wear for the weekend meetings.
4. Short Outfit Style for Meeting
In men's business meeting attire not only in long suits but also short outfits. In modern style, many people use short pants with blazers to create their outstanding corporate style. Shorts are not only for hanging out, now, they are also used for work and meetings. If you want to get it on your wardrobe, here are some styles to follow.
Shorts and Blazer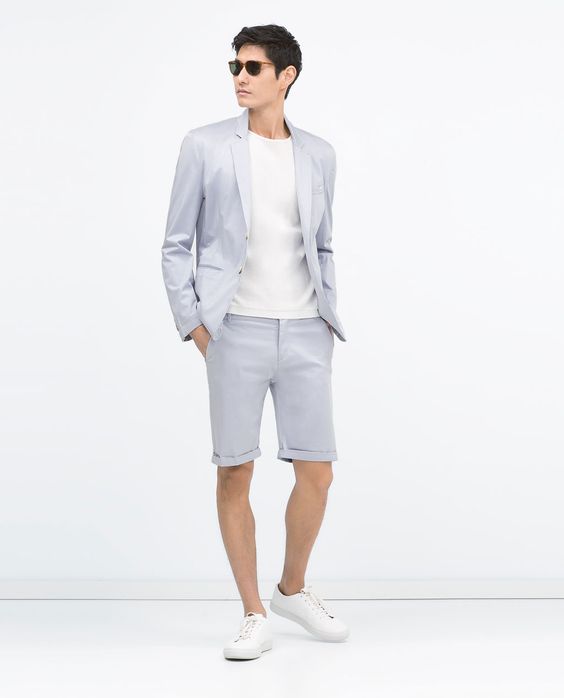 If you want simple and modest men's business meeting attire in a short style, you can try to apply shorts, a white tee, and a blazer. To get chic casual men's corporate style, bring out sneakers on the outfit ideas. You also can get the style in light color schemes like light pastel blue.
Short Suits
Business casual is the other name of casual style for men. This style is used either for attending meetings on a casual occasion or hanging out, it's no different. Actually, there are so many kinds of business casual outfits in men's wardrobes. So, We want to tell you some of them to inspire you. Those color schemes would increase your performance and make you look fashionable and stylish. This kind of short is suited for your summer outfit ideas in the office.
Cropped Shorts and Blazer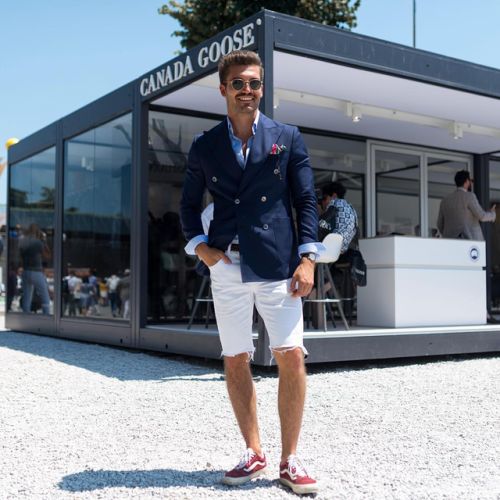 Having a meeting with clients on the Caffe around the beach during summer, just bring this attire out. White cropped shorts that combine with a blue shirt and navy blazer would really tie each other. In this style, you will look cool and trendy at once. Bring more casual in a nautical outfit theme by wearing maroon sneakers. White, navy, blue, and red are the colors of the nautical concept. That's why you can also bring this men's corporate style for a business meeting on the yacht with executive clients.
Giving a good impression of the first meeting with business clients is very important. This can affect how your meeting will go. That's why you need on give more of your time to prepare the outfits for business meetings properly. With all the explanations above, we hope you will find out the right way to prepare your meeting attire that can be imaging corporate style. Good luck!